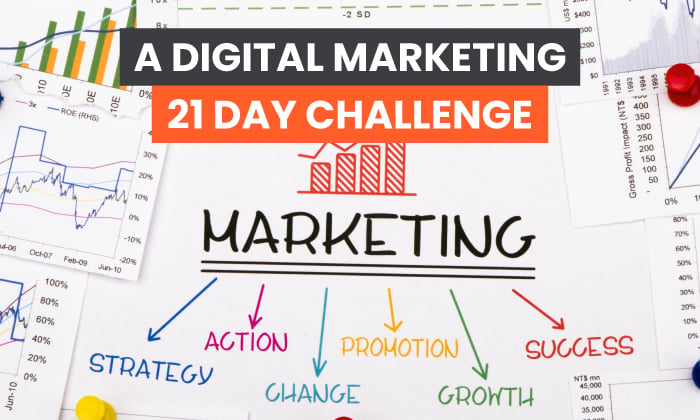 How confident do you feel about your digital marketing strategy? If you aren't seeing the results you hoped for, this guide will walk you through a 21 day digital marketing challenge that will help you reach your digital marketing goals.
A Digital Marketing 21 Day Challenge
Whether you are a hardened digital marketing veteran or a complete newbie, we all need a bit of help from time to time. That's why I created this day-by-day challenge to help you create a marketing strategy from scratch in just 21 days.
These steps aren't necessarily in sequential order, and, in truth, it doesn't really matter what order you complete them in. The point is to break down something kind of overwhelming, like creating a marketing strategy, into small and manageable bite-sized chunks.
You'll only need to complete one marketing task each day. Although, don't let me stop you from skipping ahead and checking off several tasks a day. I've just provided the framework. How you complete the challenge is up to you.
Digital Marketing Challenge Day 1: Competitor Research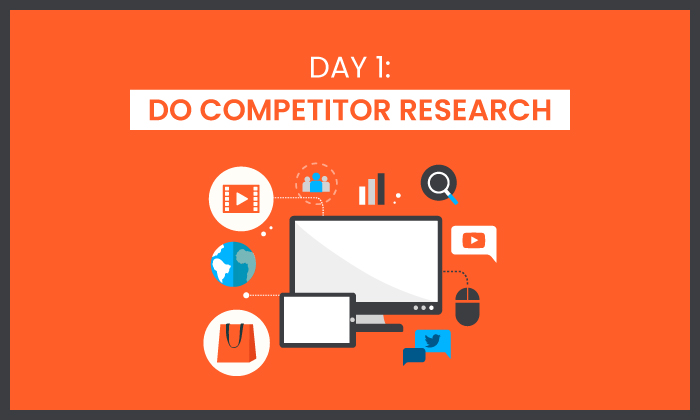 There's a lot you can learn from studying your competitors. From working out why they are outranking you and developing new blog post ideas to coming up with new product offers and marketing ideas for your social and PPC ads, spying on competitors can lead to some big wins.
If you want to outrank your competitors, I highly recommend using Ubersuggest (and the accompanying free Chrome extension). When you enter a competitor's domain name into the search bar, you'll immediately be able to see important information like their top-performing keywords, best pages, and backlinks.
You can dig deeper into this data, too, so you can see precisely where their backlinks came from and what you need to do to start competing for their keywords.
That's not the only competitor outreach tool I recommend, however. Check out this list of 12 competitor analysis tools that you can use to improve your site.
Digital Marketing Challenge Day 2: Audit the Content of Your Website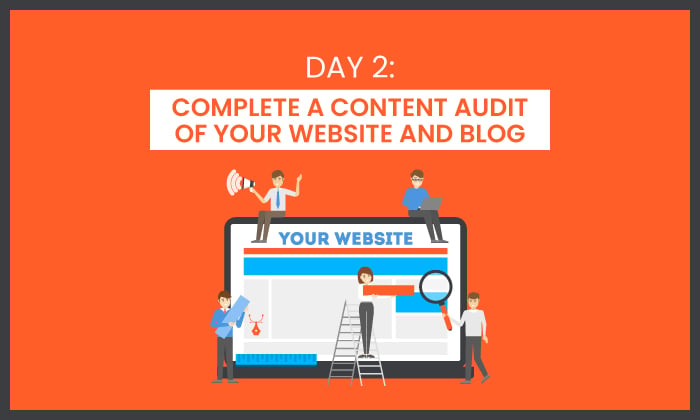 We all know that Google loves fresh, relevant content. That's why it's essential to run a content audit of your site every six months or so to identify articles or pages that need to be removed or updated.
Start by making a list of all of your site's pages. You can do this by hand or use a tool like Ubersuggest or Screaming Frog to do it for you.
You can ignore core pages like your homepage and service pages, but you'll want to go through every other page of your site in turn and look out for issues like:
Thin content
Out of date content
Duplicate content
Gaps in your content
Missing meta data
Next, prioritize pages to update. You won't be able to do everything at once, so it's important to focus on the most important pages first.
Check out my detailed guide for more information on how to run a content audit.
Digital Marketing Challenge Day 3: Do Keyword Research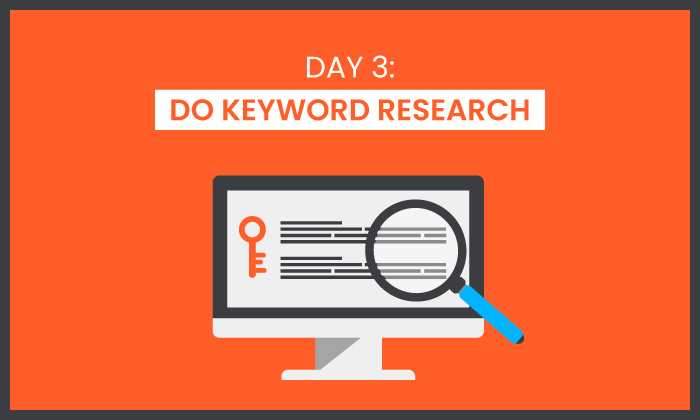 Good keyword research is the foundation of any successful online marketing campaign. You want to find out two things:
What your audience is searching for
How to rank for those terms
You probably already have a decent idea of the keywords you want to rank for. However, do you really know every keyword your audience is using? Probably not.
That's why using a keyword research tool like Ubersuggest is super valuable to uncover EVERY keyword you can target. Start by entering a keyword to see a list of highly related keywords, their traffic, and how difficult it is to rank for them.
Find even more by clicking through the Related, Questions, Prepositions, and Comparisons tabs. Next, make a note of every relevant keyword.
Do this for every keyword, and you'll get a list of hundreds or even thousands of keywords you can start targeting. If you're a smaller site, make sure to start with less competitive terms and go from there.
If you need more help, check out my YouTube video below.
Digital Marketing Challenge Day 4: Diagnose and Fix SEO Issues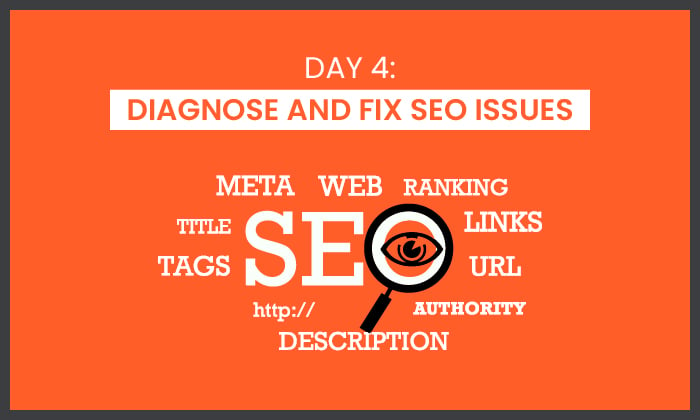 When executing a killer marketing plan, the last thing you want is for rookie SEO mistakes to hold you back.
First, you'll need to find them. The easiest way to find SEO issues is by using Screaming Frog. Simply download the tool and enter your website into the search bar.
Screaming Frog will then crawl every page of your site and report back on just about every important on-page metric there is. You'll be able to find the following:
404 pages
Duplicate content
Thin content
Issues with meta data
H1 and H2 issues
Pages that don't index
Much, much more
Go through each category, noting the offending pages, and then prioritize the repairs.
Screaming Frog won't highlight everything you need to fix, however. Make sure to check out my guide on the most common SEO mistakes, too.
Digital Marketing Challenge Day 5: Create a Backlink Strategy
Earning high-quality backlinks is one of the most effective things you can do to improve your SEO. That's why it's crucial to implement a clear and repeatable backlink strategy.
There are dozens of strategies for earning backlinks to your site, but I prefer to focus on specific, repeatable methods.
The first is creating skyscraper content. Coined by Brian Dean of Backlinko, skyscraper content is content that is measurably better than anything else found on the web. The idea is that you pick a reasonably competitive keyword and create the very best article on that given topic.
Once it's published, reach out to websites that link to the content that currently ranks for your topic and ask them to link to your (much better) version instead.
The second is creating an infographic. Everyone loves sharing infographics because they're an easy, visual way to understand pretty much any topic. Create your own infographic about something interesting in your niche and reach out to other blogs to share it.
Finally, you can sign up for HARO, which stands for Help a Reporter Out. Every day they'll send a list of journalists looking for information on various topics. If you have something relevant to say, you can respond and get a backlink as recognition if a journalist picks you.
If that's not enough backlinks for you, then discover how you can find 50 backlink opportunities in 20 minutes.
Digital Marketing Challenge Day 6: Update Your Old Content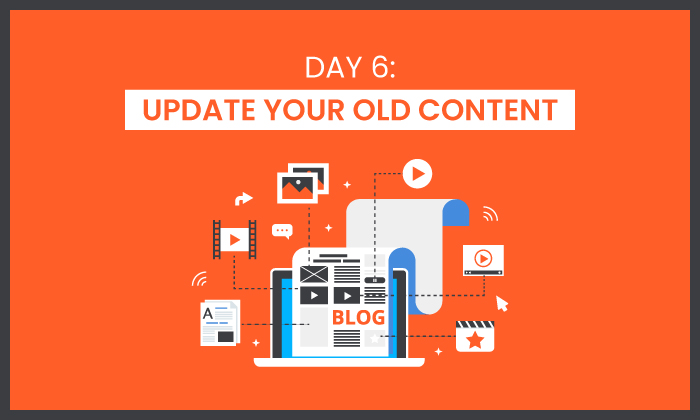 Now that you've done a content audit, it's time to update all of the pages that were out of date. Outdated content is a big no-no in the eyes of Google and suggests that the content on your site may not best serve their users.
Fix this by making sure all of the content on your site is up-to-date and relevant. I recommend starting with content that is already ranking as Google has already indicated this content is relevant.
If any of the content is out of date, update it with the most relevant research in your niche. Next, do fresh keyword research for each post to ensure you are targeting the most relevant and searched-for keywords.
One word of caution: don't get caught up updating content for the sake of it. If some pages on your site are no longer relevant, you're better off deleting them and creating a 301 redirect to a more appropriate page.
Watch my video below for more information.
Digital Marketing Challenge Day 7: Launch an Email Marketing Campaign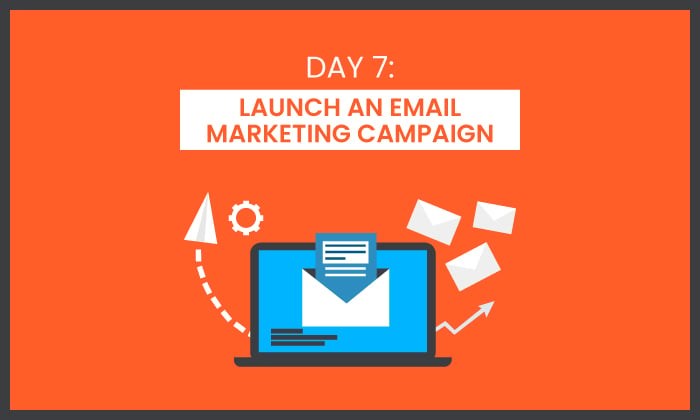 Did you know email marketing is one of the best ways to turn prospects into customers? All it takes is creating an effective campaign.
The first step is to get permission to email people. You can achieve this by giving a guide or resource away for free in return for a user's email or simply by promising great content.
Once you build an email list, you need to follow up with regular, high-value emails that help your users solve their problems. Eventually, you can send one or two sales emails that point subscribers to one of your own products.
Don't overdo it with the sales emails, however. Sending too many sales emails without providing value is a sure-fire way to drive people to unsubscribe.
Digital Marketing Challenge Day 8: Hire Quality Writers, Editors, and Subject Matter Experts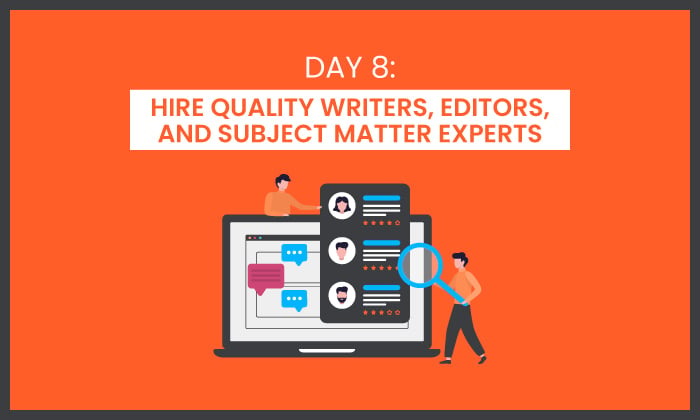 Your time is valuable. You don't want to spend it writing new blog posts when you also have a business to run. That's why it's essential to hire high-quality writers and editors sooner rather than later.
Two of my favorite ways to find writers and editors are Upwork and the Problogger job board. Make sure to vet each candidate thoroughly.
Signs of a good writer or editor include:
A portfolio of work
Client recommendations
A professional website
An articulate cover letter
I highly recommend having each writer complete a paid test article before working with them. It's easy to make a resume look impressive; it's much harder to follow through with great work.
For more information, check out my article on hiring an SEO freelancer.
Digital Marketing Challenge Day 9: Optimize Your Social Media Accounts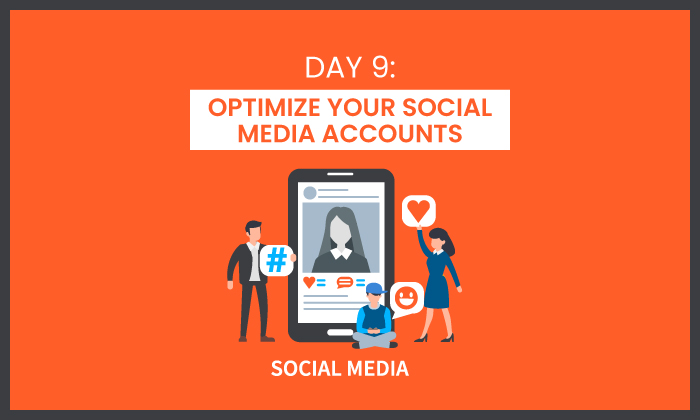 Some people don't think social media is important. They're wrong.
Social media is one of the easiest ways to build a following and stay in touch with your fans. Al of that is only possible if you have well-optimized social media accounts.
First, choose the social media accounts you want to focus on. I recommend using Facebook, Instagram, and Twitter for starters.
Next, fill out your profile in full on each platform. Different platforms allow you to add different information. Where possible, include your:
Business name
URL
Address
Opening Hours
Description of your business
This is just for starters. To nail your social media presence, you're going to want to read my complete guide to social media marketing.
Digital Marketing Challenge Day 10: Write a Guest Blog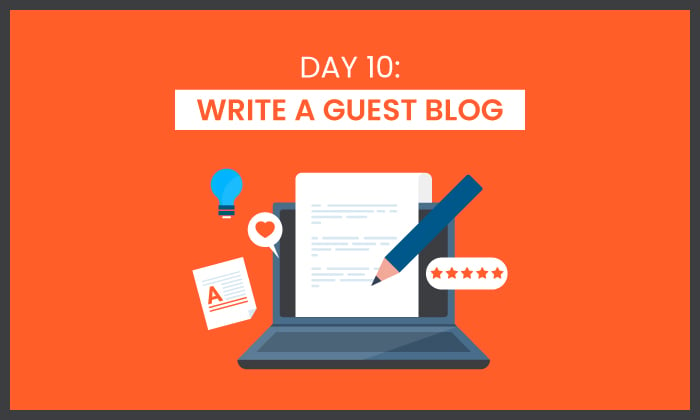 Guest blogging is a fantastic way to build your authority and get backlinks naturally. You should make this a regular habit, but for now, let's just start with one post.
The first step is to find guest posting opportunities. Specifically, you want to look for sites that are in your industry, have engaged readership, and accept guest posts.
A good way to find these sites is to use Google searches with your keyword followed by "guest post" or "submit a guest post."
Read each website's guest posting guidelines carefully, then pitch three ideas to each. Make sure to clarify the benefits to their readers—not just what you get out of it.
Only start writing once your pitch is accepted. That way, you don't have to worry about wasting your time.
Check out my guide for more information on guest blogging.
Digital Marketing Challenge Day 11: Join an Affiliate Network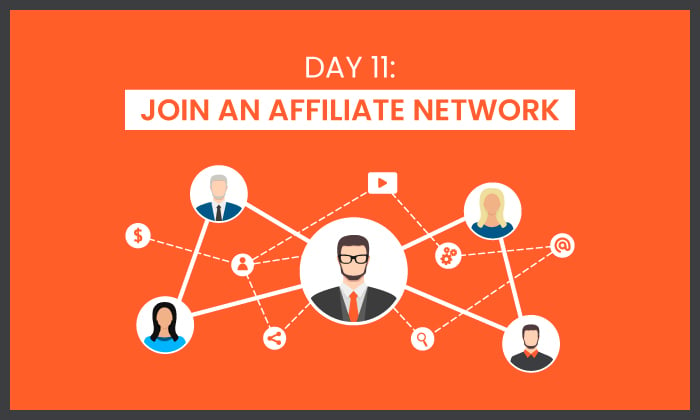 If you want to start making money from your blog, affiliate marketing is the way to go. You don't have to worry about creating your own info product, SaaS tool, or eCommerce store. You earn money by promoting someone else's products.
Amazon Associates is the most popular affiliate program, but the commissions aren't the best. Alternatives include ClickBank, CJ Affiliate, and ShareASale.
Don't be afraid to approach companies directly, either, especially if you work in a small niche.

If you're serious about making money from affiliate marketing, then my advanced affiliate tips are a must-read.
Digital Marketing Challenge Day 12: Create a Content Calendar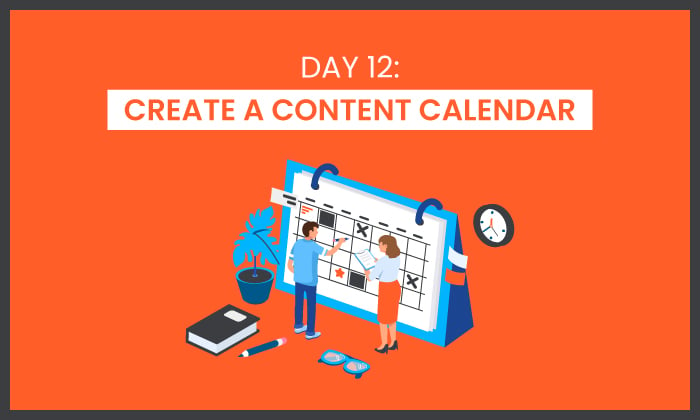 What do you do when it comes time to write a blog post?
Do you stress about what to write, or do you open up your content calendar, select the next topic and get to writing? Creating content becomes so much easier when you have a well-planned editorial calendar.
A content calendar is super easy to create, too. All you need is a spreadsheet and some ideas. Open up Excel or Google Sheets and create a simple calendar for the next six months based on how often you want to post.
For instance, if you only plan on posting content once a week, you only need 26 rows.
Next, go back to your keyword research, select the highest priority topics, and add them to the spreadsheet. If you outsource the writing, add your writer's name next to each post. That's all you need to do to create a simple content calendar.
For a complete guide, read my post on creating an editorial calendar.
Digital Marketing Challenge Day 13: Choose a Project Management Tool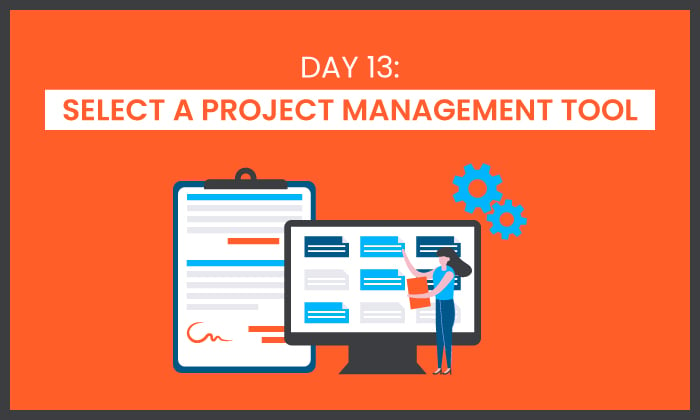 By now, your marketing strategy is getting pretty complex. It's time to make things easier with a project management tool. A project management tool helps you get clear on what you need to do—and when.
Keep in mind, you don't need a team to get value from a project management tool. They are great for one-person shows, too.
There are plenty of tools to choose from, including:
Make the right choice by reading my guide to project management software.
Digital Marketing Challenge Day 14: Build a Chatbot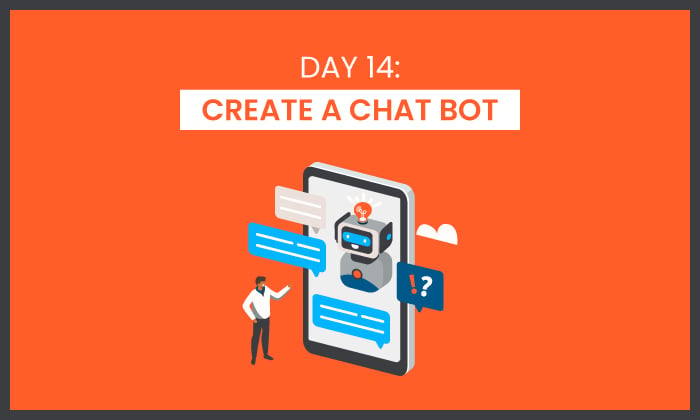 You must make the most of every person who visits your website. That means making your site a lead-generating machine. One of the best ways to do so is by building a chatbot.
Chatbots can help with more than leads. A well-scripted chatbot can also provide exceptional customer service.
Here are a few other ways chatbots can help with your marketing plan:
Gather feedback on customers
Improve the customer experience
Upsell and cross-sell products
Creating a chatbot isn't easy, however. That's why I wrote an in-depth guide to building a chatbot.
Digital Marketing Challenge Day 15: Optimize Your CTAs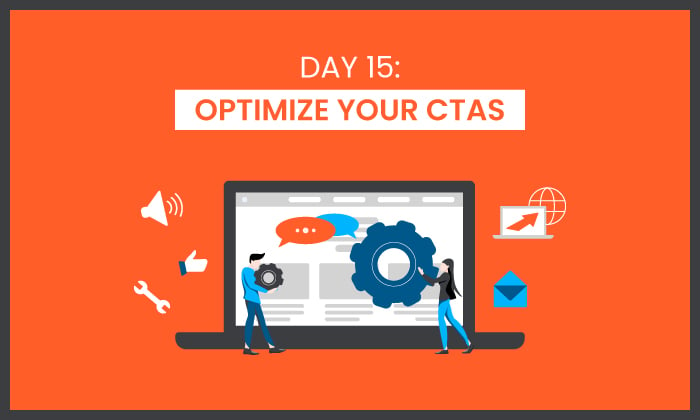 Another way to increase leads and sales is to improve your Call to Actions (CTAs). There's a lot written about changing the color and copy of your CTAs to make it "perfect."
The truth is there's no such thing as the perfect CTA. The trick is to keep tweaking and testing your CTAs forever.
There are several strategies you should try to improve your CTAs:
Personalize the copy
Change the size of your CTA
Change the location
Make your CTA more appealing
Don't do everything at once, however. The secret is to make one tweak at a time, test the results, and then optimize again from there.
Find out more about optimizing your CTAs with my in-depth guide.
Digital Marketing Challenge Day 16: Carry Out Audience Research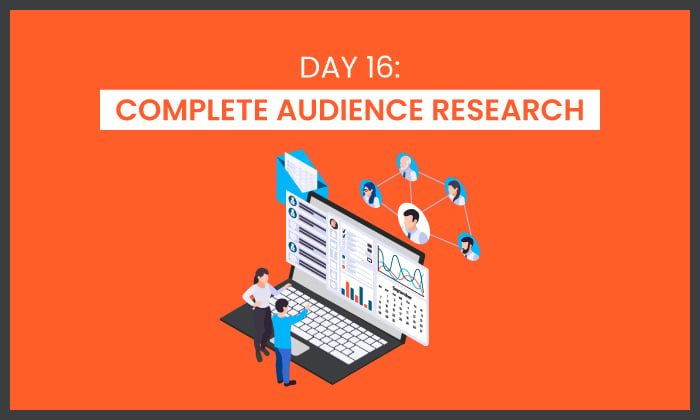 Do you know exactly who you're speaking to? Okay, you know they are interested in your niche, but do you know anything else about them?
If not, then it's time to perform audience research. In-depth audience research will tell you:
Who they are
What their pain points and desires are
What other sites they visit
How your product serves them
When you really understand your audience, you can start creating content they care about. The better you serve your audience, the more likely they'll be to convert.
Find out how to carry out your own audience research and get started.
Digital Marketing Challenge Day 17: Subscribe to Newsletters and Podcasts from SEO Industry Websites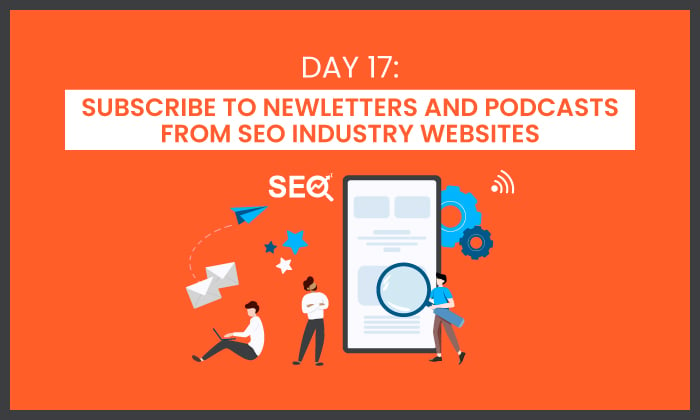 As good as I think this marketing challenge is, you're going to need ongoing advice to keep your marketing strategy going. There are plenty of great newsletters and podcasts about the SEO and marketing industries.
However, I'd be remiss if I didn't mention the two I create.
Marketing School is a daily podcast hosted by myself and Single Grain's Eric Siu. We deliver short snippets of hard-hitting marketing advice from the trenches.
If podcasts aren't your thing, my own newsletter will keep your inbox packed with the freshest marketing advice to help you beat the competition.
Digital Marketing Challenge Day 18: Create a Podcast or Video Series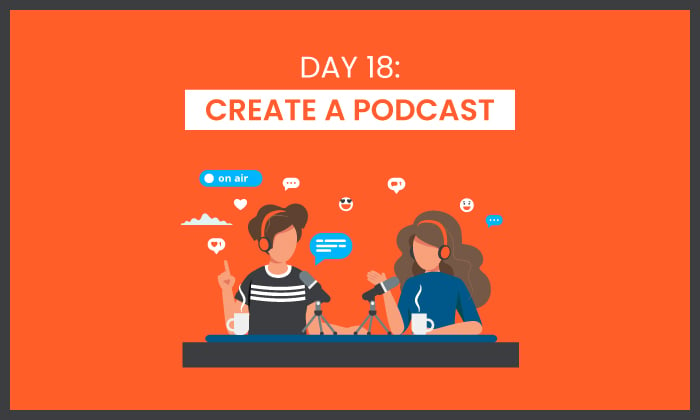 I can't overstate the power a podcast or video series can have on your brand. Both have helped me to grow my audience significantly.
Whether you start a podcast or a video series will depend on your skillset. Most people will probably find it easier to start a podcast.
That's why I created a guide to starting a podcast from scratch in 14 days.
Check it out and see what a podcast can do for your brand. If podcasts aren't your style, create a video marketing plan—even if it's just posting a few videos a month.
Digital Marketing Challenge Day 19: Promote Your Content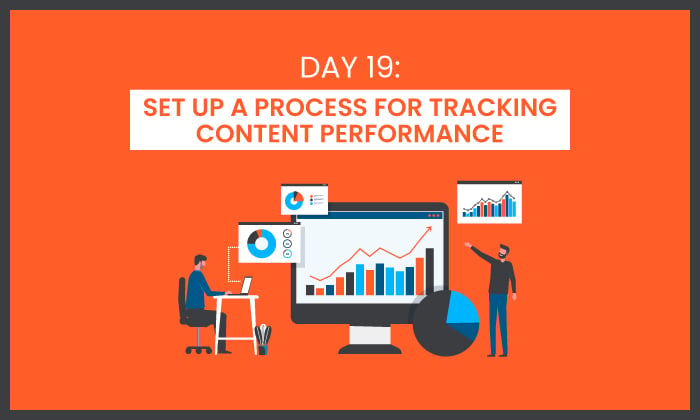 There's no point putting content out into the world if you aren't willing to promote it. Even the world's best content won't get many views without someone promoting it.
That's why you need a plan to promote every piece of content you publish.
At the very least, send out notifications to your audience via social media and email marketing when you publish a new post. Let's not do the bare minimum though.
To get the most out of your content, I recommend repurposing content into images, infographics, and presentations to maximize reach.
The more forms your content can take and the more ways you put it out in the world, the more people will see it.
I also recommend reaching out personally to influencers and anyone you mention in the post to encourage them to share it, too.
For more information on promoting content, see my guide.
Digital Marketing Challenge Day 20: Set Up a Process for Tracking Content Performance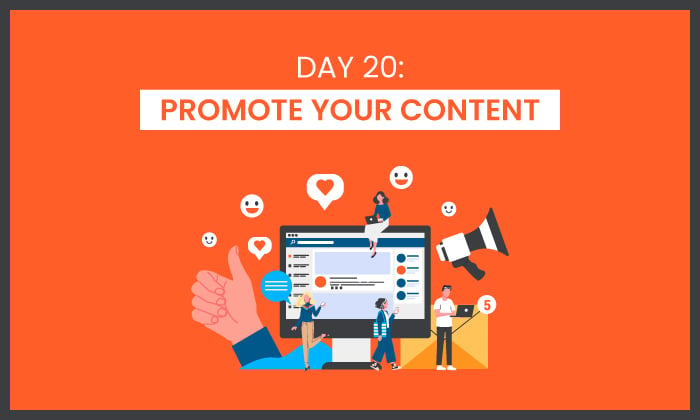 Congratulations, you've made it to the last two days of the challenge.
Remember when I said there's no point in creating content if you don't promote it? There's also no point in promoting content if you aren't going to track its performance.
First things first, you need to be clear on your content's goals. Next, set up Google Analytics to track where your traffic comes from. Finally, you'll need to set up advanced conversion tracking within the GA dashboard to calculate how many conversions your content drives.
This can be a little complicated, which is why I created a dedicated content tracking guide to help you out.
Digital Marketing Challenge Day 21: Find Tools to Automate Your Processes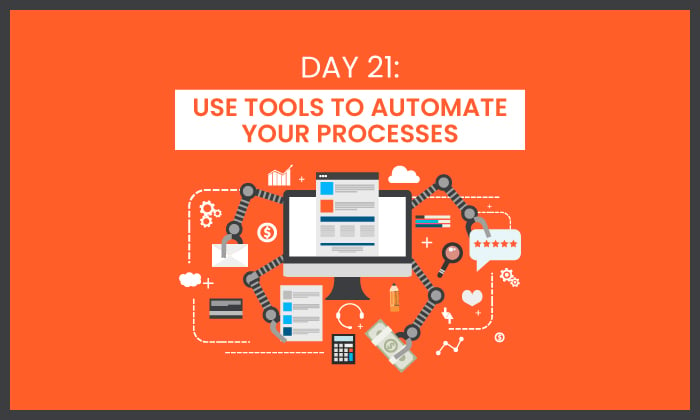 It's the final day, and now it's time to put your marketing on autopilot.
The secret is picking the best marketing automation tool. The problem is, there's a ton of options. That means there's a tool for everyone, from enterprise teams to bootstrapped startups, but it can make it difficult to choose the right tool.
That's why I've shortlisted a few tools for you to check out. They are:
Hubspot
ActiveCampaign
Freshworks
Pardot by Salesforce
Act-On
Trello Butler
Zapier
Read my in-depth rundown of the best marketing automation tools for more information.
Conclusion
Creating a winning marketing strategy is no easy feat, but now you have a successful foundation to build one.
Next, revisit some of the tasks on this list, like writing a guest post and building backlinks to make sure your marketing strategy grows and evolves.
If you need a little help, don't hesitate to reach out. My team can implement these strategies so you can focus on what you do best—running your business.
How did you get on with the 21-day marketing challenge? What was your favorite or least favorite task?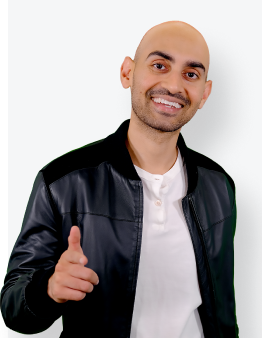 See How My Agency Can Drive More Traffic to Your Website
SEO - unlock more SEO traffic. See real results.
Content Marketing - our team creates epic content that will get shared, get links, and attract traffic.
Paid Media - effective paid strategies with clear ROI.
Are You Using Google Ads? Try Our FREE Ads Grader!
Stop wasting money and unlock the hidden potential of your advertising.
Discover the power of intentional advertising.
Reach your ideal target audience.
Maximize ad spend efficiency.