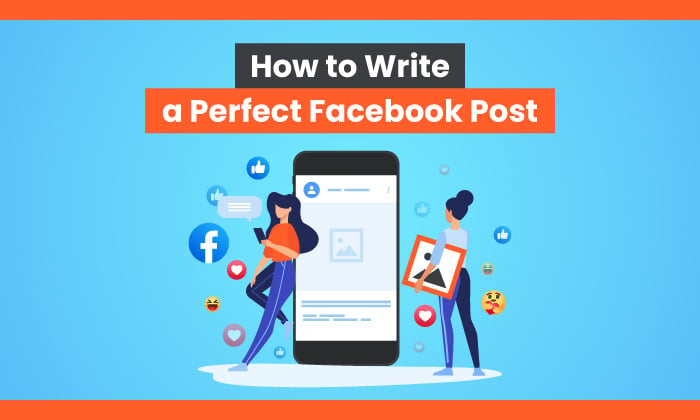 Ever feel like you don't get the attention you deserve on your Facebook posts?
Every marketer wants more attention. After all, that's the goal of social media marketing, right?
The problem is, it can be difficult to win time in Facebook's spotlight unless you know exactly what to do.
The answer to better Facebook engagement is simple: You have to optimize your Facebook post to stand out.
In this post, we'll show you how to consistently create posts that get engagement.
No more waiting for likes and comments. No more spending 20 minutes crafting and curating each post.
You just want an easy process that gets results.
That's exactly what we'll cover—but first, let's talk about what we mean by engagement.
Engagement Metrics for Facebook Posts
Have you ever asked yourself exactly what gets the most engagement on a Facebook post?
According to Facebook, engagement is an umbrella term that can refer to all the actions people take as a result of what you post.
Here are examples of engagement on Facebook:
shares
reactions
saves
likes
comments
Interactions
video plays
link clicks
photo views
These actions can be broken down into the following engagement metrics:
cost per engagement
link clicks
post reactions
page engagement
Engagement metrics are important because they allow you to track how your content performs with your audience.
Generally, the more your audience interacts with your posts, the better your overall Facebook reach will be.
What makes your users take action on your post?
What kind of content does your audience want to see?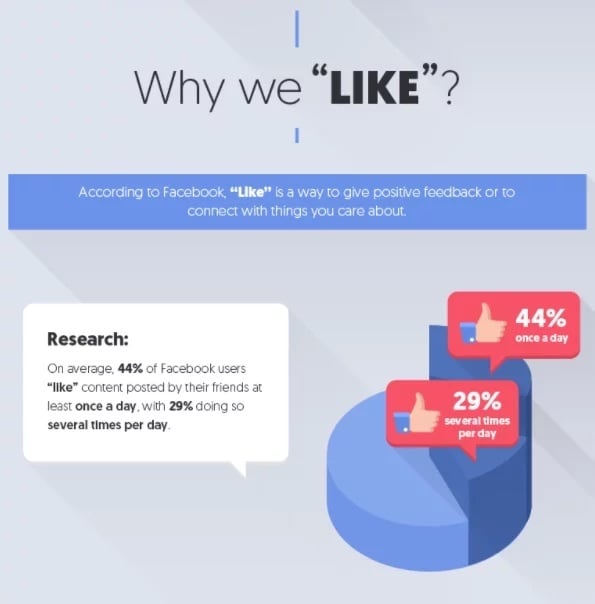 Let's break it down.
People like Facebook posts that are interesting, timely, and funny.
Not every post you make needs to tick all of those boxes, but you do have to create something worth engaging with.
For example, Starbucks gets the most engagement when they ask for audience participation, like in this post.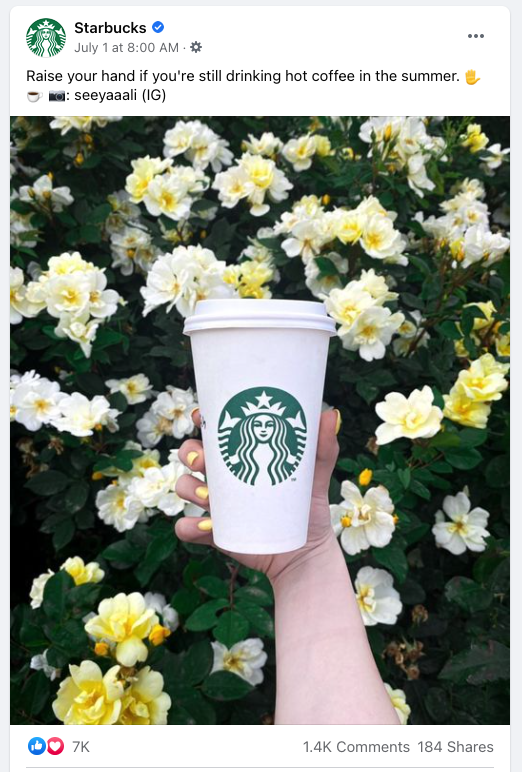 Special announcements also receive high engagement.
These kinds of updates are interesting, important, and sometimes funny. They inspire people who follow Starbucks, and they have good photography to boot.
Even if you aren't as big as Starbucks, you can use the same tactics to drive your Facebook strategy.
Overall, remember your content needs to be interesting, important, timely, and funny (if it's appropriate for your brand).
Let's break down each one of these to see how they work.
Tips for Writing Engaging Facebook Posts
If you're ready to start writing engaging posts, you need to start with a strategy built around your audience's likes and needs. 
Follow these seven tips to impress your Facebook audience and improve your inbound leads.
1. Make Your Facebook Post a Source of Useful Information
Your audience wants information that is relevant to their interests.
More than that, they want information that is educational and interesting.
Starbucks' new product announcements get high engagement because they are useful.
A Starbucks customer sees the post and gets excited about a new drink or food item they can try.
The key to writing engaging Facebook posts is to be an invaluable source of information.
Take this example from the grocery store Safeway, which offers users valuable information about healthy eating.
Plus, they get to promote a partner product and benefit from influencer marketing at the same time!
Way to go, Safeway. We see you.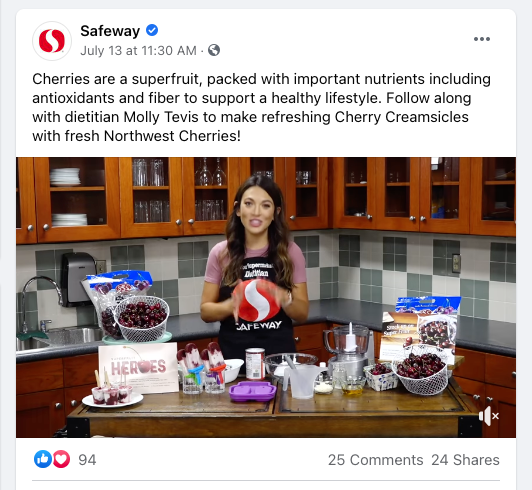 2. Use Audience Insights to Inform Your Topics
The beauty of digital marketing is you can easily deliver curated content your users are interested in.
By creating content specific to their needs, you can improve engagement metrics on your branded Facebook posts.
How do you know what your audience likes?
Tools like Facebook Audience Insights show you what pages your followers like, what they buy, how much they use Facebook, and so much more.
Other tools, such as Google Analytics, Sprout Social, and Hootsuite Analytics offer data (though not all of these tools are free).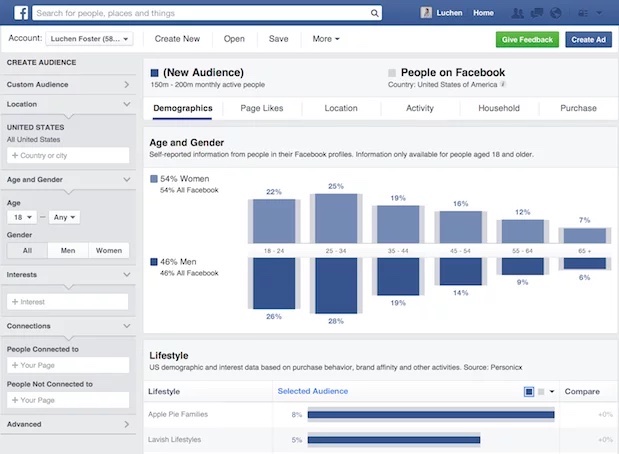 3. Be the First to Update on Industry News
The best posting times are often debated in the world of social media marketing.
However, being timely is about more than simply posting at the right time of day. It means putting out the right content when your customers are looking for it.
Specifically, timeliness means using seasonal content and leveraging current events.
Think of every major retail company in the world. They all take advantage of certain seasons like Christmas and summertime.
Why shouldn't you?
Seasonal content allows you to be timely and create stuff people want to see.
That's not all—seasonal content can refer to literal seasons, but it can also refer to trends.
Remember the ALS Ice Bucket Challenge?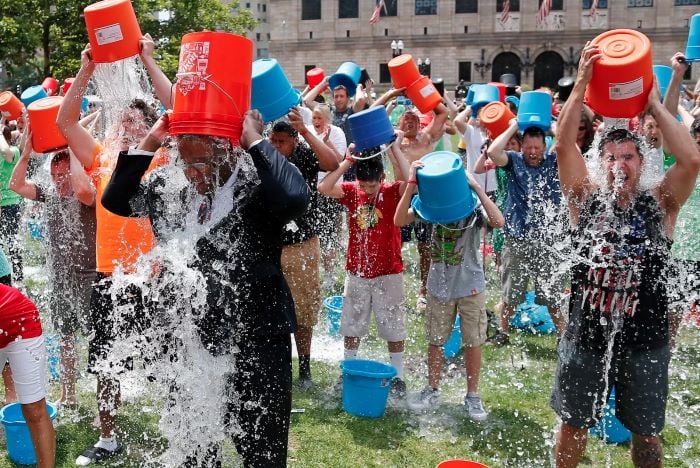 Tons of companies like McDonald's and Pillsbury participated in the challenge.
Their content came out at just the right time. If they had waited six months to participate, the content wouldn't have been timely.
If you want to create engaging Facebook posts, think about current news, events, and trends.
Find ways for your brand to participate.
Then, let the likes and shares roll in.
4. Be Funny (If It Fits Your Brand, Product, and Campaign)
Humorous content will always have a place in marketing and advertising.
However, it's easy to overuse.
When you do it right, it can be wildly effective.
Take this post from McDonald's, which takes on the persona of a Gen-X'er in an art museum.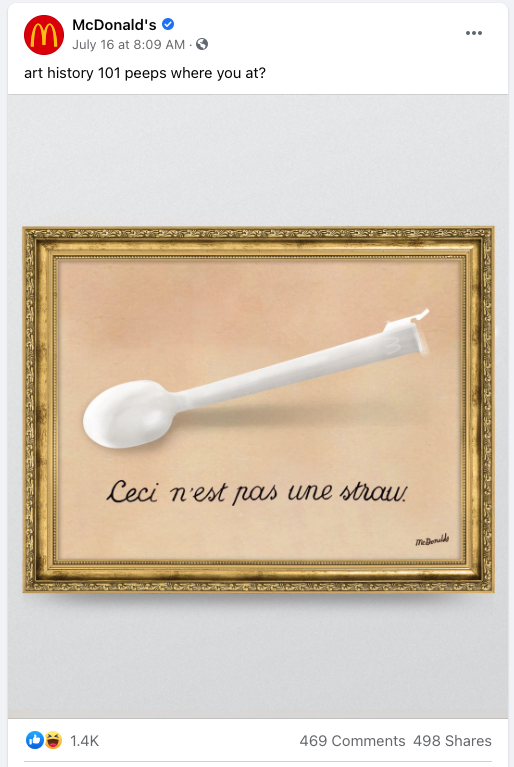 Funny, right?
McDonald's uses humor in many of its posts, creating a laid-back and relatable persona and highly shareable content.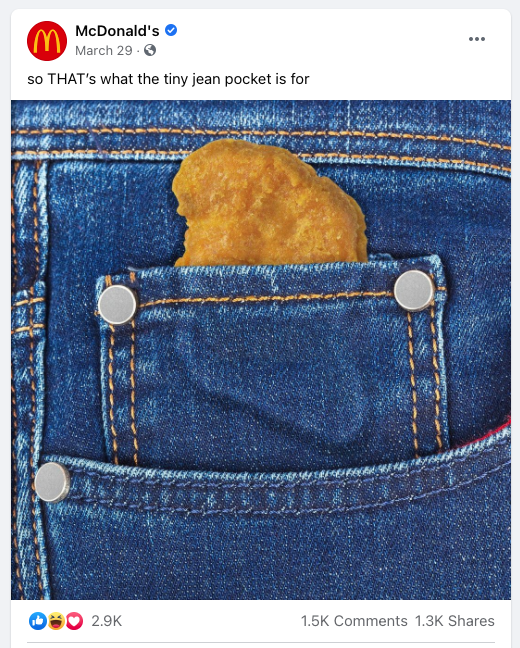 There's no over-the-top, dark, or controversial humor here.
It's all clean (and sometimes snarky) humor that connects with their audience.
However, this doesn't work for all brands. A brand like UNICEF wouldn't be able to use the same sort of humor that McDonald's does.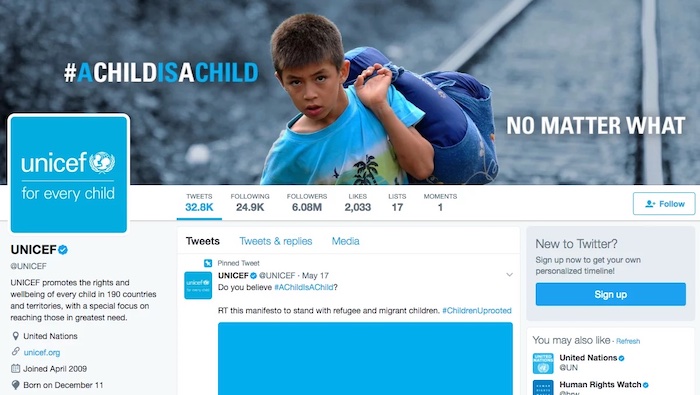 When using humor, remember to stay aligned with your brand.
If your branding is more formal, you'll want to dial down the humor and stay more professional.
If your branding is more casual, you can be a bit more lenient with humor.
Of course, even formal brands can crack a joke now and then. Whatever you do, stay consistent with your branding.
5. Don't Rely on Text Alone
Gone are the days of text-only Facebook posts—we'll leave that medium to Twitter.
Facebook posts are perfect for sharing a nice photo or video, and your users will engage with that more than a plain text update.
Photos make up roughly 56 percent of all Facebook content. Yet, according to Buffer, more than eight billion videos are watched on Facebook each day.
Text still plays an important role, but it shouldn't always stand on its own.
That's one of two big mistakes we see in this area.
Some pages post considerably lengthy status updates, and they don't get much engagement from it.
The other big mistake is posting photos or videos without text.
To get the best engagement, you need to use the right amount of text, usually one to two lines, along with a photo or video.
If you look at high-performing pages, you'll see they stick to this strategy religiously. Most brands only deviate when there's a special occasion.
If you want to create a high-performing Facebook video campaign, try using these tools to make your Facebook video post stand out.
Once you've got a few formats down, play around with it a bit. Your followers may like status updates that are only one sentence long, or they may enjoy a full paragraph with media.
Find out what your users engage with and run with it.
6. Start a Conversation
Too many posts are one-sided, but your audience wants to engage with your content!
Asking questions, prompting responses, or even giving away free items in return for engagement can help your post perform better.
Take this example from Publix, which asks users a question before offering valuable information.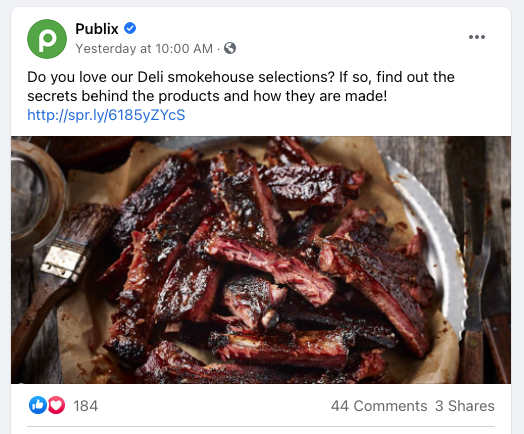 Not all of your status updates need to be exactly like this, but you should aim to start a conversation with your audience.
You can ask a question.
You can pose a challenge.
You can give directions.
Anything that encourages your audience to do something, whether that's commenting on your update or going to your site, can help drive engagement.
7. Run Contests or Giveaways
Contests and giveaways are a great way to drive engagement on your Facebook post.
By offering your users something in return for an action, you have a better chance at getting their attention.
According to HubSpot, contests bring in an average of 34 percent new customers for brands.
Contests also allow brands to grow their followers 70 percent faster.
Try using a contest in your next Facebook post to encourage user engagement.
Take this KFC Facebook post as an example.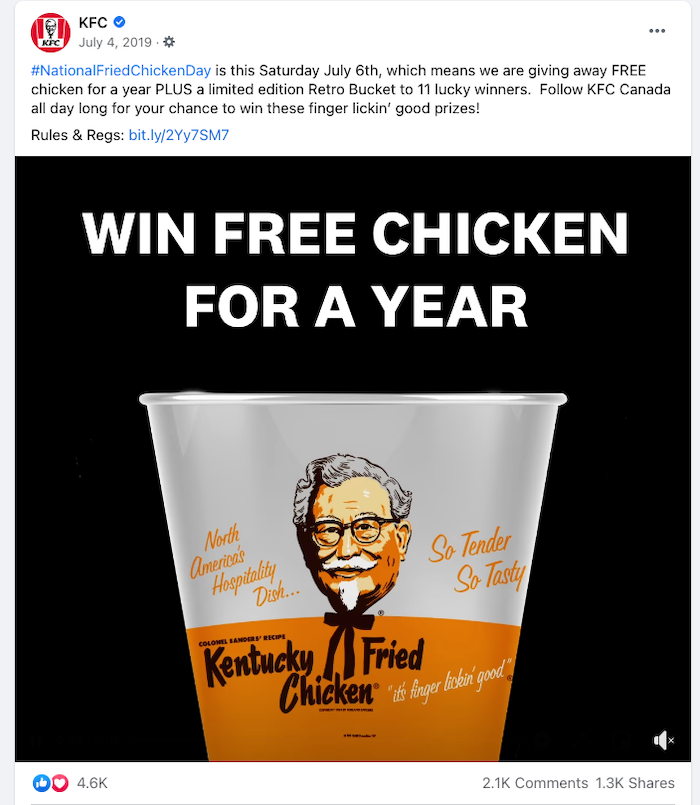 By offering a range of prizes, KFC encourages its users to stay up-to-date with the channel, which drives engagement for all their posts.
Other contest tactics can include asking your audience to tag their friends to improve your post reach and follower pool.
Tagging specific locations can also promote business in localized areas for brands that have multiple locations.
When creating your contest, offer something your audience is interested in.
This could be a product, discount, or even educational information.
Remember to exchange the prize for the desired action.
If you want more followers, ask users to tag a friend. If you want more website visitors, ask users to enter your contest through your website.
Whatever you do, be sure to measure your results.
Facebook Post Frequently Asked Questions
How do I increase reach on my Facebook posts?
The best way to get your Facebook posts seen is to understand your audience insights, create content they want to see, and supplement organic reach with paid advertising to grow your audience.
Should my brand post on Facebook?
Yes, Facebook should be an important part of your overall digital marketing strategy. Not only does it provide advertising opportunities in itself and within Instagram, but being present on Facebook can help drive traffic to your website and improve user engagement.
What do the best Facebook posts have in common?
The best Facebook posts contain a mix of video, text, and photo, use links often, and use engagement tactics to improve audience relationships. 
How do I get more likes on my Facebook posts?
To get more likes on your Facebook post, create shareable content, keep your posts short, respond to your audience, and run contests. Looking for more info? Check out our seven tips for writing engaging posts above.
Facebook Posts Conclusion
Facebook is a powerful platform if you know how to use it right.
The best way to improve the performance of your Facebook posts is to create content your audience wants to see. So how do you do that?
By analyzing your Facebook metrics, understanding your audience's pain points, and creating original content that speaks to their needs, you'll create an engaging Facebook page that your audience will love.
Follow the steps above and measure your results. From there, it's all about testing, optimizing, and finding what works for your business.
How do you engage with your Facebook audience?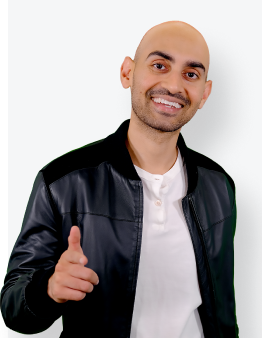 See How My Agency Can Drive More Traffic to Your Website
SEO - unlock more SEO traffic. See real results.
Content Marketing - our team creates epic content that will get shared, get links, and attract traffic.
Paid Media - effective paid strategies with clear ROI.
Are You Using Google Ads? Try Our FREE Ads Grader!
Stop wasting money and unlock the hidden potential of your advertising.
Discover the power of intentional advertising.
Reach your ideal target audience.
Maximize ad spend efficiency.