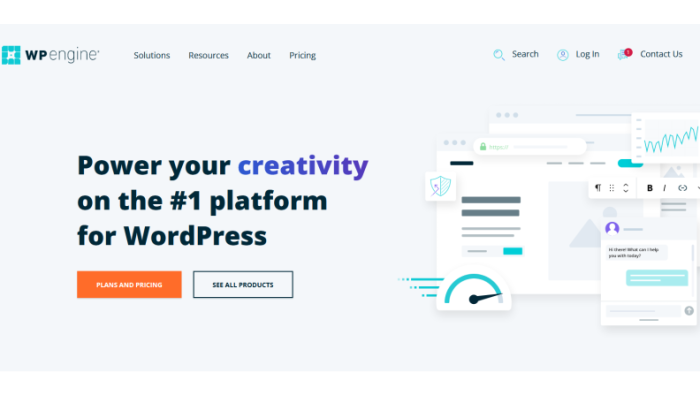 Disclosure: This content is reader-supported, which means if you click on some of our links that we may earn a commission.
WP Engine is one of the best managed WordPress hosting services out there for website owners wanting to take a hands-off approach to website management.
With excellent uptime, a high-performance hosting environment, real-time threat detection, and numerous premium hosting features, WP Engine is the best WordPress hosting service for managed hosting.
WP Engine Compared to The Best Web Hosting for WordPress
WordPress web hosting services are a dime a dozen, and WP Engine has been criticized as one of the most expensive of the bunch. If you believe in the adage that time is money, as we do, it is easy to justify WP Engine's relatively costly plans.
Are you trying to save every dollar, or get the most value for every dollar you spend? If you are focused on value over finding a cheap option, WP Engine is your best possible bet.
It's one of the best managed WordPress hosting services, no question. effectively taking care of the three horsemen of the web apocalypse: downtime, internet security, and page loading speed.
We also reviewed six more contenders for the best web hosting for WordPress. Each of the seven is great in specific categories. Be sure to see all of our top picks before signing up for WP Engine and get guidance for choosing the best one.
Who is WP Engine Best For?
WP Engine is a managed hosting service, so people who want to take a hands-off approach to web hosting immediately come to mind. However, if you run a small blog or website with a few thousand visitors per month, there are much cheaper alternatives that work just as well as WP Engine.
On the other hand, if you are interested in web hosting's technical aspects but don't want to get your hands dirty, WP Engine is for you. If factors like site performance, security, backup, cloud platform flexibility, migrations, and optimization keep you up at night, WP Engine could very well be the partner of your dreams.
Given it's rather steep (but justified) price tag, we recommend this web host specifically for:
Medium to large publishers
WordPress websites that rely primarily on online sales
Fast-growing startups
Professional web designers and developers
For professional WordPress developers, this managed hosting service allows you to build websites from scratch or make changes to an existing site. Devs can create, launch, and hand over the site all from WP Engine's staging environment.
WP Engine does only one thing, which is providing managed hosting for WordPress websites. You don't have to decide between dedicated servers, VPS, shared servers, and so on. If you want to take a hands-off approach to website hosting and server management for a medium to a high-traffic website, it's hard to think of a better solution than WP Engine.
WP Engine: The Pros and Cons
WP Engine focuses on managed WordPress hosting, a business model that has allowed the company to offer unrivaled services in many respects. With access to numerous ecommerce tools, email marketing tools, 35+ Studio Press themes, and plentiful WordPress plugins, it is easy to scale your online business or presence.
WP Engine has a customer satisfaction rating of 97%, and it is easy to see why. The company takes customer feedback and has a dedicated development team to implement suggested changes and new feature ideas. In short, you can expect your experience with WP Engine to improve over the years.
However, WP Engine can have a steep learning curve. This web host targets customers with at least some technical experience.
To help the less-technically inclined customers, the web host has an expansive self-help support center. Here, you get detailed step-by-step directions complete with screenshots, FAQ's, in-depth articles, and more resources to help smooth the learning curve.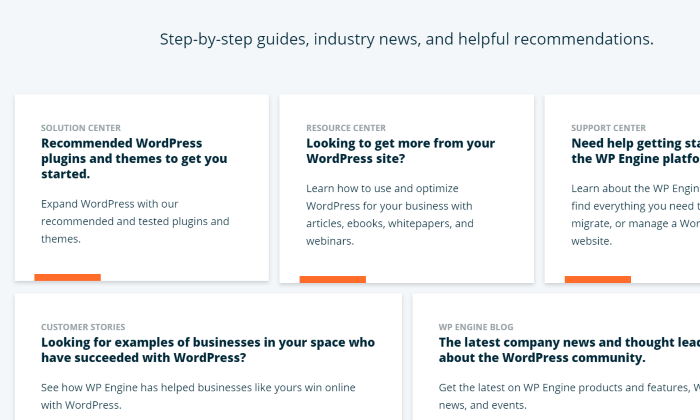 Also, WP Engine has multiple data centers worldwide to deliver content to your visitors based on their location. This feature helps to lighten the load on your server, making all the difference during peak times or unexpected traffic spikes. The data centers are located in:
United States
Australia
Canada
Belgium
Taiwan
United Kingdom
Germany
Pros
Exceptional Load Speed: If website loading speed is a top priority, WP Engine does well in this regard. The host's combination of custom NGINX extension, built-in Content Delivery Network (CDN), and SSD technology ensure that your web pages load quickly. NGINX extension prioritizes human requests over robot requests and offers load balancing, giving your visitors a better experience. For its part, CDN delivers site content to your visitors based on their location to boost your site's speed and reduce latency. You get this capability for free with all WP Engine plans.
High Performance: It's hard to beat WP Engine's performance, which is why people continue to pay a premium price for this service. WP Engine guarantees 99.95% server uptime, roughly four and a half hours of downtime a year. You can further increase your uptime to 99.99% with enhanced SLA, which translates to a little under an hour of downtime per year. WP Engine will compensate you with hosting credit if your uptime falls below the guarantee.
Advanced Security: WP Engine monitors all the traffic going to your site and automatically detects and blocks potential attacks. Additionally, the hosting service automatically updates and patches the WordPress core to eliminate potential vulnerabilities. In a worst-case scenario, WP Engine automatically backups your site every day and has a one-click restoration feature to get you back up and running quickly. Finally, this hosting service protects your website against JavaScript/SQL-injection attacks, brute force attempts, and DDoS attacks.
Phenomenal Customer Support: The hosting service has a transparent and trackable ticketing system to get in touch with customer care via chat. The support team has an excellent knowledge base and can help you solve problems quickly. You get 24/7 phone support for all plans except the Growth Plan, in addition to 24/7 live chat support on all plans.
Useful Staging Environment: The staging area allows you to clone your site's live version and make changes or test new plugins and themes. Anything you do in the staging area doesn't affect your live site. This feature allows developers to work on websites without interfering with the live site's functionality or user experience.
Transferable Installs: Also targeting developers, this feature allows you to build a website from your WP Engine account. You don't have to wait for the client to add you to their WordPress website. Once completed, you can transfer the site to the client or host the site on WP Engine. This functionality saves time if you regularly build websites for clients.
Cons
WordPress-Only Hosting: If you are using any other content management system aside from WordPress, then you are out of luck. WP Engine only works with WordPress. From a business perspective, it makes sense to focus on a single market and offer exceptional services in that area. However, this model locks out many people who could otherwise benefit from WP Engine's services.
No Domains or Email Hosting: If you prefer to host your email account and register your domain through your website host, you'll need to look elsewhere. You'll have to use third-party services for domain registration or email accounts.
Inflexible Pricing: WP Engine runs a tight ship, and this is reflected in its pricing structure. You will be penalized for exceeding your plan's visitor limits. This might not be a problem if you have predictable traffic, and you can always upgrade your plan as your site grows. However, significant spikes in traffic during product launches or seasonal business can cost you substantial overage charges.
WP Engine Pricing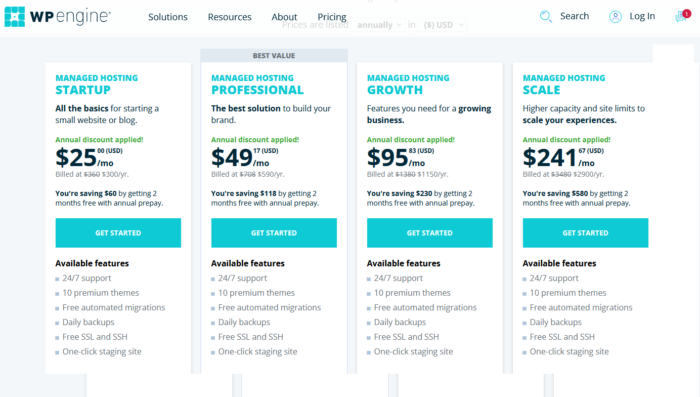 There is no other way to put it: WP Engine is expensive. Is it worth the cost? The answer lies in figuring out what you are paying for.
You can get shared hosting that can handle the same amount of traffic as WP Engine for a fraction of the price. You can even get dedicated hosting for the same price as WP Engine. What you are really paying for here is security, performance, speed, and, most importantly, peace of mind. The ultimate question is how much these things are worth to you.
With that in mind, let's take a look at WP Engine's pricing plans.
Startup
The Startup package is the most basic plan and will set you back $25 per month when paying annually ($30 if you go month-to-month). With this package, you get:
25,000 visits per month
50GB bandwidth per month
10GB storage
One site included
WP Engine targets small websites and blogs with this plan, but we think it may be overkill for most people in this category. You can get a far better deal with shared hosting at Bluehost.
However, if you don't want to take any chances with uptime or need a guarantee that your website can handle 25,000 visitors per month, WP Engine is a sure bet. We'd recommend this option to small businesses, affiliate websites, and blogs making good money and want assurances that nothing will change.
You can save $60 per year or two months free if you pay annually.
Professional
The Professional package is a nice middle ground between entry-level and high-octane. For $49 per month when paying annually, you're allotted:
75,000 visits per month
125 GB bandwidth per month
15GB storage
Three sites included
This can be the perfect option if you're unhappy with your current host but your site's already getting too much traffic to stick on the most basic of hosting plans.
You also get a really solid deal compared to the plans above and below it. While its resource limits may not blow you away, you're getting the most bang for your buck on the Professional plan from WP Engine.
You can save $120 per year if you pay annually, the month-to-month bill will run you $59.
Growth
The growth plan targets fast-growing businesses and will cost you $95 per month. Here you get:
100,000 visits per month
200GB bandwidth per month
25GB storage
Ten sites included a while
This plan is a great entry point for a growing business, and it might be a while before you need to upgrade. With this plan, you also get 24/7 phone support in addition to round-the-clock chat support. This addition will come in handy if you have a complex issue that you need to resolve quickly.
You can save a cool $230 or two months free with annual billing.
Scale
WP Engine advertises its scale plan as the best value option. This one costs $241 per month. Here you get:
400,000 visits per month
500GB bandwidth per month
50GB storage
30 websites included
We recommend this option for a fast-growing blog or business. You get access to 24/7 live chat and 24/7 phone support in addition to the support center.
You can save $580 or two months free with annual pre-paid billing.
Custom
Finally, if you have a mission-critical website or large business, the Custom plan may be appealing. With this plan, you get:
Millions of visits per month
400GB+ bandwidth per month
100GB-1TB storage
30 sites included
You will have to speak to a sales rep to get your personalized quote depending on your requirements. This plan also offers proprietary support should something go wrong.
WP Engine Product Offerings
WP Engine breaks down its product offering into four categories:
Creative Agility (Site Building & Management)
Ecosystem Integration (Open Source Flexibility)
Enterprise Performance (Site Speed, Scale & Security)
Actionable Intelligence (Site Analytics)
WP Engine Local Development
WP Engine offers a full-featured local environment, giving developers more freedom and flexibility. You still get access to your favorite debugging tools, including Xdebug, WP-CLI, and MailHog.
The one-click WordPress installation allows you to start building your local WordPress site instantly. You can also work in your preferred environment, including MySQL and Hot-Swap PHP 5.6 and PHP 7.3.
WP Engine Auto Migration
Mercifully, you do not need technical chops to migrate your existing website to WP Engine. The hosting service has a painless WP migration plugin to migrate your site on your behalf, complete with importing your database and replacing domain values.
WP Engine Environments
WP Engine offers three environments, including Development, Staging, and Production. Access to all their environments is included in your plan at no extra charge.
The development and staging environments allow you to make changes or modifications without affecting your live website. By creating a replica of your live website, you can check for bugs and errors without losing the site's functionality. You don't need to go into maintenance mode to make changes.
WP Engine Automated Backups
Away from the more dev-facing functionality, WP Engine automatically backs up your website daily to protect your data. You can also backup your site manually. There are up to 40 backup points available and up to 60 most recent backup points if you contact support.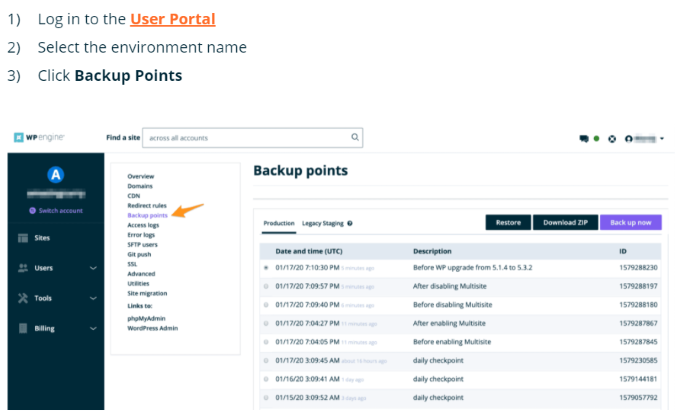 Rolling back your website to a previous version is as easy as selecting a backup point and clicking Restore.
WP Engine CDN and SSL Certificates
You get free access to the global Content Delivery Network (CDN) with a single click of a button. With this functionality, you can disperse large static assets like images to various server locations worldwide. Your users enjoy faster download speeds, even during peak traffic. CDN is available on all WP Engine plans.
Additionally, you get a free SSL certificate, adding an extra layer of encryption to your site.
WP Engine Proprietary EverCache®
With EverCache, you don't have to worry about the impact of increased traffic on your page speed. This feature automatically caches static content on your site. Additionally, the system evaluates all your incoming traffic and determines which ones to serve and which ones to block.
EverCache is a built-in caching system that you can customize to meet your unique caching rules.
WP Engine Managed Core Updates & Patches
The main appeal of managed web hosting is its hand-off approach to running your website. WP Engine automatically adds new options and features to the WordPress core to improve your site's functionality. The host also automatically updates security and maintenance releases.
WP Engine rigorously tests all WordPress updates, and you have the option to defer some of the updates.
WP Engine Threat Detection & Blocking
One of WP Engine's best features is its proprietary approach to security. The host logs all attempts to write to the disk and can quickly identify malicious and non-malicious code. Other security measures include disallowed plugins (those known for security vulnerabilities), a proprietary firewall that can automatically detect malicious traffic, and automatically blocking requests attempting to scrape for author ID information.
WP Engine Page Performance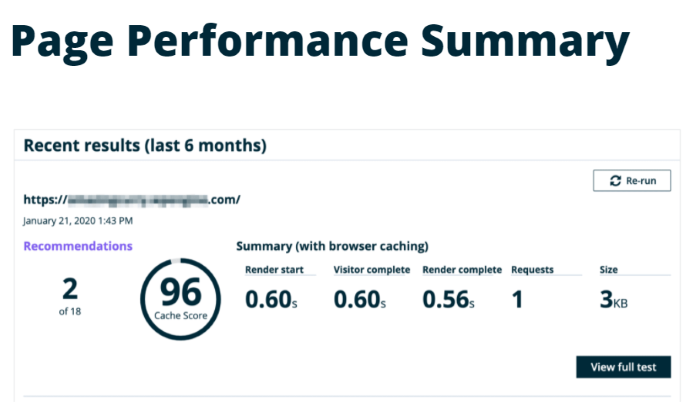 WP Engine allows you to track your site's performance right from the dashboard. You get access to performance and speed data for all your websites, including historical data. You can keep an eye on your performance over time. It is not always easy to know the impact of new site features or plugins. WP Engine makes it possible to track performance and the effect of changes in real-time.
WP Engine WordPress Plugins
With WP Engine, you get access to more than 55,000 WordPress plugins, including popular options such as Yoast SEO and Classic Editor. The WordPress Plugin Directory gives you access to the most extensive library of free WordPress plugins.
WP Engine 24/7/365 Support
Websites are prone to all kinds of emergencies, and WP Engine offers round-the-clock support. The average live chat support response time is 3 minutes. You can reach customer support via live chat or phone call. The host also offers numerous resources to help you solve problems on your own.
The Best Web Hosting For WordPress
WP Engine is just one of many excellent web hosting services for WordPress. Check out our top picks for more options and help finding the perfect web host for your needs.
The main thing you hear from WP Engine detractors is its high cost. Few people have any real qualms about the host's actual product offerings. If you are running a small website or blog, you probably don't need most WP Engine features and functionality.
However, if you have a medium to large website with tens of thousands of monthly visitors and growing rapidly, you may want to seriously consider WP Engine. This host allows you to focus on your core business, all the while giving you the peace of mind that your website is available, fast, secure, and ranking on Google.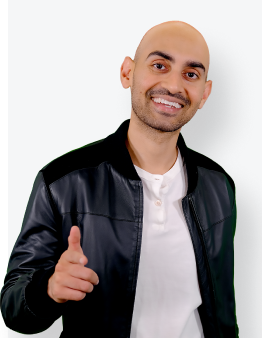 See How My Agency Can Drive More Traffic to Your Website
SEO - unlock more SEO traffic. See real results.
Content Marketing - our team creates epic content that will get shared, get links, and attract traffic.
Paid Media - effective paid strategies with clear ROI.
Are You Using Google Ads? Try Our FREE Ads Grader!
Stop wasting money and unlock the hidden potential of your advertising.
Discover the power of intentional advertising.
Reach your ideal target audience.
Maximize ad spend efficiency.