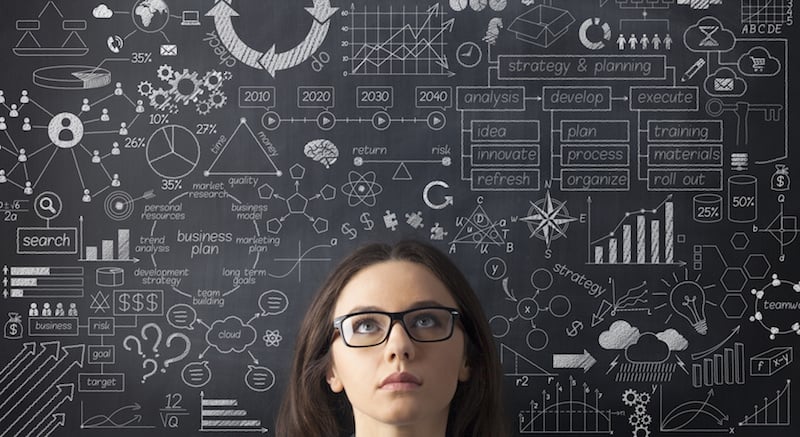 Can you trust the results from an analysis of 100 million articles?
Considering that the sample size is so huge, I'm betting you will. After all, what useful conclusions can you really draw from reviewing 10 articles?
One hundred million articles, on the other hand, can give you access to insights that'll take your content marketing efforts to a whole new level.
Have you ever wondered how SEOs and content marketers boost their organic search rankings and get more social shares on their articles? What's their secret?
You're about to find out.
But first, consider this. 93% of marketers use social media. Only 7% of marketers say they don't use social media for their business.
Embracing social media is a surefire way to grow your referral traffic and increase your social signals, which in turn adds more power to your links for improved search rankings.
It's easy to look at a successful marketer and think, "Oh I wish I could achieve half of what they've achieved!" I've had readers say that to me, but they're only looking at the current picture.
It might surprise you to know that I struggled to find the right blog post topics in the beginning. Creating irresistible headlines was a hassle for me back then.
But, I kept pushing. I kept researching and challenging myself to learn more.
Eventually, I cracked the code and I've been creating lots of blog articles that get over 1000+ social shares and rank highly in Google search results ever since.
So how did I get here?
The answer is that I carefully studied viral blog posts. I spent time studying articles with over 10,000+ Facebook and Twitter shares, especially the ones that earned authority links within their first week after publication.
I came to understand that the reason why 49% of people share content on social networks is because they want to encourage action or change opinion.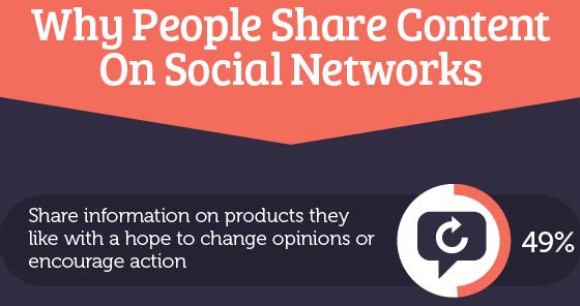 Every content marketer needs to consistently stay aware of the digital marketing landscape and seek insights from reliable sources.
In this in-depth article, you'll gain those insights from a recent study conducted by Buzzsumo of 100 million posts.  You'll learn why some content gets tons of shares, while other content never gets shared at all.
In this post-Hummingbird era, Google is concerned about your social media activity as it relates to your brand.
For example, Google+ and Google's search engine are like two sides of the same coin. What happens to one affects the other. That's why it only takes a few hours for a Google+ post to appear in search results, in most cases.
So, without further ado, here are 7 insights collected from analyzing 100 million posts. 
1. Long-form, interesting articles are emailed more often than shorter articles.
Interesting long-form content gets the upper hand when it arrives in email inboxes.
Researchers discovered that the most emailed posts from the NY Times website were longer articles, not the short ones. Longer articles are well received by email subscribers because they're better at building trust, according to MarketingExperiments.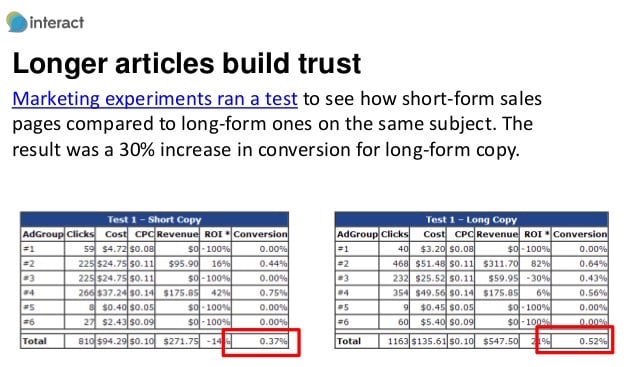 You might think that people share cute cat pictures and infographics most often, but it turns out that they also want to share long-form, intellectually challenging and interesting articles with their friends and colleagues.
The web has millions of short articles, because they're easy to create. You don't even need to do any research before writing a 300 – 500 word-count article. But, it's a lot harder to craft a well-written 3,000 word-count article without conducting a bit of research first.
Since people prefer to email long-form articles over short forms, it means that you can grow your email list by including a "send to a friend" link in every email that you send.
According to HubSpot, when you encourage your current subscribers to share and forward your emails by including an "Email to a friend" or "Forward to a friend" link, you'll gain instant access to a new audience – your subscriber's colleagues and fans – who might be interested in signing up for your list.
Remember to include a "Subscribe" call-to-action at the bottom of your marketing emails. All you need is a simple text-based link or button that redirects to your landing page or leadbox, so that those receiving your forwarded emails can easily opt-in, too.
Beyond text-based content like articles, blog posts and press releases, long-form video content also wins across platforms, as a recent study by Ooyala reveals.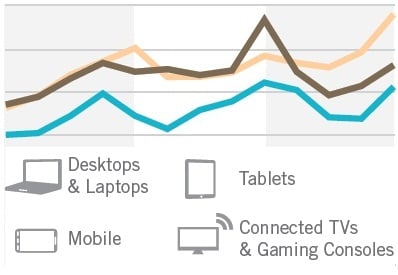 Aside from the computer screens, Ooyala's study revealed that the connected TV and game console platform saw an increased growth that went from 6.5 minutes per play to more than 12. Remember that game consoles suddenly started releasing a lot of video-based apps.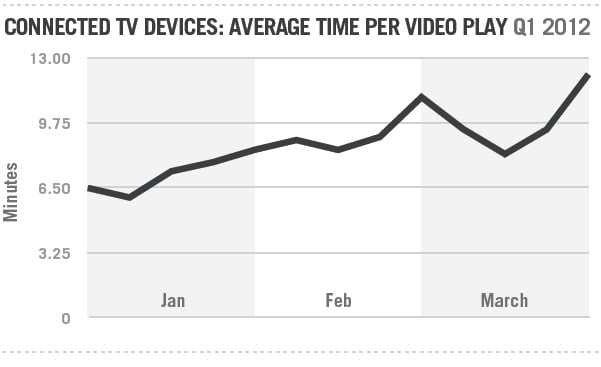 After conducting research on the virality of online content, Dr. Jonah Berger and Katherine L. Milkman found that positive content resonates with people more than negative content.
They also found that people preferred emailing those positive articles rather than ones with negative themes.  People also like to share detailed, in-depth, long-form articles on challenging topics.
If you consistently send useful long-form emails to your subscribers, your list will grow faster.
You'll see a dramatic increase in social shares, too – especially when you include a "Share Now" link or button that makes it easy for recipients to share your email content on Facebook, Twitter, or LinkedIn.
CJ Pony Parts started creating long-form articles to inform their customers and they focused on promoting their article entitled, "2015 Mustang Parts."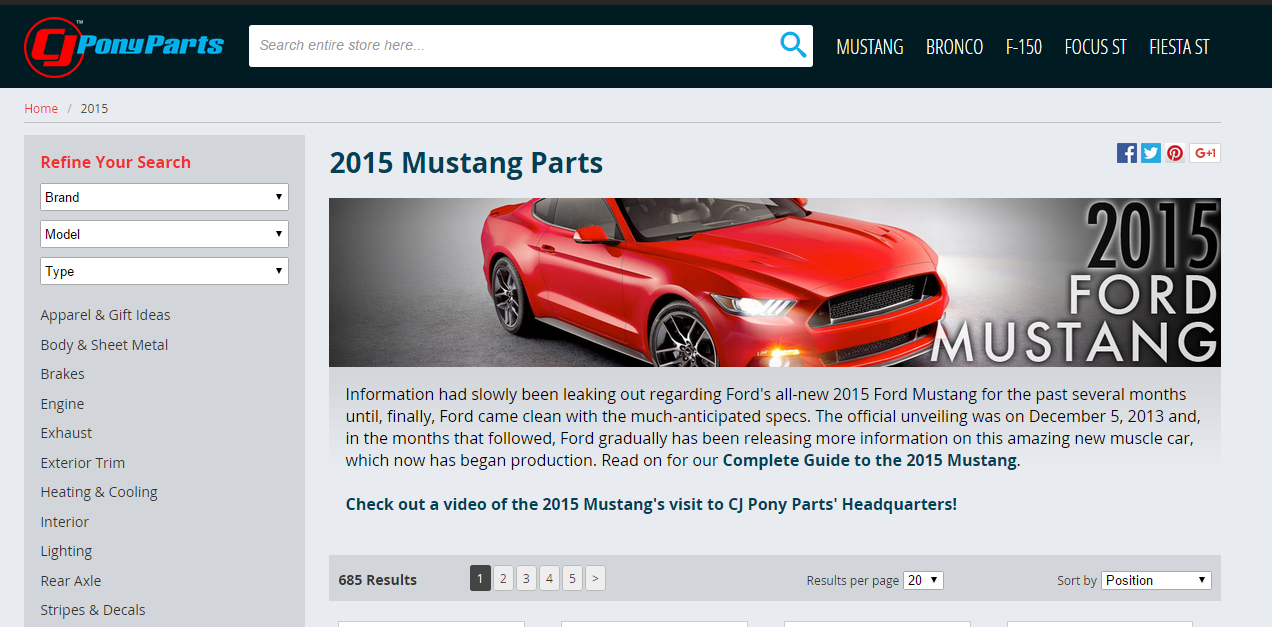 The objective of this long-form article was to rank #1 in Google for a competitive keyword and to increase organic traffic to the page, which in turn would increase conversions.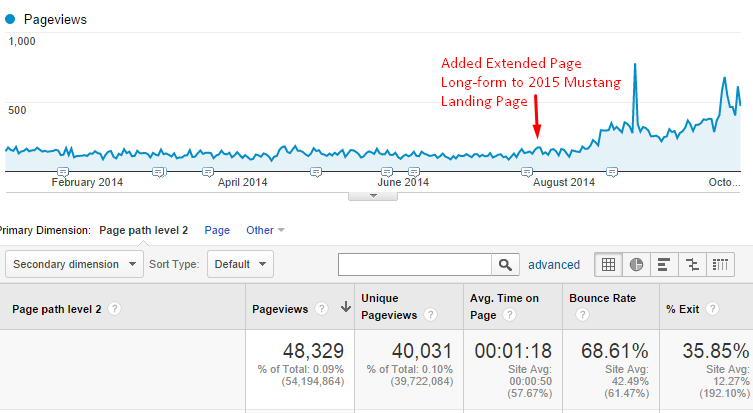 The moment they updated the page, there was a significant growth in traffic. Within a short period of time, the resource page started to rank at #3 for the targeted keyword, beating out some of the brand's stiffest competition.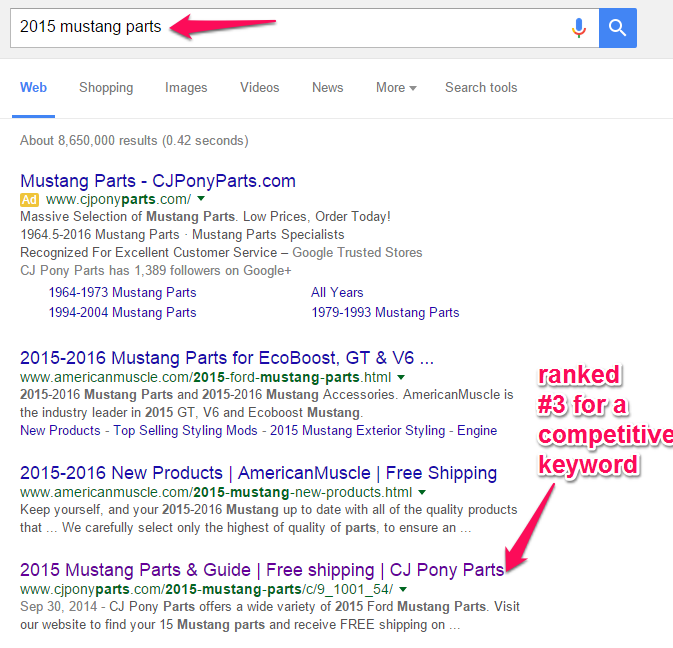 So what's the relationship between organic traffic and sending long-form articles to your email lists?
Here's how it works: when you reach more people in their inboxes with your long-form content, they'll link to it when they write their own posts or share the post on a discussion forum.
Joe Golfer (possibly one of my email subscribers or blog readers) shared my advanced guide to SEO on Warrior Forum.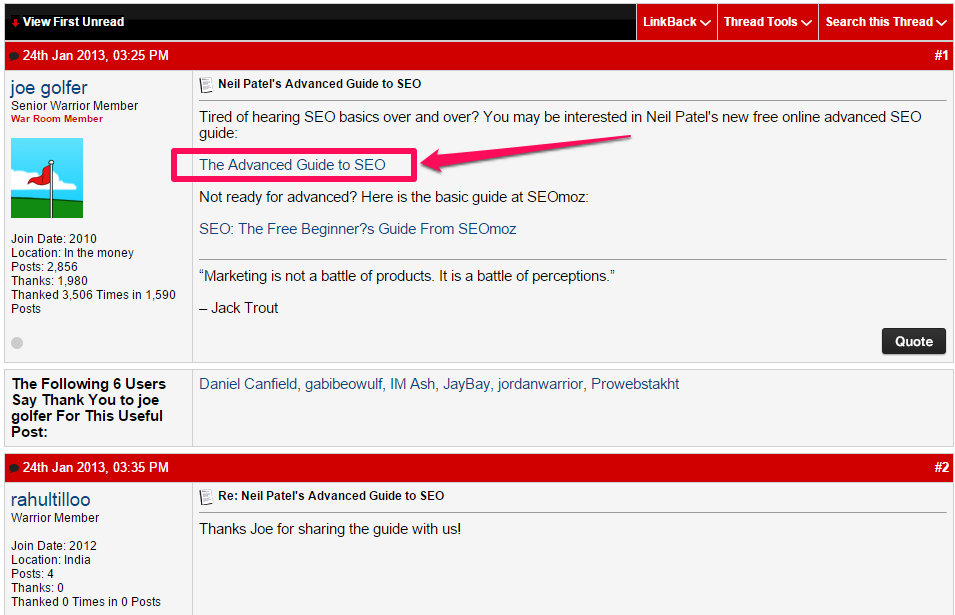 If you've been on my email list for some time, you've probably noticed that when I email you about the latest posts on QuickSprout, I send everything, including the screenshots and videos – I don't leave anything out. And, you know that my typical blog post is over 2500 words.
I do this for a reason: Even if you're not ready to visit my blog yet, you can read the complete blog post right from your inbox.
Give it a try. Send a long-form article to your email subscribers and not just the excerpt. Study your open and click-through rate. Then, compare the results with your previous email conversion rate.
2. People are passionate about the keywords they type into Google search.
Love it or hate it, SEO is an integral part of inbound marketing.
If you want to grow a business and sustain it, you've got to work at getting organic search traffic. It's time to stop looking for loopholes and start optimizing for the users.
According to Regalix, 96% of marketers use Search Engine Marketing to provide valuable content and 60% of companies report that their SEO and content strategies are integrated.
An effective content strategy begins with a keyword. You can't achieve much from the search engines if you don't understand keyword research and optimization. This is even more important given that users are passionate about the keywords they type into Google.
Think about it: When someone comes to Google search and types in "2015 honda civic si," what comes to mind?
Do you think that the searcher has interest in that particular vehicle or are they just browsing aimlessly? I think there's a specific goal for every search.
First and foremost, the searcher wants to find results that contain the same keyword they searched for. So, with this example, the searcher would click the first search result because it contains the keyword in question: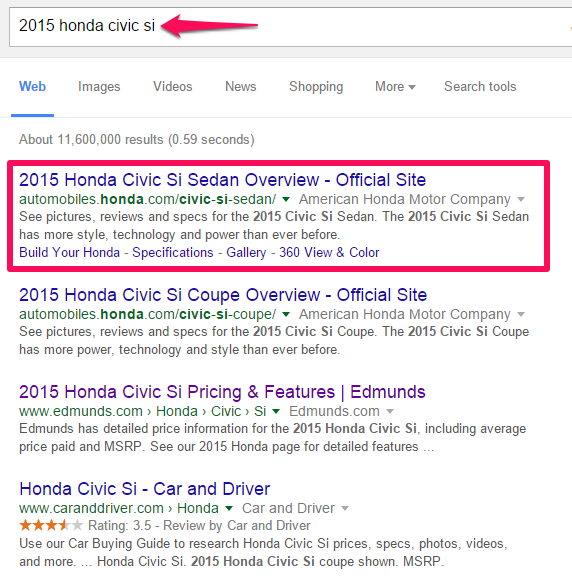 People want to see the corresponding information pertaining to their keywords. They already know what they want, but they're relying on Google to give them the right results.
So you really have two roles to play:
Research, target and optimize for a given keyword in a natural way

Provide useful content based on user intent
i). Research, target and optimize for a given keyword naturally: Before creating a piece of content, you've got to learn more about your target audience. What do they want to buy or learn more about?
So let's do some quick keyword research.
Go to Google AdWords' Keywords Planner. Plug your main keyword (e.g., "salsa dancing") into the search box. Click the "Get ideas" button.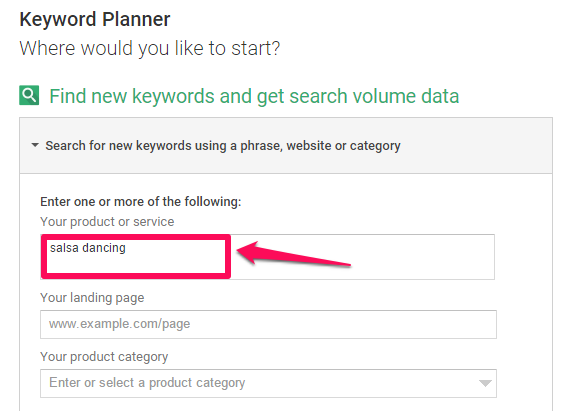 Next, select your keywords.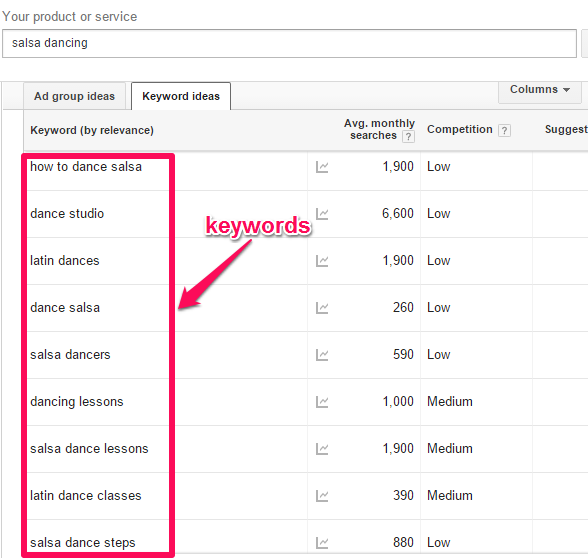 Let's target one of these keywords, "salsa dance steps."
Then create your headline. A few of the different headline ideas you can use to create helpful articles are:
The Best Salsa Dance Steps to Hone Your Skills

Master These 3 Salsa Dance Steps and Become a Pro

Salsa Dance Steps: The Secrets The Pros Don't Want You to Know
Note: the keywords are underlined in each of the headlines above.
ii). Provide useful content based on user intent:  What is user intent? Here's how Jeremy Smith defined it:
User intent describes what a user is looking for when they conduct a search query. This goes beyond the superficial idea of 'keywords.' Keywords are just that — words, and they are nearly passé in the age of semantic search and highly developed algorithms.
User intent helps you focus on what matters, not the latest search algorithm trends.
What's the intent when a user types "pizza" in the search engine?
Well, over the years, Google has collected a lot of data that tells it that anyone searching for pizza is ready to order pizza from a local restaurant. So those results get priority.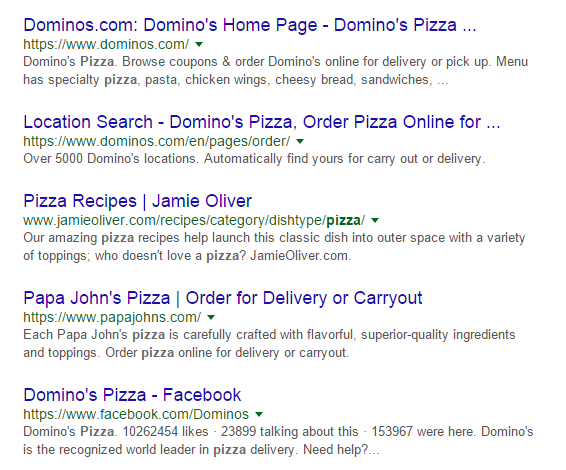 When you study your target audience and your competitors, you should come up with insights on the intent behind the keywords in your industry.
For example, when someone types "help me lose weight fast," what comes to mind?
It tells us that the searcher may well have tried a handful of weight loss programs or pills without success. So now, they want you to take them by the hand and show them step by step how to lose weight fast.
That's the intent.
The moment you understand the user intent, your conversion rate will increase because your landing page will agree with your search results snippet.

3. Long-form articles don't have much competition in the search engine results pages (SERPs).
Links are still the way we get high rankings in Google results. But in 2014, Google took a stricter route by releasing the Penguin update to penalize sites with manipulative or unnatural links.
Google wants you to get natural links. Anything else can get you into trouble.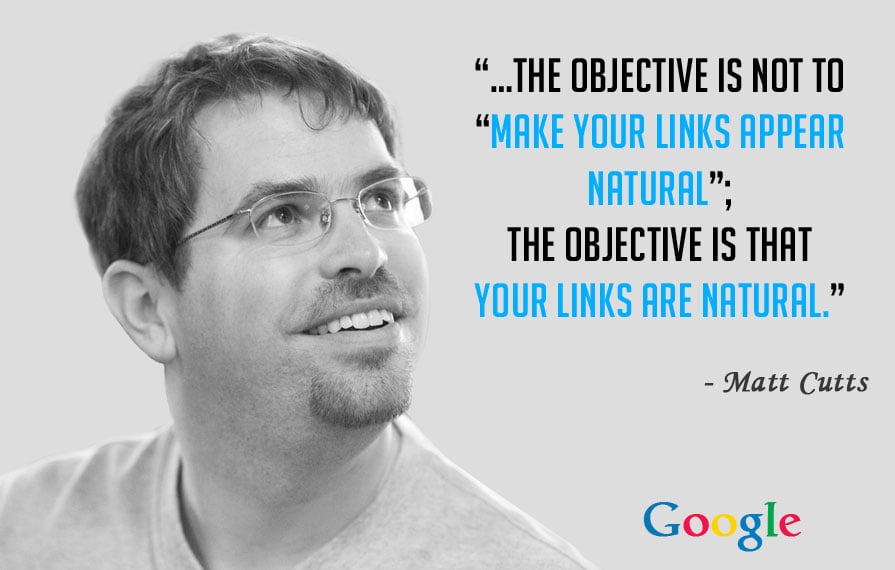 The risk of getting penalized has caused a lot of webmasters and bloggers to stop building links altogether. Consequently, their search rankings have tanked and organic traffic to their sites has stalled.
Getting links by yourself is a risky adventure. Even if you try to get natural links through guest blogging and email outreach, a lot of other site owners are also doing the same, so you've got some serious competition.
In your bid to get higher organic search rankings, you can cut to the chase and at least reduce your competition. How?
Research and create long-form articles.
It's the easiest way to build a lasting business online. Brian Dean embraced long-form content.  Ever since, he has outranked the competition for "Google 200 ranking factors" in organic results: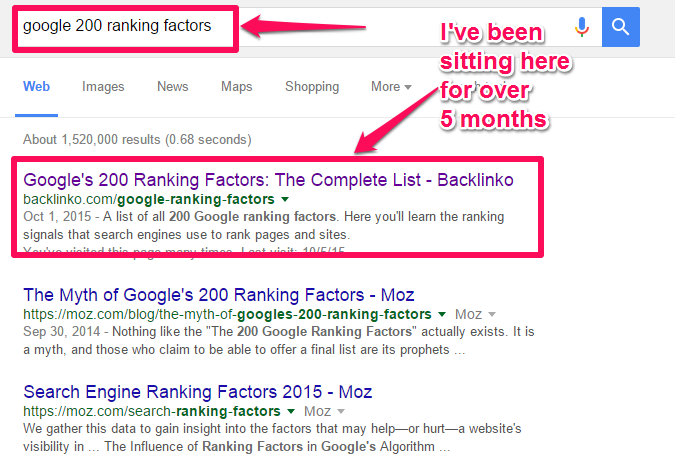 If you're at the top of the search results pages, you can bet Google will take a closer look at your page to gauge its usefulness and authority. In doing so, Google may choose to manually review your site.
That's good news for you. If your competitors are ranking ahead of you in the search engines and Google discovers that their content isn't worthwhile, those sites may be penalized for link manipulation, because Google will question how they got to the top of the SERPs in the first place.
But, if your content is in-depth, useful and full of rich ideas, concepts and tips, Google will conclude that your top rankings are well-deserved.
Truly, long-form articles don't have much competition in the search engine results. If you doubt it, take a look at the top search results for any given keyword (e.g., "productivity tools").
Did you notice that the first search result is from WordStream.com? Interestingly, the top result outranked an article on a similar topic from Entrepreneur.com.
You and I know that Entrepreneur.com has higher domain authority and influence, so why would a smaller site perform better in the organic search results>
When I analyzed the sites, I discovered that the article on WordStream contain 2,255 words, while the Entrepreneur.com page contains links to articles pertaining to productivity. Google favored the long-form article, because it's perceived as more useful to users.
What's more, people naturally like to link to well-written long-form articles much more so than to short ones.
In addition to the experiment that SerpIQ conducted, which clearly shows that long-form content performs better in search, Moz discovered in 2011 what seemed to be a correlation between a site's backlinks and the overall length of the content in question.

It's obvious that long-form content influences the algorithm, though we may not know exactly how it works.
I've discovered that my readers also prefer articles that are longer, well-researched and data-driven. These posts are shared more than shorter ones.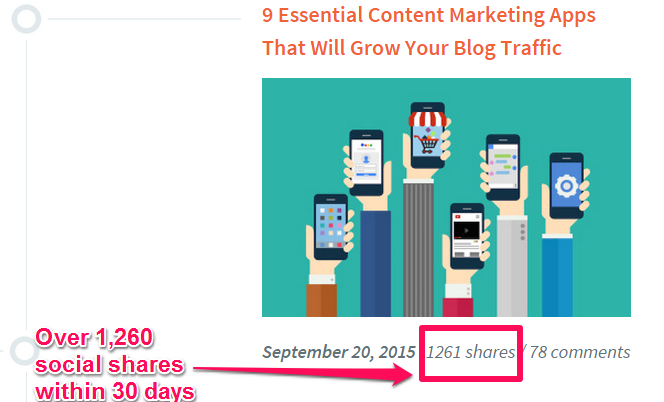 So, if my readers love and benefit from long-form content, what's the justification for me to ignore it?
Come to think of it, what really makes a 300 – 500 word-count article great?
Nothing I can think of, except it's "faster to read." But, that also means it's likely to be less useful.
Of course, I know that some bloggers, in a bid to write a 2000+ word post stuff a lot of keywords and repetitive text into their content, just to up the word count. That's neither useful nor interesting.
But, the majority of those writing long-form content spend a lot of time creating it, so you can always expect to gain new insights from it.
When it comes to Facebook Ads, promoting long-form content will produce a higher conversion rate for you than short blog posts. For example, Grasshopper, a software company that helps you manage your phone online, created and promoted its 18,000-word guide via a sponsored Facebook post.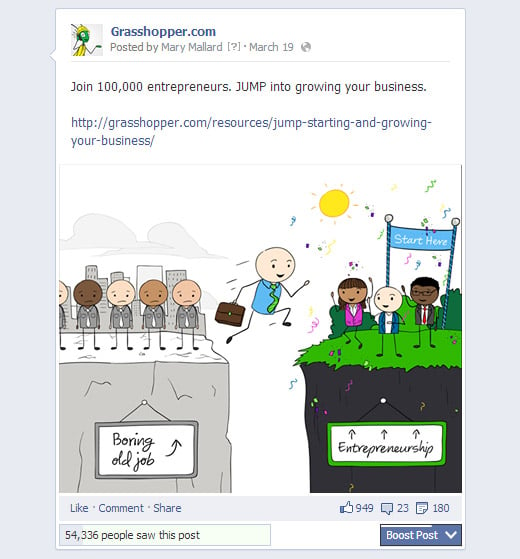 The ad got 949 likes and 180 shares. The content had custom illustrations plus a ton of different topics within the guide. People were excited to share it, because it was a lot better, and more useful than the typical short blog post.
A typical example of long-form content that outperforms the competition in search rankings is my Advanced Guide To Growth Hacking.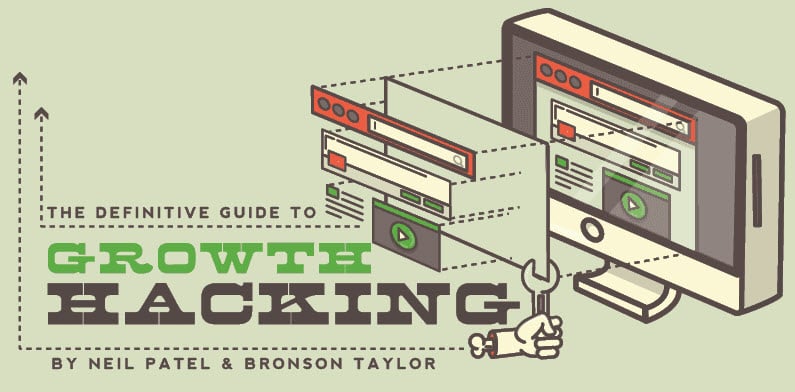 I'm currently ranking at the #1, #2, and #3 positions.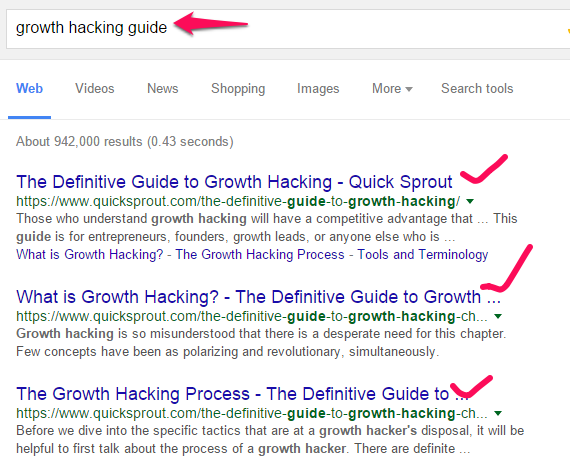 Why does this guide rank higher than any other growth hacking guide? Well, several factors play a key role.
One of the biggest reasons why the guide is so popular is because it's divided into 10 chapters, each focusing on a different topic related to growth hacking.
Unlike other guides that don't give complete or detailed information, mine provides actionable examples of how readers can apply these techniques to their own businesses, making it a remarkably useful resource.
Remember that people are lazy. Only a few people are ready to compete with a search result containing 3000 – 7000 words.
If you create an extremely in-depth article of about 5000 words, you'll absolutely generate organic traffic and discourage competitors from doing the same. After all, writing high-quality content of that length takes time. And not everyone has that kind of time.
Remember, though, that long-form content won't produce these results unless you also learn how to distribute and promote it to the right users.
4. Articles that are backed up by data or statistics get more Twitter shares.
If you want to get more Twitter shares, you need to include data in your articles.
The good news is that content marketers have access to more data than ever before, thanks to thousands of new research studies, experiments and case studies which are being published on a daily basis.
When Buzzsumo analyzed those 100 million articles, they found that posts with the OpenGraph image tag did substantially better on Twitter than posts without any form of image.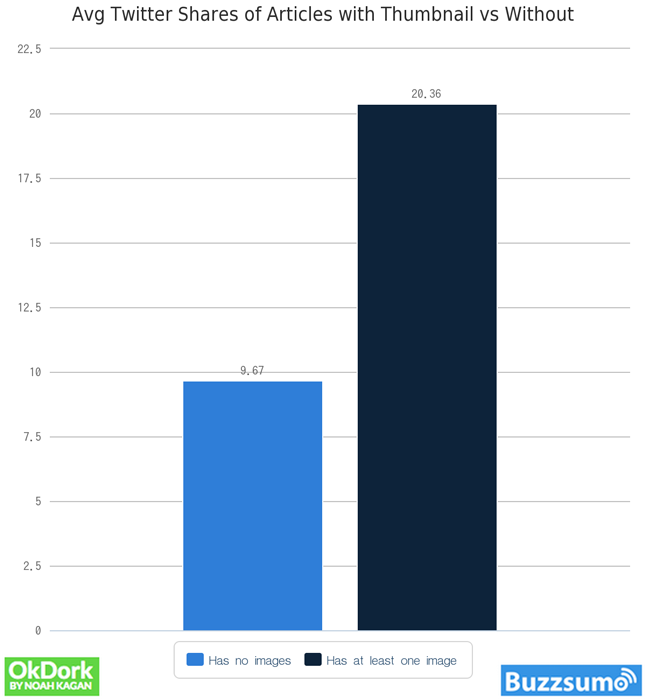 Not every image will perform well on Twitter. But, charts, screenshots, infographics and other types of visuals that contain data or statistics tend to generate more views, tweets and retweets.
A global review of data-driven marketing by GlobalDMA and the Winterberry Group, in its survey of 6000 marketing professionals, revealed that 77% are confident in the practice and its prospects for future growth.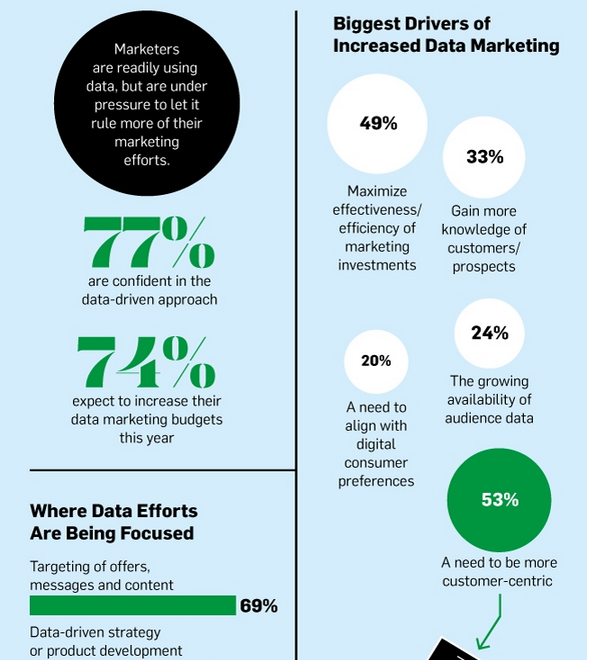 Personally, I've noticed that whenever I publish a data-driven blog post, I see a lot of my readers sharing the post on Twitter: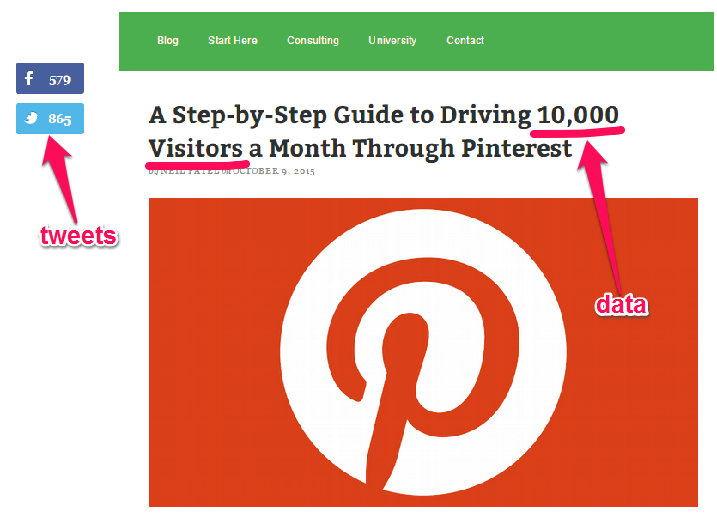 Takeaway: Include data or statistics in your article headlines. It'll increase the perceived value of your content and give potential clients a good reason to hire you, because they want results.
For example, let's say your headline is this:
How I Added 5308 Email Subscribers to My List With One Strategy
Trust me, your readers will read the post, take notes and apply your strategy to their businesses.
Others might prefer to hire you to perform the same trick for them. After all, you've got the result and replicating it should be a piece of cake for you.
So avoid writing generic headlines:
How to Drive Organic Traffic to Your Site
Instead, include data to make the headline compelling. Let's rewrite the headline to include some data:
How I Generated 32,594 Organic Visitors to My 5-Month-Old Blog
Did you notice how I tweaked the first headline and made it a lot better? That's exactly what you should be doing.
But where do you get data or statistics for your headlines and content?
Well, believe it or not, your Google Analytics can provide all the data and statistics you need to get started.
For example, if your bounce rate was 67.88% last month, but you took action – you wrote better content and engaged the readers – and your bounce rate dropped to 54.33%, you already have an idea for a great data-driven post. The headline could be similar to any of these:
The 3-Step Process That I Used to Reduce My Bounce Rate to 54.33%

How I Formatted My Content and Reduced Bounce Rate to 54.33%

How I Reduced My Bounce Rate From 67.88% to 54.33% in 30 Days
The above headlines are compelling, useful and intriguing. The user will want to read the article, because the promise is specific.
It's true that Twitter recently announced that it will do away with share counts altogether by November 2015, thus share counts will stop being displayed on posts. As a result, Twitter share counts will probably no longer be a social signal that Google uses to gauge the engagement of your web page.
Twitter shares may not improve your search rankings directly, but social signals overall will send some link juice and increase your page impressions.
Within a short time, you'll notice a rise in your organic search rankings, because Google has deemed your result worthy of a top position in its listings.
5. Articles that inspire awe and laughter are shared more often on top social media networks.
Social media adds more power to your links. If you want to enjoy long-term search rankings, then you need to embrace social media marketing.
Search engines generate 300% more traffic to websites than social media, but 76% of marketers use social media to support and improve SEO efforts. Search sends up to 35% more traffic to publisher sites than social media.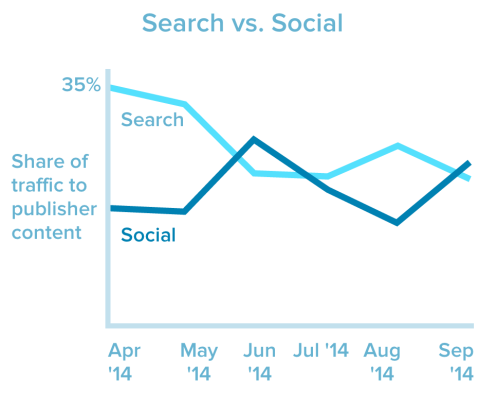 That being said, you've got to understand the type of articles that your target audience wants. The fact remains that articles that inspire awe or laughter are shared more often on top social media networks.
After analyzing the top most shared content all over the web within a specific period of time, the testing team at Buzzsumo mapped each of the articles to an emotion, such as joy, anger, sadness, happiness, laughter, amusement, empathy, etc.
The breakdown looked like this: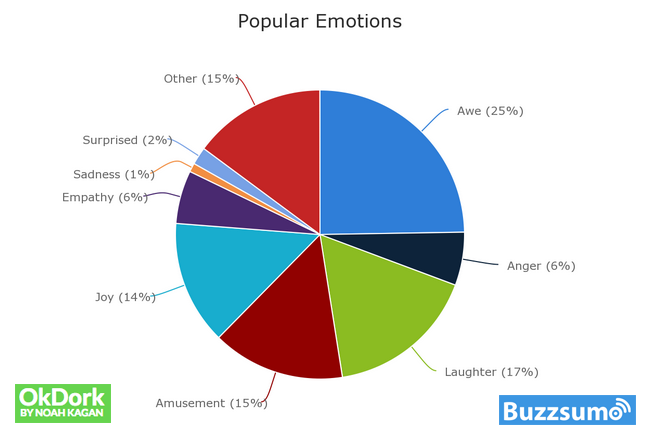 If you study the pie chart above, you'll notice that pieces prompting sadness and anger were 1% and 6% respectively – in other words, they were the least popular.
This tells you something that can help you create viral content. People simply aren't likely to share articles that made them sad or angry, no matter how valuable the article may be.
Take another look at the chart. Laughter is 17%, amusement is 15% and awe is 25%. These are the most popular emotional responses. This shows that people prefer to share articles that make them feel happy or full of awe.
So what makes some content go viral, while other posts struggle and get buried?
Well, we may not have all the answers because a lot of factors plays a key role here, but we do have scientific results to show.
Not too long ago, Dr. Jonah Berger co-authored a paper with Katy Milkman entitled "What Makes Content Go Viral?" Their findings correspond with the insights from the Buzzsumo analysis:
Content that invoked high arousal emotions is more likely to go viral than content that provokes no emotional response. Examples of high arousal emotions are happiness, awe, amusement, and anxiety.

Positive content is more likely to go viral than negative content. Your articles should send positive vibes to readers.

Practical, useful and interesting content also gets the most social shares. Try to break up your articles into a step-by-step process, give helpful tips and make it interesting.
In all, before social media can work for your brand, you've got to develop a strategy and have a definite objective. The articles that you'll create will be a reflection of your objective, not the other way around.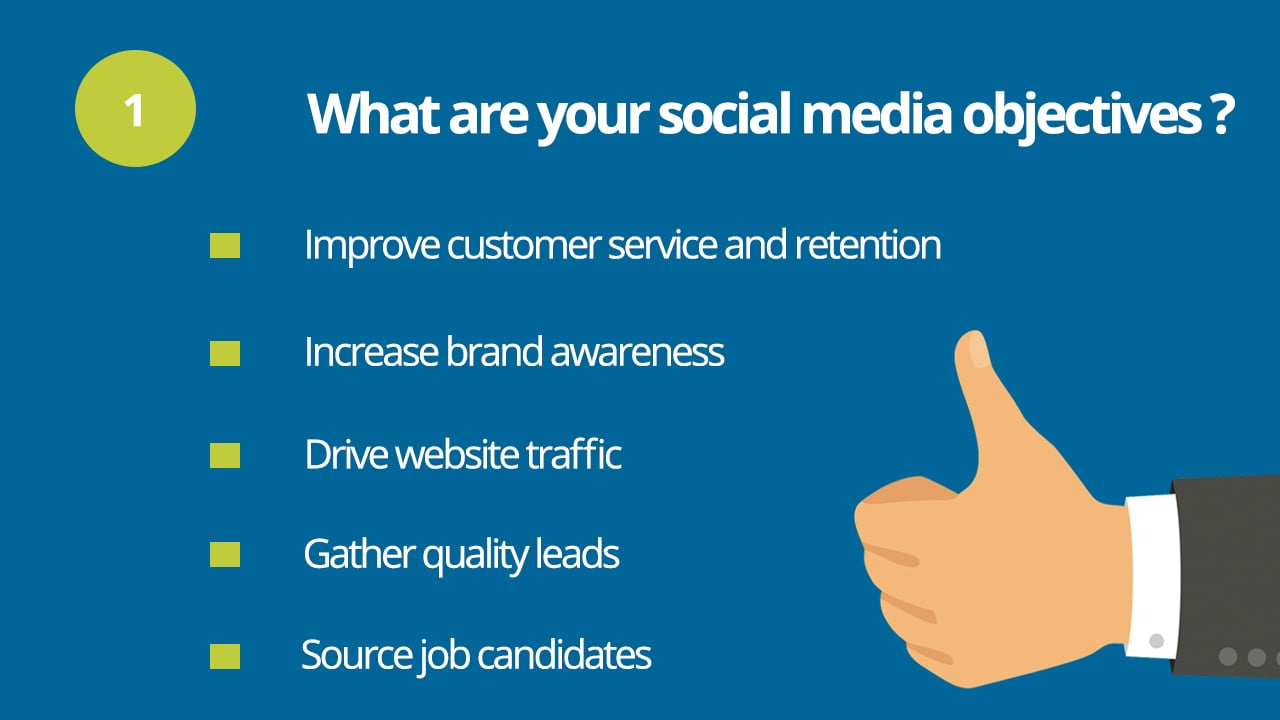 The moment you define your social media objective, you can then create the right content to provoke those high arousal emotions. When you follow this approach, you'll see increases in social shares, leads and revenue for your business.
For example, JustGiving raised almost $1.5 million for their charitable partners. They know that by split testing the donation buttons, they can generate an extra $4.5 million for nonprofits on JustGiving.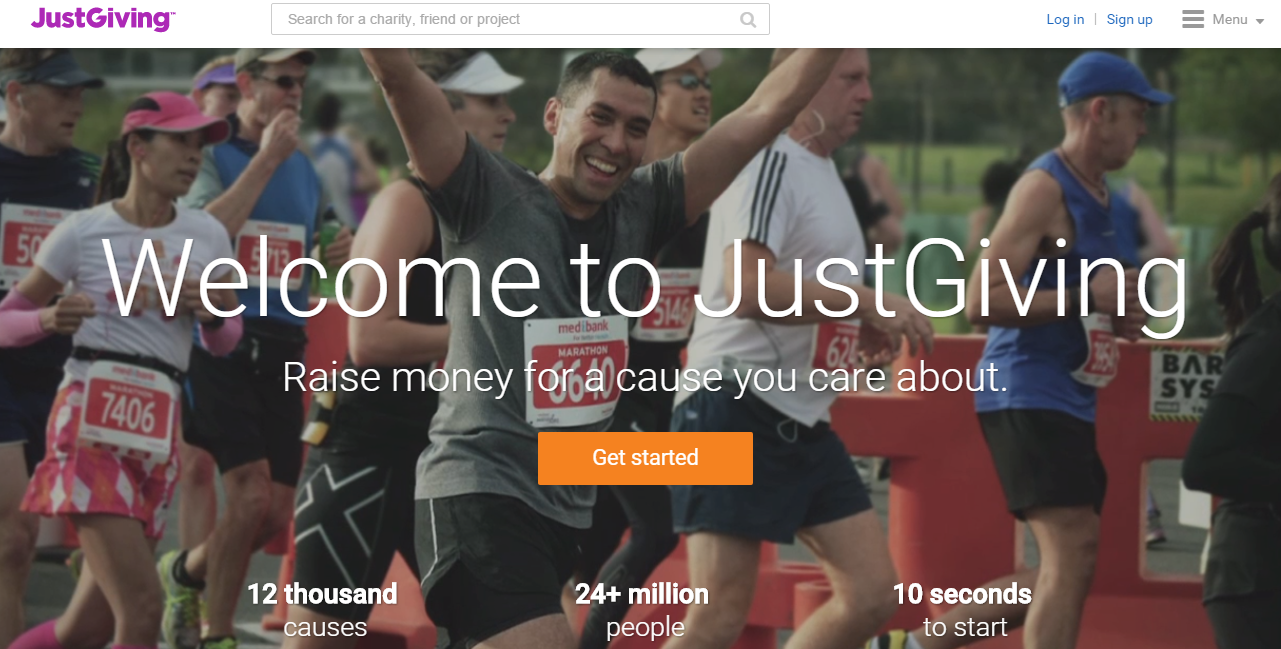 What's the emotion behind charity and helping impoverished nations and cities? I see empathy, happiness, and joy, especially when you show the impact donations can make in the lives of people around the world.
6. Of the top 10 most shared articles in 2014, 8 were quizzes.
It might surprise you to know that the number #1 article on The New York Times site in 2013 wasn't an article or a blog post.
It was a quiz.
Quizzes are powerful engagement drivers. A quiz can triple your conversion rate and increase your revenue.
For example, Zenni Optical, a company that sells fashionable eyewear online, created a quiz entitled "You've Been Framed" and generated over $1 million in revenue, 29,410 qualified leads, and a 9,665% ROI in 6 months.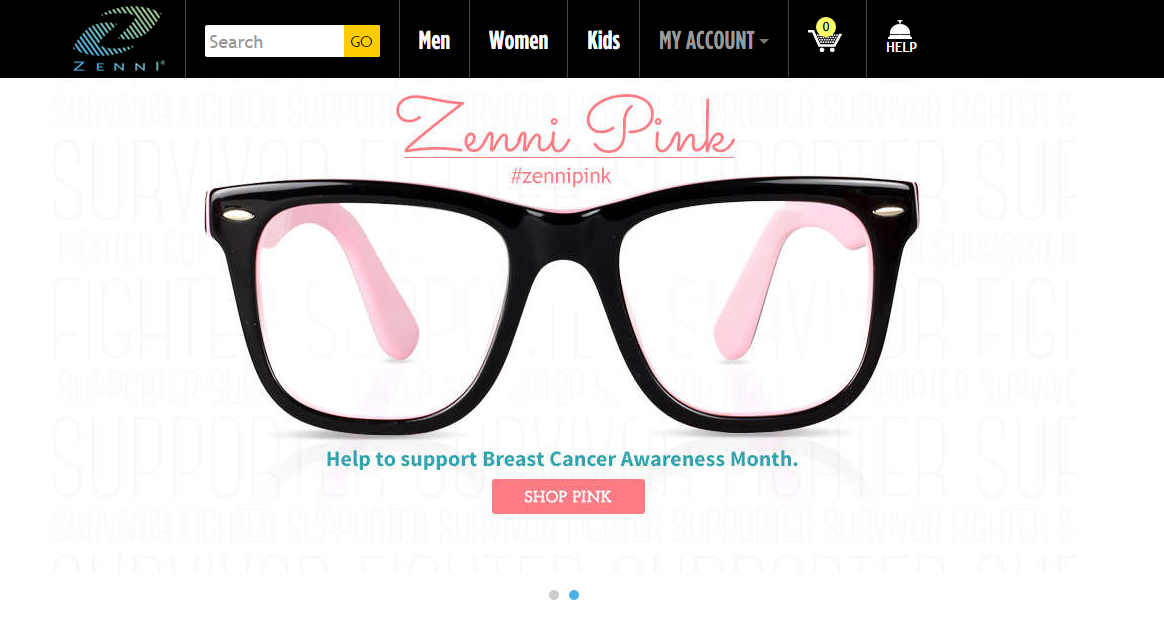 Quizzes should be a part of your written content strategy. Yes, written – because 35% of online marketers have a documented strategy and results to show for it.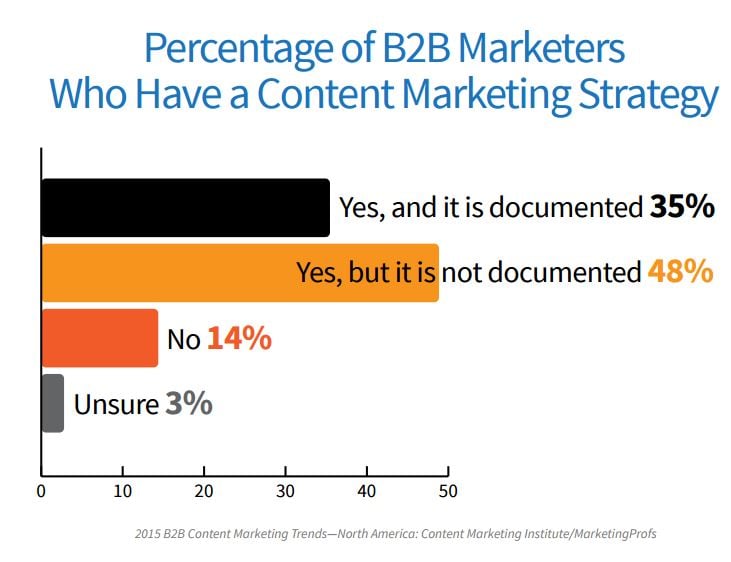 According to Ion Interactive, "Interactive content, such as apps, assessments, calculators, configurators and quizzes, generate conversions moderately or very well 70% of the time, compared to just 36% for passive content."
Here are the benefits of quizzes:
Given the popularity of quizzes, they should be a part of every company's content strategy. On August 1, to demonstrate the viral potential of quizzes and their ability to drive leads, Forbes launched a quiz entitled "Which College Is Right For You?"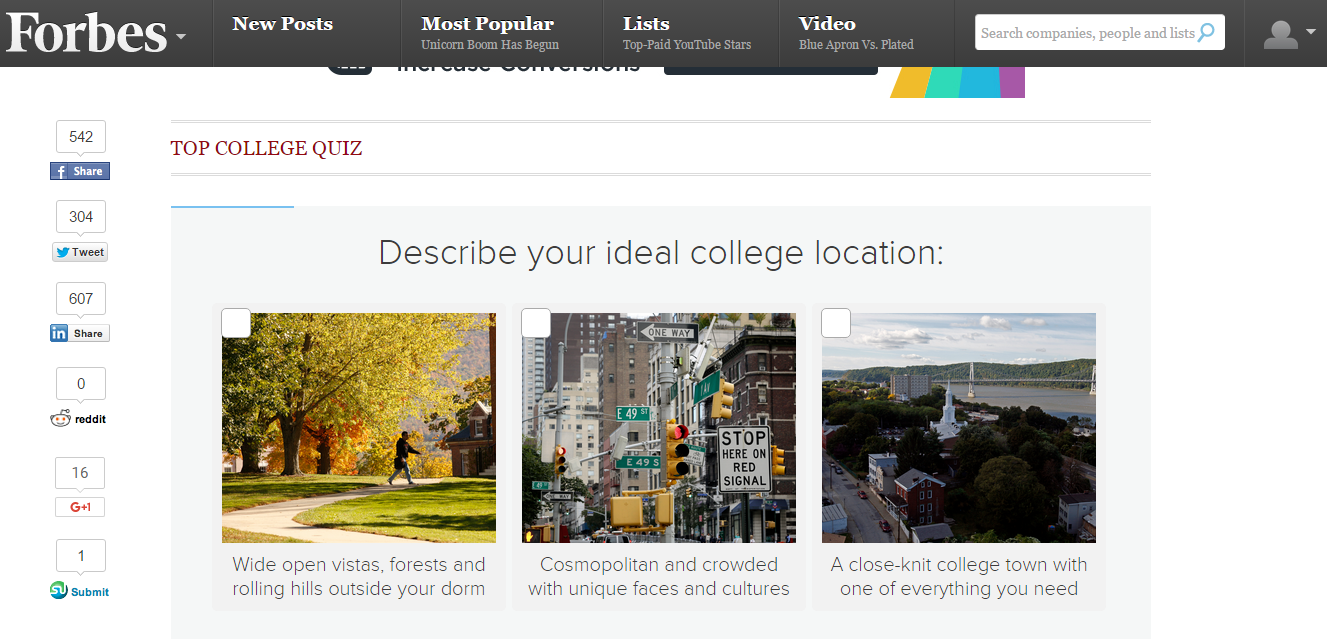 A week after Forbes published this interactive content, it generated more than 75,000 views and over 1,000 social shares.
The quiz was also used to promote the Forbes College Adviser, which is a proprietary tool developed by Forbes to assist students in making the right college choice.
There are a lot of success stories from brands and companies that have used quizzes to acquire new leads and increase revenue.
Just bear in mind that choosing your quiz topic and angle is the ultimate challenge. When you clear that hurdle successfully, your quiz will most likely make an impact.
Knowing your audience is critical to the effectiveness of your quiz. For example, The Irish Post created a quiz specifically for the roughly 80,000 Irish people living in London. Within a week, 25% of them had participated in the quiz.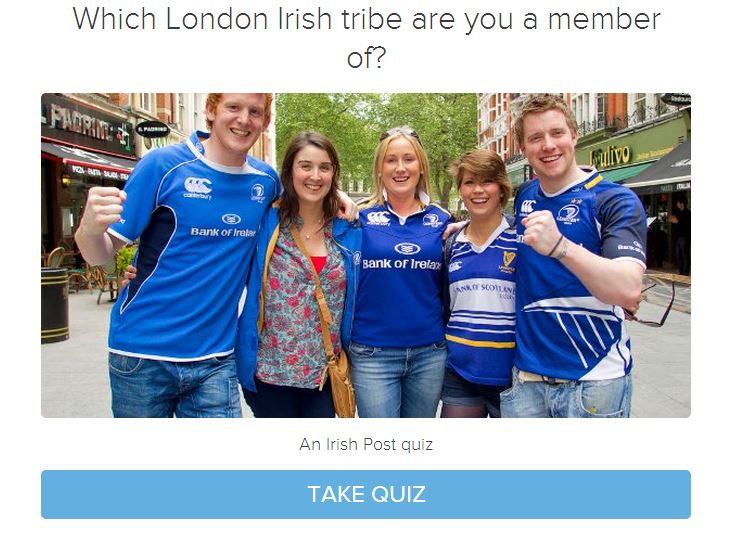 Remember that it's not the size of your target market that matters. The goal is to create a quiz that will be relevant to your audience, or a subset of it, whose interests you know very well.
If your audience is interested in your quiz topic, you'll get plenty of referral and organic traffic, regardless of the size of your market.
A few years back, The New York Times conducted extensive research study where they interviewed 2,500 people to determine the primary reasons they share a story online. The main reasons selected by those respondents were illuminating:
To define their true self to other people (people like to project their self-worth and have a sense of belonging).

To feel more involved in the world

To promote content on topics they care about

To stay connected with others through relationships

To share valuable content that will help other people
A simple quiz can do so much for your readers, too. Because of its interactivity, a quiz usually engages people, drawing them into the conversation and making them feel as if their opinions matter.
If you're ready to use quizzes to engage your leads, get more social shares, earn editorial links and improve your organic traffic, the guides below will come in handy:
7.     Infographics receive more shares on average than other content types.
The last piece of the puzzle from Buzzsumo's analysis is that people love to share infographics and list posts. On average, even "how to" posts and videos receive fewer social shares.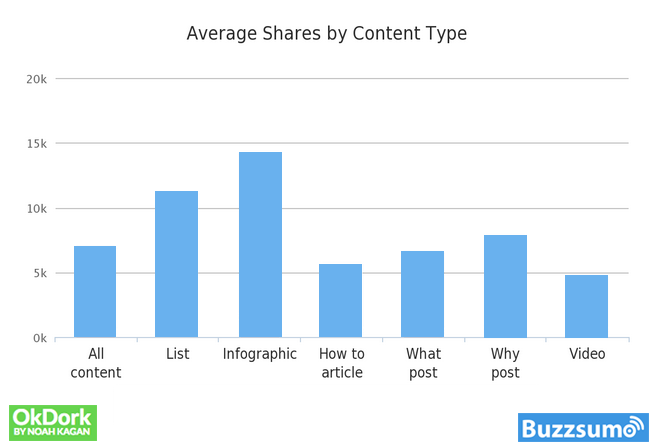 I'm not surprised by this, because it matches my own experience. I've aggressively used infographics to grow my blogs.
For example, in 2010 when we started releasing professionally-designed infographics on the KISSmetrics blog, it helped us generate over 2,510,596 visitors and 41,142 backlinks.
Of course, not all infographics are equal. I discovered that 47 infographics of the 218 that I created between 2010 to 2012 generated all the traffic and backlinks from 3,741 unique domains.
As for social shares, those 47 infographics generated over 41,000 tweets and 20,859 Facebook likes.
Bear in mind that when creating infographics, you've got to research relevant and accurate data for the content. There is really nothing all that special about an infographic, except that you use good data to support personal opinions.
Data works well on infographics and in blog posts. In fact, I found that out of all the text-based content I wrote on QuickSprout, blog posts that contained data received 149% more social shares and 283% more backlinks.
Take a look at my data-driven infographic:
The infographics that I release on QuickSprout usually cost $1000 each. If you're just starting out or have a tight budget, you may not be able to afford that approach.
You can use Dribbble to find professional infographic designers for half the price. If you decide to use Visual.ly you'll get a premium design – but their service costs more.
I know several marketers who use infographics to get authority links and fresh customers. Ken Lyons wrote that WordStream created a useful infographic, got a link from CNN and drove loads of traffic to its site.
Ann Smarty also got 10 powerful links to her infographic in just 2 days. Right Casino Media also generated more than 10 quality links from strong domains with its infographics.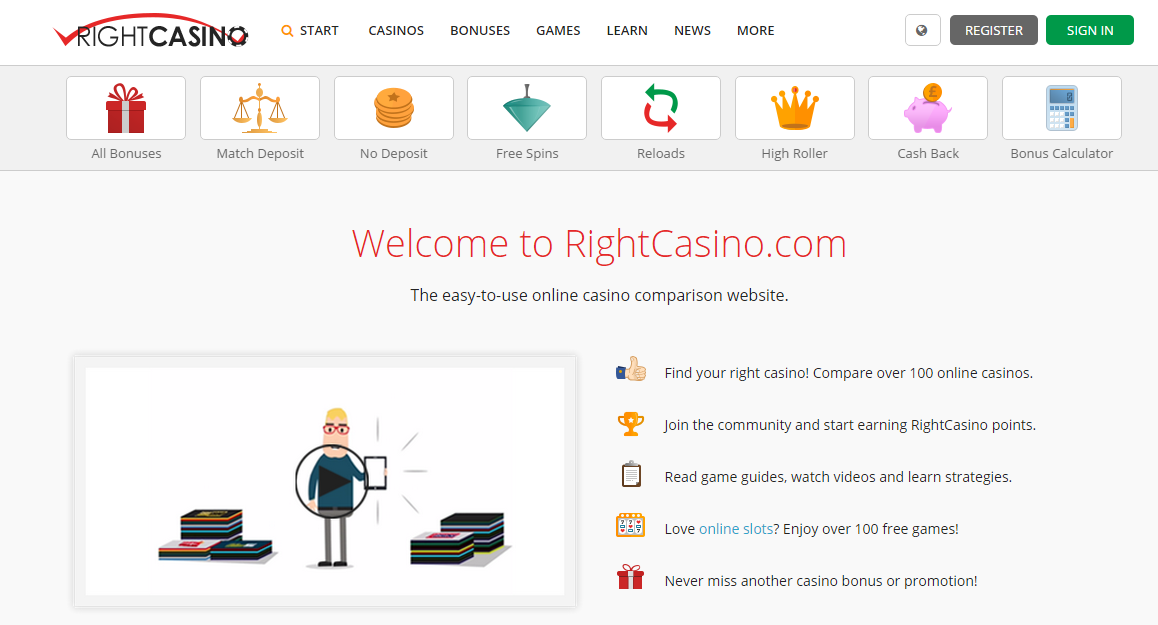 To get started creating your infographics, see the guides below:
Conclusion
To help connect the dots between social shares and organic traffic, you've got to pay attention to the questions that your target audience is asking. After all, at the end of the day, the user is the chief content editor.
What the user wants is what you must do. If the user prefers quizzes over contests, then you've got to create quizzes. Social media is like the fuel, while search is the engine. Both of them are dependent on each other to function effectively.
When you launch your SEO content strategy, don't neglect social media. I've personally seen that social signals can impact search rankings (at least indirectly).
These insights will mean nothing to you unless you apply the tips when creating your content. When you take action and keep taking action consistently, you'll see a dramatic improvement in social shares, organic traffic and revenue.
Which of these insights have you applied to your own content creation? What results did you get?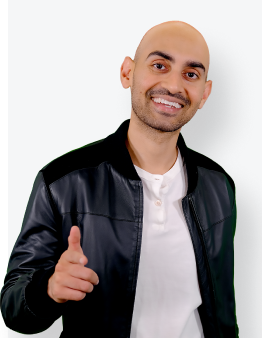 See How My Agency Can Drive More Traffic to Your Website
SEO - unlock more SEO traffic. See real results.
Content Marketing - our team creates epic content that will get shared, get links, and attract traffic.
Paid Media - effective paid strategies with clear ROI.
Are You Using Google Ads? Try Our FREE Ads Grader!
Stop wasting money and unlock the hidden potential of your advertising.
Discover the power of intentional advertising.
Reach your ideal target audience.
Maximize ad spend efficiency.