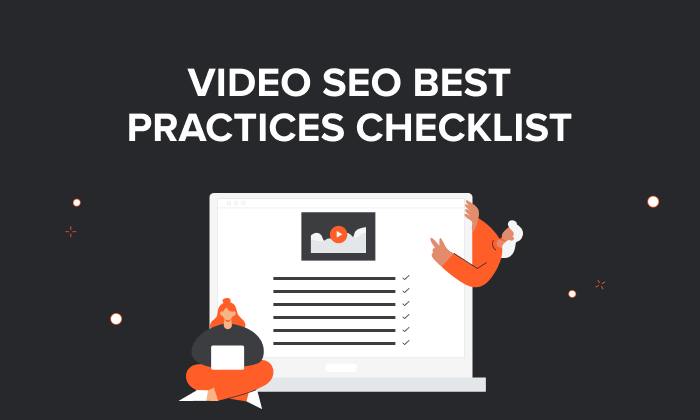 Following the advice you got about video optimization back in 2010 won't get you very far today. Video SEO is one of those things that constantly evolves, making it tricky to understand.
With hundreds of hours' worth of video content uploaded every minute, getting your videos matched with the right audience can be a huge challenge. Making sure those people actually watch and enjoy your videos enough to subscribe or convert? That's another challenge all on its own.
Luckily, my guide to video SEO is here to help.
We will touch on the most important things to know if you want your videos to rank and perform better than ever.
What Is Video SEO?
First of all, what does "video SEO" even mean? Video SEO is improving video content search rankings (or visibility) on search engines by refining and adjusting specific elements.
More specifically, this means optimizing SEO-related components like:
The actual content.
Video descriptions.
Your channel.
Video playlists.
Metadata language.
Why Video SEO Is Important
Video can be a super powerful content type when we use it correctly. Since about 86% of businesses incorporate video content into their online marketing strategies, consumers now expect it as an option when they search for various products or services.
Your competitors are probably using video content, meaning you should too, if you don't want to fall behind.
For businesses, video content offers an innovative way to attract customers. It's all about generating views and activity that increase conversions. For this to happen, however, you should optimize your videos to show up when people search for specific information.
When you accurately execute video SEO practices, you will:
Attract more backlinks.
Boost your social presence.
Reach more people.
Show up higher on SERPs.
Create website traffic straight from your video channel.
Are you ready to get started? The first step is keyword research.
Conduct Advanced Keyword Research
If you know anything about SEO, you know that keywords are essential. Well, this also applies to video SEO. Keywords make it easy for people to find your videos when they want to see that content.
Here are the main tools you should use when conducting advanced keyword research.
Ubersuggest
Ubersuggest is my specialty tool that generates keywords, analyzes competitors, and plans content. You can use Ubersuggest to gain valuable data that helps inform your SEO strategies.
Clicking "Keywords" on the left side creates a menu with the following options: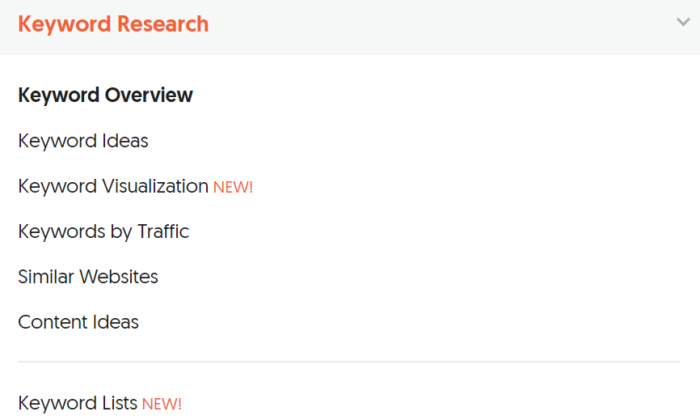 Ubersuggest shows you what you need to know to choose keywords that make sense for your video content. All this information together will provide you with creative, practical keyword ideas to help your videos rank higher.
YouTube Suggest
Type your topic idea into YouTube's search field and look at the suggestions. You'll find a list of useful potential keywords that people actively look for on YouTube.
With this information, you can use other keyword research tools to learn more about how effective these keywords are on search engines (search volume, SEO difficulty, etc.).
Ahrefs' YouTube Keywords Explorer
This tool gives specific information on YouTube search volumes and trends. You can generate keyword ideas based on related questions people ask, or you can phrase match with new or previously used keywords.
Google Advanced Video Search
This is an excellent option for someone that wants a SERP-focused autosuggest tool. You can find videos with exact or similar keyword phrases to see what videos already exist. Additionally, you can then narrow your search more with filters like video length, posting date, or language for more specific results.
Pick the Right Video Hosting Platform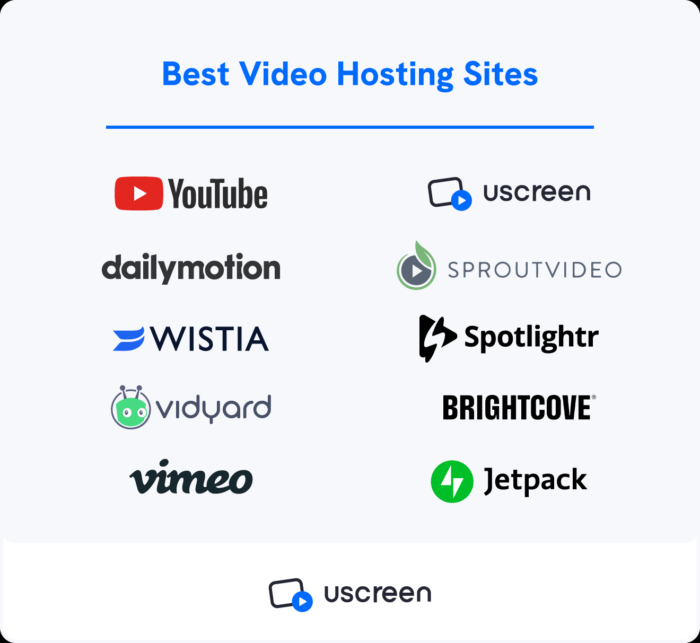 Here are a few common video hosting platforms to consider (and the biggest reasons you may want to use them):
YouTube: Makes optimization easy due to Google ownership and popularity
Vimeo: Acts as a collaboration suite aimed at a large audience of creative professionals
Wistia: Provides more in-depth video marketing analytics information
Dailymotion: Offers less competition than other video-sharing platforms (like YouTube)
SproutVideo: Encourages more customization to create an engaging customer journey
The best video hosting platform for you depends on your business needs, budget, and other factors. There are many options to explore, so research the pros and cons of each before making a choice.
Create High-Quality Video Content
What's one thing to remember when creating video content? Make it better than similar videos that already exist.
You'll have to focus on the video quality, message, and appearance. Think about how you can improve the viewer's experience when watching competitor videos.
Here are a few things to remember to create the most engaging videos out there.
Transcribe Videos Accurately
Video transcripts help create crawlable text, allowing Google to index your videos more precisely. You'll have more places to plug those valuable keywords and internal links.
More indirectly, video transcripts will allow D/deaf and hard-of-hearing viewers to still view your content (an audience you'd otherwise miss out on). What's more, about 50% of non-D/deaf Americans use subtitles most of the time anyway.
Incorporating this into your content will create a better viewing experience for everyone.
Use a Quality Thumbnail
Thumbnails are small yet mighty. They have a significant impact on engagement, so you have to consider your thumbnails carefully.
Use high-resolution and visually appealing images cropped to the correct dimensions. Consider your branding and the video content when selecting the perfect thumbnail.
Keep Videos Short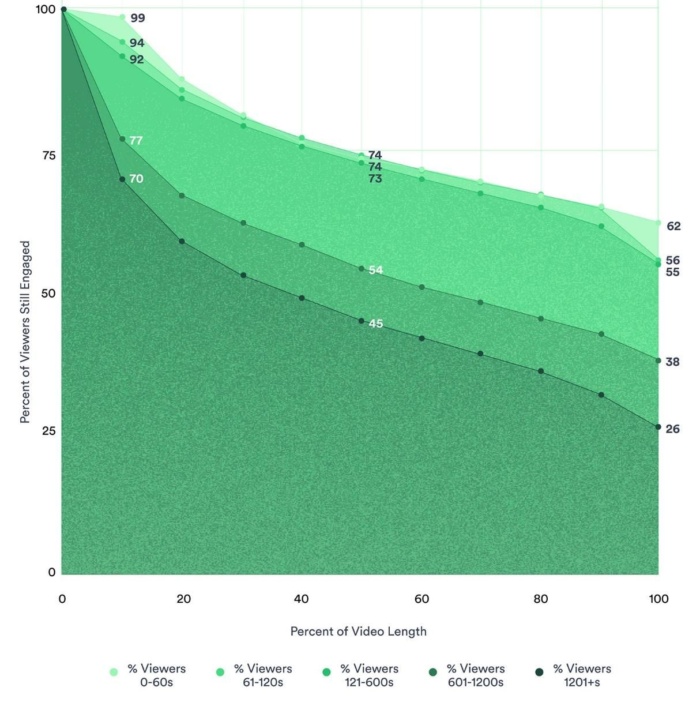 People lose interest in a video that is too long. Keeping videos short and sweet (and getting to the point fast) is the best way to retain and engage viewers.
Leave an Impression for Your Viewers
How is your video content different than other videos on these platforms? If you can't answer this question, viewers probably can't, either. They may wonder why your channel exists in the first place and leave for a competitor's channel, making you lose potential subscribers and views.
Hook your audience immediately (within the first 15 seconds or so) to make your viewers stick around. After that, providing engaging content that shows you are better than competitors is the goal.
Optimize Videos for SEO
Videos with the best content could still fail. Why? Because they aren't following video SEO best practices!
Think about it. There are over 800 million videos on YouTube alone. You have to find a way to make sure your video shows up when people want that type of content, and SEO can make that happen.
With that, here are 10 of my biggest tips for optimizing videos for SEO.
1. Optimize Video Metadata
Video metadata will help the video SEO (and on-page SEO) shine by reiterating the importance of those target keywords and including links. Optimize the metadata on the page where the video lives.
2. Work Keywords Into Video Title and Description
The video title and description both offer even more opportunities to use those valuable keywords you spent so much time researching. Aim to incorporate keywords naturally, so they don't stick out too much. Titles and descriptions should be descriptive and compelling.
3. Add Tags to Your YouTube Videos
YouTube uses tags to see what your content is about. These are critical for ranking with YouTube's search algorithm.

Also, people can quickly check out video tags and the title, description, and thumbnail to see if they want to view that content. Using keywords to make these tags specific will help the right users find your videos.
4. Add Internal Links
Internal links are the bridges search spiders use to crawl around your website. Adding relevant internal links to and from videos will help Google find and index that content.
While following video SEO best practices, you should also follow internal linking best practices.
5. Use Keywords in Your Video
A painless way to make your keywords seem natural and appropriate is to include them in your videos. By this, I mean literally saying the words.
Platforms like YouTube automatically transcribe videos, meaning it "hears" what you say. The platform will recognize that keyword and better understand the video. This is a simple YouTube marketing technique that anyone can use in their videos.
6. Make Your Video the Focus of Your Page
When you want your video SEO to succeed, you need your video to be the star of the show. Place the video in a spot where people won't miss it.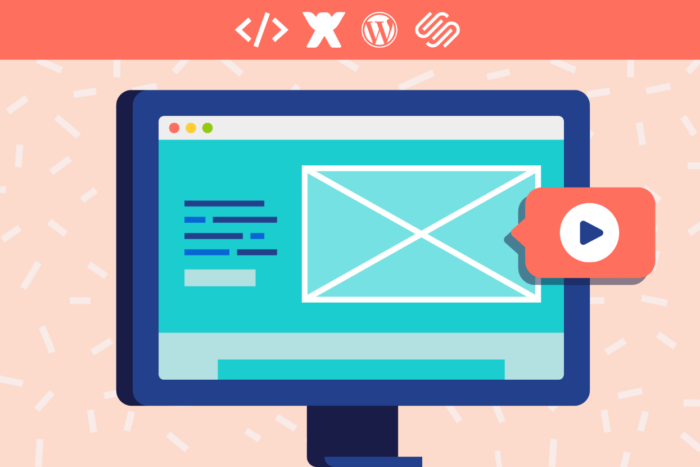 If you plan to embed the video, give it a noticeable part of the page so that people feel inclined to click.
7. Don't Embed the Same Video on Multiple Pages
Embedding a video on more than one page is a great way to confuse Google. You'll essentially drive each page to compete for identical content, making your efforts less effective. Focus your energy on one page per video for the best results. In addition, note that only one video should appear per page.
8. Make Your Videos Available to the Public
Always check privacy settings on the video hosting platform you choose. Sometimes, your channel or specific video may be "private," meaning others won't be able to access it. If people can't see that your video exists, it obviously won't get any views.
9. Create a Video Sitemap
Video sitemaps help Google distinguish between different content types and accurately index each video. Further, sitemaps will help humans find your videos more easily. You can create a video sitemap manually or use online generators to help.
10. Create Backlinks
Just like you would for a blog or website, you can create link-building strategies with your video content.
Backlinks help people travel from other sites to your site or content. They help show that your content is trustworthy and accurate.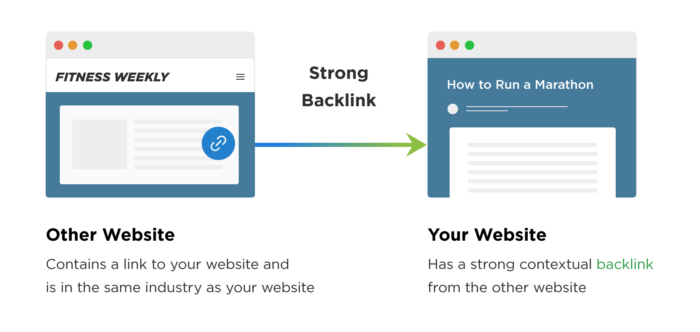 Creating high-quality content is essential to getting backlinks. However, don't be afraid to work with others within your niche and collaborate to earn backlinks from reputable sites.
Create Social Buzz
How do you feel when you miss out on something that everyone else enjoyed? Probably not great. It's human nature.
Creating social buzz will make users more interested in your content because they want to see what others like. When you generate this social proof, search engines will notice that you've created a meaningful video.
Here's what you should do:
Share on Social Media
Almost 60% of the global population uses social media, so yes, it is a great way to reach a large number of people at once. That is, it can be when you do it right.
For video SEO success, upload your videos straight to your appropriate social media channels rather than posting a link. You can also consider sharing blog pages that feature your videos to help boost the video's performance and your website's performance simultaneously.
Send Videos to Email Subscribers
Email subscribers already love you. After all, they signed up for your emails! Why not use that to your advantage?
Send your videos to email subscribers to gain some engagement with a group that is likely to appreciate it anyway.
Embed Videos on Your Blog

Embedded videos are great for adding context to blog topics, but they also encourage people to stay on your site and learn more.
Quickly linking to the video will simply lead users off the page. Not great.
Embedding your videos instead will boost SEO for your video (and website) without much extra effort.
Engage Your Videos in the Comment Section
People like it when they know an actual human is behind a brand, product, or service. They want to know that someone hears their questions or comments. However, it's even better when someone actually interacts with them.
Take time to engage with your audience when they leave comments to increase their loyalty and interest in your content.
Pay Attention to Analytics
Video analytics will inform your decisions because they tell you how well your video content performs. Therefore, consistently giving analytics the attention it deserves will pay off in the long run. Here are just a few of the video analytics to track:
Views
While viral videos are great, it's doubtful that many (if any) videos you post will go viral. So, what's a more valuable metric to look at? Views.
Aim to get consistent views on your videos each month instead of trying to go viral. You'll get more views across all videos as you do things like:
Create more and more compelling content.
Add videos to playlists.
Promote subscriptions or notifications for your channel.
Build a more robust following.
Also, implementing tips from this video SEO best practices checklist will help you rank on search engines and get your content in front of more eyes.
This may take time, but continuously creating high-quality content and following SEO optimization practices will increase views and interactions.
Engagement Rates on Social Media
You waste time and money if people aren't sharing, using, or interacting with your content. Luckily, engagement rates will tell you if your efforts pay off.
Engagement rates illustrate how many people saw and engaged (liked, saved, commented, or replied) with your content. You can see how people interact and leverage that to create better content and social media strategies.
Watch Times
YouTube makes it easy to see how long users spend watching the video. Watch time will help you compare videos on similar topics to see which one performs better.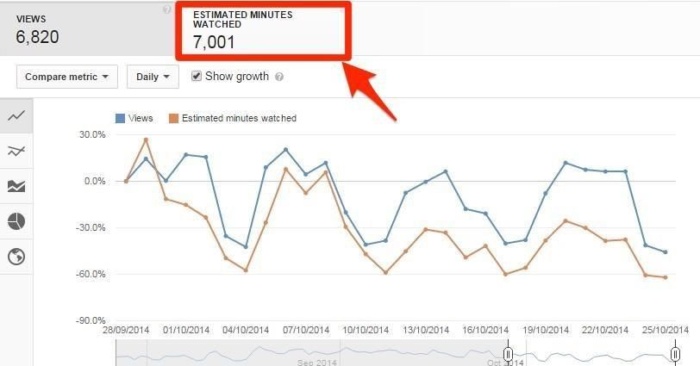 This information helps you dissect things further to determine what one video has that the other doesn't. With that, you'll know how to create videos people want to see.
Completion Rates
How many times are people watching your video from start to end? This is what completion rates for videos measure. The higher, the better.
Aim for a standard of at least 70-80%.
Keep in mind that critically low scores likely mean your video isn't up to snuff. Excessively long videos and poor content quality are two major culprits of low video completion rates.
Conversions From Your CTAs
CTAs encourage people to do something specific. Here is a great example of a short and sweet CTA: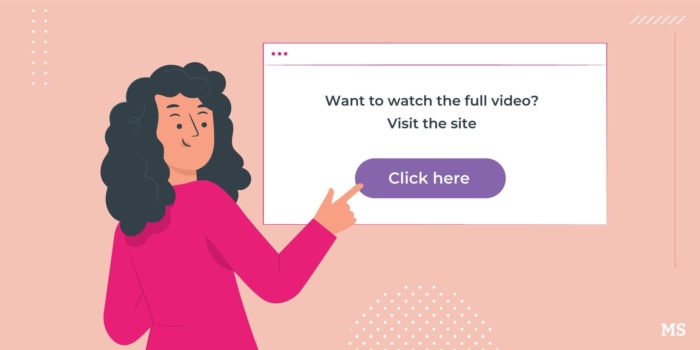 Track the actions people take following your videos to see if your CTAs are effective. You can improve or update your CTAs to maximize conversions with this information.
Frequently Asked Questions
Do I need to do everything on this checklist to see success?
While implementing some of these strategies and tools will help boost video SEO, based on Google's algorithm, you'll start having success with video marketing if you use most (or all) of these tips.
Can I use this checklist for my YouTube videos?
Yes! This video SEO optimization checklist is great for YouTube videos if you want them to rank on search engines. Implement items on this checklist for YouTube or any other video hosting platforms you use.
What's the difference between video SEO and YouTube SEO?
Video SEO is a more complete approach to optimizing traffic from Google and other search engines. YouTube SEO is geared explicitly toward maximizing results on the YouTube platform, which involves a different optimization process.
Conclusion
Do you want to increase conversions? Would you like to boost your rankings on SERPs? If that's the goal, video marketing is essential.
Videos have the power to reach people in a way that text-based content can't. They can persuade, educate, and explain in ways that blogs, emails, and case studies fall short.
With 92.7% of global internet users watching videos weekly, you must incorporate videos into your marketing strategies if you want SEO success.
Using my video SEO best practices checklist here will ensure that your time and efforts are well-spent.
Have you tried any of these video SEO best practices? What worked (or didn't work) for you?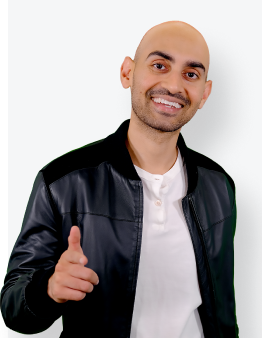 See How My Agency Can Drive More Traffic to Your Website
SEO - unlock more SEO traffic. See real results.
Content Marketing - our team creates epic content that will get shared, get links, and attract traffic.
Paid Media - effective paid strategies with clear ROI.
Are You Using Google Ads? Try Our FREE Ads Grader!
Stop wasting money and unlock the hidden potential of your advertising.
Discover the power of intentional advertising.
Reach your ideal target audience.
Maximize ad spend efficiency.