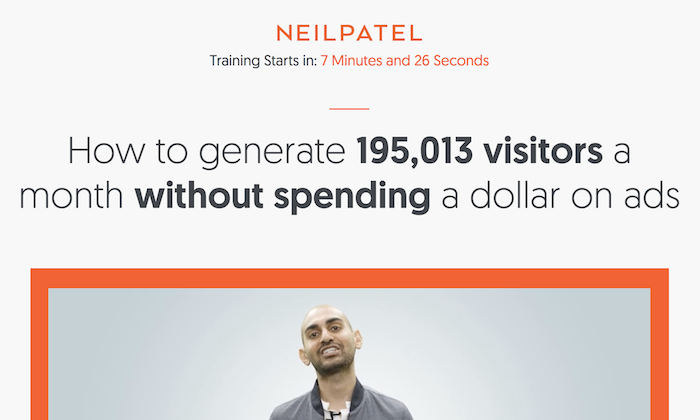 If you've visited my homepage recently, you've probably seen and heard me talking.
To be honest, I try to avoid visiting my own home page, because I can't stand watching myself on video!
So why am I keeping that video there?
Simple:  The thing converts like crazy!
Obviously, there are a few things going on. There are some urgency signals.
There are some big orange CTA buttons.

There are some clear step-by-step instructions.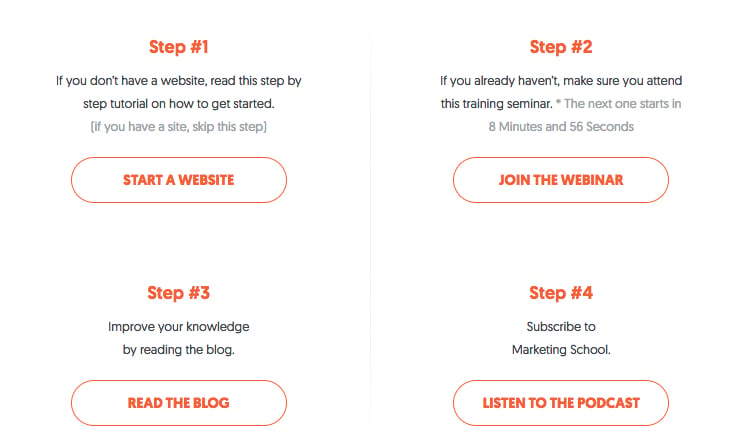 But the main thing about that page is the video.
Just one video!
My video landing page is the highest converting page I've ever had, bar none.
Ever since I started using that video on the homepage, my conversions took a noticeable upturn, and haven't slowed a bit!
In this article, I'm going to show you some of the principles that I've learned as I've split test my videos, tweaked my home page, and watched the conversions pour in.
And, just to up the ante, consider how much time and money you're wasting with a low-converting landing page.
Every precious minute you spend staring at your landing page and praying that visitors decide to sign up could mean lost revenue.
Looking at the statistics, it could be frustrating to learn that only 22% of businesses today are actually satisfied with their conversion rates.
That means 78% of businesses feel like their conversion rates suck. And they're probably right!
Why? Because on average, for every $92 you spend to attract customers, only $1 is spent to convert them.
No matter how much we deny it, most online users nowadays no longer have the patience to read through all the things we write down.
According to Statistic Brain, the average attention span is now down to a ridiculous 8.25 seconds. Apparently, it's been dropping over the past few years.
Statistic Brain also shared that only 4% of pageviews get more than 10 minutes of attention from users online.
So, is there even hope?
Yes. You probably see where I'm going with this.
In the same report from Statistic Brain, we found that the average length of an Internet video watched by users lasts 2.7 minutes.
Two statistics. One very important truth. This is it:  Even though people have tiny attention spans, they have a major appetite for video viewing.
Let me throw some more stats your way so you really get the message.
92% of mobile video consumers share videos with others. That, my friends, is what we call virality!
And what's so great about video going into 2020 is that anyone can create amazing videos. Advances in technology have reached a point where we all have high-quality, professional cameras just sitting in our pockets.
What's even more interesting is that now we don't need to be highly experienced videographers or producers to create high-quality videos.
By using solutions like InVideo, you can edit stunning videos quickly without needing to break the bank hiring a video editor. Using InVideo is the perfect solution for companies looking to take advantage of video marketing.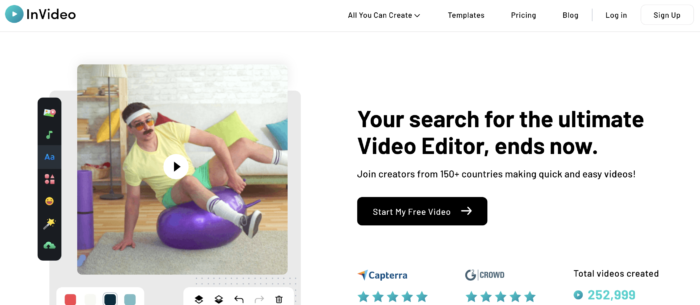 It gets better.
Studies show that 95% of viewers actually absorb the messages of the videos they watch. Remember what I said earlier about the average video length per user? That's right!
You have 2.7 minutes to catch the attention of your target audience and convince them to convert.
And the chance of converting? It goes way up once you use videos on your landing page.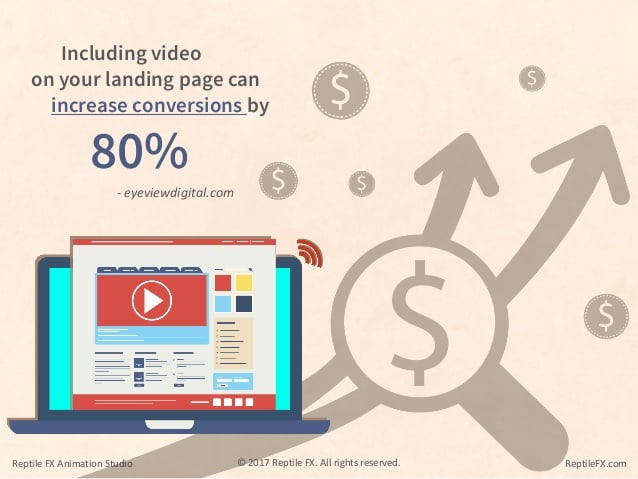 Now, 2.7 minutes might not seem like enough time to impress anyone, but Forrester research revealed that a minute-long video is actually worth 1.8 million words.
It's impossible to quantify just how many words a video is "worth," but the fact remains — in general, video has more visceral power than mere words.
And we can't neglect the dominance of mobile in this whole discussion!
For example, 33% of tablet owners worldwide watch at least an hour of video daily on their gadget.
As for smartphone owners, 72.1 million watched videos on their gadgets monthly in 2013. This figure rose to reach 86.8 million in 2014.
Among these users, 69% shared that they feel videos are ideal for smartphone viewing. They claim that these help them get quick and easy information on the products they intend to buy.
In fact, 50% of online users admitted to searching for videos about a product or service before going to the store. Meanwhile, 53% favor companies that provide video about their products.
Every week, approximately 78% of the online users watch videos. On a daily scale, this accounts for 55% of the people.
Adding a video to your landing page means getting a shot at saying 1.8 million words to all these people worldwide.
Can you imagine how many pages that would have been in actual writing?
Before you get super excited over this and start imagining becoming an overnight success just by adding a video to your landing page, let me give you a swift reality check.
The fact that videos boost the conversion rates of landing pages is definitely not a secret.
Brainshark revealed that 93% of marketers today are already taking advantage of this situation.
They are now using videos in their sales and marketing strategies as well as digital marketing tactics.
Across the globe, 51.9% of marketing professionals recognize video as the kind of content that could provide the biggest ROI.
But how many are using videos correctly in a way that increase conversion rates? Not a whole lot, which leaves you with a huge opportunity.
I hate to say it, but if you're just now catching on to the power of video, you're a little bit late to the party.
A forecast from Cisco showed that 80% of online content will be primarily made up of video by 2019.
This prediction, which covered the years 2015-2020, has already started to come true.
In 2015, Cisco noted that 70% of Internet traffic was composed of video content with the expectation of a fourfold growth by 2020.
Brainshark shared that 74% of the total Internet traffic this year will be from video content.
Emails that include "video" in their subject lines have a 19% better chance of getting opened. Unsubscribe rates also go down by 26% when videos are included in the content.
Let me pause with the stats for a minute.
Point made. Videos are important. Videos can increase your conversion rates.
So now the only question is how?
How can you use videos with the kind of power and persuasion that cause people to convert?
That's exactly what I'm about to tell you.
Step 1: Use a purpose-driven video
Before creating a video, ask yourself this question: What do I want my customers to do after watching this clip?
You can be as specific as possible. The goal of your video is to get a conversion — an action.
You get to tell people what you want them to do.
Remember this amazing video?
The video has one purpose: To get you to sign up for dollarshaveclub.com.
The message couldn't be clearer. Mike says,
Stop forgetting to buy your blades every month, and start deciding where you're going to stack all those dollar bills I'm saving you.
That's a call to action.
And, you get a chance to respond to the CTA at the end of the video, too.
The video has a point — a purpose.
You are pushing your viewers towards a decision.
Remember, 90% of online users admitted to relying on videos to help them make their decisions.
Say everything you need to say in your video. Make every second count.
Take advantage of the fact that 36% of online consumers trust video ads. Make your video the sales pitch that could catapult you to success.
Make sure to send out a clear and concise message.
One surefire way to do this is to isolate a specific problem and provide a good solution. Make sure that your customers know exactly what you're offering by the end of the clip.
Consumers who fully understand your purpose will recognize you as an expert and be more open to your suggestions.
This could pave the way to the next step, which is to convert your viewers by posting a clear call to action by the end of your video.
A good example is the video landing page of HRdownloads.
HRdownloads features not one, but two videos on their landing page!
One is for business owners, while the other is for HR professionals. That is to say, they effectively identified their buyer persona.
On the outset, you already have a very clear idea of who is their audience and what they offer to their potential clients.
Both clips provide specific ways for HRdownloads to help their target consumers with their professional needs. These give the viewers a clear idea of what to expect from the company.
At the end of the video, HRdownloads uses a direct and concise call to action. They even used super simple words to do this: "Hire us."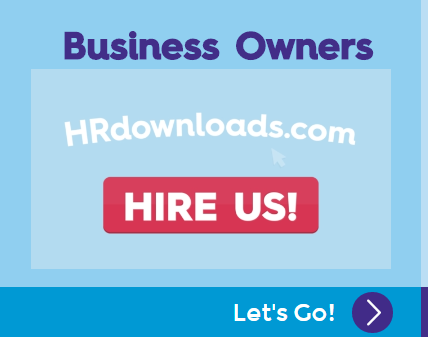 The videos are simple, creative, and most importantly, concise. In less than two minutes, the consumers get all of the information necessary to take action.
Boom. That's the power of a video. You tell people what to do, and they'll do it.
Step 2: Pull on the heartstrings
Viewers get attached to things that resonate with them emotionally. Instead of simply blasting your audience with facts, try to touch their hearts.
Here's why this matters with video.
Video has the power to elicit powerful emotions.
One Wirebuzz article states the issue simply: "Video is the most persuasive form of content."
Why? Because videos contain a higher intensity of emotion and a longer duration of attention.
Those two elements, emotion and attention, are the "two most important elements of persuasion."
Even if you're the most stone-hearted tough guy, you probably felt the feels when you were watching…wait for it…Super Bowl commercials….for cars!
You might have even felt a little teary-eyed during an advertisement for a sugary, caffeinated beverage.
Aim to become a good storyteller. Apart from appealing to the logical sense of your potential clients, you can also tug on their heartstrings.
Eliciting responses by addressing your consumers' pain points has been a very common marketing strategy for ages.
The reason customers seek your product or service is because they need it. So why not give them a little nudge in the right direction by driving them toward a purchase using tactics that touch their emotions?
Emotions are key factors in the decision-making process. The colors, words, and even the font you use in your site could trigger something in your customers.
This means that knowing how your target market will respond to emotional cues is crucial to the success of your video.
Here is a classic example of a touching video from Google when the company promoted its Gmail service.
Who knew you might be driven to sniffle a bit while watching an email advertisement?!
Despite the absence of an explanation, the viewers responded to the clip because the company knew who they wanted to target.
Emotions? Heck, yes.
After watching the video, it was clear what the email service from Google could offer.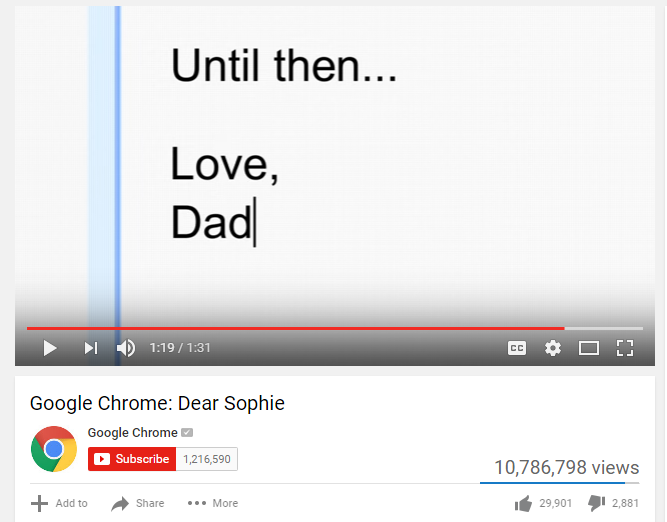 Even without any step by step guide, the users would know how to use it.
The video did not dwell on convincing the viewers on the practical advantages of the service. Instead, it focused on the emotions they could invoke from their potential clients.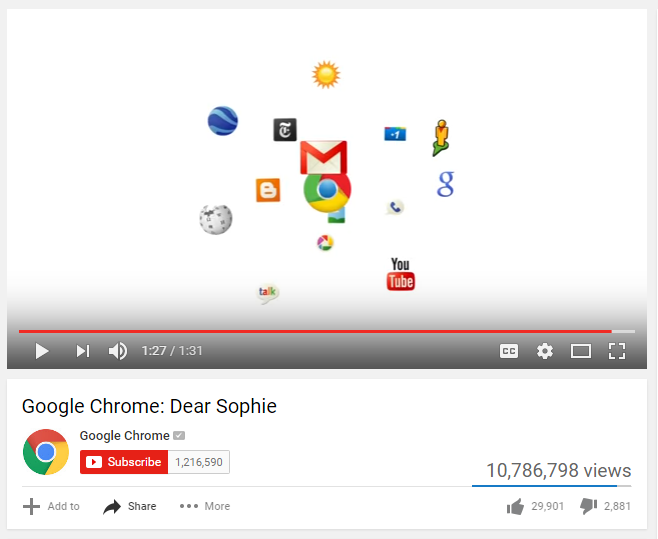 Whether or not you're a parent, this video tugs at your heartstrings and brings back precious memories.
You involuntarily smile and are pushed to possibly do the same thing for your loved ones using the same service featured in the video.
Imagine having something that powerful on your landing page.
Okay, but it's not just sad videos that have high emotional appeal. It's funny videos, too.
Dollar Shave Club nailed it with their hilarious clip that launched the company to stardom. And they had to keep the humor high with even more videos.
Speaking of scatology, arguably the best video that dealt with the topic was the Squatty Potty.
This video broke the Internet.
These are powerful videos, not because they feature pooping unicorns, but because they have high levels of emotion.
And people respond, i.e., convert, when they are on an emotional high.
Can you just picture how your potential customers would respond?
Can you envision the sky-high conversion rates?
Step 3: Invest in trust seals
Once you have made your message clear and managed to encourage your viewers to take the next step, it is crucial to do everything to seal the deal.
We all know that you can't just rely on your video to convince your potential clients. Having a good clip to entice viewers is nice. But, getting them to sign up would definitely be nicer.
A 2016 report from the National Telecommunications and Information Administration stresses the importance of this next step.
The agency found that 84% of households identified at least one issue over their online privacy and the security risks they might face.
Among the concerns cited by these respondents, 63% of the concerns had to do with potential identity theft while 45% fretted over bank or credit card fraud.
In turn, these concerns were reflected in their behavior when making online transactions.
The data revealed that 29% of the respondents were suspicious of financial transactions done over the Internet. This number went up to 40% for people who experienced a security breach.
Among the respondents, they found that 26% refused to engage in online transactions due to security concerns, with 35% of them rejecting to engage in e-commerce.
Online transactions, regardless of what you offer as a marketer, is based on trust and confidence.
If a customer feels uncomfortable, they simply won't convert. It's that simple.
Since face to face interactions are clearly limited in this environment, how else are you supposed to establish that you are to be trusted?
This is where authority badges could help you.
Many online marketers take advantage of trust badges to increase their conversion rates.
Choosing the right trust seal tremendously increases your credibility to your customers.
While the trust badges could not be seen as the sole reason for casual browsers to convert into actual buying customers, these help you establish your authority and reliability in the field.
Remember, the final step in a conversion funnel is the sale. A sale usually requires money.
And money is where a customer's caution goes up.
Use video, yes. But don't assume that you will keep their trust after the video unless you've presented them with some degree of trust.
Give them the comfort of knowing that you can be trusted.
My goal here isn't just to get you to use video. My goal is to help you increase conversions.
Videos don't automatically increase conversions unless you also show the customer that you can be trusted to the very end of their journey.
How a video landing page helped me
Let me show you how featuring a video helped boost the conversion rate of one of my own websites, Crazy Egg.
A few years ago, we decided to use a simple explainer video on our landing page.
Crazy Egg offers a product that not everybody is familiar with. Remember, this company sells heat mapping software. Now you might ask, what in the world is a heat map?
In our landing page, we decided to use a video to explain the company's background and the product.
The task was challenging because we wanted to do it in less than 3 minutes. (It ended up at 2.5 minutes.)
We used concise and compelling cues to keep the viewer's attention from wandering.
We had to tone down our geek speak and use words that the average online user could understand.
The video provided a really clear value proposition on how other businesses can increase their profit. Strong and attractive visual cues were also used to push the user towards the clip.
After adding the video in the Crazy Egg landing page, we saw a 64% increase in our conversion rate. To put it simply, this video boosted the monthly revenue of our company by $21,000.
Conclusion
Creating a video landing page that could translate to a high conversion rate needs to fulfill three things.
First, capture the attention of your audience. Second, tell them what you want to happen in clear and concise terms. Third, reassure them that you can be trusted.
I hope these tips will help pave the way for you to build a successful video landing page. Remember to tweak these guidelines to fit your own business and to cater to your customers.
I would love to know more about the videos you used for your landing page. Have I missed any key strategies you think are effective?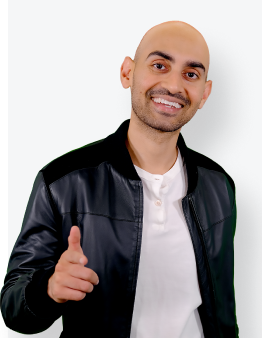 See How My Agency Can Drive More Traffic to Your Website
SEO - unlock more SEO traffic. See real results.
Content Marketing - our team creates epic content that will get shared, get links, and attract traffic.
Paid Media - effective paid strategies with clear ROI.
Are You Using Google Ads? Try Our FREE Ads Grader!
Stop wasting money and unlock the hidden potential of your advertising.
Discover the power of intentional advertising.
Reach your ideal target audience.
Maximize ad spend efficiency.