The SEO tools you use can make or break your marketing campaigns.
Fortunately, in today's digital age, there are countless free and paid tools available to help you have a successful SEO strategy.
Ubersuggest is one such tool.
Learn more about what this tool is, how it can help small business owners, and how you can use it to optimize your marketing campaigns by catching up on how Ubersuggest has evolved over the years.
What Is Ubersuggest?
Ubersuggest is an easy-to-use SEO tool that can help you gain more insight into trends and strategies that are working in your market—so you can adopt them, improve on them, and use them to gain a competitive edge.
According to a 2021 survey, 40 percent of small businesses use SEO tools. Don't let your competition get a leg-up by not using them as well.
The tool offers:
keyword suggestions
content ideas
competitor analysis
backlink data
and other features
Ubersuggest helps you plan a successful content strategy approach and find ways to make improvements to your current one.
If you're interested in seeing exactly how you can use Ubersuggest to grow your business, read this guide on growing your SEO traffic using Ubersuggest.
Ubersuggest gives you a lot of value with its free plan compared to other SEO tools. To get even more valuable insights you can leverage for your website, upgrading to one of the affordable paid plans can be done at any time.
Who Is Ubersuggest Best Suited For?
Ubersuggest is an all-around SEO tool that's useful for a wide variety of users. It's especially helpful for solopreneurs, small business owners, and small agencies managing SEO for multiple clients.
SEO is one of the best ways to increase website traffic and position your business for long-term success. A tool like Ubersuggest can help you take advantage of the many tactics and strategies websites use everyday to grow their online presence.
What Problems Does Ubersuggest Solve?
Ubersuggest helps small business owners understand and implement strategies to grow their business online.
The tool offers various features which help new—and seasoned—marketers understand what the competition is doing and, more importantly, how they can do it better.
After all, the average CTR drops from 34 percent to 17 percent when you go from the top to just the second spot in Google—so it's important have a proper handle on your SEO so you can snag the top spot high-intent search terms in your industry.
If you're a business owner who is not very marketing or SEO-savvy, tools like Ubersuggest will help simplify and automate your marketing and SEO-related tasks.
If you're just getting started with SEO, knowing where you should focus can feel like a daunting task. However, once you have learned the basics, you will see the powerful results a comprehensive SEO strategy can have on your revenue and business growth.
What Outcomes Are Ubersuggest Users Looking For?
When using Ubersuggest, customers are typically looking for the following outcomes:
They want more (profitable) traffic to their website.
They want to rank higher on Google.
They need to find the right keywords to write content about.
They want to drive revenue.
Content strategies are a great way to drive business growth which is something Ubersuggest enables. 80 percent of B2B businesses have one!
There are many key metrics that can drive business growth which you should be looking at. SEO tools are a great way to get more insight into them.
How to Use Ubersuggest
There are many ways you can Ubersuggest to improve your strategy and its versatility is only limited by your imagination.
In case you're still new to the world of SEO and need some help getting started, we have you covered! Here are some ways you can take advantage of Ubersuggest:
Run SEO site audits for technical SEO feedback: An Semrush study found 42.5 percent of websites have broken links. Regular SEO audits can identify mistakes like this. Improving your SEO strategy includes performing regular SEO audits to see if everything is in order. That way, you can fix the SEO problems before it starts having an impact on your traffic and customers.
Find profitable keywords for your business: A huge part of any SEO strategy includes finding relevant keywords that connect with your audience. For example, 98.1 percent of Google searches are long-tail keywords; how can you identify these without a good SEO tool for keyword research? Ubersuggest helps you find the best keywords and come up with ways to effectively use them to improve content rankings and grow your organic traffic.
Find content ideas that have a track record of user interest: Finding the best keywords alone isn't enough for long-term business success, and overusing them can be viewed as spam. To capture the attention of your target audience, you need to write interesting content that appeals to them.
Discover backlink opportunities based on who's linking to your competitor's websites and not yours: Posts that are ranked #1 on Google have an average of 3.8 times more backlinks than the posts in positions two through ten. Doing some competitor analysis can unlock a lot of backlink opportunities that can lead to more website traffic and better connecting with your target audience.
Seeing how your competitors approach their SEO is a great way to find areas of improvement for your own site which Ubersuggest can help you with.
How Ubersuggest Has Evolved Over Time
Ubersuggest has undergone a lot of changes over the years. From adding SEO research tools to improving functionality, let's explore the range of Ubersuggest updates that'll help you boost your business online.
Here's a list of all the Ubersuggest updates over the last few years.
Ubersuggest Update 2.0
This Ubersuggest update was heavily focused on keyword research, providing an overview, keyword ideas, and SERP analysis.
The graph in the first section shows how the search volume changes over time.
Here's an example: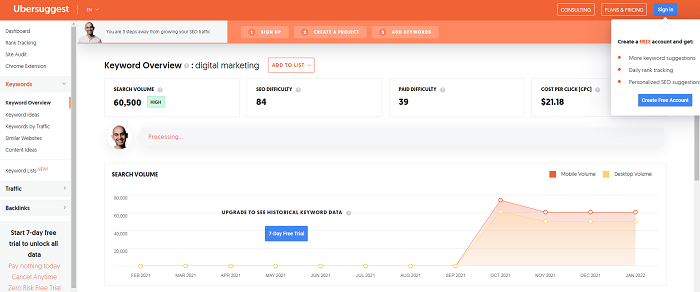 This graph will show you whether the keyword is rising or falling in popularity or if it has seasonality.
The tool also breaks down the cost-per-click, the SEO difficulty, and the paid difficulty.
The difficulty scores range from 1 to 100. The higher the score, the more difficult it will be to compete for the keyword. On the other hand, the lower your score, the easier it is to rank for that keyword.
Ubersuggest Update 3.0
Ubersuggest update 3.0 was focused on adding domain-level metrics.
There are three sections in the new traffic analyzer: overview, top pages, and keywords. The first section gives some basic stats and a graph showing the traffic to the domain.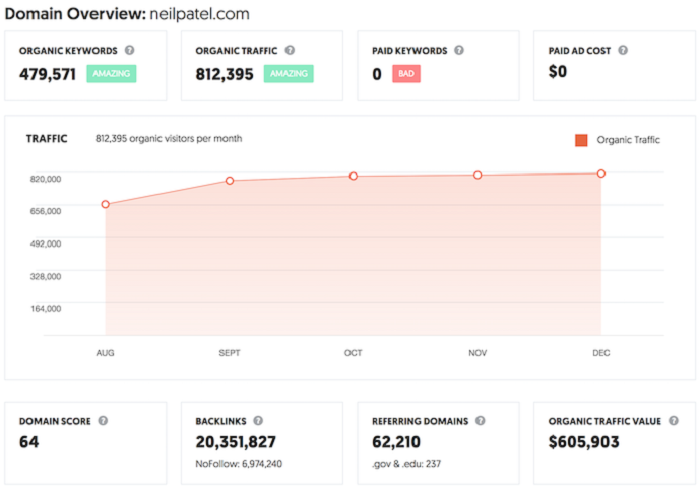 There is information about how many keywords a domain ranks for, how much search traffic comes from that region, how many paid keywords a site bids on, and how much they spend on Google Ads.
Another part of the traffic analyzer displays the most popular pages within a domain.
You will see the title and URL of each page, the number of visits that page receives from Google on a monthly basis, and how many times the URL has been shared on social media.
Last but not least, this Ubersuggest update introduced a top keywords section. You can find all of the organic and paid keywords a site is targeting, whether you put in your own domain or a competitors.
Ubersuggest Update 4.0
Ubersuggest update 4.0 was focused on creating content that ranks.
If you click "content ideas" in the navigational menu or click "view all content ideas", you will be directed to a page that lists all blog posts written with your target keyword or phrase in mind.
Posts with the most social shares are shown at the top of the list.
Moreover, the Ubersuggest update created a filtering system that makes it easy to fine-tune your search by including certain keywords or excluding others and even putting minimum and maximum thresholds on social shares.
Ubersuggest Update 5.0
Ubersuggest update 5.0 increased the number of keyword suggestions offered.
The update added a "related" tab on Ubersuggest for finding additional relevant keywords. It also enabled you to export all of the keywords via CSV.
Another important addition was local keyword research. The new tool lets users search for keyword ideas and stats by city, county, region, or country.
In addition, if you use the "keyword ideas" report, you'll also notice that the SERP results, which display all sites that rank for that term, have been changed to include rankings for sites within that region.
Here's what it looks like in action: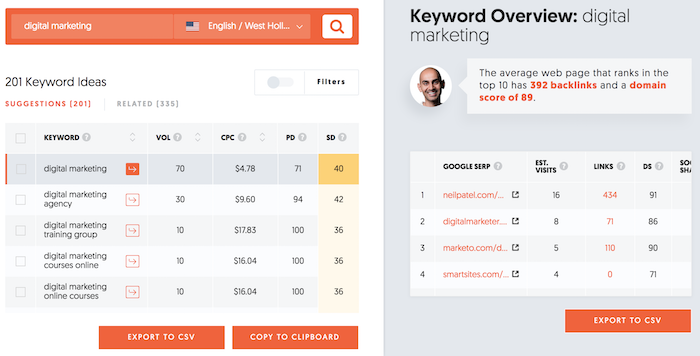 Ubersuggest Update 6.0
Ubersuggest update 6.0 added a handy, easy-to-use dashboard feature so even users with little to no knowledge of SEO can work with the tool effectively.
You can see your SEO errors that need to be fixed, link growth (or decline), monthly search traffic, and overall search rankings in the dashboard.
To make things easier, you don't have to worry about staying up-to-date with Google's algorithm changes—since it crawls your website for you every week.
Furthermore, the search rankings feature allows you to monitor any changes in your rankings on a daily basis.
The coolest part is you can track your ranking in any country, city, or region. That way, you can see rankings of both local and international SEO campaigns.
Finally, Ubersuggest has a date selector, so you can see a nice chart of your rankings over time once you've used the tool for a while.
So far so good? It gets better!
Ubersuggest Update 7.0
Ubersuggest update 7.0 brought about a lot of changes, particularly around link data and traffic estimations.
The biggest change is now you can what percentage of searches take place on desktop versus mobile devices for any given keyword.
The term "marketing" for example reveals that desktop devices are dominating the searches (see below).

This Ubersuggest update also improved the backlink data. The backlinks and referring domains of a site can now be tracked over time to see if they are growing or declining.
Additionally, the tool also lists the number of new and lost links for a given site on a daily basis.
Ubersuggest Update 8.0
Ubersuggest update 8.0 truly leveled up with competitor analysis. Now users can see a table with detailed competitor data.
This tool displays the competitor domain, the number of keywords you both rank for, their estimated traffic, the number of backlinks your website has, and keyword gaps (the keywords they rank for but you don't—this is your chance to step up the game).
This update is extremely useful for business owners who want to know their competition better and improve their strategy to match or even surpass other players in the field.
Frequently Asked Questions About Ubersuggest Updates
How can Ubersuggest help me?
Ubersuggest offers many free and paid features to help small businesses and solopreneurs beat their competition at SEO and content marketing. The site offers tools to improve your website's searchability and presence in search results by helping you tackle the 4 key pillars of SEO:
Having a healthy website from a technical and UX perspective.
Focusing on the right keywords to drive traffic and conversions on your site.
Creating content for those keywords that will be shareable and valuable to readers.
Driving backlinks to your site to increase domain authority and drive more organic traffic.
How much does Ubersuggest cost?
Ubersuggest is partly free, but paid plans start at $12/month for individuals, $20/month for small and medium-sized businesses, and $40/month for large businesses and agencies.
Do I have to sign a long-term contract?
No. Ubersuggest customers pay month-to-month with no contracts. You can cancel at any time. Plus, everyone gets a 7-day free trial to test the platform.
How is it better than the other SEO tools out there?
There are many free and paid SEO tools out there. Ubersuggest is one of the best because it's easy to use, offers less expensive paid features, and is geared toward small businesses who may or may not have marketing experience.
Conclusion: Why You Should Use Ubersuggest
You can't do everything in digital marketing on your own. If you want better, faster results, you need dependable, effective tools to step up your marketing game.
Fortunately, free and paid tools like Ubersuggest are here to help.
Ubersuggest has evolved a lot over time to improve how you plan your keyword research, analyze the competition, get relevant content ideas, view historical backlink data, study traffic trends, and improve your digital marketing strategy.
The change doesn't stop here.
Ubersuggest will continue to make updates to make the platform better and improve how businesses approach their SEO strategy.
What is your favorite Ubersuggest feature so far?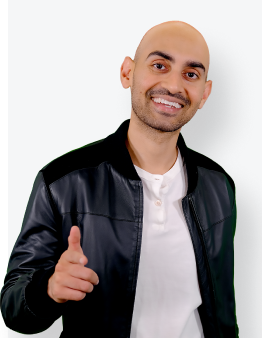 See How My Agency Can Drive More Traffic to Your Website
SEO - unlock more SEO traffic. See real results.
Content Marketing - our team creates epic content that will get shared, get links, and attract traffic.
Paid Media - effective paid strategies with clear ROI.
Are You Using Google Ads? Try Our FREE Ads Grader!
Stop wasting money and unlock the hidden potential of your advertising.
Discover the power of intentional advertising.
Reach your ideal target audience.
Maximize ad spend efficiency.