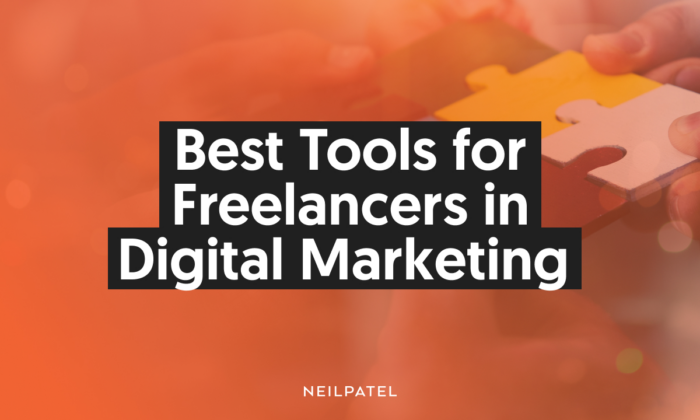 Freelancing is about more than just monetizing your hobbies or passion projects.
It also requires discipline, hard work, and the ability to manage clients and projects independently.
Balancing passion and productivity is hard. But rest assured. You're not alone.
More than 1 billion freelancers make up the global workforce, including you. That's a whopping 47% of the work world.
If you're a marketer looking to streamline your workload and boost productivity, I've got some tools for freelancers you can drop in your toolbox. These resources will turn you into an organized and efficient digital marketing guru.
Investing in these must-have platforms will keep you on track with everything from project management related to SEO optimization.
By automating or streamlining certain tasks, you'll have more time to focus on other aspects of your business.
With these marketing tools for freelancers in your arsenal, you'll be a digital marketing force.
How Tools Help Freelancers
You've got the freedom to choose your clients, the freedom to work on your own time, and the freedom to do what you love.
Now, it's time to find the best marketing tools for freelancers and embrace the freedom of a streamlined workflow.
Freelancers often juggle multiple projects. Managing all the tasks and deadlines can be challenging without the right tools. Platforms such as Trello or Asana help organize tasks, track progress, and communicate with clients.
Without these productivity boosters, freelancers might struggle to manage their workload, meet deadlines, and maintain professional client relationships.
The Best Tools for Freelance Marketers
As a freelance marketer, the right resources make all the difference.
Whether you're just starting out or you've been in the game for years, choosing the right marketing tools for freelancers is a game-changer.
These tools will cut the time you spend on tasks in half in some cases. That way, you can focus on what's next for your business.
Here are some of the best tools for freelancers:
Ubersuggest should definitely be on your ultimate list of free SEO tools. Not only because Ubersuggest is my tool, but because it's excellent for finding new keywords.
To begin, type a keyword or phrase into the tool.
In this case, let's go with "digital marketing."
Enter the phrase and press the Search button.
Ubersuggest provides data on the following metrics:
Search volume: Number of times a keyword is searched in a given month
SEO difficulty: Estimated organic search competition
Paid difficulty: Projected paid search competition
Cost per click (CPC): Google ad average cost per click
You'll also get an idea of the backlink count and domain score it might take to rank on page 1 of Google. This displays above the keyword search volume graph.
Ubersuggest gives you so many possibilities to generate keyword ideas, which is why it gets my stamp of approval.
You can use Ubersuggest as a free keyword research tool at first. As you get comfortable with the software, you can upgrade and unlock all the offered features. Check out the different plans and pricing.
This is another keyword research tool, but with a twist.
AnswerThePublic provides insight into actual queries users are typing into search engines. You can then use this data to shape your keyword research.
Say a keyword you want to rank for is "earrings."
Hit Search and see the questions your audience (and potential audience) is asking.
The Preposition formats show all the ways questions are being asked.
From here, you can mold your content strategy accordingly.
You can see how your competitors are responding to fill gaps in the industry (or if they've responded at all).
Not only is it a tool that's easy for freelancers to grasp, but it also suggests search topics you might not have considered.
Protect your work from plagiarism.
As a freelancer, your work is your intellectual property. It's important to ensure that it's not being copied or used without your permission. It's also important to verify that you're not plagiarizing anyone else's work.
Copyscape allows you to quickly and easily check for plagiarism by scanning the internet for duplicate content.
It can even pick up on copied sources featured in client work you are auditing or refreshing.
Copyscape gives you peace of mind that you are delivering high-quality, original work.
Hootsuite is a powerhouse social media management tool that makes a marketer's life a breeze.
Managing multiple social media accounts for different clients can be daunting for solo or small teams.
Hootsuite simplifies this process by allowing you to manage social media accounts all in one place.
Use this all-in-one solution to schedule posts in advance, monitor engagement, and track the performance of your social media campaigns.
Hootsuite also provides insights into your audience's behavior, helping you tailor your content to their needs.
Manage your clients' social media presence—and save some time—while delivering high-quality results.
I can't think of a single marketer who doesn't use Canva these days.
This software has given marketers the confidence to create anything with no graphics experience at all.
Canva makes it easy to design cost-effective graphics that look professional.
As a freelancer, you need to create visually appealing content that stands out from the competition.
Canva is super straightforward. This graphic design software offers a dashboard full of pre-made templates, graphics, and design elements that you can customize to fit your clients' brand and messaging.
You can create social media posts, infographics, and presentations in a matter of minutes.
Since this tool is beginner-friendly, you don't need any design skills to use it effectively.
Need to automate repetitive tasks and streamline your workflow?
Use Zapier to connect different apps and other marketing tools you use for work.
This allows data to flow seamlessly between them all.
You can save time by avoiding manual data entry and focus on more important tasks like developing marketing strategies and creating content.
Use Zapier's vast library of pre-built integrations with popular apps to easily set up automated workflows without any coding skills.
As an all-in-one email marketing solution, this is one of the best tools for freelancers.
It gets bonus points from me for being easy to use and affordable.
With Mailchimp, freelancers can:
Create and send professional-looking email campaigns.
Manage email lists.
Track campaign performance.
Yes, you can do all that on this one platform.
Mailchimp also offers a variety of pre-designed, customizable email templates, allowing freelancers to match branding and style guides.
There's an advanced segmentation and automation feature to send targeted and personalized messages based on the behavior and preferences of the subscriber.
Asana is a tool for freelance marketers that streamlines project management, task delegation, and collaboration with clients and team members.
With this tool, you'll be able to:
Organize your workflow.
Assign tasks to specific team members.
Set deadlines.
Track progress.
This way, you can get all projects completed efficiently and on time.
Use the central hub for communication and file sharing to collaborate seamlessly and eliminate the need for multiple tools and platforms.
Trello provides a flexible, visual way to manage projects, tasks, and deadlines.
Trello's boards, lists, and cards help freelancers organize their workflow in a way that works best for them.
No matter if it's by project or task, Trello's interface is simple and intuitive.
Quickly add and assign tasks, set due dates, and track progress all within the platform.
Collaboration features such as comments and file sharing enable freelancers to communicate and collaborate with clients or team members in a foolproof way.
You should be familiar with Google Workspace. This is the new and improved G Suite.
It provides a comprehensive hub of productivity apps to help you manage work more efficiently.
Google Workspace includes tools like Gmail, Google Drive, Google Docs, Google Sheets, and Google Meet.
These apps allow freelancers to communicate, collaborate, and share files from any device, anywhere and anytime.
I especially appreciate that Google Workspace offers advanced security and privacy features, protecting confidential client data at all times.
Slack takes team communication and collaboration to the next level.
This communication platform helps you stay in touch with clients and team members in real time.
Slack's instant messaging capabilities allow freelancers to communicate quickly and easily, facilitating collaboration and feedback on projects.
Freelancers can also use Slack to organize conversations into channels based on topics, projects, or clients, making it easy to keep track of different discussions.
Slack is like everyone's best friend because it integrates with other tools such as Google Drive, Trello, and Asana, enabling freelancers to streamline their workflow and keep all their work in one place.
If you need a user-friendly platform for managing finances, invoicing, and time tracking, this is the tool for you.
FreshBooks allows freelancers to easily create invoices, automate payment reminders, and track expenses.
Get acquainted with the time-tracking features that help freelancers accurately bill clients.
FreshBooks' reporting and analytics features provide insights into your financial health, allowing you to make informed decisions about your business.
You can also integrate popular tools like Stripe, PayPal, and Zapier to automate accounting processes.
You may not be a web developer, but with Unbounce, you don't have to be. This easy-to-use platform is great for creating landing pages, popups, and sticky bars without any coding skills.
Unbounce helps you quickly design and publish high-converting landing pages optimized for conversion.
Use the A/B testing features that allow freelancers to test different versions of their landing pages to improve conversion rates.
You can also integrate tools like Google Analytics and Salesforce to gain valuable insights into your marketing campaigns' performance.
Creating, scheduling, and publishing content across multiple social media platforms just got easier.
All you need is in this centralized platform.
Buffer allows you to manage social media accounts and schedule posts in advance.
Buffer's analytics features also provide valuable insights into social media performance, allowing freelancers to track engagement, follower growth, and other metrics.
The tool's team collaboration features enable you to work seamlessly with clients and team members on social media strategy and content creation.
Sometimes a call or email just can't cover it all, but that's what Loom is for.
Want to save time and make sure everyone has clear instructions on what's happening? Make a Loom video.
You can use this tool with your team or your clients.
This video messaging software lets you record and share videos with ease.
It's a concise and convenient alternative to in-person meetings or lengthy emails.
Freelance marketers can use Loom to share project updates, brainstorm ideas, and provide feedback on campaigns.
I know many small businesses and entrepreneurs who use this tool to walk clients through tutorials or show work that they've done.
The receiver of the video can also take things at their own pace with your step-by-step walkthroughs.
If you need to collaborate more effectively and productively, Loom is a tool all freelancers will appreciate.
AI Tools For Freelancers: Are They Worth It?
My answer is 100%. If you're not using AI to work smarter, you're working harder.
Artificial intelligence (AI) is transforming the way we work, and freelancers can greatly benefit.
There are so many AI tools available. Even Google and Bing jumped in on the AI action.
These tools help freelancers identify new opportunities and optimize their rates. Here are three reasons AI tools are worth it for marketers, especially freelance marketers:
It improves targeting and personalization: AI-powered tools can analyze large amounts of data to identify patterns and insights about target audiences. This helps marketers create more personalized campaigns and improve their targeting, resulting in higher engagement and conversion rates.
It streamlines workflows and increases efficiency: AI tools automate many repetitive and time-consuming tasks, such as data entry and analysis, freeing up marketers to focus on more strategic activities. This can lead to faster turnaround times and increased productivity.
It helps with better decision-making and optimization: AI tools can help marketers make more informed decisions by providing real-time insights and recommendations based on data. This helps optimize campaigns and improve return on investment (ROI).
While some AI tools are expensive, many are free or offer affordable pricing plans. The ROI can be significant in terms of time saved and improved efficiency.
AI tools for freelancers are definitely worth exploring and can give freelancers a competitive edge in the marketplace. They won't be a full replacement for your skills, but they can help to make your work more effective and efficient.
Frequently Asked Questions
What are the best tools for beginner marketing freelancers?
As a beginner marketing freelancer, it can be overwhelming to navigate all the resources available to you versus what you need more immediately. As you gain more experience, you can explore more advanced tools and features to expand your skills and expertise. If I had the following tools when I got started, I would have been a guru much sooner:
Ubersuggest: An SEO tool that provides insights into search volume, keyword difficulty, and content ideas during keyword research.
Canva: A beginner-friendly graphic design tool that allows you to create professional-looking designs for social media, marketing materials, and more.
Hootsuite: A social media management tool that allows you to schedule posts, monitor mentions, and engage with your audience across multiple social media platforms.
Mailchimp: A beginner-friendly email marketing tool that offers pre-designed templates and an easy-to-use drag-and-drop interface. It allows you to create and send professional-looking emails, newsletters, and automated campaigns.
Trello: A project management tool that helps you organize tasks, collaborate with your team, and stay on top of deadlines.
What tools would I need to start my own digital marketing agency?
Starting your own digital marketing agency can be exciting, but it can also be daunting if you're not sure where to start. Here are some of the tools you'll need to get started:
Social media management tools: To manage social media accounts for your clients, you'll need a social media management tool like Hootsuite or Buffer.
Email marketing tools: Email marketing is an effective way to reach out to potential clients and keep in touch with existing ones. Tools like Mailchimp can help you create and send professional emails to subscribers.
SEO and keyword research tools: To help your clients rank higher on search engines, you'll need SEO and keyword research tools like Ubersuggest, AnswerThePublic, and Google Keyword Planner.
Project management and communication tools: To manage your projects and stay on top of deadlines in house and with clients, you'll need tools like Trello, Asana, or Slack.
Design and creative tools: You'll need design tools like Adobe Creative Suite or Canva to create compelling visual content for your clients.
Conclusion
These tools for freelancers can make a huge difference in how you work.
From project management and social media tools to pay-per-click (PPC) automation tools, there are so many marketing tools for freelancers to get the job done.
With these tools at your fingertips, you'll save time, improve workflows, and drive better results for clients.
Each is user-friendly and easy to integrate into your existing workflows.
Think of them as cheat codes to make your brand a well-oiled machine of efficiency.
Don't be afraid to try out a few different options and see what works best for you.
With the right tools at your disposal, you can take your marketing game to the next level.
No matter which stage you're at in your freelancing career, you can use these tools and explore opportunities through the LinkedIn Marketplace for freelancers, which connects businesses with freelancers across a wide range of industries.
There's something out there for you, and these are the best tools for freelancers to help you do it.
Are there any other tools I didn't cover that you use as a freelance marketer?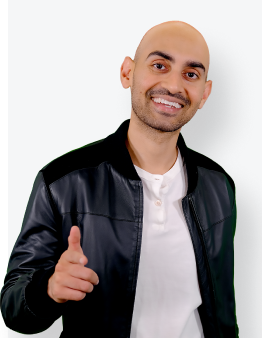 See How My Agency Can Drive More Traffic to Your Website
SEO - unlock more SEO traffic. See real results.
Content Marketing - our team creates epic content that will get shared, get links, and attract traffic.
Paid Media - effective paid strategies with clear ROI.
Are You Using Google Ads? Try Our FREE Ads Grader!
Stop wasting money and unlock the hidden potential of your advertising.
Discover the power of intentional advertising.
Reach your ideal target audience.
Maximize ad spend efficiency.