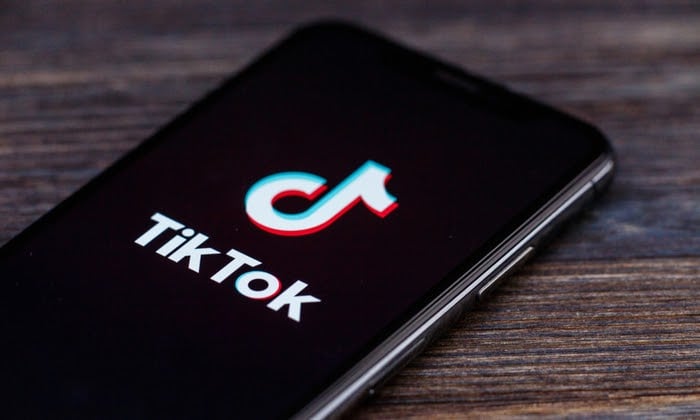 Did you know TikTok has around 100 million monthly active users within the US?
If you own a business, TikTok marketing can be a great channel for your brand, as there is relatively little competition on the platform. However, if you're new to TikTok, you may not know how you can use it to market your company.
There has been some controversy with the app in relation to data privacy, but it still continues to grow in popularity, so consider this before creating a TikTok marketing strategy.
Below we'll explore how and why you should use TikTok as a marketing channel to take your business to the next level.
Why TikTok Marketing?
Many business owners haven't taken the time to figure out how TikTok can work as a marketing tool. Perhaps this is because they think the platform only has a "young" user base.
However, TikTok is now attracting a wide range of people. In fact, nearly 38% of TikTok's users within the US are above 30.
The low business competition presents a massive opportunity because you can reach many people at a relatively low cost.
But should you use it for your business?
How Does TikTok Work?
Before we talk about how you can use TikTok, let's quickly cover how the platform works.
The platform is based around videos that max out at 15 seconds (and can be combined for up to a total of 60 seconds, and people interact with videos by scrolling through their feeds.
One of the cool things about TikTok is it allows people to add all sorts of editing effects and background music to their videos. This has resulted in lots of dance videos going viral on the platform, as people can record a video of themselves dancing to a particular song.
When it comes to interacting with videos, people can "like," comment on, or share the videos they like with other users through direct message or SMS and other apps.
Engagement figures are exceptionally high on the platform. According to one study by Influencer Marketing Hub, TikTok beats all other platforms when it comes to engagement levels across accounts of all sizes.
TikTok is also really good at keeping people on the app, as users typically interact with it 45 minutes a day.
If you have a TikTok profile, people can follow your account and set up notifications so they're alerted whenever you post a video.
The tricky part is working out how to create the kind of content that resonates with TikTok users. After all, the content and style of TikTok content are different from those on other social media platforms.
If you use the platform as an observer for a week or two, you'll be able to develop a feel for things. This may then make things much easier when you use the platform as a marketing channel.
Create TikTok Marketing Videos
The simplest way to create videos is by logging into the TikTok App and clicking on the "plus" sign shown in the image below.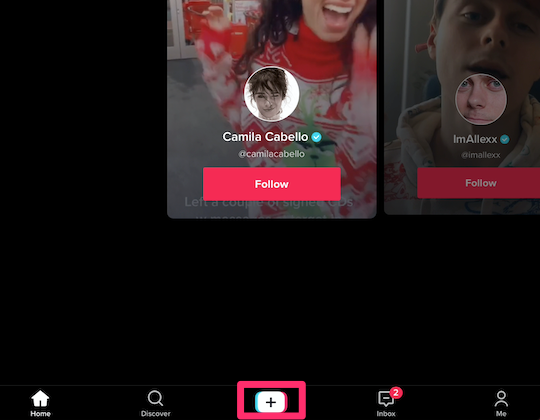 Once you do this, you'll then see the screen that allows you to record videos.
As mentioned earlier, you can record a short video or combine videos for a maximum of 60 seconds.
If you look in the upper right corner, you find options to tinker with the recording settings. If you experiment with certain features, such as the "speed" option, you can make your videos even more unique.
As you might've guessed, the effects feature allows you to add cool animations to your videos.
There are lots of effects that use "augmented reality" technology. With these effects, you can make it seem as though you're interacting with virtual items, and you can also change your appearance.
Once you've recorded a video, you then have access to a "post-production" area.
In this area, you can add additional effects to your videos, such as voice effects and filters.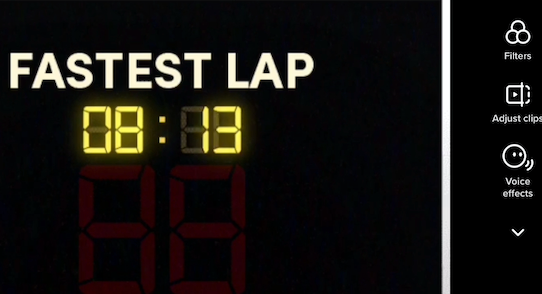 At the bottom of this screen, you can customize your videos even more.
Once you've completed this post-production phase, you can then go through the upload process.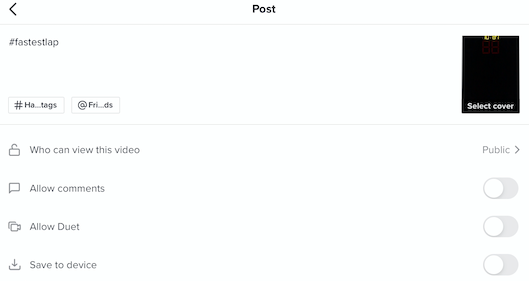 There is a section allowing you to add some hashtags to your video. You can also choose a "cover," which gives your viewers a preview of what they're about to see.
The hashtags you select can have a significant impact on the "discoverability" of your video. You should try to choose hashtags representing your video's theme or central ideas.
Additionally, the cover you choose can significantly impact the likelihood of someone viewing your video. You should select a cover image that represents one of the most visually striking moments in your clip.
Once you're done with all of this, you can click on "Post," and the video will be added to your library.
You can also automatically share your video to other social media platforms.
You should enable this so your existing social media followers are aware of your presence on TikTok. This is important, as these individuals may interact with your content directly on TikTok, which could result in the platform's algorithm recommending your video to others.
How to Create Interesting TikTok Marketing Content
Succeeding with TikTok comes down to creating exciting content. If you can do that, people are more likely to watch and engage with your videos, resulting in the algorithm putting your content in front of more people.
Perhaps the easiest way to create interesting business content for your TikTok profile is by adopting the same approach you'd use when coming up with blog post ideas.
If you wanted to create engaging blog post content, you'd first need to think about some of the problems or topics that interest your target audience.
If you don't know how to identify problems or interests, ask! Your existing audience may be excited to share some of the issues they're struggling with or what they want to learn more about.
Alternatively, you could look at some of the common questions your audience is asking on popular forums dedicated to your niche.
The "autosuggest" feature within Google Search is another way to develop good content ideas.
Suppose you know your audience wants to learn about Instagram marketing. If you Google "Instagram marketing tips," you'll see a list of search suggestions related to this topic.
You can use these suggestions as a source of inspiration when creating your TikTok videos. You can also search for ideas from your ideal keywords through an SEO tool like Ubersuggest.
All you need to do here is type in a broad keyword associated with your chosen topic.
Once you do this, you'll see a section that allows you to view content ideas.
If you click on this section, you'll see some relevant content ideas you can use for your videos.
If you use a few variations of a given keyword, you may come up with a vast number of ideas.
Aside from informational content, you might want to create humorous content as well. This kind of content can work well on TikTok since most people use the platform to have fun.
An example of humorous content might be a joke about your industry that your target audience can relate to.
If you find it challenging to create humorous content, think about using lots of effects when recording your videos.
For instance, you could use certain filters or songs for nearly all of your videos. In doing so, you may make your informational videos more engaging, even if the content itself is serious.
Use the Right Hashtags For TikTok SEO
If you want people to find your content on TikTok, you need to put some thought into TikTok SEO.
TikTok SEO simply means you're optimizing your content so it's found by people when they're using the search feature on the platform.
Perhaps the easiest way to go about this is by using relevant hashtags whenever you post a video.
If you don't know what hashtags you should use, type in a relevant, broad keyword within the search section on TikTok. When you do this, TikTok will suggest a range of hashtags associated with what you typed.

If you want to reach a broad audience, you might use relatively generic hashtags. A generic example of the hashtag shown above might be "#socialmediamarketing" or "#smallbusinesstips."
There isn't a limit to the number of hashtags you can use for a video. However, your hashtags will appear in your video's caption, and captions are limited to 100 characters.
Therefore, you might just want to focus on roughly two to three hashtags, as this will give you some space to write a description for your video.
Partner With Other Creators Through TikTok Marketing Campaigns
If you're struggling to build a following on TikTok, you might want to think about partnering with relevant creators on the platform.
For instance, if you're in the digital marketing niche, you may want to create videos with other people within this field that have more followers.
You can find these individuals by searching for relevant content on TikTok.
When you come across someone who looks as though they'd be a good fit, send them a short, friendly message letting them know you're interested in partnering.
This can be a bit of a numbers game, so it might be a while before someone takes you up on your suggestion. That said, as your follower count begins to grow, you may find more people are willing to partner with you because the benefits of doing so are now greater.
TikTok Ads
TikTok ads are another great way to market your business on this platform.
One of the benefits of TikTok ads is you don't have to spend a lot of time building an audience. You set up an ad campaign, and you'll be able to reach your target audience—often within 24 hours.
TikTok offers five different kinds of ad products:
In-feed ads
Branded hashtags
Top View ads
Branded effects
Brand Takeover
Many small businesses find in-feed ads get the best results. Plus, the other ad products are typically only open to companies that have sizable advertising budgets.
If you want to set up in-feed ads, you first need to create a TikTok ad account.
After doing so, click on "Create an Ad."
At the end of the signup process, you don't end up with an ad account right away—you'll need to wait until TikTok reviews your application. Once they've reviewed your application, you should receive an email telling you whether you've been given access.
With in-feed ads, your videos typically have to follow the same rules as "normal" content, so the video can't be longer than a combined sixty seconds.
That said, TikTok recommends you make your ads run between nine and fifteen seconds in length.
Additionally, when setting up in-feed ads, you can select from a number of different advertising objectives.
You'll also have access to relevant features after you pick the appropriate advertising objective.
For instance, if you use the "App Installs" objective, you can provide people with a direct link to your app store page.
When it comes to targeting TikTok ads, you typically have two options:
Interest targeting works similarly to Facebook ads. If you're using this targeting method, you select an interest relevant to your target audience, and TikTok will show your ads to those people.
Behavioral targeting allows you to target people based on their behavior on TikTok within the past seven or fifteen days.
With this method, you simply select a particular behavior and a video category this behavior applies to.
By using this method, you can reach people who are actively engaging with the TikTok platform.
It's also worth noting TikTok offers "custom audience" and "lookalike audience" targeting.
With custom audience targeting, you're able to target people who have already interacted with your brand. This can include interactions both on and outside of TikTok if you provide TikTok with a customer email address list.
The graphic below highlights some of the options you have if you want to use custom audience targeting.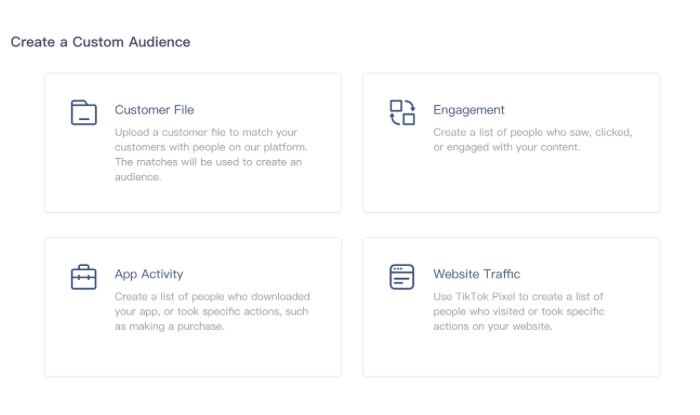 As mentioned, there is also something known as lookalike audiences. With this targeting method, you're able to reach people similar to an existing audience.
This targeting method works well if you find the other targeting methods are starting to deliver subpar results.
If you don't know how you should go about creating your TikTok ads, consider visiting the "Inspiration" section on the TikTok website.
In that location, you'll be able to see examples of ads that have produced excellent results.
If you click on one of these ad campaigns, you'll be able to see how the company went about creating a winning TikTok marketing campaign.
You can then use this information to help you create a winning campaign of your own.
TikTok Influencer Marketing
According to recent stats, nearly 86% of marketers have used influencer marketing to generate sales or brand awareness.
Influencer marketing is popular because it can be one of the fastest ways to generate results on a social media platform. However, sifting through influencers can be difficult, and it's not easy to work out whether a particular influencer will deliver good results.
To address these issues, TikTok has developed the "TikTok creator marketplace."
If you join this marketplace, you will see the metrics associated with a given influencer.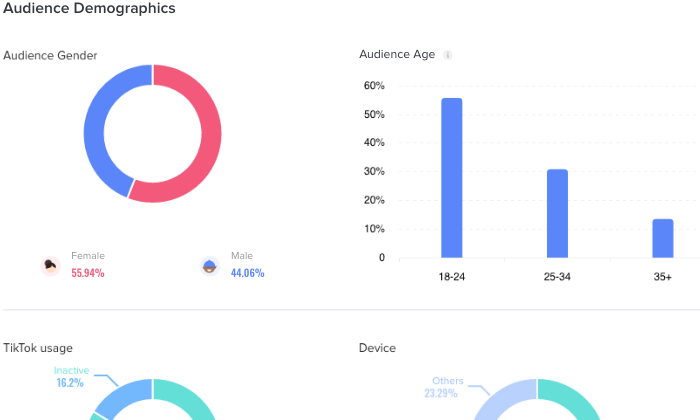 With this data's help, it may be a lot easier to determine if an influencer is right for your product/service.
This may help ensure a good ROI if you embark on an influencer marketing campaign.
If you want to join this program, you'll need to go to the creator marketplace and sign up for an account. TikTok will then notify you if it accepts your application.
How to Get TikTok Marketing Analytics Data
Analytics can be a big help, no matter what platform you're using for digital marketing campaigns. In fact, two out of three marketers state their decisions based on data outperform their choices based on "gut feelings."
If you want to get detailed analytics data on your TikTok videos, you need to upgrade your TikTok account to a "pro" account. This doesn't cost anything.
All you have to do is go to the "Privacy and Settings" section on the app, click "Manage my account," and you should see an option allowing you to enable the "pro" upgrade.
Once you click on this option, select a "category" to gain access to an analytics dashboard like the one shown below.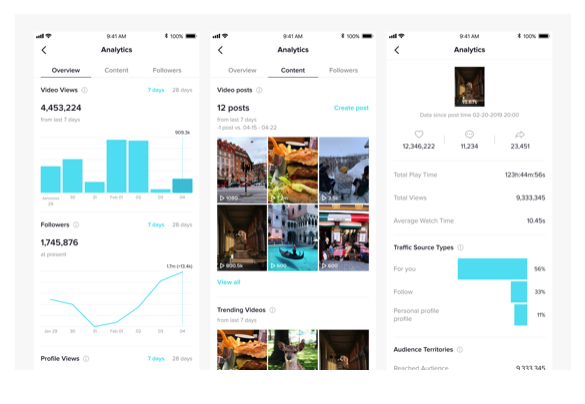 If you keep a close eye on this data, you should be able to identify what is and isn't working in your content creation. You can use these insights to improve the way you create content in the future.
One of the interesting things about the analytics section is you can access something known as "Followers Analytics."
This section gives you insight into your followers, such as what your audience is watching (aside from your content) and when they're most active. This information can also be used to inform your approach to content creation, as well as the times you decide to post new videos.
If you're using TikTok Ads, you can use this information to help you do a better job when setting up targeting for your ads.
TikTok Marketing Best Practices and Examples
Now let's talk about some best practices in regards to TikTok marketing, as well as some examples that show these practices in action.
First, we're going to touch on the best time to post your content on TikTok.
The jury is still out on whether there is a specific time that works for everyone. Some experts feel you'll get the best results if you post between 10 AM and 6 PM.
That said, this isn't universal.
Over a given week, post videos at varying times to see what works best. You can then review your engagement stats at the end of the week, and this could give you a sense of what works best.
It's also a good idea to create a detailed bio so people have some context on who you are.
You can use the bio to encourage a certain kind of action, such as joining your email list or following your account.
If you want to add a link to your website, you should use the dedicated website section in the "account preferences" area.
This will allow you to insert a clickable link right beneath your bio without sacrificing word count.
You should also link to your other social media profiles, as doing so might allow you to grow your followers on other platforms.
Another TikTok best practice is to jump on trends.
Often, you'll find there's a specific hashtag trending on TikTok. If you make a video based on this hashtag, there's a better chance your video will reach a broader audience.
The easiest way to find trending hashtags is by going to the "search" section on TikTok, also known as the "discovery page."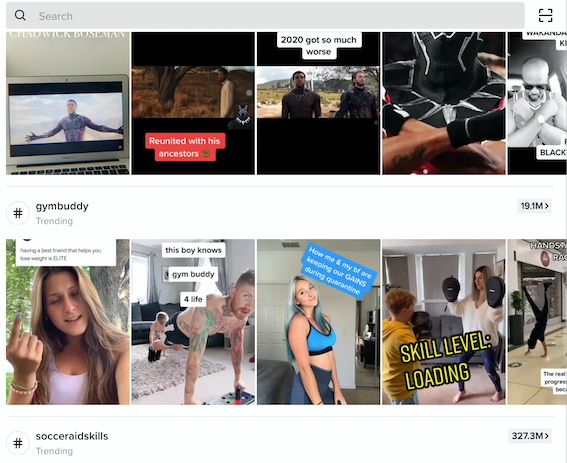 If you scroll through this section, you may find a few hashtags you can use.
Conclusion
In this post, we've explored how you can use TikTok as a marketing channel.
TikTok isn't like the other social media platforms on offer, so it might be a while before you understand how TikTok works if you're used to those.
That said, once you get it, TikTok can often work as a successful marketing channel. You may be able to reach a large number of people at a relatively low cost. This could allow you to surpass your competition, especially if they haven't taken the time to learn how TikTok works.
Will you use TikTok as a way to market your business? Let me know in the comments!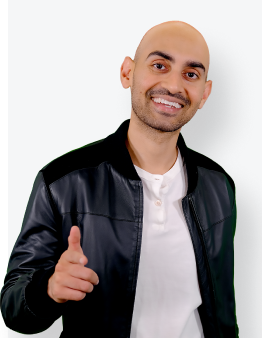 See How My Agency Can Drive More Traffic to Your Website
SEO - unlock more SEO traffic. See real results.
Content Marketing - our team creates epic content that will get shared, get links, and attract traffic.
Paid Media - effective paid strategies with clear ROI.
Are You Using Google Ads? Try Our FREE Ads Grader!
Stop wasting money and unlock the hidden potential of your advertising.
Discover the power of intentional advertising.
Reach your ideal target audience.
Maximize ad spend efficiency.