Content marketing is not just a buzzword, it's a hugely effective marketing strategy. MarketingSherpa used content marketing to increase their blog traffic by 232% and Buffer's stats show that publishing useful content regularly has a major impact on the company's finances.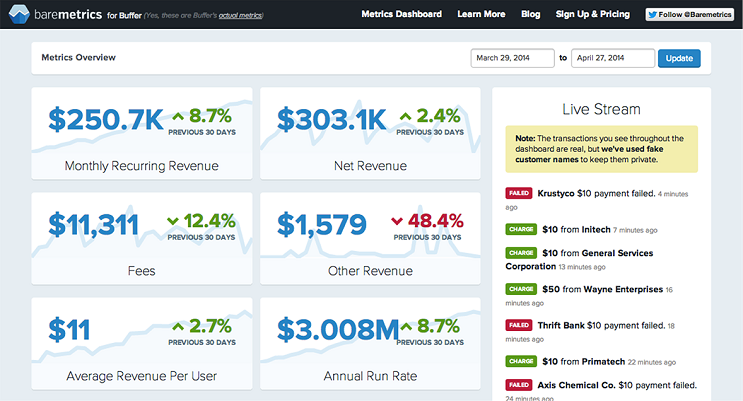 With that success, it's no wonder that, according to the Content Marketing Institute, "86% of B2C marketers use content marketing and 55% of B2C marketers plan to increase content marketing spend next year."
In other words, you're marketing to consumers directly, either through your blog, corporate site or online store, you need to know how to use content marketing effectively. This definitive guide will show you how to use content marketing to improve organic traffic, broaden your reach to your target audience and enhance brand awareness.
It will cover:
What is B2C Content Marketing?
What Do B2C Marketers Do?
Understanding the B2C Customer
Key Elements of B2C Content Marketing
The Difference Between B2B & B2C Content Marketing
How to Succeed with B2C Content Marketing
B2C Brand Marketing Strategies
What is B2C Content Marketing?
Business to consumer (B2C) content marketing covers the methods and best practices used to promote products and services among consumers through the use of useful and engaging content.
A research study on Heidi Cohen's blog shows that 37% of marketers agree that content marketing is effective for lead generation, relationship building and increasing sales.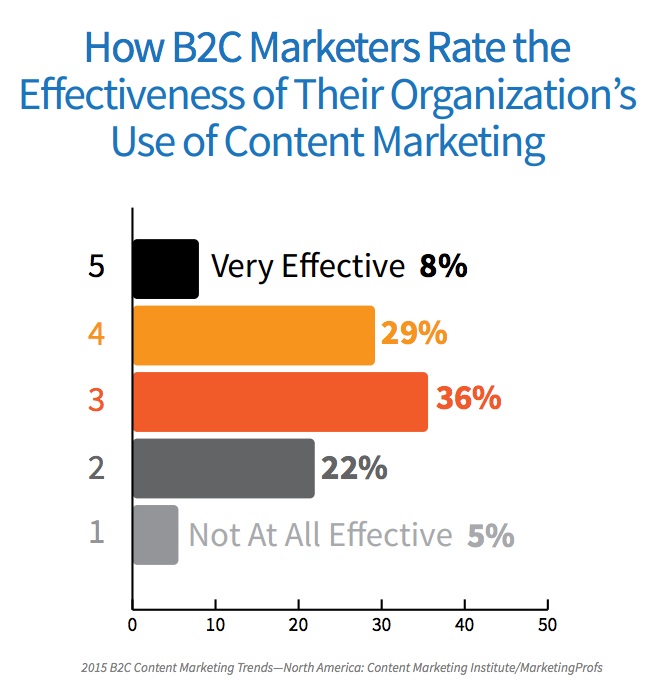 Unlike businesses, end consumers tend to seek a specific solution that solves a known problem. B2C content marketing can help meet those needs and increase interest in your products.
Is content marketing the same as inbound marketing? You might be confused about whether there is a difference between content marketing (which Copyblogger is known for) and inbound marketing (which Hubspot is known for). There has been a lot of debate about this.
In the chart below, HubSpot shows how different departments see the two terms.
Still confused? I don't blame you.
My own view, after years of using content to acquire leads and close sales, is that Mike Lieberman gets it right. He says that inbound marketing describes tactics that use high quality content to pull prospects to your business, instead of pushing messages to them. Content marketing is a vital part of an effective inbound marketing campaign.
Both inbound marketing and content marketing work together. Content is the most important element that you can use to capture and nurture leads, educate and build loyalty among prospects, create interest in your business and improve your search traffic.
Understanding the B2C Customer
For businesses, there are many advantages of marketing to consumers directly, which is perhaps why businesses plan to spend more on this area in the next 12 months.
A big advantage of B2C content marketing is that you speak directly to consumers with no intermediary, resulting in a shorter sales cycle (more on this later). It's the individual consumer who makes the final decision, usually based on both rational and emotional thinking. Keep that in mind when creating content marketing material.
Most consumers are complex and they may not spend as much time thinking about your brand as you imagine, as this cartoon from Marketoonist shows:
That's why you have to be smart about enticing consumers to consider your brand, by putting them first, speaking the language of value and tapping into their emotions.
The power of emotions: Emotions don't just color our lives, they can increase customer lifetime value and long-term conversions.
The right emotional words can capture your prospects' attention and give them a reason to do business with you. There are many examples of this.
Stream Send, an email marketing and social delivery provider, uses emotional words to quickly connect with prospects and give them an initial impression of the benefits they will get when they sign up.
When MailChimp redesigned their site and made it friendlier and more appealing, they increased their customer base by 600% in a year. And, two popular online stores elicit different emotions among shoppers.
When creating B2C content, you need to tap into positive emotions and make your message about meeting consumers' wants, needs and feelings. That's the best way to eliminate objections.
Timing is everything: According to the List, you need to figure out what triggers sales opportunities, so that you can get to prospects before your competitors do. That's all about getting the timing right.
I often advise my readers to break stories and to use Google and Twitter to stay on top of the latest trends. When you do that, consumers see you as a source of helpful knowledge and begin to trust you and consider your brand.
It's not just important to have the information, but to know when to share it. I recently published an infographic that shows that, on social media, B2C engagements and CTRs are highest on Wednesdays and weekends. And, if you want to get more retweets, you should tweet around 5.00 pm.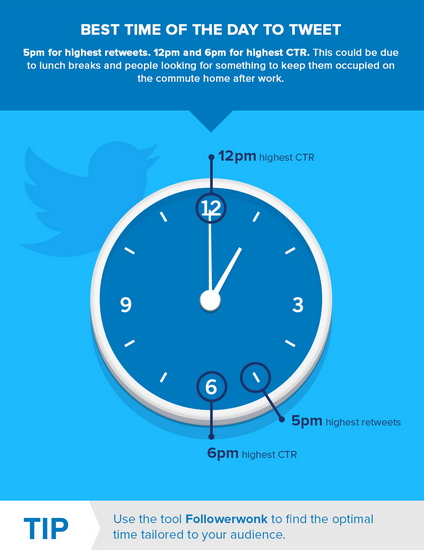 Whether you're using email marketing, blogging or social media marketing, they all rely on timing for success. A chart from Optimal Victory shows that more people open email on Thursday than on any other day of the week.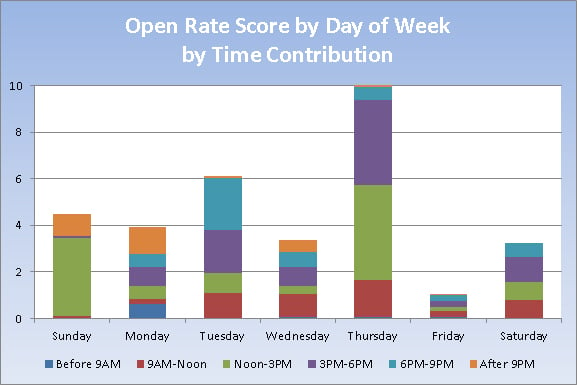 What is your audience looking for? To be a successful B2C content marketer, you need to figure out what your audience wants. Finding them is easy, but working out what keeps them awake and why they visit certain sites is the issue.
Let me make it a bit easier: all consumers are looking for solutions to their problems. Figure out what those problems are and you can target your content marketing.
For example, if you're running an ecommerce site, Lab42's study shows you that most consumers prefer free shipping to a discount. And, an article from American Express shows the importance of reviews for 81% of shoppers. That's good information for an online store.
What about other businesses? That's easy! If you want to find out what consumers want, all you have to do is dig through the keywords that they search with.
Here's how to do it, using an example from the automotive industry.
Step #1: Visit Google AdWords Keyword Planner. Input your target keyword, scroll down and click 'go'.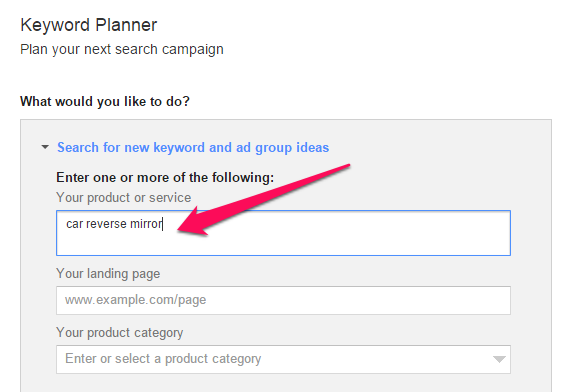 Step #2: Click on the 'keyword ideas' tab.
Step #3: Select a keyword.
Step #4: Put this new keyword into the search box, then click 'Get Ideas.' The long tail keyword results show exactly what your consumers want.
Here's what these results tell us:
Rear view camera installation – The consumer wants to know how to install a rear view camera.
Motorcycle rear view camera – The consumer wants a rear view camera for a motorcycle, not a car.
Wireless rear view camera – The consumer is only interested in a wireless camera.
When you understand what consumers want, you can solve their problems by creating useful articles, tutorial videos, infographics and more. That's what B2C content marketing is all about.
Key Elements of B2C Content Marketing
The ultimate goal of B2C content marketing is to capture leads, as well as to nurture and convert prospects to loyal and repeat customers. To do that, you must include the four Ps of marketing:
Product
Place
Price
Promotion
Related to that, Masterful Marketing outlines the fundamental elements of a B2C content marketing campaign. Here's my take on how those come together:
1. Product driven: You can't make it as a B2C content marketer without a viable product. Whether your product is tangible (like a watch), downloadable (like short reports, white papers, e-books), or digital (software, plugins, tools, etc), you need a relevant product to promote to your target consumer.
For example, Darren Rowse's Digital Photography School offers several high quality products related to his core mission of helping people take better digital photographs.
2. Design and user experience: Design is another core element of an effective B2C content marketing campaign. In today's competitive market, design affects user experience. In fact, design is marketing.
Here's an example. Conversion Rate Experts generated $1 million for Moz, with one landing page and several emails. How did Kevin Woodberry and the team achieve this results? This is what he said: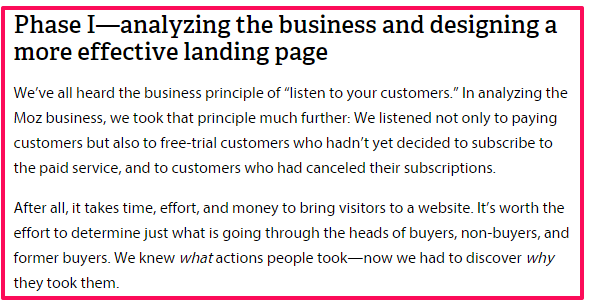 Similarly, Cloudsponge saw a 33% increase in conversions after a site redesign from this:
to this: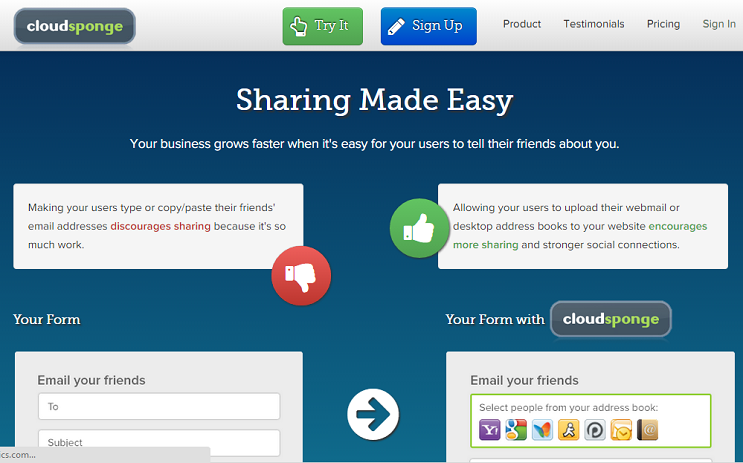 3. Large target market: According to Emarketer, B2C ecommerce sales were expected to reach $1.7 trillion in 2015, primarily due to the expansion in online and mobile users. Since there are more individual consumers than businesses, it's a great opportunity to reach lots of people.
Zappos does this well, with a simple promise: if you order a product from their store, you qualify for free shipping and a 365-Day free returns policy. Not only is this part of the Zappos culture, but it's a core benefit for consumers, encouraging them to return in the future.
4. Emotional buying: As I mentioned earlier, emotions are an important part of B2C content marketing. Masterful Marketing says that the emotional buying decisions of your consumers are based on status, desire and price.
Timothy Sykes uses emotional triggers to capture email leads and later close the sale. The idea of earning lots of money in a short time appeals to his prospects' wish for status.
In this example from 99Designs, the page copy calls to the emotions ('a design you'll love'), while combining the message with attractive colors.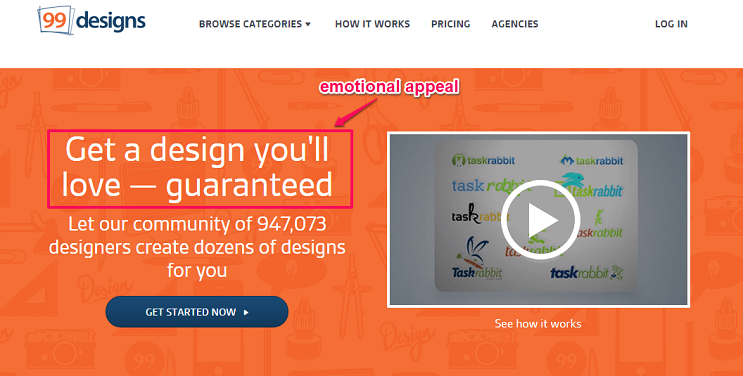 Color is important to build trust, elicit emotions, increase brand recognition and drive sales. In 85% of cases, it's why people buy. So, choosing the right colors is very important in content marketing.
An infographic from KISSmetrics shows that if you're marketing to women and young girls, pink appeals to them. But, if you're selling luxury products, use black, as Yachtworld does.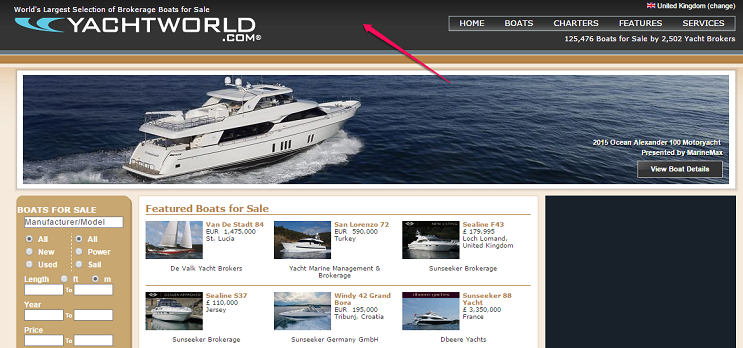 The Difference Between B2B & B2C Content Marketing
There is a difference between B2B and B2C content marketing. In both cases, you are creating content for real people with real needs, but there's a big difference in what they are looking for: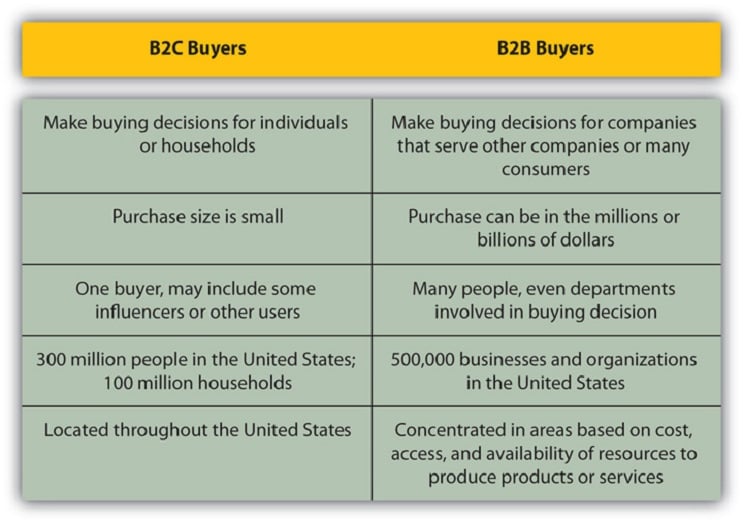 Consumers also have a much shorter sales cycle than businesses. They don't care how you manufacture a product. They just want to know if it will suit them. B2C content marketing campaigns help provide information that converts prospects into customers.
For example, when a consumer decides to buy an Amazon Fire HD6, they may place an order after reading a review or seeing a TV ad and may not even look at the technical specifications.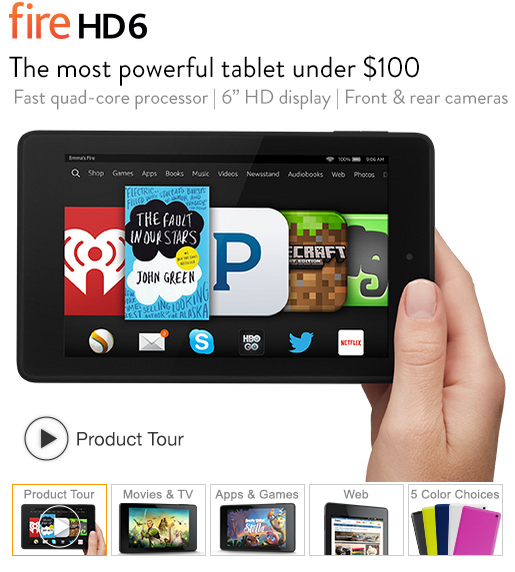 In contrast, a business buyer would probably look at functionality and technical aspects, as part of the market research and decision making process.
When a business wants a particular product or service, they may do additional research, conduct interviews, take online courses and/or attend live events. Individual consumers may not have the time. That's why consumer content has to be shorter and straight to the point.
If you want more ideas on how to create that kind of content, read 10 Ways To Improve Your Content Marketing.
How to Succeed with B2C Content Marketing
If you want to make a success of B2C content marketing, there are several things that you need to do.
Identify consumers' goals: To be a successful B2C content marketer, you have to identify your customers' goals, as the chart from New Zealand Trade & Enterprise shows.
Every consumer has a goal. For example, 55% of mobile users who use search to research a product want to purchase it within an hour.
When consumers buy products, they expect those products to solve their problems. The key question to answer with content marketing is: will my product meet my customers' needs?
Know the headline styles that grab consumers: If the ultimate goal of consumers is to derive satisfaction from buying your product, how do you get their attention?
It's simple. Write headlines that highlight the benefits to them.
How much time do you spend writing the perfect headline that will attract potential consumers and improve your brand? Whether you're writing a product review or a tutorial, make sure that you include the benefit of that particular course, product or service in the headline.
Ideally, write headlines in the active voice, not the passive voice. And, unless you are writing a case study, write in the present tense.
Here are some examples of how to make headlines more appealing:
How Targeting Keywords Can Improve Your Google Rankings – Passive voice
How To Target Keywords and Improve Your Google Rankings – Active voice
6 Simple Tips You Should Be Using To Close a Sale – Passive voice
6 Simple Tips You Should Use To Close a Sale – Active voice
Now here are some examples of benefit-driven headlines for consumers who are ready to buy:
Infusionsoft CRM Software – Step By Step Tutorial On How To Use It
How To Use KISSmetrics To Get Consumer Insights and Optimize For Them
How To Design a Powerful Infographic in 48 Hours
This technique works on home pages, too. Outbrain uses an active headline with a benefit driven tagline.
And, oDesk has a catchy, benefit-driven headline (even though it's passive).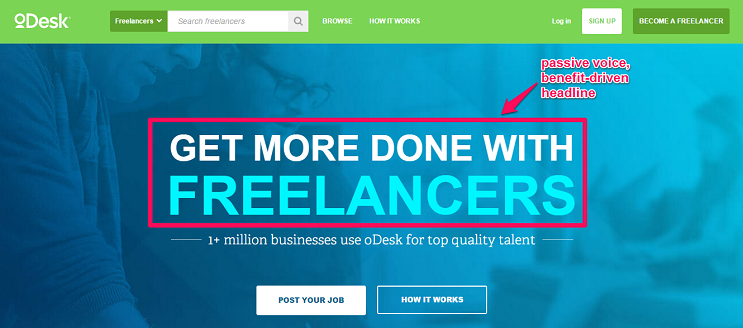 Create a user friendly website: To succeed at B2C content marketing, optimize your website and make it user friendly. That means looking after design, content, navigation and functionality.
a) Design: Design isn't just about aesthetics. It's more important to meet your visitors' needs with your web design. As a B2C marketer, your primary focus should be to capture the consumers' attention and give them a reason to stay. Focus on a simple layout and readable fonts to achieve this.
b) Content: Content creation is important to your site design and B2C success. That is why it's vital to understand how to layer your content through the buying cycle. When you do, you will enjoy success whenever you publish a post, article, video, podcast or infographic.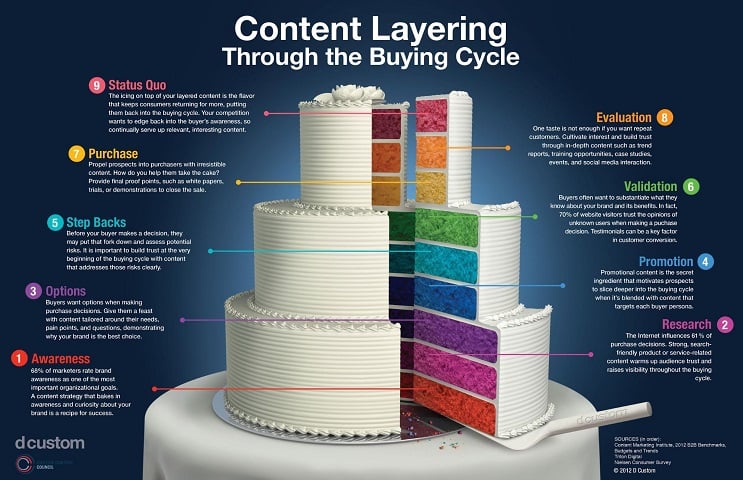 c) Navigation: When designing a website or store for consumers, make sure that they can easily find the best content, so they can read it and take action.
You'd never go on a hike without a map. Help consumers find their way around, with a site that's easy to navigate, like the Magazines.com site: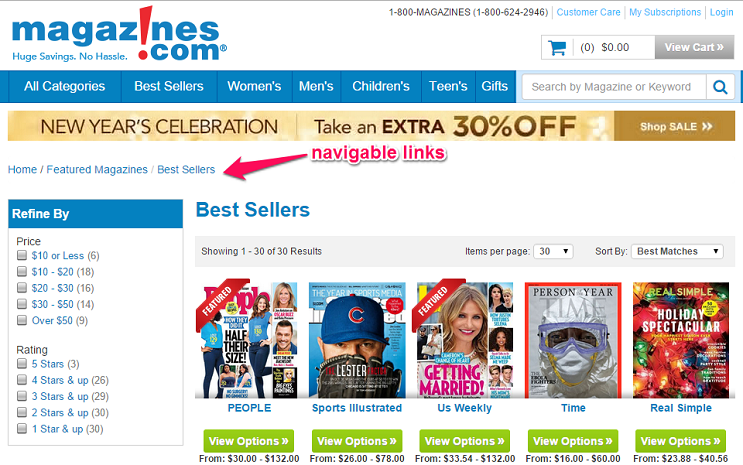 d) Functionality: This is the last piece that makes a website user-friendly. Does your web design work for users and deliver what it promises?
If you want to check how your site is doing, use the Quick Sprout tool. It will analyze your URL and give you insights on how to improve your organic rank and traffic.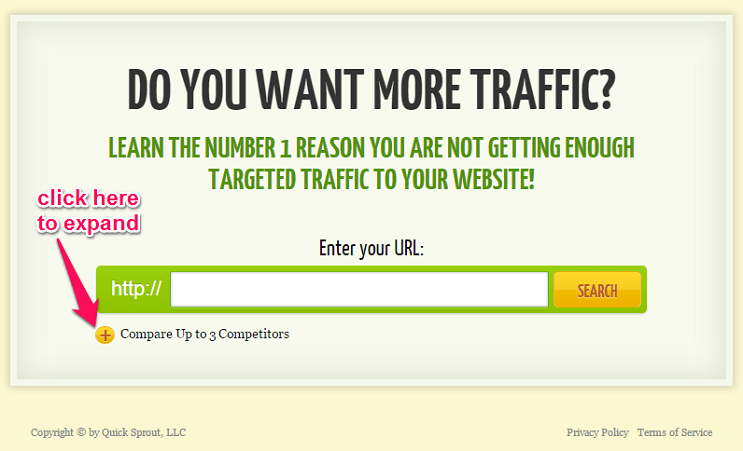 Design social media engagement: Don't forget the social web in your B2C content marketing. Consumers use social media heavily, so getting your content shared there will help your marketing campaigns achieve success.
If you want to get more social shares, follow the simple three-step process that's illustrated by Community Organizer 2.0:
Determine what knowledge and content is sharable
Determine the appropriate online space for sharing
Develop participation opportunities
Here's how to put this into practice.
1. Determine what knowledge and content is sharable: If you want to discover the kind of topic that consumers will share on social media networks, the best way is to spy on your competitors and pinpoint their best content. Here's how to do that.
Step one: Go to Buzzsumo. Input your competitor's URL. Then, click the "Go" tab.

Step two: Analyze the social shares to discover the topics that really get consumers sharing.
In the screenshot above, you can see that creative energy and responsive web design are popular topics. A well-researched post on those topics will probably result in excellent social media engagement, especially if you use Brian Dean's skyscraper method.
2. Determine the appropriate online space for sharing: The best social media platform for you to focus on will depend on your industry and type of content. For example, if you create infographics, then Pinterest and Instagram would likely generate the most shares for you.
An example is Copyblogger's Grammar Goofs infographic, which has had more than 179,000 pins on Pinterest.
If you mostly create videos and blog posts, focus on Facebook and Twitter as your promotional channels. They work well for entertainment, technology and lifestyle content.
Upworthy generates over a million Facebook likes and Tweets with their video content.
Posting more often can also increase social media engagement. One study shows that posting up to twice a day results in 40% more engagement and posting 1 – 4 times a week gets 71% more engagement.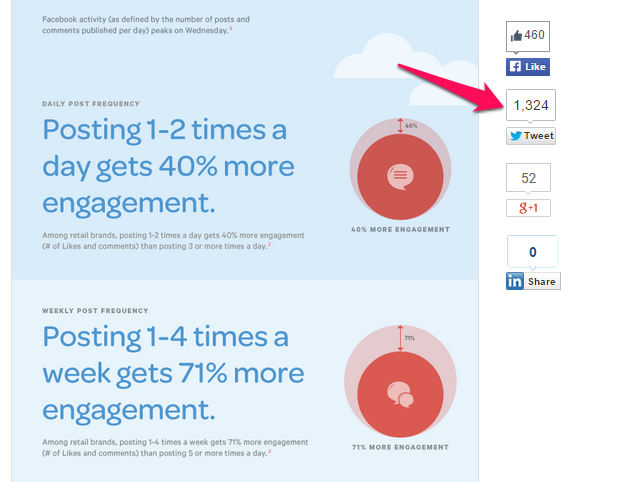 3. Develop participation opportunities: According to Aweber, social media is not about broadcasting content. Instead, it's about building a community among consumers and potential customers. After all, that's why it's called "social" media and not just "media". 🙂
If you want to improve social engagement with consumers, you must participate fully, welcome feedback, know what your fans want and always add value to the conversation.
Become a great storyteller: B2C content marketing is based on storytelling. Transmedia shows how storytelling drives brand visibility and can attract a fresh audience for your site.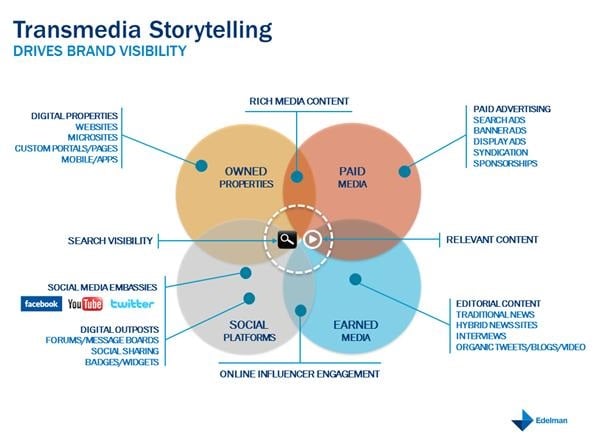 Even if it's not a masterpiece, tell your brand's story, because consumers like to hear it. If it can connect with your consumers and appeal emotionally to them, your content strategy will thrive.
So, how do you tell a story that connects with consumers? Policy Genius recommends that you tell one story at time; never link or nest stories. If you shift focus from your main story, you will lose your audience and damage your brand.
If you're a blogger, a writer or public speaker, telling a story you're passionate about will help you connect deeply with your consumers.
How to write B2C content: I mentioned the short attention span of consumers earlier. That's why you need a clear message when writing B2C content. Here's a quick guide:
Remember, the purpose of B2C content is to give valuable information to consumers. Unlike traditional marketing, B2C content should not interrupt them. Attach Media highlights the key differences below:
Read my guide to see how to write B2C content that will help you dominate your niche and drive more targeted traffic and trusted links: 37 Point Checklist: How To Create Content That Will Increase Your Traffic By Tomorrow Morning.
B2C Brand Marketing Strategies
Content is the best tool a B2C company can use, in order to acquire and nurture leads and turn them into consumers. Ideally, this content must be relevant and timely. It must also be original.  A recent study by Adage shows that 69% of consumers prefer original content over repurposed content.
What are the best ways to attract consumers with B2C content marketing?
Blog: Blogging is one of the best strategies that you can use. According to HubSpot, businesses that blog regularly generate 55% more website visitors than those that don't.
It takes hard work.  But, once you do it correctly, blogging works. The only issue is that with well over 74.6 million sites on WordPress alone, you have to be different to stand out. That's why creating great content will be a major challenge.
Understand your audience: This involves knowing the intent behind keyword searches. For example, when you discover a keyword such as "reliable web hosting in Denver," you know exactly what the searcher is hoping to find and what he or she doesn't want. Ignore user intent and it could cost you.
This searcher is not interested in a cheap or popular web host, but in a host that will actually deliver on the promise of 99% uptime. You can also tell that the searcher isn't new to web hosting. When creating B2C content, use this information to create something that meets the user's need for a web host that's reliable and based in Denver.
Write clickable headlines: I mentioned headlines earlier, but it's worth going deeper into this topic. When writing B2C content, you want to get readers to click. The secret is in the headline. The ability to write compelling headlines helped Upworthy grow to 88 million unique visitors, as of November 2013.
Upworthy specializes in "curiosity-based headlines." These headlines make consumers desperate to see what's inside and more likely to share: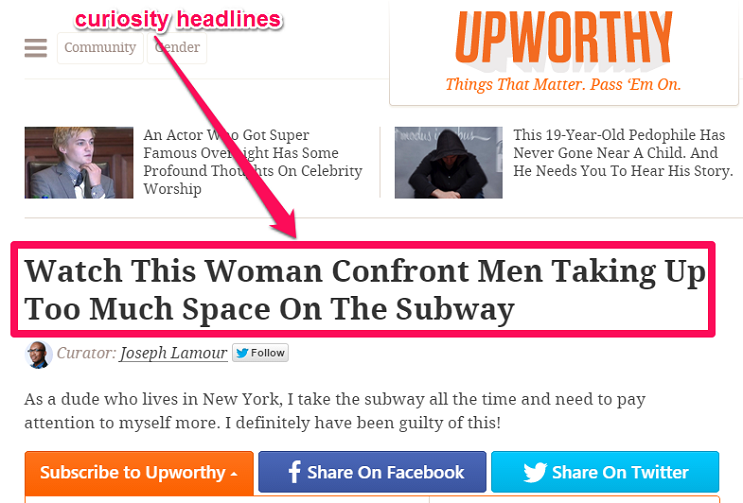 Note: When you add curiosity to your headline, make sure that your content truly satisfies the curious consumer. Otherwise, you will damage your brand and lose customers rather than gain them.
Beyond this, if you're offering a product or service on your blog, every piece of content that you create should be geared to building trust and giving prospective consumers a reason to remain loyal to your brand.
A benefit-driven headline highlights the value of your topic/product or service. GetResponse does this well.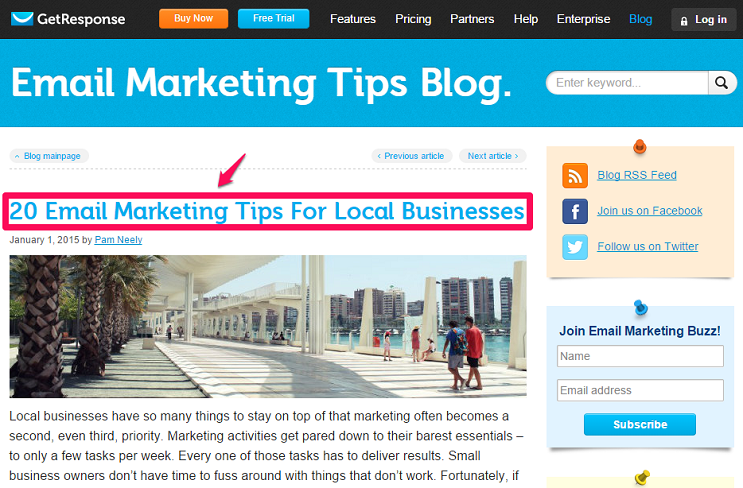 You can use this headline as inspiration for new content, like this:
How Local Business Can Increase Sales Through Email Marketing
10 Effective Email Marketing Tactics For Local Business Owners
Do You Want To Attract Local Clients Just By Sending Emails?
Use marketing automation/lead nurturing:
Marketing automation is a system that takes care of lead generation, nurtures prospective consumers and turns them into customers. An email marketing solution like Aweber can help with this.
According to Magnet 360, this is the fastest growing customer relationship management (CRM). Link CRM and sales and you can easily acquire leads and nurture them until they buy your product.
Create infographics: Infographics are powerful marketing tools, because they're visual in nature. According to this research, 50% of the brain is dedicated to visual functions and 65% of the population are visual learners.  That means it's a no-brainer to market with infographics.
Of the 15 types of content that drive more traffic, infographics are one of my favorites, because this study shows that infographics are liked and shared on social media up to three times more than other content. It's worked for me.
If you are ready to start using infographics to acquire prospects and to turn them into customers, read this guide: 6,000 Visitors And Still Counting: How To Double Your Traffic With Infographics.
Conclusion
Whether you're a seasoned content marketer or just starting to learn about which content marketing strategy to pull into your campaign, now you know how to connect with your customers with targeted B2C content. To make the most of it, use a combination of articles, blog posts, videos, infographics and podcasts, which Blue Glass calls a "multi-channel content marketing strategy."
That will help you drive engagement and nurture relationships, wherever your target audience happens to be.
Which B2C content marketing strategies have worked for you?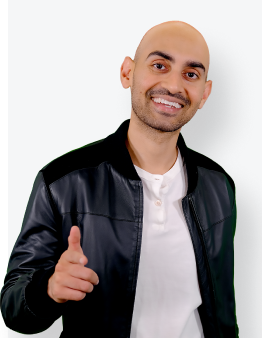 See How My Agency Can Drive More Traffic to Your Website
SEO - unlock more SEO traffic. See real results.
Content Marketing - our team creates epic content that will get shared, get links, and attract traffic.
Paid Media - effective paid strategies with clear ROI.
Are You Using Google Ads? Try Our FREE Ads Grader!
Stop wasting money and unlock the hidden potential of your advertising.
Discover the power of intentional advertising.
Reach your ideal target audience.
Maximize ad spend efficiency.