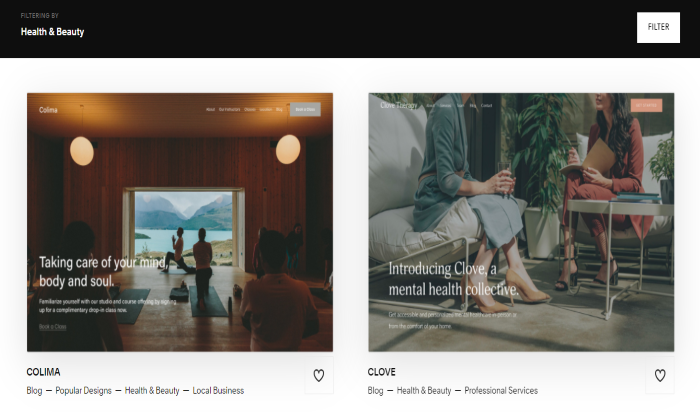 Disclosure: This content is reader-supported, which means if you click on some of our links that we may earn a commission.
Wix takes the prize for simplifying the process of making a website. Its drag-and-drop interface, hundreds of apps, and flexible pricing options mean anybody can whip up a website without breaking a sweat.
Squarespace has a better selection of design templates, though its customization options require more technical confidence. Squarespace outperforms Wix's blogging and ecommerce tools by a very small margin, but the more flexible Wix has something for everyone.
Squarespace or Wix: Which is Better?
Squarespace's sleeker, more professional-looking template designs are best for creatives who place a high value on aesthetics. Its grid-style editor requires a little bit of time to get to grips with, making it better for those with technical experience. Turn your ideas into a visually-appealing Squarespace website for free.
Wix is best for beginners who want an easy way to create a website right now. It has a drag-and-drop interface so building a website is as straightforward as solving a kid's puzzle. It also comes with hundreds of templates and features to give users creative freedom regardless of their skill level. Start your own free and stunning Wix website today.
A Review of The Best Website Builders
A good website builder spells the difference between an idea that grows into something big and one that fizzles out. To give you a head start, I've blogged about my experiences with building websites and reviewed the top website builders. You'll get a rundown of the best options and guidance about how to find one that fits your needs.
Wix has proven once again why it's considered a major player in the industry. Squarespace, though not included in the list, has its own perks that appeal to those with a specific set of criteria.
Squarespace Wins
Unlimited storage space: All of Squarespace premium plans come with unlimited bandwidth and storage so you can host unlimited files while ensuring media files will download smoothly. While the majority of Wix plans do offer unlimited bandwidth, none of them provide unlimited storage so you can't just upload any files to your heart's content.
Structured page editor: Squarespace doesn't have the exact drag-and-drop functionality Wix is famous for. Its page elements are packed inside content blocks which you can move around and snap into rows and columns. Restrictive as it may appear, though, this feature helps you create your page within a more controlled environment, which can help prevent inadvertently sloppy designs.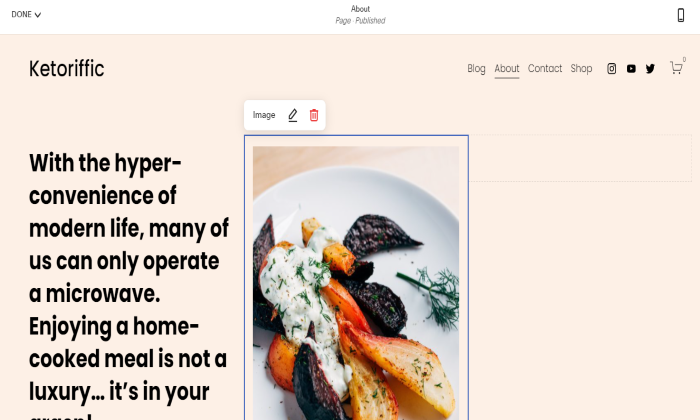 High-quality, professional-grade template designs: Wix may offer more template choices but Squarespace trumps its competitor in terms of quality. It has over 60 template designs that are not only aesthetically superior but also easier to navigate both for the builder and viewer. Regardless of what template you choose initially, you can customize or replace it with another one anytime.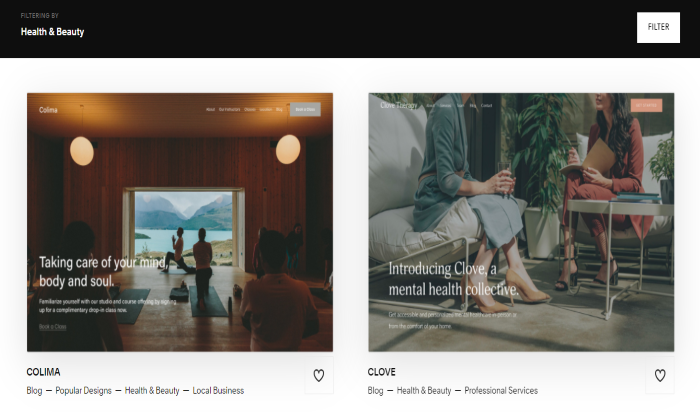 One-click color palette customization: Squarespace takes the guesswork out of choosing the right color theme that matches your brand. All you have to do is select a palette and Squarespace will apply it throughout your website.
Like Wix, Squarespace also offers the freedom to pick specific colors for individual elements. But since most users don't have a design sense, Squarespace's preselected color schemes take the headache and guesswork out of your site's aesthetics.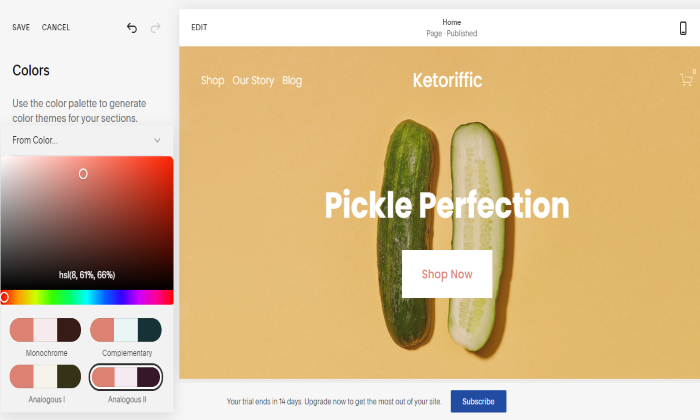 Well-thought-out in-house features: Squarespace may have fewer features than Wix but what it lacks in numbers it makes up for in execution. Its in-house features are meticulously designed and built into its editor so you can manage your website even without installing third-party extensions.
Its restaurant menu editor, for example, uses a markup language so adding items is like filling out a simple form. In contrast, Wix accomplishes the same task through a relatively more tedious process that requires several clicks.
Squarespace's donation system is likewise superior to Wix's because it goes beyond providing a donation button by offering donor-specific checkout, donor email receipts, and suggested amounts.
Seamless podcast syndication: Starting a podcast? Squarespace also beats Wix's basic podcast player by being the only one in the industry to offer syndication. With this feature, you can submit your podcast to Spotify or Apple Podcasts where a legion of potential fans can discover you.
Curated third-party apps: Whatever Squarespace lacks in-house, it offers as a third-party extension. Even Wix's in-house features that Squarespace doesn't have can be matched by a third-party counterpart so you won't miss out on anything.
For example, the Wix Events app enables visitors to book tickets online whereas Squarespace can be integrated with Eventbrite to do the same thing. Similarly, integrating Memberstack with Squarespace accomplishes the same thing as the Wix Members app.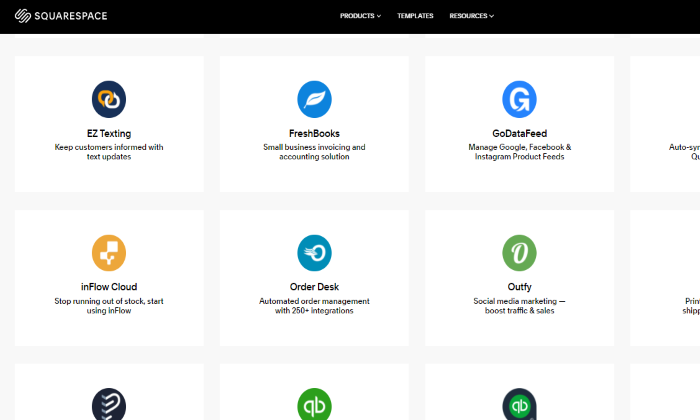 Ready-to-use blogging tools: With Squarespace, you can start blogging and showcase your best content to the world right off the bat. Unlike Wix that requires you to install a separate blog app, Squarespace has built-in blogging tools.
Basic features like post tagging, categories, comment moderation, and drafts will help you create professional-looking blogs regardless of your industry. Working with multiple authors is also a breeze as Squarespace allows you to collaborate with them on a single post or assign them different roles.
Sophisticated ecommerce functionality: When it comes to building your online store, Squarespace gives Wix a run for its money. It offers the same basic features you'll find in Wix like custom email receipts, point of sale system, and automated cart recovery.
To maximize your profits, however, Squarespace steps up its game by offering features that Wix doesn't. These include gift cards to help with your brand promotion. You can also use "back in stock" and "low stock" notifications to create a sense of urgency without being too pushy.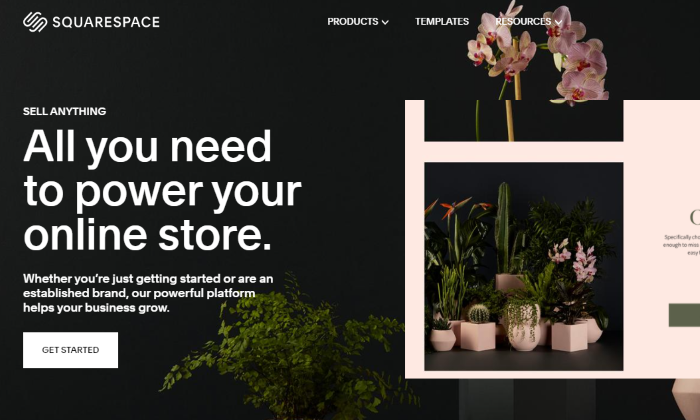 24/7 online support: Should you encounter technical issues with your Squarespace website, you can reach out to their customer support team via email, Twitter, or live chat. These online channels allow their team to get to the bottom of your issue faster.
Squarespace has excluded phone support because their existing support channels allow them to troubleshoot your issues comprehensively without the need to put you on hold.
Squarespace Losses
Lacks intuitive drag-and-drop interface. Squarespace's page editor works like a minimalist grid system so you can't drag and drop elements. Less freedom means less opportunity to play around with the design. It also takes a longer time to get used to so Squarespace is not as beginner-friendly as Wix.
Limited creative control: Squarespace's biggest advantage is also its disadvantage. The "structured" editor may enable you to customize a website design within the realm of what's acceptable but it also means you have less creative control.
The templates are on par with professional designs but you can't edit, move, resize, or re-color the page elements as easily as you can with Wix. You also can't display both the site title and logo at the same time.
Limited template designs. Fewer design choices also make it more difficult to stand out. Most photographers, for instance, trust Squarespace to host their portfolio sites.
With limited templates to choose from, they're more likely to pick the same template. As a result, they may end up with portfolio websites that have the same look and feel as other sites in their industry.
Less generous ecommerce plans: Squarespace outnumbers Wix's ecommerce features but you won't benefit as much if you're only subscribed to its basic plan.
Squarespace's basic ecommerce features cost $18 per month (Business plan) while its Wix counterpart is a tad higher at $23 per month (Basic Business plan). However, you won't save as much with a basic plan as Squarespace charges a 3% transaction fee unless you upgrade.
You also won't have access to some crucial features like abandoned cart recovery if you're not under the Advanced Commerce Plan that costs $40 per month.
By contrast, Wix charges no transaction fee on any of its ecommerce plans and offers abandoned cart recovery even to those in the basic plan.
Wix Wins
Scalable pricing: Wix has a wider range of pricing options so you can start your website anytime and easily scale as it grows. The free plan is available for beginners who are still learning the ropes and are not bothered by Wix-sponsored ads and subdomains.
If you want a custom domain, you can switch to the most basic plan for only $14 a month. From here, you can upgrade to any of the three higher website plans or start an online store for as low as $23 per month for the Business Basic Plan. Squarespace, on the other hand, doesn't come with a free plan and most of the important features are only available in higher plans.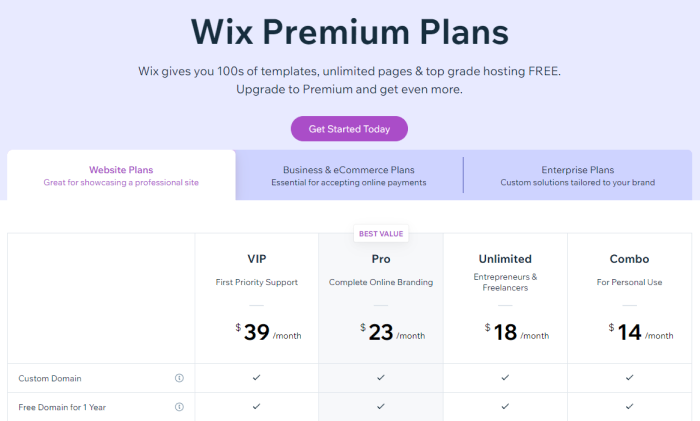 Beginner-friendly interface: Wix's drag-and-drop editor remains its top selling point. It gives you a template to create a simple website in minutes without learning how to code. Squarespace is also a "no-coding" website builder, but its grid-style editor makes it cumbersome for some beginners. With Wix, you can have full control of the layout and even add functionality by dragging and dropping widgets on your page.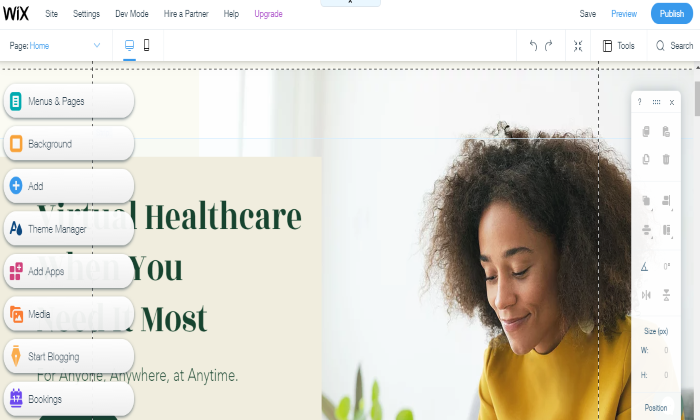 Instant Websites: Wix Artificial Design Intelligence (ADI) will actually build a website for you. Just answer a series of questions about who you are and what you want, and Wix ADI will spin up a professional looking site. Then you can use the simple editing tools to make it your own.
More in-house apps: Name any feature you want your website to have and Wix has an app for it. Do you want to create a forum? Look for Wix Forum in the App Market and install it for free. Planning to add a live chat to connect with your visitors in real-time? Try Wix Chat, another in-house app you can add for free. If none of the built-in Wix apps is what you're looking for, don't worry as there are still over 200 free and premium third-party extensions to choose from.
Free email marketing tools: With this built-in feature, you can send email campaigns to your contact list and even create workflows to manage your own sales funnel. Measure how well each of your campaigns is doing through the stats tracker that lets you see how many people open and engage with your emails.
Wix's email marketing tools are part of the Ascend all-in-one business solution that gives you access to other marketing tools like live chat, social media integration, and SEO tools. The best part is you can have access to a limited number of features for free or upgrade to one of the three paid plans to enjoy the full benefit. 
High-end security: For your own site data and the privacy and safety of your site's visitors, Wix includes several features that automatically secure your site from vulnerabilities and attacks. Payment gateways, for one, meet the highest levels of data security compliance. TLS 1.3 encryption also comes standard. Plus, Wix has a team of experts that monitor and optimize their infrastructure 24/7, so every site stays secure even in the face of new threats.
Robust SEO features: Wix has its own game plan to help your content rank high on Google. What's great is Wix puts all its strategies in one place so users can learn SEO themselves and improve their online presence. The SEO Wiz contains step-by-step tutorials, achievement updates, and tons of other learning materials so you can start improving your site's visibility even if you never heard about SEO before.
Multiple customer support channels: Unlike Squarespace, Wix offers phone support so you can rest assured that humans and not bots are handling your concern. Wix also provides support through forums, social media, and email but not through live chat. In case you get stuck or confused while working on the page editor, there are small question marks on the screen that you can also click to get quick solutions without leaving the page.
Automatic backup-and-restore feature: Wix is a proactive website builder that anticipates unfortunate events and has developed a counteracting feature in case they happen.
Through Site History which you can find inside your site Settings, you can restore a previous version of your website. You can restore revised versions of your site regardless if it's saved manually or automatically.
Best of all, the previously saved version of your site can be restored without affecting published blog posts and changes made in your email list.
Wix Losses
Underwhelming template designs: Wix focuses on quantity over quality when it comes to design. Its over 500 customizable templates easily beat Squarespace's 70+ designs. But with more choices comes more time wasted picking and overanalyzing which one suits a website idea best.
A "quantity over quality" approach also leads to many Wix templates failing to make a great first impression. While there are hidden gems, it takes time to find them as they are outnumbered by generic templates, some of which are downright cheesy.
Unstructured page editor: Wix's drag-and-drop interface has its own flaws. While it helps even non-pros create websites quickly, the changes you make in the desktop version may not necessarily sync to its mobile version. For instance, when you move an image from the top of the page to the bottom, the same change won't reflect in the mobile version unless you make the same change twice. With Squarespace's structured editor, movements are much more restricted but any change you make will reflect in both screens.
Complicated color changes: Wix lacks the preselected color palettes that Squarespace has, so changing text and background colors are not as straightforward. This is the downside of having more freedom to manipulate page elements. You may be free to choose the colors of individual page elements but if you don't have a background in design, knowing which colors will work best without preset recommendations can be really tough.
Limited bandwidth and storage space: Wix doesn't have the unlimited resources that Squarespace offers in all its plans. Therefore, the cheaper your Wix plan is, the more restrictions you'll get on how many files you can store and how much traffic your website can get per day.
Wix's cheapest plans, Connect Domain and Combo, only offer a bandwidth of 1 GB and 2 GB, respectively. This is enough if your website receives only a handful of visitors per month. However, once a website gets at least 1,000 visitors a day, it will require about 8.5 GB of bandwidth monthly, something that Wix only provides starting with its Unlimited plan that costs $12.50 per month (billed annually).
Mediocre blogging tools: You can create a decent blog with Wix but if you're looking for more features, you'll get it from Squarespace. Wix is capable of scheduling posts, adding tags or categories, and saving drafts. However, it doesn't allow comment moderation so you can't filter comments and publish only those you approve of. On top of that, Wix doesn't have a built-in blogging feature. You have to add the free Wix Blog app yourself before you can start creating content.
Limited flexibility for free plans: When you start a free website with Wix, you won't pay for anything but it comes at the cost of flexibility. The Wix subdomain, ads, and the look of a free site tend to come off a lot less professional. If you want to experiment with a free site, that's fine, but you'll have to upgrade to premium Wix plans to really establish your own brand.
Comparing The Top Website Builders.
Do you want to build a website from scratch without touching any codes? With a website builder, you can do that and more. If you want to get started, here are the best website builders I recommend:
Wix is the undisputed website builder of choice if you want to quickly launch a website even without the technical know-how. Its drag-and-drop interface requires a short learning curve while its hundreds of templates and features allow you to elevate your website any way you want.
But for a more professional site with a stronger design aesthetic and more customization options, especially one you're willing to take some time to build, Squarespace will be the better choice.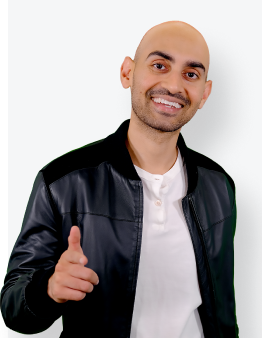 See How My Agency Can Drive More Traffic to Your Website
SEO - unlock more SEO traffic. See real results.
Content Marketing - our team creates epic content that will get shared, get links, and attract traffic.
Paid Media - effective paid strategies with clear ROI.
Are You Using Google Ads? Try Our FREE Ads Grader!
Stop wasting money and unlock the hidden potential of your advertising.
Discover the power of intentional advertising.
Reach your ideal target audience.
Maximize ad spend efficiency.