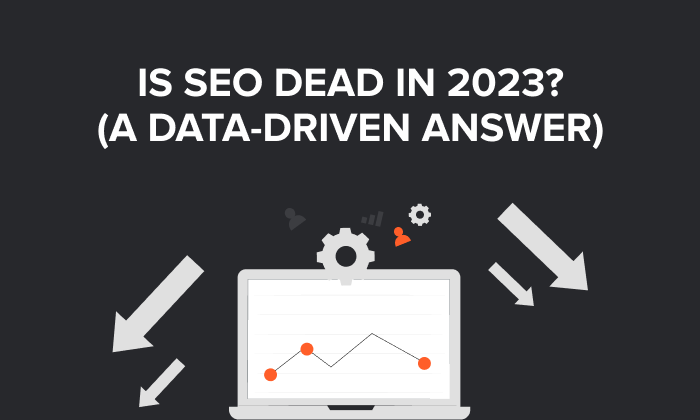 SEO has been changing drastically over the years, and Google's large and small updates impact the SEO game differently.
Between 2010 and 2019 alone, there were 13 major updates to the Google algorithm related to SEO. In 2021 and 2022? The Page Experience Update, Multitask United Model, and Helpful Content updates changed how we see and interact with results.
With over 12 algorithm changes per day, it's safe to say it's no longer easy to manipulate or game Google. With all the changes Google implements, it can be difficult to understand how SEO practices remain relevant. After all, how can old tactics still work when Google itself is not the same?
So, is SEO dead? Let's look at the data; from there, I'll show you what you should know.
Is SEO Dead?
Do you know how many searches take place on Google each day?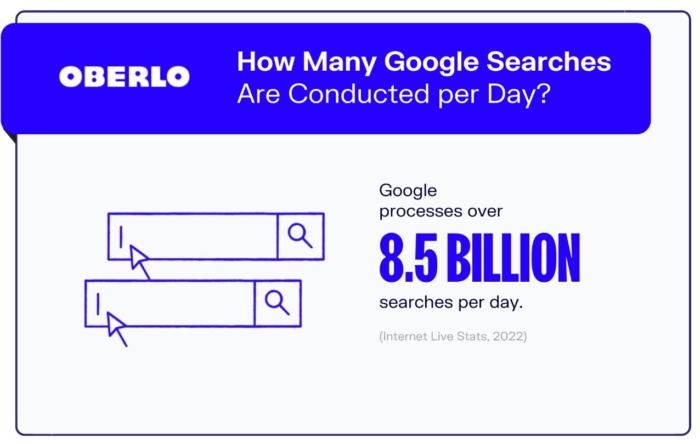 With over 99,000 searches per second, Google has come a long way since the late 1990s.
Further, with about 600 million blogs on the web, there is excessive content on almost any topic you can think of.

Let's look at the long-tail phrase "what is digital marketing" as an example. There are only 14,800 searches for this term per month but a whopping 1,010,000 pieces of content trying to answer that question.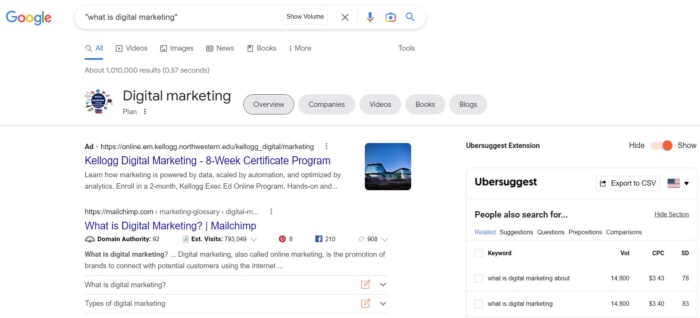 In other words, the supply is much greater than the demand.
You'll see even more of this for head terms. Just look at the phrase "bananas":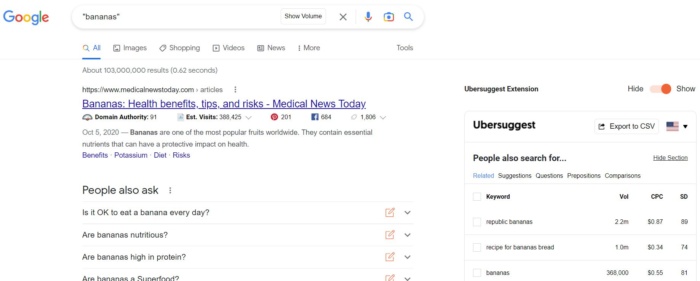 368,000 searches may seem high, but there are 103,000,000 results. Searching this term is rather vague, so we can't be sure what exact results the user wants, but that's a lot of content compared to the search volume.
You can still find search phrases with more search volume than content. However, the trend shows content production continuously exceeds search demand.

On top of that, Google is turning into an answer engine that answers people's questions before they go to a website.
According to Dejan SEO, they saw CTRs drastically decrease once Google started answering questions. Just look at this weather search query: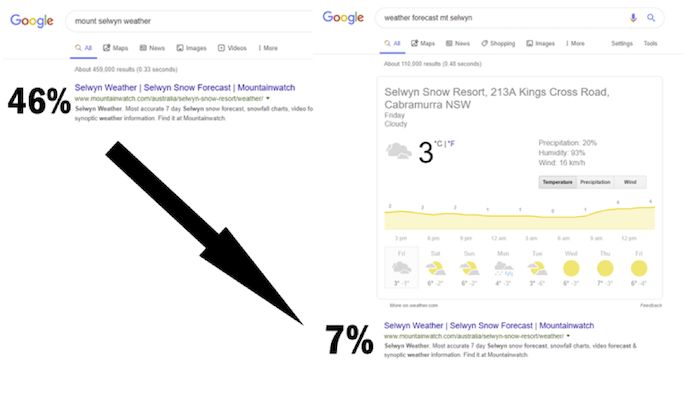 Their clicks from weather-related queries went from 46% all the way down to 7%. Google's featured snippets and SERP answer boxes make it more convenient for users to avoid opening websites altogether for certain search terms.
These changes come from the increase in content that offers meaningful insights on its own, referred to as "zero-click content." Google has adapted to the trend of users wanting easier access to answers by adding more and more features to its SERPs. Basically, with a zero-click search, users can find their answers right on Google's search page rather than using Google to find additional pages with those same answers.
This trend has become so common it decreased the percentage of traffic Google drives to organic listings (SEO results).

With the rise of zero-click search and the decrease in SEO result success as a result, it makes sense that people may see this as a big loss for SEO in general. However, if we dive a little deeper, we can see that SEO is still an effective tool for brands when used correctly. Instead of assuming SEO is dead, we should consider how SEO works today in conjunction with these trends.
Let's view the image below. It was the first banner ad on the Internet.


Can you guess what company created that banner ad? It was AT&T.
Of the people who saw it, 44% clicked on it. Today, banner ads generate an average click-through rate of about 0.05%.
That's an enormous drop.
This now occurs with practically all channels, including social media. Here's a look at Instagram engagement rates: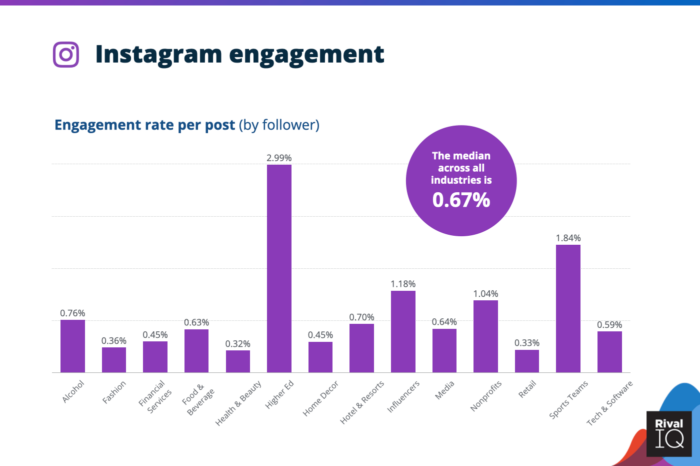 With sponsored and organic posts, engagement on Instagram currently trends down.
Just because something pops up on a screen doesn't automatically mean people will like it or click on it. This is good for those ranking on SERPs. Your result will be the next most likely thing users may choose to view to find what they want.
Even as some channels perform better than others, there will always be fluctuations in ROI and performance. However, as long as search engines have impactful algorithms, SEO will continue to influence results significantly.
An Example of SEO (Alive and Well) in Action
When you look at search as a whole (including platforms outside of Google or Bing), Google still dominates the market share with a whopping 92% of all searches.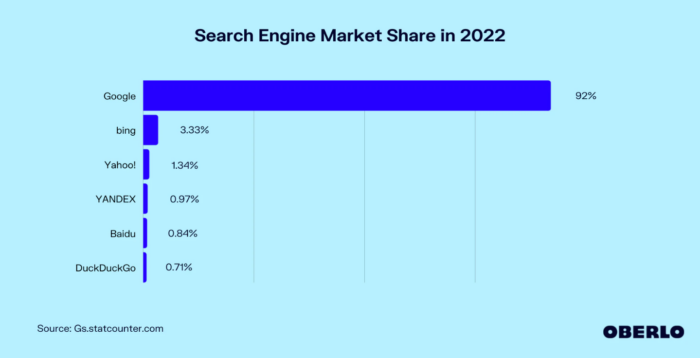 It's clear people still prefer to use Google. However, the way people use Google consistently changes.
In the past, Google was the source for commerce (purchasing), while Instagram was more for discovery. Now, Instagram is great for commerce, and Google exists primarily as a discovery engine.
With Instagram's "Shop" tab, people can discover and purchase straight from their favorite brands. Instagram also offers shoppable posts, allowing businesses to add product tags and take users to their online stores. Lastly, businesses develop partnerships with influencers and brand ambassadors on Instagram to leverage their following and generate more sales leads.
In this way, people basically use Instagram to shop.
Google, on the other hand, offers plenty of information on products and provides links to online shops, but most people are not seeking to purchase directly through Google's platform. Instead, they are using Google as the middleman to get to the pages they actually want to visit. This includes shop pages or company stores.
How people choose to use these platforms impacts various things, including updates to AI algorithms and significant changes like rich or featured snippets. Additionally, it should influence the way brands attempt to reach consumers.
Just look at this case study by Olay.
Olay sells products related to skincare. One of their products happens to reduce darkness under your eyes.
Before, they used to push heavily on ads that sold their products directly.

The moment they changed their ads to focus on educating users, their ROI went through the roof. People wanted to learn how to reduce dark circles rather than feel like they automatically had to make a purchase.
By sending people to educational-based content first (and then selling through the content), they were able to:
Increase click-throughs by 87%.
Decrease their cost per click by 30%.
Increase conversions by 100%.
This is a prime example of how more people are using Google as a discovery engine first instead of a commerce engine. As a result, brands wishing to benefit as much as possible must pay attention to these changes and trends.
SEO Isn't Dying (It's Just Changing)
SEO isn't going anywhere. However, for brands to find success with SEO strategies, there are specific things to keep in mind when developing campaigns.
Now you know Google functions more as a discovery engine (for both paid and organic listings), but here is what else you need to know to dominate SERPs.
1. Google Wants to Rank Sites You Want to See
Google's focus isn't backlinks, keyword density, or a specific SEO metric. Instead, the focus is on the user experience.
If a site has millions of backlinks, but users hate it, it won't rank well in the long run. Instead, the concentration should be on the content and how the user can benefit from it.
Consider the way you use Google. If a site doesn't seem applicable to your search, looks unprofessional, or can't answer your questions, do you stick around anyway? Probably not.

In the end, users control how Google adjusts rankings. It "thinks" if other users want to see that content, people searching similar terms will likely find it useful or relevant, making those rankings pop to the top.
2. People Don't Only Use Google (Because the Data Comes From Everywhere)
Google knows you spend hours a day on your mobile device and hours on other sites and applications that aren't controlled or owned by Google.
So, when deciding what to rank and where to rank it, it looks past its own dataset toward other spots online, like social media, to improve results.
As younger audiences use social media or videos more for discovery, Google may continue to update and adapt to meet user needs. However, since Google pulls from so many different spaces (not just social), it still offers more reliable results on topics people want to find.
3. Google Loves Brands
As your brand grows, you'll find your rankings climb because Google prefers well-established brands. Branded search volume is the number of visits to your site from a branded keyword on a search engine, and is the key metric to guide you on how your brand is growing.
Let's consider what happens when you type "men's running shoes" into Google's search bar. Here is an example of what you might get: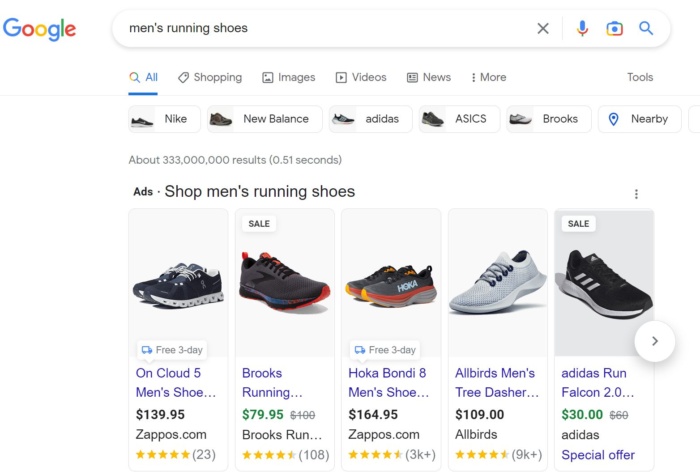 Brands, brands, and more brands.
If you search my name, Google assumes you want to look at my website and business before it provides information about me or my social accounts.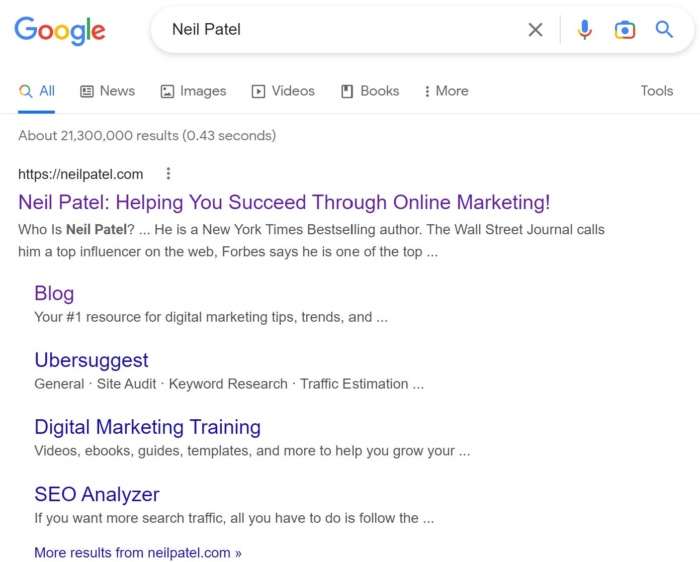 Often, Google assumes that people searching for these terms already know what they want (and likely plan to make a purchase). This is especially the case if a customer is searching for a brand that is already well-established. They're not likely looking to learn, they want to purchase!
In this way, Google functions more like a commerce engine than a discovery engine. In fact, it can do both! Work on SEO for both branded and non-branded terms to get in front of the most users (with Google's love for brands in mind).
4. Focus on a Niche
Your niche is where your product or services fit in the market. What do you offer, and who do you target?

If you want to do well in today's world of SEO, focus on one niche. Google prefers topic-specific sites because that's what you and everyone else loves.
Think about it. As a user, would you rather read medical advice on a blog that also discusses finance, home improvement, and cooking over WebMD? Just like other users, probably not.
Focus on a specific offering to position yourself as an expert in the industry.
5. Future Is Personalization
Have you noticed that when you search on Google, your results are different than those of your friends?
It's because Google is trying to personalize your specific results based on activity.


Google Search and Google devices, such as Android smartphones or Google Home, gather data to provide more specific results to each user. The aim is to deliver results that make sense for your preferences, location, search terms, and other factors.
Just think of it this way: Every time you visit a place and carry your smartphone (especially if it's an Android), Google can potentially use that data. That information may inform Google what it believes you'd like to see based on various search terms.
With your website, don't try and show everyone the same message. SEO won't work that way. Instead, plan to personalize the experience to each user so you can rank better in the long run.
An excellent example of this is on my blog.
When you land there, I let you pick the type of content you want to see, and then the page adapts to your selected interest.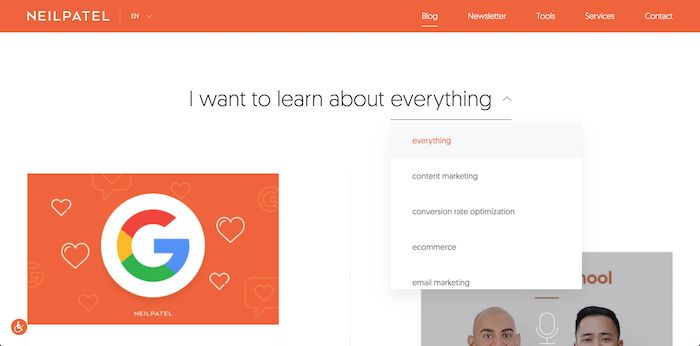 So many people already know what sort of content they'd like to see before they even make it to my blog. With this in mind, they can "personalize" my blog to suit their own needs, making the user experience much more positive.
Google's goal is the same, which is why personalization in Search exists in the first place.
6. Intent Is More Important Than Ever
Search intent is crucial in 2023 because Google wants users to have a good experience. When a person searches specific keywords and can't find a good result, the user blames Google for not finding what they want.
This is part of why Google has chosen to lean into personalization. It wants people to be happy with the results they get.
Therefore, you have to figure out how to fulfill user search intent by focusing on SEO elements, like keywords and high-quality content. Otherwise, Google will not rank you in the coveted ranking positions for searches (even if it matches your content) because it can't tell if your posts truly meet those users' needs.
To rank well on Google, you have to make your content useful with the four primary types of user intent in mind:
Transactional: planning to make a purchase
Informational: seeking information on a topic
Navigational: attempting to locate a specific webpage
Commercial investigation: trying to narrow down purchase options
Match your content to the type of intent you're aiming to satisfy. With Google's personalization in mind, you can also view top-ranking results to see what competitors do well in certain niches.
7. Prepare for the Impact of Machine Learning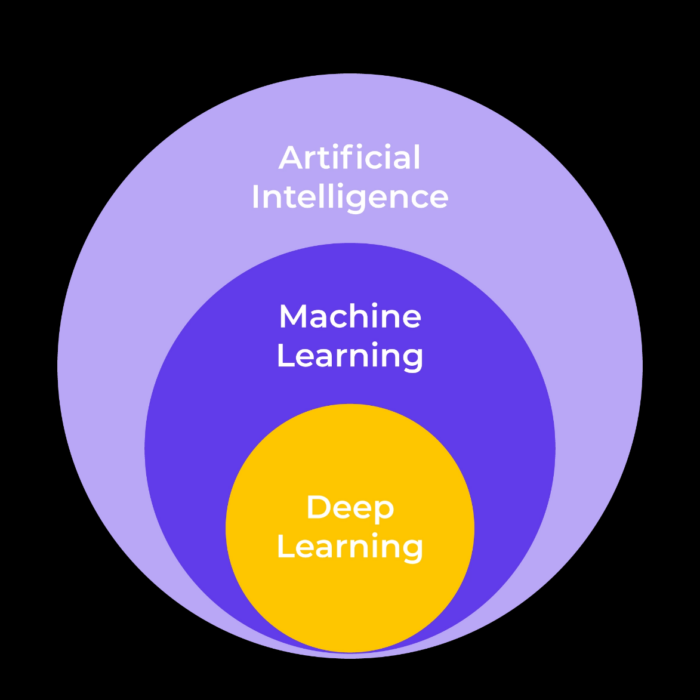 Machine learning is a field within AI involving algorithms that help computers learn. It's an excellent way to better understand user intent, voice search, and personalization.
Since people expect results instantaneously, companies like Amazon, Google, and Apple rely on machine learning technology to keep up with this demand and serve their customers.
SEO professionals must do the same to stay relevant.
SERPs will change as machine learning becomes more and more widely used, and providing accurate, precise, and fast results will become increasingly important. Machine learning will help SEO by making search query comprehension easier, allowing professionals to focus on creating better content experiences.
Frequently Asked Questions
Will SEO exist in 5 years?
Yes, SEO will exist for the foreseeable future. Businesses rely on SEO to ensure their content appears in SERPs, even as algorithms and features adapt to users' needs. This won't change within the next handful of years. 
Is SEO a good career choice?
SEO knowledge and understanding is a hugely desirable skillset for many businesses right now. Because brands will continue to use SEO as part of their strategies, SEO remains a great career choice for people with the right interests and skills.
Will SEO be automated?
The simple truth is that there are SEO tasks people can automate, like monitoring rankings in Google or tracking backlink quality. However, processes like organic link building or content creation should be manually done (or reviewed) to produce high-quality content. A combination of automated software or tools and non-automated work when necessary is the best option to save time and money with SEO.
Why do people think SEO will be dead?
People might assume SEO is dead because it changes so consistently. As algorithms update, SEO processes must adapt to remain applicable. This means some older SEO tactics won't work anymore while new practices become more essential.
Conclusion
Google has made it so you can easily target your ideal customer through SEO or paid ads. No matter what anyone else says, SEO is still alive, but it constantly changes.
As search trends, algorithms, and other factors change, SEO will adapt. Regardless, SEO will be around just as long as search engines because it helps pinpoint what a person wants.
Instead of worrying about factors you can't change, focus on modifying your SEO strategies when necessary to maintain control.
What do you think about the changing SEO landscape?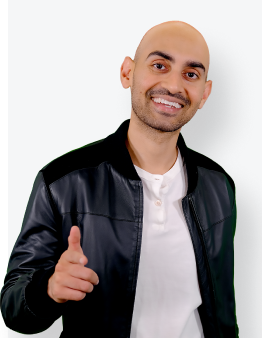 See How My Agency Can Drive More Traffic to Your Website
SEO - unlock more SEO traffic. See real results.
Content Marketing - our team creates epic content that will get shared, get links, and attract traffic.
Paid Media - effective paid strategies with clear ROI.
Are You Using Google Ads? Try Our FREE Ads Grader!
Stop wasting money and unlock the hidden potential of your advertising.
Discover the power of intentional advertising.
Reach your ideal target audience.
Maximize ad spend efficiency.