It's probably fair to say that all e-commerce website owners want the same thing: higher visibility on search engines and more sales.
After all, heightened visibility means getting seen on search engine results pages, or SERPs. You're likely familiar with these as you see them on Google in the form of ads, featured snippets, and video links. You see them on other search engines too.
Fortunately, there's plenty you can do to get your e-commerce website to rank higher.
The following article details proven methods to optimize your website and get more online attention.
Why Does Ranking in the SERPs Matter for E-Commerce Businesses?
Ranking in the SERPs matters for e-commerce businesses because it brings organic traffic to their website. These organic visitors are more likely to convert into customers and potential leads.
Further, the more organic inbound leads you're attracting, the less you spend on advertising, and if you claim the top spot, you're going to gain even more traffic. Backlinks increase considerably, too, giving you additional credibility in Google's eyes.
You also want to rank higher than competitors as it makes it more likely shoppers will find your e-commerce website and buy from your store.
Even with the challenges facing e-commerce like limited or duplicate content, high competition, and common SEO errors, there's plenty of ways to get noticed by the search engines.
Your site might not be at the top of the SERPs right now, and you may not even be on the front page.
That doesn't matter because SERPs aren't static: They're dynamic, and you can take action to give them a boost.
Let's explore how.
8 Ways to Get Your E-Commerce Website to Rank in the SERPs
Although it might take time and effort, getting your e-commerce website ranking in the SERPs isn't too tricky.
1. Optimize Your Product Pages
Your core product page is the landing page for any potential customer. Some of the most critical factors for designing an effective product page are:
creating a visually appealing yet clear presentation of your product features and benefits
ensuring your target audience can quickly find the information they need to decide on your products
having a clear call to action (CTA)
including reviews and testimonials
optimizing meta titles and descriptions
including long-tail keywords
using psychology and color psychology
Then there's your overall design.
The product page's layout plays a crucial role in influencing how customers perceive it, so make sure the site is easy to navigate. You should also use white space so customers don't feel overwhelmed with information.
2. Modify Your Site's Hierarchy
Hierarchy means your e-commerce website's structure.
You need to get this part right because the way you organize content makes or breaks your conversion rates as your hierarchy defines how easy it is for visitors to find what they're looking for.
There's another reason to get your site's hierarchy sorted, though.
Getting your structure organized means ease of use for customers, and that's something Google considers for your site's ranking.
Now you know why it's vital, here are some tips for better site structure.
Take time to plan the structure.
Add product tags and scatter breadcrumbs.
Keep content evergreen.
Review permalinks.
Incorporate an inward linking structure.
Ensure you organize all subcategories.
Finally, divide your site into distinct categories.
Below is an image of what the ideal structure for an e-commerce website might look like: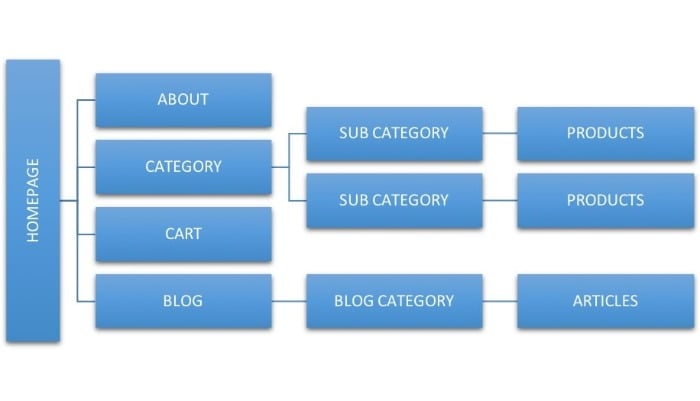 3. Focus on the Right Keywords
You all know the importance of keywords. You also understand long-tail keywords are vital, but are you focusing on the right ones?
You're looking for keywords:
with a good number of monthly searches
that are profitable
with have low competition
Fortunately, there's plenty of free and paid tools to identify these. Try:
Google's search engine
The "People also ask" feature on Google
Ahrefs
Moz
WordStream
SEMush
4. Reduce Site Loading Time
There is no getting away from it. The longer a user has to wait for a site to load, the more likely they are to click away.
Loading times can also have a significant impact on your bottom line. Research shows every millisecond counts, especially with an e-commerce website.
However, that's not all.
Slow loading times can impact conversion and bounce rates and result in a poor user experience. How quickly your e-commerce website loads is also a ranking factor for Google.
You can test out your site's loading time for yourself. Many tools are available for speed testing, like Google's Page Speed Insights.
Then, if you find your site is slower than average, consider taking the following steps to accelerate speed.
Use fewer images per page (reduce the number of thumbnail images).
Optimize your photos with compression tools like Photoshop, or use free tools like PhotoPea.
Create a site map.
Establish an effective navigation system.
Consider changing your web host.
Optimize video content and reduce the size.
Avoid unneeded tools, like excessive plug-ins or redirects.
Limit coding or compress it. Here's a tool to minify several coding types.
If your website loads on desktops within 2.3 seconds, you're in the top ten percent. For mobile, 1-2 seconds is ideal.
5. Increase Your Incoming Links
Inbound links are a vital component of SEO and can increase your website's ranking on search engines.
Every e-commerce site needs incoming links to rank well. While it's challenging to get organic links these days, there are several ways to get them, like:
Social media: Create engaging social media posts that link back to your website and ask followers on Facebook, Twitter, Pinterest, and Instagram to do the same.
Use Quora: Adding content on Quora within your niche is an effective way of increasing links to your site.
Create internal links: Backlinking is a simple strategy. Implement it by including individual product links or linking to other pages on your site like the contact page, shipping information, and returns policy, etc.
Get repeat buyers to promote: Ask returning customers to share photos of their purchases or product reviews with their friends or encourage user-generated content.
Join online communities: Sign up to forums, Facebook and LinkedIn groups, and any industry-related communities.
Write guest posts for your niche: Businesses and publications are always looking for content for their sites. Search for guest posts + your niche to uncover ample opportunities.
Create FAQ pages: Use your FAQ page to answer the most common questions your prospects have and redirect back to other related content.
Issue press releases: Is something newsworthy happening? Then write a press release and publish it for free online to build backlinks fast.
6. Research Your Competitors
Researching your competitors is one of the best ways to understand what is likely to work for your business.
How do your competitors optimize their e-commerce websites? More importantly, how do you find the keywords they're using?
It's simple: Use one of the many competitor analysis tools.
These can enable you to uncover all sorts of information, like:
backlinking opportunities
gaps in the market
keywords
differentiation points.
While we're still on competitive analysis, don't forget to check Google. You should see the keywords in the SERPs snippets.
7. Use A/B Testing
A/B testing measures the conversion rates for different variations of a landing page to identify which variations perform better. There are three different types of A/B testing that you can use:
Split testing: The most common type, where you randomly show half your users the original version and the other half see the variation.
Multivariate testing: With this method, you test multiple versions at once instead of just one at a time.
Clickthrough rate testing: This is where you change only the design or copy on your website without changing how it works.
Common areas of your e-commerce to test are:
product descriptions/pages
headlines
CTA placement/color
headlines
font
free shipping/special offers
overall color scheme
The best approach is to A/B test over time to see what works. Experts recommend 7 to 14 days at a minimum. However, you may want to test findings for a month to get a clearer picture.
8. Optimize for Mobile
Mobile device use is far more than a passing trend.
According to Statista, half of internet traffic now comes from mobile, and stats show an upward surge in mobile use in recent years.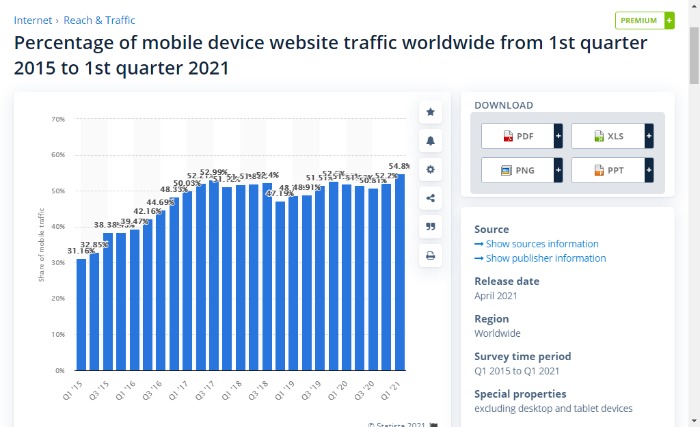 It's without a doubt. For better visibility in the rankings, you must cater to mobile users.
Google implements mobile-first indexing, meaning it "predominantly uses the mobile version of the content for indexing and ranking."
In other words, a mobile-optimized website is essential for enhancing your SERPs and product sales.
It's about customer experience too. A responsive design ensures the layout of your website adjusts to fit different screen sizes like tablets, smartphones, etc.
To make your e-commerce website mobile responsive:
Keep your text size readable at all times.
Change the background color of the webpage to black or white.
Add high-contrast colors to help readability on mobile devices, like black and white.
Test your website on a variety of different browsers and devices.
Provide a mobile-friendly checkout process.
Use smartphone-specific features such as QR codes and barcodes.
Optimize your site's URLs for search engines and smartphone users.
Compress images to reduce loading time on low bandwidth connections.
Include local content in your mobile strategy. Promote any special discounts or promotions that might be happening on the site.
Frequently Asked Questions About E-Commerce Websites
How can I improve the SERP ranking for my e-commerce site?
Make navigation easy. Don't have too many links on a single page and place them in a logical order. Next, ensure your website loads quickly, and each page contains only the necessary content. Fast loading times help with both SEO and conversions. Lastly, seek links from reputable sites with high authority.
How can I do SEO for an e-commerce website?
SEO for an e-commerce website means optimizing your website in core areas, for example, creating appropriate metadata and selecting the right keywords. Next, review the products pages on your e-commerce website. Could you use fresh content with unique product descriptions? Or small images and videos?
Also, update the home page and include a clear CTA button for any featured products. Finally, update your blog to generate organic traffic and lead interested buyers to product pages.
What are the top 3 SEO strategies for e-commerce sites?
The top 3 SEO strategies for an e-commerce website are:
Keyword research analysis: Do this to identify the top keywords relevant to your products or services. You can use tools like Ubersuggest, SEMrush, or Moz.
On-page SEO: Ensure you build your site with a focus on sales by keeping the content relevant to what customers are looking for and optimizing for conversion.
Off-page SEO: Create an engaging user experience on social media by providing high-quality, shareworthy content that points back to your site.
How do I increase organic traffic on my e-commerce website?
Hone your descriptions: Use search intent and understand what customers are looking for.
Optimize your website content: You can do this by using keyword research tools to find the search terms your prospects use.
Optimize your website design: Visitors should discover your website through images, headlines, titles, descriptions, etc.
You can also increase organic traffic by using social media to amplify your content and expand your reach.
Conclusion of E-Commerce Website Guide
Understanding how to rank in the SERPs is key for any e-commerce website. If your site doesn't show up in the SERPs, you won't reach your audience.
There are several stages to enhance your e-commerce website. The first step is to optimize your website for search engines through keyword research, on-page optimization, and backlink building.
It's also imperative to focus on site hierarchy, page loading times, and mobile optimization.
Are you an e-commerce website owner? Which tactics do you use to increase SERPs?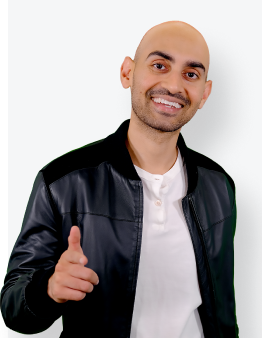 See How My Agency Can Drive More Traffic to Your Website
SEO - unlock more SEO traffic. See real results.
Content Marketing - our team creates epic content that will get shared, get links, and attract traffic.
Paid Media - effective paid strategies with clear ROI.
Are You Using Google Ads? Try Our FREE Ads Grader!
Stop wasting money and unlock the hidden potential of your advertising.
Discover the power of intentional advertising.
Reach your ideal target audience.
Maximize ad spend efficiency.