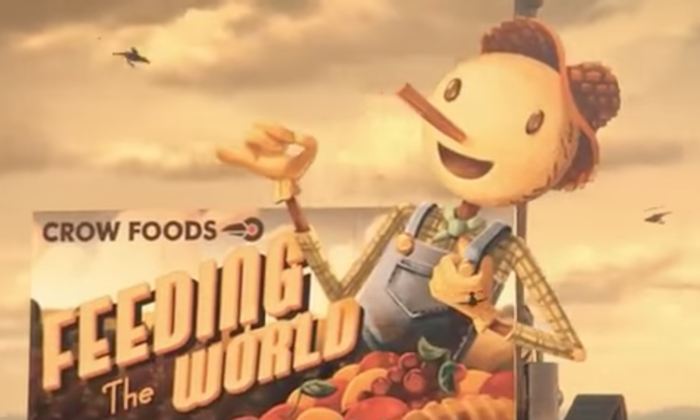 Every other day, it seems like big brands are launching some of the best marketing campaigns we've ever seen.
They're pulling in millions upon millions of views.
Everyone is sharing them, and sales numbers are through the roof.
But as small business owners, we often think:
"Who cares? I don't have a million-dollar marketing budget. Why does it matter to me?"
I know I often feel this way. However, it's not always that simple.
No company starts with millions of dollars in their marketing budget.
No company starts out as an industry giant.
They grew from the ground up with similar tactics that they still use today. They were just like us once.
Sure, some of these companies got lucky. Some might have had insanely large investments to kickstart the business.
But that doesn't mean they aren't trying every tactic in the marketing book to continually grow their company.
Small businesses and startups won't be able to copy everything they do.
We can't always create a huge marketing splash like Red Bull, or Nike, or Chipotle.
We simply don't have the audience size and millions in spare cash to spend like they do.
However, you can adapt their strategies to fit your own marketing budget on a smaller scale.
Here are five lessons that million-dollar companies can teach you about online marketing.
1. Use user-generated content like Blue Apron
Blue Apron might be one of the biggest startups of the last decade.
Actually, make that half decade. They were only founded in 2012!
Blue Apron sells ready-to-cook meal kits.
They sell these meal kits online and deliver them directly to your doorstep.
They include everything from the recipe to the ingredients in the exact quantities that you'll need.
That means all a customer has to do is cook those boxed ingredients based on the step-by-step instructions. No time-consuming, exhausting work required.
As of 2015, they were delivering over 5 million meals per month to their customers.
It's safe to say that their growth was explosive.
And according to Greg Fitzgerald, the former director of acquisition marketing at Blue Apron, user-generated content (UGC) was a massive contributor to that success.
In a survey, 85% of users said that user-generated visual content was more influential than brand photos or videos.
On top of that, startup Yotpo found that ads featuring UGC can lead to a 4x higher click-through rates.
It's no secret that UGC is a powerful motivating factor in building trust and credibility. Take a look at how Blue Apron creatively leveraged UGC by sharing "Love Stories" from its satisfied customers.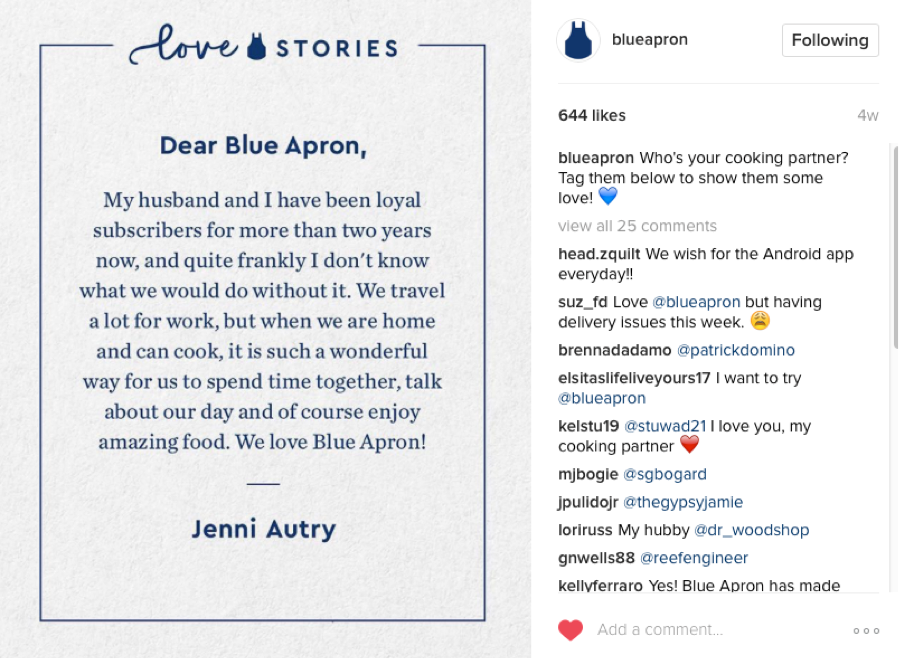 Blue Apron credits a ton of their success to social posts like this one.
To build more trust, they often feature current customers who loved their product. That also deepens the bonds of loyalty with existing buyers.
They even targeted high-end celebrities on social media to post natural, native ads.
Real people in a real environment are eating their food and enjoying the product! What a concept!
On top of that, they launched user-generated content campaigns on YouTube to some of the most popular influencers around.
Just look at all that positive engagement. How'd they do it?
They showed that real human beings can benefit from using their product in a natural way.
Now, as a small business, you obviously can't afford to land most high-end influencers.
But that's not the point.
The point is to share user-generated content. Show that people use your product and love it!
One of my favorite examples comes from Buffer. They do this on Instagram every single day:
You don't need billions of dollars in your marketing budget to show customer appreciation and build loyalty by sharing UGC!
2. Sell without selling on social media like JetBlue
How on earth do you make something as boring as booking a flight entertaining?
How can such a boring industry leverage a platform like social media to drive sales?
By creating an atmosphere that lives and breathes their mission. For example, here's JetBlue's motto:
Now look below at the other airline mottos.
They're all pretty decent. But they just communicate different outlooks for the brand.
Southwest is cheap and transparent.
Sure, that's a great value proposition for tons of travelers. But it's not very inspiring.
You can't do a whole lot to use that in your advertising or marketing creatives.
JetBlue, on the other hand, is inspiring us to do more. Their motto conveys that they put the customer first.
"You above all."
Most of all, they're crafting a brand image that allows them to appeal to the deepest desires of travelers.
Most people want experiences, inspiration, and adventure when they hop on a plane.
JetBlue takes this to the next level. They go beyond the typical beach and scenic photos.
In fact, they partnered with Localeur, a platform that connects travelers to places locals actually go in different cities.
They base it on local reviews and recommendations from residents.
All of that ties back perfectly into their motto of putting the customer first.
They want to connect people with authentic experiences that they can take advantage of the next time they fly.
It's real, it's authentic, and it goes deeper than the surface-level posts we see on social media every other day.
JetBlue clearly cares about the customer experience from start to finish.
They don't just talk about it or plaster a slogan on banner ads. They try to live it.
And that sparks adventure and wanderlust. It makes people want to explore.
JetBlue owns social media because they sell without selling.
They trigger your inner travel desires without actually saying "book a flight now."
They turn an otherwise boring industry into a masterpiece.
And you can too. Nobody wants to see social media marketing telling them to buy a product all day.
It has to be natural.
Plus, you don't need an insane budget to succeed!
Just look at how Evernote does it:
They create a feeling that resonates with their brand.
You don't need to spend millions of dollars to own social media.
You'll never be able to spend millions flying people around the globe like rockstars.
But you don't have to.
Instead, just follow the underlying path of million-dollar companies.
Look at what they're doing and scale it down to your level.
3. Keep your brand consistent like Coca-Cola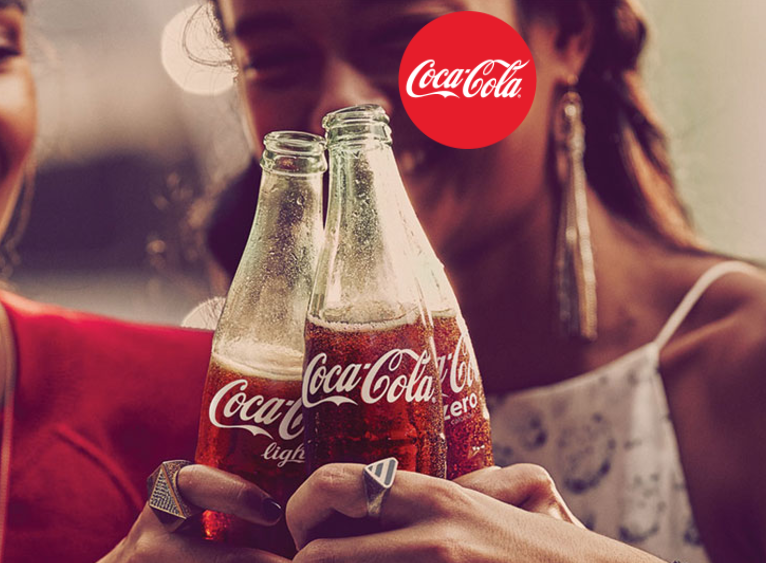 Coca-Cola is one of the world's biggest brands.
They launched over a hundred years ago in 1886 in Atlanta, Georgia. Their products are now in nearly every country in the world.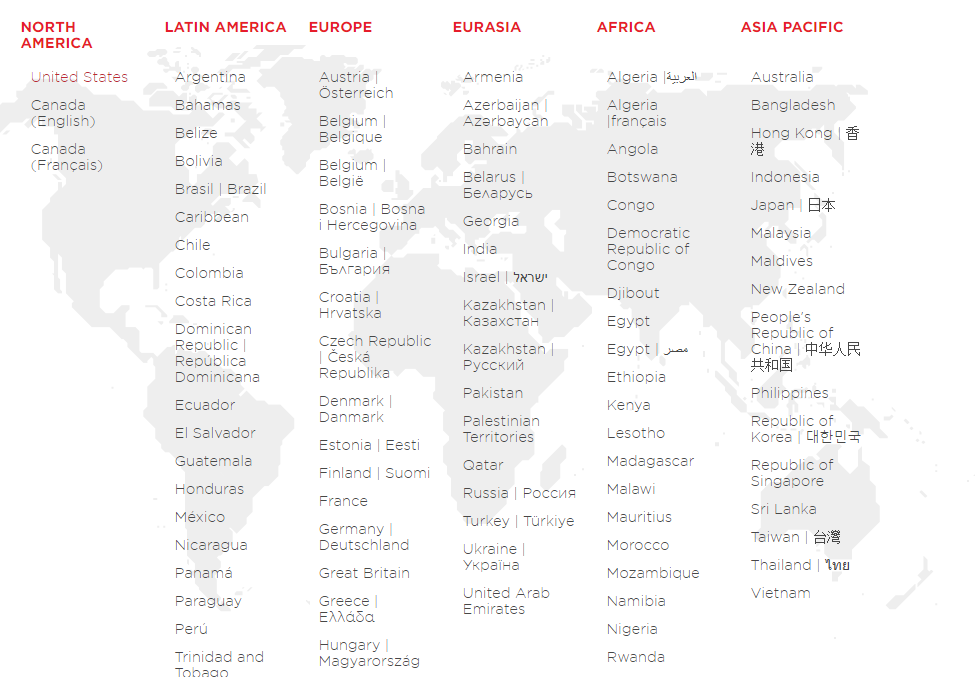 In 2010 alone, they spent $2.9 billion on advertising.
That's pretty insane if you ask me.
But if we can learn anything from Coca-Cola and bring it back to the real world of small business, it's this:
Consistency is key.
Let me show you an example.
Here's a Coca-Cola ad from 1939: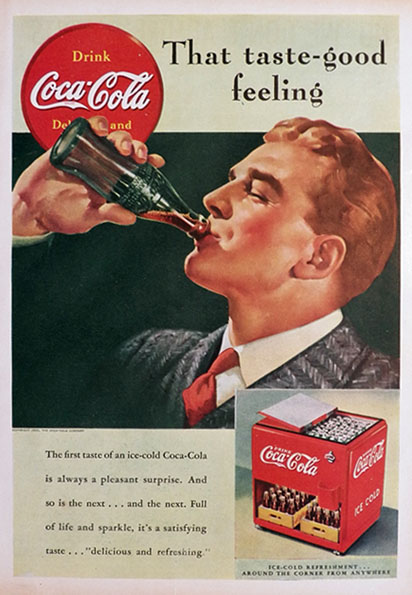 Pretty good, right?  They make the product look crisp, clean, and refreshing.
Now let's take a look at one from 2016 to see what's changed in the last few decades.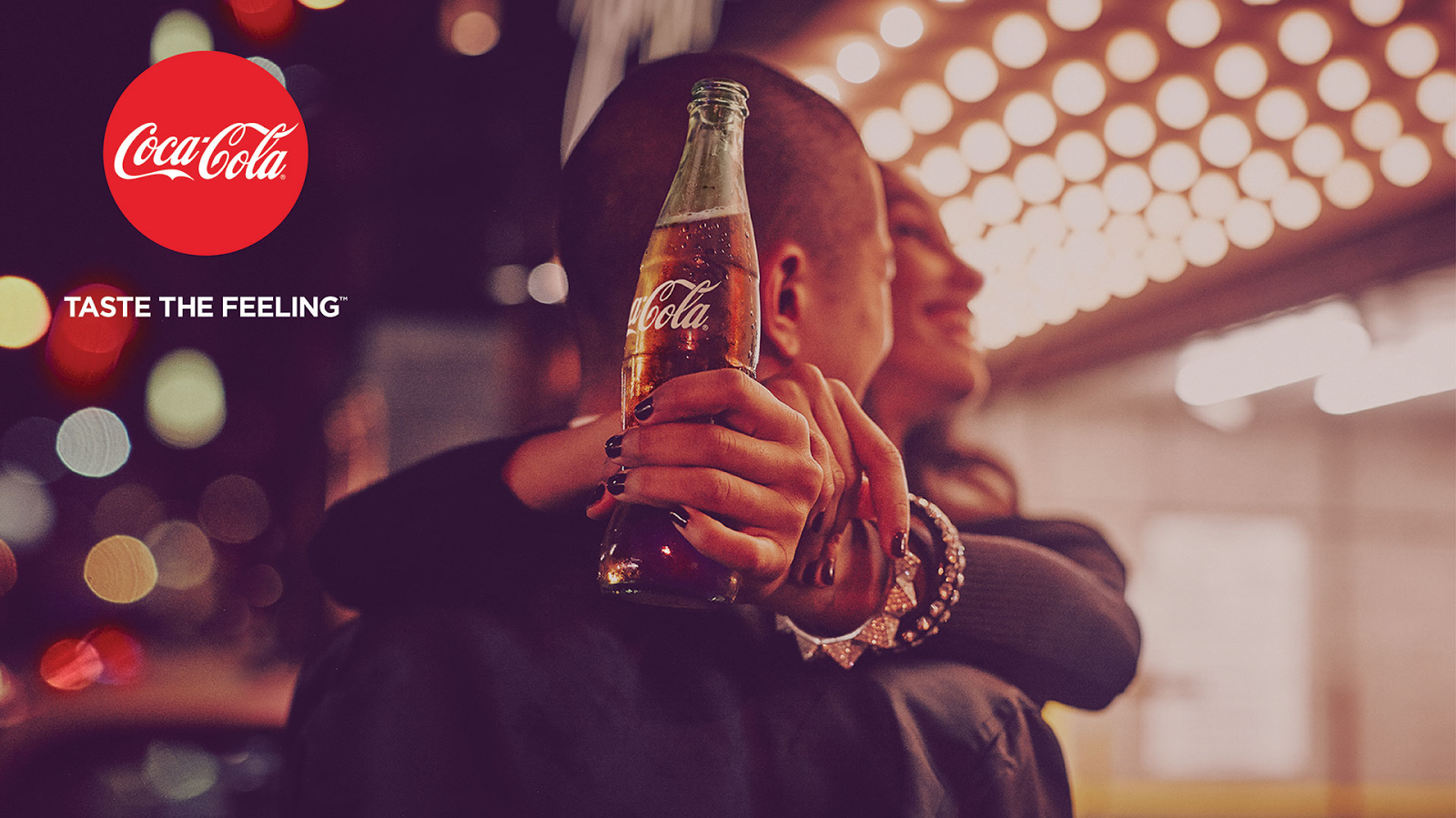 Notice those slogans?
1939: "That taste-good feeling"
2016: "Taste the Feeling"
They're nearly identical! The message remains the same 77 years later.
Coca-Cola hasn't always excelled at consistency, though. They had to learn this lesson the hard way.
Back in 1985, they attempted to rebrand themselves.
They tried to change up the secret formula of their product. And they also tried to switch up taglines to reach a broader audience.
Here's what they came up with:
They tried to go "edgy" or "trendy." They were following the trends instead of blazing their own trail.
And the backlash was huge.
So huge, in fact, that people actually launched grassroots campaigns. They signed petitions to bring the classic branding and taste back.
Although Coca-Cola spends billions of dollars every year on advertising, this lesson requires zero ad spend.
You don't need to spend any money to maintain consistency in your product and brand.
It's easy to think that switching it up is going to be your next big hit. Especially with all of the various growth hacks and a changing marketing landscape.
But if we can learn anything from one of the largest companies in the world, it's that consistency works.
4. Strategize content marketing like Whole Foods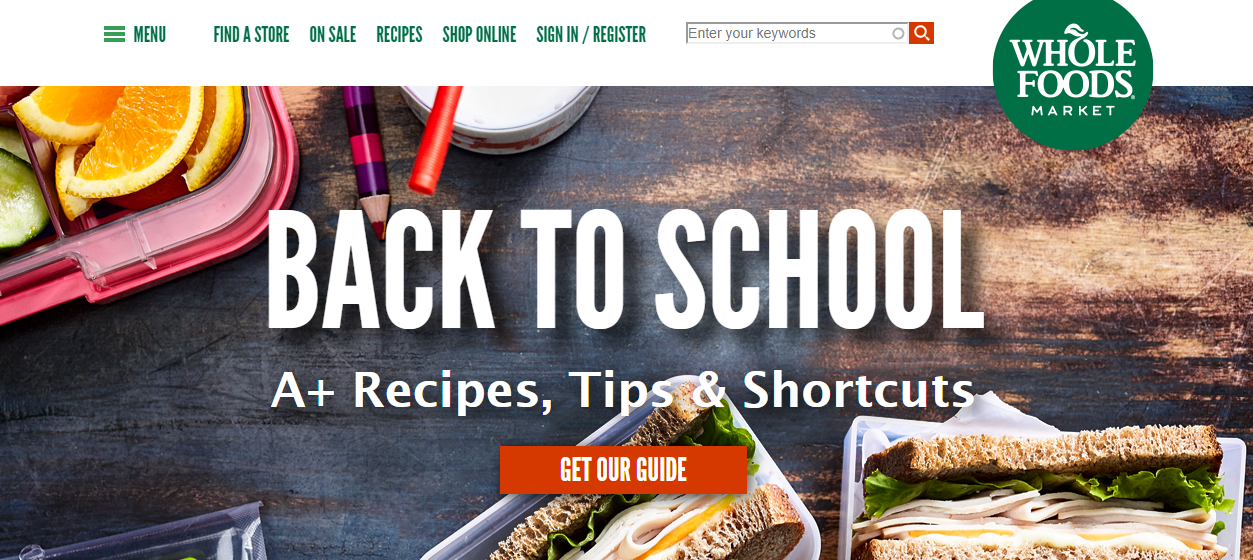 Before I jump into this lesson from Whole Foods, just look at their home page.
"Get Our Guide" is the first thing you see.
Believe it or not, Whole Foods is an absolute genius when it comes to content marketing.
And who would think to view or read content from a grocery store?
That's what content marketing is for.
You want to get people interested in your business by providing valuable, unbranded content.
And that's exactly what Whole Foods does.
In fact, content marketing costs 62% less than traditional marketing yet generates 3x more leads.
Plus, companies that use content marketing see 6x higher conversion rates than those who don't.
However, content is just like anything else in the marketing world.
It all comes down to execution.
Content marketing can work awesomely. Or it can be a massive waste of money.
Why? Most marketers focus only on branded content. They want to talk about why their product is the best.
Even though nobody believes them or cares enough to listen.
That's not what Whole Foods does. For example: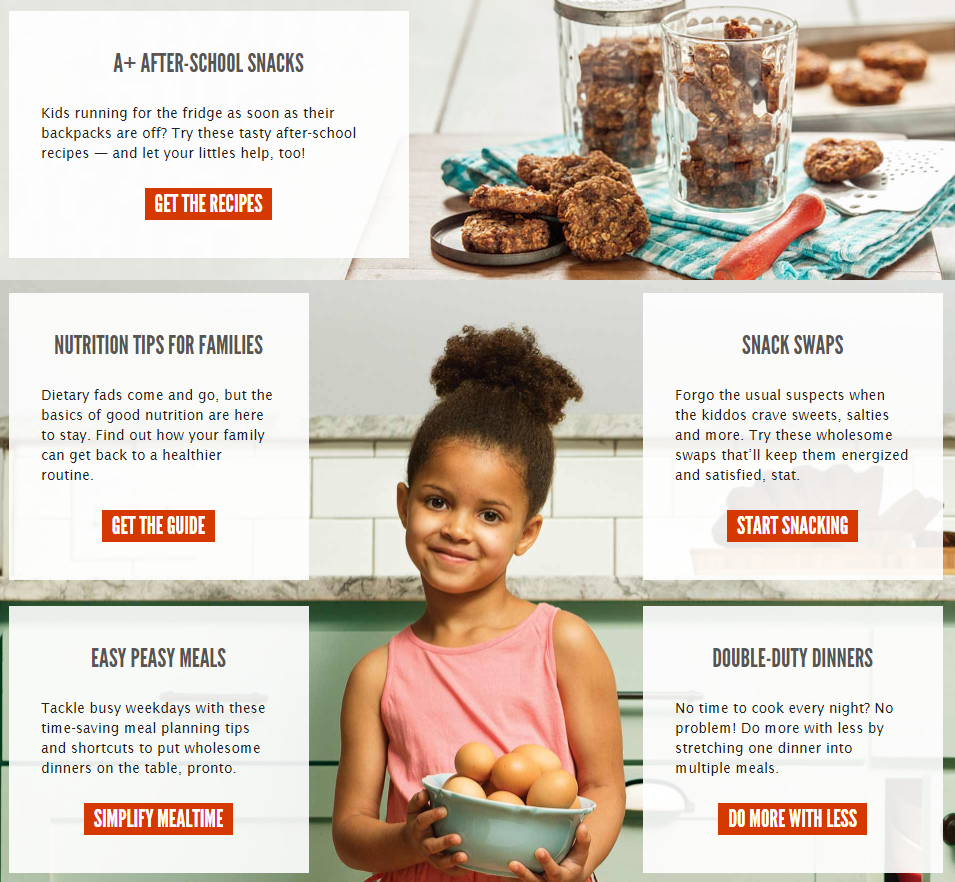 Look at all of that valuable, unbranded content!
They have recipes and nutrition tips for families.
They've put together "snack swaps" to show people what healthy ingredients to substitute. They even go into meal prep ideas that can feed your family over the course of multiple days.
All of these recipes, guides, and actionable content have a few clear benefits.
"Do More With Less"
"Simplify Mealtime"
They even take advantage of listicle-style posts to help simplify their customers' lives.
Most small business marketers worry about toning down their marketing budget.
Most think that reading about million-dollar companies is a waste of time because all they do is spend big on the Super Bowl.
But that's not always the case!
Just look at Whole Foods as the perfect example.
They're able to drive new traffic and conversions with creative content marketing pieces that make people want to come back for more:
They simply provide value first.
You don't need billions of dollars to produce valuable content for users. You just need people who care deeply about helping your customers.
You have to research your customers' lives and help them relieve their pain points.
Busy parents want delicious food that doesn't take long to make and is healthy for their family.
Show them how to do that. And then you can sell them the products to make it happen.
5. Go viral without paying for ads like Chipotle
Before we jump into Chipotle, I want to present you with some not-so-well-known statistics:
69% of marketing professionals say that their video marketing budget is increasing.
Did you know that nearly 52% of marketing professionals say that video provides them the best ROI?
Or that 43% of people want to see more videos in marketing?
Why you ask? We're visual beings.
And it's no secret that images boost your views:
So this brings me to my main point of this section.
Video is slowly but surely becoming the wave of the future.
And that's where Chipotle comes into play.
We can learn an incredible lesson about online marketing from this food giant.
Chipotle's mantra is clearly stated on their website:
"As Real As It Gets."
That's been their motto since they were founded in 1993 in Denver, Colorado.
They revolutionized the fast-casual market with real food options.
They're healthy and free of dangerous ingredients that you often find in other fast food places.
They noticed that this motto was working. People seemed to like it. Heck, they felt good about themselves when eating there.
And that's when they decided to launch their hit short film, "The Scarecrow."
Check it out:
Instead of wasting millions of dollars on coveted ad spend, they uploaded the video for free to YouTube and reaped the rewards.
Today, they have the budget for big, splashy, television ads. And yet they continue to resist.
They instead focus their attention and budget on the same free channels we have access to.
Just look at the results of that video:
I don't know about you, but that's pretty impressive for a video designed to get people to convert on their mobile apps.
Why? Because they took advantage of a growing medium and helped tell their story.
The video also combines several lessons from here so far.
They're using content marketing. They sell without selling. They're trying to start a movement in what they strongly believe in.
Chipotle knew that telling their story with text wouldn't resonate like video.
Even if you're a small company, you can create a viral video.
You don't need a six-figure marketing budget to do it, either.
You just need something worth talking about. You need something that your customers can believe in and get behind.
Conclusion
Every year, we're presented with incredible ads from the top brands of our time.
Coca-Cola, Budweiser, and most of the top companies pump out incredible content and advertisements.
We crowd around at the Super Bowl and pay more attention to the ads in between the football game.
These companies have millions (if not billions) of dollars to spend on marketing efforts every year.
A single Super Bowl spot is worth more than our entire marketing budgets combined!
So small business marketers usually don't even pay attention. They immediately write off what million-dollar companies are doing.
Why should you care about the tactics and techniques from massive companies?
You have virtually zero shot at replicating what they're doing.
However, that's no reason to ignore it completely.
Because despite not having that budget, you can still learn from what they're doing.
You can reverse engineer their thought process. The approach and idea are the important parts.
Take those lessons so that you can get similar results without spending your entire budget.
Most of these million-dollar companies have diverse strategies. They don't just buy ad slots on TV.
They spend hours upon hours gathering research and developing strategies that we can all learn from.
Many of the strategies, at their core, aren't new or expensive. Many are even free.
Take user-generated content. Your customers are already doing the work!
They often use commonplace mediums like social media or content marketing. You're probably doing those things, too.
But your strategy and execution are probably off.
Million-dollar companies can teach us so much about online marketing. We just need to peel back the layers and bring it back down to reality.
What lessons have you learned from the top companies of our era?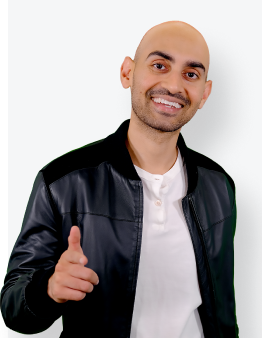 See How My Agency Can Drive Massive Amounts of Traffic to Your Website
SEO - unlock massive amounts of SEO traffic. See real results.
Content Marketing - our team creates epic content that will get shared, get links, and attract traffic.
Paid Media - effective paid strategies with clear ROI.