Mobile devices have transformed how we consume content, making it essential that businesses that want to reach their target audience optimize their websites to respond to this trend.
People now prefer to access the Internet on the go, and companies that don't adapt to the fact that their customers are no longer stuck behind a desktop, will pay the price for their inaction.
What that also means is that marketing methods have to change to account for the shift to mobile use.
The numbers tell us that from 2008 to 2015, the time spent by the average U.S. adult on a mobile device has more than doubled.
More than 50 percent of all Americans who access the Internet do so on a mobile device, and the trend is expected to grow. And mobile traffic has now exceeded desktop traffic.
As marketers, this opens up a whole new field of ideas to try and avenues to pursue in order to engage these customers, create dialogues and foster relationships that make it hard for them to resist your products and services.
In the old days, intrusive ads and misaligned customer outreach campaigns were the norm, but today, you have more data than ever, and you can leverage that data to develop bold new ideas.
Let's take a look at five mobile marketing trends that can help you strategize your campaigns for maximum ROI.
1. Big Data Can Help Refine Your Mobile Marketing
By now, we're all aware how the merging of customer information and behavior has created its own cottage industry known as big data.
It sounds like the makings of a horror film where teenagers are stalked by a shadowy monster, but the fact is, in your race to become more customer-focused, your interest has crossed the line into obsession.
The shadowy monster in this case is big data, which is a collection of marketing and customer insights, as well as predictive analytics based on previous customer behavior.
It's reached the point where big data isn't just a massive collection of information, but is instead data that you can start using to create more meaningful interactions with your targeted audience.
So how does big data help you market to your mobile audience?
Well one way you can use the information from big data is to ensure that you've targeted your audience properly.
For example, if you sell skateboards and you've been targeting 18 to 25 year-olds as your sweet spot, big data may tell you that your audience has gotten younger, and that Generation Z is trending as the fastest-growing consumer group that has a heavy interest in your industry.
That information helps you shift your mobile marketing strategy (videos, social media campaigns, mobile coupons, mobile display advertising) to better appeal to the tastes and needs of this younger group.
Big data can also provide you with valuable insight when you're creating mobile apps for your target audience.
Knowing the specific likes and dislikes of your audience, and their wants and needs can help you personalize your apps to eliminate pain points and drive customer engagement.
Big data also impacts mobile marketing because it provides location data that is essential for small businesses that are trying to maximize their local presence.
Location data can help you create more effective mobile ads to reach the right local prospects, and targeted advertising is always better than general advertising that misses the mark because it's being put in front of people who wouldn't have any reason to want to engage with your business.
2. Search Engines Won't Just Display Pages
Google already displays videos in search results, but they've been experimenting with video ads as well.
Other search engines, and platforms like Facebook and Twitter, already leverage these types of ads in the form of auto-playing videos and Vines respectively – but at the moment Google is still testing the waters to determine how audiences respond to video-based ads.
Assuming users are receptive of the idea, don't be surprised to see apps also sharing a place at the SERPs table.
Sure, we already have app directories and recommendations, but apps as part of search results will take these directories and stores to a whole new level.
Also, don't be surprised to see big shifts in mobile search. UI and UX specialists are still learning how we gesture, point, flick and tap on our devices, and with a search interface that's designed for typing and scrolling, you can see how trying to wrangle a process built for computers into a small screen with taps and flicks just becomes an exercise in frustration.
With so much data available, and so many past browsing habits to draw from, coming up with a page full of results is no longer going to cut it.
It's very likely we'll see fully optimized, fine-tuned mobile search that enlists the help of third party apps to not just recommend a particular product, but find it in the customer's preferred color, size, location, price range and much more.
3. Greater Integration Between Apps, E-Commerce and Social Platforms
We will continue to see the growth in the way mobile apps function.
There will be more seamless integration between apps and their corresponding e-commerce and social outlets.
And a glance at some of the numbers makes it easy to understand why businesses must implement social commerce into their mobile marketing strategy.
Instagram, one of the fastest-growing social media platforms in the world, had nearly 1 billion active users in early 2018. Pinterest alone accounts for 5% of the referral traffic on the global Internet.
It's no wonder that an innovation like shoppable Instagram took flight in 2017 and shows no signs of stopping.
Shoppable Instagram is a convenient way for customers to discover the products they like, and make a purchase with little to no hassle.
Right now, Instagram Shopping is limited to apparel, jewelry and beauty brands. That makes sense because Instagram is a platform that heavily relies on visual imagery.
But it's likely that Instagram will widen the field in the near future to include other types of businesses.
Mobile users are drawn by the appeal of seeing a company's post on a social media channel like Instagram, and making a quick decision to buy something from that company.
In fact, Mary Beech, a marketing specialist at Kate Spade New York said that Instagram Shopping allowed mobile customers to "seamlessly tap and shop the product–going from inspiration to information to purchase in just a few steps…."
Instagram allows mobile marketers to create posts with tags that mobile users can click to learn more information about the product, then click directly to the company's website to make the purchase.
The key, however, is that your social media posts have to be personalized to appeal to your target audience.
That can only happen when you thoroughly understand your audience's wants and needs, and post mobile content on the social media platform that is most appropriate to the group you are targeting.
Pinterest has also jumped into the social commerce game with its "Buyable Pins," which lets people purchase products within Pinterest.
These pins aren't just accessible on the platform, however, they also show up on search engine inquiries.
It's clear that the hottest social media platforms are looking for ways to blur the lines between web, social, app and e-commerce, and that means more chances for your business to take advantage of the mobile marketing opportunities to reach more of your audience on the go.
As you might expect, the rallying cry from marketing has been "people don't shop on social media!" but as mobile, social and e-commerce become more integrated, the possibilities open up to hit the right combination of buying and browsing buttons to turn that notion around.
4. Apps Will Evolve To Become Lifestyle Choices
According to Statista, mobile Android users could download 2.8 million apps in 2017, and iOS users could download 2.2 million apps.
The most popular Apple App Store categories as of January 2018 were as follows:
Games – 25%
Business – 9.8%
Education – 8.49%
Lifestyle – 8.32%
Entertainment – 6.05%
Utilities – 4.95%
Travel – 3.9%
Health & Fitness – 3%
Book – 2.99%
Mobile apps will remain a dominant aspect of mobile use for the foreseeable future, but the problem so far with consistent app adoption has been nailed down to one singular issue – bandwidth.
With caps on data and insane overage charges, brands really can't get as creative or forward thinking as they might like to with restraints like those holding them back.
These days, you might have one app for weather, one to track your fitness level and food input, and another to remind you when it's time to pick up the kids from school.
But we're already seeing a shift in how mobile apps are created and marketed. Mobile users are not interested in just one feature or function, they want an app to do more than one thing, and to do it well.
Expect apps to continue the trend toward multiple features.
Apps are going to be more about what mobile users find valuable as a daily part of their life as opposed to something that they use every now and then.
Apps will be more about becoming an integral part of your life – a fitness journal that displays the weather before your run and reminds you when it's time to get the kids.
Sound a bit far-fetched? Not to app developers.
As long as there are forced restrictions on how much you can download, apps themselves play a pivotal role and position themselves as more of a lifestyle attachment than a usable "thing" that can quickly be uninstalled in favor of the next big thing.
There's only so much bandwidth that will fit in a mobile plan – better make sure your app is making the most of it.
What's more, the apps you choose could very well communicate your values in terms of your lifestyle.
Just like Doritos and the Super Bowl or Mountain Dew and gamers, the apps you use every day could tell people "I'm proud to be a _______ and that's why I use (app)."
The more attuned these apps become to our goals, likes and dislikes in life, the more they'll find themselves being used likely far beyond what the original developers envisioned.
WeChat, a China-only messaging app, is a prime example. It boasts more than 700 million active accounts, and since it launched in 2011, it has upgraded its functionality to include the option of ordering a taxi, purchasing movie tickets, playing games, checking in for flights, and paying bills.
Obviously, your mobile marketing can't include the kind of diverse functions WeChat offers, but it doesn't mean you can't be innovative when you're developing apps to attract more customers.
The key is to try to make sure that the functions all relate in some way to the core reason that your app exists.
For example, if you own a ride-sharing service, expanding your app's functions to include ordering fast food, playing games, and checking local traffic aligns with your core service.
But including a function like online dating doesn't really integrate well with what your company does best, and can confuse your target audience and even turn them off.
5. The Next Big Thing Is Always Change
It's always fun to forecast where mobile marketing is headed based on analyzing what has happened, but the truth is that the next big thing is always going to come down to one word: change.
You should always look at a post like this as a guide to the mobile marketing strategies that can be most effective based on the behavior and activity of mobile users in 2017.
This year is bursting at the seams with mobile marketing potential, and that's not even taking into account things like wearable technology, the Internet of things (IoT), and mobile automation systems like Alexa, Cortana, and Siri.
At the top of next year, we'll take a look back and see how these trends played out.
Did they catch on or fizzle out?
Did something new and unexpected grab our attention?
Either way, you can't afford to sit on the sidelines when it comes to mobile marketing, because one certainty is that mobile use as compared to desktop use will continue to grow.
What do you think will be the next big thing in mobile marketing, or do you agree with some of the trends that we've discussed here?
What are your marketing strategies right now?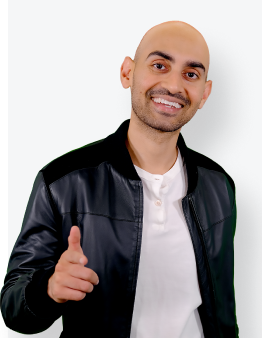 See How My Agency Can Drive More Traffic to Your Website
SEO - unlock more SEO traffic. See real results.
Content Marketing - our team creates epic content that will get shared, get links, and attract traffic.
Paid Media - effective paid strategies with clear ROI.