Since its beta launch in August of 2012, Medium has been called a lot of things: an online magazine, a blogging platform, a blend of platform and publisher and an upscale content farm, to name a few.
Because it takes a disruptive approach to online media, journalists, futurists, technologists and the likes seem obsessed with defining Medium.
One thing is certain: Medium upends how we think about personal publishing online. It has its roots in traditional blogging but breaks a lot of rules––kind of like a rebellious, super-smart younger sibling.
While Medium was conceived for individuals wanting to tell their stories online, brands have begun to experiment with it as a place to amplify their voice; it is an appealing playground for adventurous marketers looking for new ways to associate their brand with great content.
This guide will give an overview of publishing on Medium and look at how brands can integrate the platform into their marketing strategy.
What You Need To Know About Medium
Before you dive into using Medium for your business you should understand what sets it apart from traditional blogs and media websites––what makes it something that looks familiar but is actually truly new, as Anil Dash puts it.
The ethos of Medium is inherently democratic; it seeks to give a voice to people who have something interesting to say, even if they don't have thousands of Twitter followers, an active blog or friends in the right places. Medium is built to reward content for its quality, not for the pedigree or popularity of the author.
So while Medium allows anyone to publish pretty much anything, it works hard to guarantee that visitors only see the good stuff.
The site encourages great writing and a superior experience for the reader in several ways: its all-star editorial team that curates content and commissions a small amount of articles; its algorithm that pushes the best pieces to the top of your feed and lets the subpar stuff float to the bottom; and a dedication to beautiful, simple design.
The website's ever-evolving algorithm that determines post ranking considers a variety of factors. Ev Williams, who helped create Twitter and Blogger and co-founded Medium with Biz Stone, explains:
What we're doing is ordering things by our best guess of the relative quality/interestingness of the different items—according to the people who have seen them… It's not a direct popularity ranking. It takes in a variety of factors, including whether or not a post seems to actually have been read (not just clicked on) and whether people click the "Recommend" button at the bottom of posts. The ratio of people who view it who read it and who read it and recommend it are important factors, not just the number. (This is an attempt to level of the playing field for those who don't already have large followings and/or a penchant for writing click-bait headlines.)
Since Medium's algorithm prioritizes quality over the date something was published, the site disobeys one of the most long-standing blogging norms: that content appears in reverse-chronological order, with the latest post on top. On Medium, the content that is made most visible is not necessarily the most recent, but it is almost certainly the best.
No matter how bad a piece of writing is, it's nearly impossible to make something look ugly on Medium. Text and image formatting are carefully controlled just enough to make it immune to those who are not-so-gifted in design but still allow for a bit of individuality and creative license.
Also, Medium's user interface achieves something pretty incredible: the WISYWYG editor used to compose an article looks just like the final version seen by readers. As Williams explains, there is no layer of abstraction, which makes Medium a joy to write on.
How to Compose & Publish on Medium
You can sign up for Medium by linking to a Twitter account (either your personal or company account). Personalize your new Medium profile by clicking on the "M" in the top left corner of the homepage and then selecting your name. Finally, click edit in the top right corner of your profile page.
Your profile thumbnail is pulled from Twitter, but you can edit the cover photo people see when they click on your name (see this post for recommended sizes and general image guidelines). You can also edit your display name and the 160-character description. If you're a business, it's a good idea to link to your main website or blog in the description.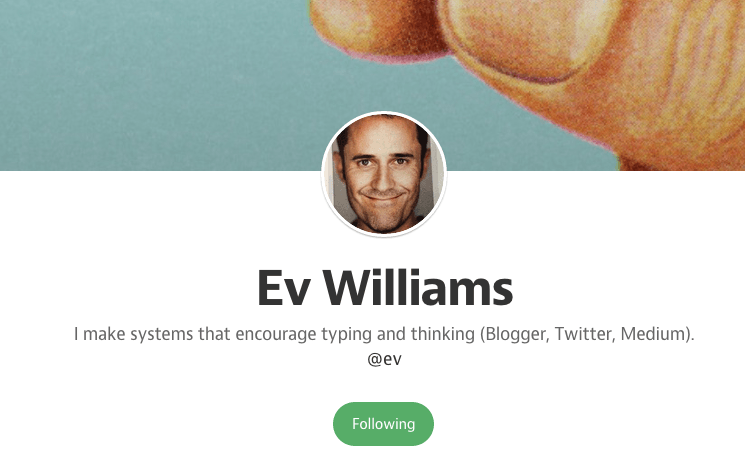 The Medium homepage displays three sub-sections: 1) your reading list, which is a list of content recommended by Medium based on the collections and people you follow 2) Bookmarks, which you can use to save stories you enjoyed or those you want to read later on 3) Top 100, which shows the 100 most-read posts from the current month.
To create a new post click on "New Story" in the sidebar. You'll be taken to a pared-down editor that invites you to upload a header image, enter your article title and subtitle and compose your story.
Hover your mouse just below the "Subtitle" or "Write your story" sections and a plus sign will appear that, when clicked, produces a toolbar allowing you to insert an image, embed online content such as a tweet or insert a line break.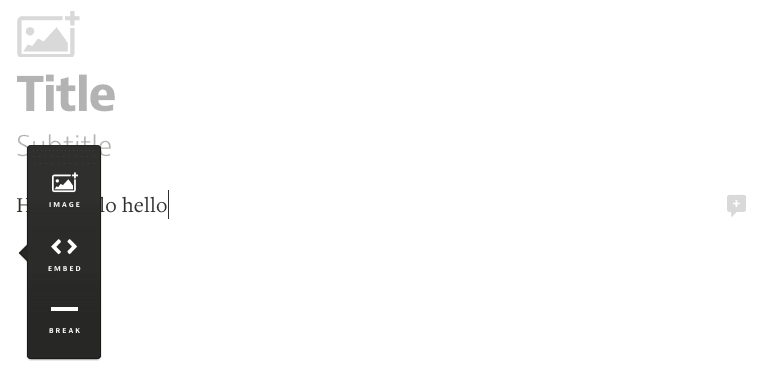 One of Medium's more novel features is the ability to create notes, which exist at a paragraph level. They replace the typical comment stream that follows most blog posts, allowing readers to comment on specific sections that resonate with them.
You can create a note by clicking the tiny plus sign floating inside a speech bubble at the right side of the page. Medium explains more about the notes feature here.
To add formatting to your text, select a word or block of text and a formatting toolbar will appear. Check out this guide to learn more about composing and formatting text in Medium.
Here are a few posts that do a great job of exploiting the formatting features that Medium has to offer.
Medium's mantra is "People create better things together." Williams has talked repeatedly about the role collaboration and crowdsourcing play as guiding principles for the site. Collaboration starts in the editing phase; Medium encourages authors to share drafts of their stories with other users before publishing in order to get feedback on their work.
To share a draft, click on the "Share draft" button in the upper right-hand corner and then send the link to your editor.
Pro Tip: Notes can be used to exchange feedback with people you invite to edit your post before it has been published.
Once you've published your story you can submit it to collections, which are themed categories that organize relevant articles in one place. Readers follow collections that interest them, like Consumer Technology, IMHO or Editor's Picks, making it easier for Medium to deliver content that is valuable and interesting for each user.
To submit your story to a collection, first find the ones you think best fit your story, then click the "Submit your story" button in the upper right corner. Collections are curated by Medium users, and stories are usually approved (or denied) within a few weeks at the latest, sometimes less.
Finally, before publishing be sure to check out Medium's rules. Most of them go without saying, but better safe than sorry.
Analytics
Medium gives you access to key metrics that tell you how people are interacting with your stories.
Click on "Stats" in the left-hand sidebar to access data about all of your stories. At the top of the page you'll see the number of followers you have as well as how many people you are following. In the graph below Medium tells you the total number of views, reads and recommendations for all of your stories during the past 30 days. Scroll back in time by clicking "Prev 30 days", and hover your mouse over a particular date to get that day's numbers.
Click on any individual story title, which appear below the graph, to see stats reflected for that particular story. Next to each story title you'll see the number of total views, the number of reads, "read ratio" and recommendations.
Here's how Medium explains each metric:
"Views" are the number of people who have looked at a post, while "reads" tells you how many have read the entire story. The Read ratio is the difference between your reads and views. Recommendations are self-explanatory.
Reads and Read Ratio remind us that Medium's algorithm is designed to reward quality content and weed out pieces with a tantalizing headline but not much depth beyond that (click-bait).
As Julie Neidlinger points out, these two stats add another layer of insight particularly useful for businesses producing content on Medium––it tells them whether anyone is actually reading what they are publishing, and thus if their content has real value for their target audience. Remember, Medium rewards readability, not simply traffic.
Maybe someday Medium will help us understand the correlation between Reads, Read Ratio and click-throughs to external sites, although it's probably not their top priority. Wouldn't it be interesting if a higher Read Ratio translated into more click-throughs and a higher number of conversions for your business? For now you can piece this together using UTM parameters in your links and then comparing the data.
Medium makes it relatively easy to test whether long or short-form content performs better for your business. Each article is tagged with the average time it takes to read, so you'll just have to look at the stats page and calculate which length is producing better results (here's another opportunity for Medium to expand upon the metrics it gives readers).
A useful but not-so-visible feature is the "Referrers" button below each story title. Once clicked, the button takes you to a page that shows how many views came from each traffic source.
So does this data indicate that Medium is an effective channel for businesses?
Check out Justin the Librarian's comparison between blog post views and Medium story views. The sales consultant and creative strategist Raymmar Tirado, who re-publishes his blog articles on Medium, said to me in an email:
The traffic I get from Medium to my website has a much higher likelihood to convert [into subscribers or downloads of my ebook]… It makes logical sense then that their numbers would lead to higher conversions and engagement as opposed to someone who finds my site directly because they have already read something and want to know more. They are looking to go directly to the source and that to me is the biggest benefit of using Medium as a publishing platform.
Medium As A Marketing Channel for Your Business
Being on Medium offers a lot of potential benefits to businesses.
First, Medium alleviates the pressure of setting up and maintaining your own blog. If you want to create content and establish your brand as an industry expert but aren't ready to commit to a blog, Medium is a great place to start. As long as they're good, your stories will get seen, so you can choose not to invest much time in content distribution (it happens naturally for you on Medium).
Since the publication date holds little weight on the website, you won't be penalized for going weeks or even months without posting (although probability indicates that people are more likely to see your content if you publish frequently).
Keep in mind that there are potential downsides to publishing on a platform you don't control, which is why many writers choose to use Medium as place to re-work content they've published elsewhere rather than share original pieces.
Second, Medium puts your content in front of the eyes of your target audience. Because it centers on sorting stories into themed collections, it's safe to assume that a good portion of the people reading content from a specific collection will be interested in what your company has to say (as long as its relevant).
Even if you decide to keep a regular blog and then re-publish your articles on Medium, you are potentially reaching people who otherwise would not have been exposed to your content, and you're doing so in a way that is highly targeted.
I couldn't find hard stats on how many active users are on Medium or how many people read Medium articles each month, but since all users by default follow the Editors Picks collection, which has 625k followers, we can assume the number is somewhere around there. That's a pretty big potential audience.
Third, if you consider Medium a hybrid platform and publisher (a place for people to publish their own content as well as a media site that produces and curates content), then Medium gives brands a pretty good deal: free branded content. While on most high-traffic media sites companies pay a hefty sum to get their branded content front-and-center on the homepage and then distributed around the web, publishing high-quality, relevant content on Medium guarantees that your work will get seen by people who care about what you do.
Let's look at tactics your business can implement in order to excel on Medium:
1. Re-publish content from your blog or website.
The Physics ArXiv Blog, Edible Manhattan and LatinAmericanScience.org all do this, and their content is popular on Medium.
You can either publish articles exactly as they appear on your blog or post excerpts, like The Fader. What's great about The Fader's excerpts is that they often hold their ground as complete articles––like this one, which was recently selected for Medium's weekly "best of" email.
2. Create a collection around a particular theme related to your business.
Once you've created your themed collection, publish content about that theme––either original work or articles syndicated from your blog. This will help establish your brand as an expert in your field.
If you want, you can encourage people to submit their stories in the description on the collection's main page so that you don't have to create all of the content yourself.
Al Jazeera's collection Fault Lines publishes stories about the United States and its role in the world. All of the articles are from the Al Jazeera website; it would be interesting if the newspaper included quality pieces on this subject by other Medium contributors in order to encourage collaboration.
3. Don't limit yourself to writing; publish visual content that tells a story.
Not all stories need to be expressed in writing; why not create a comic, illustration or infographic relevant to your brand and see how people respond? Check out this comic drawn on top of a J.Crew catalog, this illustration and the posts found in The Nib or the I Love Charts collections.
This image by Gemma Correll appears in the post New Editing and Proofreading Marks.
4. Created a branded collection.
If you publish frequently on Medium or use it exclusively as your blogging platform, consider creating a collection with your brand name as the title and publishing all your material there. That way when people begin to look to you as an interesting voice on Medium your brand will be front and center.
The Physics ArXiv Blog made Medium its permanent home in September 2013, and it publishes under the eponymous collection.
5. Link back to your website or blog.
Raymmar Tirado links to his website at the end of each article, and he sometimes includes links to his site in the middle of his posts.
Tirado says:
[One thing I appreciate about Medium] is the ability to link to content outside of Medium inside of my articles. This allows me to drive little pockets of highly engaged traffic to places on my website that correlate with the information inside of the article.
You can also experiment with including a CTA like "follow us on Twitter" or "sign up for our mailing list" at the end of your post.
6. Use UTM parameters to measure traffic from your Medium posts.
When you link to your website, landing page or blog in a Medium article you should use UTM parameters in order to track which articles are performing the best.
Learn more about UTM parameters here.
7. Tell stories that are truly interesting.
Brands using Medium should always remember: Medium is for telling stories. It is NOT a place to talk about how great your brand is, publish press releases about your company or blatantly promote yourself. Your top priority should always be to add value to your readers' lives.
Tesla Motors rides a fine line between annoying self-congratulating and publishing interesting content. The Tesla Collection consists of posts that spend a lot of time talking about how great the company is, but in the midst of all their bragging, they tell some pretty cool stories.
If you're a well-known brand like Tesla you might be able to get away with this. But if your stories don't resonate with Medium readers who aren't familiar with your brand then they counteract one of the major benefits of being on the website in the first place: visibility to a larger audience.
8. Recommend posts related to your industry.
People who follow your Medium profile will see articles you recommend on their homepage with a line saying they were recommended by you. Take advantage of this opportunity to further position yourself as an influential voice in your industry and as a brand that leads people to highly-interesting content.
Businesses are just beginning to use Medium, which means there is ample opportunity to gain traction on the platform and experiment with new ways to use it for marketing. It's not often that brands have a chance to be among the first to create content on a new online platform and help define how it is used––especially one that seems like it is here to stay. So go for it!
About the Author: Chloe Mason Gray specializes in digital marketing strategies for startups. Be sure to say hi to her on Twitter.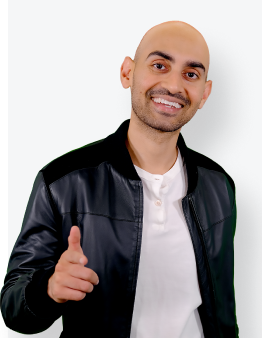 See How My Agency Can Drive Massive Amounts of Traffic to Your Website
SEO - unlock massive amounts of SEO traffic. See real results.
Content Marketing - our team creates epic content that will get shared, get links, and attract traffic.
Paid Media - effective paid strategies with clear ROI.