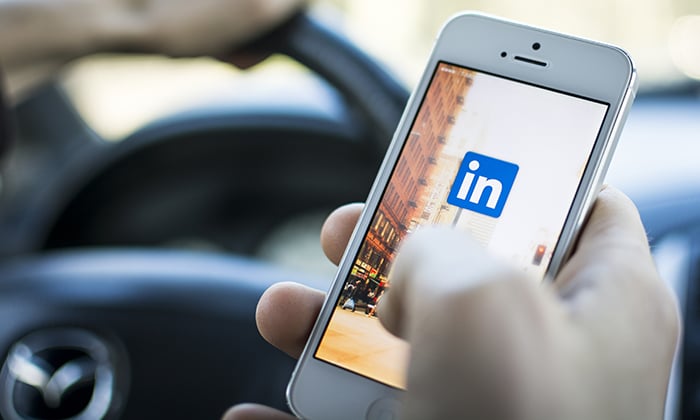 The world is shrinking.
Remember the Six Degrees of Separation trend from the 1990's?
The hypothesis was that anyone in the world could be connected to anyone else by only six people.
Meaning your friend who has a friend (and so on) somehow knows LeBron James. Cool idea, right?
We're more connected than ever these days, and that's a bit of bad news for the B2B marketer.
A smaller world means the never-ending lead generation process has an ever-shrinking window.
How do you find new ways to generate leads then?
Well, this may surprise you, but LinkedIn has become an effective tool for generating B2B leads that many businesses haven't explored.
I'm going to show you how to generate leads with effective LinkedIn marketing.
But before I show you how, you need to understand the ever-shrinking social media lead pool and what it means in the competitive B2B world.
Is LinkedIn really effective?
The short answer is: Yes.
In fact, there have been some eye-popping revelations compiled by Digital Vidya in recent years.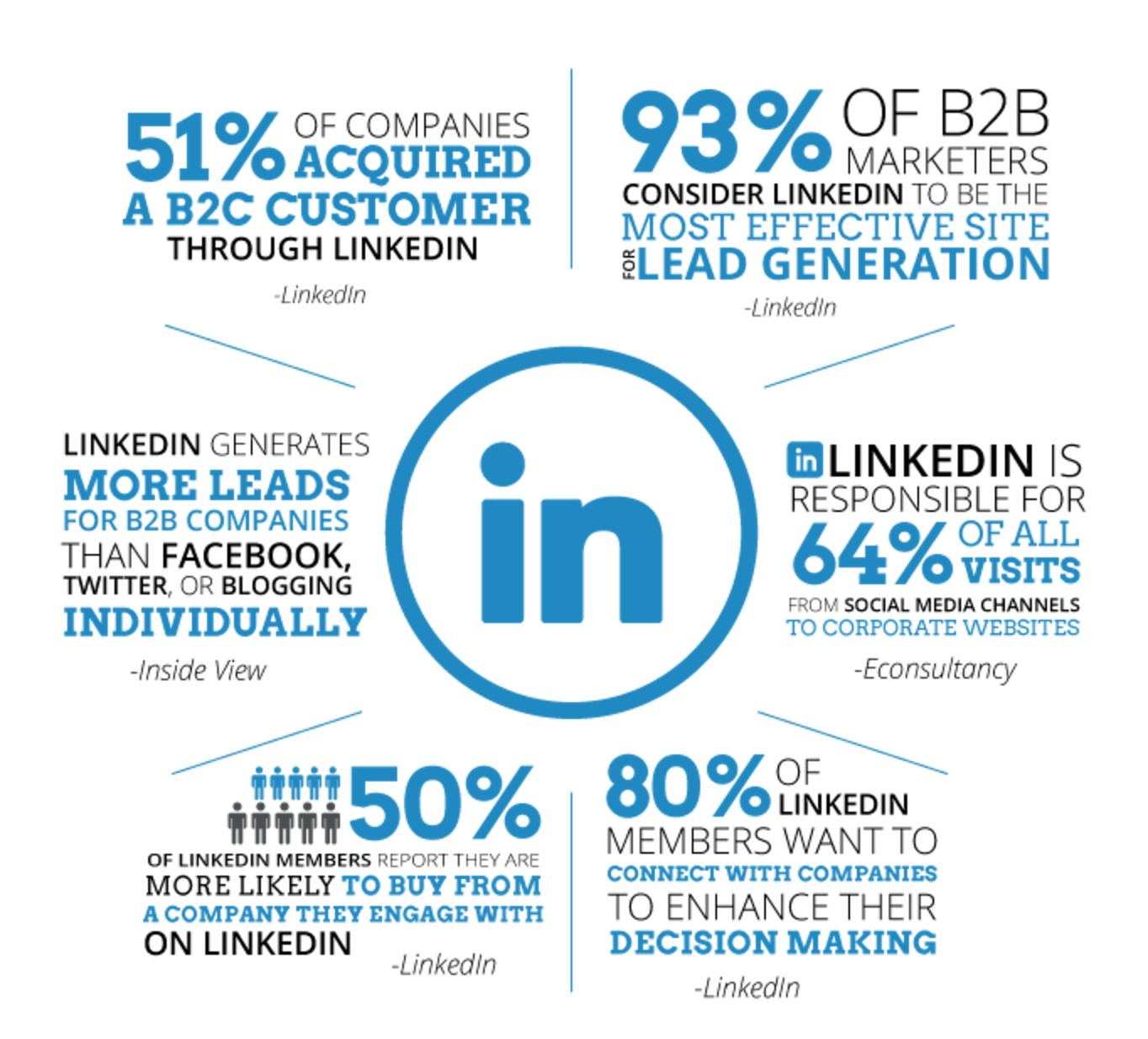 The biggest winner here is that 93% of B2B marketers feel that LinkedIn is the best place to win leads.
And 64% of corporate website visits originate on LinkedIn.
That's a lead generation magnet.
But despite those positive statistics, LinkedIn has largely flown under the radar in terms of finding B2B leads.
Why is that?
The simple answer is that other studies haven't been so optimistic.
In data gathered by HubSpot, social media as a whole wasn't the biggest source of company leads.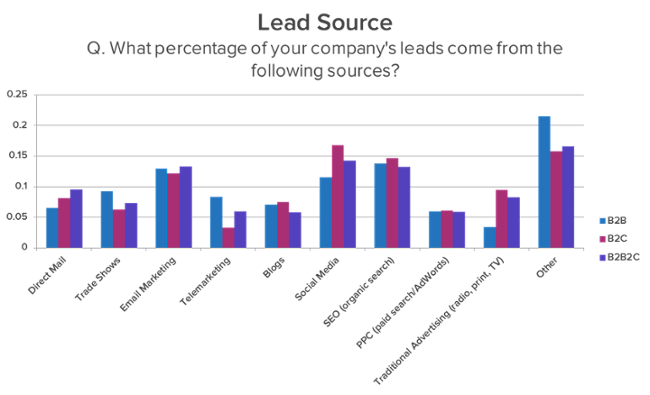 But social media is part of a well-rounded lead generation strategy.
And of all the social platforms, LinkedIn consistently performs the best for B2B lead generation.
Why?
More than 80% of social leads for B2B are generated on LinkedIn: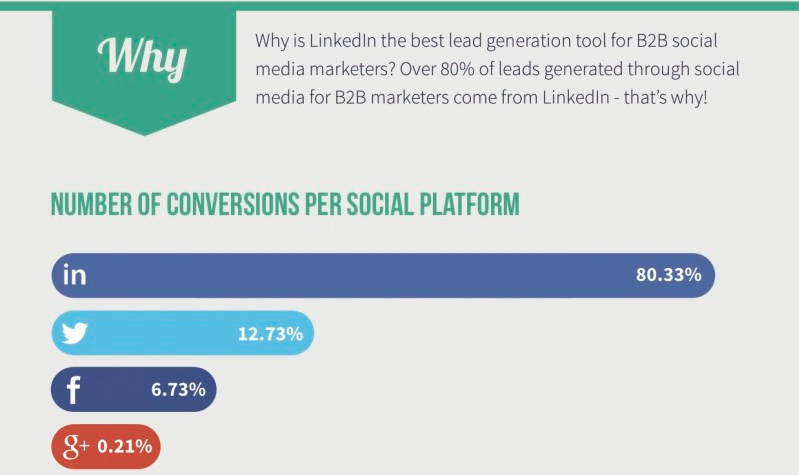 So while social media overall isn't great for lead generation if you're a B2B company, strategically positioning yourself can provide a steady stream of leads.
It beats out all the other social platforms.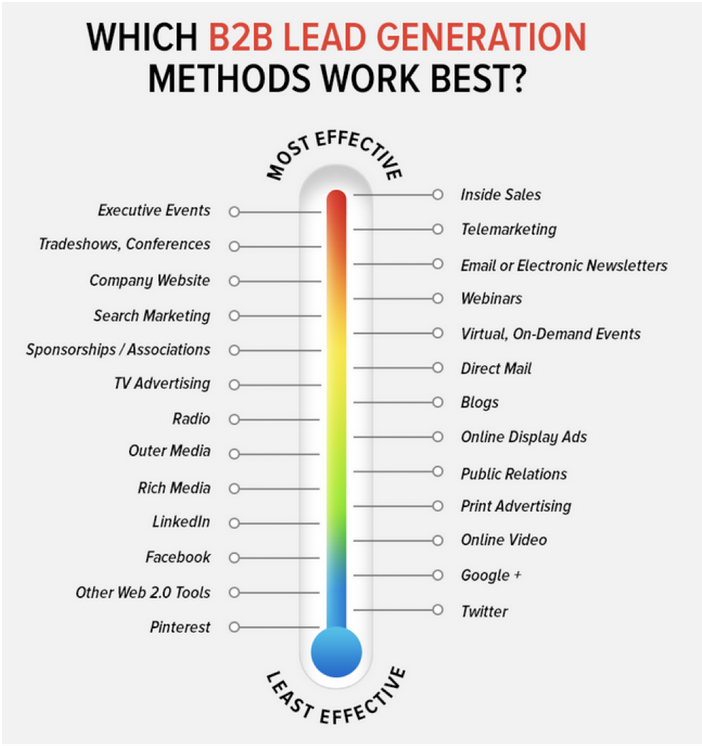 Yes, that includes Facebook, Google +, Pinterest, and the ever-popular Twitter.
But as you can see, it still falls short of inside sales, blogging, and even telemarketing as a source of lead generation.
But that doesn't mean it's not useful.
In fact, it's quite the opposite!
For example, Modern helped an Australian software company generate more than $2 million in sales just by optimizing their LinkedIn marketing techniques.
And they did it in three weeks.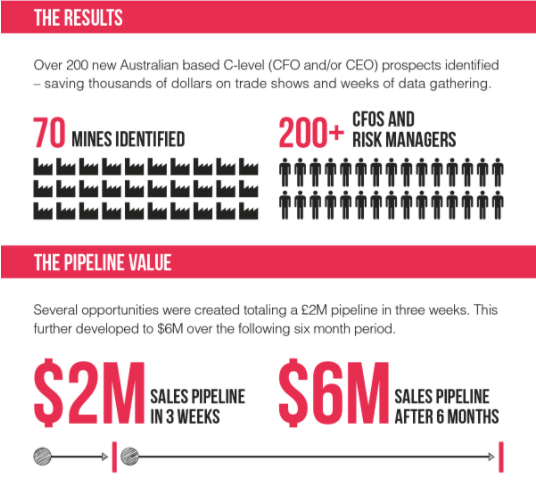 After six months, that $2 million grew to $6 million.
All by conducting research and actively participating on LinkedIn.
But now comes the real question:
How do you actually get leads from LinkedIn?
That's what I want to share with you.
I've compiled nine powerful ways for you to start finding leads on LinkedIn right now.
Let's start by getting you set up properly.
#1: Create a company profile
There are currently over half a billion users on LinkedIn.
That may sound like a lot, but the truth is that most of their user base is not in the United States.
The U.S. isn't even in the top five.
That means there is room for a ton of growth.
Not being on LinkedIn means you're missing out on a global audience to draw leads from.
You may have exhausted your area, but you haven't even touched the world.
All you have to do to get started is create a company page.

It's completely free to start your own page.
Simply enter your company name.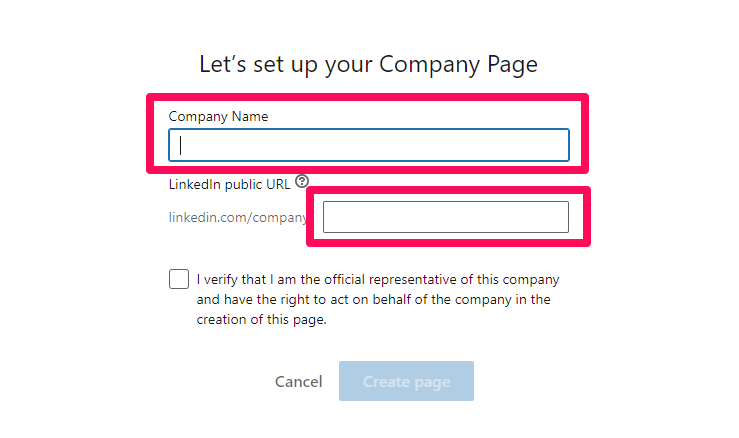 Now upload an image.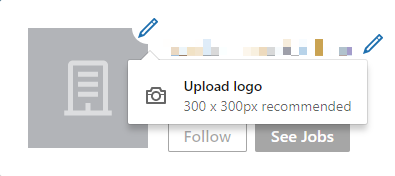 But not just any image.
Make it an iconic image that showcases your brand.
No dogs, cats, or anything that distracts. Keep it professional.
Next, you'll need to create an About Us section that encapsulates your brand.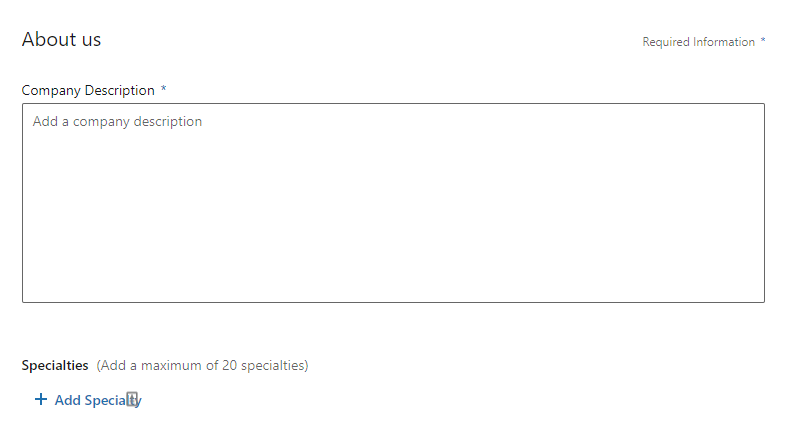 Be aware that LinkedIn has a character limit much like meta descriptions.
You can go over, but if you can create a description that's under the limit, you'll be better off.
Put your website, industry, and additional information just below the About Us section.

It's a convenient way to give your visitor context without bogging down your copy.
LinkedIn will use this information to help you appear in searches executed by others on the platform.
Then, share where your physical location is. The more your potential lead knows you, the better.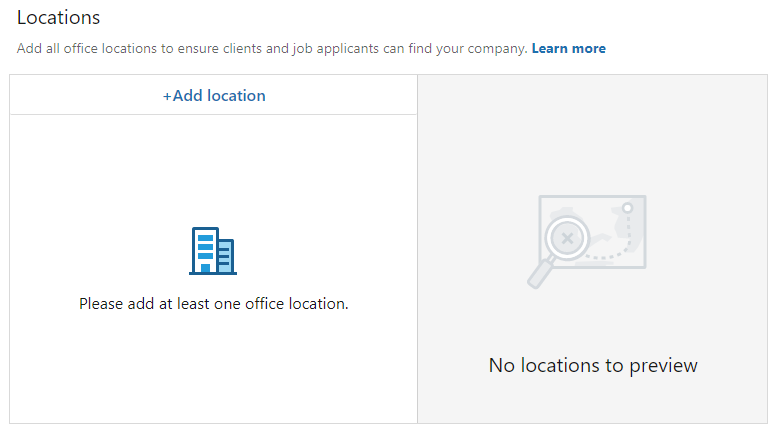 This also helps you stay connected with businesses in your local area.
Local referrals are a good way to show trustworthiness to a larger audience.
The final element you want to add is your featured groups.

This is a crucial way to acquire new leads, so we'll circle back to it in a moment.
LinkedIn also recommends that you remember to include keywords in your About Us section.
Once everything is set up, you should try to create links to your Company Page.
Posting a link to your Page from your website is one great way to get started.
You can also include it in blog posts and your email signature.
Now that you're on LinkedIn, you're ready to get started with the rest of these tips.
#2: Post actionable content
Once you're up and running, it's time to start sharing content.
Content marketing is absolutely vital on any platform, and LinkedIn is no exception.
With more than two-thirds of LinkedIn's users considering themselves "news junkies," you'll be hard-pressed to find an audience that is as ready and willing to consume your content.
You'll want to incorporate LinkedIn into your daily posting habits.
Multiple, spread out posts every day will help you reach and engage with your audience.
I also recommend using all of the different post types available on LinkedIn.

As you can see, you can write an article, share an image, or even upload a video.
If you go to write a post, you'll be ushered to a simple publishing tool that looks like this: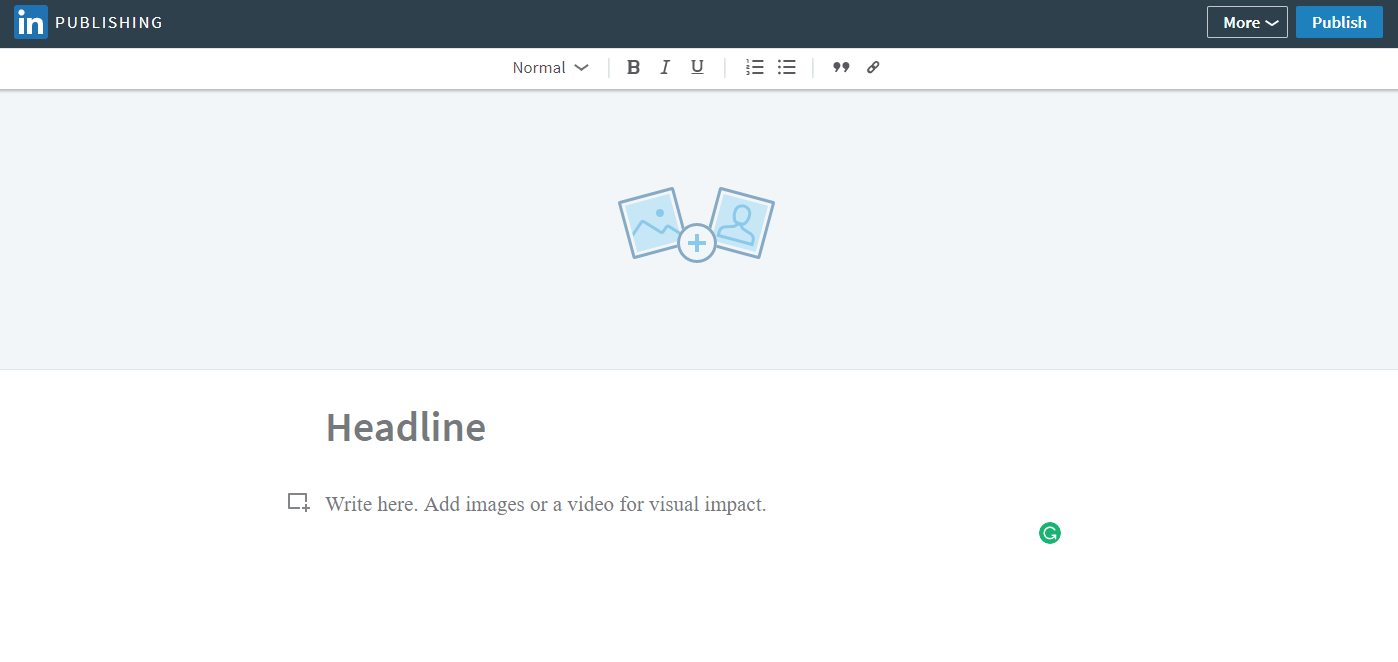 You'll then be able to create a catchy headline, upload an eye-catching image, and share your knowledge on a topic.
I like to recommend sharing brief bits of content with a link to a full blog post.
That way, when someone reads your content and gets hooked, they'll click through to find even more of your helpful advice.
Or, you can share something inspirational like an image and quotation to help you connect with your network.
Whatever type of content you choose to post, Linked to Authority recommends having 5-10 published posts on your LinkedIn Page to bolster credibility.
That content will look like this on your Page: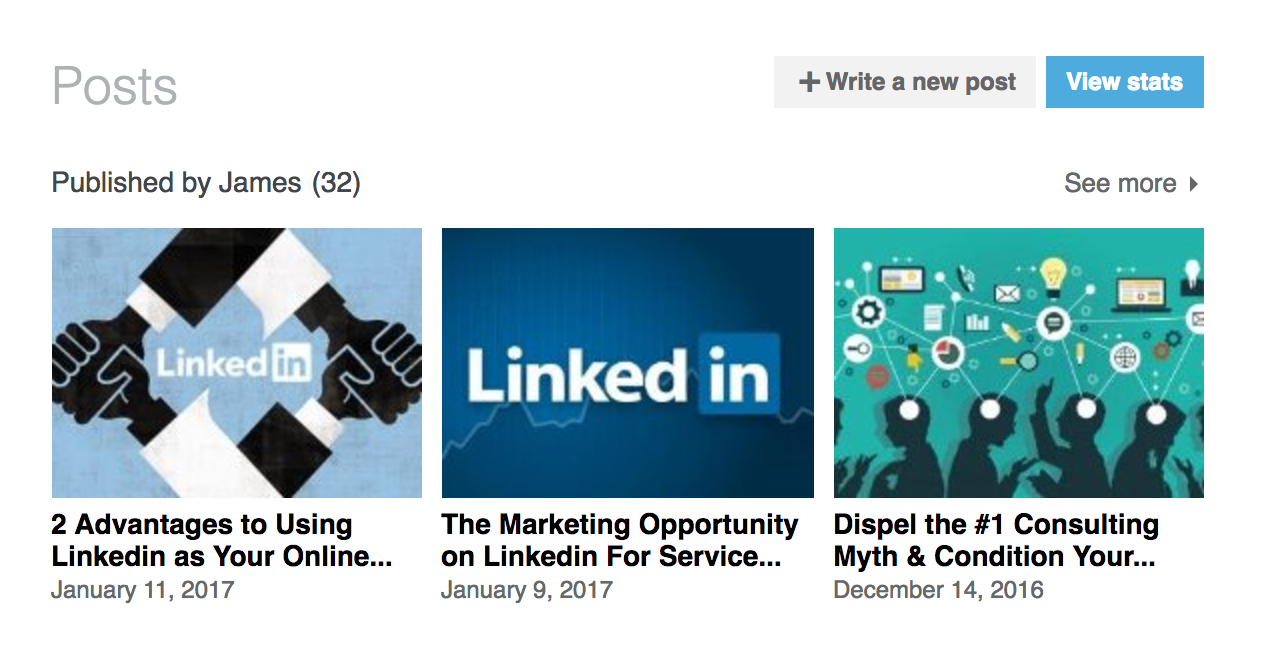 Don't just post any old content though.
There are over three million long-form articles written on LinkedIn.
You'll also be up against the more than 100,000 articles published on LinkedIn every week.
You need to create content that will stand out from the crowd and cater to the needs of your audience.
LinkedIn themselves claim that it takes at least ten pieces of content to get one conversion: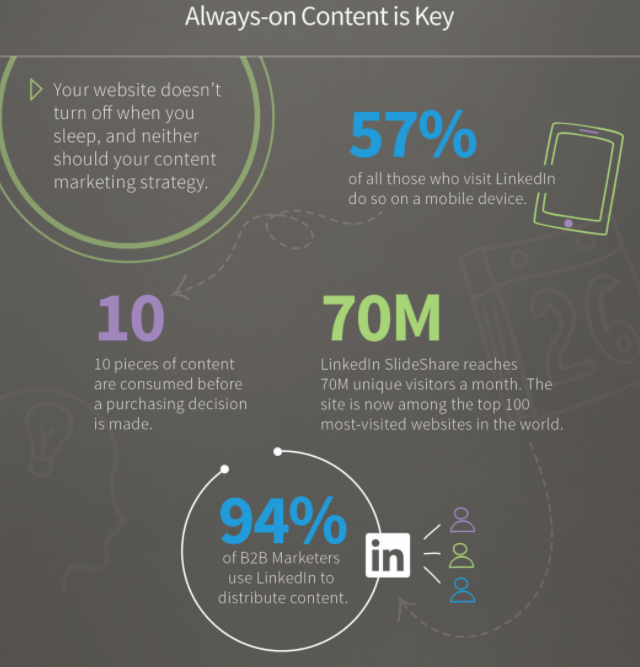 And that means you have your work cut out for you.
The last thing to keep in mind is that your viewers have to click before they convert.
So you need to remember to implement action words and build curiosity in your content as well.
Take this post for example: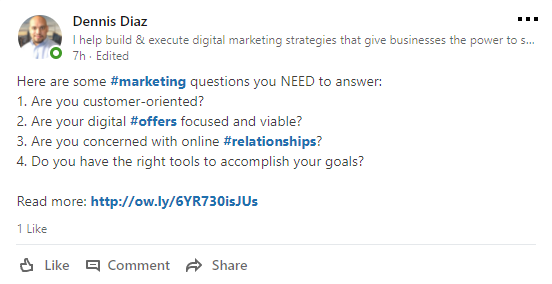 It provides basic, helpful questions that someone should have answers to for their marketing strategy.
All while pointing them to read more in the blog post linked at the bottom.
You'll be more likely to click on a post that makes you curious or makes you think.
#3: Use the Matched Audiences feature
You may have missed the news, but LinkedIn's ads don't suck anymore.
They're now part of a well-oiled tool that you can use to put your business in front of a highly selective and very profitable audience.
You can create sponsored content, regular text ads, or even send targeted messages with a sponsored InMail.

More importantly, you can utilize LinkedIn's Matched Audiences tool to retarget the visitors that are already in your sales funnel.
Matched Audiences is Microsoft's recent addition that helps optimize LinkedIn as an advertising platform.
It allows you to retarget website visitors, upload your existing accounts, or even add email contacts to target with LinkedIn ads.
I can't even describe how good a tool this is for retargeting.
Because 98% of your website's visitors probably aren't going to convert on their first visit.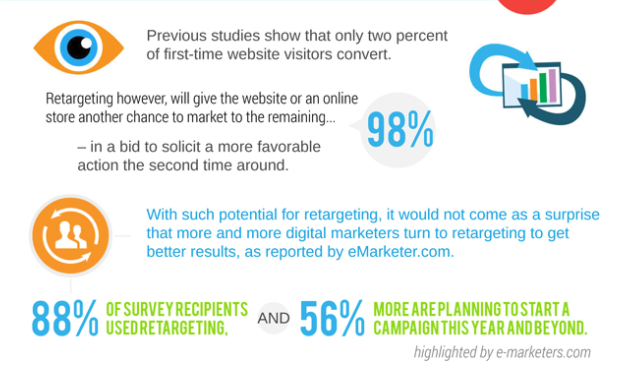 With retargeting already established as a useful way of reaching that 98%, Matched Audiences is an even more specialized tool than any we've seen before.
How is that?
Because LinkedIn's audience is all professionals, which means your audience is more likely to buy.
Once you've set it up, you can start sending impressions to your pre-existing network.
That optimizes your cost per click and conversions.
And you know exactly who you're advertising to, which makes it an effective tool for account-based marketing.
#4: Search for individuals
Sometimes, all you need is one connection with a company to make inroads that lead to a sale.
LinkedIn is very aware of this fact, and it's why they allow you to search for individuals with laser-like accuracy.
Simply click on the search bar and select the drop-down on the left as People.
From there, you can hone your results by location, mutual connections, and even the company they're currently working at.
Here's what happens when I look for 3rd-degree connections from Microsoft: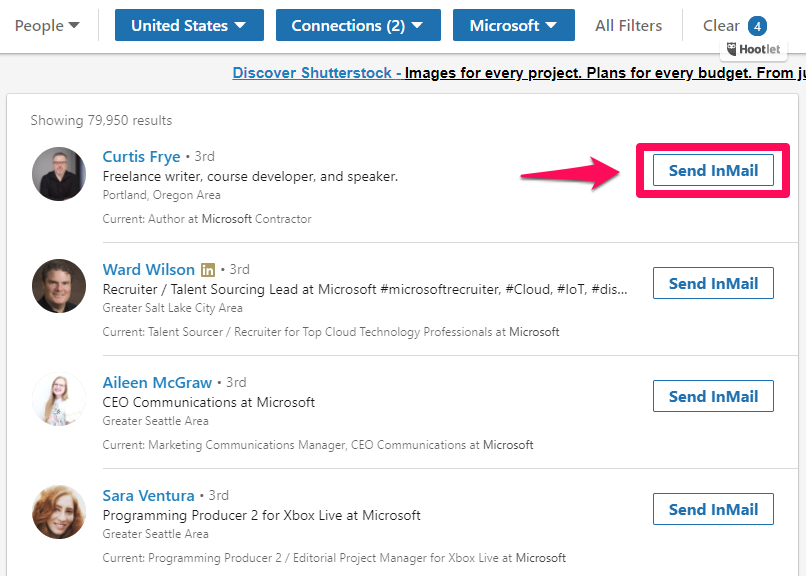 Once you find the person you're looking for, you can use the paid feature InMail to introduce yourself.
If you want even more specific results, you can utilize the more advanced search features by selecting the All Filters tab.
There's much more customization in your search this way, with narrower results.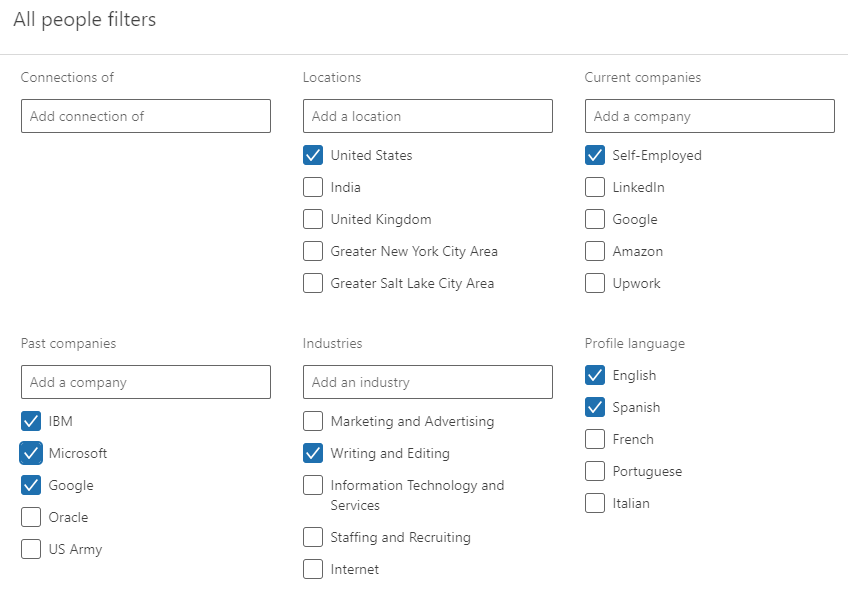 As you can see in this example, if I wanted to find a self-employed, bilingual professional in the United States who has previous experience as a writer for a major technology company, I can find that person.
What other platform has that kind of capability for free?
You really can go all out in trying to find that one individual who has the insight or connections you need.
The idea here is to simply find individuals in an organization or professional field that you can build relationships with.
Instead of relying on them to come to you, you're showing initiative by seeking them out first.
#5: Leverage groups
Another way you can make connections on LinkedIn is by searching for groups in your niche.
LinkedIn Groups are a way you can connect and interact with like-minded professionals in your industry.
It's a place where you can go to create conversations about what's happening in your world with the people who will appreciate it most.
And these groups have come a long way from being a confused jumble in the search results of LinkedIn.
Today, when you check out the Groups page, you'll be greeted by curated highlights.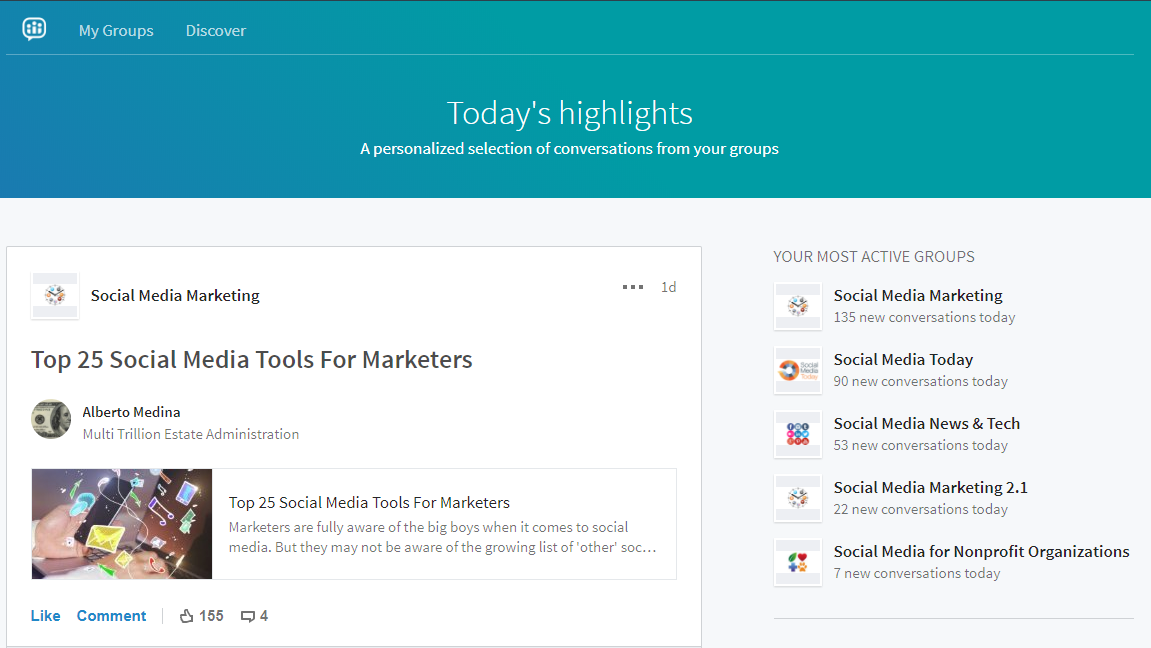 It's a quick peek into how active your group is.
You'll then be able to see which conversations in your groups have been the most active and join them.
You can also discover new groups in your industry and request to join them.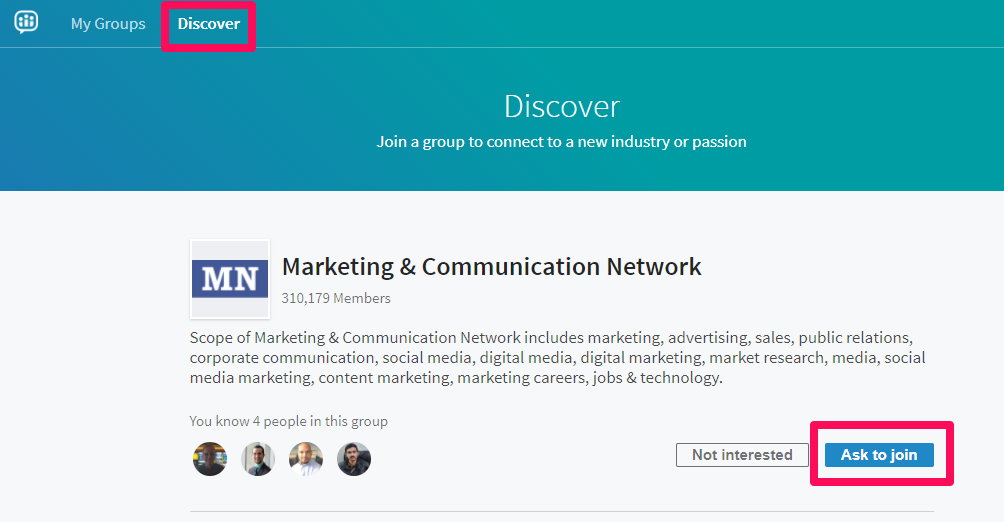 Once in a group, you can have conversations with specific professionals in that circle.
You'll be able to share ideas, insights, or ask questions of other individuals in your industry.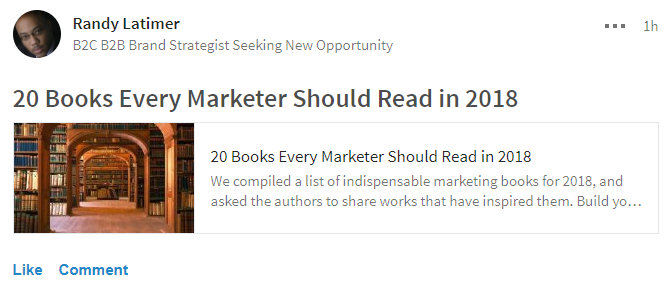 In short, you're given a catered group of professionals to build relationships with.
For free.
And it's not even hard.
It's as easy as talking about a big project with a friend over lunch.
#6: Start your own groups
Another cool way to lead generate on LinkedIn is to create groups.
If you can't find a community that's for your industry, or if you want to provide a curated window for your audience to communicate about what you're doing, this is a good option for you.
Group ownership helps you stand out as a leader in your industry.
And it gives you a steady pulse on what others think of your innovations.
To get started, you'll need to click on the "Create group" button in the My Groups tab.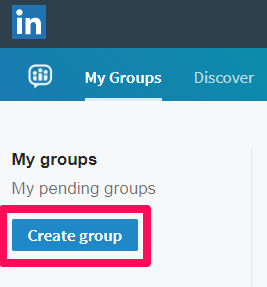 Then you'll be directed to a fairly simple page that asks you to input a title, logo, and description for your new community.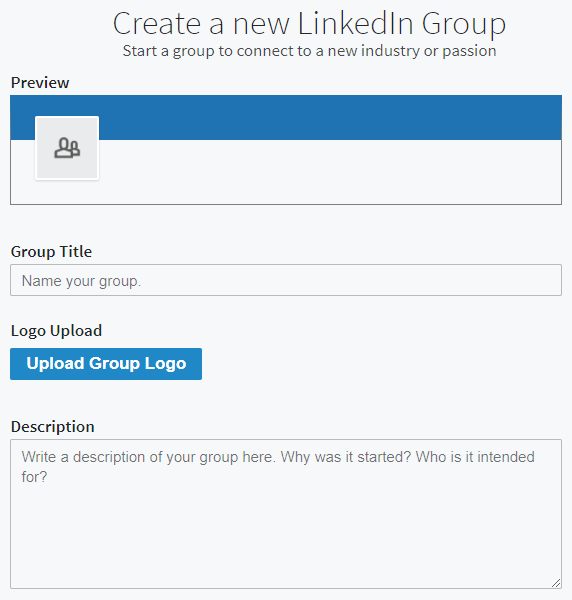 Much like your Company Page, you want to make sure that your description is succinct, accurate, and interesting enough to build interest.
You also need to set up some rules for your group.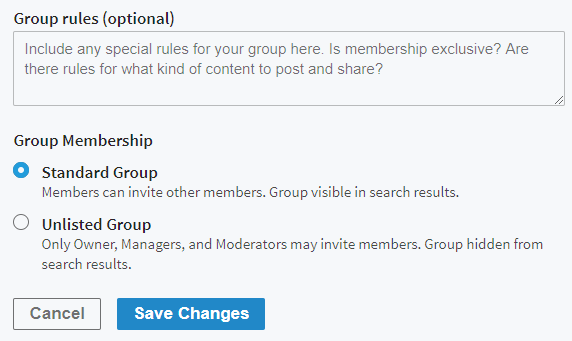 You'll have to decide if you want your group to be set up as a Standard Group that is viewable in search results.
Or, if you want to be a little more exclusive, you can Unlist your group and have an invite-only community.
Sometimes a little exclusivity can be good for adding that extra bit of authority to your voice.
The key in all of your decisions is to position yourself as an authority.
Don't be salesy.
And also keep in mind that this isn't a contest.
You don't want people to think this is you getting angry and "taking your toys elsewhere."
#7: Use InMail
InMail is an integral part of an effective LinkedIn strategy.
There's only one downside with InMail, but it's a fairly minor one at that.
Inmail is a paid feature.
But what it allows you to do is more than worth the $79 per month.
With InMail activated, you can directly contact anyone on LinkedIn.
That means the individuals you've found and the relationships you've built in groups can be leveraged in a more personal format.
And it's incredibly effective, too.
InMail response rate is 3x that of traditional email.
Imagine how much busier you'd be if you suddenly had your response rate tripled!
It even has built-in analytics to help you fine-tune your messages:
It's a powerful way to reach out to prospects and influencers in your audience.
You'll be able to reach out to individuals that you otherwise never would from around the world.
#8: Follow the LinkedIn Marketing Blog
I mentioned earlier that LinkedIn currently has half a billion users.
But if you're doubting the longevity of the platform, I have some advice for you.
Don't.
LinkedIn has proven that they're not done yet.
They want to reach a maximum of 3 billion users.
And while that may take a while, they're building the resources to accomplish that right on their own site.
For example, the LinkedIn Marketing blog.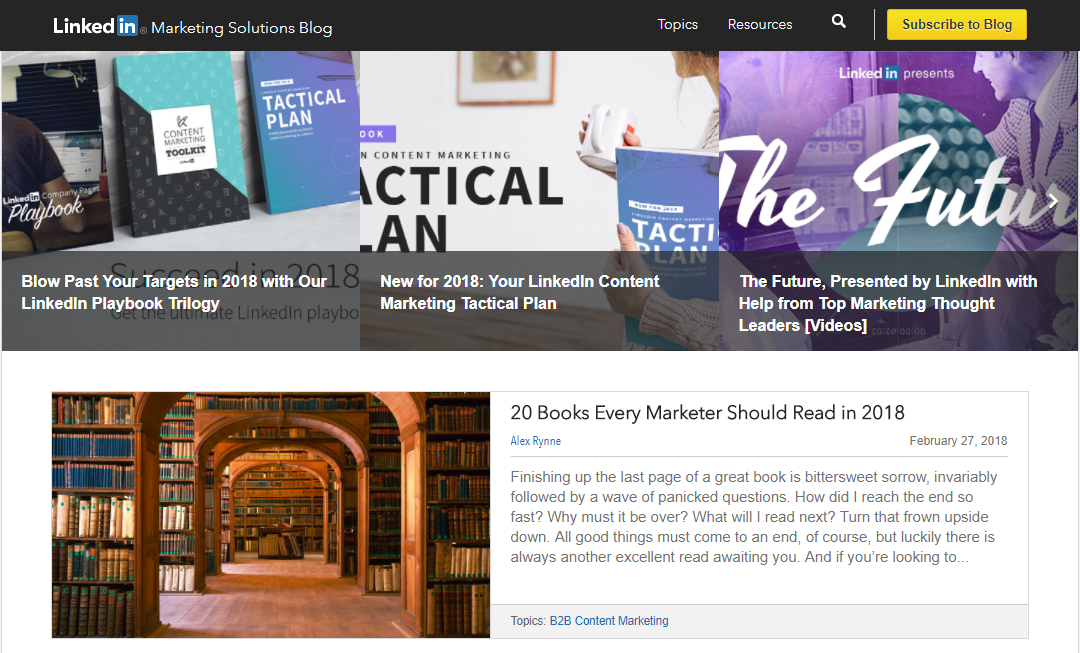 It's a custom curated selection of articles specifically designed to help you improve your LinkedIn marketing.
You can go there for advice on how to leverage LinkedIn's existing toolkit.
You'll also be in the know when they update their tools and release new features.
With just a little bit of daily reading, you'll be able to implement new ideas that boost your lead generation and make you look like a rockstar.
 #9: Use the paid LinkedIn Sales Solutions
When you've got 500 million professionals on your site, it's only natural that you would eventually create an exhaustive database that makes it easier than ever to connect.
That's exactly what LinkedIn has done with their Sales Solutions platform.
Sales Solutions allows you to target, research, and engage with new prospects in one seamless motion.
When anticipating needs is paramount, it's hard to undervalue a tool that gives insight like this.
It's flexible enough to accommodate any sized sales team too.
While it's another service you'll have to pay for, LinkedIn claims you'll be able to land 35% larger deals and be open to 34% more opportunities for your money.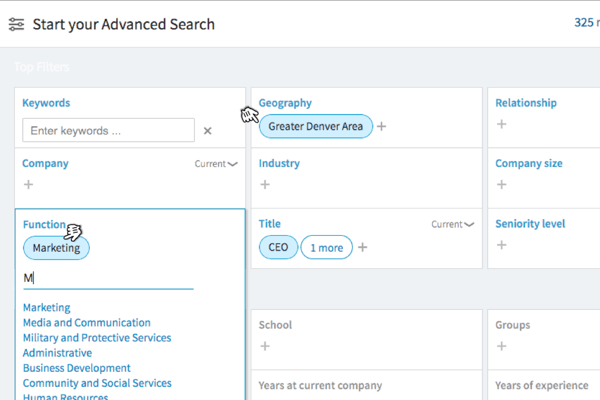 Microsoft themselves have boosted their sales productivity by 38% by using Sales Solutions.
You'll be open to an account-based marketing approach with heavy-duty research tools and much more customization than the unpaid platform.
Featured Customers shared an enlightening case study showing how the Spanish IT company ComunyCarse used Sales Solutions to great effect.
By utilizing this tool, they saw a 20% increase in conversion rates from LinkedIn.
They were also able to generate two to three strong leads per week.
And they even saw a drastic increase in company morale as their lead pool grew.
So it's clearly a powerful platform to win leads on. If you're savvy.
Conclusion
Just because the world is getting smaller doesn't mean that you'll never be able to generate leads.
Instead, think of our shrinking digital world as an opportunity.
Because with LinkedIn, a smaller world just looks like a world with more potential.
I highly recommend using LinkedIn as a complementary lead generation tool to flesh out your digital presence.
Start by creating a high-powered, convincing Company Page that is linked to your website.
Remember to share quality, actionable content multiple times per day.
Then start utilizing LinkedIn's paid ads to reach new audiences.
Don't forget to retarget your existing leads with Matched Audiences.
Search out individuals and groups that help you connect with like-minded professionals.
Or, start your own group to help establish thought leadership around your brand.
Then use InMail to connect with potential leads with a response rate that's even better than your email.
Stay up to date with the LinkedIn Marketing Blog.
And last but not least, consider using the powerful Sales Solutions tool to create a seamless transition between targeting, research, and outreach.
If you use these tips, you will see your lead pool start to grow.
I truly believe that LinkedIn will become even more of an integral part of your online lead generation strategy as the platform grows in the coming years.
What strategies do you use to start conversations via LinkedIn?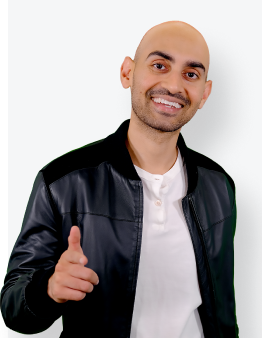 See How My Agency Can Drive More Traffic to Your Website
SEO - unlock more SEO traffic. See real results.
Content Marketing - our team creates epic content that will get shared, get links, and attract traffic.
Paid Media - effective paid strategies with clear ROI.
Are You Using Google Ads? Try Our FREE Ads Grader!
Stop wasting money and unlock the hidden potential of your advertising.
Discover the power of intentional advertising.
Reach your ideal target audience.
Maximize ad spend efficiency.