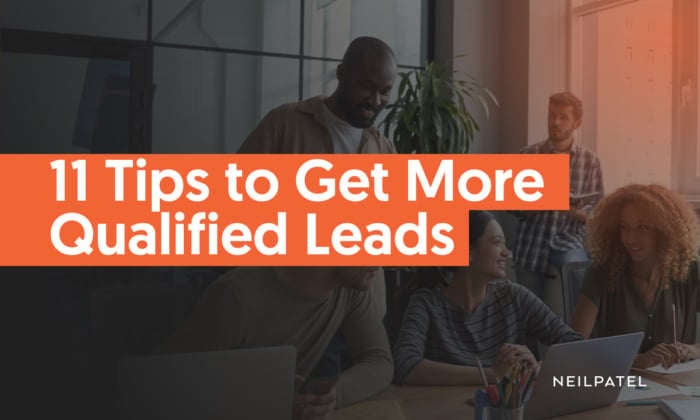 Do you know one of the problems business owners face most often? It's figuring out how to get more leads.
Sure, you can market to your ideal customers. You can cold email businesses that might need your services. Or you can go on social media and hope for the best. However, that's all just busy work. You know, the kind of stuff that fills your schedule but doesn't necessarily build your business.
So what's the answer? It's complicated.
Finding prospective customers or "leads" for your business is no easy task. There's a whole strategy involved, for one thing. You need to identify your target market, market your brand effectively, and create informative, appealing content for your chosen demographic.
What's more, customers evolve, so you must constantly adapt your strategy to suit your customers' expectations. As a marketer or entrepreneur, you can't afford to rely on inefficient, outdated tactics. Instead, you need solid, proven techniques to draw in those all-important leads in an increasingly competitive digital world.
This is where I can help.
Below, I'll show you some techniques to get more leads so you can continue to grow your business. But before I talk about lead generation tips, let's discuss more about lead generation in general.
How Lead Generation Works
If you're unfamiliar with lead generation, it's a simple concept.
Lead generation is a kind of "catch-all" term for the strategies you can use to generate new potential customers for your business. We can break the lead generation process into two parts.
First, you need to draw traffic to your website or social media platform. You can do this in many ways, from paying for Google Ads or promoting your hashtags on social media.
Then, you want to convince these visitors to share some contact details with you, whether it's an email address, telephone number, and so on. Once they share contact details with your marketing team, you can reach out to them and, hopefully, turn them into paying customers by the end of the sales funnel.
Does this mean you want as many leads as possible? Well, sure, but only within reason. What you need more than anything is qualified leads.
Think of it this way: Maybe you pay for 1,000 random leads, but only two of those individuals convert to paying customers. On the other hand, you could focus on running a high-quality marketing campaign that generates twenty leads, eight of whom become paying customers.
That's the difference between leads and qualified leads.
Why Are Qualified Leads so Crucial to Business Growth?
Two of marketers' top priorities are generating leads and converting those leads to customers.
It's plain to see why.
By identifying and qualifying leads, businesses can invest their time and resources into individuals or companies more likely to convert into paying customers.
Focusing on qualified leads also helps companies to streamline their sales processes, as sales teams can prioritize their efforts and focus on building relationships with the customers more likely to convert. This ultimately leads to increased revenue and profitability and supports the long-term sustainability of your business.
11 Ways to Get More Leads for Your Business
You could take multiple approaches to get more leads. What works for one business might not work for another, depending on your industry and commercial objectives.
Here are 11 lead generation tips to get your strategy up and running, starting with landing page optimization.
1. Optimize Your Landing Page
Your landing page (or squeeze page) is one of the most important elements of gaining qualified leads. The goal is to give the visitor such an appealing offer that they're happy to hand over information in exchange for something valuable.
Landing pages convert better than most other ads or offers. The average conversion rate is 2.35 percent, but some industries have conversion rates in excess of 10 percent. If your landing page's conversion rate isn't pushing double digits, you should look to optimize one or more elements ASAP.
I recommend:
Looking at your page's copy: Great content isn't optional. Make sure your copy is short, sharp, and engaging. Ensure you focus on the benefits of your product to the user, not its features.
Testing headlines: Spend more time tweaking and testing your headline than anything else. This is the first thing a user reads and one of the biggest deciding factors in whether they continue browsing the rest of the page.
Adding video: A good chunk of your audience would rather watch a video than read your copy, which is why 76 percent of sales teams say video is key to securing more deals.
Finally, remove all distractions from your page. The layout should be as simple as possible, so there's no need for a navigation bar or links to any other pages on your site. This gives the user two options: close their browser window or sign up.
ConvertKit's Creator Pass is a fantastic example of creating a great landing page.
There's no headline navigation, the headline copy offers a clear benefit, and an enticing call to action is right in front of you.
2. Target Your Ads Carefully
As I stated earlier, there's no point wasting resources nurturing leads who will never buy your product. You're after qualified leads, so you must carefully target your lead generation ads.
I've written extensively about how to find your target audience and identify target markets for paid campaigns, so I'm not going to cover old ground here.
However, I will say it's important not to be too hasty when judging the performance of your ads. For example, when pruning and optimizing ad campaigns, don't just judge performance based on how many people they send to your landing page that sign up or how many buy from your website. These are good measures, but it's not as important as how many people actually convert into long-term customers.
Think about it. One ad campaign could have a ridiculously high signup conversion rate of 20 percent. However, if only a tiny fraction of those people buy, it's not a particularly effective ad. On the other hand, an ad campaign with a much lower signup conversion rate could be far more effective at generating high-quality leads.
Of course, this means you'll have to wait longer to collect relevant data. Nevertheless, the end result should be a more targeted and effective ad campaign.
To target ads effectively, look for keywords with higher buyer intent. These are search terms that indicate the user is closer to conversion.
3. Leverage Personalization
If you want an easy way to increase conversion rates at every stage of your funnel and get more leads, try personalization.
Why? Because research shows, personalization influences buying behavior.
McKinsey's research found that 76 percent of consumers are more likely to consider purchasing from brands that personalize. Additionally, 78 percent are more likely to refer friends and family to businesses that personalize, and 78 percent are more likely to become repeat buyers.
How can you add personalization to your funnels to generate leads?
Start by personalizing your ads. Google makes it relatively easy to personalize paid search ads with dynamic ads.
Next, personalize your landing page, particularly the call to action. Research shows personalized CTAs achieve 202 percent better conversions.
Marketing tools like HubSpot and Unbounce can help you create dynamic CTAs that change depending on who views them. However, you could also go old school and create several different versions of your page for each ad group and personalize the copy accordingly.
Finally, build personalization into your email automation tool by addressing your subscriber by name.
4. A/B Test Your CTAs
A call-to-action, or CTA, is a prompt that encourages someone to take a specific action. Examples of actions you might want your visitors to take include:
Signing up for a newsletter
Downloading a free product demo
Scheduling a call
Subscribing to a newsletter
Using a discount code
CTAs are a first step towards bringing people into your sales funnel and helping you get more leads, so it's crucial you get them right. Ideally, your CTAs should be clear, emotive, and concise, with strong action words. You might also include a visual element, depending on your audience.
Here's an example from Officevibe, a team-building tool for businesses. In a blog post about one-on-one conversations, there's an engaging image followed by a CTA that encourages readers to take the desired action, i.e., click through to download a template:
Now we're a little clearer on what makes a good CTA, ask yourself this question: When was the last time you tested the effectiveness of your CTAs? Don't worry if the answer's "never," because you can remedy that right now.
It all comes down to A/B testing.
A/B testing, or split testing, lets you compare different variations of the same marketing tool (e.g., a CTA button) to identify which version works best. Using the example above, you might change the wording "Click to download," or you might replace hyperlink text with a button.
Use tools like Google Analytics and my A/B testing calculator to measure your results. Once you identify the most effective version, you can roll it out further to get more leads.
5. Incorporate User-Generated Content
User-generated content is what it sounds like: content generated by users rather than businesses. UGC can be anything, such as:
Product reviews
Videos
Images or graphics
Audio
Articles or posts
UGC is marketing gold. Think of it this way: You didn't pay for this content. It's essentially free marketing for your brand. What's more, it's created by real people who love what you're selling enough to tell other people about it. UGC, then, helps build your brand's authenticity and trustworthiness online.
Want to use UGC to get more leads? If your reviews are generally positive, post them on your website to build a great brand impression and encourage visitors to complete an order.
Take this great example from FITJEANS, who leverage the power of UGC to promote their brand on their website:
UGC can help your brand shine on social media, too. For example, you might also link to videos hyping your product or share pictures of people using it (with their permission, of course.)
There are many ways to incorporate UGC into your brand, so don't be afraid to get creative!
6. Host a Training Webinar
A training webinar is your opportunity to showcase your knowledge and experience and get more leads. It also gives the impression that you're prepared to share this knowledge for free, which provides a positive impression of you as a person, and your business.
Hosting training webinars works in B2B and B2C spaces, depending on your target market. For example, if you're a B2B company selling software to small businesses, you might host a product demo. Or, if you're a B2C company selling cosmetics, you might host a webinar on how best to use your products.
Whether you're in B2B or B2C marketing, the general steps for using training webinars for lead generation are the same.
First, advertise your webinar effectively. This might mean promoting your webinar on LinkedIn or talking it up on social media channels.
Next, make sure you get some details from interested parties, such as their email address. These contact details allow you to follow up with webinar attendees and, hopefully, give you qualified leads you can nurture along your sales funnel.
Also, you should use effective CTAs to encourage people to subscribe to your newsletter or follow your social media channels simultaneously.
Finally, keep the lines of communication open by inviting attendees to ask questions post-webinar or schedule a follow-up call.
7. Use Multi-Platform Campaigns
How many platforms are you using to advertise your landing page and gated content? Not enough, probably.
Today's customer journey can take at least a month and often longer. Most don't convert to customers the first time they land on your site. The majority probably won't sign up on your landing page, either. One study shows it takes at least eight touches to generate a conversion. However, other sources suggest it can take 50 or more, depending on the buying stage.
The easiest way to keep reaching out is a multi-touch campaign, where you deliver your messages in different formats across multiple channels.
Advertising on various channels maximizes the chances that potential customers will see and click your ad. It's a numbers game at the end of the day. The more shots you take, the greater chance you have to score.
8. Offer a Free Trial or Download
Just because a person visits your website or subscribes to your content doesn't mean they're ready to purchase your product. How can you qualify the lead and entice them to complete the sales process?
Offer a free trial or product download. For e-commerce brands, even a sample of the product can get your users hooked.
This helps people understand whether your product is right for them and fosters trust in your brand.
For example, I offer free seven-day trials for my SEO tools. It gives every user a chance to experience my product first-hand and learn how it can help them.
Just ensure your free trial gives people an accurate impression of how your app or software program works. If the product is too complex to understand on a trial basis, or if you're only giving people access to a small part of the program for free, the demo might not be enough to tempt your audience.
Alternatively, you can offer free downloads such as guides. For example, Merchant Maverick provides a free downloadable accounting guide. This gives the site a qualified lead and name it can add to its mailing list and market to regularly.
9. Partner With an Influencer
These days, there's a guaranteed way to get your product in front of a considerable audience.
Team up with an influencer, and you can use their status to persuade (or influence) their followers into buying your product. For example, influencers can encourage people to:
Try a new clothing brand
Download an app
Purchase a subscription box
Partner with a certain business
In the B2C realm, influencers often work on social media platforms. In B2B marketing, influential figures might include tech experts, analysts, and industry leaders.
No matter whether you're in B2C or B2B marketing, though, influencers have a place, and you can use them to get more leads. Here's how:
First, set a goal for what you want to achieve, whether promoting a specific product or enticing people to download your software. Determining the action you want people to take helps you identify who counts as a "qualified lead" for your purposes.
Next, find an influencer to partner with. For B2C marketing, you might check out social media or influencer marketing agencies. For B2B, pitch your product to experts and see if they'll review it or host a chat with you about it.
Be sure to measure your campaign's success and consider setting up a regular partnership if this strategy worked well for you.
10. Use Chatbots to Turn Conversations Into High-Quality Leads
Your salespeople aren't the only ones who can nurture leads. Chatbots can automate almost every part of the sales journey and help you get more leads coming in. They're incredibly effective at it, too. Over half of the businesses that use AI-powered chatbots generate better quality leads.
How can you use this technique?
Start by replacing forms on your landing page with a chatbot. Forms can be long-winded and rarely offer a great user experience. Chatbots make it easier for prospects to fill out their details. Sometimes, users may not even know they're filling out a lead form.
You can also use chatbots to respond to leads at lightning speed. Response time matters in lead generation. Stats show that calling a lead within five minutes is more effective than calling in 30 minutes. With chatbots, you can automate the response process and send a message once a lead fills out a form.
Finally, use chatbots to nurture and qualify leads. Chatbots can ask the same qualifying question as your salespeople to separate the wheat from the chaff. As a result, you can send the best leads directly to sales while everyone else is added to a nurturing sequence.
Drift's chatbot is an excellent example of this. It asks a qualifying question when someone lands on the site, putting them straight through to a sales rep if they're ready.
11. Use Automation to Nurture Leads
Collecting leads is just the first step of the process; you also need to nurture them. Far too many salespeople give up after the first attempt or struggle to continually follow up on leads. However, you don't have to worry about a thing if you automate this process.
I recommend using email to nurture when possible. Although it is a great way to drip-feed messages to your leads, it also generates massive ROI. According to research by the Direct Marketing Association, the ROI of email marketing is $36 for every $1 spent. Not bad, huh?
If you don't have an email automation platform yet, check out my review of the best solutions. Then integrate your landing page's form so every email is automatically added to your mailing list.
Next, create an automated series of emails you send out regularly. Your goal is to take leads through each stage of the buying process—and that means providing them with the right educational content at the right time. Start by educating them about your wider industry and their general problems. Then, a couple of emails later, you can focus on your product and service and how you can help.
The more emails you send, the more you can make your product the hero of the email and the more direct you can be with the lead.
Frequently Asked Questions
What is a qualified lead?
A qualified lead is a prospective customer who you've identified as a potential customer based on their interest in a product or service.
For example, you may consider a lead qualified if you have their contact information, they've demonstrated interest in a product, or they fit the profile of an ideal customer.
How do you identify qualified leads?
You can identify qualified leads in numerous ways, including analyzing a potential customer's website activity, social media engagement, email communication, and other interactions with your brand.
In addition, you can use a lead scoring system or your data and analytics to identify qualified leads.
What is the difference between a qualified lead and a prospect?
A qualified lead is a potential customer more likely to become a paying customer based on factors like interest levels and available budget.
In contrast, a prospect is a potential customer who has shown interest in your product or service but may need further nurturing or qualification to become a qualified lead.
Conclusion
To grow your business, you need to learn how to get more leads. It's that simple.
That said, you still want to focus more on the quality of your leads rather than the quantity. After all, the whole point of lead generation is to find new customers and grow your brand, so you want to throw your energy into qualified leads.
With the lead generation tips in this article, you know how to get more leads. Introduce A/B testing and optimize content, host webinars, give away lead magnets, get on social media, and see what works.
If that doesn't increase leads, then try some of the other tips and build your qualified lead strategy around the methods that work best for you.
Check out my consulting services if you need a little help with your lead generation strategy.
How do you get more leads? Which methods work best for you?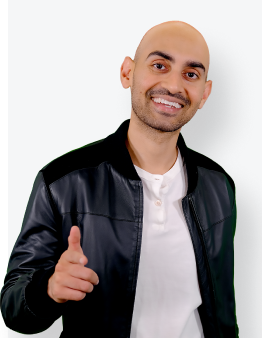 See How My Agency Can Drive More Traffic to Your Website
SEO - unlock more SEO traffic. See real results.
Content Marketing - our team creates epic content that will get shared, get links, and attract traffic.
Paid Media - effective paid strategies with clear ROI.
Are You Using Google Ads? Try Our FREE Ads Grader!
Stop wasting money and unlock the hidden potential of your advertising.
Discover the power of intentional advertising.
Reach your ideal target audience.
Maximize ad spend efficiency.