While it's not quite the holiday shopping season just yet, it's always a good time to start thinking about ways to attract shoppers to your online store. More important is what improvements you can make to begin capturing more conversions as holiday shopping traffic begins to increase.
Every year consumers spend more time and money shopping with brands and through eCommerce marketplaces, and every year the competition grows fiercer. Since 2012, eCommerce seasonal holiday sales in the US have grown by more than 13% year over year and by 16.6% in 2017.
Brands have used tried and true tactics like free shipping, free returns, lightning deals and flash sales to get more customers to convert.
But even with those promotions it can be difficult to convince customers to spend with you as opposed to a competitor.
If you want to increase eCommerce conversions during the holidays then pay close attention to these emerging trends as well as the following tips.
Faster shipping is beating out free shipping
Shipping has always been a big deciding factor for customers. Shipping costs as well as delivery times still remain the largest factors behind cart abandonment. With many customers now expecting low costs or free delivery, the next enticing trend is fast delivery.
Amazon's data shows the demand for it, with thousands of customers opting into Amazon Now's prime delivery service that can deliver goods to target areas within an hour (or less).
An infographic from Amazon revealed that in 2017 the marketplace shipped more than 5 billion products worldwide via it's Amazon Prime service, with delivery times as fast as just eight or nine minutes.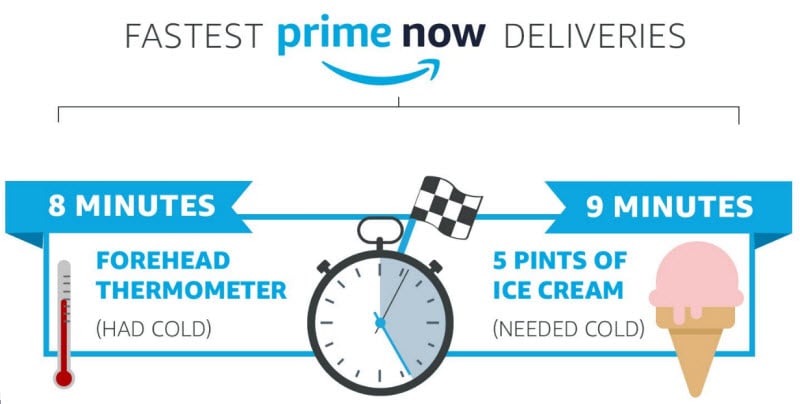 Machine learning allows faster customization
Personalization and customization are frequent topics in conversion optimization. Simply put, customers are more likely to make a purchase from you when they feel like a brand better understands what it is they want.
In fact, one study from Janrain found that 73% of customers are fed up with being shown irrelevant content.
Machine learning continues to grow and be integrated into eCommerce systems, applications, and technologies allowing eCommerce retailers to deeply customize the shopping experience. Customers get exactly what they want in less time and with less effort. We see this kind of machine learning used in:
Chatbots for customer service or "conversation agents"
Payment handling and order processing
Product recommendations based on behavior
Product recommendations and fast search for related products by image (or image uploads)
Mobile checkout optimization
Improving the checkout experience is an important part of conversion optimization. Look through any list of conversion optimization tips and you'll see recommendations for offering customers more ways to pay.
That's because additional payment methods reduce friction during the checkout process. And there are a lot of different ways for customers to pay for goods online now.
Check out this data from Statista:
Where we once accepted credit cards and PayPal, customers now wanted to pay with cryptocurrency like Bitcoin, mobile payment options like Samsung and Apple pay as well as traditional credit cards.
Holiday Conversion Tips
Just because there are rising trends doesn't mean you should throw your entire budget at making updates to your eCommerce infrastructure. Remember that conversion optimization is about making individual changes and testing those small changes to see what kind of impact they have on sales.
There are proven conversion tips you can implement to help improve conversions leading up to the holiday shopping season:
Creates samples and bundled promotions
Customers ultimately want value. When you focus on delivering that value you can push them over the line to win a conversion.
When you bundle products for a discount or include/provide samplers you're adding the enticement of extra value that can improve your average per-order value beyond single product purchases.
Here's an example of a high value product bundle from Digitalstorm catering to holiday shoppers:
Be the information resource
Comparison shopping is growing, and that includes customers researching online while standing in a store. It's not always the lowest price that wins out in those situations. Provide plenty of information to help your prospective customer make a decision so they feel like they're buying with confidence.
Become the resource that answers all their pressing questions and they're more likely to buy from you.
Create a sense of urgency
The holiday season may have a feel-good mentality around getting just the right gift for that special someone, but it's also a high stress time for shoppers.
They want to get the best deals as quickly as possible before a promotion ends, or stock runs dry. Use that to drive conversions during the holidays.
Levi used urgency in social posts during the holidays to push its seasonal promotions:
Behavioral psychologists suggest that urgent situations can cause people to suspend logical and deliberate thought and instead quickly. You can create that sense of urgency with limited-time offers and developing scarcity around certain products.
This includes using countdown timers and low stock indicators. Anything that can spark an impulse buy. According to BetaBait, nearly 90% of impulse purchases are made when items are on sale.
Streamline the experience
The shopping experience and the checkout experience are two very different things. Still, you want to make the path to a conversion as simple as possible.
Every step in the buying process is a point of friction and gives the shopper a chance to reconsider. Find ways to streamline the shopping and checkout process to close the transaction as quickly as possible.
Amazon's 1-click is a shining example of a rapid checkout.
If customer information is stored after a registration – ideal for returning customers – a streamlined checkout of this nature can lift conversions during the holiday season where customers are rushed to get individual purchases completed.
Personalize the content delivery
Your customers love to feel engaged with the brands they interact with. This is especially true during the holidays where shopping online can make them feel disconnected from the stores and brands they love.
Outside of custom shopping experiences you can capture their attention with personalized content delivery via email. Tools like MailChimp and other email marketing platforms provide a wealth of options for personalizing content.
Custom subject lines
Promotions tailored to customer buying habits
Emails showing products recently viewed without a purchase
Informational content pertaining to products that were (or were not) purchased
The best part about custom email marketing campaigns like those above is you can see insights and information on campaign performance. Use those campaign results to make the necessary adjustments and improve your campaigns.
Take advantage of retargeting
The attention of shoppers is all over the place leading up to the holiday season. They're on multiple sites, branded stores, and marketplaces.
That makes it incredibly easy for them to accidentally bounce from your site or close a tab while looking for something else.
With retargeting you can help reduce that loss from a bounce or abandoned cart. With dynamic retargeting you can ensure the products they've viewed show up on other sites as well as their social feeds.
Wordstream shares a number of examples in its guide to retargeting:
It's hard to forget about a product when you keep seeing it everywhere, and because customers have already engaged with your brand they're far more likely to convert on those product ads. According to Digiday, the average click-through rate for display ads is 0.07 percent, and the average click-through for retargeted ads is about 0.7 percent. That's a 10x click-through rate!
Check this guide to effectively using retargeting/remarketing.
Know your audience
There are a lot of ways to customize the shopping experience for customers. Start by making it easier for them to find the products most relevant to their interests and identities.
I'm a huge fan of making category pages specific to audience segments around the holidays.
This approach greatly reduces browsing and shopping fatigue and gets customers to the products they need for gifts to other people far more quickly. Reduce the mental exhaustion and friction and you increase the odds they will check out rather than abandon your online store.
These custom category pages can be designed any way you like, grouping any kind of products that match the audience segments you cater to (or customers are shopping for). For example:
Products for workaholic moms
Products for kids who love video games
Products for tech-savvy teens
Products for budding musicians
Fix page load times
Customers are stressed during the holidays and they're rushed. They already hate waiting for content to load, evident by studies that show a 1 second increase in load time can reduce conversions by as much as 7%.
That gets worse during the holidays.
40% of visitors are likely to leave if it takes more than three seconds for content to load and as many as 79% of customers won't return if they had a bad experience.
That's a lot of lost business.
Shopify offers a detailed checklist of ways to improve load speed for eCommerce stores:
Find a fast and reliable web host – migrate if need be
Reduce the quantity of images and/or compress images to reduce file size
Test for broken links and strip them as they're found
Reduce page and internal redirects
Nix carousels and hero slides that take extended periods to load
A complete restructure of your site isn't necessary. Find small changes that can be made to increase load time, reduce bounce, and keep those customers in your funnel.
Integrate social media
While social integration is great for getting content shared and engaging fans, it can also be used to get products in front of customers while building trust.
Social proof can improve trust among your customers as they see positive feedback, success stories, and social conversations taking place around your products. You can also use social integration and product shares to showcase recent purchases across social media.
The social proof is critical to growing conversions. According to Nielsen, at least 92% of consumers turn to peer reviews and the advice of people in their network to make a purchase rather than blindly following brand ads.
This is where eCommerce plugins like Yotpo can be super beneficial with the addition of user reviews along with integration of social channels like Instagram tie bring user generated content directly into your product pages.
There's nothing quite like seeing other customers happily using products to give conversions a spike.
Address the shipping costs
Amazon offers free shipping as well as reduced-cost shipping for a reason; it's effective in lifting conversions.
According to Comscore, free shipping continues to be a major driver with roughly 60% of shoppers willing to add more products to their cart to qualify for free shipping. 80% of consumers are willing to wait for standard delivery when it's free.
Considering shipping costs are also the top reason for cart abandonment and holiday shoppers are looking for every way to save, it stands to reason that providing free or reduced shipping is one of the best ways to lift conversions during the holidays.
Elevate trust with free returns
Trust signals in your online store inspire trust in the mind of your customer. They give customers the confidence to spend money. Without trust signals like reviews, contact information, and payment assurance you're forfeiting tremendous amounts of money.
Customers will terminate up to 70% of online transactions when the trust isn't there.
Free returns are another easy trust signal to add that's important to holiday shoppers.
They're buying gifts for other people during the holiday season. So, it's important to know that a purchase from an online store can be easily returned or exchanged without being penalized by restocking fees or service costs.
Reward customer loyalty
Your most loyal customers are worth as much as 10x more than their first purchase and, according to data shared by Fivestars, over 60% of SMBs report more than half their business comes from repeat customers.
If you want to lift revenue and conversions, then get your returning customers on board.
Implementing a loyalty program automates the process, allowing you to set up reward tiers for customers to strive for while they shop.
You can also offer exclusive promotions, offers, and discounts to your most loyal customers based on the data in your eCommerce store.
Not only will they spend more with you, and spend more often, your loyal customers are more likely to spread the word when they get additional value and rewards.
Conclusion
Make a list of the changes you'd like to implement to improve conversions during the holidays, including items from the tips above. Prioritize your list to focus on deploying and testing the changes that are a combination of the easiest to deploy while offering the largest impact to your bottom line. This kind of testing, coupled with staying on top of consumer online shopping trends, will ensure that your eCommerce store is generating far more traffic with a greater chance if converting those shoppers into long time customers.
How will you be marketing your store this holiday season?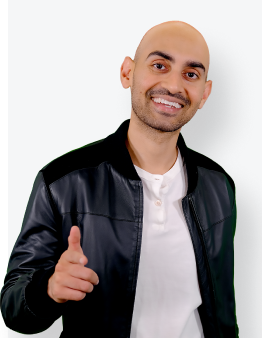 See How My Agency Can Drive Massive Amounts of Traffic to Your Website
SEO - unlock massive amounts of SEO traffic. See real results.
Content Marketing - our team creates epic content that will get shared, get links, and attract traffic.
Paid Media - effective paid strategies with clear ROI.