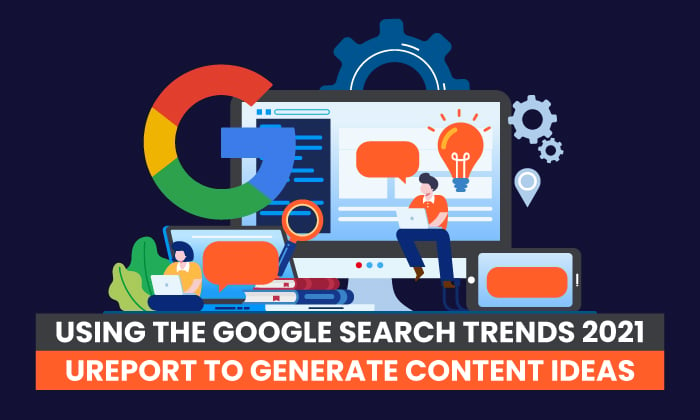 As marketers, we're constantly attuned to Google's ever-changing algorithm, keeping an eye toward shifts in prioritization and SERPs.
Google is pretty good at equipping users (and businesses) with information about what it considers important by providing resources like their search engine optimization (SEO) guides and the annual Search Trends report.
The Google Search Trends report can be an incredible asset that allows you to dig into users' search habits and gain access to a steady stream of content ideas.
In this blog, we'll unpack how to mine the Google Search Trends report for content gold to flesh out your content calendar into 2022 and beyond.
What Is the Google Search Trends Report?
Published each year, the Google Search Trends report aggregates the highest-ranking terms for the year.
Curious readers—or those of us looking for content ideas—can visit the mini-site to explore search volume through several lenses.
You can break down by region and then topic, including categories like actors, TV shows, sports teams, songs, and many more.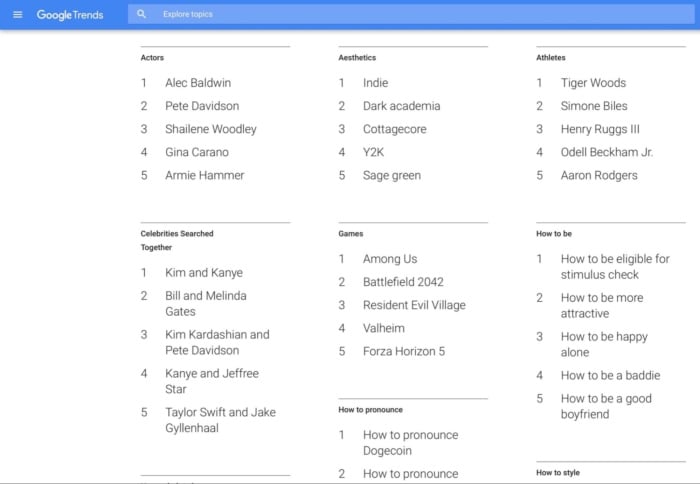 While this report can certainly generate year-end nostalgia, it also offers a unique perspective into the terms that gained the most search volume and traction in the last year.
For marketers, that data can be gold.
Top Trends from the 2021 Google Search Trends Report
Regardless of what region you're researching, you'll find a common theme in this year's report: perseverance.
2021 saw searchers looking for "how to heal" and "how to be hopeful." This theme resonated in more concrete searches as well with high volume searches including, "how to start a business in 2021" and "how to get a job in 2021."
Entertainment was another balm in a complicated year. We looked to Google for distraction and clarification, typing in searches like "Squid Game" and "Amanda Gorman."
Here are a few other Google Search Trends that got a lot of attention around the globe this year:
Australia vs India
India vs England
IPL
NBA
Euro 2021
Copa América
India vs New Zealand
T20 World Cup
Squid Game
DMX
In the United States, here's what users were most interested in overall:
NBA
DMX
Gabby Petito
Kyle Rittenhouse
Brian Laundrie
Mega Millions
AMC Stock
Stimulus Check
Georgia Senate Race
Squid Game
While these searches can entertain, they can also inform your content strategy, by helping you create content that users are likely to be interested in.
How to Use the Search Trends Report to Generate Content Ideas
Struggling to come up with fresh, new content ideas? I'm no stranger to the frustration that comes with this.
Using Google Search Trends, you can determine what topics users are interested in, increasing engagement while building relationships and good will.
Below, I'll break down the five best strategies for harnessing the insights associated with the search trends report to generate content ideas.
1. Use Popular Search Terms and Find a Unique Angle to Cover the Topic
While a blog post about the permanence of the cottagecore aesthetic might be popular, this topic may not align with your brand. However, also topping the aesthetics search list is "sage green," a topic that might be related to more industries.
Whether you're a small boutique or a landscaping company, you can take advantage of this particularly high-volume query and build out a content plan to address it.
Sage green might not be in your wheelhouse.
If that's the case, look for other search terms that might meet your audience's interest in some way. This part of the Search Trends report breaks down searches by different topics, including:
culture
economy
entertainment
environment
health and wellness
news and events
philanthropy
representation
sports
"How to maintain mental health" was searched more than ever in 2021—most industries could leverage that to provide mental health advice and tips to their audience. For example, I might write about how to maintain mental health as a remote digital marketer or how to help your remote team maintain their mental health.
By aligning your audience's interest with a popular search query, you not only increase visibility of your content, you also offer your existing and would-be audience a fresh perspective within your industry.
2. Search for Topics Using the Search Bar
Suppose you're curious about the search visibility behind a certain query. In that case, you can use the Google Search Trends report to explore how much a specific term resonates, as well as related queries and terms.
For example, we searched "digital marketing."
In addition to highlighting the term's prominence, the report also offers tons of valuable detail. We could build a content strategy with a pretty solid idea of what type of content will and won't resonate from this one search.
In the "related topics" section, I see terms like education assessment and professional development, which means a list of digital marketing courses or training might do well.
Search the name of your industry and the main key terms you target and see what content ideas pop up.
3. Use the Google Trends Report to Find Topics that Appeal to Gen Z
In 2019, Gen Z officially outnumbered millennials, tallying 32.2 percent of the world's population.
Even more impactful, Gen Z makes up over 40 percent of U.S. consumers.
Consider this: a third of the world's population is Gen Z. You're doing your brand a huge disservice if you don't consider how to speak to this massive, tech-empowered group.
After you've identified topics you know resonate through your search bar exploration, how can you ensure your content resonates with this unique group?
The answer is pretty straightforward.
Your content needs to be more interactive and appealing.
Here's how to do that:
Create More Interactive Content
The more opportunities audience members have to interact with your content, the more likely they will.
By incorporating interactive elements, you encourage action. Next time you're planning content, consider including a poll, stickers, or slider that allows your audience to truly engage with your brand.
Personalize Your Messages
Gen Z grew up amid a time of increased personalization. In fact, they've come to expect it. Be sure that you use every personalization opportunity to reach this coveted demographic.
Time-Sensitive
Fear of missing out, or FOMO, is still very much a thing. Take advantage of this fear by incorporating time-sensitive offers into your content, forcing your audience members to take action or miss out on a one-day-only deal.
Make Your Content More Visually Appealing
It's no secret that Gen Zers flock to platforms like Instagram and TikTok, home to bite-sized video content. Take advantage of this content preference by drawing inspiration from the short, visually appealing videos that spread like wildfire.
4. Create Content Around Topics You're Passionate About
It's always easier to create compelling content around topics that resonate with you. As you peruse the 2021 Google Search Trends, keep an eye toward topics that resonate personally with both you and your brand identity.
Start by looking at the major search terms in each main topic I listed out above. Let's say you work or own a coaching business and are looking for more topic ideas.
A quick look at popular "culture" topics shows us doom scrolling is the most popular topic in the culture section. How can you use that to your advantage? By matching it to your brand identity.
As a coach, you might write about how to avoid doom scrolling, how doom scrolling impacts your job search, or create a challenge to encourage your followers to stop doom scrolling and improve their mental health (which was another popular search term, as you might recall!)
After identifying high-performing topics, create a content plan to address them. Will you create blog posts, ebooks, or courses? Can you use these ideas in other areas of your marketing, like paid ads?
5. Identify New Niches
If you're searching for a new niche, Google Search Trends is a great way to identify rapidly-expanding niches that may have content gaps you can fill.
To see search growth for a particular topic, simply set your search duration to "2003 to present," so you can see long-term traffic on the topic.
This can also help you see when topics are most popular in a specific year, allowing you to plan your content publication around timeframes when Google users are historically searching for specific terms each year.
For example, topics around "fly fishing" tend to peak in the summer, when the weather's nice. Tips for Black Friday marketing tend to peak in late November, as you might have guessed.
Frequently Asked Questions About the Google Search Trends 2021 Report
What is the most searched thing on Google in 2021?
Globally, the highest-volume search term was "Australia vs India." In the United States, the most searched term in 2021 was "NBA."
How do you find what is trending on Google?
Google releases their year-end search trend report once a year. In these pages, you'll find the highest-volume search phrases in a variety of different categories, as well as through a geographical lens.
Throughout the remainder of the year, you can visit Google trends to see what the world is searching.
How can you capitalize on search trends in marketing?
You can use search trends to power your content plan, perform keyword research, find seasonal trends, optimize your SEO strategy for video, and find related terms to outperform your competitors.
What are the search trends for late 2021?
The most popular search trends for late 2021 include mammography, why people are quitting their jobs, back to work bonus, potluck, small business Saturday, and how to become a volunteer firefighter.
Conclusion: Google Search Trends 2021 Report
The Google Search Trends report provides a nostalgic look at the year in review, with pop culture topics like Squid Game and news stories like the disappearance of Gabby Petito. However they've also given us a tool we need to gain greater visibility into search patterns.
By mining these trends for insights into search patterns and behavior, you can create a content plan that speaks to the topics users care about.
The uses of the Google Search Trends report goes beyond content ideas. You can also perform in-depth keyword research, use popular trends in your ad copy, and find new niches to target.
As you wade into your 2022 content planning, keep an eye toward the information Google has generously handed over—your click through rate (CTR) will thank you.
What's the most useful thing you've learned from the Google Search Trends report?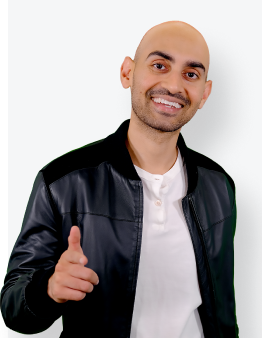 See How My Agency Can Drive More Traffic to Your Website
SEO - unlock more SEO traffic. See real results.
Content Marketing - our team creates epic content that will get shared, get links, and attract traffic.
Paid Media - effective paid strategies with clear ROI.
Are You Using Google Ads? Try Our FREE Ads Grader!
Stop wasting money and unlock the hidden potential of your advertising.
Discover the power of intentional advertising.
Reach your ideal target audience.
Maximize ad spend efficiency.