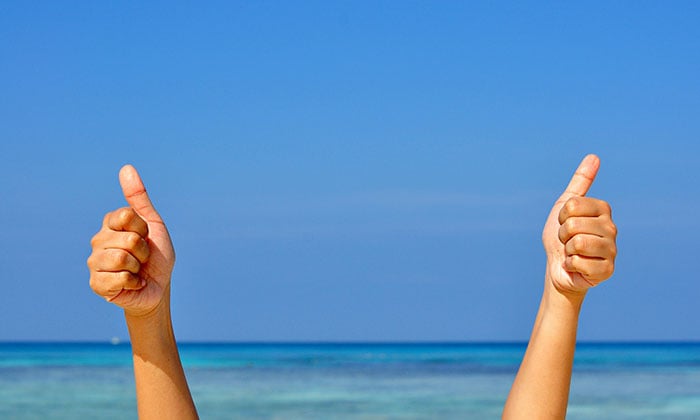 Since its founding in 2004, Facebook has grown to be a massive force in advertising, media, and our culture.
In fact, as of June 2017, Facebook had 1.32 billion daily active users on average, as reported by the Facebook Newsroom.
According to the World Bank, the entire population of the world is just under 7.5 billion, which means a little over 17 percent of the population logs into Facebook every single day.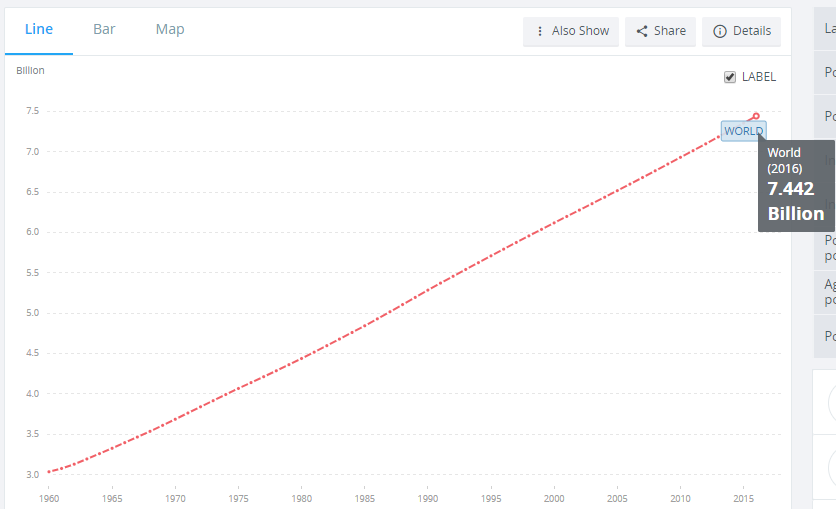 That is an incredible amount of eyes.
Those eyes could be on your business, but Facebook doesn't make it easy for businesses to deliver their content to Facebook users.
Which I respect.
It wasn't always that way. It used to be if you posted relevant content from your business page, nearly all your fans would see your content.
Then came the algorithm that sorted content.
Here's the thing: people go to this social media platform for many reasons — to reconnect with old friends, to share pictures of their kids with family, to connect with like-minded people, to grow their personal brand, and to look for businesses to purchase from.
Facebook remains the most used social media site among users in every age bracket, but to leverage it effectively, you have to figure out how to make this social networking platform to grow your business.
The first step to getting the most out of Facebook is understanding what the Facebook algorithm is and how it works.
Just like Google, Facebook filters the posts that people see when they visit the site. Facebook calls it the News Feed, and it is personalized to each user based on a variety of factors.
TechCrunch reports that Facebook looks at nearly 100,000 personalized factors when considering what content to show a user. The algorithm looks something like this: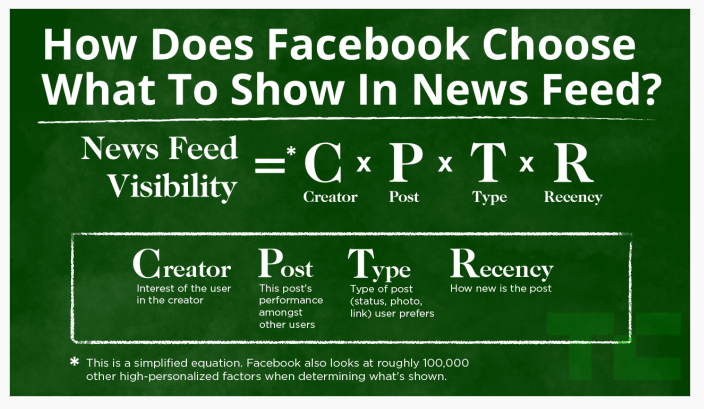 It boils down to this: your content will be shown to Facebook users based on who you are, what you post, what type of content you post, and how new the post is.
Adam Mosseri, the VP of News Feed at Facebook, recently shared one of the most vital factors of the News Feed algorithm is who you follow, saying:
"It's important to remember that the most critical input into what you see in your News Feed is who you decide to friend and what publishers you decide to follow in the first place."
It sounds like a complicated social media marketing headache.
Is there even any point in trying to figure it out?
Besides, isn't organic Facebook reach dead?
Not quite!
While organic reach on Facebook has declined, there is still a great deal of value to having Facebook fans.
For example, Parse.ly reported that Facebook was their network's largest traffic driver.
I use Facebook as a marketing channel to drive over 200,000 monthly visitors to my website or blog.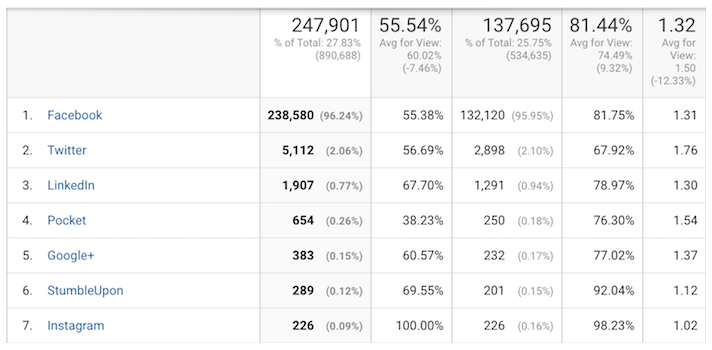 With billions of daily users, Facebook marketing is clearly still an effective way of driving followers or fans to your website.
So, how do you increase your Facebook fans and the number of likes on your Facebook?
Well, you could buy fans by using Facebook's advertising platform to promote your page through a like ad.
However, not all those purchased fans will be your ideal target audience for your sales funnel.
Or, maybe you don't have the resources to spend hundreds of dollars on Facebook ads.
And why would you spend the money, when you can earn those followers for free?
That is what I want to talk about today: how to get more Facebook fans without buying them.
It can be done, and I am going to walk you through exactly how to do it.
Fill your page out completely
The first step seems obvious, but it is one that many businesses fail to leverage completely.
If you are just filling out the basics, you are missing out on a bunch of valuable Facebook real estate and miss increasing Facebook conversion rates.
You can add tons of information to your Facebook page including your website, Twitter handle, email, phone number, videos, photos, jobs, and much, much more.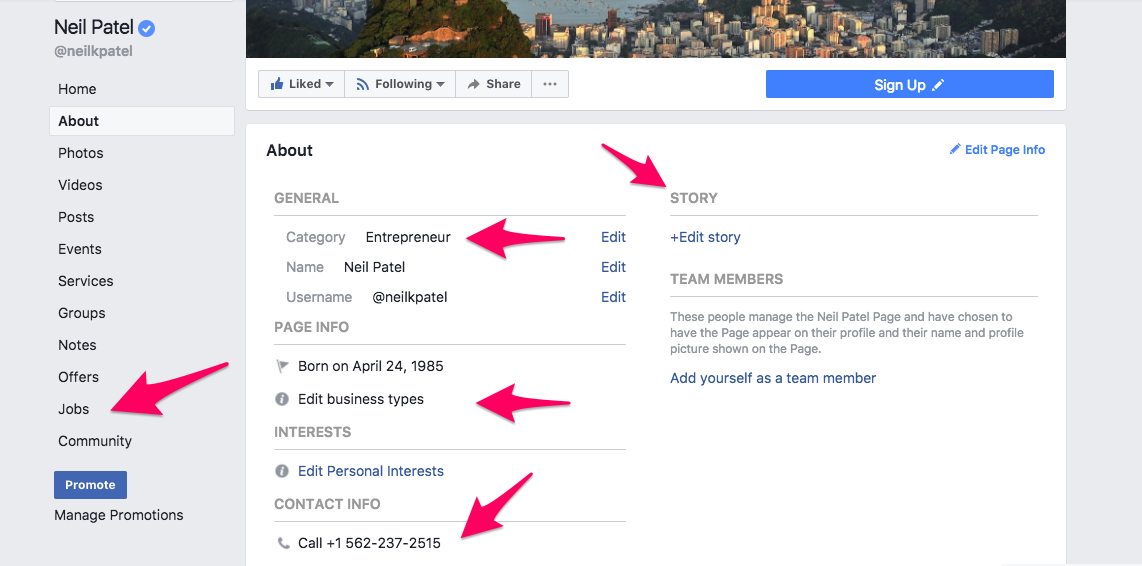 Make sure you use this space by adding as much information about your business as possible.
Step 1: Add your info to the suggested sections.
I suggest you start by making sure you have completely filled out these areas of your Facebook profile. As a part of your Facebook marketing strategy make sure that everything is in place, from cover photos (or Facebook video cover) to your mission description and link.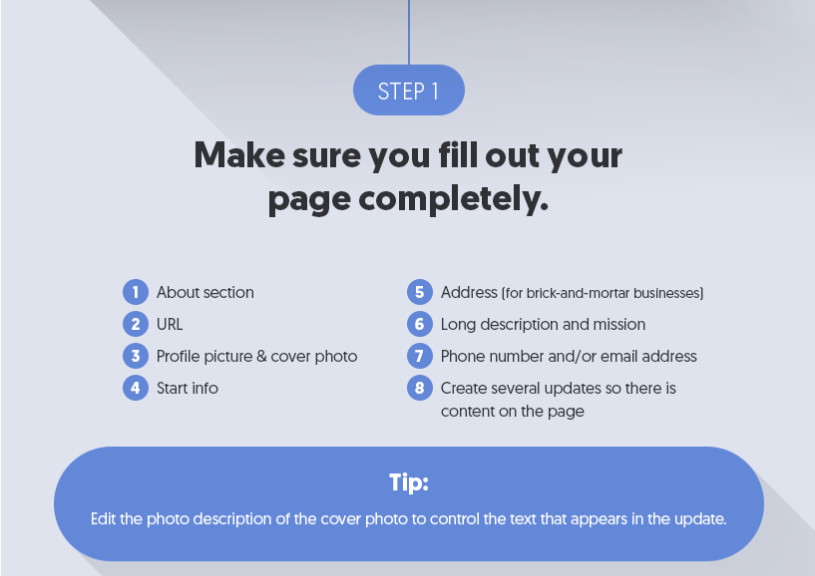 Step 2: Optimize your Facebook profile.
As you fill out your information, make sure to include key terms related to your brand.
Social Media Examiner recommends using an iconic or brandable profile picture so people will immediately recognize your brand.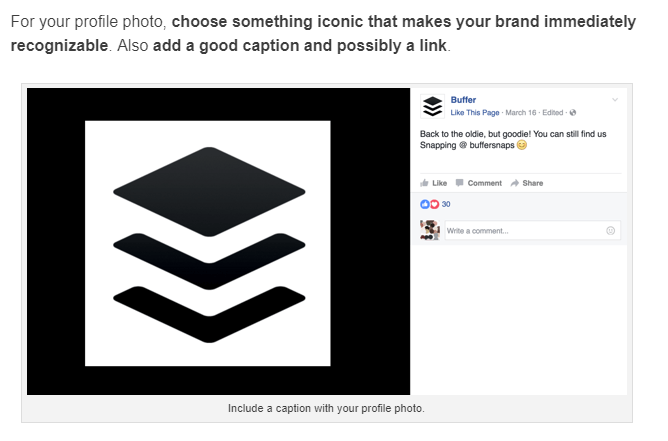 Mine your Google Ads or Google Analytics account for key terms and include them wherever you can.
Ask friends to like your page
I am not just talking about your parents and your BFF from middle school here. Yes, you should ask your real-life friends to like your page.
But make sure you also invite existing contacts and your online friends as well. In a nice, non-annoying manner.
Here are a few simple ways to get free Facebook fans and likes without spending money by leveraging current friends of your brand:
Ask Twitter/Instagram/LinkedIn followers to also follow your brand on Facebook.
Add a CTA at the bottom of your next newsletter asking your mailing list to like you on Facebook.
Add a Facebook button to your website.
Place a sign with your Facebook URL in your place of business if you have a brick and mortar location.
Add your URL to print media, such as business cards and brochures.
People can't like your page if they don't know you have one.
Share content that resonates with your audience  
Now that we have covered the easy ways to gain fans engaged with your posts, you should have at least a few dozen.
I wanted to start with the obvious methods because those are often underutilized.
Now it is time to get into methods that are a little less obvious and more nitty gritty.
The best way to increase your audience on Facebook and expand your reach for free is to share useful posts that your fans want to engage with. More interaction means more people will see your Facebook posts, including the friends of your fans.
But what does your audience consider to be useful?
You need to do a little investigative work, and this is where Facebook Insights comes in.
Facebook Insights tracks user interaction on your Facebook page, in addition with Facebook likes and Facebook comments includes who your audience is, what posts they interact with the most, what time they are online, and more.
Insights is free to use, and it's located on your Facebook business page.
To access Insights, go to your Facebook business page, then click Insights in the top most toolbar of Facebook.
You see an overview of insights about your Facebook page and your audience, including page views, post engagements, new Facebook page likes, and your total reach.
In the left sidebar, there are even more areas you can explore.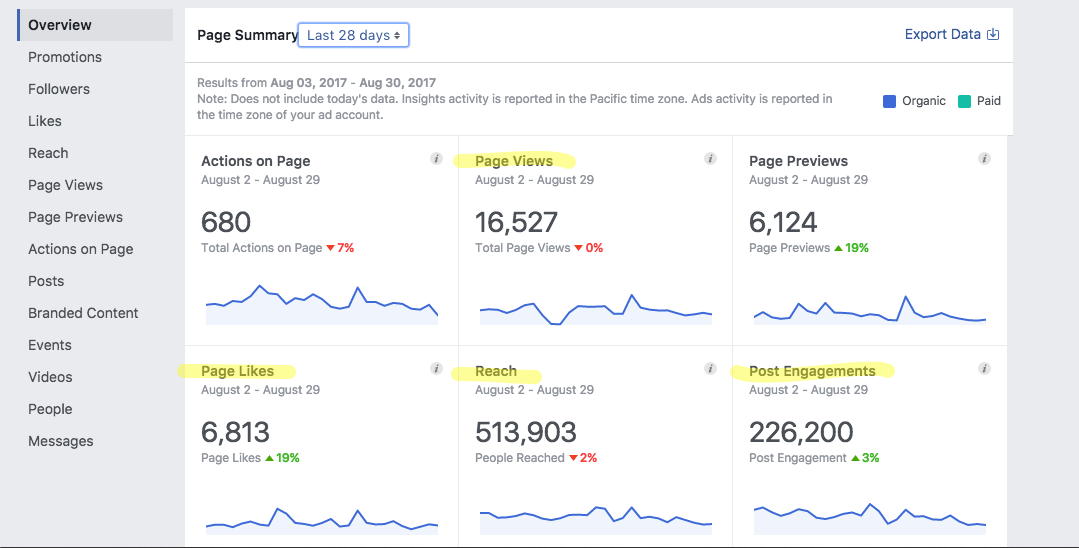 Scroll down past the main overview, and you will see an overview of your last five posts and then similar pages to watch.
The "Pages to Watch" section is the section we want to explore.
You will see a list of pages Facebook thinks are similar to yours.
Click "Watch Page" to add up to five pages to your "Pages to Watch" list.
Once you add a few similar pages to your "Pages to Watch" list, you will be able to click on the page names and see which posts did well on their page.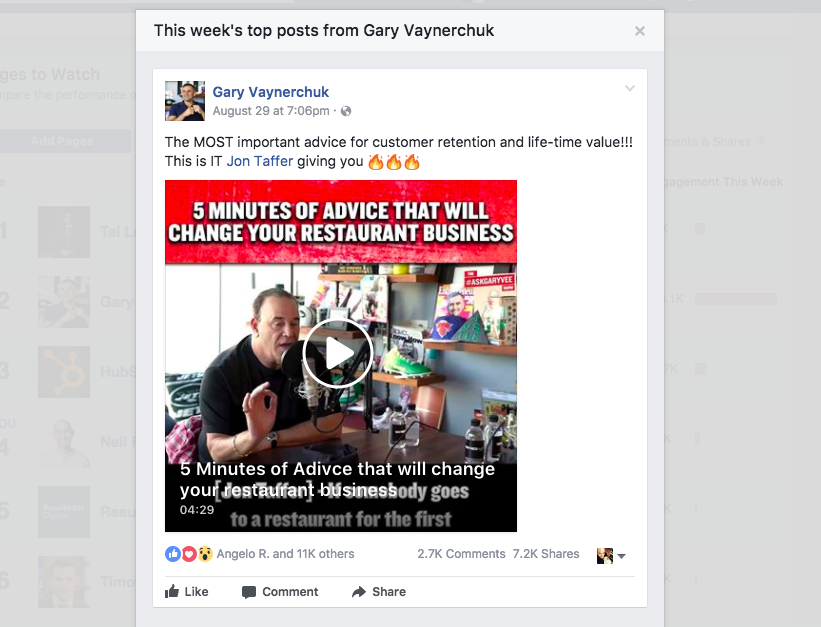 Now that you can see what type of content marketing strategy worked for your competitors, you have to leverage that information to engage your Facebook followers and increase your organic reach.
Here is how to do it:
Look at the most engaging posts for your top five competitors on Facebook.
Make a list of topics and key terms that are resonating with their audience.
Head over to Google and search for the topics and key terms you listed in the step above.
Search your own site for similar content.
Schedule the posts you find on Google and on your own site to publish to your Facebook page.
This is also a great way to find inspiration for the type of content that increases engagement and you should be posting on your own website so you can translate that Facebook engagement into website traffic.
Also, make sure to pay special attention to when your audience is online when are the best times to post and schedule your posts for when they are most active.
You can find out when your audience is online by going to Insights > Followers.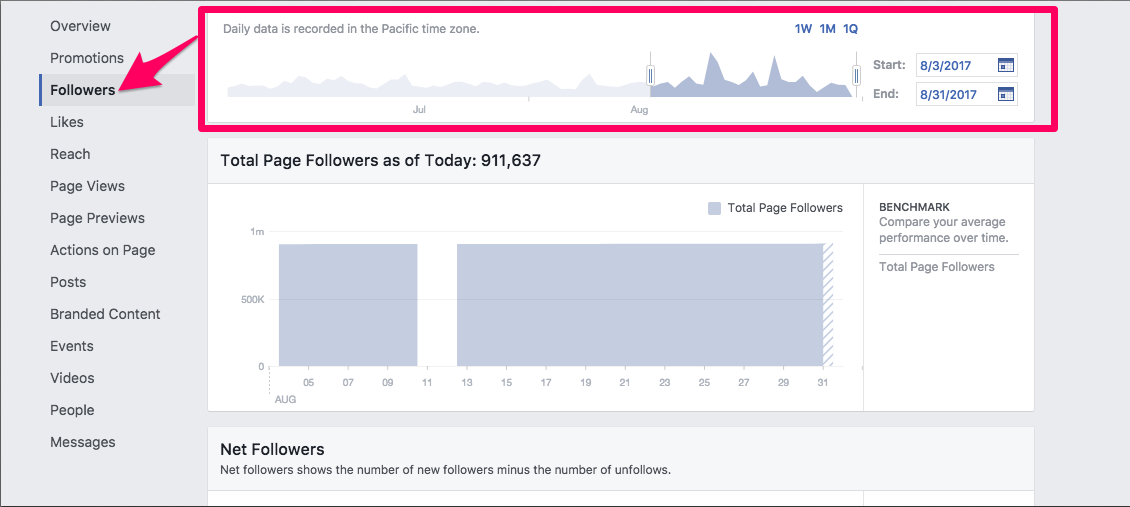 Start conversations
When business owners start using Facebook, they tend to forget that it is a social media network.
Which sounds painfully obvious, but it isn't to some business owners.
Have you seen a local restaurant that posts nothing but their daily special with no call to action? Engagement tends to be pretty low.
So, I want to be clear: If the only content you post on your Facebook page is your own, you won't do well and you won't get many Facebook likes.
Unless your brand is really, really cool and people like it.
For example, BuzzFeed.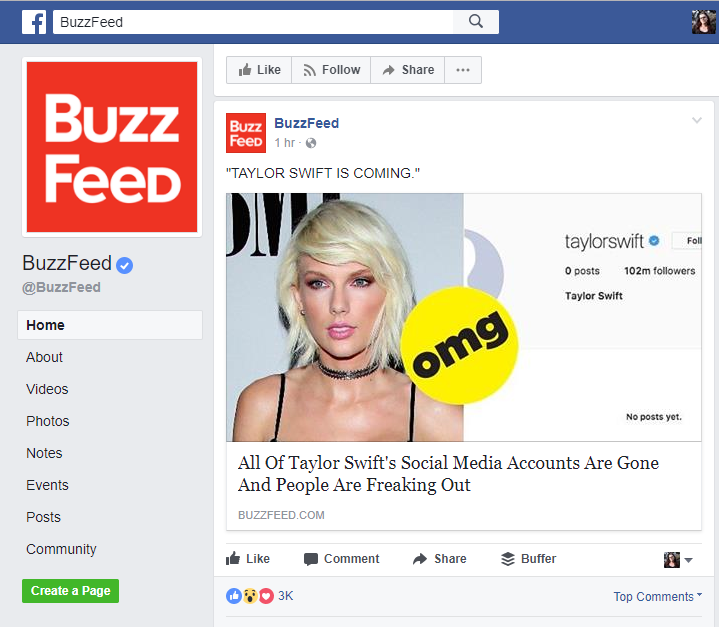 Or Old Spice.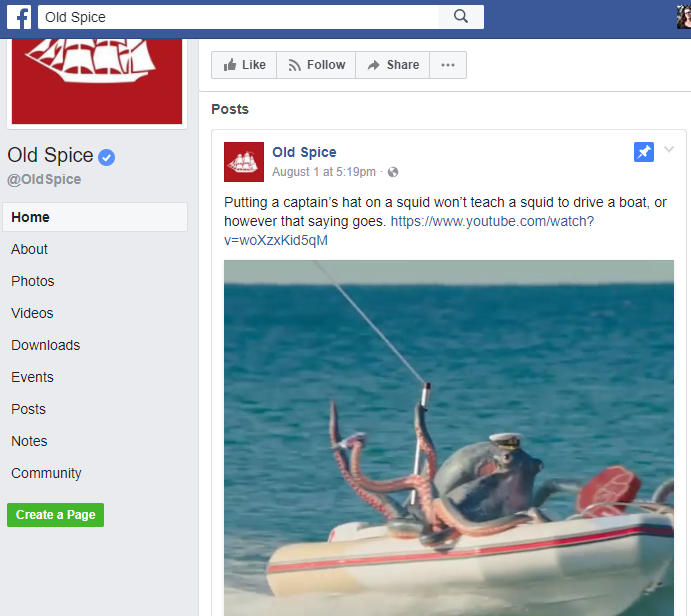 Those brands can get increasing likes and may be able to get away with only posting their own content because they have spent years building a brand that publishes off-kilter content people love.
If you, for example, run a local pizza joint in Seattle, you need to post content that your followers likes, that the people who love pizza will like.
Or, let's say you run a parenting publication. Word of caution: you can't just post links to your website — you need to start conversations.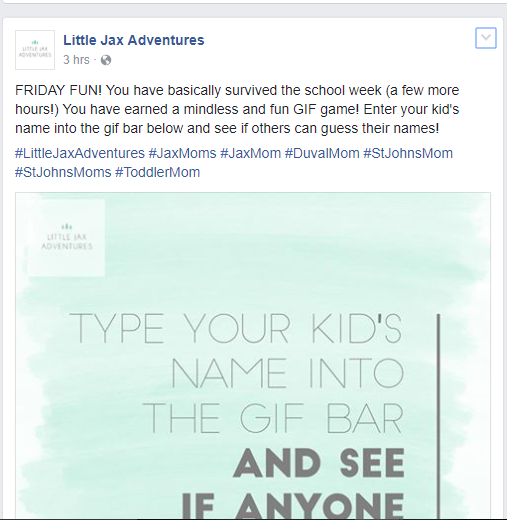 So, how do you start conversations on Facebook?
Here are a few ideas to get the creative juices flowing. Just remember that any conversation starters need to fit with your brand image.
Create an image to ask a question, instead of posting just text.
Share related content that aims to make your audience's life better, such as recipes, DIY guides, and memes — but only if it makes sense for your brand.
Host a live Q&A session, either on a post or through live streaming.

Host interactive

Facebook contests,

like this one from Fanatics: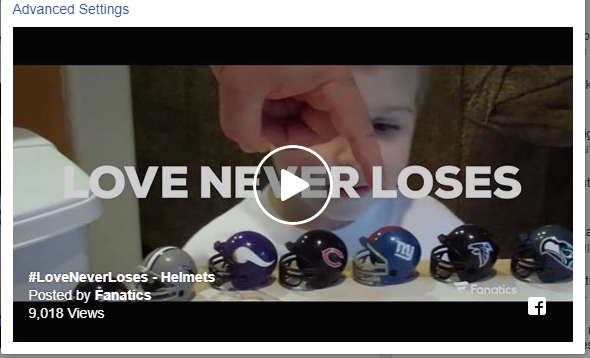 Invite people who like your posts to like your page
The last few tips I shared were about finding or creating content your audience will want to engage with and will help you gain likes on your Facebook page.
Engaging content that people will actually read also helps you increase the number of fans you have by showing your content to more people.
Each time someone likes, comments on, or shares one of your posts, Facebook shows this action to some of their friends.
And those friends might also like or comment on your content.
And now, you can invite those people — who have interacted with your content but don't like your page yet — to like your page.
You already know they are at least somewhat interested in the content you post, which means there is a good chance they are in your target audience.
Here is how to do it.
Go to your Facebook page and find a recent post that has gotten a good amount of engagement.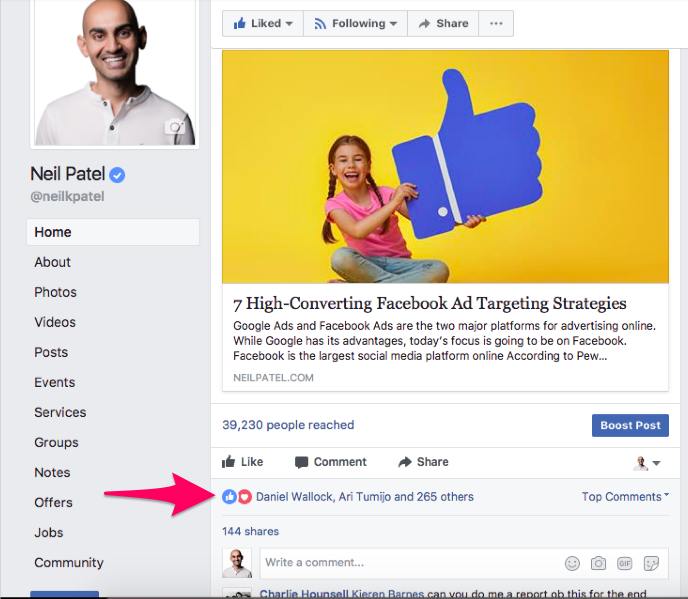 Click on the list of people who have reacted to your post.
You will see a list of people who liked the post, along with a button to invite them to like your page.
If the button is grayed out, that person already likes your page, so there is nothing to do.
If the word "Invite" is black, click it to invite them to like your Facebook page.
It's that simple.
The benefits of this approach are twofold.
First, it is the only way you can invite someone who is not your friend on Facebook to like your page.
Second, you are inviting people who have already indicated they are interested in the content you share, which means there is a better-than-average chance they are interested in your business as a whole.
Try live streaming
Live streaming is a newer Facebook feature that allows you to use the camera on your phone or computer to post a live video to your Facebook page. Viewers can like, share, or comment on your video.
It first launched to all users in April of 2016.
Since its launch, it has become a tool for activists, politicians, business owners, celebrities, and regular people who want to share their world with their friends.
Just like social media sites broke down the barrier to entry for publishers, now anyone can share live video immediately with nothing more than a cellphone.
The benefit for business owners, however, is how Facebook ranks live videos.
From the Facebook Newsroom in March of 2016:
"Facebook Live videos are more likely to appear higher in News Feed when those videos are actually live, compared to after they are no longer live. People spend more than 3x more time watching a Facebook Live video on average compared to a video that's no longer live."
So what does this mean?
Facebook live videos get preference in your fans' News Feeds. So, they are more likely to see live videos than an image, recorded video, or text post.
Because your fans are more likely to see your live videos, they are also more likely to comment on or like your video.
That engagement means more of their friends will see your live feed.
Basically, it means live video gets more views than any other type of post on Facebook.
More eyes on your content will naturally lead to more engagement and more likes or comments (particularly if you use the tip above and invite those who react to like your page).
Ready to get started?
Here is how you can get the most out of a live video on Facebook.
First, come up with an engaging topic.
You could host a live Q&A session with an expert, like Search Engine Journal did.
Or, you could talk about an event or make an announcement, like the Buffalo Bills coach did after a recent game.

Kelsey Jones suggests hosting a "take over" of your page.
"Ask industry experts to 'take over' your Facebook Live for 30 minutes or more. Send them questions to answer during the live stream in advance and also ask live viewers for questions as well, which will pop up on the expert's screen as they are doing the live stream."
Once you pick a topic, it is time to schedule your live video so your audience knows when you will be streaming.
Scheduling gives your audience a heads up that you will be going live soon so they can be prepared to watch.
Remember, you can only do this from business or fan pages, not from your personal Facebook profile.
Here are the steps to schedule your live video, via Switcher Studio:
Finally, make sure you have a plan for customer support or moderation during your live video.
A great example of this is the Google Webmaster hangout.
Plan to have a colleague or assistant hanging out in the comments section to answer questions, relay questions to the speaker, and link to relevant posts.
Live video is a simple way to reach a wider audience and leverage a newer technology that is not yet oversaturated.
Conclusion
Facebook fans are not just a vanity metric. A carefully crafted Facebook audience can be used to drive traffic and leads to your website or even be turned into brand ambassadors.
Paying for "Like" ads is one way to get more Facebook fans, and it can work.
In fact, one month I spent an average of $12,512 a day on Facebook ads. The results?
I built a ton of brand awareness, but I didn't build a strong base of highly engaged Facebook fans.
It worked for my purposes, but it doesn't work for everyone.
I hope these strategies help you see that you don't have to pay for Facebook fans. You can grow your Facebook audience naturally.
What non-paid strategies have you used to earn more Facebook fans? I'd love to hear what worked for you.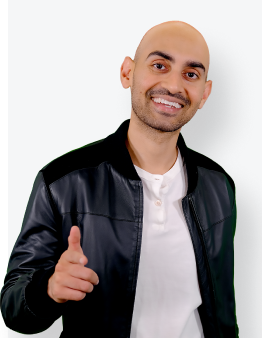 See How My Agency Can Drive More Traffic to Your Website
SEO - unlock more SEO traffic. See real results.
Content Marketing - our team creates epic content that will get shared, get links, and attract traffic.
Paid Media - effective paid strategies with clear ROI.
Are You Using Google Ads? Try Our FREE Ads Grader!
Stop wasting money and unlock the hidden potential of your advertising.
Discover the power of intentional advertising.
Reach your ideal target audience.
Maximize ad spend efficiency.