In spite of their IPO flop, Facebook is still a powerhouse. It can help you attract and drive a ton of traffic to your website, create a loyal community and build a profitable brand. In other words, Facebook should be part of every startup's marketing plan.
And with the new Facebook fan pages design, you have many more options to leverage this social media platform.
If you had a Facebook fan page before the design change, then you'll recognize some of the major changes:
Timeline cover photo – This is the biggest change to the new design, and it provides you with a great opportunity to make an immediate visual impact on any visitors.
About info – This information has moved from the tiny box in the sidebar to right under your cover photo. Slide a link into this bio, and you'll drive more traffic to your site.
Apps – Next, is a column devoted to your apps. You have a total of ten boxes for apps.
Now let me show you how to jumpstart your Facebook marketing strategy to help you get the visitors, fans and attention you need.
Choosing the right cover photo
The timeline cover photo is where your startup branding begins. Putting the right (or wrong) photo up there can make (or break) your brand. Here is what you need to think about:
Size – Facebook says that the best photo size is 851 x 315 pixels. You can make them as small as 399 pixels wide, but you won't get the best resolution. Crop and edit until you get the best presentation.
Rules – Facebook prohibits you from posting advertisements, coupons or promotions. And there are restrictions on price and purchase information. Also, you can't put contact information in your bio or calls to action like "Share" or "Like."
Ideas – Creativity is the name of the game here. What should you post? Tide puts up an inspiring message. SEOmoz uses cutesy art. Mashable posts the latest news or event. Startup Pogoseat uses an image of their app on a phone – displayed on a black background pierced by bright floodlights shining over a night time outdoor sporting event.
Creating status updates
The status update for the new business pages isn't really different from the way you update your own personal account.
Post a link to your wall – Copy and paste the links, and Facebook will grab the link preview.
Posta a YouTube video – Copy and paste the link, and Facebook will grab the video so your fans can watch the video inside Facebook.
Upload photos or videos – Facebook forces you to click three times in order to upload photos and videos; but once they are in your timeline, they will look gorgeous.
Ask a question – You can create a poll or ask an open-ended question by clicking on the "Ask Question" option.
Post a milestone – Need to announce your new office digs? Just got that VC backing after months of back-breaking work? Click on the "Milestone" option and brag away!
Pin a specific status update at the top – If there is a particular status update you want to stay at the top of your wall, then click on the "Pencil" icon and hit "Pin to Top." This update will stay there until you pin a new status update or unpin the old one.
Highlight a specific update – When you want to bring extra attention to a status update, click on the "Star" icon, and the post will stretch across both columns. Here is an example from Mashable:
The nice thing about Facebook fan pages is that you can target who sees your updates with the demographic option. And you can make changes to the dates when updates are shared.
For example, if you forgot to add Wednesday's post and it's already Friday, then just add the post, hover over the update, click the "Pencil" icon and hit "Change Date."
Optimizing your apps and custom content
The new Facebook design lets you do some pretty cool stuff with your apps and content in order to bring more attention to them. Let's take a look.
Likes – Out of the 12 boxes that you get underneath the cover photo, one of them is taken up by the number of likes you have. Another box is taken up by your personal photo. The Today Show uses its logo.
Apps – If you've created an app or two, then you can display this in one of the boxes beneath the cover photo.
Custom content – The Today Show uses their boxes to display photos, events and special portions of its show like "Jill's Steals and Deals."
Customize order of boxes – The photo box will always be in the first position, but you can re-arrange the next three spaces. This allows you to display your best content—whether it's a photo, event details, an app or call to action to subscribe—in those positions. How do you do this?

Click on the down arrow beside your row of apps.
Hover over a tab.
Click the "Pencil" icon.
Arrange boxes with the "Swap Position With" option.

Change tab name and image – While you can't change the photo and likes boxes, you can change the image and name of all other boxes. The steps are simple:

Click on the down arrow beside your row of apps.
Hover over a box.
Click the "Pencil" icon.
Choose "Edit Settings."

Change the name.
Change the image. The image should be 111 x 74 pixels. You can use larger images, but make sure they match proportionately. Otherwise, you'll get a distorted image. Images that are too small will not fit properly.

Customize default landing tab – Since the old landing page is gone, your only option now is to link to the tab you want your visitors to land on. Here's how to do that:

Click on the appropriate tab.
Copy the URL.
Paste this URL anywhere you want to drive traffic.
Using the new admin panel
The admin panel will give you an at-a-glance look at your most important pieces of information. Let's look at some of these features so I can show you how to use them.
Notifications – What's new about notifications is the RSS feed. You'll love this if you manage a lot of pages. Just subscribe to the RSS feed, and you'll see all of the notifications in your RSS reader.
New Likes – You can see all of your new fans by clicking on "See All" in the "New Likes" section. Drop down, and you can see which Facebook pages have liked your page.
Messages – See all incoming messages in this section. Select "See All" to view every single message, or select a particular message to see what someone wrote, and you can reply.
Building a fan base
There really are just two important features of the new admin panel that you should care about. One is the Manage menu and the other one is Build Audience.
Let's look at Manage first.
Edit Page – Here you can manage your permissions. You can determine post visibility, choose the private message option and give fans the ability to post on your page. These settings will impact user engagement.
Use Activity Log – This is a lot like your personal timeline profile. You can scroll through your timeline to see your posts and your fans' posts. On an individual update, you can tweak it with features like Hidden from Page, Change Date, Report / Mark as Spam, Highlighted Post and Allow on Page.
See Banned Users – This will allow you to manage those users who you've banned. You can unban users from this feature, too.
Next, let's look at the Build Audience feature.
This is a great feature to help you build a fan base. Here's what you can do:
Invite Email Contacts – If you've been amassing a list of email contacts, then you can invite them to your Facebook page. Keep in mind that this is limited to 5,000 email addresses or less. If your list is larger than that, then you'll need to break it up and contact them over several days.
Invite Friends –You can suggest your page to your Facebook friends. Your friends will receive a notification on their profile pages.
Share Page – You can share a post on your personal profile page to help make people aware of your new fan page.
Create an ad – If you have the budget, then you can explode your Facebook fan page's exposure with the use of ads. This feature allows you to target users based on demographics, location, gender, income and so on.
Using Insights to improve content performance
Naturally, every startup should track and measure their Facebook activity to determine whether they are failing or succeeding. Facebook Insights is a great tool to help you do that.
Inside the admin panel, click on "See All." Your first view will be an overview—or dashboard. This gives you a rundown of this information:
Total Likes – Running total of all of your fans, which doesn't include likes from other fan pages.
Friends of Fans – You can see how many friends each of your fans has. This will give you some kind of indication as to the prospect pool you can tap into.
People Talking About This – This feature will show you all of the activity on your fan page by your fans. Whether they've posted something about you on their wall, engaged in one of your status updates (shared, commented or liked), answered a question, mentioned you, tagged your page, checked at your brick-and-mortar location or responded to an invite.
Weekly Total Reach – This feature will show you how many people have seen your content in the last seven days. This will give you a good idea of how effective your content is.
Posts– You can see how many times you've posted on your fan page by looking at the purple graph in Insights. You can then see a breakdown of individual posts by a variety of data. For example:

All Post Types – Click on the dropdown menu to view all of your latest posts.
Post – See a snippet of a post, or click to see the full preview.
Reach – This will tell you how many people have seen the post in the last 28 days since you published it. What's really cool is that you can click on the number to see the sources of these views, too, like viral, paid or organic.
Engaged Users – You can look at how many people actually interacted with the content. You can see the clicks that were generated, as well as the likes, shares and comments.
Virality – This will tell you how many people actually did something with one of your posts versus the number of people who saw it. It is a percentage of how viral the content was.
Digging into Likes
In this feature, you can see who has interacted with your content, based on demographics like language, cities, countries, gender and age.
If you want to see what actually converts your visitors into fans, then look at the sources that referred all of this engagement in the "Where Your Likes Come From" feature:
This is broken down into these measurements:
On Page – This will tell you the number of people who landed on your fan page who were already on Facebook.
Like Box and Like Button – This will tell you which fans converted by clicking on one of the Facebook social plugins for Like Box and Like Button from a website.
Timeline – How many likes were generated from people visiting your timeline and liking? This feature will show you.
Admin Invite – This will show you the number of people who converted after you sent them an invite.
Mobile – Likes generated from people on a mobile device.
Search Results – This will show you the number of likes from people who searched inside Facebook.
Page Likes Another Page – This will show you the number of pages that have liked your page.
Facebook Recommendations – This will show you who converted from a Recommended Pages unit.
On Hover – This will tell you how many likes you got when someone converted through the popup window that appears when someone hovers over the link leading to your page. This can occur anywhere on Facebook.
Ticker – This shows you the fans you picked up when you were mentioned in the news ticker.
Friend Referrals – This is the number of people who liked your page because one of their friends liked your page. It gives you a good idea of how valuable recommendations can be.
You'll also want to check out the number of unlikes you get each day so you can measure the impact of your content. You can drill down to see which post caused a spike in unlikes and avoid posting similar content.
Understanding your content's reach
Next, you'll want to see how much impact your content is having on your audience and beyond. This is the principle behind "Reach," and you will want to pay particular attention to two measurements:
Total Tab Views – This will show you how many times people have viewed each one of your tabs.
External Referrers – This measurement gives you a picture of where your fan page traffic is coming from outside of Facebook, including links that you have pointed to your Facebook page.
Exploring "Talking About This"
This will show you who is talking about your Facebook fan page, and it will give you demographics like gender, age and location.
In addition, you can see how people are reacting to your content via likes, comments, photos, tags and external posts.
Digging deeper into the data with "Export Data"
If you are like me, you'll want to see all this data in a spreadsheet so you can tinker with the numbers. Facebook makes this pretty easy.
Simply export the page and post-level data. Both Excel (.xls) and comma-separated text format (.csv) are acceptable formats.
Research your competitor's Facebook fan page activity
The Insights for All tool will allow you to see how many people are talking about a particular page, how many likes it got in a week, what was the most popular week for that page, the top location for that page and the most popular age group for that page.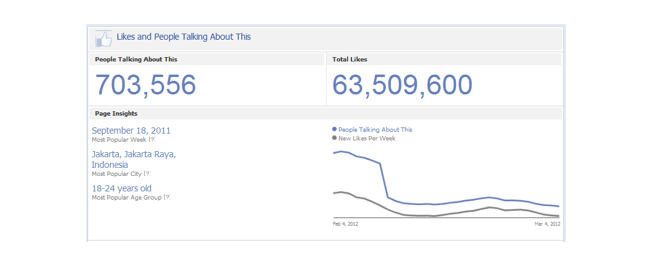 Here's how you use this to spy on competitors:
Scroll through the timeline of your competitor to see what kind of content they are sharing to get the kind of activity they are getting.
Target your Facebook ads towards your competitor's favorite age group and location to pick up more likes.
Judge whether your competitor's marketing strategy for Facebook is actually working…and then decide whether you want to copy it or not.
If your competitor is being successful with their Facebook page, then you'll want to know what they are doing so you can do it, too.
What a startup needs to do next
This is a lot of information to throw at a startup, so let me now break it down to practical steps that you can follow.
Use a great cover photo – Consider hiring a professional to either design a great image for the cover photo or hire a photographer who can take a good picture of your product. Remember: design is marketing. Your cover photo should have personality to draw people in; otherwise, nobody will stick around.
Optimize your "About" information – You are limited to 165 characters, so make this count. Send a clear, concise and compelling message that will encourage people to follow your page. And don't forget to include you URL.
Evaluate your updates – You can't engage people and encourage them to like your page if you don't have a stream of steady updates. Create a schedule that allows you to post at least once a day. And make sure you are posting content that people are engaging with. If you just post once a day and nobody responds to it, then you need to go back to the drawing board.
Backdate to fill up timeline – The nice thing about the new Facebook design is that you can relocate updates on your timeline. Click the "Pencil" icon and change the date so that you spread the content. This will make it look like you have more content and activity than you actually have.
Break up third party updates – Some third party platforms will clump all of your status updates together. Just like backdating, go through these clumps of updates and spread them out. Click on the "Pencil" icon above a group of updates, and then view individual stories. You'll see these posts in your activity log, which you can change by clicking on the "Circle" icon beside the update, and then highlighting it.
Evaluate your page information – You'll want this page to work really hard for you and your startup, so make sure you share clear, concise and compelling information.
Evaluate your content and apps – How do your tabs and apps look to visitors? Can you have someone who is not connected with your company look at the page. Make sure the sizes of the images and apps fit beautifully into the given size limits. If not, get help from your app developer or designer.
How to maintain an engaging Facebook fan page
Now that you are done with the basics, you need to focus on creating a timeline that is active, alive and attractive to visitors.
Here's what you need to do:
Post frequently and widely – Your timeline should have status updates, photos, videos, engaging questions…anything that will encourage visitors to like your page and get engaged.
Use pins and highlights – Pins are probably the best thing that happened to the new Facebook page timeline, so take advantage of this feature to keep important information at the top. Plus, use the highlight function to stretch content across both columns, drawing even more attention to worthy posts.
Respond to messages – One of the worst things you can do is not reply to messages people send to you. Keep an eye on the notifications that you get, and respond promptly. This little effort will reward you with a loyalty from those visitors that could turn into shares, recommendations and more mentions.
Test, test and test – Try out new content, photos, videos…anything that can help you draw in more likes. See if changing your tabs around promotes more traffic. Change up your "About" bio and use different copy to see if you can drive more traffic to your site.
Use Insights – You are probably pathologically overworked, so the last thing you need is something else to monitor. But keeping an eye on your Facebook metrics is a must. At least, take a peek every day, and do some deep crunching every two weeks. Pull in a trustworthy intern to do this.
Conclusion
There are so many new advantages to the Facebook fan page re-design that the loss of features like landing pages is really small. I actually think you will have a better experience, create more engagement and build a bigger fan base with these new features than with the old.
Keep in mind that it takes a few weeks—if not months—for you to ramp up your Facebook engagement. If you aren't getting the number of likes you want, just be patient. Your persistence will pay off.
How else do you think a startup could use the new design on Facebook?