NOTE: Facebook has effectively taken down Open Graph. Here are some ways you can still use Facebook Search.
As Facebook evolves, it is becoming an encyclopedia of user actions: the songs your friends are listening to on Spotify, a friend's status update from their vacation, or an article shared from a website. These activities are stored in Open Graph as stories, which, when grouped together, provide detailed historical records of a user's interests, hobbies, and relationships.
The user insights available through Open Graph make it a powerful tool for effectively reaching consumers. The utility of Open Graph can be roughly broken into two parts:
User Actions are strong indicators of a person's interests because the users are actively engaging in behaviors related to those interests. User actions are not stored indefinitely; and, therefore, reflect a user's interests in real time, unlike "Likes" which may be several years old.
Open Graph Stories drive social recommendations on News Feed, such as "Mark is with Drew at Crissy Field." Social recommendations are powerful drivers of engagement because friends are more likely to trust the recommendations of their friends, a phenomenon we call "Referred Intent."
As brands and marketers increasingly embrace Facebook as an advertising medium, it is important to be aware of the fact that Facebook is a living and breathing ad platform. The rate of change in the Facebook ecosystem is rapid, and Facebook advertising today is quite different from Facebook advertising of last year.
The implementation of Open Graph will reshape how brands and marketers reach consumers, as well as how users interact with Facebook. Consequently, it is an important feature to understand and prepare for in this rapidly evolving advertising space.
How to use Open Graph for Advertising on Facebook Today
Currently, marketers can leverage only the actions that users take using apps. To use Open Graph for Facebook advertising, it is essential to first understand how user actions are stored in Open Graph.
Per the graphic below, each Open Graph story includes:
a user
an action
an object
and an app.
Actions can be anything a user can do on an app, and an object is what that action is performed on. An example is "Mark (user) listened (action) to The Beatles (object) on Spotify (app)."
There currently are two ways to advertise on Facebook using Open Graph data and both are accessible only via the Facebook ads application programming interface (API).
Action Spec Targeting
Action spec targeting allows marketers to target Facebook ad units to users based on their app activity. This type of targeting is useful for any advertising campaign on Facebook. It leverages user actions to create highly personalized advertising experiences, which is critical for maximizing user engagement.
For an e-commerce campaign, users of Gilt, Fab.com, One Kings Lane, and other fashion and shopping-oriented apps could be targeted. This targeting approach yields significant returns in the form of engagement, fan acquisition, and direct response.
To use action spec targeting, marketers must identify apps and corresponding actions that are relevant to their campaign. Continuing with our e-commerce example, you would want to target Gilt users that shopped and bought items on Gilt.
Be sure to identify as many relevant actions as possible to maximize audience reach. Once a thorough list of apps and actions has been compiled, these action spec targeted ads can be created through the Facebook ads API.
Open Graph Sponsored Stories
Open Graph Sponsored Stories generates stories about a given user action on a specific app. In the example below, a user's activity on Rdio, which can be listening to a song, creating a playlist, or more, is turned into a Sponsored Story that appears in the News Feed of their friends.
This ad unit is extremely applicable to any Mobile App Install ad campaign or online service campaign. It highlights the functionality and use of an app or service and can drive users into an installation or subscription pipeline. To create an Open Graph Sponsored Story, you must choose the app and the actions you wish to promote and then create the ad through the Facebook ads API, similarly to action spec targeted ads.
How to Prepare Your Business for Open Graph
The utility of Open Graph is not restricted to Facebook advertisers. Open Graph is an important tool for users to see all of the things that their friends are doing. Although Open Graph stories are published automatically in the News Feed, users also can search for actions in Open Graph using the newly introduced Graph Search:
Graph Search, launched in beta in January 2013 and rolled out to most users in March 2013, is a Facebook-centric search engine located at the top of each user's Facebook page. Graph Search allows users to search for friends' activities on Open Graph, including check-ins, status updates, and events attended.
If you want to find someone to see the Finding Nemo sequel with you, you can search for "Friends who like Finding Nemo who live in San Francisco." If you are planning a trip to Morocco and want some help with your itinerary, you can search "Photos of my friends taken in Morocco." Or if you want to hear a friend's review of a newly opened restaurant, you can query "Friends who have been to Central Kitchen."
Graph Search will be a valuable tool for users to explore their friends' activities and find people with relevant interests. Although Facebook has not discussed Graph Search's utility for marketers in depth and no ad units are integrated into the feature yet, it will be an important way for Facebook users to navigate the site and, of course, find and interact with businesses. With this vision in mind, there are several ways that businesses can prepare their Facebook presence for the inevitable and widespread adoption of Graph Search:
1. Increase Your Facebook Presence
Facebook has not revealed the algorithms that drive Graph Search, but there are several metrics that we can infer will be important for the return and prioritization of search results. One of the most important metrics is overall "volume," measured by how many actions have been taken surrounding a given item.
For example, if you are searching for clothing brands that your friends like, Graph Search will place brands that your friends have interacted with the most at the top of the search results. Therefore, to maximize the likelihood of a given business to appear in a Graph Search, the business must have a strong Facebook presence. This can be accomplished through traditional Facebook advertising approaches, such as fan acquisition and user engagement.
Photo Credit: FBBP
2. Encourage Actions
Check-ins are one of the most ubiquitous user actions due to their ease of use. A check-in acts as a tacit recommendation for a business from a user to their friends, so it is a powerful influencer of behavior. Accordingly, businesses should encourage patrons to check in at their locations by employing any of the following:
Ask customers to check-in at your entrance and point-of-sale.
Use Facebook's Check-in Deals in order to incentivize patrons to check-in.
Encourage check-ins by offering different deals to repeat customers (no more than one per day, but at least one per week).
3. Create an Effective Facebook Page for Graph Search
Graph Search is a great way for friends to get recommendations from their friends. Marketers expect that recommendations will weigh heavily
toward local establishments, such as bike shops, bars, and entertainment venues. To capitalize on this user behavior, businesses should ensure that they have an accurate and up-to-date local Facebook page.
If a user has a broken bike and Graph Search shows that her friend went to Mission Bicycle to have his bike fixed, but then cannot find a functional Facebook page for Mission Bicycle, she may not convert into a customer. However, a clean user flow to the bicycle shop's local Facebook page (as shown above) likely would enhance conversions.
Here is how you can ensure you have an accurate and functional Page:
Fill in all the information you can in the "About" section. Add photos and use a strong cover photo and profile image for your business.
Create an alluring Facebook page by posting compelling, authentic content. Images and videos tend to work best, especially given the new News Feed layout that places an emphasis on large visuals.
Be responsive. Respond to every question or comment (when applicable) even if they're negative. Social platforms are about communication. You should not ignore your fans and/or customers.
Predicted Future Functionality of Graph Search
Although no ad units currently exist in Graph Search, there are several ways that Graph Search could be leveraged by advertisers:
Sponsored Results – Businesses could buy ad space so that users searching for related businesses will be served ads.
FBX – Users that search for certain businesses and products can be retargeted with ad units related to those businesses and products.
Search Query Targeting – Ad units can be targeted to users based on their queries in Graph Search.
Offers – Relevant offers could be displayed in search results.
Conclusion
Open Graph is an intimidating and often misunderstood aspect of Facebook. However, at its core, Open Graph is simply a collection of the stories and actions that people post to Facebook. These stories provide rich information on user behavior, interests, and interpersonal connections, and they paint a far more detailed picture of users than self-reported likes and interests ever could.
Although Open Graph functionality still is limited, especially in regard to advertising units, take action now to prepare for the broader implementation and adoption of Open Graph. Build and maintain a functional and appealing Facebook page if you don't have one, drive fans and engagement on Facebook, and encourage Facebook actions from customers.
Moving forward, follow the development of Open Graph so that your Facebook marketing efforts can grow as Open Graph evolves. Open Graph will power novel ways for marketers to target users and will profoundly change how users navigate and interact with Facebook, so a slow-to-adopt mentality will be bad for business.
About the Author: Mark Luskus is a Media Analyst at Ampush. Prior to joining Ampush, he earned his Masters in Molecular and Cell Biology at UC Berkeley. Ampush is a social technology company helping brands and direct response advertisers achieve performance at scale with Facebook ads. As a Facebook Preferred Marketing Developer (PMD), their fully managed solutions deliver marketing ROI by amplifying the viral power of social recommendations, which Ampush calls Referred Intent. Select clients include MasterCard, Kellogg's, Samsung, Rdio, and LivingSocial. Ampush is based in San Francisco with offices in Chicago and New York.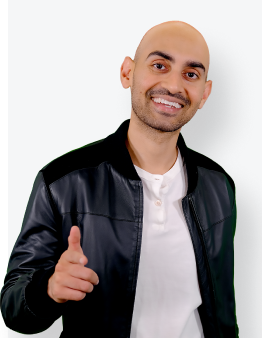 See How My Agency Can Drive More Traffic to Your Website
SEO - unlock more SEO traffic. See real results.
Content Marketing - our team creates epic content that will get shared, get links, and attract traffic.
Paid Media - effective paid strategies with clear ROI.