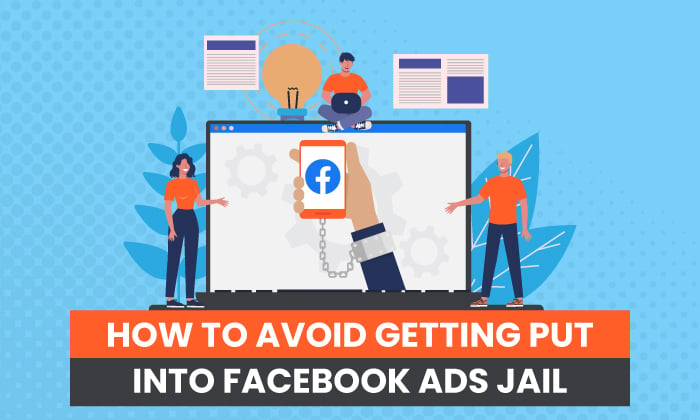 With 2.91 billion monthly active users (MAU), Facebook is the most popular social media network. That makes it a powerful tool for businesses to reach their marketing, sales, and revenue goals.
Unfortunately, navigating the world of Facebook ads is not always easy. Sometimes you may step on landmines that can land you in Facebook jail.
What's Facebook jail?
It simply means having your Facebook business account disabled, or limited. This is usually a result of not following Facebook's guidelines on ads.
When this happens, it becomes impossible for you to run Facebook ads, resulting in lost revenue and marketing opportunities.
However, when your Facebook business account gets disabled, that's not the end. There are steps you can take to get it reinstated. Sadly, even if you get your account back online, you'll still have lost a lot of business. That's why it is crucial to avoid getting put in Facebook ads jail.
What Are Common Causes of Getting Your Facebook Business Account Disabled?
To avoid getting thrown in Facebook ads jail, you need to know what gets people in trouble in the first place. Here are a few common causes to look out for:
You haven't verified your business on Facebook.
You're in violation of Facebook's advertising policies.
Your ads receive a high volume of negative feedback.
Don't worry if this seems to be too general; we'll go into greater detail down below.
How Am I Alerted If My Facebook Account Is Disabled?
When your Facebook account is disabled, Facebook will send you a notification that looks like this: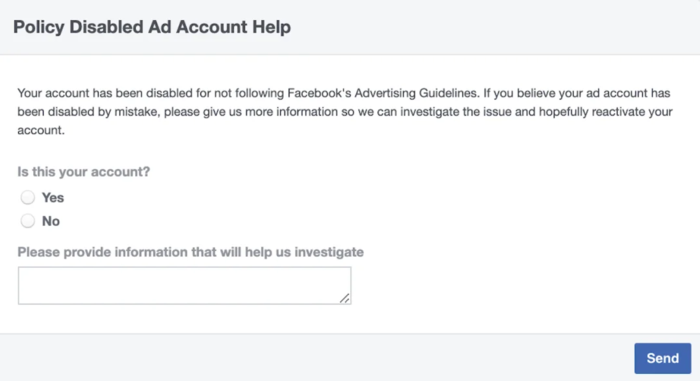 Unfortunately, Facebook won't tell you the reason why your ad account is blocked. You'll have to go through their policies and troubleshoot your ad account to find out why.
How to Avoid Getting Your FB Business Account Shut Down
Now that we've laid down the groundwork, let's get to the business of the day—how to avoid getting put into Facebook ads jail.
1. Stay Up-to-Date on Facebook Rules
One of the simplest ways to avoid Facebook ads jail is to keep up-to-date with Facebook's ever-changing advertising rules. This is where most marketers get tripped up. They run their campaigns based on old rules, thereby falling afoul of the platform's requirements.
Facebook's advertising policies serve as guidelines on the types of ad content allowed. When you place an ad order, your ad is reviewed against the policies. If it doesn't meet the requirements, your ad will be disapproved.
If your page has many disapproved ads, it could land you in Facebook ads jail. To avoid having your Facebook business account disabled, be vigilant about staying up to date with all their new rules and regulations.
2. Stay Aligned With Facebook's Data Policy
To run effective and targeted ads, you need to leverage user data. From audience insights to creating lookalike audiences, the way you handle, manage, and use your data must be in line with data protection policies.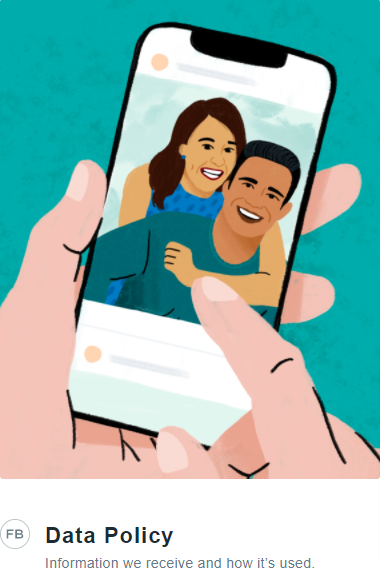 If your ads break any GDPR or other data protection policies, your Facebook business account can be disabled.
What does this mean for you?
When you collect data through Facebook, make it clear to your audience that it's you collecting the data and not Facebook.
All data collected via your page's call-to-action button should be used solely for the purpose of rendering the services associated with the CTA.
Using automation to harvest user information is strictly prohibited. This includes the use of harvesting bots, robots, spiders, or scrapers.
With GDPR and other data regulation policies becoming stricter, it's more important than ever to closely follow the data protection policies set by Facebook. Failure to do so will result in dire consequences—Facebook jail.
3. Follow Facebook's Community Standards
Facebook was created to give users a place to connect and communicate with others in a safe environment. To achieve this, the platform put in place community standards to govern what's allowed and what's not permitted on the platform.
To avoid Facebook ads jail, your business account must follow the standards that guide the usage of the platform, including avoiding:
Harassment, hate speech, violence, pornography, etc.
Phishing scams and spam content.
Contacting fans personally for commercial purposes.
Failure to follow the community standards could lead to your account being disabled.
4. Follow Facebook's Terms of Service
Facebook's terms of service govern the use of the platform and other affiliated technologies, features, apps, and services offered by the brand. Following Facebook's terms of services is the legal agreement you make to abide by the rules set by Facebook.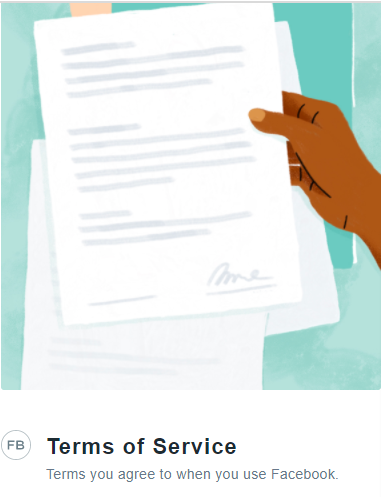 Understanding the terms of service before using the platform and its advertising features is crucial as they are legally binding. Violating Facebook's terms of service is a sure way to get your business account disabled.
5. Stay Current With Facebook's General Policies for Pages, Groups, and Events
As we covered earlier, Facebook's policies are always changing. This is mainly in response to user feedback. That's why you should always make sure to stay current with Facebook's general policies for pages, groups, and events. A few policies to be mindful of include:
Prohibited business practices: These include promoting products, services, schemes or offers using deceptive or misleading business practices. It also includes ads intended to scam people out of money or to dubiously get personal information.
Impersonating a brand, entity, or person: When showing support for a person or entity, your ads must clearly show you're not officially representing them.
No gambling: Your page can't promote gambling or gaming that requires users to pay for the opportunity to play.
Inaccurate tags: Content that contains inaccurate tags for the purpose of encouraging engagement is forbidden.
Incentivization: Giving followers incentives to break Facebook rules and terms of use goes against the pages, groups, and events policies.
False advertisement of alcohol and drug treatment: Your business page should not advertise drug and alcohol addiction treatment centers that are misleading or promote practices that are harmful to patients.
As a marketer, you need to be familiar with these (and more) policies and adhere to them to avoid having your Facebook business account disabled.
6. Follow Facebook's Rules on Promotions
Thinking of running a promotion on Facebook?
Then you need to pay attention to and follow the platform's rules on promotions. Some of the most prominent rules to pay attention to include:
Proper communication of your promotion: It's your responsibility to ensure the lawful operation of your promotion. This includes communicating the official rules, offer terms and eligibility requirements, and ensuring participants' compliance with applicable rules and regulations.
Including a disclaimer in your promotional content: Your promotional content should include a complete release of Facebook by each entrant or participant. You must also acknowledge your promotion is not sponsored, endorsed, administered by or associated with Facebook.
Administration of promotions: Promotions can only be administered on pages, groups, or events and not on personal timelines. You're also not allowed to leverage personal connections to administer promotions by asking them to share your promotion or tag connections.
Assisting promotions: Facebook is not obligated to assist you with the administration of your promotion. If you do use their services to administer your promotion, you do so at your own discretion and risk.
Running promotions on Facebook is an excellent way to generate leads, drive brand awareness, and generate sales. However, before you jump to deploying your promotion, carefully read and understand Facebook's rules regarding promotions. Failure to do so will result in you ending up in, you guessed it—Facebook jail.
7. Adhere to Facebook's Pages-Specific Policies
Another landmine that can lead to Facebook business pages being disabled is failure to adhere to Facebook's page-specific policies. Because there are so many of them, it's not surprising that some marketers overlook some of them. Let's look at some of them below:
Naming your page: Page names must not include profanity or generic terms and locations. They may not contain excessively incorrect punctuation or grammar.
Content visibility: All content posted to a business page is public and can be viewed by everyone who can see your page.
Choosing cover photos and profile pictures: Your business page's cover photo or profile picture shouldn't include third-party products, brands, or sponsors. You should also avoid using a verified checkmark.
Age gating: Restrict access to your page by age using Facebook Page gating functionality. This is necessary for compliance with applicable laws and regulations.
Post previews: Editing any elements of post previews, particularly when sharing a third-party link from your Page, is forbidden.
Name change and merges: When you change your Facebook business page's name, the changes or merges must not substantially alter the page's subject matter. They must not result in a misleading or unintended connection with other entities.
Regulated goods or services: If you deal in the sale of regulated goods or services, your promotions should comply with Facebook's community standards.
Diverting traffic to other apps or websites: Accepting anything of value for the purpose of diverting your traffic to an app or site that engages in traffic arbitrage or contains more ads than content is against Facebook's policies. So is diverting traffic to sites with content that is highly sexual, shocking, designed to be clickbait, or promotes scams.
Originality of content: Your page should not contain content that is plagiarized. Most of your content should be original.
If you want to avoid getting put in Facebook ads jail, compliance with page's-specific policies should be a priority.
8. Stay Aware of Facebook Rules on Branded Content
As a business, you'll want to post and share branded content. However, you need to be careful you do it in a way that doesn't break Facebook's rules on branded content. Here are some of the rules you should know in this regard:
Posting branded content: Facebook defines branded content as content that features or is influenced by a business partner in exchange for something of value. You can only post this kind of content using Facebook's branded content tool to tag the featured third-party product or brand.
Necessary disclosures: You're required to include all necessary disclosures to Facebook users. For example, disclosures indicating the commercial nature of your content must be clearly visible.
9. Follow Facebook Job Policies
If you're a recruiter or using Facebook to recruit employees for your business, you should pay attention to Facebook's job policies. These provide guidance on what types of job posts you're allowed to publish on Facebook.
A few noteworthy rules include:
Don't post misleading, deceptive, or fraudulent job ads.
Job posts that promote employment opportunities that involve illegal activity, drugs (illegal or recreational) products, or services are not allowed.
Your job posts must not be discriminatory in any way.
Job posts must not promote employment opportunities in a sexual manner.
Promoting employment opportunities requiring adult services or the use of adult products is prohibited.
Your job posts shouldn't solicit personal identification or financial information from potential applicants.
Profanity, bad grammar, and poor punctuation are not permitted in job posts. You should also ensure the proper use of symbols, numbers, and letters in your job posts.
10. Follow Facebook's Event-Specific Policies
With the massive audience on the platform, Facebook is an excellent tool to promote your events—virtual or in-person. However, promoting your event the wrong way could lead to your Facebook business account being disabled. Here are the top three event-specific policies you need to watch out for:
Invite automation: You cannot use automation to generate event invites.
Full disclosure of costs: Any actions or costs associated with an event ticket must be made clear on your page.
Misleading event changes: Any changes you make to an event must not result in a misleading or unintended connection. Furthermore, you must not substantially change the event.
How to Reactivate Your Disabled Facebook Account
Now you know how to avoid landing in Facebook ads jail.
What if your Facebook business account is already disabled?
Thankfully, you can always appeal to Facebook to have your Facebook business account restored. There are two main ways you can lodge your appeal:
1. Chat With a Facebook Representative
One of the best ways to lodge your appeal is to chat with a Facebook Marketing Expert via live chat.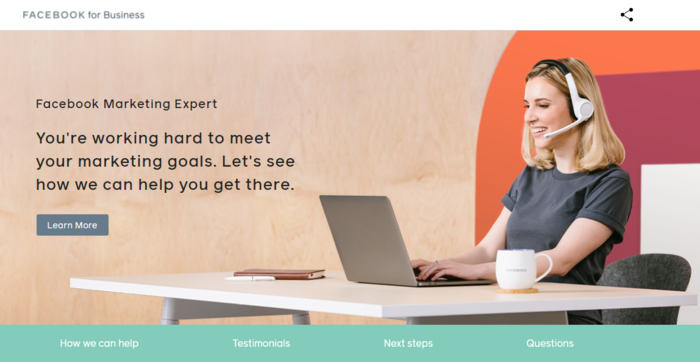 Facebook specialists are employed by Facebook and are available to offer high-level advice on how to get your Facebook business account reactivated.
To access a Facebook specialist, head over to the Facebook Business Help Center home page, then scroll down and click on "Get Started."
2. Submit an Appeal Review Form
Another way to get your Facebook business account reinstated is to fill in an appeal review form.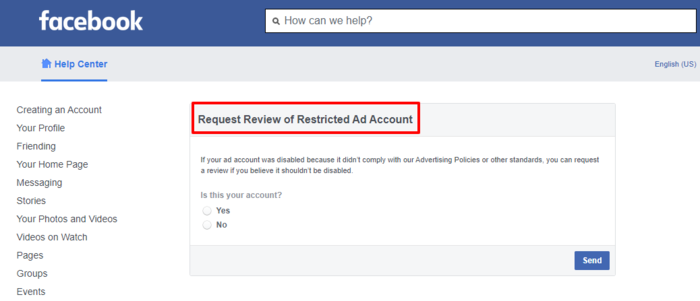 Once you've submitted all the required information, your ads account will be reviewed, usually within a couple of business days.
However, if the review reveals that your Facebook ads account was disabled due to a policy violation, the chances of your account being reactivated are very slim. The only solution is to open another Facebook business account.
Make sure to carefully follow the guidelines this time and do everything in your power to avoid getting thrown in Facebook ads jail.
Frequently Asked Questions About How to Prevent Your Facebook Account from Getting Disabled
What is the most common reason for getting your Facebook account disabled?
Facebook is very strict when it comes to adhering to its policies, especially for ads. Violating their policies is the most common reason for Facebook business accounts being disabled.
How long does it take for Facebook to un-disable your business account?
Getting your Facebook business account undisabled can take anywhere from 12 hours to a few business days.
Why is Facebook restricting my business account?
Facebook can restrict your account if they deem your content or activities to be in violation of community guidelines or their terms of service.
Does Facebook disable business accounts on accident ever?
Sometimes business accounts can be disabled by mistake. When that happens, you can visit the Account Quality page and request a review.
How to Avoid Getting Your Facebook Ad Account Disabled: Conclusion
As a digital marketer, you need to leverage the most promising channels to distribute your content and offers. Facebook ranks among the best.
However, to successfully use the platform to drive your business and marketing goals, you need to ensure your business account is always active.
You should know how to avoid getting into Facebook ads jail.
Using the insights and tips above, this should now be easy.
What's your experience with Facebook business accounts being disabled?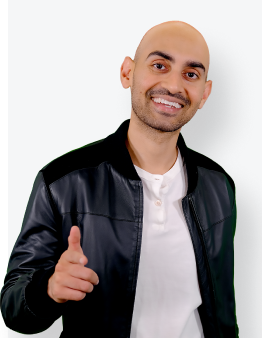 See How My Agency Can Drive More Traffic to Your Website
SEO - unlock more SEO traffic. See real results.
Content Marketing - our team creates epic content that will get shared, get links, and attract traffic.
Paid Media - effective paid strategies with clear ROI.
Are You Using Google Ads? Try Our FREE Ads Grader!
Stop wasting money and unlock the hidden potential of your advertising.
Discover the power of intentional advertising.
Reach your ideal target audience.
Maximize ad spend efficiency.