Did you know Dropbox has spent very little on advertising, yet it is worth $4 billion? What have they done that's made their business so successful?
They've implemented many growth hacks that we'll discuss in this article. What's a growth hack? Instead of using traditional advertising to "buy" each new customer, it's possible to use growth hacks to acquire customers in ways that scale. In other words, the cost of acquiring each additional customer is much closer to $0. All you have to pay for is the execution of the growth hack, and then it keeps growing your business at little to no extra cost.
For example, one growth hack is to incentivize some of your current users to refer others. This incentive may come in the form of company swag or a free month of your service. Another example would be badges or buttons that websites can embed in their website code. These badges and buttons link back to the website, which makes it serve as an advertisement. We'll explain some Dropbox growth hacks below.
Dropbox has received many awards, including best overall startup for 2011 & Macworld`s 2009 Editor's Choice Award for Software. It's also now known that founders Drew Houston and Arash Ferdowsi turned down a 9 digit offer from Steve Jobs.
Here are some stats regarding Dropbox's scale:
Not many SaaS companies can reach that kind of growth in 4 years, with or without advertising. So what has led to the consistent growth that Dropbox has experienced? I'll share some techniques that Dropbox has integrated into their product that has led to the word of mouth growth of this popular cloud storage company.
1. Signup Driven Homepage
First time visitors to the Dropbox website will notice the simple layout, which lays the groundwork for the rest of the Dropbox product. The 2 minute above-the-fold video gives an explanation of the Dropbox product, something that Dropbox has had on their website from the very beginning.
Then: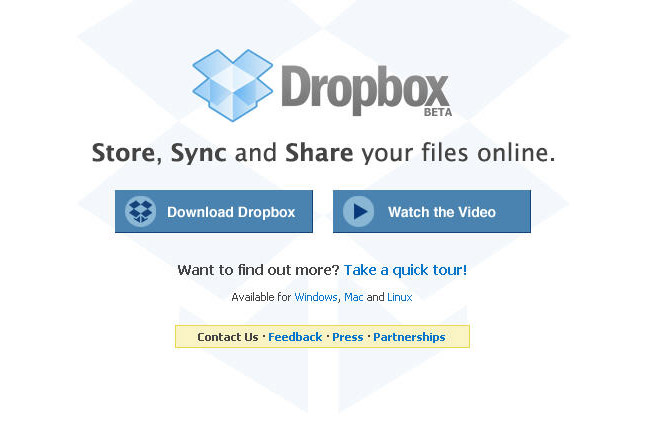 Now: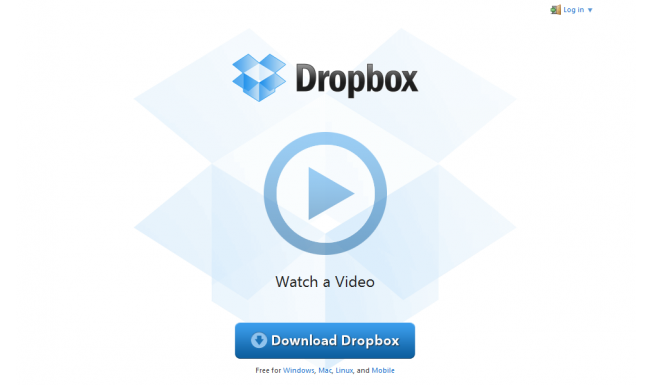 The number of options on the homepage are limited. It's clear what Dropbox wants people to do when a visitor comes to the site—signup. It's similar to what many private beta startups will do before they launch to the public:
A video on the homepage demoing the product.
Gauge the interest in the business by seeing how many request an invite.
Takeaway:
It can be tempting to put your latest press release, feature or product on the homepage thinking that this will add more credibility and ultimately improve conversions. While some may help, they can also lead to a cluttered homepage. Anytime you think you need to add more to your homepage, just remember that Dropbox got 70,000 users overnight just by creating a demo video of the product intended for the Digg audience.
Don't tell the user what to think, a wonderful product speaks for itself. It will need no convincing on your part.
2. Easy Signup Process
The signup process is only a few steps and a user can sign up on their desktop—no web browser needed.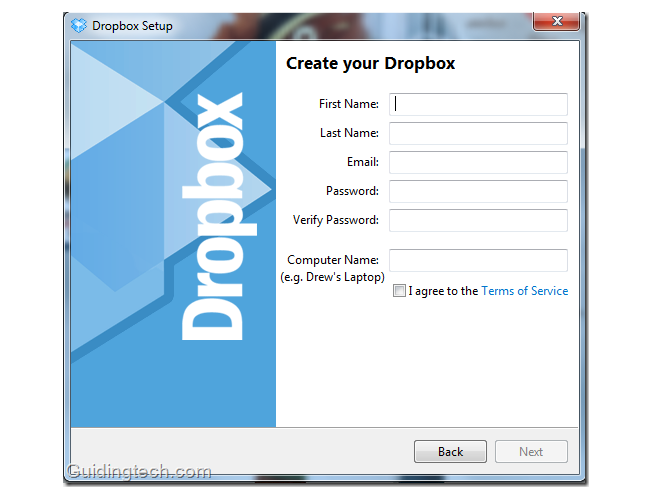 Once a user signs up (either via web or desktop program) and installs Dropbox on their computer, Dropbox puts a photos folder and a 'Getting Started' text file to help get them started.

This helps the new Dropbox user get a little acclimated to the product and some of its functions.
Takeaway:
Back when it was popular, MySpace added Tom as a friend for you as soon as you signed up. Facebook encourages people to find their friends via email. Mint sends weekly financial summaries. Amazon sends daily emails related to your recent searches. Some eCommerce websites email you with a 10% off coupon if you haven't ordered from them in a while.
How do you help users on their initial first steps with your product? What do you do to help them keep coming back?
3. Refer a Friend
According to Houston, referrals increased Dropbox signups by 60%. Dropbox makes it really easy for users to tell one another about the product; even giving them incentives. For example, when one person who has Dropbox refers another, they both get a 500MB increase, pending signup.
Dropbox makes it easy to refer:
Via email: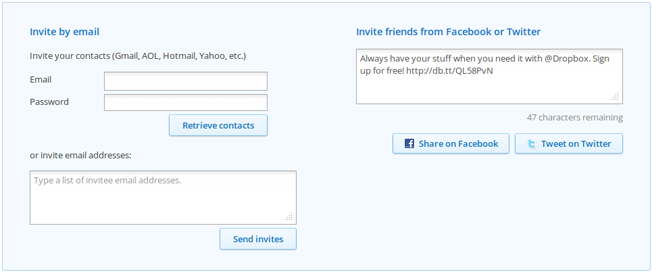 Link:

Friend referrals instill more trust than an advertisement ever could. Furthermore , the sender has an incentive to spread the word about Dropbox—getting extra space. The referee also has an incentive for signing up—more space than if they just signed up through the normal process. This total costs Dropbox 1GB of space – far less than a Google AdWords buy.
Takeaway:
Before you put $5k into Google or Facebook ads, first see if there's a way you can build in a refer-a-friend program. People will quickly jump on once they discover that there's an incentive. With SaaS and E-commerce companies, you can also track the effectiveness of your program using it as an experiment. If you don't know where to start with referral programs or are looking for a word-of-mouth program to help you, check out Curebit.
4. Social Media
We've all seen the stores with a "Like us on Facebook" or the "Follow us on Twitter" decals on front doors. It's becoming all too common-something that people mindlessly see. Some companies offer an incentive to Like them, such as announcing specials for Facebook fans only.
Dropbox did something a little different. With each Follow on Twitter, Connect with Facebook or Twitter, Dropbox gives the user a 125MB increase: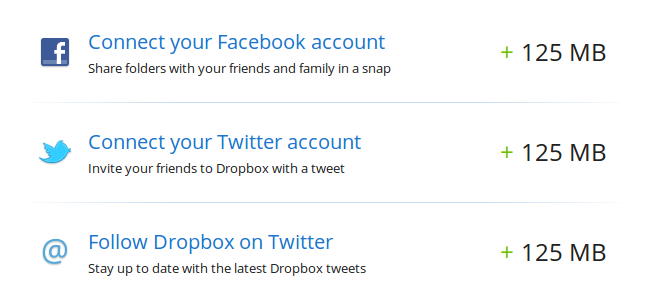 At the time of this writing, Dropbox had a little over 720,000 Twitter followers. While not all of them can be attributed to this hack, it certainly hasn't hurt their quest to increase followers.
Dropbox incentivizes users to connect with them on Facebook and Twitter – giving the user yet another platform to spread the Dropbox product.
Takeaway:
It's no longer enough to have a Twitter or Facebook account and put a decal on your store front window. If you run an E-commerce site, consider having something such as fans of your Facebook page receive 10% off every order.
The trick here is a user could Like you when they place an order, then unlike you once they complete to order and receive the discount. The way around this is to build an API to make sure it only works for fans who have Liked you consistently and not intermittently.
5. Sharing with Simplicity
Dropbox makes it simple for people to share files. Both the sender and the receiver have little work to do. To share a gallery with people, all a user has to do is copy a link:
This is very similar to Facebook's ease of photo sharing:

By sending people the photos that are hosted on the Dropbox website, Dropbox is getting more exposure (for free) to potential users. When unregistered people view the gallery, they see this short message at the bottom:

Users also have the ability to copy the link from their desktop: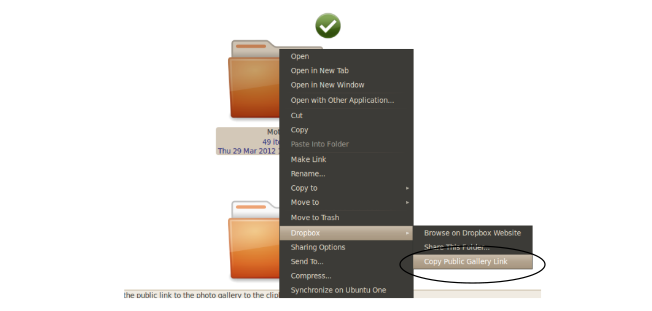 "Zach Bulygo made this gallery by simply dropping files into a folder.
Get your own public gallery with Dropbox."
Even in this promo, Dropbox is telling of their primary benefit – simplicity.
Sharing folders:
When a user wants to share a folder with a friend on Dropbox, anyone unregistered will have to register for Dropbox. This creates a strong viral coefficient for Dropbox.
Sharing links to files:
Remember when everyone used to download files using Megaupload, Rapidshare, Hotfile, and many other file hosting sites? These services were often plump full of ads, "premium accounts" with faster download speeds and no wait time for downloads, and many other money making tactics that took away from the core objective for the user: getting a file downloaded without having to jump through a million hoops!
Dropbox solved that problem.
If a user wants to share a file, they simply use the 'Get Link' function found on either the desktop or web. Users who want to download the file will see an image similar to this: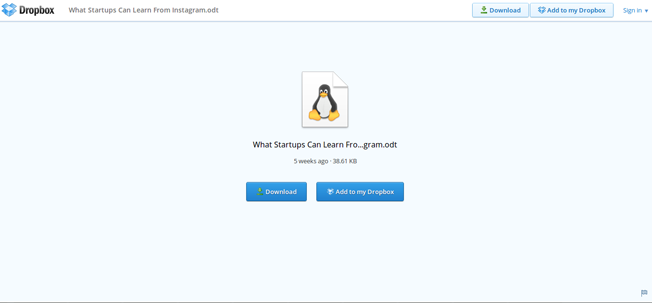 No ads, no signup required first, no waiting for the download link. Just a clean looking page with a focus on one thing: the file.
Compare this with a Megaupload download page: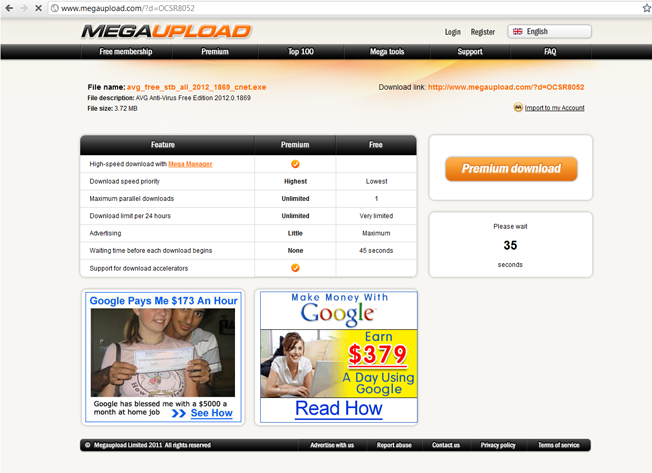 There's a focus on ads & getting the visitor off the page to pay Megaupload. If they don't want to, they have to wait at least 35 seconds for the free download.
If this can teach us anything, it's that addressing pain points in competitors' products are key when making your own product. Capitalize on their weaknesses and pain points.
Takeaway:
Not all companies have sharing functionality. If you're one who does, it's important to make it really easy for your users. Take inspiration from Facebook or Dropbox. Simplicity is at the core of what top technology companies do. When users share with other non-users, it gives Dropbox a chance to show off their speed, simplicity of design & usefulness. What does your product show off when users refer others?
6. Dropquest
Dropquest is a contest run by Dropbox that makes users go through different puzzles and scavenger hunts. Those who complete and place in the top 176 get free space and/or free swag. The announcement on their blog generated quite a lot of Likes and Tweets.
Dropquest has gotten Dropbox lots of publicity in the tech world for this (just Google dropquest).
Takeaway:
Contests can be a great way for companies to generate buzz about their brand and get users enthused about the product. If you haven't already, you may want to try holding a fun contest with your users where they get more of your product in return. You just may end up generating some PR for your product.
7. Availability on Multiple Devices & Platforms
The nature of the Dropbox product makes it important for them to be on multiple platforms. People need to access their products from anywhere at any time. Being available everywhere is key for Dropbox, according to Co-Founder & CEO Drew Houston.
There are an estimated 20 million Ubuntu (Linux) users worldwide. Dropbox released their Linux program as soon as they launched to the public. These millions of Linux users did not have a free cloud storage solution at the time. By adding Linux support and continuing to this day to be on as many platforms as possible, Dropbox is making it easy for anyone who wants a Dropbox account to have one.
There are an estimated 2.0% of Dropbox users who use Linux exclusively. Going by the 50 million user base number, there are a million Linux Dropbox users. These are a million people who can spread the product by sharing galleries, referring friends, adding them on social media, and all the other growth hacks Dropbox has done.
Beyond Linux, Dropbox has maintained Blackberry support despite their shrinking market share. It's also supported on even the least popular devices such as the Symbian.
Support on multiple platforms is not just important for the Dropbox product; it can also be considered an opportunity for growth. One Symbian user can spread the Dropbox product to one Mac user who may spread it to 100 people.
Takeaway:
Dropbox understands their users and the needs they have. They also have a leg up on many of their competitors who don't support every platform. What are you doing as a business owner to achieve a distinguishable competitive advantage?
CEO Houston has big plans for Dropbox. They've gotten to where they are not by advertising, but by going to where their users are (Digg in the early days), keeping things simple, and implementing a few growth hacks. Startups are hard, but implementing a few of these growth hacks into your own company may make things a little easier on you.
Have you tried any of these? What else do you think has led to Dropbox's growth?
Look for more growth hack posts from us in the near future.
About the Author: Zach Bulygo is a content writer, you can follow him on Twitter @zachcb1.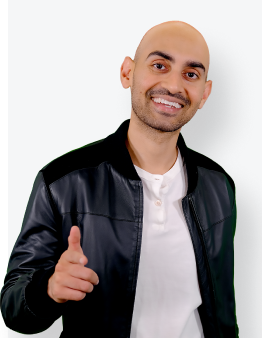 See How My Agency Can Drive More Traffic to Your Website
SEO - unlock more SEO traffic. See real results.
Content Marketing - our team creates epic content that will get shared, get links, and attract traffic.
Paid Media - effective paid strategies with clear ROI.
Are You Using Google Ads? Try Our FREE Ads Grader!
Stop wasting money and unlock the hidden potential of your advertising.
Discover the power of intentional advertising.
Reach your ideal target audience.
Maximize ad spend efficiency.