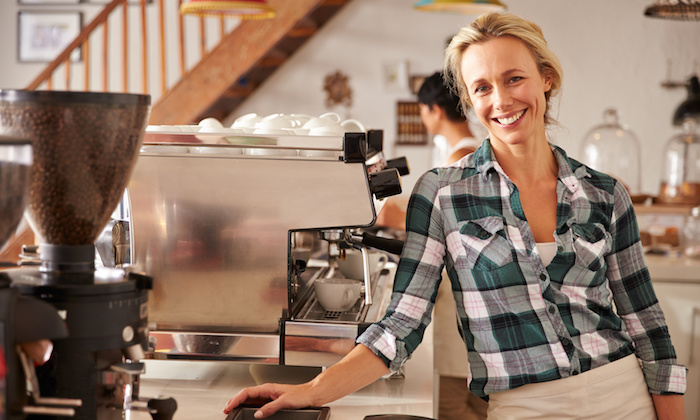 The other day, I was looking up local air conditioning repair businesses.
No, I didn't need to get my AC fixed. I just wanted to see how the businesses were doing in Google's search results.
I looked at a few different companies, and I started to notice a trend.
The local businesses in the top places in Google's local results all had one thing in common: content marketing.
The AC companies without blogs, video channels, or other content got the leftovers.
Some of them, I noticed, had to buy costly AdWord ads to even show up on the front page of Google.
Content marketing for local businesses works differently than it does for giant brands, but it's just as important.
In fact, the top three local marketing tactics are all digital.  According to MarketingProfs, 76% of business owners use their website for marketing.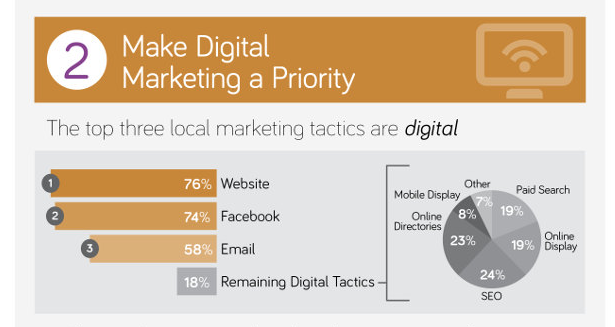 If you're a local business that's hoping to get more customers, content marketing is a powerful tool at your disposal.
In this article, I'll share my top 12 ways to leverage it to drive more customers to your business.
Increase your Google traffic
It's no secret that to get more customers, you need to get more organic traffic through search engines.
Reaching the top results on Google is no easy feat, however. Using local business marketing techniques, however, we can expand our reach on search engines.
You also need to have a strategy for building links and authority. This is one of the primary ranking factors for all search engines, and it isn't hard to accomplish.
These strategies will skyrocket your website to Google's front page and send you hundreds or even thousands of visitors who are primed to buy.
1. Target local keywords
In Google Keyword Planner, you can easily target keywords based on what locals search for.
This is often different than what international or national searches might be. You should base your content marketing strategy on these type of keywords.
To get started, select Get Search Volume Data and Trends.
Type in your keywords, then select All Locations.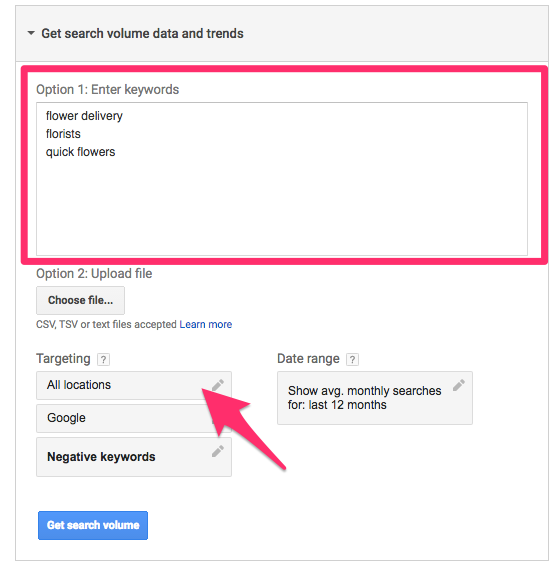 Enter your city in the search and select the correct option.
Click on Save.
Then click Get search volume.
You'll get the search volume of those keywords for your local area.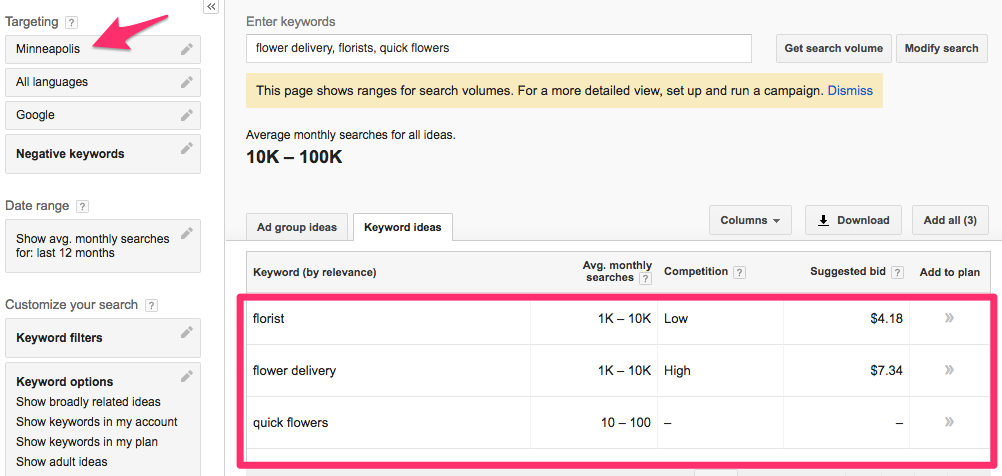 You can also get new keywords ideas from your city. Go back and choose Search for new keywords.
Enter your keywords, and make sure the targeting hasn't changed. Google usually saves it, but I like to double check. Click Get Ideas.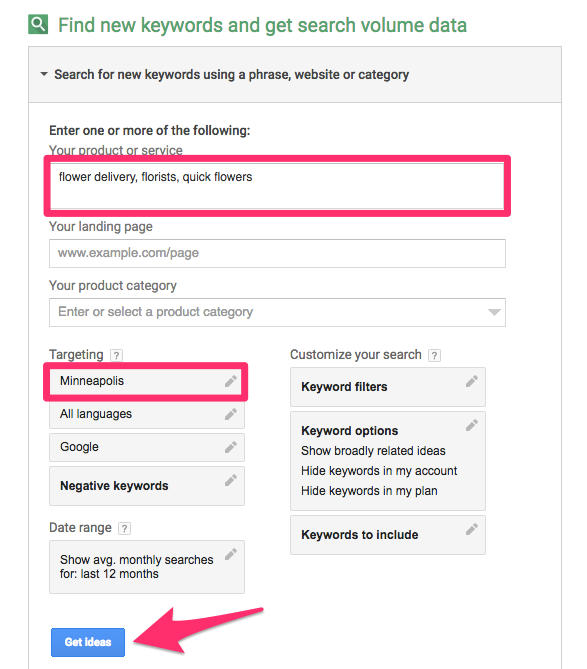 On the page that loads, scroll down until you see a list of keywords.
This gives you a list of all the possible keywords you could use.
Even a small search volume can mean more customers for your business since these are customers who are interested in a local business.
Even keywords with 10-100 searches a month can represent thousands of dollars of sales for your business.
Research has found that 50% of consumers on smartphones and 34% of consumers on tablets or computers who conducted a local search visited a store within a day.
Look specifically for keywords mentioning your city, as these are likely to be typed in as well.
Build in-depth articles focused around these keywords, and include the name of your city a few times.
While you ultimately want to drive sales, the premise of content marketing is to provide value and information to build trust.
Write articles on these topics without explicitly recommending your brand.
For example, an article on the keyword "fast flower delivery Boise Idaho" might be "How to guarantee fast flower delivery in Boise, Idaho."
In this article, you could explain the factors that lead to the speed of the delivery. Does the website have good reviews? Is your location based downtown?
This kind of detailed local information will be invaluable to potential customers, and the trust you build is likely to convert them into buyers.
2. Guest post on local websites
Sites across the Internet are usually swamped with submissions, and it can be difficult to land a guest post on a major site.
But one type of site simply doesn't attract the massive onslaught of traffic as the national websites: the blogs of local companies.
These sites are constantly looking to publish new content, and they usually pay an in-house employee or freelance writer to produce the articles for them.
If you write for a site like this, they'll see it as free money!
To do this correctly, reach out to companies in related (but not identical) industries, and offer to guest post for them.
Focus on a topic that meets the needs of both your customers and theirs.
If you run a local landscaping service, you can reach out to a local housekeeping service. A post on "10 easy ways to keep your driveway as clean as your house" would be helpful for their audience, and would direct interested local customers to your service.
Make sure you include a link to your site and have the name of your company mentioned as the author of the guest post.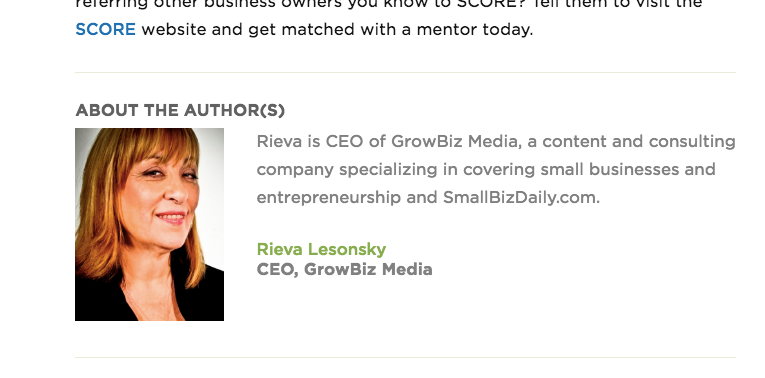 3. Build links with real-world connections
In the time you've been in business in your local area, you've developed relationships with local business owners.
Why not extend this relationship to the digital world, as well?
If you have a good relationship with another business owner, consider an agreement to link to each other's websites.
These relevant links are more valuable than other types of links, according to Penguin Strategies.
Instead of just posting a link to the homepage of the other website, however, consider connecting to pieces of their content.
Exchanging links in this way is a solid, ethical, white-hat method for getting more local results with your content marketing.
To easily build digital relationships with others in your local area, you can include links to articles by your peers in each piece of content you publish.
Let those people know (either in person or online) that you included their content in your posts.
Over time, this strategy will help build natural links to your website.
4. Get included on business listings
Just about every town has a website nowadays.
Usually, these are run by the city itself or by a community group interested in promoting the location. These groups are constantly looking for additional resources for their visitors.
And guess what? Those visitors are potential customers for you!
To get started, search for "business listings" then your city and state.
Any of these would be a great site for outreach.
Once you find a site, browse around to find areas where you could contribute. Here are places to look:
Business listings. You can usually add yours for free or by joining a business group.
Resource pages. If you have a helpful page on your website, community sites would be happy to link to it to help their visitors.
Upcoming events. If you have an upcoming or regular event, you may be able to post it the calendar.
Business owner spotlight. Oftentimes, these sites feature local business owners as success stories of the community. Getting a spot like this can help increase the number of people familiar with your company.
Strategies for content marketing
Content marketing isn't a short-term fix.
In order to drive a massive amount of new customers to your site, you need to produce content that inspires and intrigues potential customers.
As you produce more content, you'll increase the number of visitors and convert them into buyers.
To do so, you need to focus on developing content that will continue to generate traffic for months and even years. These pieces will help others find your company.
It takes a little while for your content marketing to start working, so be patient and focus on quality.
They'll build trust with what you stand for, and will refer customers from the value they deliver.
These strategies for your content plan will drive those customers for years to come.
5. One-up a top 10 local list
New visitors or residents in your city are always looking for the best places to go.
Chances are, there are even local residents who are looking for a fun place to go for the weekend or a new trip to take.
Usually, their needs are met with lists of the best things to do. These are typically top-10 lists, with a series of attractions and neat places to visit.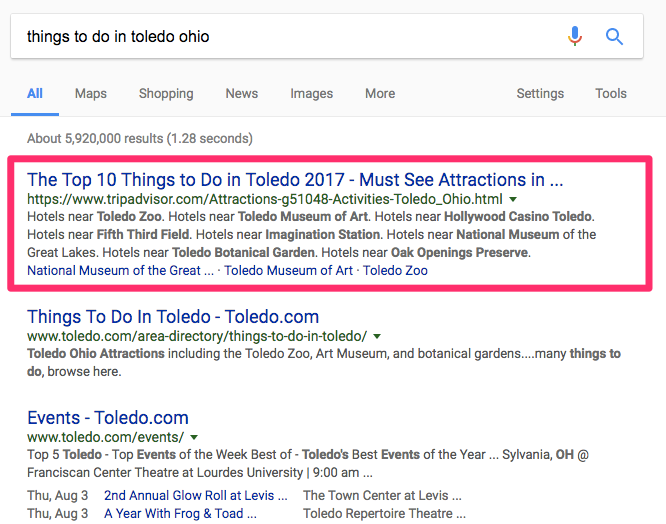 Lists like these get the bulk of the traffic and build a hefty brand name, reaching thousands of local potential customers per year.
But it's an advantage you can take for yourself. Instead of new residents finding out about your town's best landmarks from someone else, let them learn from you.
To do it, search for your city and state plus "top 10."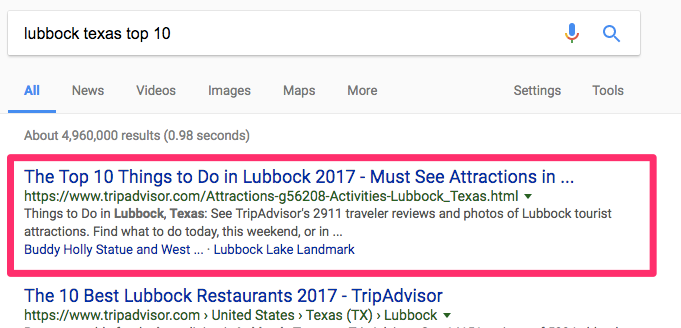 Find a list that covers a topic you know a lot about. Then, instead of a top-10 list, beat the original article with a much higher number.
Are there 15 gorgeous views, or 25 must-visit restaurants? Write down each one. At the bottom of the article, include a call to action and encourage people to stop by your store.
Don't try to be overly promotional. Instead, seek to give value first. But if the last option happens to be a world-class hotel next door to your restaurant, feel free to give it a shout-out.
6. Seasonal guides
Every region has different needs for each season.
By writing one guide for each season, you can get year-round traffic that's interested in what you have to offer.
Just a quick update each year can ensure that the guide stays fresh and relevant for new audiences.
Create a comprehensive guide for each season, but don't just focus on the weather. Backwoods Adventures does a great job with their summer guide to Austin.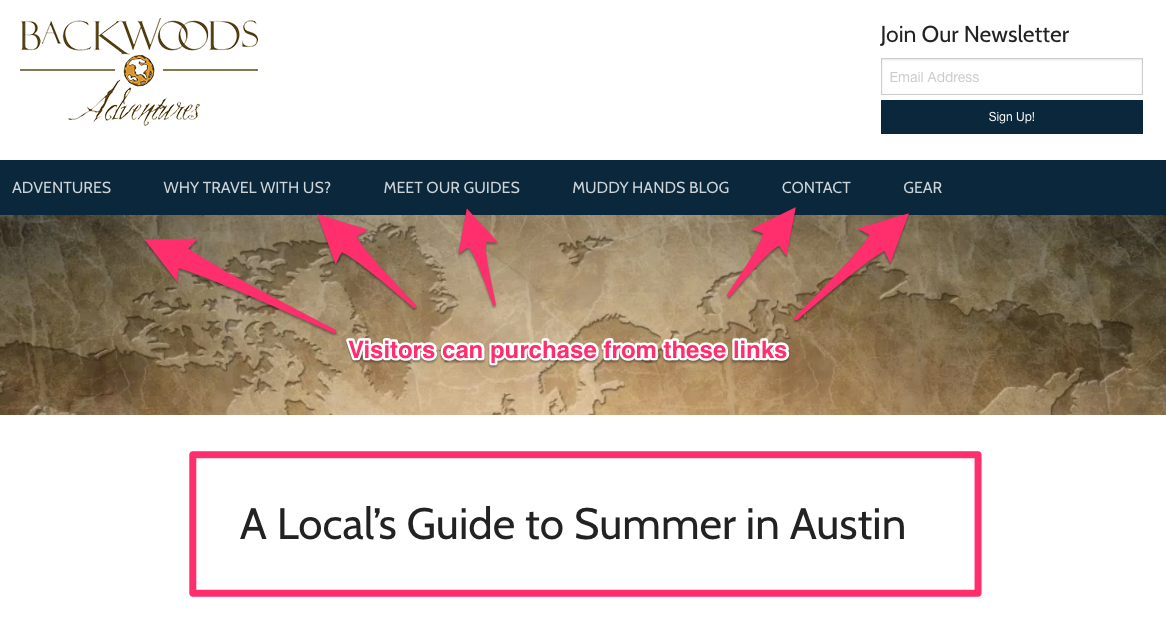 Depending on your industry, you can include different sections. But there are some staples you need to include in each guide.
Make sure your content contains:
Cultural events. What live music venues should people look out for? Are there concerts or lively drama programs at the local theatre?
Experiences. Is there a special winter hike that your city is known for? Is summer the best time to visit nearby caves?
Eateries and bars. Where are the best places for a meal or a drink during the season? Are there must-visit restaurants with a unique fall menu?
As you drive traffic to the page, you can increase the number of customers who choose to do business with you.
You can also choose to create a guide specific to your industry with helpful tips for the season.
7. Write a local FAQ page
Every business has questions they're tired of answering.
If it seems like every new customer asks the same questions, there's usually a reason. That reason is probably that few people know the answer!
But here's the secret. For every one person that asks you in person, there are countless more finding the answer on their favorite search engine.
You can answer these questions in two ways.
First, you can post a page of frequently asked questions that respond to each one all in one place.
This is the most common way to answer questions, and it is a great resource for existing customers. Local Farmbag Savannah did a great job of this on their FAQ page.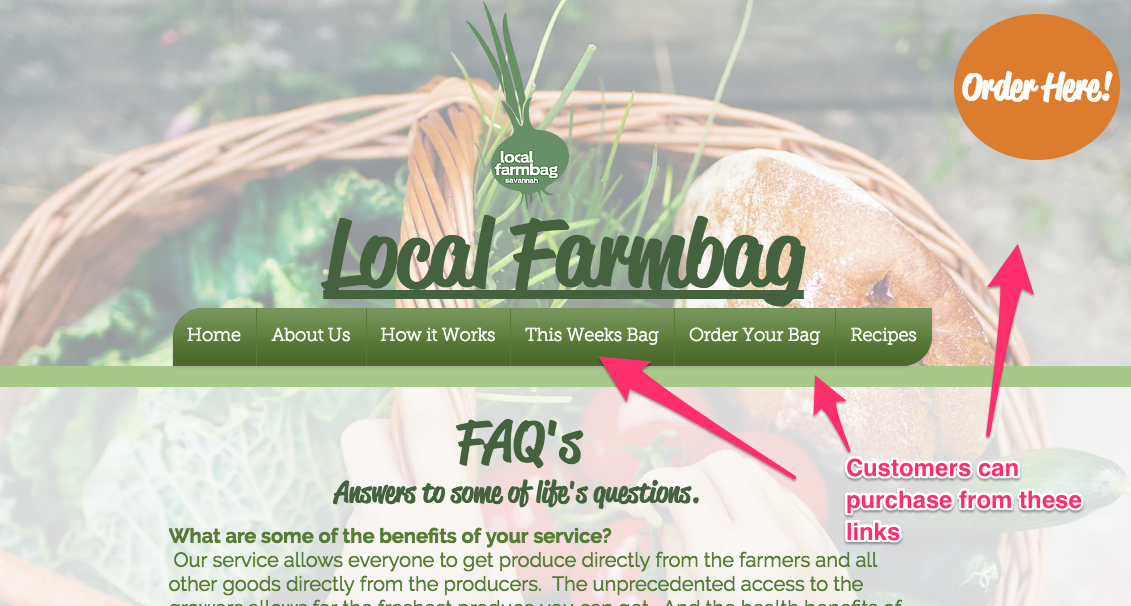 But it doesn't work well to bring in new buyers. Potential customers who are searching for this term may not encounter your content since Google tends to value in-depth answers.
The second way is to write an article for each piece of content. If there are five questions people ask, you would write five articles.
This article by Smart Business Incorporation includes a series of questions grouped by topic.
At the bottom of the article, they link to the other content in the series.
While this strategy will take up more time, it's a great way to produce high-quality content that drives new customers.
When people search for these answers and find your articles, they'll be more inclined to do business with you since you clearly know what you're talking about.
8. Write an insider's guide to your city
Every city has unspoken rules, and those can be difficult to understand for someone who just moved into the area.
Instead of leaving them in the dark, write a candid post about your city like "San Francisco for New Residents: What The Locals Won't Tell You."
Include the best-kept secrets of the city, like little-known restaurants and best places to be.
Write down common knowledge of what happens in the city in a fun and casual way.
Is there an insider's way of talking about the town?
This guide on moving to Lakeland, Florida includes a variety of trivia for new residents.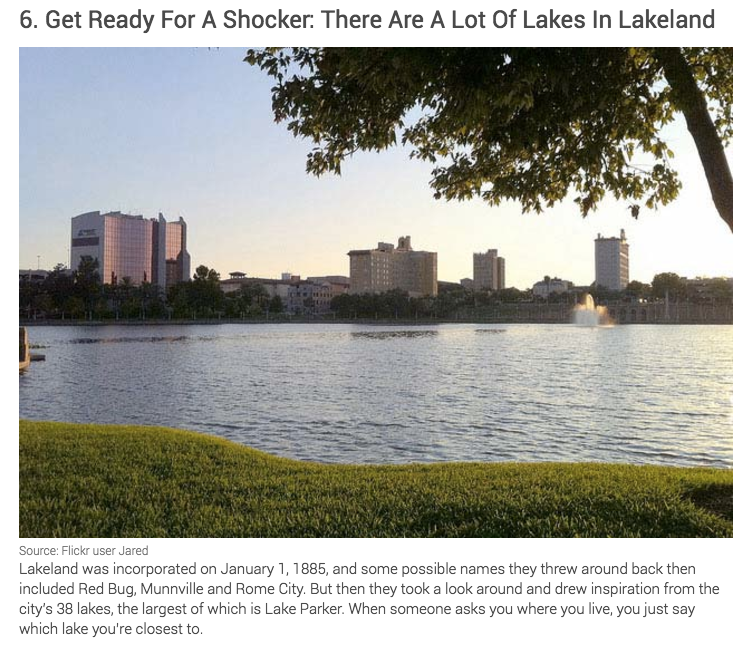 Is there a community event every month where everyone gathers?
Is there a famous landmark that residents all know about?
Include these tidbits to make new residents feel like they're part of the community. If you write them in a friendly, welcoming way, they can be a fun read for current residents, as well.
The best part about this is that they will continually be shared with newcomers to the community.
If you live in a city that has a lot of newcomers, like a college town or tourist destination, you can easily reach out to thousands of potential new customers every few months.
How to get your content to go viral
You can't base an entire marketing strategy off of articles going viral.
But if you develop content that spreads quickly, you can expand your reach and customer base faster than any SEO-based strategy.
Thankfully, creating viral articles is easier for local businesses. Local businesses have a finger on the pulse of the town and know what topics will be popular.
In addition, the audience size is smaller. If just a few key local influencers share your content on social media, it can be seen and read by a massive percentage of your target audience.
But viral articles aren't just for traffic and bragging rights. They promote your brand and make you a go-to source of information.
Traditional content marketing works to build trust, then convert customers. Content for local businesses is no different.
A viral article establishes you as a local authority, and it will drive the customers to prove it.
9. Write press releases for local newspapers
Local online newspapers don't have a large reach, but they have a small and committed audience.
Oftentimes, local readers read all types of articles, and positive press in the digital version of the newspaper can generate huge sales and new customers.
To get started, you'll need to write a press release. Here are some ideas of what you can use for news in your company:
Celebrating an anniversary of being in business
Moving or opening a new building or branch
Offering a new service, menu, or product
Winning an award or receiving recognition
Being featured nationally
If you live in a smaller town, local newspapers may not even require a "newsworthy" event, as they regularly publish stories highlighting local business owners.
Prepare a basic press release and post it on your website.
The true secret to getting press like this is the promotion. To do this, reach out to any local papers 4-6 weeks before the event takes place.
Your first message shouldn't be anything overly pushy. Just contact them to see if they'll be interested when the event rolls around.
With a date so far in the future, these publications will likely say yes. A week or two before things go official, contact them again and reference your previous communication.
HopCat bar received publicity in The Kansas City Star with a headline-worthy 100 taps of craft beer.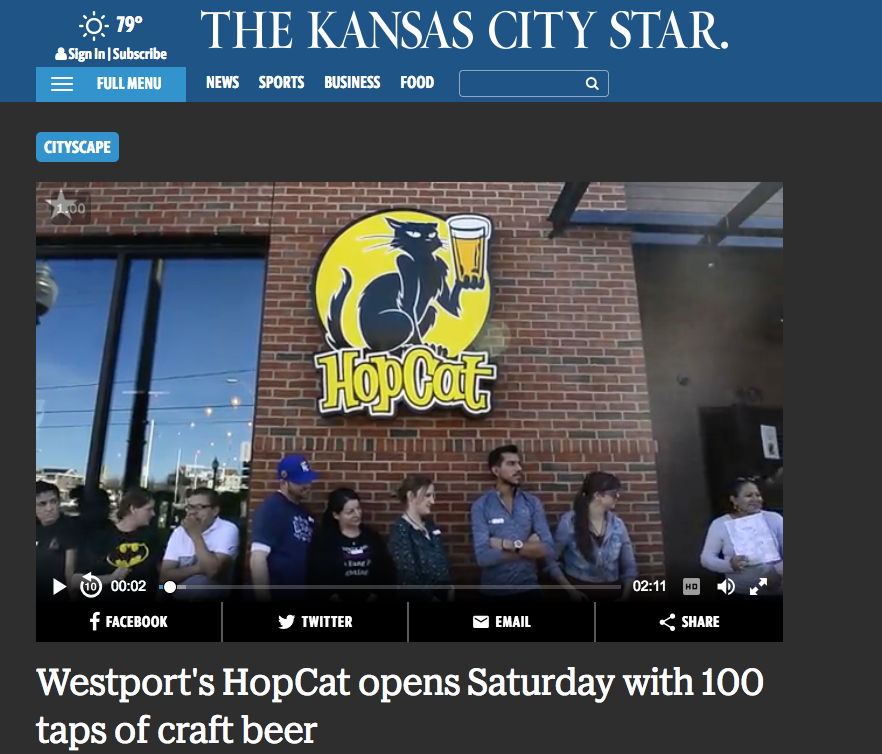 (A good way to do this is to respond in your previous email trail so they will remember the conversation.)
Getting your press release content published on an authoritative local site can help build awareness and drive traffic and customers.
10. State opinions on local events and changes
When something happens in your area, there's a lot of social buzz.
As a local business owner, you have the right to speak your mind about community decisions and events.
These are often the most powerful and popular pieces you can write, so be sure to share your thoughts if something is important to you.
For example, if a highway is planned to cut across town, write a compelling post on the costs (or benefits) the planned construction would have on your business.
If an elementary school is being rebuilt after 50 years in the neighborhood, compose an emotional post on how the school's atmosphere shaped you.
Remember, this can't be promotional at all. Be honest and heartfelt in your opinions, and you may find an open opportunity to share what others are feeling but can't express themselves.
People online tend to share content they agree with, and you can build honest rapport and relationships with others in your community.
And who knows? Those who agree with you today may become paying customers tomorrow.
11. Promote to local social media groups
Every community has a group of passionate fans who are eager to share the best spots around.
But even more than that, they're eager to share great resources on the locations and nearby destinations.
For any piece of content you publish, do your best to promote it to local groups on social media.
It's important to do this in the spirit of providing help to the community. If you come off as too promotional, or if you look like you're just out for your own gain, you'll quickly be shut down.
Instead, look to communicate with people honestly and openly. On Facebook, search for local groups in your area.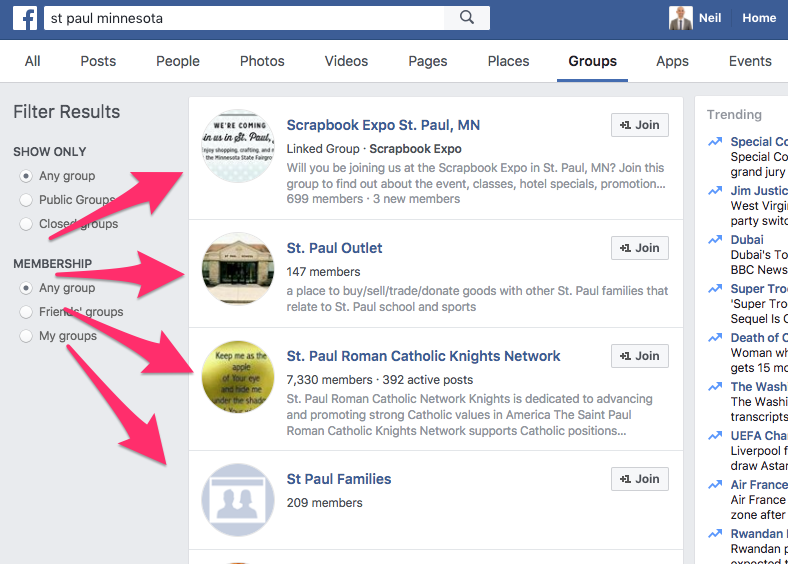 If the group has an email, use that for contact. If not, message the group administrator via Facebook.
The best kind of article to post in these groups is something that answers a common question or provides a solution to a problem your community faces.
Choose an article that's relatively popular before reaching out to an owner of a group. You may only have one chance, so you want to make sure it's a post that will do well.
Here's a basic script that you can use to politely ask them to share your content with their members:
Hi, NAME!

I wrote a post on TOPIC a few days ago to help out some of my friends and customers here in CITY.

The piece was received really well, and I thought it might be useful to the members of your Facebook Community.

I know you've got lots of content, so no worries if you don't think it'd be a good fit.

Keep up the good work!

Your Name
12. Take popular national topics and write local articles on them
If you're looking for an article idea that's sure to go viral, look no further than what's gone viral before.
The benefit of being a local business is that you can easily retarget a popular topic into something that's relevant to your community.
Search Buzzfeed for what's popular right now. Look for topics that relate to a particular region. You can repurpose these for your area.
Once you have a topic, include the name of your city in the title.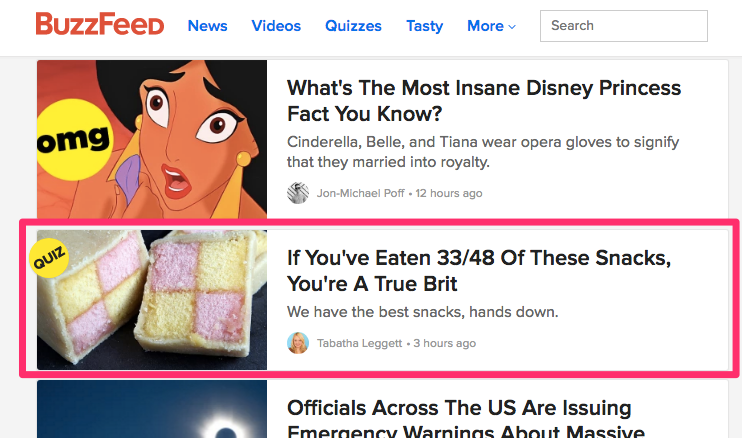 Most of these topics are list posts, so be prepared to fill out a series of topics that would interest locals.
The best type of local posts are the ones that are best understood by those in the area. This is your time to include inside references that only "true locals" would understand.
While you'll never get the huge audience of a viral Buzzfeed post, you can develop a following for your business customers.
Conclusion
There's a rumor that content marketing won't help a local business.
But nothing could be further from the truth. By using smart content marketing strategies, you can skyrocket the customers who stop by your local business.
All you need to do is use the correct tactics.
How will you use content marketing to drive customers to your business?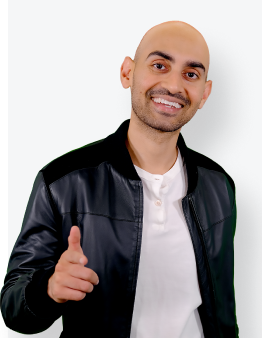 See How My Agency Can Drive Massive Amounts of Traffic to Your Website
SEO - unlock massive amounts of SEO traffic. See real results.
Content Marketing - our team creates epic content that will get shared, get links, and attract traffic.
Paid Media - effective paid strategies with clear ROI.