Beyond social media, how else can you boost traffic to your blog and translate visitors into dollars – and do so quickly?
Because search engine optimization can (and often does) take a long time to take effect, you might be interested in how you can grow your blog without having to rely on SEO.
One of the methods you might have considered is the use of pay per click traffic. With a PPC ad campaign, you can direct users to your blog, thus improving your rankings with search engines and potentially increasing your conversion rates.
However, you might not know where to begin when it comes to a PPC marketing campaign.
If you feel that way – then this blog post is for you.
In this post, we're going to explore how you can use pay per click traffic to sustainably grow a blog.
We'll examine how you can affordably generate traffic for your blog and also how you can convert visitors into customers.
By the end of this post, you'll be able to use a PPC campaign as an effective means of growing your blog in a way that improves your rankings on search engines and quickly generates returns.
Let's begin! 
The overall process
Before we get deep into the actual steps that you need to take, let's take a quick look at the process you'll need to follow if you want to monetize blog traffic.
The process is as follows – 
Ad> Blog Content> Opt In Form> Conversion Process> Selling
As you can see, you're essentially going to be running ads that will provide the chance for people to opt-in, once on your blog.
Then, you're going to have a process for selling to these people.
It's important that you see the process as a whole, as it will help you take the bigger picture into account when you're making small adjustments to your online marketing strategy.
Importance of great content
Online marketing is all about content, of which blogging makes up a huge part.
But there's no on point in sending people to a blog that doesn't have good content.
Doing so will just result in you spending a lot of money on things like optimizing your ad text without being able to generate a return.
After all, no one will be impressed and no one will want to opt-in to receive future content.
Plus, when you're running ads, you're going to be running ads to your blog posts.
And, if you're blog topics are not enticing, people won't want to click on your ads, no matter how good you're targeting abilities are or how enticing your ad copy. 
So, how exactly can you create great content?
The best way is to take a look at existing content in your niche that has done well and then create something that is better.
To do that, you can use a tool like BuzzSumo.
When on BuzzSumo, all you have to do is enter in a keyword related to your niche. Then, BuzzSumo will let you know what content has done well, within that space.
Let's assume I want to create a blog dedicated to 'bonsai trees.'
Here's what came up, when I typed 'bonsai trees care.'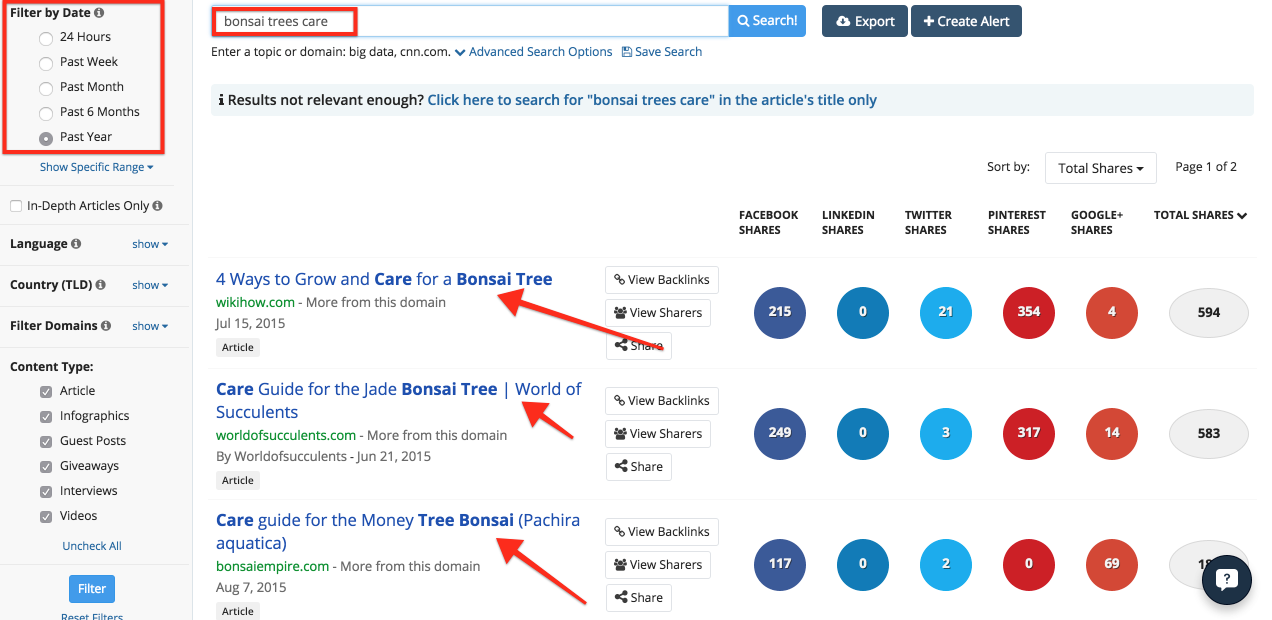 As you can see, I'm now presented with a couple of ideas as to what I can create.
For example, there are several posts there that are essentially guides based on caring for specific bonsai trees.
All I need to do now is to find out which of the guides performed best and figure out ways in which I can make that guide better.
Here are some ways you can improve existing content – 
Make it more in-depth (higher word count)

Create a video version

Add more (relevant) images (Content with images can

achieve 94% more pageviews

)

Make a piece of content a unique resource on a set topic (see

my ultimate guides

)

Provide unique research angles and showcase new data

Encapsulate the content in great design
As well as making your content worth reading, it's important to create great content, because doing so will also help you rank better in the search engines –  a goal you'll need, if you're going to be blogging long term.
Running Ads
You have two options when running ads.
You can either use Facebook Ads or Google AdWords.
Right now, Facebook Ads tend to be cheaper than AdWords.
Because of this, we're going to mainly focus on how you can use Facebook Ads to drive traffic to your blog.
Once you have a blog filled with great content and a process that is effectively converting leads, you can then experiment with platforms like AdWords.
Before you start running ads, it's important that you have a clear sense of who you're trying to reach.
Failure to know such information is going to result in you showing your ads to people who don't particularly care for them.
Not knowing your customer well will also mean that you can't take advantage of Facebook's powerful targeting features.
Thankfully, as you already have a blog, you already have a little bit of knowledge, in terms of who you're trying to reach and what your target audience is interested in.
To gather in-depth targeting information on your audience, use the Facebook Audience Insights tool.
Enter in an interest, based on your target audience. For the sake of this post, let's stay with my example of building a blog dedicated to bonsai trees.

After entering in an interest, click on the Page Likes tab and then scroll down to the 'Affinity' section.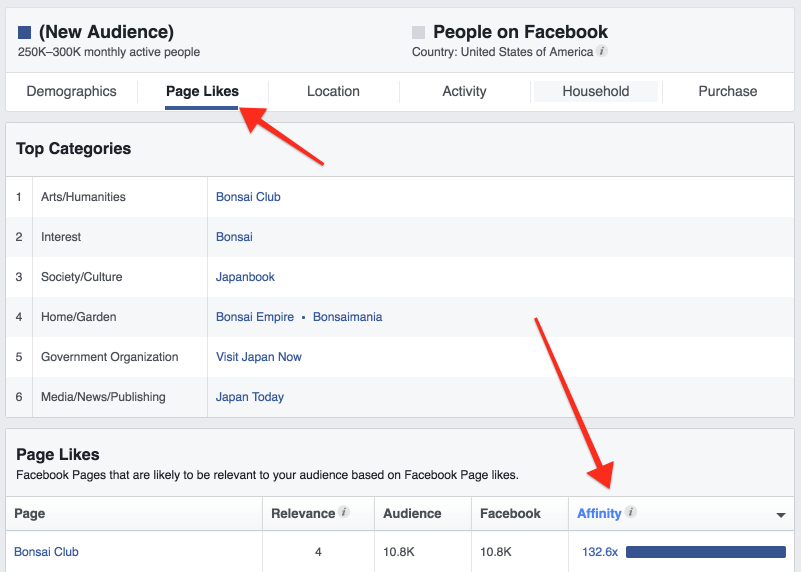 If I sort by affinity, I'm then presented with pages/interests worth targeting. Targeting these pages/interests will get me in front of people who are passionate about bonsai trees.
As well as the above, there are some other steps I can take to better target my ads.
The first is to create and install a Facebook Pixel.
You can do that by visiting – https://www.facebook.com/ads/manager/pixel/facebook_pixel/
I can then use a Facebook pixel to do a couple of things.
Create a 'Custom Audience' of people who have visited my site – this allows me to conduct

remarketing campaigns

Create a '

Lookalike Audience

.'
If you're new to Facebook Ads, then the Lookalike Audience feature can be really helpful.
The Lookalike Audience feature gives you the ability to let Facebook target your ads for you.
It essentially works like this –
Facebook will take a look at a given audience (either people who visit your site or an uploaded customer list) and then gather data you can use to target ads towards other Facebook users who share similar traits and characteristics.
You can find the Lookalike Audience feature by visiting https://www.facebook.com/ads/manager/audiences/manage/
You then select 'Lookalike Audience from the 'Create Audience' drop down menu.
Experiment with these features and you'll eventually find one that works best for your blog.
Getting people to opt-in
You now need to focus on getting people to opt-in to your site.
The easiest way to convince people to do this is by creating something known as a 'Content Upgrade.'
A Content Upgrade is essentially an 'add-on,' to a piece of content that someone has already read on your blog.
So, if I wrote a blog post on 'how to care for a bonsai tree,' the Content Upgrade might be a related checklist that people can print and use.
Brian Dean managed to earn a 785% increase in conversions in one day, using Content Upgrades.
The better you make the Content Upgrade, the greater the odds of someone wanting to gain access to it.
For example, there's a good chance that a video, or even an audio file, might outperform a checklist.
I use Content Upgrades all the time – here's an example from my Quicksprout blog.
It's worth noting that you can also promote a Content Upgrade via retargeting.
If someone visits your blog and they don't decide to download the Content Upgrade, you can run retargeting ads on Facebook that will remind about the Content Upgrade that you're offering.
Of course, though retargeting tends to be quite affordable, you'll want to make sure you can budget such campaigns.
Therefore, consider working out the customer lifetime value for your business, before you execute such campaigns.
If you want to create a Content Upgrade that looks good, you can use a site like Upwork.
On Upwork, you can find a designer who will help you create a document that looks good and that has a higher level of value to it.
Conversion sequence
Once people have opted into your list, you then need to ensure that you have a conversion sequence in place, that will turn them into a customer.
There are two conversion sequences that tend to work well for many people – email autoresponder sequences & webinars.
Let's first look at how you can use an email autoresponder sequence.
Your goal with an autoresponder sequence is to establish who you are and to build some trust.
You want to demonstrate, to the person on the list, that you are someone who knows what they're talking about and that you can provide them with real value that will make their life better.
If you can do that, people will be more responsive to buying from you whenever an offer is presented.
Your goal here is to give more than you take.
So, consider sending 5-6 value emails, before you ask for anything in return.
These value emails don't have to be overcomplicated.  All that you have to do is teach your target audience how to achieve a certain task that they really need help with.
You can then position your product as the item that will help them get even better results, should they want them.
After providing your value emails, you'll likely want to run a launch sequence. This is a process you use to sell people your products.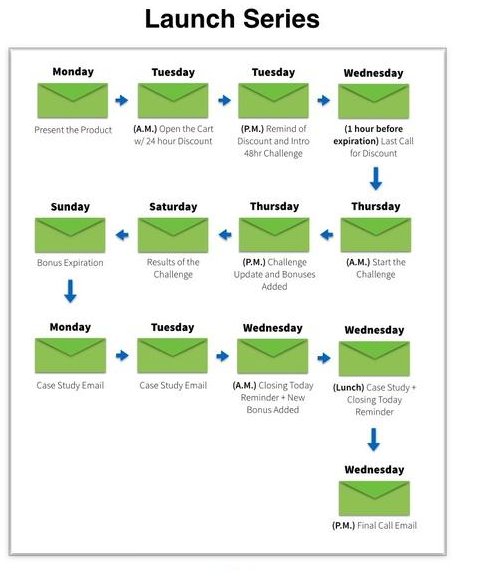 It is important that you constantly optimize your autoresponder sequence.
You may, for example, want to experiment with teaching your audience different topics, in terms of the period of time when you're providing value to your list.
You might also want to experiment with different subject lines – as they can massively impact open rates.
There's even the option of changing the item that you're selling. Consider surveying your list to find out what they really want and then go about making it.
You can also use webinars as a means of converting people on your list into customers.
I've used GoToWebinar to host webinars. Using the platform often resulted in a 21% increase in attendance.
Webinars tend to convert better than autoresponder sequences and are known to convert 20% of viewers.  
With a webinar, you're really just taking your autoresponder sequence and turning it into a live presentation.
Though webinars take a lot of work, in general, some people find that the live aspect of a webinar is the most challenging thing about them.
However, it's worth noting that your job is just to teach your target audience. People are on the webinar because they value what you have to say and they want to hear you talk.
Plus, if you know the subject matter well, you should find comfort in the fact that you know what you're talking about.
On top of that, many people find that the nerves quickly fade away, once they begin their presentation, as they eventually hit their stride within 5 minutes or so.
When it comes to conducting a webinar, there are a few things that you'll want to pay attention to, if you want your webinar to succeed.
A lot of people are worried about getting people onto the webinar in the first place.
The key to filling up a webinar lies in you providing value and creating intrigue.
The topic has to be based on something that your target audience wants to learn about.  When you're talking about your webinar, you have to be clear about the value that is offered.
You need to do this for both your webinar landing pages and your related emails.
I've found that a detailed webinar landing page performs 12.8% better than a webinar landing page that is less detailed.
Here's an example of a simple landing page.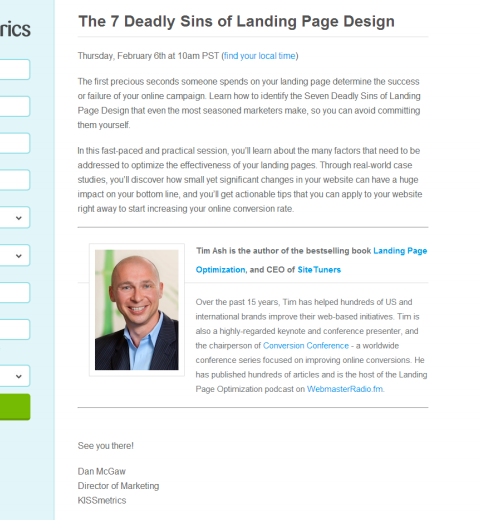 And, here is the detailed landing page.
The emails you send promoting a webinar promoting are important too.
Bryan Harris showcases a great example of how you should promote webinars.
The webinar topic is list building, something that many think they know about already.  
But, Bryan makes the webinar sound so exciting and enticing that you want to jump on and see what it is that he has discovered that allows him to make the claims he has made.
Be sure to offer a live Q&A at the end of your webinar presentation. This will let people interact with and that increases the value of being present on the webinar.
The process of selling on a webinar is relatively simple.
Let people know exactly what you have to offer and let them know where they can go to get it.
It's important that you're in-depth when describing your offering.
If you're selling an information course, for example, make sure that you go through each of the modules and you describe exactly what people will learn.
You can get better at selling on a webinar, by watching how other people sell.
Sign up for as many webinars as you can and study how they transition from educating to selling. See if there are any segways and phrases that you can emulate.
Not everyone will buy on the webinar and that is fine. You'll be able to convert some of these people using a 'follow up email.'
You can also send this email to people who did not attend the webinar.
Conclusion
A PPC campaign can be a boon if you're hoping to monetize your blog.
Each of the steps we have touched upon are important in their own right towards developing a solid PPC marketing plan.
There's no point in running ads if you don't have great content, and there's no point in having Content Upgrades if you don't have a conversion process.
So, if you want to grow your blog, without having to rely on search engine optimization, follow all of these steps.
If you do, you'll be able to generate results a lot quicker than you might have thought possible.
Do you have any tips to share when it comes to growing a blog using pay per click traffic? Let me know in the comments below!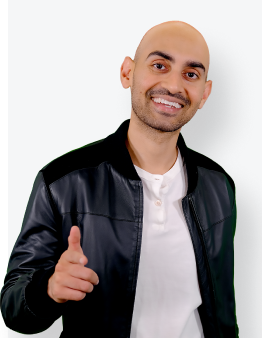 See How My Agency Can Drive Massive Amounts of Traffic to Your Website
SEO - unlock massive amounts of SEO traffic. See real results.
Content Marketing - our team creates epic content that will get shared, get links, and attract traffic.
Paid Media - effective paid strategies with clear ROI.