It's not hard to believe Amazon accounted for almost 40% of all U.S. retail e-commerce sales in 2022.
Amazon gets 2 billion monthly visits in the U.S. alone.
Get a piece of the pie by selling on Amazon, the most visited online marketplace in the U.S.
Amazon shoppers have certain habits. Like the 66% of shoppers who choose Amazon because they can get everything they need.
Getting your brand in front of those shoppers means a lot of promise for profitability.
As you're getting your brand to bud on Amazon, just know that shoppers are already looking for brands like yours.
With plenty of sellers, you'll want to stand out and optimize Amazon product listings as part of your SEO strategy.
Unsure how to get started or need to modify your strategy? I'll show you what it takes to create top-performing listings.
My agency NP Digital did some research to see what matters most in landing your products among the top Amazon listings.
Most importantly, we found six key pieces of insight that can drive your Amazon listings to success.
Basics of Amazon Listings
Amazon is a competitive marketplace.
So, you need to set up your Amazon listing using good tactics.
To effectively optimize Amazon product listings, focus on the following elements:
Titles
Product description
Features
Images
Reviews
Ratings
Price
Bundles
Each component should guide the consumer through a process that'll help them decide whether to buy your product.
Your listing should be easy to find and unique.
Think like the consumer.
Source: eComEngine
Help the buyer take action using Amazon SEO tactics.
Optimize your Amazon product listings to drive traffic, sales, and positive ratings. Use relevant keywords for your item(s). This will show Amazon that your product is worthy of a higher search ranking.
Presentation matters as well.
Support your content with high-quality media that's informative and visually appealing—providing as much information as possible (including answering customer questions).
This points customers toward your product's key features. Plus, you'll gain more positive reviews to help you stand out.
We Analyzed Top Amazon Listings to See What Matters Most
To let you know how to best optimize Amazon product listings, we collected data directly from Amazon.
To start, we conducted various searches to see which products populated. We kept Amazon's standard setting of "sort by: featured" in place. From there, we analyzed the top organic result, the second result, and the 30th result populated.
Search 1 — Baby Bottles: What Drives Amazon Success?
Let's begin by looking at one of our three searches: baby bottles. From our search, we'll see what about these listings is getting them in front of potential buyers.
As expected, the first row of product listings is sponsored results.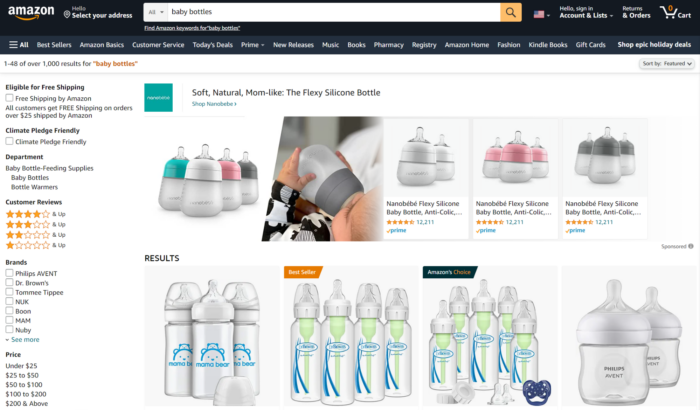 To keep things organic, we skipped to the fifth result (the first organic result to populate).
#1 Amazon Search Result for "Baby Bottles"
Dr. Brown's Anti-Colic Options+ Baby Bottle Gift Set with 4oz and 8oz Bottles and PreVent Pacifier topped the organic listings.
This product is marked as Amazon's Choice, a badge Amazon displays for products it considers the best match for a particular keyword. Dr. Brown's listing used under 2,000 characters to tell customers what they offer.
Here are some of the notable features and product details covered in the listing:
Brand
Color
Materials
Item weight
Bottle nipple type
Capacity
The listing also features quality media and many positive ratings out of 15,365.
#2 Amazon Search Result for "Baby Bottles"
The second organic result was the Philips AVENT Anti-Colic Baby bottles with AirFree Vent, 9oz, 4pk, Clear, SCY703/04.
There are over 8,000 ratings for these baby bottles, and this listing offers about the same amount of information as the first organic result.
Here are some of the notable features and product details covered in the listing:
Brand
Color
Materials
Item weight
Bottle nipple type
Capacity
Style choices (1 pk, 2 pk, 4pk)
Size options (4oz,9oz,11oz),
Color choices (blue, clear, pink)
They may be losing out in ranking because they are not a part of the Amazon Prime options.
Amazon has over 200 million Prime members. Offering Prime shipping might help Philips AVENT expand its prospective audience.
#30 Amazon Search Result for "Baby Bottles"
Scrolling all the way to the 30th product listing, we have Newborn Easy Start Anti-Colic 4.5-Ounce Bottle with Pacifier Set, Teddy Bear, 0-2 Months, 3 Pack.
Here are some of the notable features and product details covered in the listing:
Brand
Color
Bottle nipple type
Capacity
Bottle type
Age range
The stats for this product selling on Amazon are quite low even though it is an Amazon's Choice product. It's affordable and provides media of the product for their target audience. With a lower character count, it may be a matter of simply needing more description to rank higher.
Search 2 — Women's Fall Booties: When A Top Brand Dominates
Moving to our second search of the three, we looked at a seasonal listing. Using the same methodology, we took the first organic result to populate for women's fall booties.
#1 Amazon Search Result for "Women's Fall Booties"
The Lucky Brand Women's Basel Ankle Bootie was the first organic result to populate. It has almost 10,000 ratings but a listing with fewer than 1,000 characters.
Here are some of the notable features and product details covered in the listing:
Fabric type
Origin
Color/style (42 options)
Sole material
Shaft height
Seven color options
Manufacturer
With shoes, it's easy to cut to the point.
Most consumers are concerned with fit and affordability, aside from if an item fits their personal style. This listing is likely also doing well because Lucky Brand is an extension of the trendy, well-known Lucky Brand Jeans.
#2 Amazon Search Result for "Women's Fall Booties"
The second organic result was a bestseller: the Soda Pilot ~ Women Lug Sole Low Heel Chelsea Fashion Ankle Bootie w/Double Elastic Gore.
It has significantly fewer ratings than the first listing, but it has all the details that consumers need to know, like the first listing. These include:
Size selection
Color (7 options)
Fabric type
Origin
Sole material
Shaft height
Package dimensions
Item model number
Department
Manufacturer
These shoes' ranking is likely due to competition with such a popular brand in the top spot.
#30 Amazon Search Result for "Women's Fall Booties"
The 30th organic listing was the Fashare Womens Fall Cutout Booties Ankle Heels Low Stacked Ruffle Slip On Dress Short Boots Shoes. The listing has a decent description but includes images that have text. Unfortunately, the algorithms cannot read images with text.
Other features and product details mentioned in the listing include:
Style/color (11 options)
Sizing options
Outer material
Closure type
Department
This, plus a lack of other rich media, might be hurting the positioning of this product.
Search 3 — Men's Sunglasses: Amazon Listing Best Practices In Action
For our last search, we analyzed men's sunglasses using the same approach.
#1 Amazon Search Result for "Men's Sunglasses"
The first organic listing was an Amazon's Choice product—the NIEEPA Men's Sports Polarized Sunglasses Square Frame Glasses NP1007.
It had 4,255 ratings, and while there was a description, it wasn't in a bulleted list for quick skimming. Some of these features covered include:
Color (31 options)
Package options (1 pk or 2 pk)
Origin
Item weight
Item model
Department
The character count for the listing was just shy of 1,500 characters, but it still captured Amazon's Choice pick and the top spot for a popular item.
#2 Amazon Search Result for "Men's Sunglasses"
The second result, Aviator Sunglasses for Men Polarized Women-mxnx UV Protection Lightweight Driving Fishing Sports Mens Sunglasses MX208, had over 9,000 ratings. This is more than double the top listing for this keyword search. Some features in this listing include:
Color (10 options)
Item weight
Item model
Product tips for use
Manufacturer
The listing also has media for customers to browse and offers Amazon Prime. Even with lots of information for consumers with a character count listing of almost 3,000, they find themselves in the second spot. However, their performance in KPIs may be ideal for the brand in such a competitive niche.
#30 Amazon Search Result for "Men's Sunglasses"
The 30th product listing—the Foster Grant Men's Marli Polarized for Digital Sunglasses, Tortoise and Matte Black, 50mm US—doesn't see the same results.
There are barely 100 ratings, but they do offer Amazon Prime. This listing is lengthy, at over 3,000 characters. Some of the product features covered include:
Package dimensions
Item model number
Department
Manufacturer
While this information is helpful to customers, media like videos, photos, and customer reviews go a long way to give your listing a boost.
Now that you know the factors that either make or break your listings, let's see what general insights we can pull from our data.
What We Learned From Our Data
Here's what our data suggests makes a difference in optimizing your Amazon product listings:
Going back to the first two searches, baby bottles, and women's fall booties, we saw that the more positive the ratings, the better the item ranked.
The rating number from positions 1 versus 2 were notable, showing the impact of customer reviews.
With the last search, men's sunglasses, the first listing had the second-highest rating yet was winning organically in the Amazon SERPs. The only contributing factor that could influence this rating was the deep discount offered at the time.
The first organic listing for the baby bottles search had the highest number of reviews and a discounted price. So, the title and product description optimization does matter to align with search intent.
However, ratings matter more to rank the highest after the sponsored results.
There was no correlation between more characters (words) and higher rankings. In fact, in two out of our three searches, the product with the most content ranked in the 30th position.
Sometimes, less is more. Showing versus telling can work better for your niche or product.
Take a look at how this data stacks up to what you're seeing with your listings for products selling on Amazon.
How To Optimize Your Amazon Listings
While this insight is very useful, I'm sure what's on the top of your mind is how exactly to translate this information into success for your own Amazon listings. Chances are you probably noticed a few common threads across our top performers. Certain aspects of the listing need to be well-developed and optimized to succeed. These include:
Titles
Images
Price
Bundles
Ratings
Product Description Copy
Features
Reviews
What makes these so special? While we don't know all the different aspects of Amazon's algorithm, there are a few truths we can feel pretty comfortable about.
First, optimizing your product and storefront is going to better entice users to want or need your products over the competition.
Second, on the topic of competition, optimization also helps you gain authority in SERPs and ways to stand apart in the product marketplace.
So we've established that good optimization makes your Amazon listings more effective in the eyes of search engines and your audience. But how do you execute? Based on my team's findings, here are 6 key hacks for Amazon listing success:
Audit your product listings. One of the best ways you can get your Amazon listings in a stronger place is looking at the ones that are already there. Identify key areas for improvement for both refreshing listings and creating new ones.
Conduct keyword research. Like any other type of SEO, building around the right keywords is essential. This includes those primary keywords that users can see as well as hidden keywords only utilized in the back end,
Organize product categories. Creating an organized system makes it a lot easier for your customers to navigate to the products that they want. In addition, you can also build categories around relevant keywords.
Build informative titles and product descriptions. If a customer doesn't understand what product they are looking at, they're not going to purchase.
Create benefit-rich product feature sections. By leading with your benefits in the feature sections, you're instantly showing valuable information, but also making the case to the customer. This also helps answer their questions about specifications and features.
Invest in high-quality imagery. Poor image quality is going to create an instant negative association with your listing. Also, the better the images, the more of a concrete impression the customer is going to be able to have of your product before purchase.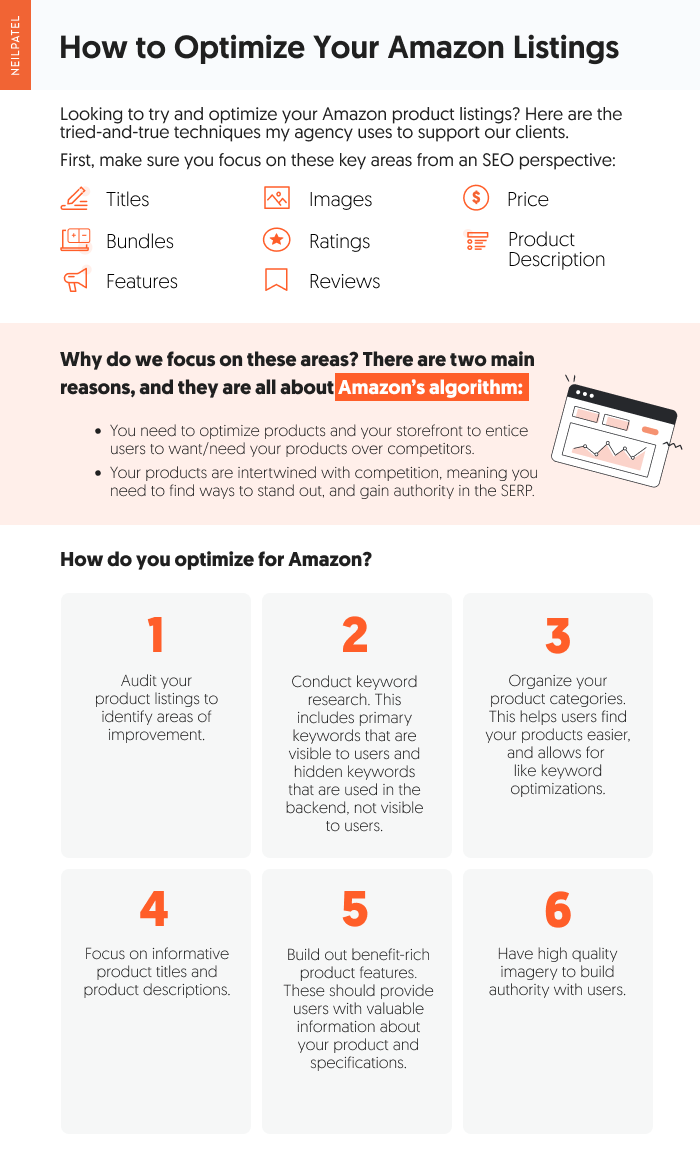 Conclusion
It can be challenging to drive traffic to your Amazon listings. Ramp up your efforts to get your desired results for your e-commerce store.
I highly recommend you take the time to get retail-ready selling on Amazon.
Creating, monitoring, and optimizing your Amazon product listings can feel like a full-time job.
But it's worth it if the payoff is increasing your sales.
Now that you know how to create a top-performing Amazon listing, you can take your e-commerce game to the next level.
Have you implemented any special practices to optimize your Amazon product listings? Have you been successful? Let us know in the comments.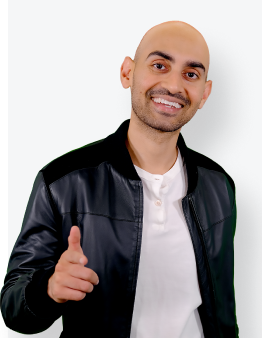 See How My Agency Can Drive More Traffic to Your Website
SEO - unlock more SEO traffic. See real results.
Content Marketing - our team creates epic content that will get shared, get links, and attract traffic.
Paid Media - effective paid strategies with clear ROI.
Are You Using Google Ads? Try Our FREE Ads Grader!
Stop wasting money and unlock the hidden potential of your advertising.
Discover the power of intentional advertising.
Reach your ideal target audience.
Maximize ad spend efficiency.