Disclosure: This content is reader-supported, which means if you click on some of our links that we may earn a commission.
Do you want more customers—and want your current customers to be happier with your service?
Customer relationship management (CRM) software is designed to help with that exact goal. So why aren't more small businesses using it?
My guess is it's because CRM software's have a reputation for being massive, expensive, and really challenging to use.
That was true, but not anymore.
In fact, there are dozens of CRM software solutions that small businesses can start using this afternoon. They're affordable, sleek, and ready to help teams connect with customers on their own terms.
Here's my list of the best CRM software to take your small business to the next level.
CRM #1. Nextiva Review: The Best For Visual Sales Pipeline Management
Small businesses don't always have the luxury of a dedicated sales team with managers and VPs constantly monitoring deals. So it's common for leads to slip through the cracks or go stale because someone failed to act quickly.
Fortunately, Nextiva makes it easy for small businesses to create customized sales pipelines that are unique to their processes.
These pipelines are highly visual, so you have instant clarity into where each deal is in the stage and who's working on what. You can also set up deadlines and tasks directly within the software to ensure nothing gets missed.
Nextiva also lets you move deals through your sales pipeline automatically, which is perfect for small business owners or team members who need to wear multiple hats throughout the day.
Even if you're working on something else, you can rest easy knowing that your sales pipeline isn't being neglected.
Nextiva's sales CRM features come with the Enterprise Business Communication package. So in addition to the sales pipeline tools, you're also getting:
Unlimited voice and video calling
Unlimited video conferencing
Unlimited internet fax
Multi-level auto-attendant
SMS/MMS messaging
Call recording
The list is never-ending.
Don't let the term "Enterprise" scare you off. You can still sign up with just one to four users, which is perfect for small businesses.
Plans start at $37.95 per user per month billed annually, for four or fewer users, and drops to $35.95 with 5-19 users. Get started today.
CRM #2. Monday.com Review: The Best Value for Tracking Sales Performance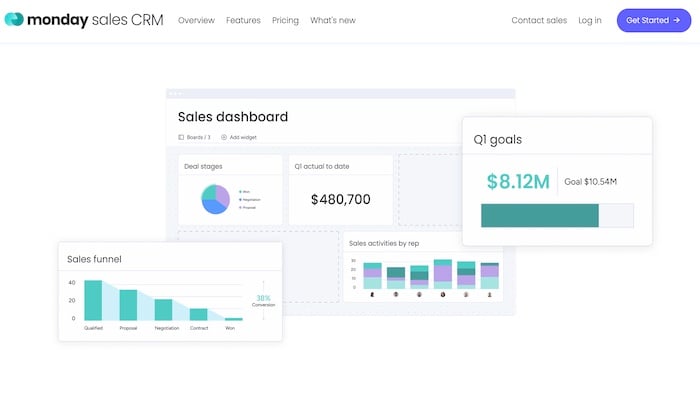 Making sense of CRM data is often the biggest challenge for business owners who lack executive-level assistance. Most small businesses don't have the luxury of hiring VPs who can spend a full 40 hours each week monitoring data to ensure quotas are on track and reps are progressing toward quarterly goals.
With Monday.com's sales CRM, you can track all of this information on your own.
Monday Sales CRM has simple yet powerful sales reports and dashboards to help small businesses gain instant visibility into their processes and rate of success.
In seconds, you can view reports related to current deal progress, sales numbers, and team performance.
With a few more clicks, you're able to analyze and organize the data even further. Quickly see which sales reps are performing the best and which ones need some extra support. And comparing this month's numbers against last month's becomes a walk in the park.
Monday Sales CRM makes it really easy for small businesses to set deal values and the probabilities of closing those deals. You'll also be able to accurately forecast sales and quickly compare those forecasts against actuals.
My favorite part of Monday Sales CRM is its amazing value. Starting at just $10 per seat per month, it's one of the most economical options on my list—perfect for small business owners who want a robust CRM that supports their sales efforts without breaking the bank.
The low price of Monday Sales CRM doesn't mean you're sacrificing necessary features, either. All plans come with:
Unlimited custom pipelines
Unlimited contacts
Unlimited boards
Unlimited free viewers
Over 200 templates
Over 20 column types
Customizable notifications
24/7 support
On top of that, you can utilize the mobile app for iOS or Android to manage your pipelines, deals, and general sales efforts from anywhere.
That all comes on Monday Sales CRM's entry-level Basic plan, but you can upgrade to the Pro tier to unlock additional perks like lead management, account management, customer quotes, DocuSign and Zoom integrations, and extra board views.
Starting at just $14 per seat per month, it's still an incredible value and less than half the price of some other plans on my list.
For small business owners who want to unlock deep insights about their company's sales activities, Monday.com's sales-focused CRM has you covered. You can test it out today by signing up for a 14-day free trial.
CRM #3. Pipedrive Review: The Easiest CRM To Use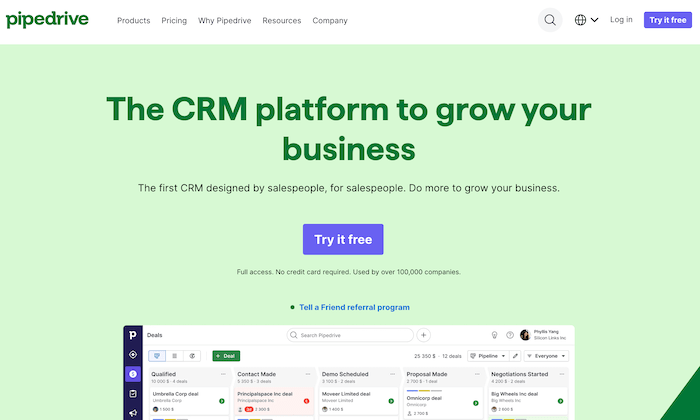 If you want to sell more, Pipedrive is the CRM you've been looking for. According to their site, they help teams sell an average 28 percent more. The entire platform is focused on increasing sales and Pipedrive integrates with a ton of other tools. It's a great way to take your automation process up to the next level.
It's also one of the more affordable options on this list, starting at just $12.50 per month per user for their Essential plan. Even at the Enterprise level, it's still pretty affordable at just $99 per user per month. They also offer a free trial, so you can try it out before purchasing a subscription.
So, how does it work? Pipedrive uses a pipeline-focused setup (hence the name!), so it's really easy to visually see where leads are in the process. It's also customizable, so you can drag and drop features and even add custom fields to build a tool that works with your current processes.
Here's a look at what your main dashboard could look like (Keep in mind, you can customize it):
Click on any lead in your pipeline, and you can see the last actions taken on that account, review emails, use live chat, and even listen to the last call made to that account, depending on what other systems you have connected.
For each deal, you can add information like their value, notes, the probability of closing, and the expected close date. Color-coded tabs help you see deals that are in a specific stage of your funnel or those that might be going cold.
Another area where Pipedrive stands out is its reporting capabilities. If you like data, this is the CRM for you. The platform offers access to visual reports—not just dashboards—as well as customized reports, pipeline metrics, and the ability to set individual, team, and company-wide goals.
Looking to automate your business? Pipedrive also offers dozens of integrations that make automation incredibly easy. You don't need to set up a bunch of rules—or learn to code.
Simply connect the platform with other tools you use, including Zapier, Slack, Outfunnel, and more to set up triggers. You can also leverage their sales automation processes that let you set up workflows to create activities, add additional information as needed, send emails, move deals through your funnel, and more. There are plenty of automation processes you can take advantage of!
The core goal of a CRM software is to have all your data in one place, right? With Pipedrive, you can connect your email and communication platforms (including live chat, billing, and task management systems) so you can easily see when links were clicked, if a lead reached out to support, and even reply to emails.
Pipedrive is incredibly intuitive to use and ideal for sales-focused teams, but it's also pretty popular for marketing teams. If you're looking for a way to stay organized, track communications, and want a quick setup, Pipedrive is an excellent choice.
CRM #4. HubSpot Review: The Best for Scaling Quickly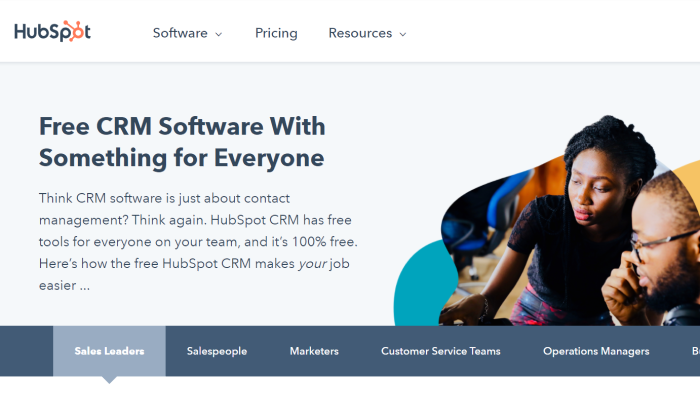 HubSpot CRM is a great option for small businesses that are on the fence about whether or not they need a dedicated CRM software.
First of all, their freemium plan is bananas in terms of how much they give you. You get chatbots, sales pipelines, and literally dozens of other features you would normally have to pay for.
On top of that, you get unlimited users and it's free forever, so you don't have to worry about how many contacts you make while you're trying to grow.
When you are ready, you can upgrade individual "Hubs" to get advanced tools for sales, marketing, customer service, and content management. Only pay for what you need.
Okay, so let's take a look at how the free HubSpot CRM can make an impact on day one.
Inside a HubSpot-enabled inbox, for example, users can see every contact's history in a sidebar. This includes past interactions (across any channel), but also recent activities from the contact's social channels.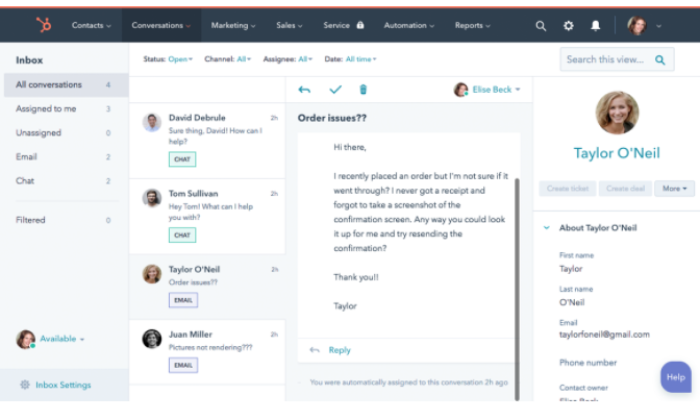 It provides every HubSpot user with up-to-date customer insight no matter where they work. Whether they are chatting with a confused customer or crafting a proposal, agents and reps can deliver personalized, relevant information with ease.
HubSpot can do this because everything is centralized within a client record in the CRM. Every ticket, conversation, and email is captured and organized without any legwork.
Cutting down on data entry frees people up, giving them more time to dedicate to each client.
In addition to phenomenal contact management, there is a ton more functionality in their free plan, which includes:
ticketing
live chat and conversational bots
reporting dashboards
Gmail and Outlook integration
email tracking and notification
VoIP calling
There's even more on top of that, believe me.
It will take a little time for users to get fully acquainted with everything that's included. One, because there is so much, and two, because HubSpot has its own jargon and way of doing things known as inbound marketing.
This isn't a downside at all, considering how many companies have used inbound marketing to explode their customer base.
If you are already all about inbound marketing, HubSpot is an obvious choice for CRM software. And even if you aren't, the platform is flexible enough to work for any strategy, and easy enough to get people on board.
With the premium "Hubs", you'll be able to automate processes by building out workflows for customer service, sales automation, marketing automation, email automation, and more.
Looking at pricing for the paid plans, the Starter Growth Suite is a great option for small businesses that will benefit from Hubspot's premium features. It starts at $50/month, and comes with additional features for sales, marketing, and customer service.
For companies that are already using HubSpot's marketing and sales tools, the addition of their CRM software is a no-brainer.
For teams new to CRM, HubSpot's freemium plan is really generous. A small business will be able to get a good sense of whether or not they like the HubSpot way of doing things.
If they like HubSpot, nothing else will do. Try it for free today.
CRM #5. Salesflare Review: The Best Automated Customer Information Collection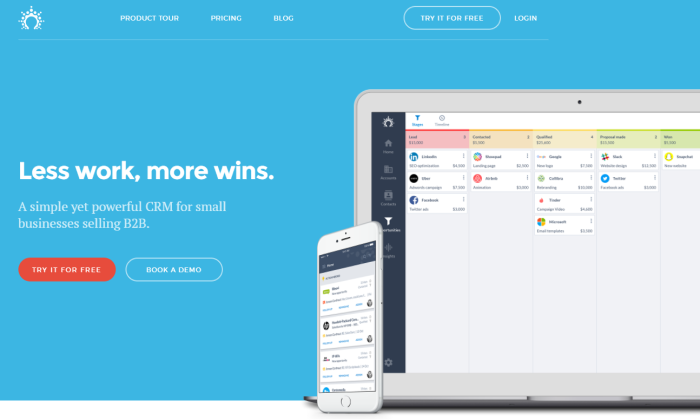 I am a fan of software providers who know exactly how their bread is buttered. Salesflare is a great example—they make a CRM tailor-made for smaller B2B sales teams that is laser-focused on lead management tools.
You'll hear "simple but powerful" thrown around a lot with many software solutions, but it really does fit Salesflare.
Anyone at your company is going to figure out how to use this right away. It uses a straightforward dashboard with four major components:
An Accounts section for collecting pertinent information on leads, prospects, and customers. This also contains details on lead and prospect actions like email opens and website visits.
A Contacts section that serves as a universal rolodex for your whole team.
An Opportunities section that presents everything from leads to wins and losses in an easy-to-grasp, Kanban-style board. Here you can also configure and customize your sales pipelines.
An Insights dashboard for tracking internal metrics, which can be segmented out by sales team member, account, date range, and more.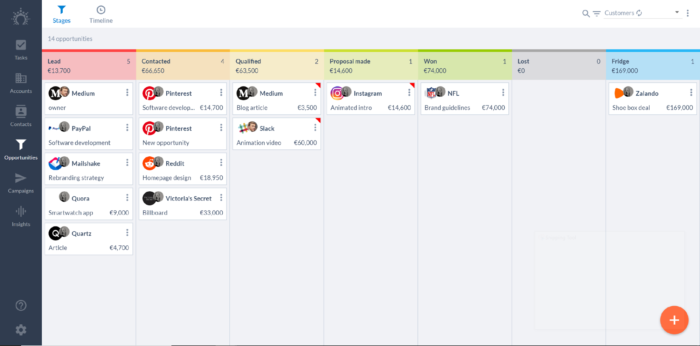 The real meat is in the Account section, which itself would be a potent CRM without the rest.
Here, Salesflare's automation really shines. The software will gather customer details from their social profiles, email signatures, and the web at large. Plus, it will automatically suggest contacts it recognizes as associated with a person or organization you add to your accounts.
From there, you can start to maximize the benefit of seeing lead and prospect actions within their account timeline in Salesflare. When they open an email, follow a link, head to your landing page, or the like, Salesflare logs it in the account dashboard and will even send you real-time push notifications.
It also logs all communication and touchpoints with accounts. So, when a rep sends an email to warm up a lead or another jumps on a call to encourage them further down the sales pipeline, you can see it all in chronological order.
This really helps B2B sales teams that utilize hand-offs at some point in the buyer's journey.
Plus, integrating and syncing Salesflare with your Gmail, Outlook, or iCloud is a cinch. Not only does that come in handy for logging emails and quickly sending follow-ups from Salesflare, but it feeds into another one of this CRM's clutch features—email workflows.
This means your team can capitalize on the time saved through Salesflare's automated info gathering and the depth of activity detail to really target your email campaigns.
Simply set trigger events based on customer, lead, or prospect behavior and draft email copy for each segment into which you want to split your campaigns. The amount of data Salesflare helps you collect from accounts and share with your team goes a long way to defining better audience segments, leading to more effective email personalization.
Salesflare comes in three pricing tiers:
Growth: $29/user per month
Pro: $49/user per month, which adds the ability to set user permissions and more robust workflows to what's offered in the Growth plan
Enterprise: $99/user per month. This plan focuses on white-glove level service, including a dedicated account rep from Salesflare and custom training for your team
There's no free forever version of Salesflare, sadly, but that won't stop you from being able to give it a try. They offer a free trial for up to 30 days or you can contact them for a demo, as well.
Regardless, this is a potent tool that fits both the needs and budget for most small B2B sales operations.
If you're looking to improve the collection and organization of data on your leads and prospects, try Salesflare out today.
CRM #6. Less Annoying CRM Review: The Most Affordable Solution for Sales and Marketing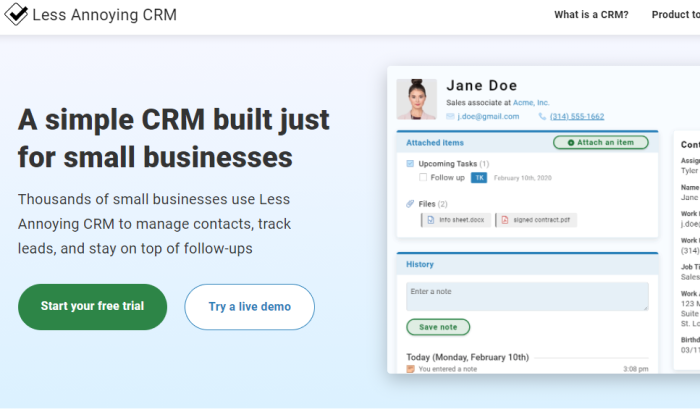 Less Annoying CRM has one goal and I bet you can guess what it is.
It's a simple platform with transparent, affordable pricing. They know that small businesses need a CRM solution but can't spend all of their money or time on software.
Enter Less Annoying CRM, or LACRM for short.
This is a low-cost, high-performance tool for managing and organizing all of a company's contacts in a single platform. Users sign into their LACRM workspace and are instantly brought up to speed about all their most important customer relationships.
There is an agenda of their events for the day, a prioritized task list, a pipeline report, and an activity report. Individuals can see the status of all their activities and leaders will also be able to see the activity status of anyone they manage.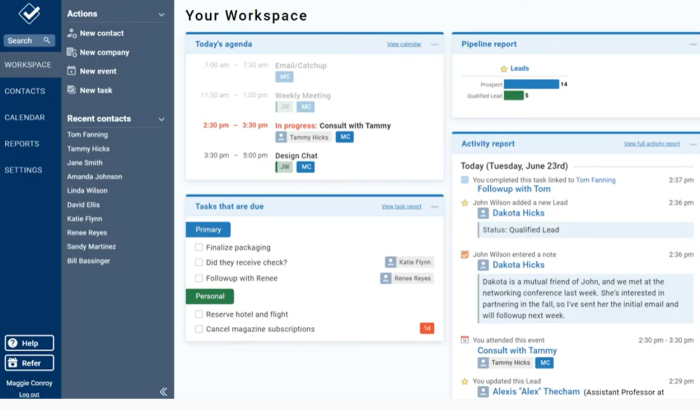 Say goodbye to post-it notes and forgotten conversations.
Every task, appointment, and document can be linked to an individual contact or company. Because every member has all the information they need in front of them, there's no more emailing back and forth to figure out a course of action.
I really recommend LACRM for companies that want to make the lives of their sales and marketing teams more manageable, but don't want to pay through the nose. It's not the most visually appealing platform on the market, and the email integration can be finicky at times.
There's also no customer service module. This is something to keep in mind if you plan on having a unified CRM in the future, as LACRM does not have pre-built integrations for other CRM or help desk software.
Still, for sales and marketing, LACRM is stocked with features to increase outreach and drive sales, including:
built-in calendar
customizable pipelines
role-based access control
customizable fields for contacts
email integration
integration with MailChimp
LACRM is definitely a pipeline-focused product, which is great for sales. But it's really flexible. Teams can use the platform to develop referral programs, loyalty programs, as well as track customer feedback and marketing expenses.
The price of LACRM is $15/month per user. End of story. There are no contracts, pricing tiers, usage limits, or upsells.
It's not going to work as well for larger companies with complex reporting and automation requirements. For smaller businesses and teams, though, LACRM is winning over users every day.
It's just the tool they are looking for, at a price that makes sense.
Their focus on being less annoying extends to their customer service. When you sign up, they take pains to make the process as easy as possible, reaching out and assisting wherever you need help.
Updates are seamless and free. Your data is always backed up on multiple Amazon Web Services servers.
If Less Annoying sounds good, you can try their platform free for 30-days without giving your credit card information. After that, it's a predictable monthly payment with absolutely no surprise charges.
CRM #7. Nutshell Review: The Best for B2B Sales Teams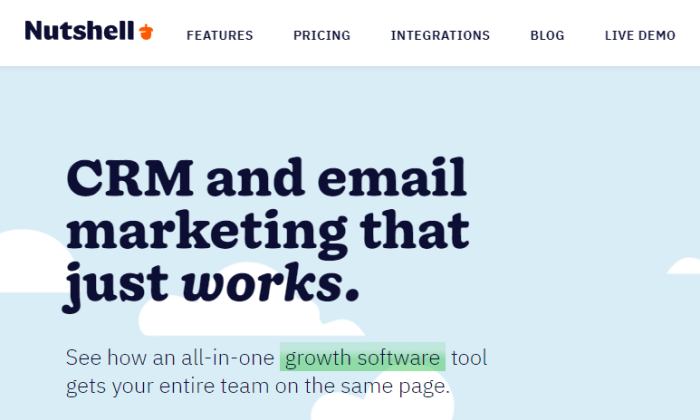 Nutshell offers a nice balance of user-friendliness and sophistication that works extremely well for B2B sales teams.
Reps get the information, support, and collaborative tools they need to start selling smarter, even over a long sales cycle.
B2B deals take time and engagement with various stakeholders throughout the process. Keeping track of everything that's involved across multiple deals is hard.
Nutshell keeps important people and conversations from falling through the cracks. Their CRM interface is really welcoming (your reps will actually want to use it) and their mobile app is just as good.
Edit contacts, log meeting notes, receive alerts, and scan business cards to create new leads, all directly within the iOS or Android app.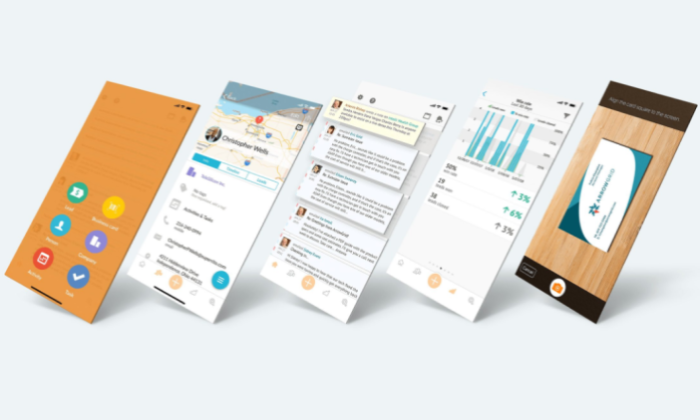 Lots of CRM software options come with mobile apps, but not all of them have a great reputation. HubSpot, for example, has a lot of work to do in this area, whereas Nutshell provides a best-in-breed service.
Sales reps need the ability to provide a quote without having to call back to the office. With the Nutshell mobile app, they can access client information, product catalogs, and generate a quote on the spot.
The iron doesn't stay hot forever, especially in a crowded space full of competitors that are reaching out to your customers on every channel.
Nutshell is also loaded with tools that help B2B sales teams coordinate. Never miss another lead, double-book an appointment, or forget to touch base with features including:
customizable sales pipelines
leaderboards
communication histories
activity reminders
team @mentions and alerts
click-to-call and phone recordings
The reporting and performance tracking features make sales management more efficient and productive over the long term.
Sales leaders get both real-time insights from customizable dashboards and the ability to pull reports about new leads, losses, win-rate, pipeline growth, sales cycle size, and more.
Pricing for Nutshell is really straightforward:
Starter: $20/month per user
Pro: $42/month per user
With Starter, you get a sleek, no-frills CRM software solution that will work wonders for your sales team. With Pro, you get many more tools for sales automation, including:
Guided sales process builder
Automated lead assignment, advancement, and pipeline distribution
Post-sale lead management
Nutshell syncs with G Suite, Microsoft 365, Outlook, and Exchange. They also offer one-click integrations with the best email marketing services, like MailChimp and Constant Contact, as well as other important business tools like Slack and Quickbooks.
Out-of-the-box, no other small business CRM software is as well designed for the challenges that face smaller B2B sales teams. It comes down to the fully-functional mobile app, the collaborative tools, and the rich sales reporting.
Nutshell is like getting the best parts of Salesforce at a fraction of the price. It won't work across the entire organization as well, but for a B2B-focused sales team, everything is right there. The only difference is that Nutshell is much easier to use and doesn't require a developer to set it up.
Nutshell's customer support is always available by phone, email, or chat, and there is a comprehensive self-service knowledge base online. They also offer free data importing assistance when you sign up, making the transition as smooth as possible.
Empower your sales team and start your 14-day free trial of Nutshell today.
CRM #8. Nimble Review: The Best for Teams Using Microsoft 365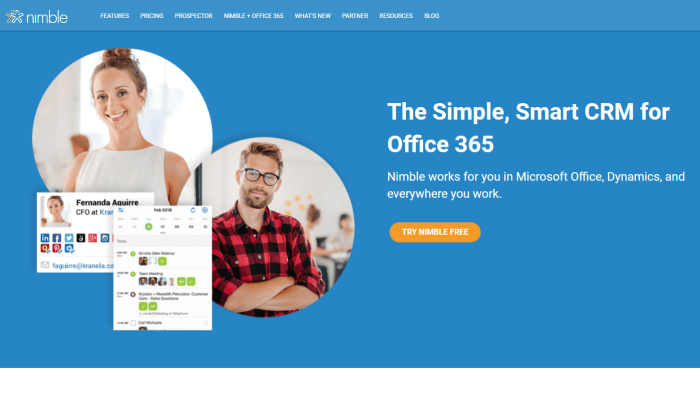 Nimble is a great CRM for small businesses that don't want to change the way they do business. It has integrations with more than 160 business apps that will pull all of your contacts, conversations, appointments, inboxes, and social media connections into a single interface.
For teams that are using the Microsoft 365 productivity suite (formerly Office 365), Nimble is simply the best CRM.
Tools like Microsoft Outlook are set up to handle basic contact management needs, but users constantly find that they have to Google information or keep multiple tabs open to track everything they need.
With Nimble enabled, Outlook is smarter. The Nimble sidebar contains rich information about each contact, as well as any linked appointments, deals, events, and so on.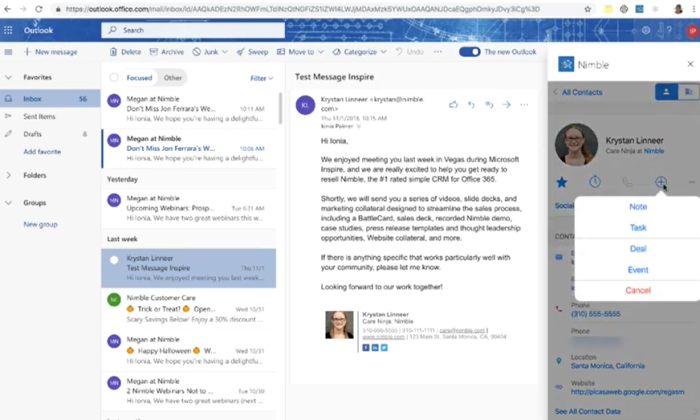 Instead of the basic info, Nimble provides a full digital dossier of the contact, which is always up to date across your Microsoft environment. Whether you are working in Teams, SharePoint, or Dynamics, all of the information you need is within the interface.
Think of it as the missing CRM piece for Microsoft 365. Your teams can still work the way they always have, but now they get features like:
sales pipelines
intelligent email tracking
activity reminders, alerts, and notifications
list segmentation features
sales and customer dashboard
sales forecasting and analytics
group email marketing
Nimble doesn't have a dedicated customer service module, so I really recommend it on its sales and marketing merits. If you really need customer service, HubSpot has you covered and provides a similar feel, though the Microsoft 365 integration is not as tight.
The pricing for Nimble Business starts at $19/month per user with an annual subscription. You can also pay monthly at $25 per user to avoid the commitment.
One thing to note is that each user gets 2GB of storage, after which it is $10/month per 10 GB of additional storage.
Nimble works with G Suite, as well, but the Microsoft 365 integration is more complete, making it a better choice for companies that have already invested time and energy in the Microsoft ecosystem.
Try Nimble free for 14 days to see if your teams reap the benefits of a more streamlined experience.
Microsoft may release CRM software one of these days, though it will probably cost a lot more than Nimble and come with features no small business is asking for.
What I Looked at to Find the Best CRM Software for Small Business
A small business owner could spend a full year trying out every CRM software option, and they might make it through a quarter of the products available right now.
To find a product that's going to work—without spending a lifetime doing it—you'll need to focus on what's really going to really add value, save time, and provide useful insight for your company.
Right out of the gate, you are going to be able to eliminate some otherwise decent options by looking at how the nuts and bolts line up with your specific situation.
I've called these the essential considerations. With CRM software for small businesses, these points are even more important. Here's why:
Ease-of-use: Everyone using the CRMs needs to make sure the information inserted is accurate or the platform will be useless. Avoid an elaborate onboarding process for every hire by finding something that's easy enough for non-techies to use and troubleshoot issues on their own.
Integrations: A CRM has to tie into the tools you are already using. Direct integrations are great because DIY and API integrations can easily break at scale. Centralizing the tools a small business uses is better than adding to the stack.
Channels: A CRM has to collect customer information no matter where it's coming from—talk, text, chat, social, and so on. If it can only connect with a limited number of the channels you use, information will be incomplete, and customer experience fragmented.
Price: If growth is the goal, the platform you choose should fit your budget moving forward. Cost may vary based on numbers of users, contacts, emails, etc. Budget this out to avoid hitting annoying limits or having to switch CRMs. No small business wants to spend resources migrating their customer data while they're trying to grow.
There may be a CRM that strikes you as very appealing until you discover that the must-have integrations and channels are not available. It's better to double-check the essential considerations before getting into the nitty-gritty.
Once you find a shortlist of products that satisfy these, then it's time to look at how each product manages the three core responsibilities of CRM software as they relate to your business: contact management, process automation, and reporting & business intelligence.
Organizing and Tracking Contacts
The chief responsibility of CRM software is to help companies organize and track every contact in their database. How they accomplish this goal is a little different from one platform to another.
Small business owners need to ask the following questions about each option:
Will it help teams grow their contact list? Look for sites, landing pages, forms, and other touchpoints where interested customers can find the business and establish a connection.
Will it help teams refine their contact list? Look for products with robust segmentation features.
Will it help teams manage their contact list? Look for tools that allow users to make notes, set appointments, and schedule calls directly within the interface.
Will it provide teams with real-time customer insights? Look for tools that make entire customer histories available no matter where users are working (inbox, chat, phone, etc.)
Will it help teams meet their goals? Look for options that provide frameworks for reaching objectives like closing deals, resolving customer problems, and nurturing long-term relationships.
When it comes to CRM software, small businesses need a tool that's going to help them reach all those bolded objectives.
For some, this is going to entail a sales pipeline and marketing automation features. Others may be more focused on outfitting an ultra-responsive help desk. Some may need all of it.
Some will also come with outreach tools you can use on social media, turning passersbys on Twitter and Facebook into your next customer.
Start with your customer-focused goals, and work backward from there to figure out which CRM software is going to really help your teams stay on top of every relationship.
Process Automation
Generally speaking, there are two different levels of marketing automation that come with CRM software. Both can make a big difference to small businesses.
The first is automating routine tasks like data entry.
These platforms create contacts automatically whenever a rep or agent starts a conversation with a customer who is not in the database. Instead of having to go in and create a customer, the CRM software auto-generates a new profile or gives a user the option to create it in a single click.
Some CRMs look at the domain on the email, scour public databases, and fill in as much information as possible on their own. Some will automate list segmentation, which essentially groups customers based on criteria you set, such as age, gender, buying habits, or location.
A marketing team that wants to get thousands of emails out to interested customers can query the CRM based on relevant criteria (for example, customers who subscribed in the last 90 days) and their list is ready to go.
Each minute saved is more time to generate leads, close deals, and resolve issues. Plus, all the customer data is right there, all the time, with no extra time spent hunting it down. This is just one example, but good CRM software is constantly working behind the scenes to eliminate many of the routine tasks, saving minutes during every interaction.
It also makes automating workflows a very powerful capability. The marketing team that just generated a list of thousands of recent subscribers can begin an automated email campaign instantly.
As contacts enter the sales pipeline, tasks can automatically be assigned to the right rep. When a customer has a problem, they can automatically be routed to the right agent.
From streamlining customer onboarding processes to close more deals quickly, CRM software can help small businesses do more with less.
Reporting and Business Intelligence
CRM software gets loaded with information that can help small businesses make decisions about where to focus their energy and resources.
This goes way beyond simple metrics like conversion rates. Say you want to increase the number of customer service interactions that are resolved on the first call. CRM software can provide the information necessary for teams to see what tactics are working and pivot accordingly.
With segmentation features and a rich picture of each relationship, you can really drill down into why some leads are converting and others are not.
Some of the more robust CRM platforms come with rich analytics features that convert overwhelming amounts of customer data into clear visualizations. Many let you customize dashboards to track key metrics, turning your database into actionable insights.
Conclusion: Best CRM For Small Businesses
I started blogging more than 10 years ago. Just me and a screen.
My business has a lot of moving parts now. We communicate with thousands of customers every hour through our content, emails, newsletters, and podcasts.
Small teams need powerful tools when it comes to managing customer relationships. All of these CRM options provide the features necessary for teams to stay organized as they grow:
Nextiva: Best for visual sales pipeline management
Monday.com: Best value for tracking sales performance
Pipedrive: The easiest CRM to use (+automation)
HubSpot: Best for scaling quickly
Salesflare: Best automated customer info collection
Less Annoying CRM: Most affordable solution for sales and marketing
Nutshell: Best for B2B sales teams
Nimble: Best for teams using Microsoft 365
Sales and marketing teams, especially those in B2B, will be thrilled with Pipedrive. It has a ton of functionality, it's easy to use, and it connects all those touchpoints into one place.
For teams looking to expand their outreach, Less Annoying CRM is going to get the job done at a really competitive price. As they benefit from being able to connect with more customers, they can bring on new team members at the same low rate.
Teams that are working in a Microsoft environment should shortlist Nimble. It's been engineered to work across the Microsoft environment, meaning teams aren't going to have to change their processes to get onboard.
For B2B sales teams, Nutshell is purpose-built to handle the long, unpredictable sales cycle. The collaborative tools and powerful mobile app enable every rep to be ready to strike when the iron is hot.
If you are looking for a full-stack CRM solution, HubSpot is the choice for small businesses. The freemium plan is second to none, in terms of depth, and it's the only option on this list that has a dedicated customer service module.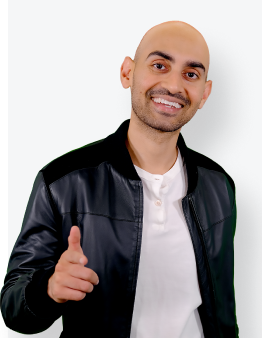 See How My Agency Can Drive More Traffic to Your Website
SEO - unlock more SEO traffic. See real results.
Content Marketing - our team creates epic content that will get shared, get links, and attract traffic.
Paid Media - effective paid strategies with clear ROI.
Are You Using Google Ads? Try Our FREE Ads Grader!
Stop wasting money and unlock the hidden potential of your advertising.
Discover the power of intentional advertising.
Reach your ideal target audience.
Maximize ad spend efficiency.