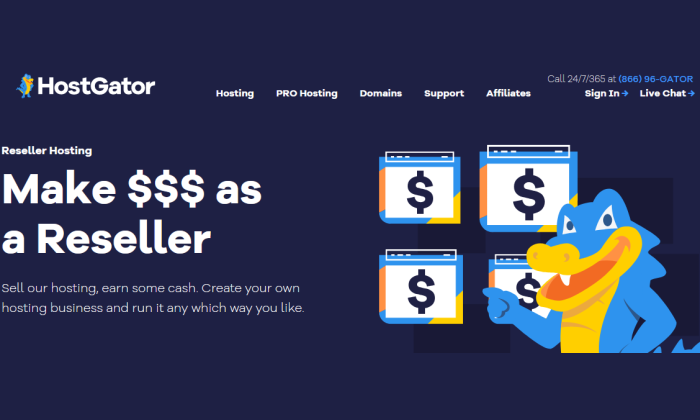 Disclosure: This content is reader-supported, which means if you click on some of our links that we may earn a commission.
Reseller hosting can be extremely lucrative–and not just for traditional resellers.
Whether it's an add-on to your existing business, a side hustle, or the start of a standalone hosting company, there are plenty of ways to turn a profit in this space. And, with white labeling, you'll be able to sell these services with your own branding.
Web designers and developers can use reseller hosting to create a source of recurring revenue. Instead of building a site and getting paid once, they can take care of their clients' hosting and get paid every month.
Reseller hosting is also a good option for companies that need multiple cPanels. This can be way more cost-effective and easier to manage than purchasing multiple hosting accounts the old-fashioned way.
Here are my top picks for reseller hosting companies. After the in-depth reviews, you'll find a short buyer's guide to help you home in on the right one for you.
#1 – ChemiCloud Review — The Most Feature-Rich Reseller Hosting Plans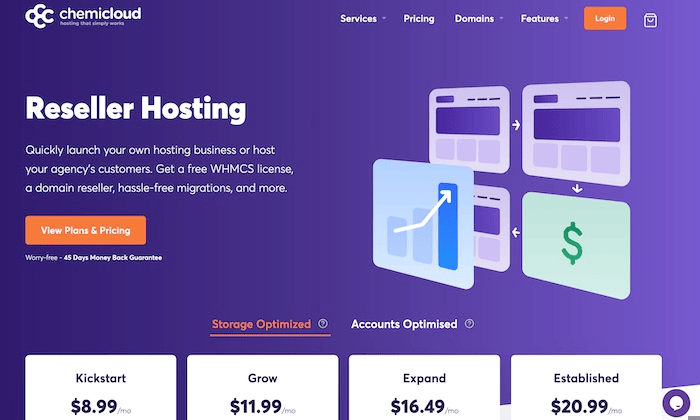 ChemiCloud makes it easy for anyone to resell web hosting services. Whether you want to start your own hosting business from scratch or expand the offerings of your existing agency, ChemiCloud has you covered.
Agencies can benefit greatly from offering to take care of all clients' website-related needs in one package, which is enabled by the ability to white-label ChemiCloud's web hosting and even resell domains to clients through ChemiCloud.
But what I really like about ChemiCloud is its unique billing structure.
It's common for reseller hosting providers to offer additional (often, necessary) features on successively higher-priced plans. But ChemiCloud doesn't do this. Every reseller plan comes with this complete suite of features and capabilities:
Unlimited site migrations
Free daily backups
Free SSL certificates
Free WHM
Over 400 apps with one-click installation
Custom reseller hosting pages
White label branding
Private nameservers
Instead of charging more to gain key features, ChemiCloud's pricing is based strictly on storage, cPanel accounts, and bandwidth. Simply pick the right plan based on the projected volume of clients you'll provide hosting to and the size of the sites you're planning to manage.
What's particularly unique about ChemiCloud's plans is that each tier can be optimized for either storage or the number of cPanel accounts needed. That gives you more flexibility to secure reseller hosting at a fair price while still being able to accommodate the needs of your clients.
For example, if your client or hosting customer base is mostly ecommerce sites that need extra space for product images and videos, you'll want to opt for a storage-optimized version of one of ChemiCloud's reseller plans.
But, if you're just selling hosting to basic small business sites, then you can opt for an accounts-optimized plan that keeps the monthly rate low while letting you sell hosting to a decent number of customers.
Here are the four plan tiers to choose from:
Kickstart: Starting at $8.99 per month
Grow: Starting at $11.99 per month
Expand: Starting at $16.49 per month
Established: Starting at $20.99 per month
Storage-optimized plans start with 60 GB of NVMe storage and 30 cPanel accounts at the Kickstart tier and go all the way up to 200 GB of NVMe storage and 100 cPanel accounts with the Established plan.
If you go with the accounts-optimized route, the pricing stays the same but the numbers flip. So, you'll get 60 cPanel accounts and 30 GB of NVMe storage with Kickstart, and 200 cPanel accounts and 100 GB of NVMe storage with Established.
All ChemiCloud reseller plans are backed by a 45-day money-back guarantee, and you can get up to 70% off the standard monthly rate when you sign up.
#2 – HostGator Review — The Best for Hosting Clients with Basic Sites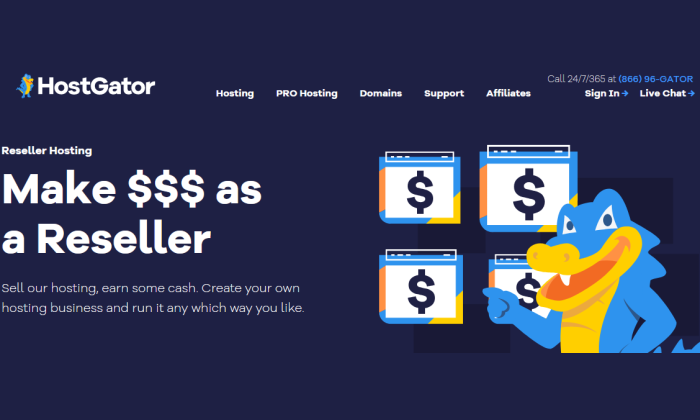 HostGator is a great pick for resellers that host small businesses and other organizations that don't have super complex websites. You can easily provide hosting for these clients and take advantage of HostGator's competitive pricing.
The reason I recommend HostGator for people that are hosting smaller sites is that you'll max out the server resources too quickly if you're hosting something with too much traffic. A big ecommerce site, according to HostGator, is probably better suited on a VPS or dedicated server. HostGator offers those types of hosting, but not for resellers.
You also don't have as much control over the server with HostGator reseller hosting. Of course, if your clients don't need anything fancy, you won't have to tinker with the backend at all.
Really, HostGator takes care of most of the IT legwork, leaving you an uncluttered management interface that lets you accomplish things in a few clicks. You can monitor your sites, customize your cPanel branding, and manage all your users in WHM.
So that's the tradeoff–a little bit less control for you, but a lot less work because HostGator handles so much of the day-to-day maintenance.
One thing to consider is keeping the easy clients to host yourself and sending the labor and resource-intensive clients to HostGator. You can set up an affiliate deal with them and earn up to $125 per signup.
Even if you only refer a few people successfully, it would cover a year's worth of your hosting costs. You'll be making money off the trickier clients without having to absorb a whole new set of IT headaches.
HostGator includes an array of helpful features to make your job as a reseller easier and more lucrative:
Domain reselling
Merchant gateways
Free SSL certificate
Free WHMCS
Private name servers
Spam protection
Courtesy weekly backups
This last point, the free weekly backups, is really helpful. It's not a full-scale disaster recovery failsafe, but it's a zero-effort insurance policy that protects you and your clients if someone makes a mistake.
A lot of the time, backups are completely on you. It's just one more way HostGator makes your job as a reseller so much easier.
There are five HostGator reseller hosting plans available. The first three are pictured below: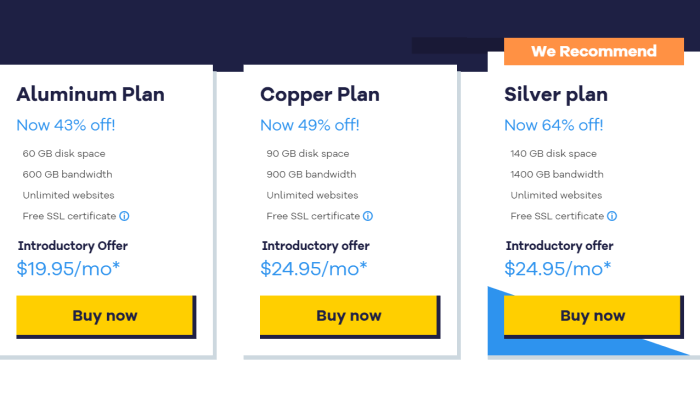 The Aluminum plan is aimed at people who are just getting into the reselling game and priced accordingly. For $19.95 per month, you are looking at 60 GB of storage and 600 GB of bandwidth. This is very generous considering the price.
What's even better is that WHMCS is included free, no matter what plan you pick. You'll find that it's often an add-on cost with similarly low-priced plans. HostGator includes it at no cost.
If you need to upgrade from Aluminum or need more resources, HostGator's plans stay affordable. So long as you aren't trying to host sites with millions of visitors, you can scale up to get the resources you need.
The price is going to increase upon renewal. This is par for the course with hosting, but you should be aware of it.
Playing the low-maintenance reseller game can be really rewarding. Not every business needs a high-octane website, but they still need great hosting.
HostGator has a 99.99% uptime guarantee. In fact, should you get anything less, HostGator will actually credit you a full month of service. It's a real guarantee, not just something the company says.
And should your clients run into another type of issue that you can't solve yourself, HostGator customer support is always available via live chat, phone, or submitting a ticket.
You can try HostGator free for more than a month. The company has a 45-day refund policy if you aren't happy.
#3 – InMotion Review — The Cheapest Reseller Hosting That Doesn't Cut Corners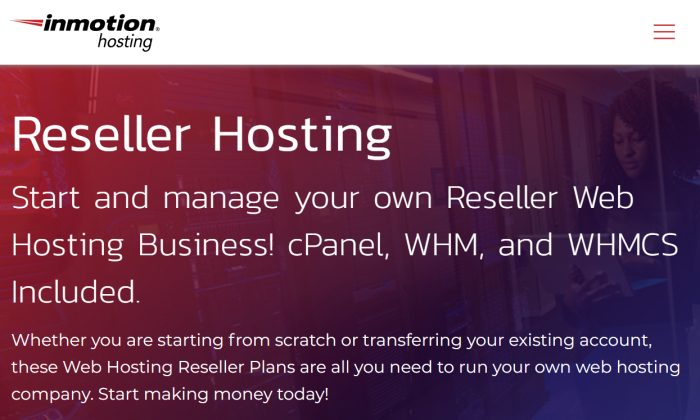 InMotion offers great prices for resellers with hosting packages that include everything you need.
This isn't a gimmick price. You're not spending anything extra to brand your sites or bill your clients. Even if you go with the cheapest plan they offer, you get WHMCS, WHM, and 25 cPanel accounts.
You might also think its low-cost plans would mean InMotion is stingy on the resources, but the opposite is true.
The entry-level plan, which is $15.39 per month, comes with 80 GB of storage, 800 GB of bandwidth, unlimited email accounts, and one dedicated IP. That's a boatload more than you get from other providers at that price.
Because it's shared hosting, InMotion takes care of all the backend server maintenance and the essential security services. Your only responsibility is to take care of your clients.
People who aren't tech wizards will find managing InMotion's reseller platform very easy. Experienced resellers will appreciate how much has been streamlined. You can choose from pre-configured hosting packages and start selling immediately.
It includes Softaculous, which lets you install more than 400 apps with one click. This includes BoldGrid, a WordPress website builder owned by InMotion. That means your clients can install both and get to work designing their site with nearly zero effort.
InMotion's reseller plans are ready to go out of the box. You are getting the full range of services you need to start hosting your clients, such as:
Unlimited email
Free SSL certificate
Malware and hack protection
Free white labeling
24/7/365 customer support
Free domain reseller account
Custom name servers
It's the complete package at a great price. I've already talked a little bit about InMotion's cheapest possible plan (R-1000S), but the price remains very affordable if you need to upgrade.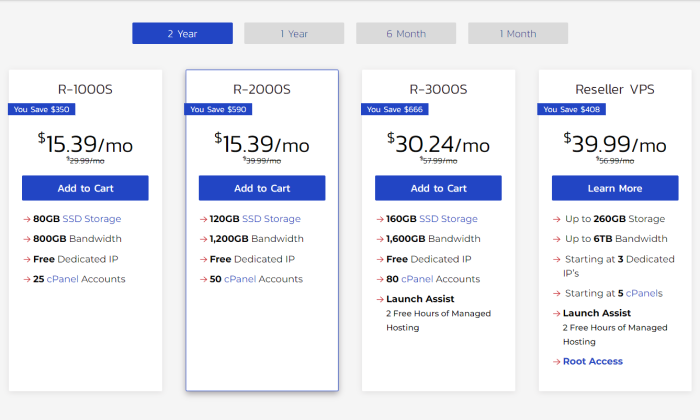 To get the best possible price, you'll have to sign up for two years. I doubt committing will be much of a problem for people who are seriously considering reseller hosting—it's not a get-rich-quick scheme. And, by choosing InMotion, you can lock in that ultra-low rate for two full years.
As you can see, there's a promotion which offers the second tier plan (R-2000S) for the same price as the entry-level plan. This is an exceptional deal, giving you more than a TB of bandwidth and 120 GB storage to resell for under $16 per month.
The renewal prices will be more expensive, which is normal, and why I recommend locking the discount in for as long as possible.
Should you ever outgrow your ability to use shared hosting plans, the company offers several reseller VPS hosting options. By the time you need to upgrade, you'll be more than experienced enough to manage a VPS and InMotion will always be there if you have any questions.
For people that are novices in reselling or want to take their business to the next level, it makes sense to look at InMotion's Reseller Advantage plan. It's a one-time $250 cost that completely sets you up with a custom pre-built website to start selling hosting and domains.
Choose from three storefront options and customize from there. InMotion's staff will help you configure the backend so that your management and billing is automated correctly.
I think Reseller Advantage is worth it if you don't want to spend the time getting everything set up yourself.
That said, it's an added cost. And it's not 100% necessary—even for first-timers—because InMotion provides the tools, resources, and quality customer service to get you off the ground.
If you are looking to spend as little as possible on reseller hosting, InMotion won't let you down. You're getting all of the critical tools and features for one low price.
Try InMotion reseller hosting today. If you sign up for more than six months, you will get a 90-day money-back guarantee. That's three months risk-free.
#4 – Verpex Review — The Best for Global Resellers
Verpex is a top choice for resellers who want to offer web hosting to their clients across the globe. With servers on five continents and dozens of cities, you can pick Verpex server locations that are closer to your clients.
This means that your clients' sites can benefit from better performance, since nearby server locations help their sites load faster for visitors in the region. That, in turn, can help you justify charging a higher price point for your services, leading to higher revenue for your reseller business.
Choose from servers in locations like San Francisco, Toronto, New York, Sydney, Singapore, London, Frankfurt, São Paulo, and more.
Best of all, Vertex has a global support team. If you need help, you and your clients can get technical assistance in the appropriate region and language.
Another perk of using Verpex for reseller hosting is that it's 100% white-labeled. The Verpex name or logo won't appear on anything. You can set your color scheme, add your logo, and truly make the service and branding your own.
For such a quality reseller service, the plans are surprisingly affordable.
The Start-Up Reseller plan from Verpex starts at $10.80 per month and renews at $17.99. This includes 15 cPanel accounts, unlimited bandwidth, and 50 GB of SSD disk space.
For additional storage and 50 cPanel accounts included, you can upgrade to the Pro Reseller plan. That starts at $18 per month and renews at $30. Verpex even has a reseller plan with unlimited disk space, which starts at $36 per month.
You can save even more on the monthly rate of any plan by choosing a one-year, two-year, or three-year contract at checkout.
The affordability makes it easy to generate profits and get a quick return on your investment after signing up just one or two clients. And, every Verpex reseller plan includes the following features:
Free SSL certificates
LiteSpeed caching
DNS setups
24/7/365 support
Daily backups
Unlimited migrations
Clean mail servers
Imunify360 security
Overall, Verpex lets you offer high-quality hosting to your clients while making it easy to scale your business on the backend. If you're currently using another platform to host client sites or you've outgrown another reseller plan, Verpex will handle the migration process free of charge.
Verpex's reseller plans are backed by a 45-day money-back guarantee. Get started today and save up to 40% on your reseller plan.
#5 – A2 Hosting Review — The Fastest Shared Servers a Reseller Can Get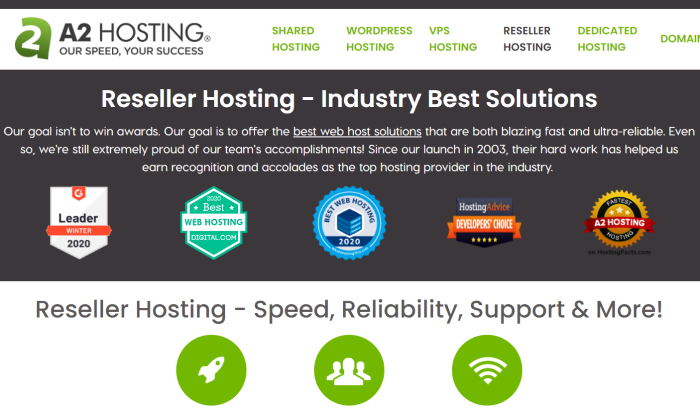 You can really make money as a reseller when you're able to offer your clients hosting that's a cut above the standard.
That's what you get with A2 Hosting.
The company is constantly upgrading their server technology to the latest and greatest, passing the benefits off to their clients. If you go with them for reseller hosting, you get to provide that high-speed performance to your own clients.
It's still shared hosting, don't get me wrong—you're going to get more firepower from a VPS or dedicated hosting plan. But with A2, you get best-in-class speed without the significant increase in cost or IT responsibilities. Those other types of hosting are great, but you have to know exactly what you're doing in order to keep things fast and secure.
A2 maintains everything, and you can get servers with NVMe storage as opposed to SSD. Without getting too deep in the tech talk, NVMe storage is more efficient for your CPU and has read/write speeds that are three times faster than SSD storage.
Every other host I looked at offers SSD, which is a huge step up from older HDD storage. But, just as SSD has replaced HDD, NVMe is like the way of the future. A2 gives it to you today.
And you get to pass on that technological edge to your customers.
You can also take advantage of Lightspeed web servers that offer up to 11 times faster performance compared to Apache and six times faster than NGINX.
On top of that, Anycast DNS duplicates your records across A2's global network, which decreases latency.
In plain English, all of that means that visitors to your clients' sites will experience much faster loading and response times.
None of this is marketing lingo. A2 has made concrete upgrades to its hardware and network that translate into better performance.
Along with top technology, A2 provides you with some of the best customer service in hosting. People adore A2's techs and support staff. If there is ever a problem, you can get help quickly any time of day.
The staff will also assist you with moving your sites from your old host to A2. In fact, migrations are free for up to 25 cPanel accounts of 30 GB or less.
Most of the heavy lifting for security is handled by A2. You want to ensure that your clients aren't using 1234 for their password, but virus scanning, server hardening, brute force protection, and firewalls are all handled by A2. In addition, you'll get:
99.9% uptime commitment
Custom domain name servers
Cloudflare CDN
One-click installs for WordPress, WooCommerce, and other apps
Free domain name reseller account
Free server rewind backups
I really like the server rewind backups, which automatically take snapshots of your data and store them safely. If there's ever an issue—say one of your clients accidentally deletes a critical file—A2 makes it easy to recover and restore.
This is not the cheapest reseller hosting plan you can get, but it's a cut above many of the other shared hosting options you'll find. That said, the price is still extremely competitive.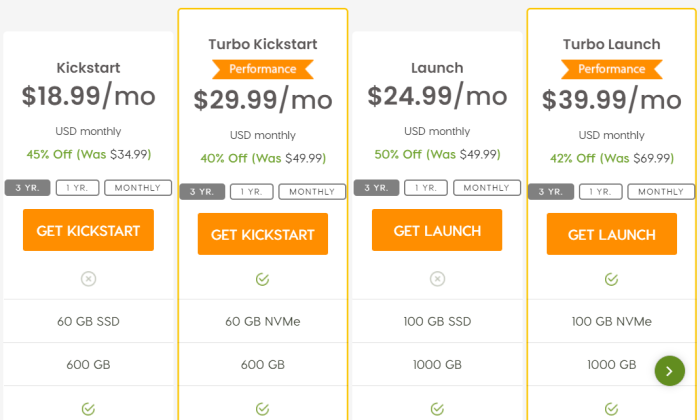 A2's hosting plans are broken down into regular and Turbo packages. To get the high-performance server hardware I've been talking up (like NVMe and Lightspeed web servers), you have to go with one of the Turbo plans.
I highly recommend going with the Turbo plans. Yes, it's more expensive—but it's also what sets A2 apart from other hosts. If you are trying to offer your clients the best technology, Turbo is the way to go.
One thing to note is that WHMCS and the ability to white label is an extra cost with Kickstart plans. A2 does give you Blesta for free, which will let you handle all your billing, but if you want to use your own branding, it is an add-on fee based on how many clients you have.
I recommend A2 for resellers who want to position themselves as offering top technology to their clients. You may be able to charge more, which offsets the slightly increased cost of going with A2. And because of the company's renowned customer support, you'll be able to offer your clients a stable experience 24/7.
Get in touch with A2 today and start hosting your clients on the fastest shared servers available.
#6 – Liquid Web Review — The Best for Hosting High-Traffic Clients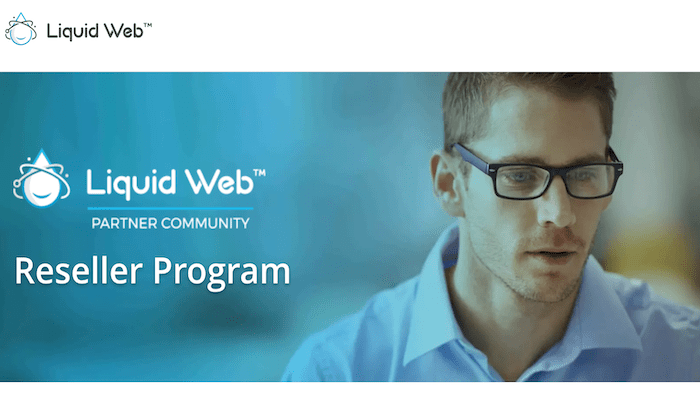 Liquid Web is great for completely supporting tons of sites or clients with large resource needs. Think ecommerce and membership sites with a lot of traffic. Really anything that's going to consume a lot of hosting resources and requires more control at the server level.
Even if you only have a few clients with high-traffic sites, they can't afford to mess around. Liquid Web will give you what you need to make sure they never run into trouble.
Plus you get a bigger price break the more you resell. On the low end, you get a 5% discount, and if your 12-month revenue total is $48,000+, you can get a 20% discount on the wholesale rate you pay for hosting.
You can handle whatever your clients throw at you. And the more they spend, the greater your savings and profit because of Liquid Web's reseller hosting program pricing.
Liquid Web doesn't offer shared hosting, which is why I really only recommend them if you have high-traffic sites that can't live on a shared server. But other than that, you're not constrained in any way. Choose VPS, cloud, or dedicated hosting.
For as high-powered as these hosting options are, Liquid Web gives you great pricing.
Dedicated reseller hosting, for example, starts at $99 per month, which is phenomenal. Usually dedicated servers are thousands of dollars per month. This can be a really good option if you have clients with compliance concerns (e.g. HIPAA) or with unusual hardware/software requirements.
You may be aware that using VPS, cloud, or dedicated hosting comes with a lot more IT responsibilities on your end. That's still true, but to a much lesser extent than with other vendors.
That's because Liquid Web provides managed hosting solutions, taking over much of the server monitoring, security, and performance optimization.
In that sense, you get the server power and control of premium hosting options without all the stress.
You're also getting the complete toolkit to manage your clients in whatever environment you choose.
WHMCS comes free with every plan, and if you are using one of the cloud hosting options for your clients, you'll have Liquid Web's upgraded version of WHMCS. This makes it easier to handle common reseller responsibilities for cloud hosting, like customizing instance sizes or creating a client area so they can manage tasks themselves.
Any client you want to support, Liquid Web has you covered. Let's take a closer look at some of the various plans:
VPS Hosting: starting at $25 per month
Private VPS Parent Hosting: starting at $149 per month
Cloud Sites Hosting: starting at $160 per month
VPS hosting is an affordable way to ensure that your clients with high-octane sites have their own protected slice of resources.
If you start to max out what you can do with VPS, you can use Liquid Web's Private VPS Parent plans. This is essentially like running your own data center, giving you complete control over how you parcel out resources to your various clients. You can go with standard performance (starting at $149) or high performance (starting at $579).
Cloud Sites is a great option if you're managing clients that have fluctuating needs. Maybe they run fire sales on their online store and traffic spikes exponentially from time to time. Liquid Web handles all the server management so you don't have to. Your clients get a super resilient site without any headaches on your end.
You can choose from any of those plans, which can be combined with WHMCS for easy reselling.
Alternatively, you can get your own dedicated hosting through Liquid Web. These plans are only available for approved resellers, so you'll have to get in touch with Liquid Web in order to set these up.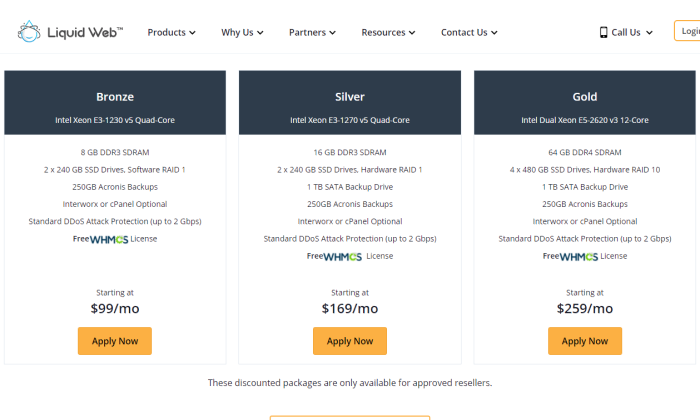 These plans are unbelievably flexible and priced extremely well. For less than $100 you can start offering your clients dedicated hosting solutions with Liquid Web's Bronze plan. That's amazing.
And if you need more memory or storage, upgrading is extremely reasonable. The Gold plan ($259 per month) comes with 64 GB RAM, 4 x 480 GB SSD storage, and a 1 TB backup drive. Your WHMCS license is included free, regardless of the plan you pick.
I'm a huge fan of the dedicated reseller hosting plans, but Liquid Web gives you enough options to find something that fits your budget. Whether you have one client with a high-traffic site or hundreds, Liquid Web will help you deliver top performance 24/7.
If your clients are expecting big things from you, there is no better host to have in your corner. In most cases, the company will migrate your sites for free. Get in touch with Liquid Web and get the hosting your clients deserve.
#7 – HostPapa Review — The Best If You're New To Reseller Hosting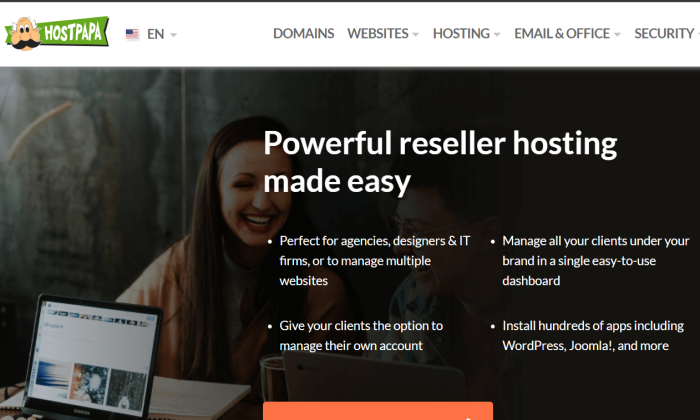 Along with a reputation for great speed and uptime, HostPapa is known for excellent customer service.
If you are new to the reselling game or hosting in general, this is going to be a really worthwhile option to check out. Maybe reselling is a small side hustle you want to grow or maybe you're just interested in trying it out.
No partner is going to offer you the same level of support—along with all the tools you need to put forward your own branded reselling platform.
For starters, you get a 30-minute one-on-one coaching session when you sign up. This is going to be a major time-saver for people who aren't 100% familiar with the fundamentals of hosting. It's a great time to ask questions about your tricky clients or just learn the ropes from an expert.
You could try and YouTube your way to victory the first time, which could work. But you might end up with confused or irate clients while you're searching for the answer.
HostPapa is always there to help if you have a question. Get in touch via chat, email, or phone. And, if you already have clients set up with a host you don't like, HostPapa will move up to 50 cPanel accounts to their servers for you for free.
Another reason I like HostPapa for beginners is that most of the security responsibilities are off your plate. You're not fiddling with firewalls, network monitoring, or defending the server from brute force attacks. HostPapa handles all of that and more.
You worry about your clients. Let HostPapa worry about the backend.On top of all this, HostPapa includes:
99.9% uptime guarantee
400+ one-click install applications
Free SSL certificates
White label branding control
Custom nameservers
30-day money-back guarantee
Free CDN
HostPapa pricing is very competitive within the reseller hosting space, even if it's a little higher than some of my other top recommendations.
The prices you see for a 12-month term. You may be able to get a discount by signing up longer, or you can pay a little more to get a six, three, or monthly term.
Something rare and incredible about HostPapa is that the renewal rates don't jump up. This is very unusual, so take the "higher" price with a grain of salt. It may actually be lower after the first year, depending on how another host's introductory pricing is set up.
One thing to note is that you only get a free billing system (Client Exec or WHMCS) with Gold plans and higher. This is kind of annoying for people just starting out, as a WHMCS license is usually about $20 per month. That's the only downside, and knowing that may just put Gold into your price range.
People who want more than HostPapa's standard level of support (which is very good) can add on PapaCare+.
This puts you at the front of the line for service requests, which means you can answer your client's red alert issues faster. Host Papa will also take over maintenance, like updating plugins, and offer recommendations about how to increase your loading speed.
For people that are new to the reseller hosting game, HostPapa is an excellent choice. You're going to get customer service that is a cut above the others, and there is more support available if you need it.
Try HostPapa risk-free for 30 days.
#8 – ResellerClub Review — The Best Windows Reseller Hosting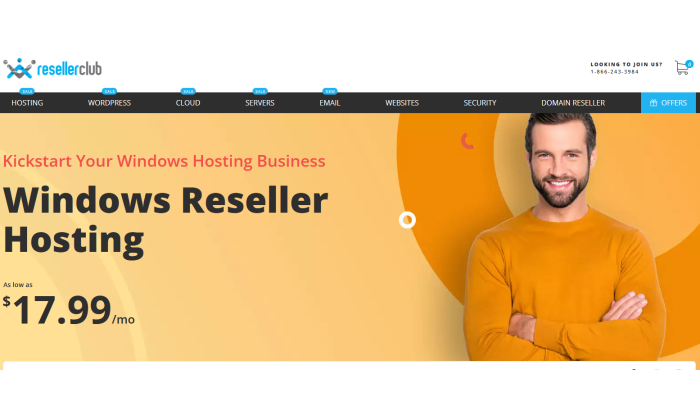 ResellerClub has helped thousands of people kick off or expand their reselling business. It's an established company with a vibrant community of users that help one another to help their clients.
It's one of my top recommendations overall, but when it comes to Windows hosting, ResellerClub is a clear winner. You'll get affordable pricing, free Plesk control panels, and the latest infrastructure to support Microsoft applications.
With Parallels Panel, you and your clients will be able to install more than 300 applications and scripts in a single click. Does someone need WordPress or Drupal to build their site? It's one click away.
You also get free email through ResellerClub. If your clients are already paying for Outlook, great—but if not, you can offer them free email at no cost to you.
Managing your clients is easy with OrderBox, which handles billing, orders, and tracking customers. There's also integration with WHMCS for free with all but the entry-level plan.
If you want to use WHMCS instead of OrderBox (which makes sense if you are already using it) I'd just upgrade because it's only a few dollars more. That's way less than purchasing a WHMCS license which is an extra $18.95 per month.
Another unique feature of ResellerClub is the mobile app, which works for Android and iOS. You can buy domains, add customers, manage billing, and contact your account manager instantly.
Because resellers help clients in different time zones and countries, having a mobile app is really nice. You can't always be in front of your computer, and ResellerClub lets you handle a lot of the basic and time-sensitive issues from your phone.
ResellerClub customer support is always available,and the company offers free migrations to get your sites set up on their servers with as little hassle as possible. Some of the other features include:
Support for MSSQL and ASP.NET framework
24/7 support via chat, email, phone, tickets, and social media
Free SuperSite storefront
30-day money-back guarantee
Free domain reseller account
Free Cloudflare CDN
When you are looking at Windows hosting, you shouldn't compare prices to Linux hosting (i.e. all the other options I looked at). Windows hosting is always going to be a little more expensive, but if you need it, Linux hosting is not going to work.
That said, ResellerClub offers some of the best pricing on Windows hosting you can get.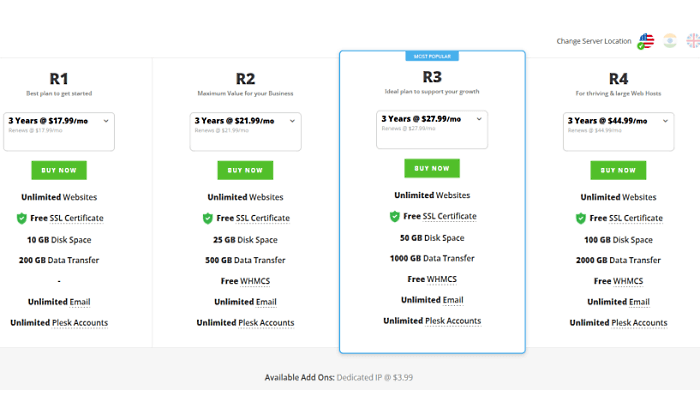 The entry-level plan, R1, comes with 10 GB storage and 200 GB bandwidth for $17.99 per month. You'll have to sign on to a three-year deal to get the lowest price, but that is really good for Windows hosting.
One thing I really like about ResellerClub is that the pricing differences aren't that steep if you only want to sign up for a year. R1, for example, is only $1 more for a one-year commitment and paying month-to-month is only $2 more.
This gives you a lot of flexibility. You're not going to have to put down thousands of dollars on day one to get a good price.
Maybe you're taking on your first Windows hosting client. With ResellerClub, you can afford to do it without making a significant down payment.
If you are searching for an affordable Linux host, ResellerClub can also be a good option. The starting price is exactly the same as Windows hosting, though there is an increase upon renewal.
But if you are a reseller in the market for Windows hosting, I definitely recommend checking out Reseller Club. Get in touch today, and start hosting risk free for 30 days.
What I Looked at to Find the Best Reseller Hosting
I only looked at hosts that have the fundamentals locked down.
If you pick from my list of recommendations, you won't have to think much about page load speeds and uptime. These are well-known hosts who use the latest technology in order to provide fast sites that don't go down.
Security is another factor that weighs heavy on people's minds. And it should. However, you won't have to worry if you stick to my top picks. You'll find that every host I recommended takes security extremely seriously and provides tools to help you harden your site.
Should we talk about price now? Obviously this is really important if you are trying to turn a profit.
There's some really basic math you're going to want to do in order to figure out which host is going to give you the best deal on the volume of reselling you plan on doing.
But working backwards from the sticker price is only going to get you so far. There's still a number of important criteria to evaluate as you're shopping around.
Use the factors below to help you compare your different options before making a final decision.
Who Are Your Clients and What Are They Hosting?
The more detailed an answer you can give for this question, the better. You'll be able to narrow down your selection to a handful of plans that make sense.
Each client you host is going to take up a slice of the server resources you're buying from the hosting company. The more clients you have, the more resources you need.
You also want to think about what each client is hosting. Do they have static sites without a lot of interactive elements? Or are these clients with deep database needs and high-traffic online stores?
The most affordable reseller plans are set up as shared web hosting. This means you share resources with other tenants on the same server. You don't have to worry about security or managing the server–the host takes care of that–but performance is a little less predictable. Other sites on your shared server may impact your clients' sites.
Hosting a few dozen basic sites with shared reseller hosting isn't going to be an issue. Simply pick a shared hosting plan that gives you a resource limit that makes sense.
But if you have a ton of clients, or they have resource-intensive websites, you could run into issues with a shared reseller hosting plan really quickly.
If your clients need more server power, I recommend going with a provider that offers different types of reseller hosting, like VPS (virtual private server), dedicated, or cloud hosting.
Along with vastly more resources, these types of hosting give you more control over the servers. This means more IT responsibilities on your end, but it may be necessary if you have to configure the server environment on behalf of your clients. You won't be able to do this at all with shared hosting, which is configured by your host.
VPS hosting can be a good idea if you have hit your limits with shared hosting. You'll get a ton more resources and you won't be sharing them with other sites. If your clients are running online stores or other resource-intensive sites, I'd recommend at least VPS hosting.
Dedicated hosting can get really expensive (unless you resell through Liquid Web) because you get a whole server to yourself. This is ideal if your clients have really high-traffic websites, compliance requirements, or special hardware and software needs.
Cloud hosting is extremely reliable because it's spread out in data centers rather than on a single server. It's a great choice if your clients' sites have fluctuating needs. You'll be able to scale resources instantaneously, weathering any traffic spike without a hit to performance.
Once you know the type of hosting that will support your clients, the next step is picking a plan with an appropriate amount of resources. Here's a screenshot of HostPapa's pricing that shows exactly what you get at each pricing tier: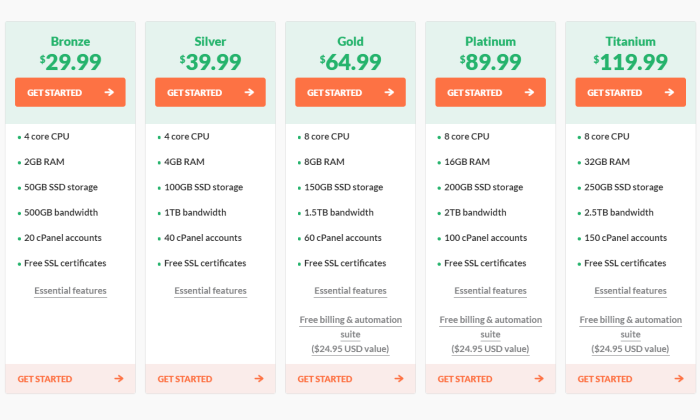 If you already have hosting, you should be able to check your resource usage in order to calculate what you are going to need. How much storage and bandwidth is going to cut it?
If you are unsure, reach out to a host that you think makes sense. The sales team will help you forecast your needs and choose an appropriate plan.
It's Easy to Manage Clients and Get Paid
As a reseller, your clients may be scattered all over the world, connected to you by no more than an email. This is why I only looked at reseller hosting options that came with an easy way for you to manage all of your clients and make sure they pay on time.
Each one comes with Web Host Manager (WHM) or software that does the same thing. I really like WHM because it's easy to use even if you are just starting out. It centralizes the management of all of your clients. You'll be able to create new cPanels for clients, view their resource usage, and upgrade/downgrade them if need be.
WHM also lets you design hosting packages to market for sale. Choose exactly how many resources clients get with each tier and price accordingly.
It's basically an administrative tool, however, and you need something in addition to WHM to handle the billing.
The most popular solution out there is WHMCS, which stands for Web Host Manager Complete Solution. It basically automates all of the billing for WHM, which is going to save you tons of time. Collecting from clients just happens on its own. You won't be chasing people down.
What you need to look out for is whether or not WHMCS (or something similar, like Client Exec or Blesta) is included with your reseller hosting plan.
This is especially true if you are looking at the entry-level and affordable plans. If WHMCS isn't included, it may be an add on cost that makes a seemingly cheaper platform less enticing.
If you are already a reseller and you are using an automated billing solution, I'd highly recommend only looking at new hosts that offer the same one. Moving your clients from WHMCS to another billing system is going to be more fragmented than importing your data to the same system.
Branding Your Hosting Packages
As you search the different reseller hosting plans, ask yourself which one is going to let you market your services the way you want.
Is branding important to you? If it is, you need to find a reseller host that white labels their services. This means they remove their brand and let you add yours.
Otherwise, you are positioning yourself as a middleman, simply contracting services on behalf of your clients. For some people, this is fine. It doesn't matter. But some people really want to have their own brand visibility and look like the web host themselves.
A lot of the providers I picked offer white labeling with every plan they offer, but some only include it with premium plans. So if you are trying to look like the host and not a contractor, some of the really affordable plans may not work out.
Branding is deeper than just slapping your logo on someone else's software. If you use WHM, I highly suggest taking advantage of the ability to customize notifications for your clients. Instead of a generic message that may be hard for your client to understand, you can create an on-brand notification with the ideal contact linked right there.
You also want to think about the big picture. Are you positioning yourself as a one-stop shop where clients can get all of their hosting needs taken care of?
If yes, I'd look for an option that allows you to resell domains along with hosting. Providers like ResellerClub, A2 Hosting, and InMotion give you a free domain reseller account. Having this ability means you can offer more to your clients and set up another stream of recurring revenue.
Really think about the total package you are offering. Which of the reseller hosting options you are looking at allows you to make the most compelling offer to potential clients?
If you need to white-label your services, budget that in or find a host that includes it free. And if you think there is potential revenue in offering domain reselling, I wouldn't leave it on the table.
Customer Service That Makes You Look Good
As a reseller, your clients are going to come to you with questions and problems with their site. By and large, your host is not going to help your clients directly–that's your responsibility.
You'll definitely be more successful if you can handle a lot of the basics yourself, but there are things you won't be able to do without help from your host. How quickly can they help?
You don't want to get trapped between clients with problems and a host that's slow to respond.
The best way to assess the quality of customer service is to sign up and see what happens. With the exception of Liquid Web, every other host offers at least a one month money-back guarantee. So you can test out the quality of their customer service risk-free.
If the service isn't great when you first start, it's probably not going to get better.
Submit a bunch of tickets and see how quickly the host responds. Are you waiting a few minutes on a chat reply or is it a long time? And what is the quality of the response?
In my opinion, resellers need more than just answers. Bonus points for customer service that teaches you how to fix things yourself rather than providing canned answers or links to the knowledge base.
The more you can do on your own, the faster your response time for clients. You are the first line of customer service, after all.
Is your host communicative about scheduled downtime? Servers require maintenance and eventually retirement. A good host is going to make sure you know when sites will be down, ideally at times where it won't matter much.
This is a big deal. If you get blindsided by downtime, you are about to get as many calls as you have clients. It's not a fun position to be in.
Some hosts offer free migration services. This can be a huge value, especially if you are transferring a lot of client accounts to a new host. A bungled migration causes countless problems for months.
Companies like A2 and HostPapa have expert teams dedicated to carrying out migrations. These professionals can make the transition smooth and flawless.
Conclusion
Every website on the Internet must have a web hosting service, and there's no shortage of potential prospects for resellers in the hosting space. But having success as a reseller starts with choosing the right program.
Which one is the best?
The top eight options I reviewed are a great place to start your search.
Whether you're a beginner, an experienced reseller, or somewhere in between, you can find what you need with the recommendations listed in this guide.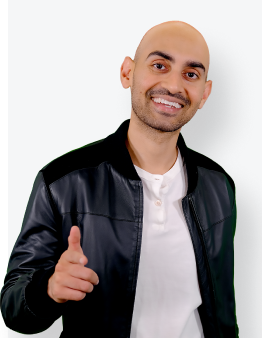 See How My Agency Can Drive More Traffic to Your Website
SEO - unlock more SEO traffic. See real results.
Content Marketing - our team creates epic content that will get shared, get links, and attract traffic.
Paid Media - effective paid strategies with clear ROI.
Are You Using Google Ads? Try Our FREE Ads Grader!
Stop wasting money and unlock the hidden potential of your advertising.
Discover the power of intentional advertising.
Reach your ideal target audience.
Maximize ad spend efficiency.