Disclosure: This content is reader-supported, which means if you click on some of our links that we may earn a commission.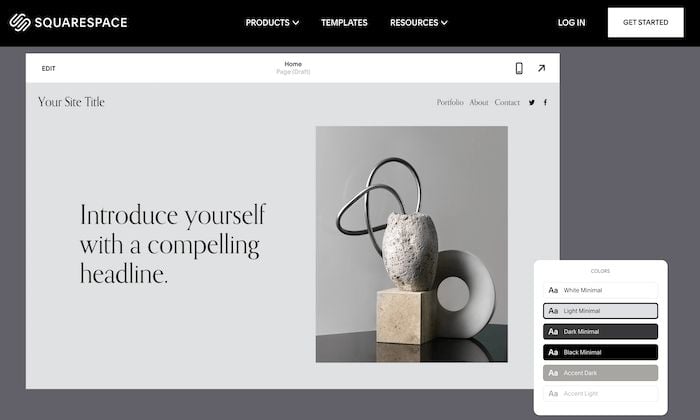 Do you want to skip the read and get right to my top pick? The best CMS for most people is Wix.
The best content management systems allow everyday users to build websites without having to know how to code. Without a CMS, you'd have to write web pages using JavaScript, CSS, and HTML. The best content management system also makes managing all your content a lot easier.
The good news is that there are tons of different content management systems available on the market today. I use WordPress, and I can't imagine using anything else. But if you are just getting started, you might want to check out some of my other top picks—some of which are even easier to use.
Keep reading to find out my top picks and learn how to decide which system will work best for you. Remember: The best thing you can do is get started. Learn by doing.
#1 – Wix — The Best CMS for Building New Websites
Wix is one of the easiest website builders available. It is super simple to use, making it a popular choice for non-technical users who want to create a website from scratch.
I like Wix because it offers an intuitive drag-and-drop building tool. You can add elements to your site and manage your content without writing a single line of code.
I'm serious. There is nothing remotely technical you have to know to get started.
Choose from hundreds of templates, or use Wix Artificial Design Intelligence (ADI) to spin up a site for you. All you do is answer a few questions about yourself, your business, and your goals, and Wix ADI will create a great-looking site on the spot.
Wix helps you keep track of everything once your site is up and running. The dashboard is super easy to navigate. You'll be able to see how many people view your site and which content performs best. Everything is a few clicks away. Yes, that also means you don't necessarily have to install Google Analytics 4 (GA4) to see your website analytics.
A key part of a good CMS is how fast it can deliver your content to site visitors. Slow page speed can be a killer. Fortunately, Wix has built a solid infrastructure of data centers that keep load times and uptime remarkably consistent.
Powerful servers do a lot of the work there, but Wix also features auto-scaling technology. That way, if your site suddenly gets very popular, Wix's servers will adapt to provide your site with the resources to give every visitor a quality experience.
Aside from Wix being an excellent choice for beginners, here's a quick overview of the other highlights that make this CMS stand out from the crowd:
800+ free templates
Optimized for SEO and mobile
Create password-protected membership pages
Contact management tools for subscriber lists
E-commerce capability with product pages, payment acceptance, and store management
Bookings and calendar management
Blog management tools with multiple writers and contributors
Photography, video, and media management tools
Free hosting and free secure sockets layer (SSL) certificate
24/7 managed security monitoring and incident response
Overall, Wix's content management system is extremely versatile. It's trusted by restaurants, musicians, online stores, small businesses, bloggers, and sites in virtually every industry.
The platform is free to use with a Wix subdomain, but that's not really practical for most users. Premium plans start at just $16 per month. Sign up now.
#2 – Squarespace — The Best CMS for Creative Professionals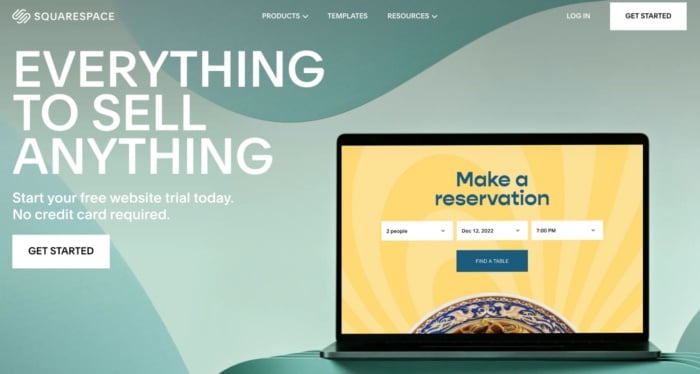 Squarespace is an all-in-one website builder. Unlike similar CMS platforms on the market, Squarespace has a unique differentiator—its beautiful designs. There's practically no way you can commit website design mistakes using Squarespace.
The award-winning templates offered by Squarespace are second to none. They are responsive, which means mobile-friendly content looks fantastic. Best of all, you can fully customize them to fit your site's needs.
These modern designs make Squarespace one of the best content management systems for creative professionals, musicians, artists, and those creating portfolio sites. Let's take a closer look at some of the other noteworthy highlights available with this CMS:
Free domain for the first year
Intuitive website builder
Free logo creator
E-commerce and blogging capabilities
Third-party extensions for expanding functionality
Built-in marketing tools
SEO tools and mobile optimized
24/7 customer support
Squarespace is an incredibly versatile CMS fit for a variety of business cases. Whether you want to create a simple website for your local store, build an e-commerce empire, or create an online community with a premium membership, Squarespace has the functionality and templates to help.
Squarespace plans start at $16 per month. If you're looking for a simple way to manage your portfolio site, this is a top content management system to consider.
#3 – Shopify — The Best CMS for E-commerce Sites
If you're starting an online store and need an e-commerce-specific CMS, look no further than Shopify. The platform powers over 4 million online stores.
Businesses of all shapes and sizes use Shopify to sell online. Whether you're building a new site from scratch or switching from your existing CMS, Shopify can accommodate your needs.
Let's take a closer look and see why Shopify's CMS platform ranks so high on my list:
Manage products and sell from your site, social media, and online marketplaces
Built-in marketing tools
Simple dashboard to manage products, orders, payments, and shipping
8,000+ apps to add features and functionality to your site
Free SSL certificate
Unlimited products
24/7 support
Like some of the other CMS platforms on my list, Shopify has an app store with thousands of tools and features built by Shopify and third parties to add even more functionality to your website. These include tools that let you list your Shopify products on other channels, tools that improve your SEO, or tools that improve the shopping experience (by making your site multilingual, for instance).
Shopify even has a marketplace of experts for hire. So if you need assistance with SEO or getting your store set up, you can find a qualified expert directly within the platform.
Another reason to consider Shopify as your CMS platform is that it's built to scale. Plans start at $39 per month, and you can try it free for 14 days.
#4 – WordPress — The World's Most Popular CMS
WordPress powers 43.1% of the internet and 63.3% of all websites that use a content management system. This makes it the most popular content management system on the planet by a large margin.
The platform supports everything from small personal blogs to some of the biggest news websites in the world.
As a free and open-source CMS, WordPress is virtually limitless. You'll have total control over every aspect of your site, with no restrictions on customizations. This makes WordPress a popular choice for developers and tech-savvy users.
But even non-technical users can take advantage of WordPress. It has an extensive library of 60,000+ plugins, which makes it easy to add functionality to your site.
Other top features include:
Fully customizable designs
Mobile responsive content
SEO friendly
Powerful media management tools
High performance and easy to access
The downside of using a free and open-source CMS is that you don't have dedicated support. But WordPress has an extensive network of developers, content creators, and site owners who are active on community forums. Beyond that, there are hundreds of service providers who can help you design and launch your WordPress website, keep it secure, and offer premium support when you get stuck.
You'll also have to get your web hosting plan and domain registration on your own from third parties. This can often work out cheaper than using a hosted service like Wix.
#5 – Drupal — The Best WordPress Alternative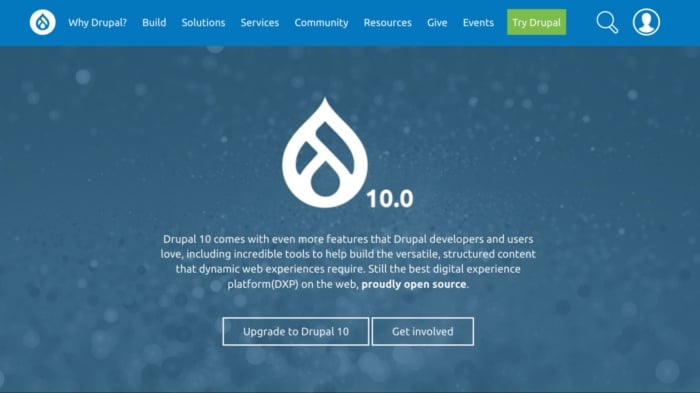 Drupal is another free and open-source content management system. If you need multiple page templates and content types, Drupal is a viable alternative to WordPress. It's also more equipped to handle advanced user permissions and has somewhat stronger security features.
Drupal is a popular choice for developers, marketers, and agencies alike. It's used to manage content across a wide range of industries, including healthcare, e-commerce, retail, fintech, travel, media, government, and more.
It is used by government agencies in the U.S., U.K., and France, for instance, and supports major media networks like the BBC.
Some of the top features and noteworthy highlights include:
Content authoring
Content as a service (CaaS)
Marketing automation
Robust security
High performance, scalability, and accessibility
Advanced personalizations
Drupal is backed by a fantastic open-source community boasting over 1 million members. They help build and design the platform, create support documentation, share networking opportunities, and much more. That means plenty of consultants, agencies, and companies are available to help you get started with the platform.
There are also dedicated hosting platforms, like Skpr, Platform.sh, Sevaa group, and Pantheon.
So if you're looking for open-source functionality but don't like WordPress, I'd go with Drupal for content management.
#6 – TYPO3 — The Best Enterprise CMS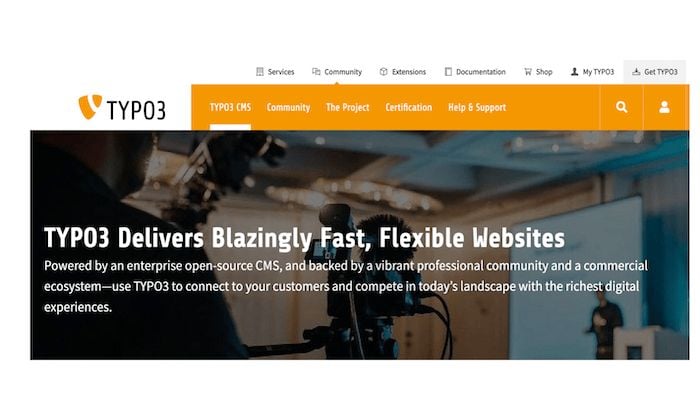 TYPO3 isn't the most well-recognized name in the CMS space. That's because it's not for everyone. It's another free and open-source platform (like WordPress and Drupal), but it's branded as an "enterprise-class CMS." Global leaders like Mercedes-Benz and Sony rely on TYPO3 for content management.
TYPO3 is a great choice for large brands because of its flexibility. You can use it to host a brand-new site, create an intranet, or launch a subdomain on an existing website. It also allows developers to build exactly the website they need in a way that WordPress and Drupal can't match.
In addition to being used by large corporations, TYPO3 is actually a popular choice for European-based websites thanks to its fantastic multilingual capabilities. It's not hard to spin out a new site focused on a different location.
Here are some of the reasons why this platform made my list of the best content management systems:
Ability to support corporate environments
Fully scalable multi-site management
Multilingual installations
Easy to set up on your existing infrastructure
High speed and performance
The average user will likely lean toward WordPress or Drupal. However, global organizations with complex content management needs should consider an alternative like TYPO3.
What to Look for in Content Management Systems
There are specific elements to consider as you evaluate various CMS platforms.
Use the following factors as a buying guide to help narrow your options and choose the best content management system for your site:
Usability
The primary factor you need to consider is the usability of a CMS. What will you be using it for? Who specifically will be using it?
Marketers and writers might be creating the content, but they may not have the skills to manage it online, format it, or write lines of code. Does this sound like your scenario? Then make sure the CMS is easy enough for non-technical users to manage.
Look for solutions with a WYSIWYG (what you see is what you get) editor, drag-and-drop building tools, simple publishing features, and the ability to embed third-party content or add rich media.
In some cases, like WordPress, you can download third-party tools that make it even easier to build a website using the platform.
Also, be sure to factor in the type of website you're creating.
For example, blogs, e-commerce sites, and portfolio sites won't have the same needs. It's much harder to build an e-commerce store on WordPress than on Shopify, for instance. If you have a key use case in mind, it may be best to focus on that at the expense of other features I list below.
Security
Security should always be a top concern when looking at CMS software.
Some platforms have built-in safeguards and security features to fight off malicious attacks and hackers. Other tools rely on third-party plugins and extensions for security.
For instance, every Wix website comes with built-in enterprise-grade security, with security functionality fully managed by a team of experts. Shopify doesn't just keep your website secure. It also allows for Payment Card Industry (PCI)-compliant transactions.
Generally speaking, popular open-source CMS platforms can be more vulnerable to attacks. But these platforms typically have an extensive marketplace with a plethora of plugins—so it shouldn't be too difficult, even though it requires an extra step.
You'll have to install your own security plugins to adequately keep your site safe if you use WordPress. That said, there are plenty of third-party services that will protect and back up your WordPress site for a small monthly fee.
SEO
The best content management systems come with features and tools to boost your SEO efforts. Examples include XML sitemaps, meta descriptions, custom permalink structures, alt text, and title tags.
Take Wix, for example. It provides a range of advanced SEO features, like:
Robots.txt editor
Structured data markup
Server-side rendering
URL customization
Custom meta tags
Robots metadata
Canonical tags
Social sharing optimization
XML sitemaps
Bulk 301 redirects
In addition to these out-of-the-box SEO features, you should consider using CMS software that will let you add third-party plugins or extensions to better serve and enhance your SEO strategy. WordPress has over 1,000 SEO plugins. Some of them—like Yoast SEO and Rank Math—are among the most reputable brands in the SEO industry.
Support
Find out what type of technical support your CMS platform offers.
What happens if you have a question, run into a problem, or need help? Will you be stuck trying to figure it out on your own? Or can you seek assistance from a support agent? The hosted CMS platforms I've listed above generally offer ample support. Wix, Shopify, and Squarespace all have help centers, as well as premium support packages.
If you're using an open-source CMS, you probably won't have the luxury of dedicated support. You'll have to rely on tutorials, self-help articles, and forums. That's if you don't want to pay extra for third-party support. Multiple service companies offer WordPress and Drupal support on a monthly basis, ensuring there is always someone you can speak to if you get stuck.
Custom Capabilities
Some CMS software restricts what you can do with your website. For many people, this is a non-issue. However, for those looking for complete customization with no restrictions, you'll have to go with an open-source CMS system.
These platforms let you customize everything using the HTML code of your site, making them a great choice for developers and tech-savvy users. That said, even non-technical users can benefit from customization by leveraging third-party plugins or extensions.
If you can't find a custom function from a feature marketplace, you'll need to have a developer build one for you. Make sure your CMS is compatible with this level of customization if you plan to go this route.
Tools for Tracking Blog Analytics
One of the most important parts of any CMS is integration with analytics platforms. Analytics is the collection, measurement, analysis, and reporting of data related to how visitors use and behave on your website. An analytics platform helps marketers understand their audience and improve their marketing efforts. Through integration with your CMS, you and your team will have an easier time getting details and data they need to inform your site's growth.
With detailed analytics, you can see which content attracts the most click-throughs, how users navigate your website, and which channels visitors are coming from.
Analytics also provides other core information, like:
Visitor location
Bounce rate
Conversion rate
Exit pages
User demographics
When it comes to integrating an analytics platform with a CMS, here are some things to keep in mind:
Security, since they are linked to your CMS and any data that's a part of it.
Compatibility with any other software or plugins you may be using.
End goals. Is there a certain way you know you're going to need to process or present end data? This may impact what tool you used based on reporting capabilities.
Blog Tools for Social Tracking
Social media drives 18.05% of all website traffic in the business and marketing niches. Just tracking your blog analytics isn't enough to truly understand how well your content is working. You need to know which social media content is getting the most traction and resonating with your audience so you can create and share more of it.
Frequently Asked Questions
What is the overall best content management system?
If you are looking to start using a content management system right out of the gate, then I recommend Wix. I consider it the best overall content management system. If you prefer an open-source or free alternative, then I recommend WordPress. 
How to choose the best CMS for you?
You need to consider several factors when choosing the best content management system. Start by defining your goals, the type of website you want to create (blog or e-commerce), any necessary features, and your budget. I recommend looking for a user-friendly CMS with an intuitive interface, as it saves time and effort. 
You also need to ensure scalability and flexibility, allowing easy integration of additional features and guaranteeing your CMS will grow with your site. Customization options are important for branding and design consistency. SEO-friendliness is crucial, so seek CMS options that let you add and edit metadata. 
Finally, don't discount the importance of good support and documentation.
What are the different types of CMS?
There are three major types of CMS platforms, each catering to different users or use cases:
Open-source CMS: Open-source CMS platforms like WordPress and Drupal are some of the most popular choices. They are free to use and have a vast community of developers contributing to their functionality and security. These CMS platforms offer extensive customization options, numerous themes, and a wide range of plugins and extensions.
Hosted CMS: Hosted CMS solutions are developed and owned by business entities. They often require a monthly subscription fee. Shopify, Wix, and Squarespace are all examples of hosted CMS platforms. 
Cloud-based CMS: Cloud-based or headless CMS platforms are the new kids on the block, but they are gaining popularity. They include platforms such as Contentful, Kentico Cloud, and Prismic. Headless CMS platforms offer a flexible and scalable solution where the CMS is hosted in the cloud. This type of CMS allows easy collaboration, quick deployment, and automatic updates, making it suitable for teams that work remotely or manage multiple websites.
What is the most widely used content management system?
WordPress is by far the most widely used content management system in the world. It powers 43.1% of the Internet and 63.3% of all websites that use a content management system. No other CMS platform comes close. 
Summary
With so many CMS systems available on the market today, there are really only six that I can recommend with conviction:
Wix is my top recommendation for most people launching a new site. It's relatively inexpensive, easy to use, and has plenty of templates to help people get started.
After that, it depends on what you need and what feels good to work with. Your preferences really matter.
I use WordPress for my blog, and I really like it. I'm constantly trying out new plugins and adding new functionality to my site. It works for me.
If I had an online store, though, I would probably use Shopify for my CMS.
At the end of the day, it depends on your goals and what you like using.
Follow the links and explore your options in greater detail. You may even be able to take advantage of a promotion and get a better price.
Use free trials, too. This will give you the clearest sense of which content management system works the best before you put money down.
What's your favorite content management system?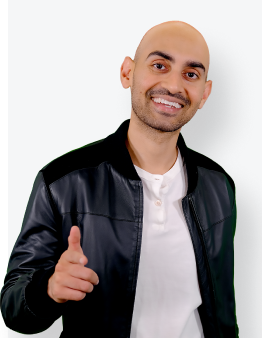 See How My Agency Can Drive More Traffic to Your Website
SEO - unlock more SEO traffic. See real results.
Content Marketing - our team creates epic content that will get shared, get links, and attract traffic.
Paid Media - effective paid strategies with clear ROI.
Are You Using Google Ads? Try Our FREE Ads Grader!
Stop wasting money and unlock the hidden potential of your advertising.
Discover the power of intentional advertising.
Reach your ideal target audience.
Maximize ad spend efficiency.