Disclosure: This content is reader-supported, which means if you click on some of our links that we may earn a commission.
Do you want to skip the read and get right to my top picks? The best cheap web hosting service for most people is Hostinger or Bluehost.
Cheap web hosting is an excellent option for brand new websites. You don't need to spend a fortune on top-tier hosting when you're just getting started. Cheap hosting will get the job done.
But you can't just look at the price alone. The key is finding a great deal from a reputable hosting provider, so your site's quality, speed, and performance don't suffer.
This in-depth guide covers my top picks of the best cheap web hosting plans. I'll also show you how to narrow down the best option for your website.
#1 – Hostinger Review — The Best Web Hosting Plan Under $2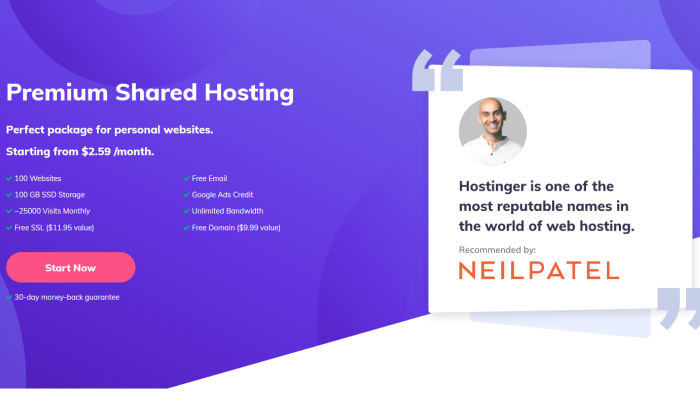 Hostinger has the absolute cheapest price for hosting at $1.99 per month for the Single Shared Hosting plan. So what's the catch?
You have to sign up for a 48-month contract, which sounds a little heavy. But, bear with me.
Four years of Single Shared is going to cost less than a single year of hosting through most other providers.
Seriously, other low-budget hosting plans are still twice to four times as expensive. Plus, the introductory rates you get with competitors might skyrocket when you have to renew. Once the honeymoon period is over, you might be looking at $10 or more each month.
With Hostinger on the other hand, your rate for shared hosting goes from $1.99 to just $3.99/month upon renewal. That's still a great price.
In other words, the Hostinger full rate is still less than introductory rates from other good cheap hosting options.
Okay, great. But I know you're thinking the low rate must mean that there are annoying domain limits and few free tools to build your business.
Untrue. Hostinger is loaded to the brim with features and function.
Hostinger's Single Shared Hosting plan supports one site, and includes:
100 GB bandwidth
30 GB storage
1 email account
Free SSL certificate
99.9% uptime guarantee
24/7/365 customer support
Optimized for WordPress with one-click installation
User-friendly control panel
Cloudflare protected nameservers
There's no free domain name included, which isn't a big deal if you already have one. Bluehost and DreamHost come with a free domain name for the first year, but higher per-month rates.
If you need a free domain name, more storage, or unlimited bandwidth, Hostinger lets you upgrade your plan while keeping costs low:
Say you need to move to Premium Shared Hosting to support another site. That will cost $3.49/month to start and $6.99/month when you renew. That's not going to break the bank, and you can host up to 100 websites.
Hostinger does a lot to ensure that the service is easy to use. Set up takes minutes and absolutely zero technical skill.
If you ever have issues, Hostinger's customer service is always available and has a phenomenal reputation. The company gets you in the door with budget-friendly prices, and keeps you around with quality support.
Choose Hostinger for the lowest per-month plan on the market. Try it today risk-free, as Hostinger will refund your purchase if you aren't happy within the first 30 days.
#2 – Bluehost Review — The Best for New Sites (Especially WordPress)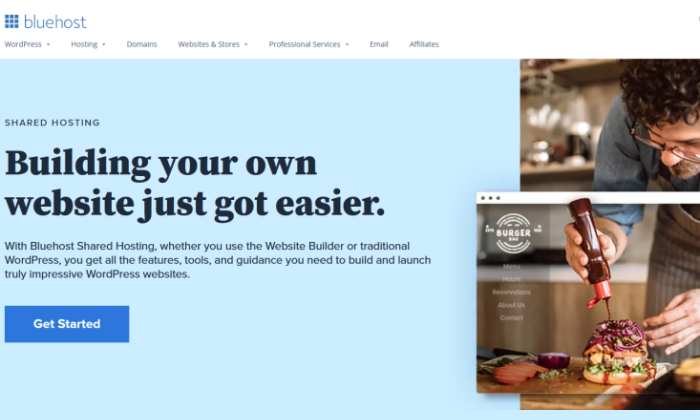 There's probably no easier way to get your new website off the ground than with Bluehost. And it won't cost you much at all, as the company offers incredibly feature-rich shared hosting starting at $2.95/month.
For most people with a new site—especially if it is their first site—Bluehost is what they want.
If you are building a WordPress site, I really recommend checking out your options at Bluehost. The company is one of only three hosting providers that is officially recommended by WordPress. The integration is amazing and installation is automatic.
We'll talk more about why it's so good for WordPress in a second, but I want to talk about why it's good for just about anyone with a new site.
First off, Bluehost has some of the cheapest hosting rates around. And even the most basic plans are loaded with features and value.
You get a free domain name for the first year. Not only do you get to skip that expense, but the convenience of registering your domain through Bluehost cuts down on the time it takes to go live.
If this is your first site ever, you will be grateful at how simple the process is. If you've built sites before, you will really appreciate everything that's done for you.
For example, you get a free SSL certificate for your site,and enabling it takes one click on the dashboard. This is critical for keeping all of the information on your site secure and lets visitors know that the site is safe to visit.
You can get free SSL certificates from other places, but they will not be this easy to install, trust me. And you will have to renew them every couple months.
With Bluehost, it's completely hands-off and you are always protected.
You also get a free content delivery network (CDN) through Bluehost's partnership with Cloudflare. This is going to improve site speed and performance with near-zero work on your part.
Okay, so on top of the free domain name, SSL certificate, and CDN, Bluehost gives you:
50 GB storage
Unmetered bandwidth
24/7 customer support via phone and live chat
$100 Google Ads credits
Automatic WordPress installations and updates
Custom WordPress themes
30-day full refund if you aren't satisfied
All of these features are included with the Bluehost Basic shared hosting, which starts at $2.95 per month. If you have to upgrade, prices stay affordable at the higher tiers.
You can even go for the second-most powerful package, Choice Plus, for the same price as the Plus package. Bot offer unlimited websites and storage, but Choice Plus comes with domain privacy included and one year of free automated backups.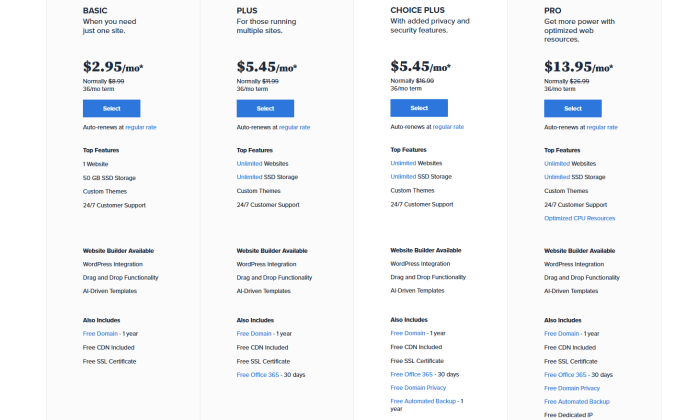 One thing to be aware of is that Bluehost renewal rates are about two to three times higher than the introductory rate. This is why I recommend signing up for a long plan to max out the discount period.
Even at full price, though, Bluehost is really competitively priced compared to the field. This is especially true when you consider the long list of features you get and the ease of getting set up.
It's as hands-free of a hosting experience as you could ask for and when you want to develop your site, all the tools are right there.
WordPress is automatically installed on Bluehost, for example. This means full integration and automatic WordPress updates.
With Bluehost shared hosting, you can use another content management system (CMS) besides WordPress if you want.
But if you know that you are only going to use WordPress, I highly recommend going with one of Bluehost's WordPress Shared Hosting plans.
These start at $2.95/month, which is the same price as regular shared hosting. The difference is that the servers that have been optimized exclusively for WordPress. There's no other type of software on them, so servers can be better configured and more easily protected.
If you have a new site in mind, make Bluehost your one-stop-shop for getting online. Get everything set up in a single place instead of having to go through a domain registrar. Best of all, you'll get a great deal in the process.
So if you have a new site: Get Bluehost Basic shared hosting.
And if that new site is a WordPress site: Get Bluehost Basic WordPress hosting.
There's a reason that more than 2 million sites are hosted through Bluehost. Find out why today.
#3 – HostGator Review — The Best Way to Host Your Existing Site for Cheaper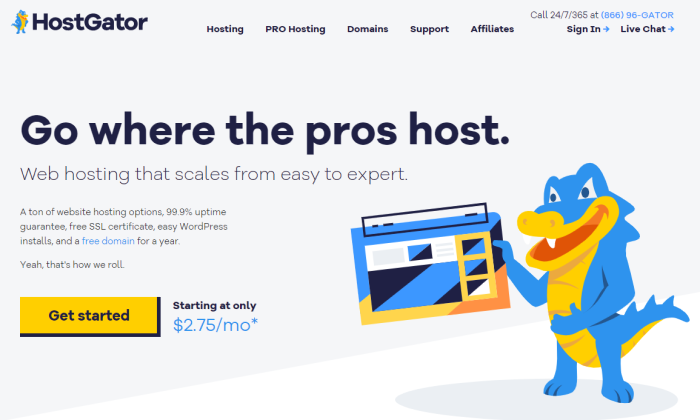 When your current host jacks up the rates or takes a customer service nose-dive, you need to switch. Whatever the cause, there is no reason to pay for substandard hosting.
HostGator will help you migrate your old site for free. This includes the cPanel, email accounts, files, databases, scripts, etc. They also include one free domain registration transfer, which saves a few bucks, too.
All you have to do is fill out a transfer form within 30 days of signing up. HostGator will do the rest.
You get the free migration with any of HostGator's shared hosting plans, including Hatchling, which starts at $2.75/month with a three-year contract.
With HostGator, you can lock in a really low rate and get great uptime for less than you paid before. After the zero-stress migration, you get high quality customer support available any time of day by phone and live chat.
Better still, they offer some of the best renewal rates in all of web hosting. If you lock in that Hatchling plan for three years when you first sign up, you can renew for another three years at just $6.95 per month. That's a good two to three bucks cheaper than other providers.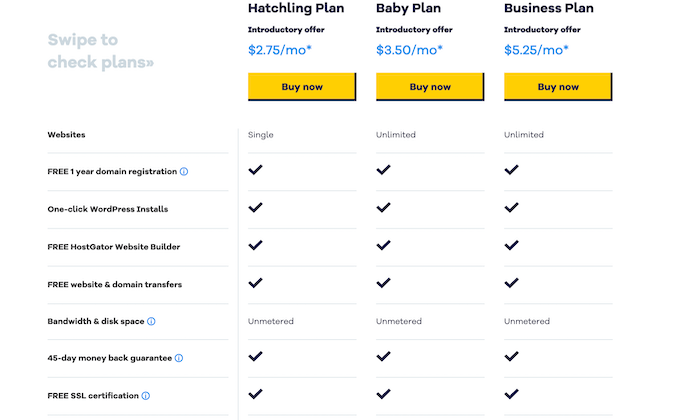 It's cheaper web hosting, better service, and very few limits on what you can do. And if they can handle the job of hosting your website for the long haul, you can save a boatload of money over the duration.
Some of the highlights include:
Unlimited storage
Unlimited bandwidth
Free SSL certificate
Free email
Free domain (or registration transfer)
One-click WordPress install
Free website builder
Free Google Ads and Bing Ads credits
The good news is that HostGator provides tons of tools to help you optimize the content on your site and keep things running at top speed. The interface is very easy to use, which gives you complete control over your site and databases.
It's comparable to Bluehost in a lot of ways, which I like better if you have a brand new site.
But if you already have a website, Bluehost won't move it over for free. HostGator will. If you have more than one site to migrate, HostGator will give you a quote for the cost, but the first one is free.
This makes your transition to cheaper hosting a lot easier. Plus, HostGator offers a 45-day money-back guarantee. If you don't like what you see, you have more than a month to jump ship without paying a cent.
Quit spending too much on hosting and find out why so many people love HostGator.
#4 – Web.com Review — The Best for Absolute Beginners
Ugh! Finding the right web hosting, getting a domain, and then learning how to build a website can be such a drag. And costly, too. I remember when I was just get started with my first site, looking for a cheap web host that didn't break the bank and still gave me quality hosting was a major issue.
If only I'd known about Web.com back then.
Not only is it affordable, it is the perfect host for those who are looking to set up their first ever website.
Like the other web hosts on this list, Web.com won't cost you much to get started. So what makes them so different?
For me, it's the little twist that comes with its hosting.
Web.com offers almost identical options for its shared hosting and WordPress hosting plans. But with a twist.
The twist? Hosting your site directly with Web.com gives you access to its extremely easy-to-use DIY website builder. And over 150 designed-for-you templates to choose from. Having your first website is as easy as picking a web design that you love.
Not only is it simple to set up your first website, the DIY editor makes it a cinch to customize everything from the layout, images, colors, fonts, and other elements.
If you opt for WordPress hosting with Web.com, you won't get access to the website builder, but you'll still get nearly 30 pre-made web designs specifically crafted and optimized for WordPress.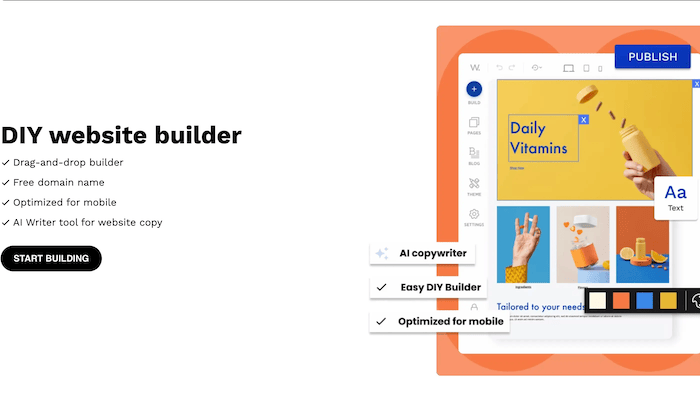 Web.com's pricing sits on the lower end, making it a perfect option for the absolute beginner who isn't sure where to start, wants a solid host, and who wants the tools to build a site worth being proud of.
To get your foot in the proverbial door, the Basic plan will cost you just $2.95 per month (renewing at $9.99 after the first year). Of course, you could lock in for three years at $2.75, but I would say that for real beginners, take it slow at first. Once you get your website going and some traffic comes rolling in, you'll have a better idea of the direction you want to take your site and then you can easily upgrade with Web.com.
With the Basic plan, you'll get one website with 10GB of storage and up to 15,000 monthly visits. That's plenty when you are just starting out.
After that, you can always upgrade to its Plus plan for $4.95 per month, or the Premium plan for $6.95 per month, depending on how expansive your growth becomes.
If you are feeling more confident, and want the added features and functionality for your website right from the beginning, Web.com has options for you as well.
Web.com has also kept in mind the absolute beginner ecommerce store owner. If that's you, guess what? You guessed it: Web.com has options for you as well.
The mid-tier Website and Marketing plan gives you everything you need for a professional website, plus the ability to sell your services, social and email marketing tools for outreach campaigns, and even access to its AI copywriting tool to craft you some next-level copy.
With its beginner-friendly Online Store plan, your ecommerce journey starts at just $13.95 per month, with a year commitment. Not bad for turning that hobby into your next side hustle.
Here are the features and tools you get to start selling:
Easy-to-use website builder
One year of free domain & domain privacy protection
Three months free professional email
SSL certificate free for one month
One hour of expert design support
Social & email marketing tools
Sell services
AI copywriting tool
Store with secure checkout
Sell on Facebook & Instagram
What I like about Web.com for beginners, is that the minimum up front investment for those who just want to see what it is like to set up and build a website isn't massive. And even for those businesses that want a simple website, and fast, they won't have to empty their pockets to get going. On top of the cheap cost, it is easy to set up and customize any site.
A final point that makes Web.com ideal for the true beginner is that the Web.com team is made of award-winning experts. What does that mean for you? Well, it means that you have expert-level service right at your fingertips as you get your first website built.
And if you don't want to build your own website, or don't have the time, Web.com's team of experts will build you your very own custom-made website (for a fee, of course).
If you are an absolute beginner to the website game, Web.com is where it's at.
Sign up with Web.com today and have your first professional-looking website online in minutes.
#5 – DreamHost Review — The Lowest Spend on Day One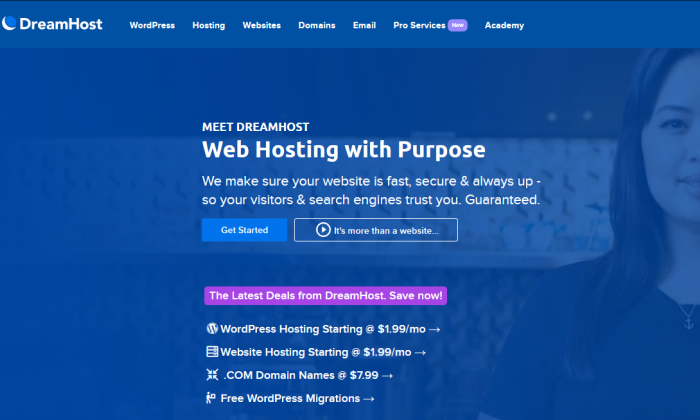 Not everyone wants to sign a long contract for hosting, but you usually have to in order to get the lowest price. That usually also means dropping $75, $100, or more at checkout.
DreamHost offers good deals for one- or three-year terms, but their month-to-month pricing cannot be beat.
It's seriously the lowest monthly rate you'll see.
DreamHost Shared Starter is only $1.99/month for one site. No contract necessary.
There's really no way to get a lower price without a commitment.
When you look at the month-to-month pricing for other plans on this list, there is no competition. A2 Hosting is $10.99/month, HostGator is $10.95/month, and Hostinger is $9.99 with a $4.99 setup fee.
With DreamHost, you can still get cheap hosting, but you don't have any of the long-term risk that comes with a multi-year contract.
This can be really important if you're running a cash-strapped startup betting on growth. Instead of a big upfront spend, you can budget a predictable monthly hosting cost into the equation.
Not only that, but you also get a solid range of features and free tools to build your site:
Unlimited traffic
50 GB storage
Free SSL certificate
Free WordPress website builder
Free automated WordPress migrations
Automated WordPress updates
24/7 live chat and ticket support
Like Bluehost, DreamHost is officially recommended by WordPress. The integration is deep and all of the updates are handled automatically. This is good for security purposes and saves you the trouble of doing it yourself.
So you can get all the benefits of tight WordPress integration without the commitment and large down payment required by Bluehost.
Now you might think that no contract would mean no money-back guarantee. The truth is DreamHost has a zero-risk 97-day money-back guarantee. That's the longest time to try a web host that I know of.
DreamHost offers a Shared Unlimited plan that starts at just $2.99/month that works for an unlimited number of sites: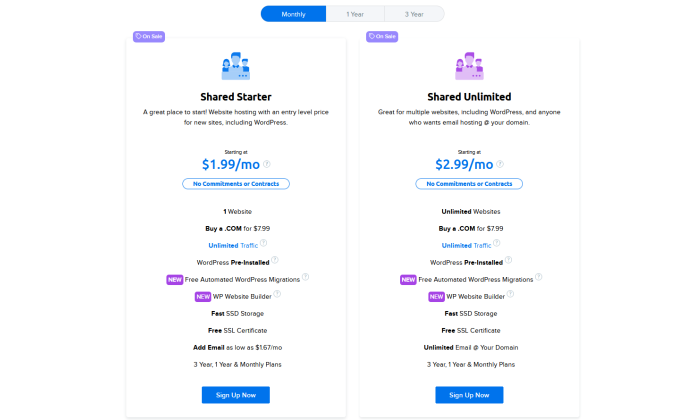 If you just have one site, Shared Starter is all you need.
Stop worrying about when the honeymoon period of your introductory pricing is going to end.
Get DreamHost and pay a low, predictable rate each month. No more contracts, no more inflexible commitments. Just reliable hosting at a consistent price.
#6 – UltaHost Review — The Best for Support and Security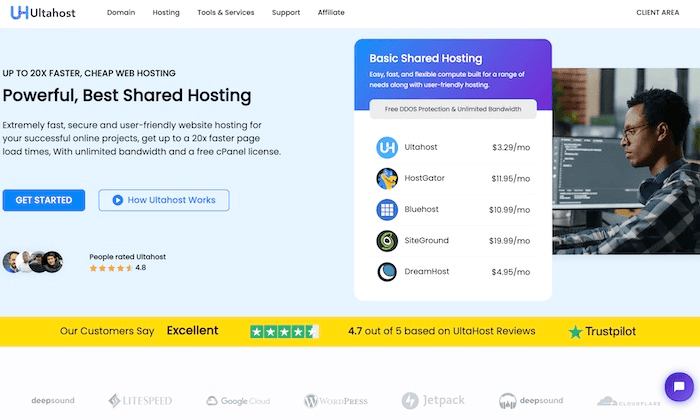 Many cheap web hosting providers only offer bare-bones security and won't provide decent support until you upgrade. But, with UltaHost, you're getting high-quality support and bullet-proof security features from day one—even when all you're looking for is entry-level shared hosting.
Every UltaHost plan comes with 24/7/365 live chat support. So, whether you need help in the middle of the night or have an emergency on a holiday, UltaHost can assist you right away.
If you're switching from another hosting provider—like one that only amplifies your headache when you're looking for help—you can take advantage of UltaHost's free migration services for pain-free site transfers.
Here's another bonus—even UltaHost's cheapest hosting plans come with free daily backups. You won't have to upgrade to a higher tier or pay for a third-party backup plugin to keep your data safe.
Speaking of safety, UltaHost uses enterprise-grade DDoS protection to protect your website against malware, spyware, viruses, redirects, and more, all in real time.
In addition to UltaHost's robust security technology, you'll also benefit from automatic updates. All of your plugins and instances will be updated to the latest version and patched to protect against the latest exploits.
It doesn't stop there. UltaHost's team proactively monitors your servers 24/7. If they detect any problems, they'll fix them before you even know the issue exists.
In the web hosting industry, this level of support and service is more common for higher quality hosting tiers like fully managed VPS hosting. It's rare to see them offered with entry-level shared hosting, as UltaHost does.
In terms of price, UltaHost isn't the cheapest provider on my list. But, for just an extra $1 per month compared to the rock-bottom rates on the market, UltaHost is well worth the price if you prioritize security and customer service.
Plans start at $3.29 per month for new customers. Unlike other hosting providers that jack up rates to triple or quadruple the promotional price, UltaHost's entry-level shared hosting plan renews at a very reasonable price of $4.39.
Beyond the security features mentioned above and the always-available support, this plan also includes:
Unlimited bandwidth
A free SSL certificate
cPanel
Guaranteed 99.9% uptime rate
SSD and NVMe storage
Overall, UltaHost is affordable, secure, and fast hosting, with all plans backed by a 30-day money-back guarantee. You can sign up with UltaHost risk-free, knowing that you can cancel without consequences if you're unhappy for any reason.
#7 – A2 Hosting Review — The Best Web Hosting Under $3 for Online Stores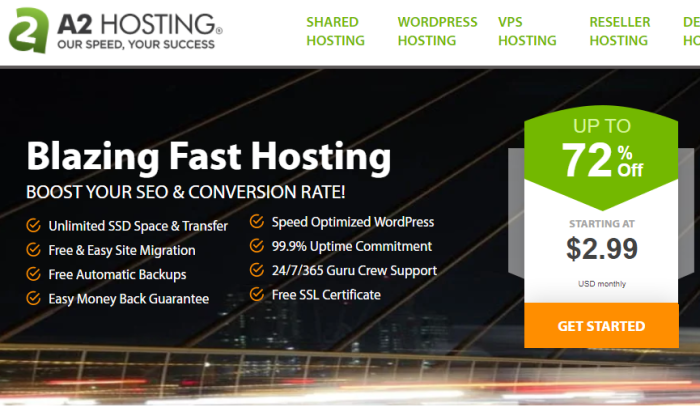 If you grow your ecommerce site past a certain point, the cheapest web hosting options won't work. But, if you are just getting your online store up and running, there is no better budget-friendly option than A2 Hosting.
In fact, you can get everything you need to launch for $2.99/month with the A2 Startup plan. You'll have to sign a contract to get the lowest rate, but you'll be ready to go within minutes.
Along with PayPal integration, the cheapest A2 hosting plan comes with one-click installs for five of the top ecommerce platforms, including WooCommerce, OpenCart, and Magneto. There's hardly any backend IT work to start selling.
A2 Hosting offers some of the best site speed and security for the price, which are really important for online stores.
Shoppers won't stay if your content is slow to load. A2 takes care of all the technical legwork that goes into maintaining high performance servers. It's compatible with Cloudflare's free content delivery network, which can boost your speed as well.
Most shoppers won't even come if Google says your site's not safe. That's going to happen if you don't have an SSL certificate. A2 includes one for free, and it's always enabled.
This is a huge perk, because you can get free SSL certificates elsewhere, but it's on you to configure and renew them, which can be frustrating.
Most of the other security benefits are similarly hands off. The virus scanner, firewall, and brute force defense are on autopilot—you'll receive notification if there's something you need to do, but A2 handles a lot on its own.
And if you have an issue you can't solve, A2 will help. Go read reviews. The company has some of the happiest web hosting customers on the planet. If you need to move your old site to A2's servers, they have a team that will do it for free.
Some of the other excellent benefits of A2 Startup include:
100 GB storage
Unlimited bandwidth
Unlimited email addresses
24/7/365 customer support via phone, live chat, email, and ticketing
99.9% uptime commitment
Optimized WordPress hosting
DNS management tools
Website staging
Website staging is really useful for online stores. You can test new features and buttons on a page in a development area before pushing it live. This way you can see if anything breaks before it impacts your customers.
The A2 Startup plan is aptly named—it won't be enough once your site matures. But by the time you've hit that milestone, your site will be bringing in more than enough money to justify the cost of upgrading.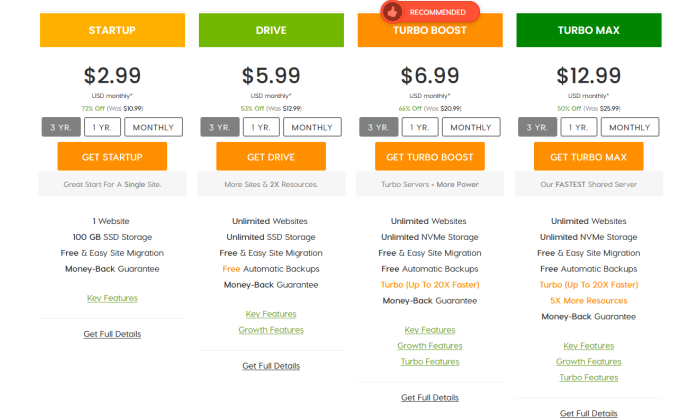 I like A2 Hosting for online stores because of the speed, security, and generous limits on storage. 100 GB is twice as much as you get with Bluehost.
And if you aren't happy with your service, A2 Hosting will refund your account within 30 days of purchase. It's a true hassle-free money-back guarantee.
Your online reputation matters, so it's a huge peace of mind to know that customer service is always there. A2 Hosting representatives are extremely knowledgeable. They will help you resolve issues quickly, before your online store takes a hit.
Sign up with A2 Hosting today for the cheapest possible way to host your online store.
#8 – iPage Go Review — The Best If You Have Multiple Sites
iPage Go lets you create unlimited websites for under $2/month. Every other plan on my list requires you to purchase an upgraded plan to support more than one site.
I really like iPage Go because there is one plan. Without tiered pricing, you don't have to worry about upgrading your plan until you need something more substantial than shared hosting.
In other words, you can build as many websites as you want without having to stress about paying more to do more.
With iPage Go it's unlimited sites, domains, and storage. Like similar "unlimited" offerings, your service has no hard and fast limits, but there are restrictions on how much your site can demand from the shared server.
So, when iPage says they offer scalable bandwidth, it means they aren't metering the traffic to your site. You could still hit restrictions, but there is no set cap for the number site visitors.
Most people looking for cheap hosting for their websites won't have to worry too much about these limits. iPage is able to support 99.5% of customers without any issues at all. In fact, the company will work with you to make sure you've optimized your site if you start to approach restricted usage limits.
In addition to providing the cheapest multi-site hosting option, iPage gives customers access to a ton of free tools to build and nurture their site.
You get a free domain name for the first year, along with a free SSL certificate. On top of that, you get free email with autoresponders. You can use the email provided, or manage your website accounts with Microsoft Outlook and other third-party apps.
iPage hosting includes a free website builder, which can help you customize the look and feel of all your sites. WordPress is a one click installation as are other popular content management systems like Joomla and Drupal.
For less than $2 per month, all of this is yours. Other benefits include:
24/7 customer service
Unlimited databases
One-click installs for OpenCart, Magneto, and PrestaShop
PayPal integration
Integration with popular email marketing software services
Site traffic reporting
30-day money-back guarantee
There is no month-to-month pricing for iPage Go. You can sign up for one, two, or three years. The longer the contract you sign, the lower the introductory pricing and renewal rate you get: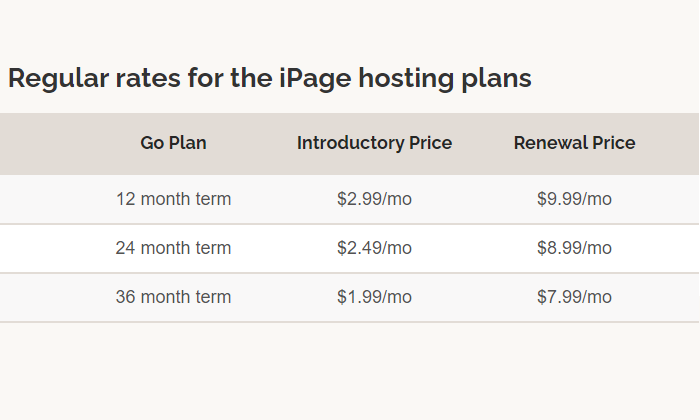 I'm not aware of another hosting provider who gives you a discount on your renewal rate for signing a long contract, so that is a unique perk.
As I mentioned, you'll never have to upgrade to a different shared hosting plan. You get everything they offer with iPage Go. There are hardly any limits on your resources, and if your site gets too popular to be supported by shared hosting, iPage has some more powerful hosting solutions at competitive prices.
Until then, host all of your websites for one low price with iPage.
#9 – GreenGeeks Review — The Best Price for Managed WooCommerce Hosting
Transforming a basic WordPress website to an online store can feel like a daunting task for many people. Deploying the free WooCommerce plugin is a simple solution, but you still need adequate web hosting to accommodate your newly enhanced ecommerce store.
GreenGeeks handles all of this for you.
They offer fully managed WooCommerce hosting with one-click installations. You'll also benefit from managed perks like automatic updates and daily backups—even with entry-level plans.
Starting at $2.95 per month, GreenGeeks offers an exceptional value for managed WooCommerce web hosting. Just be aware that you need to lock in a three-year contract to get the lowest possible rate in the Lite tier.
This could cause some slight hesitation for users who don't want that type of commitment. Fortunately, GreenGeeks' prices don't jump as drastically for short-term contracts—which can't be said for other web hosting providers.
For example, the Lite plan increases by just $1 per month if you go with a two-year contract instead of three. And it's still offered at the low rate of $4.95 per month for annual plans.
Remember, this is for fully-managed WooCommerce hosting. So it's still a great value. Additionally, you will be locking in your extremely low price for the full three-year length of the contract. You don't have to worry about unforeseen price hikes until well into the future.
You're also getting unmetered data, 50 GB of space, a free Wildcard SSL, and a free domain for one year.
When you need a bit more power and features, the Pro tier carries a great price point of just $4.95 per month for the three-year term. It gives you an unlimited number of websites versus the one website in the Lite tier, as well as unlimited web space.
With the Premium tier, which starts at $8.95 per month, GreenGeeks will guarantee that you receive the highest level of site performance. This is an ideal tier for operating an online store.
GreenGeeks is also built to scale. So if your website grows over time, you can easily upgrade to a Pro or Premium plan for more resources and enhanced benefits.
Best of all, GreenGeeks is known for offering some of the best-in-class customer support in the world of web hosting.
You can reach them by phone, email, or live chat. The call center is available seven days per week, and the average email response time is just 20 minutes.
Get started with GreenGeeks today to get a great deal on WooCommerce web hosting.
What I Looked at to Find the Best Cheap Web Hosting
You're looking for the cheapest plan out there, but you still need a dependable host.
There's no shortage of budget-friendly web hosting options available. Each one promises great uptime, site performance, and customer support.
It seems like anyone can get their site up for less than the cost of a cup of coffee.
What's the catch?
If you understand your options and pick the right one, there is no catch.
I'm going to guide you through saving every dollar possible without getting scammed or locked into a plan that you'll regret later.
Use these four criteria to cut through the advertising gimmicks, rule out plans that are "too good to be true," and hone in on the best deal for lowest price.
Price
One of the key criteria in finding the best web hosting is price. For me, it's the most important criteria
I always ask myself: How can I get dependable hosting at the absolute lowest price?
When you're paying for hosting each month, even a few dollars' difference between plans adds up over time.
However, you have to be careful when looking at price – you have to look at it alongside reputation.
I focused my attention on web hosts with a rock solid reputation because their cheap hosting options don't cut corners. These plans are undoubtedly no-frills hosting, but I made sure they cover all the essentials.
If you go with one of the cheap hosts that don't have the strong reputation, you can get a rock-bottom price but also a rock-bottom experience.
The providers I chose have super-affordable plans that won't cause trouble now, won't trap you into upgrading, and won't wind up costing a fortune down the road.
Contract Terms
Lots of web hosts might seem cheap at first glance, but you need to review the contract terms to truly get a sense of the actual cost.
To lock in the lowest possible rate, you'll likely have to commit to a two, three, or even a four-year plan.
Importantly, these contracts are typically paid up-front and in-full.
That means that web hosting advertised at $3 per month could actually cost you upwards of $100 today.
Along with the length of the contract, you need to check the renewal rates. It's common practice in the web hosting industry for hosting plans to skyrocket upon renewal.
Promotional pricing might cost $3 per month, but then automatically renew at something like $10 per month.
That would more than triple your rate upon renewal. Suddenly it's not so cheap anymore.
Domain Limits
How many sites do you want?
If you add a site or two, you could accidentally get forced to upgrade and pay a lot more.
iPage, for example, lets people create as many websites as they want with their cheapest hosting plan.
With Hostinger, on the other hand, you'll have to upgrade to host more than one site. That said, Hostinger's next plan up is still less than $3 per month and you can build up to 100 websites.
Another important limit to consider is bandwidth. This is the maximum amount of data your site can transfer to users during a set amount of time.
Now there's no such thing as unlimited bandwidth, but you are definitely going to see that advertised with a lot of the cheapest web hosting plans out there.
Why can they say this?
Because these are shared hosting plans where your site is on a server with a bunch of other sites. On a typical day, these sites are not going to use all of the server's resources, so they say it's unlimited.
The truth is that you will definitely still have limits on how much of the server's central processing unit (CPU) your site can use.
Getting too many visitors to your site may exceed your CPU limits, and the provider may ask you to upgrade.
Shared hosting plans with unlimited bandwidth are perfect for cheap web hosting, just don't equate it with unlimited visitors.
Free Tools to Build and Grow Your Site
You'd be surprised, but even some of the least expensive web hosting plans are packed with free tools and capabilities. Getting these freebies as part of a bundle can help you save in other areas.
Some of the features to look out for include:
Ad credits: free Google or Bing advertising credits to target your audience
Domain name: your site's online address at www.your-domain-name.com
Email account: an address @your-domain-name.com
SSL Certificates: protects online privacy and lets visitors know your site is secure
Visual website builder: an application that lets even total newbies design beautiful pages
Everything that's included with your hosting plan is something you don't have to spend more money on.
It's not hard to register your domain name, but if your hosting plan includes it, that's going to save you $10-15 in the first year.
Getting a free professional email is another $30 in your pocket. The freebies add up.
Even Hostinger, which can be purchased for less than $1/month, comes with an email account, SSL certificate, and a website builder that requires zero coding knowledge to use.
Conclusion
You don't have to spend very much to get your site online, but if you aren't careful, web hosting can wind up costing a lot more than you think.
Choosing a reputable provider is the first step, but you don't have to worry about that if you stick to my list of best cheap web hosts. These are all really well-known companies with a long history of dependable service.
My top recommendation is to go with Bluehost. At less than three bucks per month at the outset and the most recommended host by WordPress themselves, you can rest assured you're in good hands.
Of course, if you have a site that you want to migrate for absolutely free, I recommend HostGator. You can move your entire site with peace of mind and get high-quality hosting.
If you have a new site in mind and you want to get it off the ground quickly, Bluehost is the choice for you. It's a little pricier than Hostinger, but still under $3/month. Plus Bluehost includes a free domain name for the first year (you're going to need that for a new site), which saves another $10-15 right there.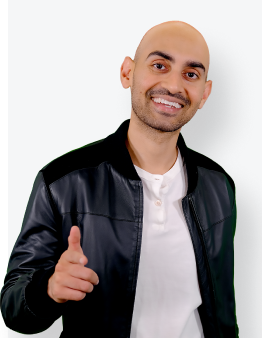 See How My Agency Can Drive More Traffic to Your Website
SEO - unlock more SEO traffic. See real results.
Content Marketing - our team creates epic content that will get shared, get links, and attract traffic.
Paid Media - effective paid strategies with clear ROI.
Are You Using Google Ads? Try Our FREE Ads Grader!
Stop wasting money and unlock the hidden potential of your advertising.
Discover the power of intentional advertising.
Reach your ideal target audience.
Maximize ad spend efficiency.