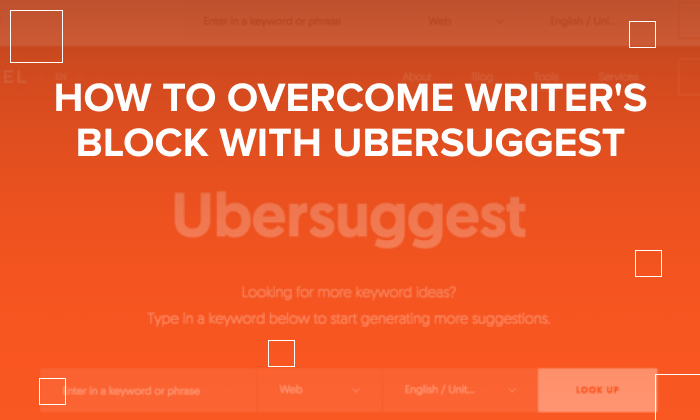 You're staring at your screen.
Your screen's staring back at you.
Only one of you can win this writer's block contest (and believe me—I'm rooting for you).
You're not the only one who experiences writer's block.
In the blogosphere, 70 million posts are published monthly on WordPress alone.
Their authors all likely hit a wall somewhere in their content creation process.
Even I had to fill my blogger toolbox with writer's block tools.
So, how do I manage to crank out four to five high-quality blog posts every week?
I developed a creative inspiration formula.
I'll show you how I use Ubersuggest to generate content ideas to break my writer's block.
I believe it will work for you too.
You'll be able to content batch dynamic ideas to keep your brand's content fresh and exciting.
More than just your audience will enjoy the end result.
Your team will feel inspired to think big, win big, and crush writer's block.
What Is Writer's Block, and What Causes It?
Do you want to know my nickname for writer's block?
I call it the creativity killer.
You want to write but don't know what to write.
I call it this because it puts you in a creative slump. Thankfully, you can reverse-engineer your way to a great writing breakthrough.
You'll know when you've hit a block.
You may be feeling uninspired. Maybe your message is unclear.
Stress can also block your creative flow. This can come in the form of self-doubt or lack of motivation.
You may even be plagued by perfectionism.
Or your foundational knowledge of the topic isn't sound.
But you've got to break through the wall at some point.
Understand what led to the block. Once you can put your finger on it, you can get that spark back.
How Writer's Block Impacts Your Business
Overcoming writer's block is a delicate process, but it shouldn't interfere with your business.
You don't have to wait to let the sentences form in your mind to get started.
Allow your research and notes to guide you.
Planning helps you commit to communicating with your audience.
Your audience wants to hear from your content to take their next informed steps. You don't want to negatively impact your brand by failing to post regularly because of writer's block. It'll cost you both organic traffic and brand awareness.
HubSpot reported your blogging frequency should be at least two to three posts a week, no matter your blog length or content goals.
You've gained your audience's attention through what you have to say—and they value you.
While trying to up your page views and domain authority, don't lose their attention over one tricky topic.
Be patient with yourself and work through your process if you want to stay connected with your audience and maximize the visibility of your business.
So, mix up your approach. Try something different.
Have you thought about using an AI writer or other tools to overcome writer's block?
Can Tools Help You Overcome Writer's Block?
Push through that empty page with tools to overcome writer's block.
I know, like you know, that there's nothing more frustrating than writer's block. But a checklist of tips and tools to overcome writer's block will help you solve the problem quickly.
One of the best ways to overcome writer's block is to start with an "I can" vs. an "I can't" attitude.
That includes thinking outside the box and seeking out tools to help come up with the words and ideas you need to move forward.
Overcome writer's block with resources like question forums. Everybody knows Quora, so get some answers and ideas from a community of users likely in your niche.
Help A Reporter Out (HARO) is also helpful in gathering expert advice and quotes on topics. You can set a query to help you expand on topics and even draw inspiration from the responses you receive.
Need a writer's block tool that'll help beat a time crunch? Try Copy.ai, an AI writing tool. Just enter a few sentences or phrases about your topic, and it'll generate copy you can use to help crush your content project.
Think of AI writers as your copywriting assistant. Even if you're writing for SEO, AI writing assistants take your topic and turn it into content that converts.
Perhaps your topic isn't working, or your keywords need beefing up.
To optimize your copy, use Ubersuggest. You can expand keyword long-tail phrases, drawing from sources like videos or images. You can even shape your content with the built-in AI rewriting tool. All you have to do is enter text into the tool and it rewrites it into fresh and unique content.
AI rewriting tools can write quickly, generating high-quality content for your company. This is a great starting point to ensure you're hitting the mark for your audience within your niche and industry.
Using Ubersuggest to Overcome Writer's Block: How It Works
Using Ubersuggest helps you reorganize your idea(s) to overcome writer's block.
As a savvy content marketer, you know when it's time to get innovative.
One way is to give direction to your writing.
Let me show you how to use Ubersuggest—an SEO content marketing tool—to help you break past your block.
Say you can't think of what to cover about the topic.
Head to Ubersuggest and enter your target keyword(s) or topic into "Content Ideas."
We'll plug in the keyword "mobile-friendly website" as your topic is optimizing a mobile-friendly website.
We can then look at the top-performing URLs alongside your query.
Let's see the keywords they used to help them form the piece by zooming in on the site with the most backlinks.
Look at the keywords generating these visits.
We can draw from these results that many brands don't have mobile-friendly websites and want to know how to make changes for the better.
Based on the demand from the audience, here are angles to take with your post:
Include subtopic listing strategies for making WordPress websites compatible with mobile.
Add the coding changes needed on your website's CSS style sheet to make your website mobile-friendly.
Write a step-by-step on making websites mobile-friendly.
Scroll down to find more relevant keywords worthy of writing as a subtopic in your post.
You can also gather any other keywords you didn't consider to get in front of your target audience.
Finding other related keywords with this quick content research session will help you reach your audience and rank well in Google.
You just defeated writer's block with your golden ticket of an outline.
If you find your page headings or titles are really not the direction you want to go, rework them with the AI rewriter on Ubersuggest.
These are the components of your post that will help navigate your reader down the page. So, the flow matters for you to express your ideas and for your audience's comprehension. To top off your work, use the tool to shape your meta descriptions.
Now your reader and search engines will know what your content is all about.
Being Proactive to Beat Writer's Block
Being proactive to beat writer's block molds you into a more efficient writer.
Sometimes finding inspiration is hard.
Some of the greatest writers, like Hemingway, wrote daily to stay on their toes with topics.
A writing routine can help you with this. Try different exercises like picking a topic randomly and giving yourself timed writing assessments.
A simple way to find inspiration is reading. The more you read, the more new concepts, ideas, and words you'll have. Use these as writer's block tools.
As you get the words on the page, think of questions your users might ask along the way. You are responsible for being the subject matter expert. Use their potential questions to spark ideas and shape how you communicate with your audience (including a FAQ section on your post).
Suppose you need to brainstorm. Set time aside before you start writing for content ideation or research. This way, topics you aren't familiar with will be easier to navigate.
Maybe you're experiencing mild writer's block. You know, like when you aren't landing that punchy line.
Write down what you're trying to say in a paraphrasing tool like QuillBot. Allow the tool to form your words in a different way to help you land a phrase well for your audience.
This is how you can train your writing muscles for success and beat writer's block.
Frequently Asked Questions
What is writer's block?
Writer's block is the overwhelming feeling of not knowing how to express yourself to move forward in the writing process. Everyone experiences it differently, but there are many tools to overcome writer's block, like Ubersuggest's AI rewriting tool.
How to overcome writer's block?
Ways to overcome writer's block—other than free writing for creative flow—include:
Changing your work environment
Getting energized (i.e. take a break or have a cup of coffee)
Read quality content
Use an AI copywriter
Use a keyword or content generator
What tools can I use to beat writer's block?
Tools to overcome writer's block include:
Quora: A Q&A forum
HARO: A service providing expertise and quotes from industry leaders on yo,ur research query
Copy.ai: An AI copywriting tool
Ubersuggest: An SEO content marketing tool
Conclusion
Stop overthinking it.
If you experience writer's block, it doesn't make you any less of a writer.
There's more than one solution to every problem. This is where tools to overcome writer's block come into play.
You'll likely get past the block by embracing new ways to overcome writer's block, like an AI writer or Ubersuggest.
Don't give up or stress about writer's block when you have tools to overcome writer's block (that don't include going to buy a coffee and sitting at a coffee shop all day for inspirational vibes).
You can use tools to seed writing ideas and prepare you for future writing pieces.
If you've experienced writer's block, how do you fight it? Have you tried Ubersuggest or other tools to overcome it?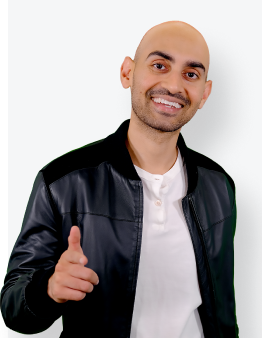 See How My Agency Can Drive More Traffic to Your Website
SEO - unlock more SEO traffic. See real results.
Content Marketing - our team creates epic content that will get shared, get links, and attract traffic.
Paid Media - effective paid strategies with clear ROI.
Are You Using Google Ads? Try Our FREE Ads Grader!
Stop wasting money and unlock the hidden potential of your advertising.
Discover the power of intentional advertising.
Reach your ideal target audience.
Maximize ad spend efficiency.