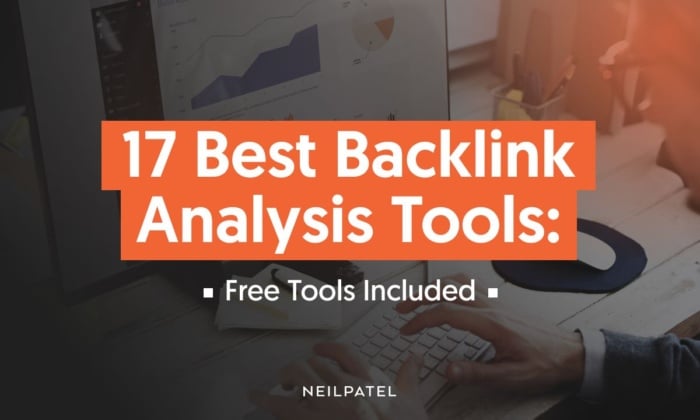 What comes to mind when you think about creating a "good" link profile?
There is a lot of information on this subject, including steps you can take today to improve your link profile and boost your rankings.
In the past, I've provided a lot of advice on building quality links, where to find the best links, and tools that can help.
However, there's something else you need to do: Examine your link profile.
If your website is brand new, this may not be a big deal. Here's why: You don't yet have any links pointing to your website.
Conversely, if your website's been around for a few months or longer, there's a good chance you have some links pointing to it. Some may be good. Some may be bad. Others may not move the needle in either direction.
It's important to understand your link profile, as this will give you a clear idea of whether you're on the right track.
In a perfect world, you'd see nothing but high-quality, relevant links pointing to your site. In the real world, however, this likely isn't the case.
Need help conducting a backlink check and reviewing the results?
If so, this post is for you. Below, you'll find 17 backlink analysis tools that are full of features offering insight into your link profile. Let's check them out!
1. Ubersuggest
When it comes to reaching page 1 of Google's search results, there aren't many things more important than your backlink profile. So, it's critical to have a pulse on your profile at all times.
Ubersuggest is the best tool for keeping a beat on your backlink profile. It's fast and accurate, with a search of your site displaying a results page that looks like this: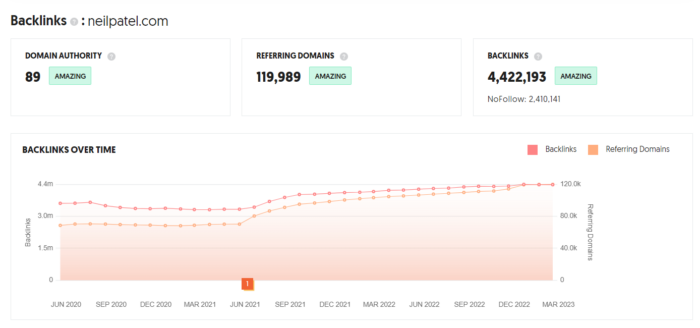 In addition to your Domain Authority, which measures how likely your website is to rank in the search engine results pages (SERPs), the top section of the overview provides:
The overall number of backlinks to your website, as well as the number of nofollow backlinks.
The number of referring domains, along with the number of .gov and .edu domains linking to your website.
A "backlinks over time" growth chart that shows how quickly your backlink count is growing.
As you scroll down the results page, there are two other sections ripe with data: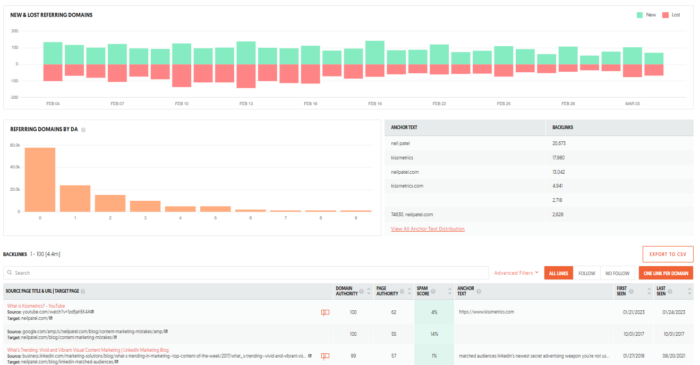 New & Lost Referring Domains offers historical insight into the number of new websites linking to your site and the number of domains that stopped linking to your website.
Ubersuggest also gives you a breakdown of those domains' Domain Authority score and a list of your website's backlinks (follow and nofollow).
As a general rule of thumb, you want the number of new backlinks and referring domains to outweigh the number lost. This ensures positive growth.
The final section is a list of every backlink to your website. It's here that you'll find:
Source page title and URL
Domain Authority
Page Authority
Spam Score
Anchor text
The date the link was first and last detected by Ubersuggest robots
While there are many backlink analysis tools, Ubersuggest is the most comprehensive. Once you review the results page from top to bottom, you'll have a clear understanding of your backlink profile.
2. Semrush Backlink Gap Tool
The Semrush Backlink Gap Tool is a must-have for analyzing your backlink profile and finding new link-building opportunities. With this backlink analysis tool, you can compare your site's backlinks with your competitors' and see where you're falling behind.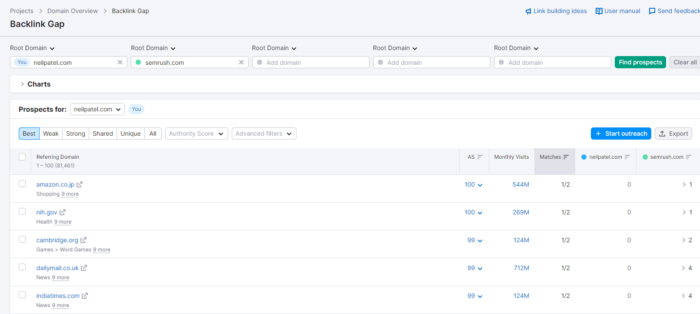 Backlink Gap shows you everything you need to know about your backlink profile, from the number of backlinks and referring domains to the quality of those links. Plus, it's super easy to use. You can filter the data by different criteria, including link type, anchor text, and date.
By using the Backlink Gap Tool, you'll gain a better understanding of your link profile and be able to create a more effective link-building strategy. Trust me. Every website owner needs this tool in their SEO arsenal.
3. Ahrefs
An absolute favorite among online marketing professionals, Ahrefs gives you all the tools you need to track your backlinks and keywords. Furthermore, you can get an inside look at what your competition is doing.
There's a lot to like about Ahrefs, but I personally enjoy the quality of the data this backlink checker provides, as you'll see in my testimonial: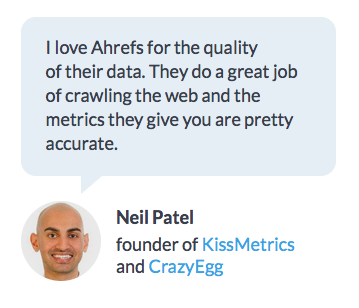 With Ahrefs, you never have to worry about the accuracy of the information or whether you'll get the most current backlink data.
A quick search provides you with updated, accurate data that's related to your link profile: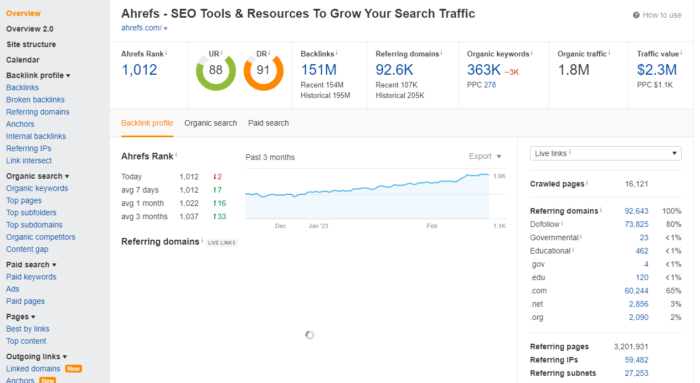 In addition to the total number of backlinks, you can examine each one to ensure you're satisfied with the quality.
Of the many backlink analysis tools designed to help you better understand your link profile, I have long considered Ahrefs among the best.
4. BuzzSumo
If you're looking for a way to create high-quality content that resonates with your audience, you've got to check out BuzzSumo. This tool is a game-changer for content marketers, allowing you to find the most popular content in your industry and uncover what your audience is interested in. Why is this so important for backlink analysis? When you find the most popular content in your niche, you can then figure out the websites that are linking to it, which can be potential link building opportunities for your own site.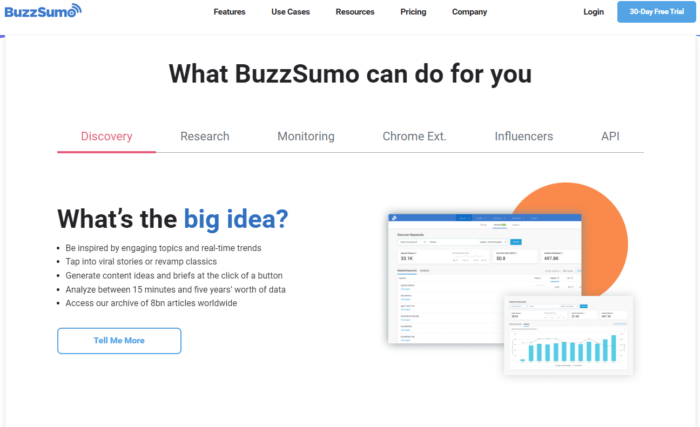 So, how does this work in practice? With BuzzSumo, you can search for any topic or keyword and see the most shared articles across social media platforms. Use the Backlinks tab to see who is currently linking to those articles.
You can also see who's sharing that content and get insights into what makes it so shareable. This information can help you create better content that resonates with your target audience and drives engagement.
Additionally, BuzzSumo lets you monitor your brand mentions, track your competitors' content, and analyze your own content's performance.
With all these features, it's no wonder that BuzzSumo is a must-have tool for any content marketer.
5. AIOSEO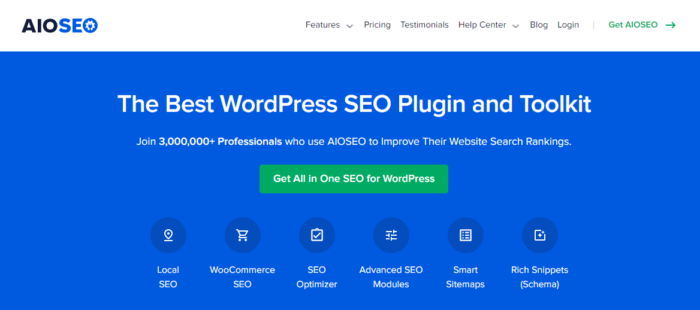 Looking for an all-in-one SEO solution for your website? Look no further than AIOSEO. This powerful tool offers everything you need to optimize your site and improve your search engine rankings.
While AIOSEO's Link Assistant feature is more of an internal link analysis tool than a backlink analysis tool, it can help you look at and analyze your backlink profile to find areas of strength and areas of improvement.
On top of that, AIOSEO packs a punch in practically all other areas of SEO. You can easily customize your meta tags and descriptions, generate an XML sitemap, and optimize your content for specific keywords.
You'll also have access to an SEO audit checklist to help you make changes quickly. The tool also offers advanced features like schema markup, social media integration, and local SEO optimization.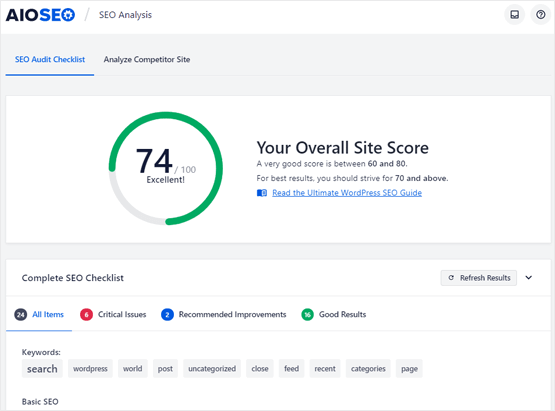 AIOSEO's user-friendly interface is easy to use even if you're not an SEO expert. Plus, its built-in analytics enable you to track your progress and see how your SEO efforts are paying off.
6. Linkody
From the moment you visit the Linkody home page, it's clear what the link checker tool has in mind for its users:
"The easiest way to track your link building campaigns."
If you've ever manually attempted a backlink check, you know two things to be true: It's time-consuming and nearly impossible to keep up.
This is why Linkody continues to grow in popularity. As is the case with all the backlink analysis tools on this list, everything is automated on your behalf.
There are several reasons to use this backlink analysis tool, including:
Notifications when you gain and lose links.
The ability to easily pinpoint and disavow spammy links.
An inside look at what your competitors are doing.
The thing that I like best is the ability to track when you gain new links and lose old ones. Your link profile is ever-changing; it's vital to stay on top of it.
If you lose a link, you want to know about it right away. And, if you gain a link, it's just as important to understand the source and the potential impact it'll have on your search engine rankings.
One final thing that's worth noting about this link checker tool is that you can set up daily email notifications. You'll receive daily reports that provide insight into the health of your link profile.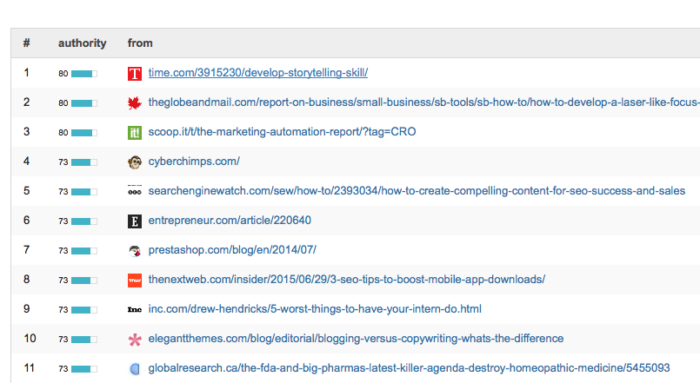 7. cognitiveSEO
cognitiveSEO provides a variety of internet marketing tools, all of which can help push your business forward.
For the sake of this post, we're going to focus on its backlink analysis tool. It may not be as popular as others on this list, but it's every bit as powerful.
For example, you can use cognitiveSEO's alert system to create triggers and notifications regarding your website's backlink data or that of your competitors' sites. With this feature enabled, the information arrives directly in your inbox, saving you time.
For an inside view of your link profile, you'll want to learn more about the instant Backlink Checker and Site Explorer.
These features provide a simple way to view your backlinks, including real-time data, historical information, growth trends, and much more.
What I like best about this backlink analysis tool is the way it presents information. The top of the report page shows the following:

From there, you can examine information based on:
Link velocity.
NoFollow vs. DoFollow.
A breakdown of each link, including link and domain influence.
If you've never experimented with cognitiveSEO, run a free search for your website to see what it has to offer. If you're anything like me, you'll enjoy the presentation and accuracy of the data.
8. LinkResearchTools
The name of this backlink analysis tool says it all, but you need to learn more about the features to determine if it's right for your website and approach.
One of the tool's top features is its integration with data from 24 link backends. With this, you can rest assured that you are getting one of the most thorough backlink checks available.
Another feature that you'll enjoy is described by the company as the "most complete backlink profile view."
With this, you can analyze every link through more than 150 metrics. Even better, you can customize the filters and metrics to meet the needs of your research. Filters include power, trust, buzz, contact data, and impact, along with many others.
Other things that you can do with LinkResearchTools include:
Removing a Google penalty.
Monitoring inbound links.
Improving your existing backlinks.
Discovering link opportunities.
Identifying link-building trends.
When the time comes to audit your link profile, don't sleep on LinkResearchTools. This is one of the most comprehensive backlink analysis tools out there, giving you everything you need and nothing that you don't.

9. Majestic SEO
As one of the bigger brands in the online marketing space, Majestic SEO has a lot to offer those who have a strong interest in their backlink profile.
Getting started is as simple as entering your URL into the search box. From there, the SEO tool will do all of the work for you. Here's an example of the results for my website, NeilPatel.com:
There are a lot of numbers here, so make sure that you take the time to break down each one.
While your eyes will gravitate toward the total number of external backlinks, don't overlook the other key details:
Referring domains
Referring IPs
Referring subnets
All this data helps you better understand where your link profile stands.
Making your way down the page, the backlink history chart is also extremely helpful. This gives you a clear understanding of whether you are gaining or losing steam in regard to your link-building efforts.
Going one step further, you'll also want to review the anchor text charts.
There are 17 top-notch tools on this list, but Majestic continues to be one of the best, thanks to the pure depth of information it offers.
Although signing up for an account gains you access to more features, a free search is a great way to view the bones of your link profile. Check out this popular SEO tool. It's well worth it.
10. Monitor Backlinks
There is nothing more important than your link profile, but this backlink analysis tool also helps you keep tabs on your competition.
One of this backlink analysis tool's top features is the ability to connect it with your Google Analytics account. This enables you to receive email alerts when you lose or gain a backlink, both of which are important to your profile.
Tip: You can also set up alerts for your competitors, giving you insight into their link-building performance.
Additionally, Monitor Backlinks brings together a variety of SEO metrics in one place. Its features include:
Backlink status checker
External link count
Referring traffic per backlink
MozRank
Page Authority
Domain Authority
In other words, if it has anything to do with your link profile, you can learn more by visiting your Monitor Backlinks dashboard.
The link checker tool also makes note of three specific scenarios in which Monitor Backlinks excels:
When a blogger reviews your product or service
When you acquire a valuable backlink
When your competition is making moves with their link-building efforts
The name of this tool says it all. If you want to run a backlink check and regularly examine your link profile, spend some time learning the ins and outs of Monitor Backlinks.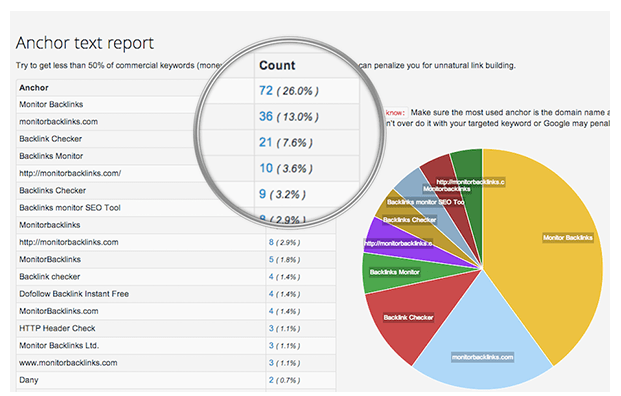 11. SEO PowerSuite
How powerful are the tools in your online marketing toolbox?
If you want to add some power, SEO PowerSuite could be the answer.
Without the right tools on your side, analyzing your link profile can be time-consuming, stressful, and frustrating.
With SEO PowerSuite's SEO SpyGlass tool, you can leave these problems in the past.
This backlink analysis tool tells you the following:
List of all backlinks pointing to your site (or a competitor's site)
Anti-penalty audit
Link quality factors
Backlink reports
If you're a fan of my blog, you know that I love anything that has to do with data. This is why I thoroughly enjoy everything about the backlink reports generated by SEO PowerSuite.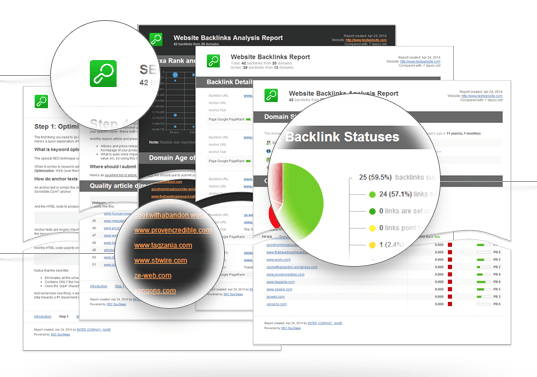 Agencies often create reports to share SEO and link-building results with clients. This is also something you can do for your own business.
With each report, you'll gain access to high-level information—everything from the number of links and backlink status to link-prospecting data.
When you need help with link building, you can run a deep link quality analysis. By checking links against more than 50 quality factors, you gain an understanding of which links most impact your search engine rankings.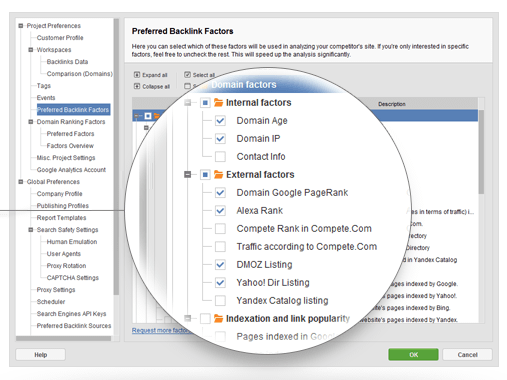 I encourage you to give this SEO tool a try. It provides you with the data that you need to better wrap your head around your link profile, including areas in which you can improve.
12. Moz Link Explorer
Moz Link Explorer is undoubtedly one of the best backlink analysis tools on the market. This powerful tool is a favorite among marketing professionals for its ability to provide valuable insights into the link profiles of any website.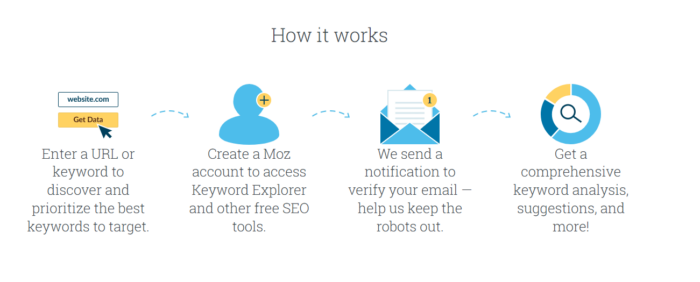 Its user-friendly interface and quick response times make it easy to navigate and understand. Its integration with Google Analytics allows users to receive timely notifications of backlink gains or losses.
Moz Explorer provides detailed information on:
Anchor text
Spam score
Page Authority
Domain Authority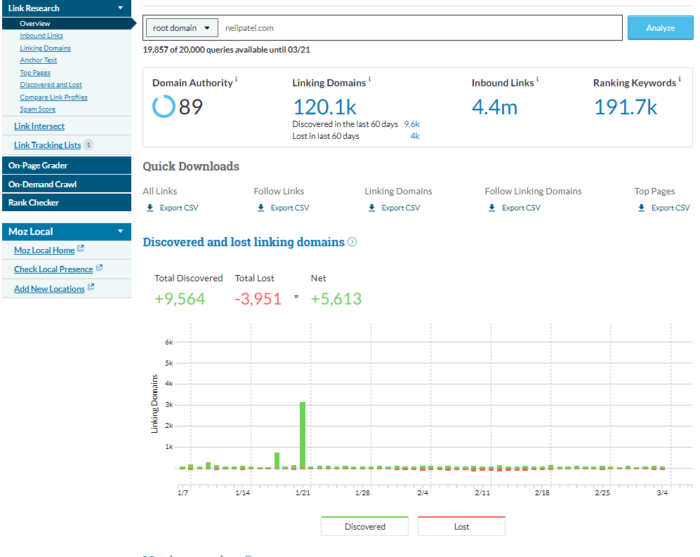 It's an ideal tool for those looking to improve their link profile. Whether you are researching backlinks, identifying problematic links, or seeking new link-building opportunities, Moz Link Explorer has you covered.
13. Check My Links
When it comes to analyzing backlinks, there are plenty of tools out there, but one that I particularly like is Check My Links. This free Chrome extension is simple but incredibly effective.
All you need to do is open the page you want to analyze, click on the Check My Links icon, and the tool will automatically scan the page for any broken or valid links. It's a great way to quickly identify any issues with your link profile and fix them.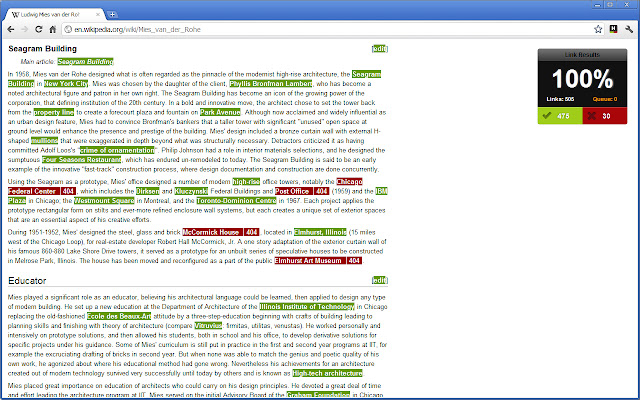 The tool highlights any broken links in red, so you can easily spot them, and it also provides a list of all the valid links on the page.
This is particularly useful when conducting competitor research, as you can quickly see which sites your competitors are linking to and assess whether you can land a link from those sites as well.
14. PitchBox
PitchBox is an excellent backlink analysis tool that helps streamline your outreach efforts.
One of the standout features of this tool is its ability to find relevant prospects based on a set of parameters that you define. This feature alone can save you countless hours of manual searching.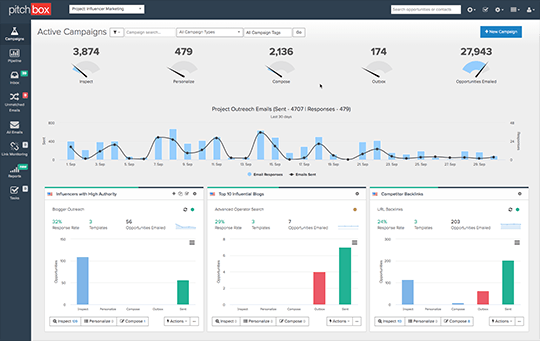 Once you've identified prospects, you can use PitchBox's outreach module to send personalized messages at scale. You can track who has opened and responded to your emails and even automate follow-ups to maximize your chances of success.
PitchBox also includes a robust reporting suite that provides insights into your outreach performance and the quality of your backlinks.
15. Whitespark
You can't go wrong with Whitespark, especially if local SEO is the focus of your optimization efforts. This user-friendly tool offers everything you need to perform a comprehensive analysis of your website's backlinks.
With Whitespark, you can easily identify the sources of your backlinks, track your progress, and monitor your competition. One of the most impressive features of this backlink analysis tool is its ability to automatically categorize your backlinks, making it easy to understand your link profile at a glance.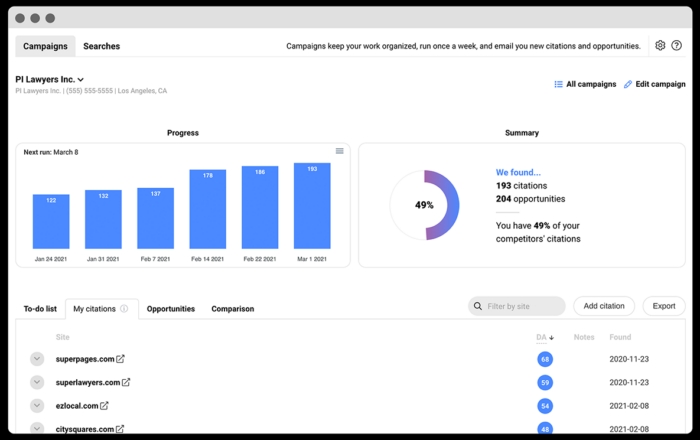 Additionally, Whitespark's Local Citation Finder tool can help you identify local citation opportunities and improve your local SEO. Whether you're a small business owner or an SEO professional, Whitespark is a valuable tool to have in your arsenal.
16. Linkstant
Link building comes down to one thing: generating as many high-quality natural links as possible. Although quality is more important than quantity, that doesn't mean you don't want to know when you secure a new incoming link.
Linkstant alerts you to every new backlink to your website. With Linkstant in your arsenal of backlink analysis tools, you will find out about every link, right now, not later. You won't have to wait days or even months to find out about your new backlinks.
Here are some of the many benefits of using Linkstant:
It keeps you motivated, as there is nothing more exciting than realizing that you secured a quality and free backlink.
You can see who is most interested in your website and content and leverage that data.
You can see why others are linking to your website, either for good or bad reasons. You can take immediate action if the link is associated with a negative review.
Linkstant doesn't necessarily help you build new links, but it indirectly helps your building strategy in a number of ways.
For example, you may find that a particular blog post is receiving a lot of attention. As it generates link after link, you shouldn't sit back and let things happen. Once you know a post is hot, you can milk the link popularity for everything it's worth by, for example, promoting it on Facebook.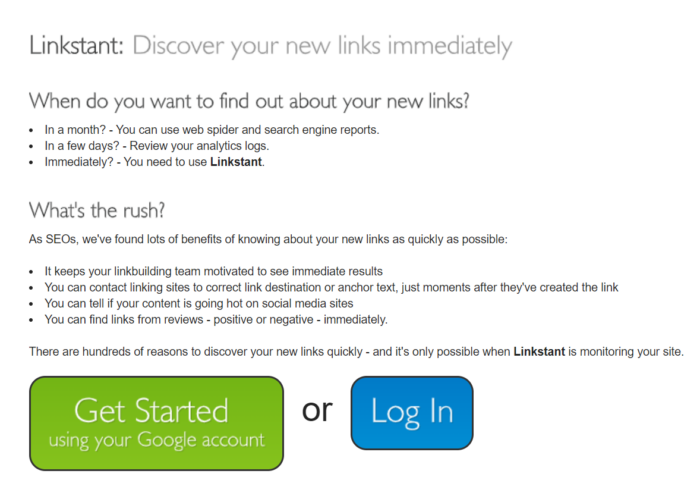 17. BuzzStream
"Outreach" is a buzzword that continues to pick up steam with each passing day. In the SEO world, this is nothing more than connecting with website owners to offer something of value in return for a free backlink.
This tool is perfect for anyone looking to boost their link-building efforts and improve their overall search engine rankings.
BuzzStream can identify link prospects by thoroughly analyzing your website's backlink profile. It then uses this information to suggest high-quality link prospects based on your niche and target audience. From there, you have what you need to build outreach lists for backlinking opportunities.
Another feature that sets BuzzStream apart is its ability to automatically verify backlinks, saving you time and ensuring your link profile remains in good standing.
BuzzStream also provides detailed reports on backlink performance, so you can see how your links are performing and make necessary changes to improve your overall link-building strategy.
This backlink analysis tool is a must-have for anyone serious about their link-building efforts.
FAQs
What is a backlink analysis tool?
Backlink analysis tools help website owners analyze their website's backlink profile. It provides information on the links pointing to their website from external sources, including the number, quality, and relevance of the links. You can use this information to identify areas for improvement in the website's link-building strategy and improve its search engine rankings.
How do you analyze backlinks?
To analyze backlinks, you need to use a backlink analysis tool that can identify and evaluate the links pointing to your website. These tools can provide information on the quantity, quality, and relevancy of your backlinks, as well as any potential issues or opportunities for improvement. By analyzing your backlink profile, you can gain valuable insights into your website's search engine ranking and identify areas for optimization.
What free tools can I use to understand my backlink profile?
There are several free backlink analysis tools that you can use to research your backlink profile, including Ubersuggest, Ahrefs Backlink Checker, and Moz Link Explorer. Note that some restrict the number of free searches you can perform if you don't have a paid account. These tools can help you identify backlinks pointing to your website, track the number of links, and monitor link quality, making it easier to analyze and improve your link profile.
Conclusion
Search engine optimization isn't nearly as complicated as it sounds. There is no magic pill for success, but there are things that you can do to work toward it—such as keeping a healthy link profile.
In today's online world, you don't have to look far to find the right marketing tools for your business. Take advantage of what these backlink analysis tools have to offer and get closer to your goals.
What's your favorite tool for backlink analysis?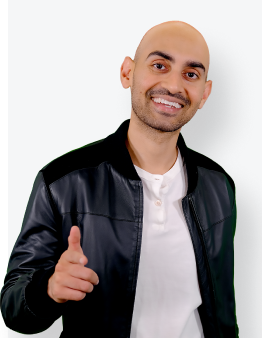 See How My Agency Can Drive More Traffic to Your Website
SEO - unlock more SEO traffic. See real results.
Content Marketing - our team creates epic content that will get shared, get links, and attract traffic.
Paid Media - effective paid strategies with clear ROI.
Are You Using Google Ads? Try Our FREE Ads Grader!
Stop wasting money and unlock the hidden potential of your advertising.
Discover the power of intentional advertising.
Reach your ideal target audience.
Maximize ad spend efficiency.