A winning corporate blog can bring new traffic to your website and added attention to your company. According to one study, businesses that blog get an average of 55% more traffic on their websites than those who don't. It adds value to new and existing customers, and can make you stand out from your competitors. But how, exactly, does a business go about creating a blog that their customers will actually read?
Zappos.com CEO and COO Blog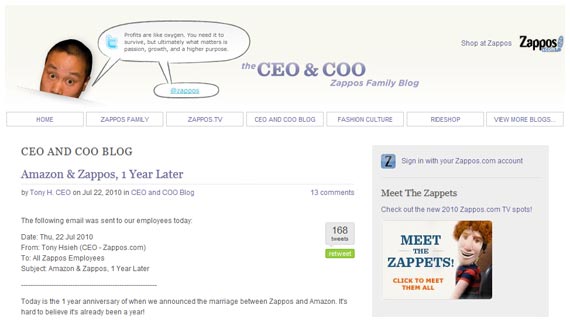 Zappos.com, the giant online shoe and apparel retailer, has a number of blogs. Some focus on their products and general company news, but one in particular stands out: the shared blog of their CEO and COO.
What sets this blog apart is the transparency it offers to Zappos.com customers. Internal emails, memos, and other corporate news are all shared. The fact that internal emails are copied in their entirety and shared with the general public is something a lot of corporations would scoff at. But it's all about building trust. Zappos, for instance, recently posted an extensive internal email that marked the 1-year anniversary of their deal with Amazon, and included the original email they sent out when the deal with Amazon was announced.
If the public sees you as honest and straightforward, then they're more likely to do business with you. It's that simple.
Zappos.com also has another blog that's noteworthy: Zappos Insights. It's hosted on a separate domain, and includes tons of information about the way they do business and their corporate culture. They also offer information on outstanding company culture at other businesses. They have regular features on things like books they're reading and fun posts like the Zappos Family Music Video. It's aimed at other entrepreneurs and businesses, and has tons of valuable insider information on how to build a corporate culture as outstanding as what Zappos has.
The Takeaway
Transparency builds trust. If you want your customers to view your company as honest and straightforward, don't be afraid to share internal documents and be as open as possible about what your company is doing. Having that information come from a higher-up within the company lends more credibility and gives it extra impact.
The Facebook Blog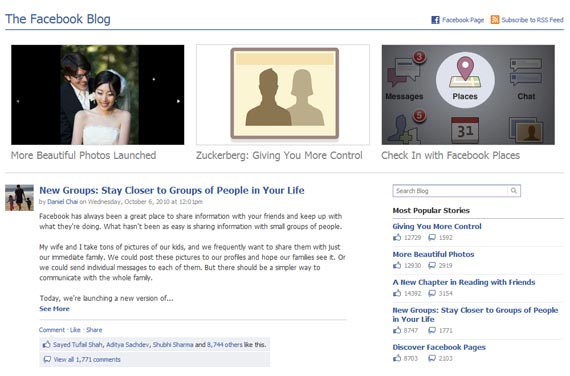 The Facebook Blog is clearly targeted at existing users. And when you have an active user base of more than 500 million people, it's important to keep communication not just open, but streamlined. The blog serves as a perfect, unintrusive platform for keeping users updated on new features and important information.
The Facebook Blog is another great example of how having multiple employees posting can result in better, higher-quality content and a more consistent posting schedule. Included in the people who blog is Mark Zuckerberg, the founder of Facebook. Having your CEO or other high-level executives blog when something important is being announced gives it more credibility in the eyes of customers.
The Takeaway
The Facebook Blog can teach us two things. First, when you have to communicate with huge numbers of people, a blog can be a great way to do so. Second, having a huge blogging team that includes employees from throughout your organization makes your blog much more engaging for users. Your CEO should be blogging, but so should your interns.
Lulu

Lulu takes a different approach to their blog. Rather than just promoting their company and their services, they offer valuable information to their customers and prospects related to self-publishing, the industry they serve. Sure, they also talk about their own products and services, and how to get the most from them, but it's always with the customer in mind. You won't find any regurgitated corporate press releases here.
When your customers are do-it-yourselfers or a similar demographic, providing information that empowers them to do what they do better, you become their go-to point for knowledge. When they have a question about something, they view you as an authority on the subject and turn to your blog for advice.
The Takeaway
Think about what your customers are doing, and how you can help them do it better. That should include not only how you can help them directly, but also how they can help themselves or get help from others who do things your business doesn't. If you put the needs of your customers first, they're more likely to respect your company and turn to you when they need something.
Notion Ink


Notion Ink is an Indian start-up that's working on a tablet device, the Adam, that will be a direct competitor to the iPad (it's even been labeled an "iPad killer" by some tech blogs). Their blog is set up specifically to keep prospective buyers updated on the progress of the tablet's development.
Their blog is different in a few ways. First, it's hosted on WordPress.com. Many corporations don't think it's okay for them to host their blog elsewhere, but for smaller companies that don't want or have a webmaster, a free hosted blog can be a great option. Also, the design of the blog bears no resemblance to their website's design. Instead, it's very simple and minimalist, putting the focus on their content.
The content is just the kind of thing that prospective buyers want: there's information on progress, specifications, and more. It's all written in a very conversational style, which works in their favor. They also ask for input from readers on a regular basis. Considering this tiny start-up's main competition is Apple, they're fighting an uphill battle. Embracing the fact that they're a smaller company who can adapt and respond to the needs of their customers is one thing that can really set them apart.
Notion Ink is a great example of how a corporate blog doesn't have to be flashy to do the job it was designed to do.
The Takeaway
If your product launch is a long way off, blogging about the entire process can keep potential customers interested. Getting feedback and input can also lead to creating an even better product than you might if you kept everything under wraps.
MintLife Blog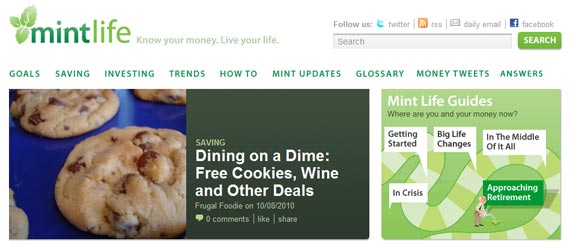 The MintLife Blog is the blog of Mint personal finance software. Their blog serves to empower their customers by providing great personal finance information on a regular schedule. They cover topics like getting out of debt, the economy, housing, and frugal living, all things likely to be of interest to their users.
MintLife doesn't just cover the serious stuff, though. They've also posted about things like "Money Art". And a lot of their posts aren't about life-altering financial decisions either. They also talk about things like tipping properly when you go out to eat, or vegetarian meals for under $10.
It's obvious that MintLife wants to compete with other personal finance blogs, of which there are plenty. Having a corporate blog that rivals regular topic blogs in a given industry is something that's tricky to do, but can easily set your company's blog up for success.
The Takeaway
Competing with non-corporate blogs in your industry is possible, and can be a fantastic strategy for a corporate blog. Features that are clearly topic-focused but include people or things from your company do double-duty (like the feature MintLife did on what's in their founder's wallet).
Signal vs. Noise

Signal vs. Noise is the company blog of 37signals, creators of products like Basecamp and Highrise. 37signals actually has two blogs: this one and their separate Product Blog (which, predictably, talks all about their products, who's using them, etc.). SvN, though, looks at how to make 37signals' customers better at what they do. And a big part of that is talking about companies that use their products and how they've become successful.
This kind of strategy is a fantastic one for a business-to-business company. After all, if your clients are more successful, some of that success will trickle down to you.
The Takeaway
Don't be afraid to feature other companies on your corporate blog, especially if you're in the B2B segment. Showing how others are being successful, as well as tips for better business, is going to be of interest to your business readers.
Whole Story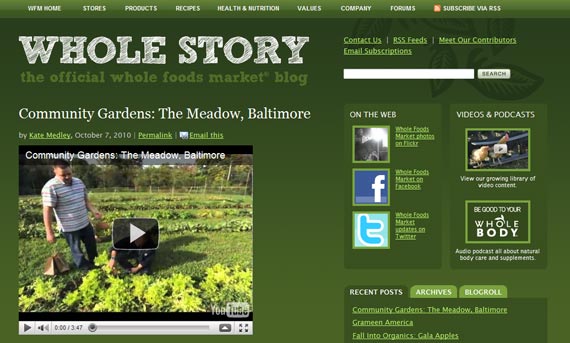 Whole Story, the blog of Whole Foods Market, covers news and information related to their products, but also covers environmental and conservation news in general. They provide useful things like recipes and give behind-the-scenes looks at some of their suppliers. Considering that the types of consumers likely to shop at Whole Foods almost certainly care about the origins of the foods they buy, this last feature is particularly well-suited to the blog.
Stepping outside of the direct sphere of your company provides more value to your customers, and in cases like this, can improve relationships with your suppliers, too.
The Takeaway
Providing useful information and featuring other companies isn't just restricted to B2B blogs. B2C companies can use similar tactics to provide information that improves the lives of their customers and reinforces their own position in the marketplace.
A Quick Guide to Starting Your Own Corporate Blog
If the above blogs have inspired you to start your own corporate blog (or revamp your existing one), the tips below will get you going in the right direction.
Why Are You Blogging?
All the blogs featured above have clear-cut reasons for blogging, and the content they publish reflects that. There are a few different reasons businesses might blog, and some businesses blog for more than one reason. Figure out why you're blogging so it can guide your decisions from here on out.
Set Goals
Before you get started, think about what you want to accomplish by blogging. Simply saying you want to blog because everyone else in your industry is doing it isn't a good enough reason. You need to want something from your blogging efforts. Take a few minutes to write down your blogging goals, and then keep them in mind as your blog grows and evolves.
Blog Management
You'll need someone to manage the technical end of things, as well as your content. If you don't have designated IT people for managing your website, going with a hosted blogging service will save you a lot of headaches.
On the content end of things, it's a good idea to designate one person as "editor". That person should be responsible for making sure there's content ready as scheduled, and that it's been proofread and optimized for search engines. This can be one of your bloggers or someone else in the company.
It's important to decide on the kinds of posts you'll publish, and who's responsible for writing posts. Have more than one person updating your blog, especially if you want to publish on a daily basis. Spreading the workload out lessens the chance that your bloggers will get burned out. You'll also want to create some kind of guiding document for your bloggers, so they know what is and isn't acceptable to post.
Winning Post Types
There are a few different kinds of posts that tend to get more attention than the standard news or update posts found on most corporate blogs. Mixing things up can bring in new readers, and if done well, can get you a lot of traffic from incoming links and search engines.
Your niche and your readership will dictate which ones work best for your blog. The point is to write posts that people find interesting and worthy of sharing with their own network, whether through linking on their own blog or sharing it on their social networks.
The How-To Post: Think of something your readership would likely want to learn to do and then write a post explaining how to do it. These don't need to be particularly long or complicated, just useful.
The List Post: These have been overdone in some circles and niches, but they still tend to get plenty of attention if they're well-done. You can list things like resources, tips, or just about anything else, usually with a description of each. Lists usually include anywhere from five links to more than two hundred.
The Controversial Post: Controversy sells. This kind of post can be tricky to pull off effectively on a corporate blog, but it can also make a huge impact. Don't attack, but instead argue a commonly-held opinion or concept related to your niche, and provide a different point of view. Just make sure you back up any claims with facts or first-hand experiences. And a warning: if you don't have a thick skin, avoid this kind of post, as you'll almost certainly have some very strong voices countering what you're saying, either in your comments section or elsewhere online.
Interviews: Interview posts do well if you can snag an interview with someone high profile either at your company or in your industry. The best way to land an interview is to come up with your questions (5-10 is usually a good number unless you already have a relationship with your subject and they've agreed to a longer interview) and then shoot off an email to them that includes the questions. If you email them and ask them if you can email them some interview questions, you're more likely to be ignored or told they don't have time. If you include the questions right there (and there aren't too many of them), then they'll be more likely to just answer them right then.
Contest or Competition Posts: Everyone likes to win things. Holding a contest or competition on your blog is a great way to get your customers involved. Requiring them to do something in order to participate (either write a post on their own blog about a topic, tweet a link, or something else that gets your blog out there to a wider audience) can drive more traffic to your site and get you more customers. Even something as simple as asking readers to answer a question in your comments section increases engagement. And the prize you give away doesn't have to be huge, it could be something as simple as a consultation or a free book.
Prediction Posts: This kind of post is always possible around New Year's. Make some predictions about your industry over the upcoming year or other length of time. Don't be afraid to get a little "out there" with what you predict, as those are the kinds of things that get you more attention.
Beginner's Guides: There are always newcomers to any industry. People who don't quite know where to start. If no one in your industry has already created one, a beginner's guide to your niche can be immensely useful and can get you plenty of incoming links. It also sets you up as an expert resource. You can even create a series of posts around this subject, posting once a week or so over a period of time. When the series is done, consider combining all the posts into a free ebook or whitepaper for even more attention.
For more ideas on types of posts that work well, check out these resources:
Conclusion
There are a lot of possibilities when it comes to corporate blogging. Don't be afraid to try something different, and try to get people from throughout your organization to get involved. Make it a fun company project, rather than a duty that just one or two people are responsible for.
What corporate blogs have you seen that really stand out? Share them in the comments!
About the Author: Cameron Chapman is a freelance designer, blogger, and the author of Internet Famous: A Practical Guide to Becoming an Online Celebrity.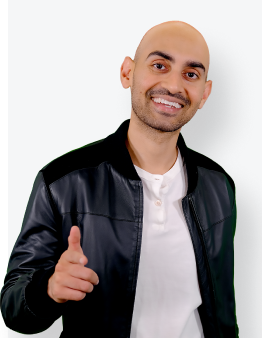 See How My Agency Can Drive More Traffic to Your Website
SEO - unlock more SEO traffic. See real results.
Content Marketing - our team creates epic content that will get shared, get links, and attract traffic.
Paid Media - effective paid strategies with clear ROI.
Are You Using Google Ads? Try Our FREE Ads Grader!
Stop wasting money and unlock the hidden potential of your advertising.
Discover the power of intentional advertising.
Reach your ideal target audience.
Maximize ad spend efficiency.