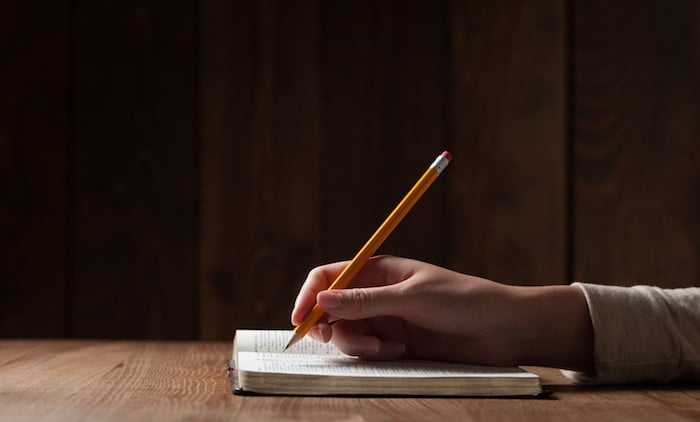 Do you know where the content marketing industry is moving or why? Because if you don't, you won't know how to adjust your own content marketing strategy for growth.
Sure, you may have a gut feeling, but nothing beats having concrete evidence, which can help you formulate your marketing budget and build the best content marketing strategy possible.
So, to make things easier on you, here's 38 content marketing stats, complete with more than one effective marketing tactic, that will help guide your content marketing endeavors.  Here we go… 
1. 42% of B2B marketers say they're effective at content marketing. (Source: CMI)
Without a doubt, content marketing, done correctly, can produce dramatic results for your business.
But, it takes time and focus to become effective at it. 42% of B2B marketers report that they're effective in their content marketing efforts.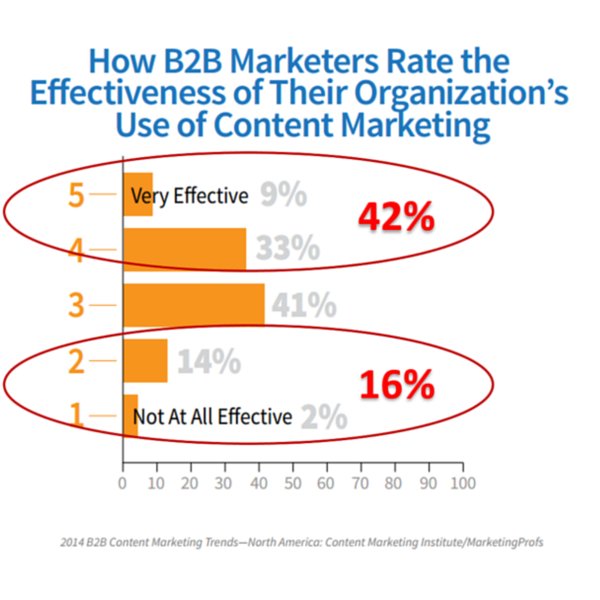 If brands can develop an effective strategy for creating content based on proper understanding of their target audience, they'll not only drive leads but will also increase sales.
Unlike other lead generation strategies, content marketing gives to prospects, instead of asking them for something.
With content marketing, you're giving valuable information away before asking people to buy anything. Even when you sell a product through content marketing, your ideal customers will be happy you did, because they feel more valued and understood.
For B2B marketers, content marketing can take time to show real results. But, it's a strong, long-term approach to improving your brand's visibility online.  It also helps you nurture a stronger relationship with your customers.
While you can see quick returns on traditional or native advertising, content marketing will help your business continue to thrive in the future because today's customers will continue to depend on you for great information.
Content marketing works because you're not just attracting visitors to your site and leaving them alone to hopefully buy something. Instead, you're sending a clear message that you are attuned to their needs and ready to help solve their problems.
The prospect or customer thinks, "this company really gets me."
That's what it takes to be an effective content marketer. When you consistently create and distribute quality (i.e. useful, helpful, interesting, funny, engaging, persuasive) content, prospects will respond. Make it your priority and you'll succeed.
2. 60% of marketers create at least one piece of content each day. (Source: eMarketer)
To become a consummate content marketer, remember this:
Consistency is key to building a successful business. Sometimes you have to make it a team effort.
According to McKinsey & Company, "the 3 Cs of customer satisfaction" are "consistency, consistency, and consistency."
If you want to reap the dividends of content marketing, you need to dedicate adequate time to content creation.
Companies and marketers that relegate this to the back burner usually struggle to acquire leads, unless they have big, big marketing budgets.
With no marketing budget, zero connections and a blog that was only a month old, Robbie Richards grew his traffic to 272% in 30 days by creating the right content and promoting it to the right people.
Even if you're relying on Google AdWords ads or social media PPC campaigns, you have to be directly involved in content creation. Web marketing is primarily powered by content.
From the study above, we know that the 60% of marketers who create at least one piece of content per day won't find it nearly as challenging to get leads as those who are inconsistent at it.
Sure, they may use other marketing tactics like guest blogging to reach a bigger audience, but writing for their own blog is the core of their content strategy.
The one piece of content can be a blog post, a long-form article like the one you're reading now, a video, an infographic, or a podcast. One brand that publishes content daily is Lifehack.org.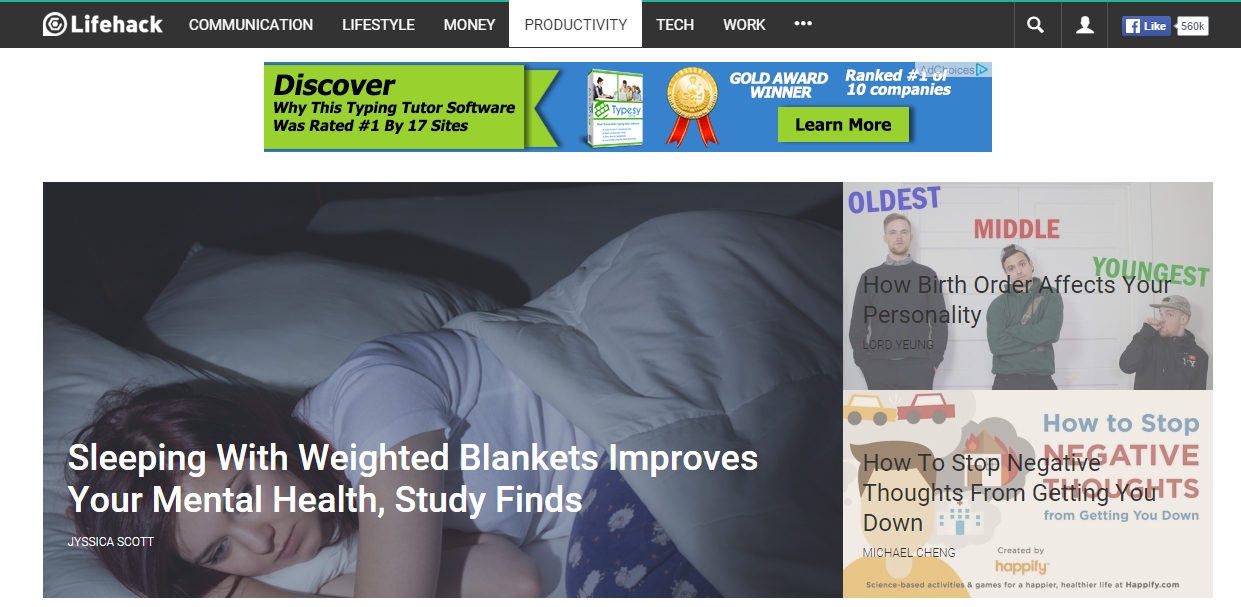 3. Year-over-year growth in unique site traffic is 7.8x higher for content marketing leaders compared to followers (19.7% vs 2.5%). (Source: Aberdeen)
Content marketing leaders are pacesetters. They're constantly improving their writing and their techniques.
Do you know why there are more followers than leaders in the online marketing world? One reason is that leaders quite literally lead the way, by showing others how to get stuff done.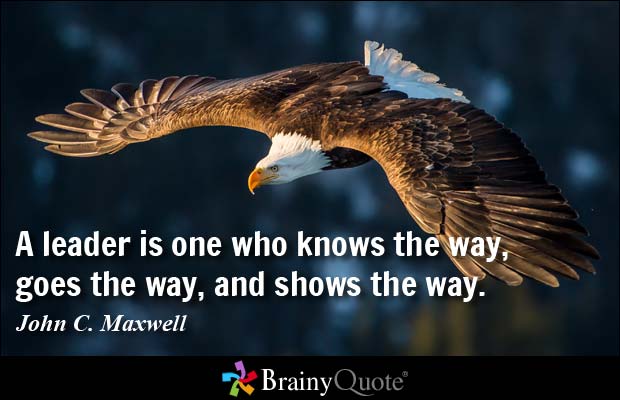 Sadly, many of those we refer to as leaders in blogging, social media, and SEO just aren't getting us motivated and excited anymore.
They've become occupied with other activities that don't encourage them to create the kind of content that originally brought them traction, leads, sales, and revenue. You know- the superb content marketer that you may be angling to become. 
But the few digital marketing influencers who spend their time creating the right content drive more traffic and leads than they can handle because they continue developing awesome content for their own blog.
For example, the content marketing leaders at Search Engine Journal have consistently created high-quality search and marketing-related content. These content marketing pros are always at the forefront, churning out one topnotch blog post after another to solidify their role as leaders. And they generate over 1,000,000 unique visitors each month.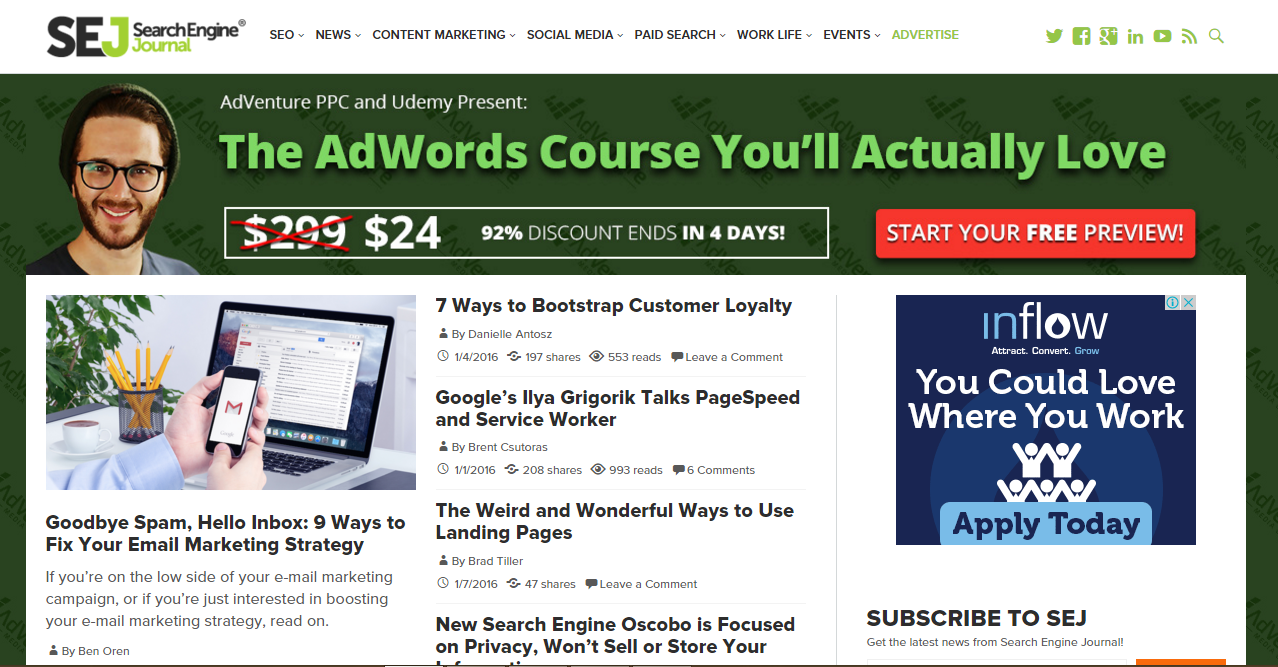 Even if you set your sights lower – say, a quarter of that  – in 30 days, that's a huge achievement. So how can you get there?
Reduce the time you spend reading other blogs and start writing.

Use every blog post you write strategically.

Recognize what leaders do: they act on what they have learned. Do the same.

Leaders set standards in their field. Therefore, challenge yourself to always create useful and engaging long-form content that your audience won't be likely to find anywhere else. 

Become the

affiliative leader

– that is, someone who establishes positive relationships with others. Give ideas and tips in your content, and back up those ideas with data and statistics whenever possible.
4. 57% of marketers reported custom content was their top marketing priority for 2014. (Source: Altimeter)
In 2013, custom content grew and marketers who embraced it couldn't be stopped. Their results were off the charts. In fact, 78% of consumers will trust your brand if you create more customized content.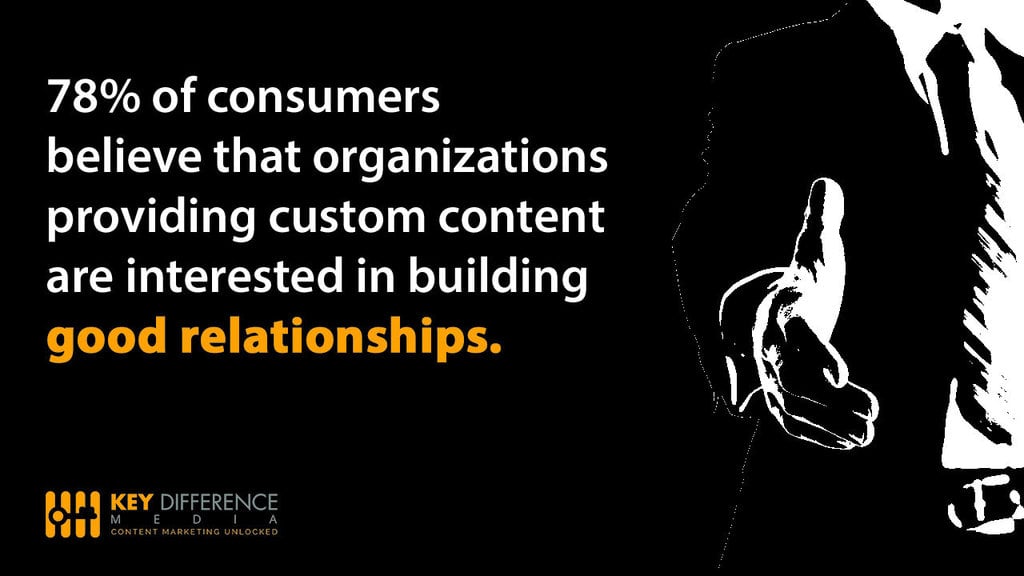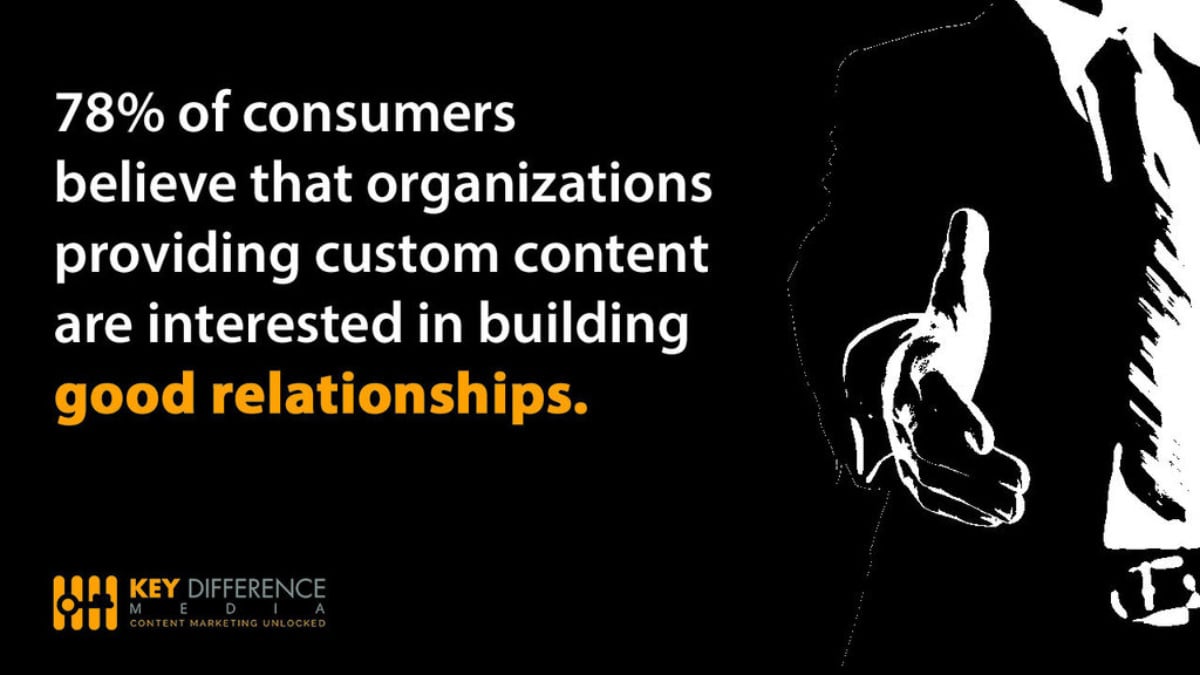 But what does the term "custom content" really mean? Is it another fancy word for inbound, content or pull marketing?
Custom content can be an important ingredient of inbound and pull marketing. But there is more to it. The best and most accurate definition of custom content I have found is from Andrew Boar of Adotas. Here's how Andrew defined it:
Creation of content meant to build an affinity with your existing audience. This content would reinforce the brand, communicate the value of the product and create new opportunities. Custom Content is the creation of  "branded content" for a customer. And, for the most part, custom content is created for the client to communicate with their own existing customers.
Content marketing on the other hand is aimed at creating useful content that attracts the right audience to your business. Custom content isn't aimed at bringing in outside customers, but rather onnurturing existing customers.
So, although you might use custom content to convert new prospects, it's really about developing content that helps you maintain a strong relationship with existing customers who are more likely to buy than new prospects.
According to Dragon Search Marketing, "61% of consumers are influenced by custom content." That's big!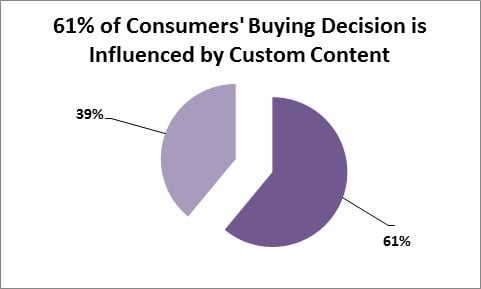 If you have a membership site for example, custom content is what you need to nurture and retain your customers.
Because they (custom content) are focused on how to use your product, and get the most out of it.
But more than that, custom content clarifies complicated topics and present them in a logical sequence for easy assimilation. Any site and business will benefit from targeted content that is "custom."
In fact, you can do it for your blog readers. You can produce content that is custom-tailored to a specific audience (e.g., SEO, freelance web development).
By monitoring reader comments or running simple surveys, your audience will tell you what custom content subjects and types are important to them. Take this content marketing tip and internalize it. It'll boost your marketing strategy efforts considerably.
5. Content marketing costs 62% less than traditional marketing and generates about 3 times as many leads. (Source: DemandMetric)
Investing your resources (i.e., time and money) into content marketing will reduce your costs, while simultaneously generating up to 3x the leads you'd have gotten with native or traditional advertising.
It's high time you weigh your options and choose how you want to balance content marketing and traditional advertising. Traditional marketing can get you leads and customers, but it can't nurture them.
A good content marketer knows that content marketing can help their company achieve their goals (e.g., brand visibility and lead generation) and nurture the leads at the same time.
That's why content marketing spending is always increasing year over year.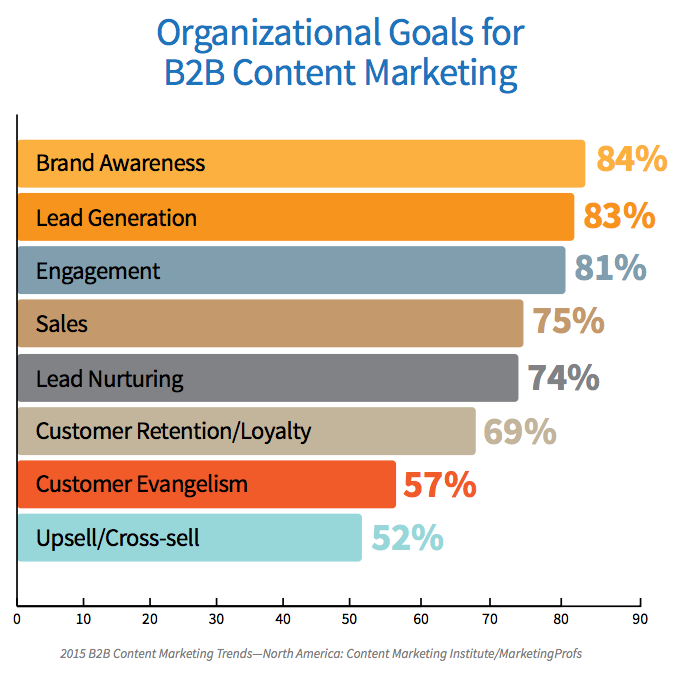 Smart marketers don't put all their eggs into one basket. They diversify their efforts for the best results. So I won't advise you to completely abandon traditional marketing (because it can bring in quick sales). But you should definitely pay more attention to creating top-notch content.
That's what will build a thriving customer base for you for the long haul.
6. 93% of B2B marketers use content marketing. (Source: CMI)
The vast majority of B2B marketers have embraced content marketing over traditional advertising.
That might be because it's much easier to communicate with a new audience by creating and giving away quality content, rather than just asking them to buy your product. It may also be caused by the typically longer sales cycles in B2B. 
Great content builds trust over time and keeps prospects close to you. And trust comes before the sale.
Without trust, consumers won't buy from you. We shop at Amazon because we trust that our items will be delivered promptly and that the product is as promised.
Amazon is a credible ecommerce company, and that gives us (consumers/buyers) peace of mind. Surprisingly, a study by Forrester found that Amazon's influence on consumers is greater than Google's.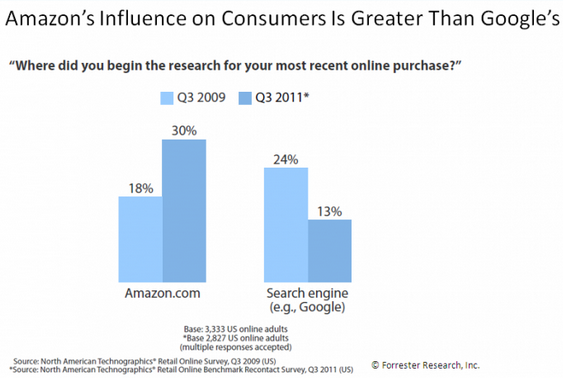 It's very hard to trust a brand that you see only on TV commercials. It's a lot easier to trust a company whose content showed you how to get something done successfully. Let this idea shape your content marketing strategy. 
7. 78% of CMOs believe custom content is the future of marketing. (Source: DemandMetric)
The web is constantly evolving, and audiences are evolving right along with it. Because the noise on social media networks is reaching unbearable levels, businesses and CMOs need to evolve, too if they hope to rise above the pack.
Spend time learning about your audience. If possible, use email list segmentation to specify what each group of your subscribers and audience truly want.  Check out other blogs, forums and any other place where your prospects might be spending time and sharing with each other.  What problems are they discussing?  This is the genesis for custom content.
Then, challenge yourself to create custom content, which is the type of content tailored to a specific group of people. Here's a perfect example at KISSmetrics: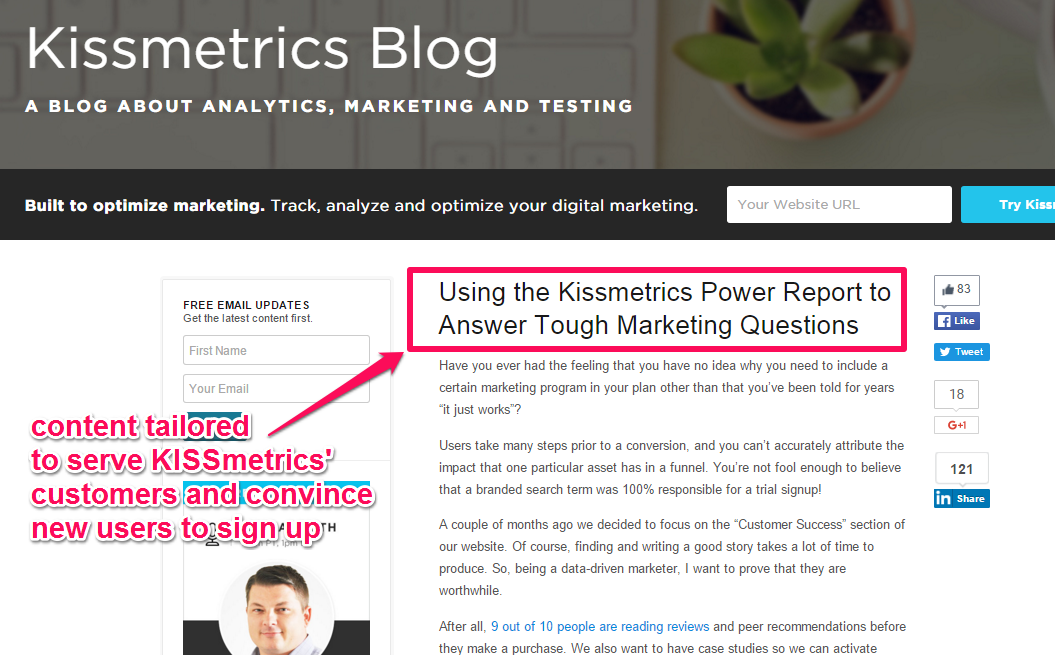 8. Conversion rates are nearly 6x higher for content marketing adopters than non-adopters (2.9% vs 0.5%). (Source: Aberdeen)
Aberdeen conducted a study and found that companies that put their primary focus on content marketing increased their website conversion rates by more than 5x.
On the other hand, those who didn't create the right content saw only a meager conversion rate increase of 0.5%.
That's not insignificant. An additional 1% increase in landing page conversions, for example, can transform your business, sales and revenues.
So what are you going to do about it?
See the next statistic …
9. 39% of marketing budget is spent on content marketing by the most effective B2B marketers. (Source: TopRankBlog)
The Truckers Report, a forum for professional truck drivers, increased their landing page conversions by 79.3%, leading to over 1,000,000 visits per month and over 4.5 million page views.  They did it with great content.
The question I often ask prospective clients when I meet them one-on-one is, "Where are you currently spending your marketing budget?"
If you want to generate more leads, then you need to allot a certain percentage of your marketing budget towards content creation, content promotion, and content metrics.
10. 48% of smaller organizations have a documented content strategy, compared to only 41% of larger organizations.(Source: CMI)
It took the team at ConversionXL up to 6 rounds of tests before they defined a landing page variation that led to The Truckers Report's 79.3% conversions. And that's the power of a documented strategy.
You may have seen a lot of people throw the term around, but what does it really mean?
Well, a "documented strategy" is a set of proven and actionable steps that produces a predictable result that's been reduced to writing.  This eliminates the need to "wing it" or improvise.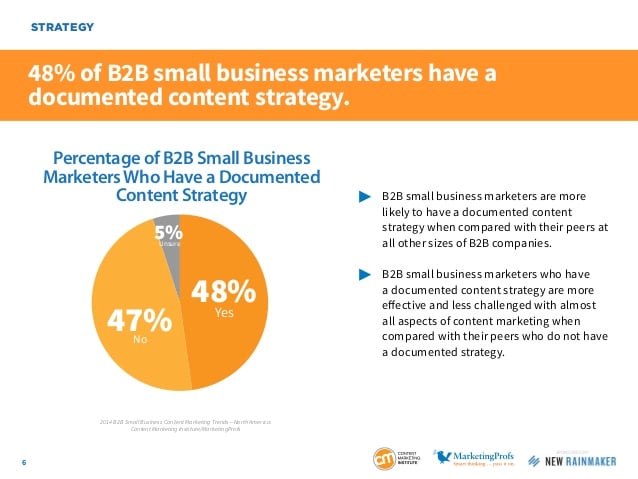 Smart marketers don't reinvent the wheel every day. Instead, they replicate what already delivered results for them.  They know what works because they documented their strategy and measured each detail as it happened.
Documented strategies can be measured and evaluated, which leads to better and smarter decisions.
11. 58% of marketers said "original written content" is the most important type of content, outdoing visuals and videos. (Source: Social Media Examiner)
A lot's been said about the importance and effectiveness of visual content (especially videos and infographics). But a survey report by Social Media Examiner reveals that more than half of marketers prefer "original written content" (e.g., blog posts, articles, ebooks) over visual content.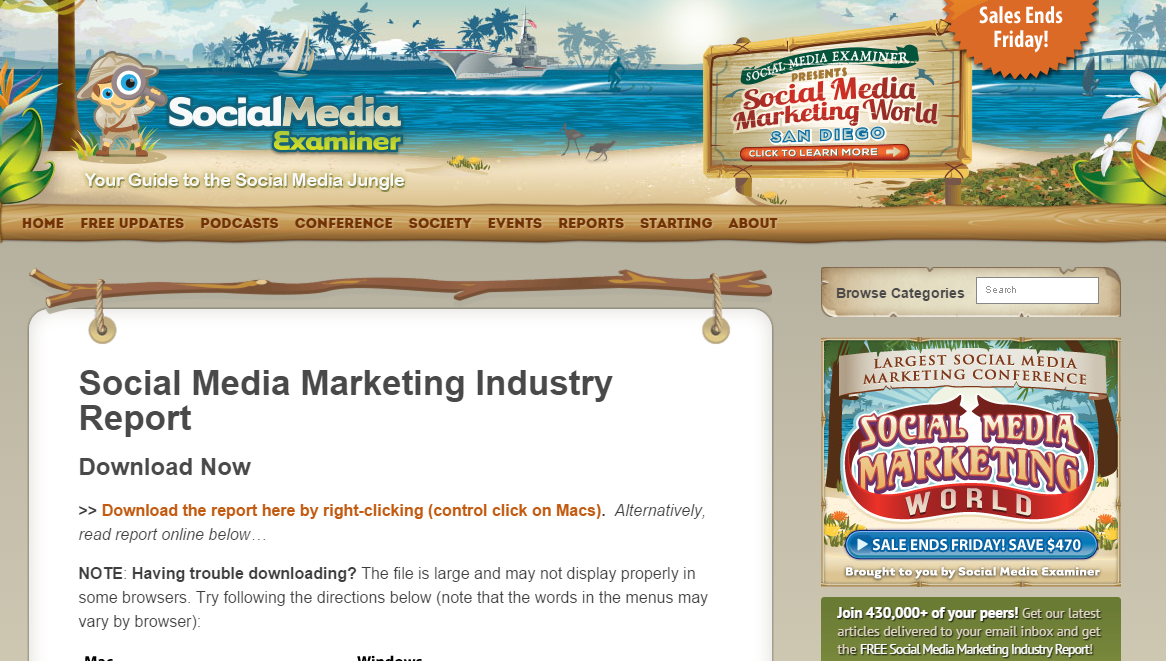 That's an eye-opener, because it means that if you don't have the capacity to create visual content right now, you can still succeed focusing on written content.
Since I launched this particular blog, I've never shared an original video or infographic with you. It's been written content all the way. And I generate over 100,000 visitors per month.
Visual content often requires more of a cash investment than written content – that's just the reality. So here's my advice to you as you continue to fine tune your content marketing strategy: start with written content, like a blog post, and scale/evolve from there if needed or wanted by your audience.
12. 60% of the most effective B2C marketers have a documented content strategy. (Source: CMI)
Earlier we saw how a documented strategy helps small businesses replicate proven strategies and win. It's the same for B2C marketers.
With a documented content strategy, producing a variety of engaging content for customers will be easier. This is a great marketing tactic that should be absorbed–and acted on.
Marketers who struggle to create these types of content ultimately either haven't documented their strategy, aren't executing on their written strategy or have a significant flaw in the assumptions they used to build their content marketing strategy.
13. B2B marketers use an average of 13 content marketing tactics. (Source: TopRankBlog)
To fully maximize the potential of content marketing, you need to incorporate more than one tactic, from exploring marketing opportunities within social media to embracing visual content.
What's true of successful investing is also true of successful content marketing: "Don't put all your eggs in one basket."
Diversify while still retaining your focus. Create blog posts, videos, infographics, whitepapers, webinars, and so on. Distribute these types of content consistently over different channels (including social media) and you'll always generate targeted leads.
14. 70% of B2B marketers rate in-person events as effective. (Source: TopRankBlog)
Several conferences were hosted in 2014 and more in 2015. Having presented at over 100 conferences, I can tell you that speaking to a passionate audience is one of the most effective ways to grow your blog and sell high-ticket services.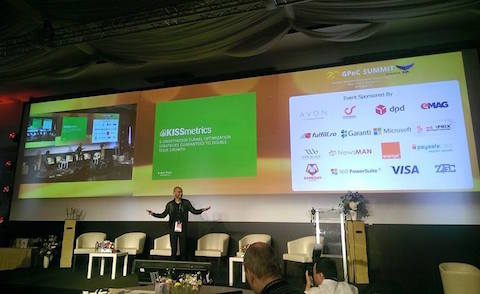 However, in-person events will likely produce better results for B2B marketers than for B2C marketers. Learn how to get speaking gigs, and use that platform to finally grow your business.
15. 74% of people suffer from glossophobia (fear of public speaking). (Source: BrandonGaille)
As you can imagine, the reason why some content marketers and digital marketers aren't doing much public speaking is because they're suffering from speech anxiety.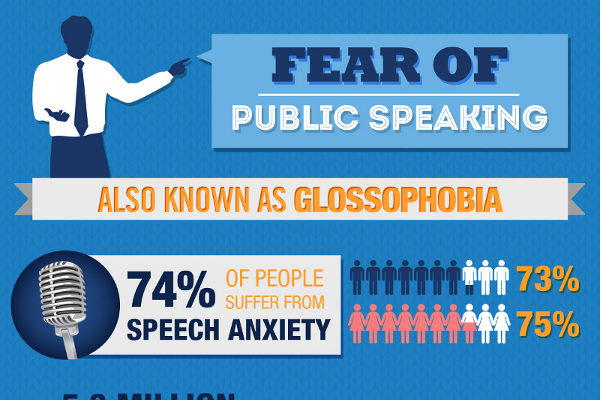 But you can conquer public speaking challenges. In fact, public speaking might be one of the most overlooked content marketing tactics out there (speech is content too!)
Once you overcome your fears, you'll be on your way to engaging targeted audience members who are able and willing to buy your product.
16. B2B marketers with a documented strategy are more likely to consider themselves effective. (Source: CMI)
Stop trying to reinvent the wheel,
says Scott Berkun:
The key reason people look to reinvent things is that they don't know what's already been done. Ignorance, one way or another, is the leading cause of wasted effort everywhere.
Here's the solution: Develop a winning system, then stick to it – unless there's a need for adjustments.
The importance of having a documented strategy cannot be over-emphasized. Having your strategy in writing will point you towards your next steps while also helping you develop a marketing budget.  This should drive a continual improvement in the results you're getting from content marketing while also creating a historic record of how you got where you got.
17. 73% of organizations have someone in place to oversee their content strategy. (Source: CMI)
Time is the most precious nonrenewable resource in the world.
As marketers, we usually struggle to find enough time to do all that's expected of us by our customers. The solution is simple: get someone to do the job for you.
Then focus on what matters: tasks that will bring you revenue.
But, I have to be honest with you.  Be really cautious about handing your content strategy to anyone. Consummate content marketing specialists are great but rare; finding one who can develop a marketing strategy that fits you to a T may be challenging. As busy as I am, I still write my own blog posts and manage the overall direction of my content strategy.  It's that important to me.
18. 86% of highly effective organizations have someone in charge of content strategy. (Source: CMI)
What do you think is the defining factor for highly effective organizations?
Highly effective CEOs and marketing experts who excel in their various fields value time more than money. That's why they outsource their content creation, distribution, and measurement to a proficient person.
The key here is "proficient."
19. 72% of marketers think that branded content is more effective than magazine advertisements. 
Over the last few years, there's been a steady decline in the demand for traditional publications like magazines, newspapers, and journals. These channels may not utterly disappear, considering their roles in traditional media, but the focus right now and in the future is on the web.  These publications know this, so they often have an online version.
You need to understand that your brand is your only true advantage in a sea of sameness. It's not price, service, speed or anything else.  it's your brand.  Therefore, create branded content and consumers will applaud you.
20. 69% of marketers say content is superior to direct mail and PR.  (Source: Custom Content Council)
Direct response marketers understand the power of a well-crafted direct mail campaign. And they also know how important PR is to a business.
But did you know that overall, marketers have seen better results creating useful content and targeting the ideal customers versus sending promotional kits or direct mail pieces to them?
21. Almost 60% of marketers reuse content two to five times. They generate "snackable" content based on assets. (Source: LookBookHQ)
Content repurposing is critical to your success. It's the quickest way to generate "snackable" content.
That's because you may not have the time and budget to consistently produce engaging content for your customers. Many organizations are coming to terms with this. See Curata's chart below: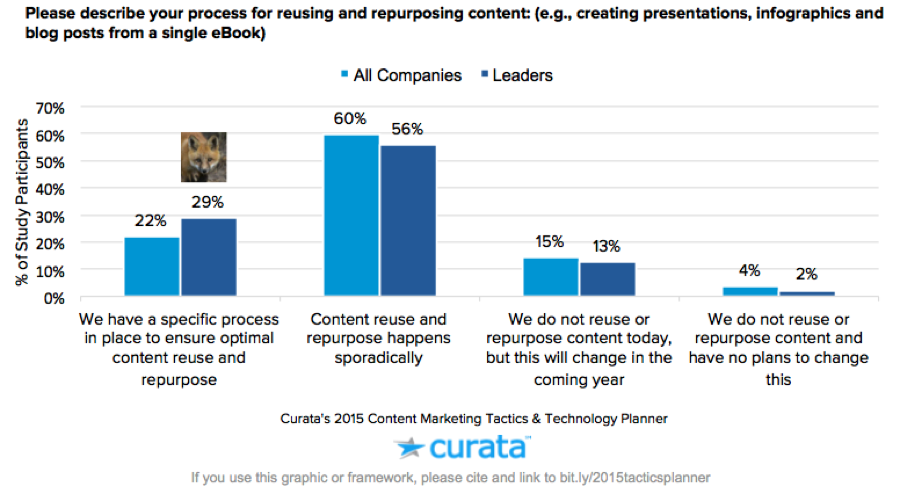 But if you've created a blog post that thousands of people found beneficial, take the next step and repurpose it into videos, podcasts, infographics, ebooks, etc.
22. 64% of B2B marketers outsource writing. (Source: TopRankBlog)
If you're a B2B marketer, one of the habits you should acquire that'll catapult you to a new level when it comes to lead generation and productivity is content outsourcing.
There are so many ways to find freelance writers. Just ensure that every writer you decide to hire has these 6 skills.
As a software company, we grew KISSmetrics to 793,858 visitors a month by leveraging other skilled writers. We didn't do it all ourselves. You shouldn't either.
23. 50% of respondents expressed a desire to be able to measure how much real attention people are paying to their content. (Source: Contently)
This data shows that it's not enough to create content and hope that people will like it, read it and share it.
Smart marketers measure everything. Content marketing is never enough until you measure how much real attention people are paying to every piece of content you produce.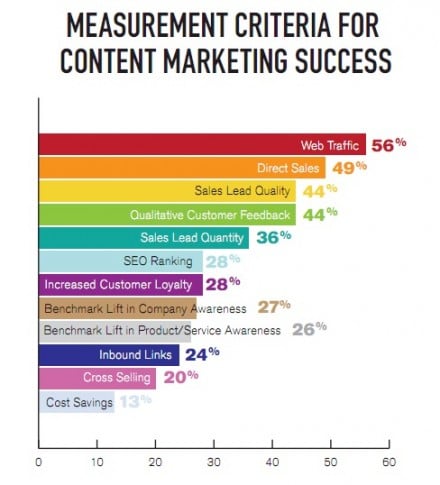 24. 72% of marketers are producing significantly more content than they did a year ago. (Source: CMI)
Consumers aren't looking for more content – they're looking for better content. With so much content out there, you need to find ways to stand out.
With over 2 million blog posts published per day, it's easy for your content to get buried. And that's something you seriously want to avoid.
A whopping 72% of marketers are producing more content than they did the previous year. It's good news, but only if your content is more helpful and of higher quality.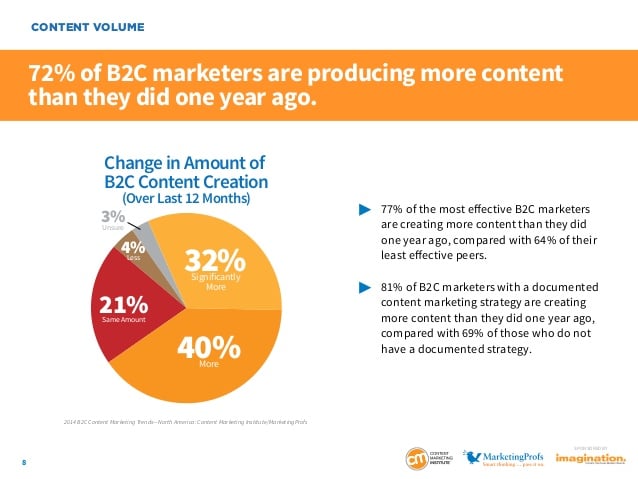 To make a difference, you have to create more in-depth and visually-appealing long-form content. This type of content will not only impact your search rankings, but also get shared more.
25. 82% of marketers who blog see positive ROI from their inbound marketing. (Source: HubSpot)
Blogging is a key factor in the growth of any online business. GrooveHQ acquired 5000+ subscribers in five weeks, and got over 1,000 subscribers from a single blog post within 24 hours.
That's incredible!
The more time you spend blogging, the higher your ROI will be. You'll also make a lasting impression on your customers, because what they want is useful content that will answer their questions. Period!
26. The most common content marketing delivery mechanism is social media, used by 87% of marketers. (Source: CMI)
Social media networks like Facebook, Twitter, LinkedIn, Pinterest and Periscope have changed the way we communicate with consumers.
These social networks are popular.  They're free to join and easy to use. The only thing it costs to push content via social media is your time, unless you decide to run a paid ad campaign.
This is where great content really shines.  Too many companies send the same feature, benefit and sale information through their social media channels and this is a tactical mistake.
To get the most out of your social media marketing, focus on the "social" aspect and build momentum and trust with fans. Give them truly helpful content, then refer them to your landing pages and nurture the friendship from there with email marketing.
27. 76% of B2B marketers blog, and 73% publish case studies. (Source: CMI)
Blogging is good, but the substance of your content is what counts. Not every blog post is created equal. One of the 15 types of content that will drive traffic to your site, engage your audience, and convert subscribers into customers is the case study.
A case study details the process you went through, the challenges you faced, how you overcame those challenges, and the result you got. If you can create more case studies, you'll never run out of leads.
28. About 49% of marketers are learning to drive content to align with the buyer's journey. (Source: LookBookHQ)
Every buyer has a journey. In the customer buying cycle, there are stages the customer will go through before they eventually buy your product. Sometimes prospects move through these steps fast and sometimes much slower.  It's your responsibility to produce and align your content to suit each stage.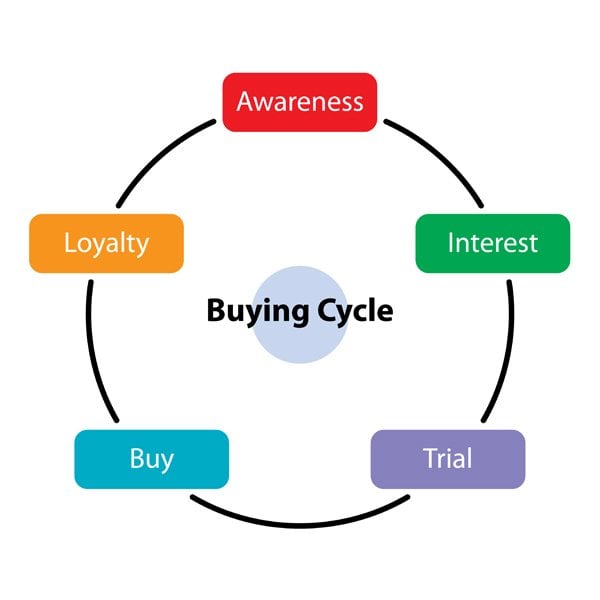 29. Up to 81% of marketers plan to increase their use of original written content. (Source: Social Media Examiner)
Do you know why Google penalizes duplicate content?
It's because users don't like it!  Users want original, useful, and engaging content that creates a memorable experience for them. This year, more people are going to spend more money on more original content – and you should be one of them.
30. Last year, infographic usage grew from 9% to 52%. (Source: DemandGen)
I grew KISSmetrics' blog from 0 to 350,000 visitors per month by producing useful content – and creating infographics.
Mainstream industries are beginning to see the impact of a well-designed and value-packed infographic.
Infographics work because consumers like how a complex topic or information can be condensed into a visual asset that delivers the same or even greater value as a written piece of content.
And, as I mentioned earlier, infographics can often be developed by repurposing written content that you used in the recent past.
Will you create more infographics to promote your business this year?
31. The demand for infographics has increased 800% in the past year. (Source: Unbounce)
The demand for infographics is still growing. Unbounce found that infographic appetite increased by 800% in the past 12 months.

If you're not a graphic designer, I advise you hire a professional infographic designer.
You can check Dribbble.com (yeah, there's 3 b's in there) or outsource every stage of infographic design to the folks at Visual.ly. Because Visual.ly provides premium designs, you should be ready to spend up to $1,000.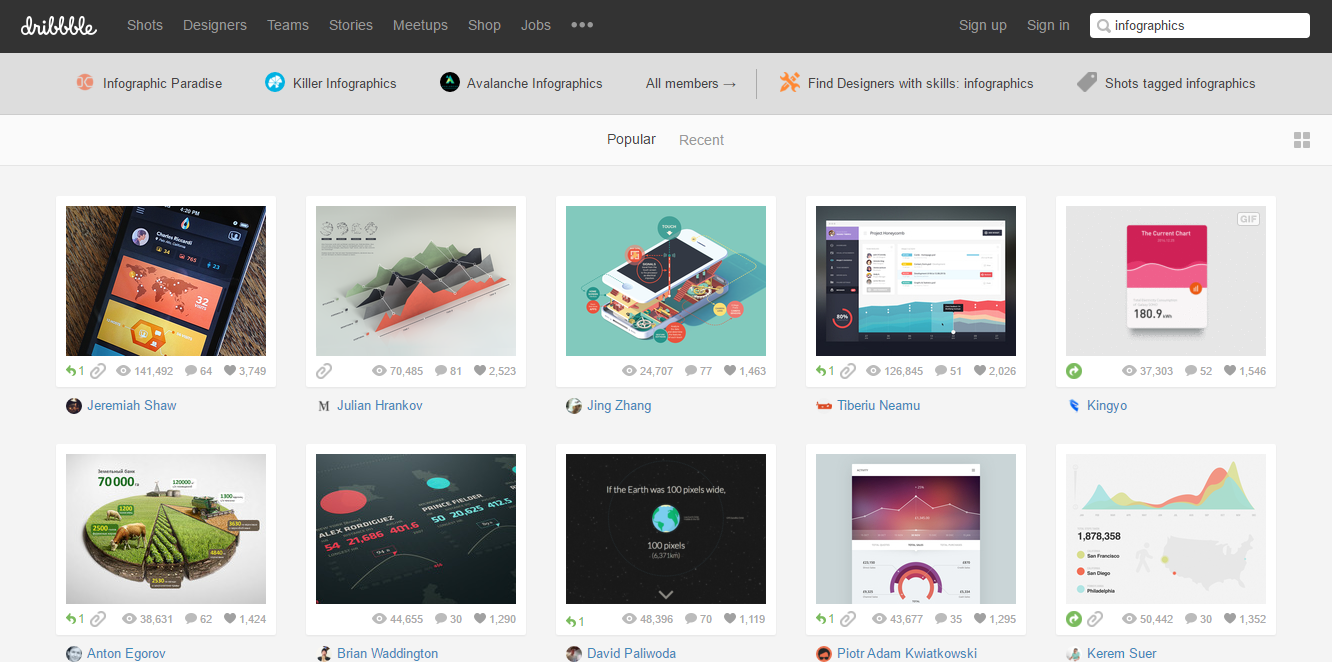 32. 91% of B2B marketers use LinkedIn to distribute content. (Source: TopRankBlog)
If you're not using LinkedIn to power up your content distribution, you're doing yourself a disservice.
LinkedIn is the number #1 choice for professionally relevant content. This also means that if you want to reach an audience that will fully understand what online business is and respond to your content, you need to distribute high-value content using LinkedIn.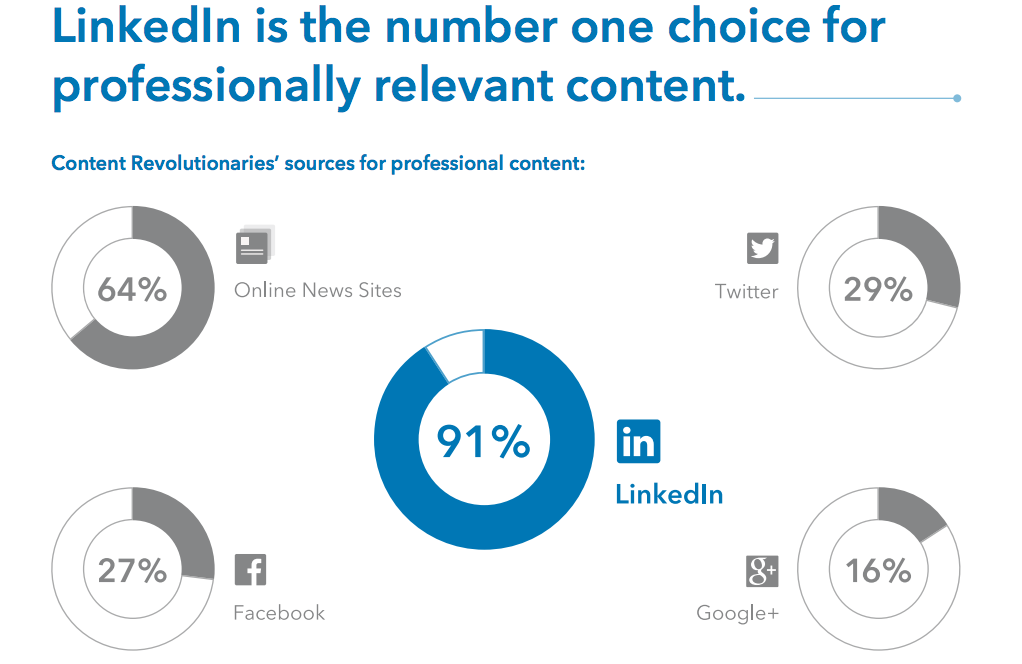 You can build a bigger network on LinkedIn, and generate targeted leads. Get started today. Take baby steps.
33. 73% of B2B marketers use YouTube to distribute content. (Source: TopRankBlog)
YouTube is big! Almost half of all internet users are on YouTube. And over 6 billion hours of videos are viewed every month.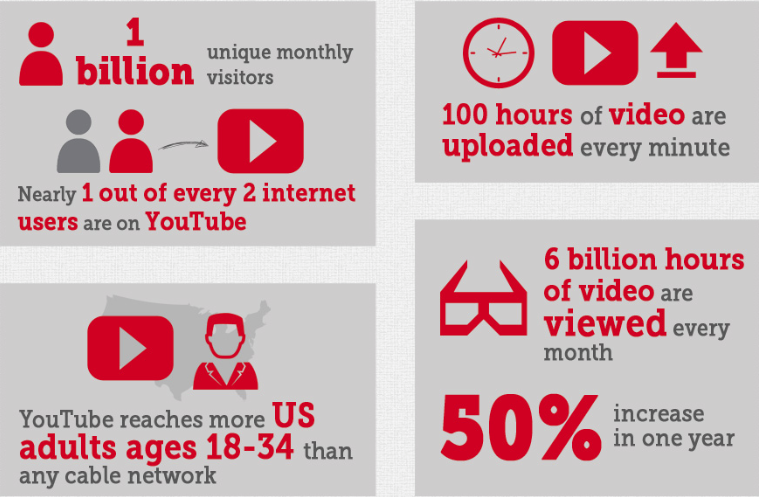 If you're not using YouTube to drive engagement with your brand and to channel qualified and motivated visitors to your site or landing pages, you need to get started today.
Distributing your best content through YouTube videos can send you more leads than any other type of content.
But again, it all depends on the value you deliver, not necessarily the video itself.  You don't need feature film quality videos.
Some people have failed at YouTube video marketing.
If you don't want to make those same mistakes, then follow the right steps:
Identify what your audience wants.

Create an interesting step-by-step video.

Make it short, but valuable.

Upload to YouTube, then promote it on social media.
34. LinkedIn usage jumped 20% this year among B2C marketers. (Source: CMI)
LinkedIn is experiencing an explosion in usage and it's only going to increase.
That's because more B2B and B2C marketers are embracing "essentialism." Essentialism is the practice of figuring out what matters most in your business and developing the passion and discipline to relentlessly go for it.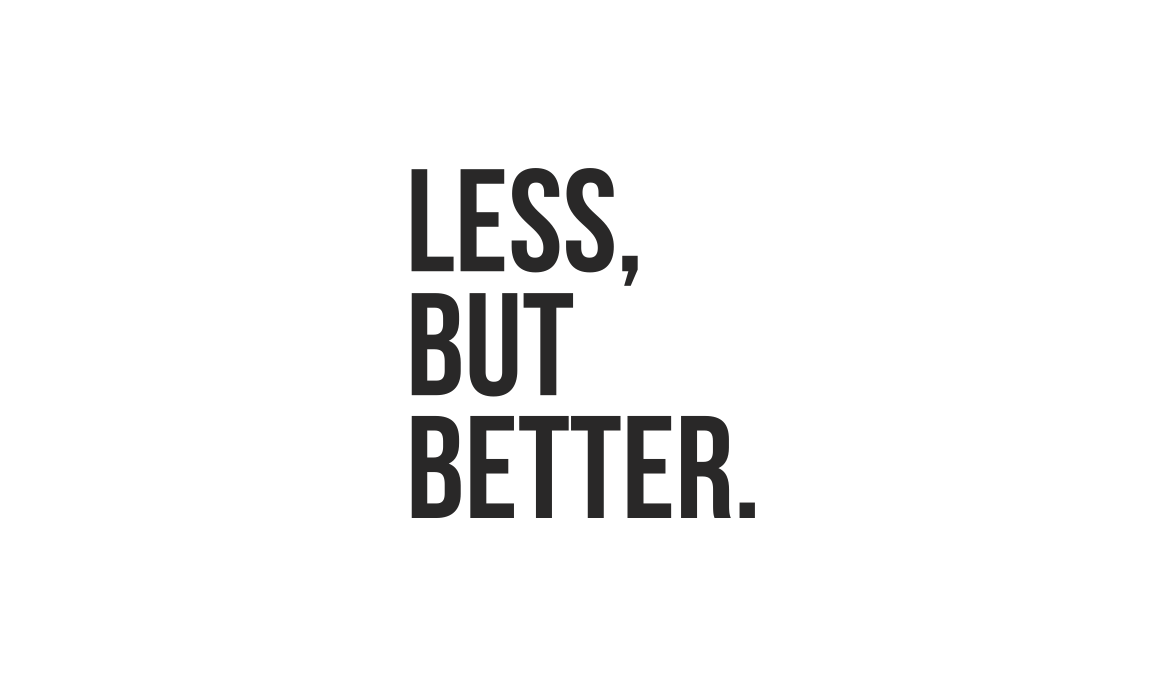 It's about being active on fewer social networks, but figuring out how to maximize your time and achieve the most out of the networks you are active on.
35. 28% of marketers want to learn more about the art of podcasting. (Source: Social Media Examiner)
Marketers who have embraced podcasting can testify that it's addictive for listeners. I like to listen to John Dumas Podcasts because of the personality he infuses into them.
If you desperately want to learn about the art of podcasting, you're not alone. 28% of marketers are currently searching for the right information on this. You can get started reading Pat Flynn's "How To Start a Podcast Guide."
36. Content reading on mobile devices increased over 10% in 2014. (Source: DemandGen)
Mobile device usage truly revolutionized how people consume content. More people now consume content on their smartphones, tablets and other mobile devices than on desktops and laptops.
There are no limitations anymore. Your customers are consuming content all day on their mobile devices.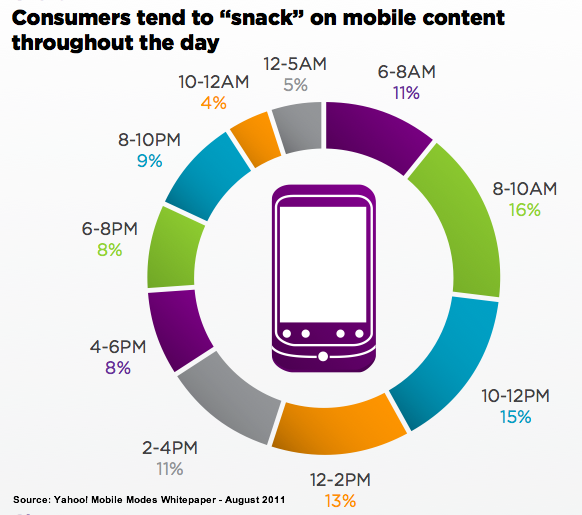 Little wonder Google added mobile-friendliness to their algorithm, as a factor that contributes to where a particular web page should rank in the Google organic results.
To capitalize on this trend, you have to make sure that your web pages are optimized for mobile users.  If your consumers are mobile, and they most likely are, you need to be there, too.
37. Content production is the biggest challenge for 44% of marketers. (Source: LookBookHQ)
Often times I spend more time brainstorming and researching about the topics I intend to write a post on than actually writing the post.
What to focus on is a big challenge, because if you miss with the subject, you'll likely struggle to promote the content too.
It's similar to niche selection. Niche marketers understand that if they choose the wrong niche, they'll struggle to grow the site. It doesn't matter how much effort and money they spend on marketing.
44% of marketers have identified content production as their top challenge. To help eliminate this problem, constantly jot down ideas as they occur to you. Use Evernote or set up a content editorial calendar. These can help a lot.
38. Gamification is the least common content marketing tactic, with only 10% of marketers using it. (Source: CMI)
Interactive content is increasingly common these days. It brings both the marketer and audience tremendous value.
I'm sure you've seen quizzes, calculators, polls, surveys, currency converters, puzzles, etc. These types of content are created to engage the user and increase time on page.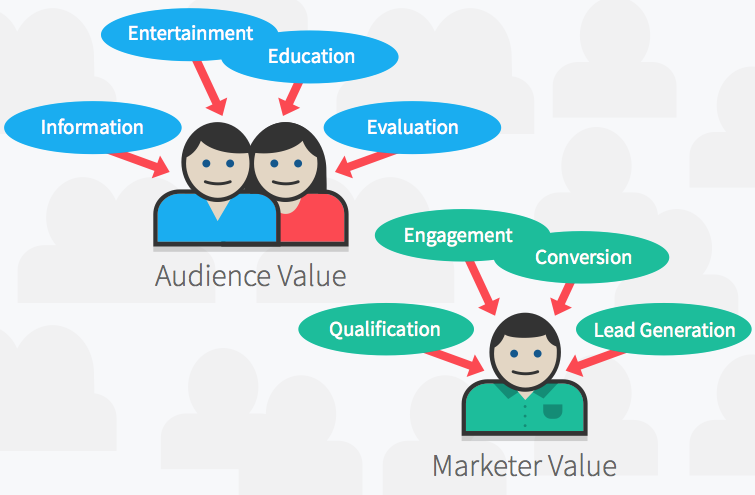 However, gamification is not commonly used. Only 10% of marketers spend time on it. It's possible that gamification doesn't perform as well as surveys and quizzes, but it's also likely that it's not used as much because of the resource investment needed.

If you have the resources, it may be worthwhile to invest in gamifying content to help you stand out from competitors who don't embrace it. It all boils down to your niche, and the stage in the customer buying cycle that your buyers are currently in.
My believe is simple: "test everything."
Conclusion
Content marketing, and particularly the increasing adoption of visuals, customization and interactivity as ingredients in content, continue to change how prospects and customers receive and consume content. A good content marketer knows this–and knows how important it is to stay on top of trends.
If you want more leads and customers, it's not a question of where to find them. They're everywhere, from social media platforms to just down the street.
The real question is, how do you create the right content that will inspire them to click on your site link, visit your site and subscribe to your list?  This is the ultimate dilemma faced by most people working in content marketing. 
I encourage you to take advantage of these content marketing statistics the next time you set out to create a blog post. These stats should guide you so that you can generate more traffic and sales.
Which of these content marketing statistics might inspire a blog post? Which content marketing tactic has been most profitable for you? Let me know in the comments below.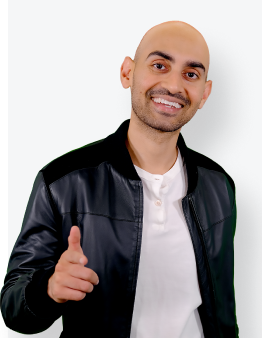 See How My Agency Can Drive More Traffic to Your Website
SEO - unlock more SEO traffic. See real results.
Content Marketing - our team creates epic content that will get shared, get links, and attract traffic.
Paid Media - effective paid strategies with clear ROI.
Are You Using Google Ads? Try Our FREE Ads Grader!
Stop wasting money and unlock the hidden potential of your advertising.
Discover the power of intentional advertising.
Reach your ideal target audience.
Maximize ad spend efficiency.