Even before you entered into the world of business, you were watching your competition. Whether it was in a classroom or on a sports team, you not only wanted to keep up, you wanted to know where the marker was set so you could go one step further. It was about finding new opportunities and setting new goals based on someone you aspired to beat.
At this time, when search is so important and detailed and the Internet has grown so extensively, you have tons of different factors to consider when spying on your competition. This is where marketing tools come into play. In many cases, tools that help you monitor your own web performance can also help you gather data on your competition.
You might be using some of these tools already, without using the features that help you evaluate your competitors. Here are some of the best tools out there:
1. Google Alerts – a tool for monitoring mentions
This is a very simple and easy-to-use tool that will send reports right to your inbox. If you want to know every single time your competitor is mentioned online, whether as a link or simply a mention, you'll get that report. You can monitor keywords as well. It's up to you what you want to track.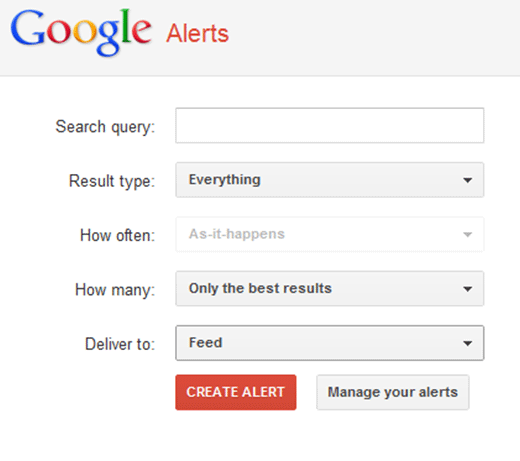 Best Ways to Use This Tool:
Get competitors' backlinks
Monitor social (or other website) mentions of your company
Monitor keyword mentions
Price: Free
2. SocialMention – a tool for monitoring mentions
This tool has lots of cool features that focus on blogs, video, and social (all the "cool" stuff). You enter in a search term, either a keyword or a company, and the tool will tell you what's being said about that term across blogs and social platforms. You can see how many times and how often it's mentioned and you even can subscribe to an RSS feed for that term, so you never miss a beat.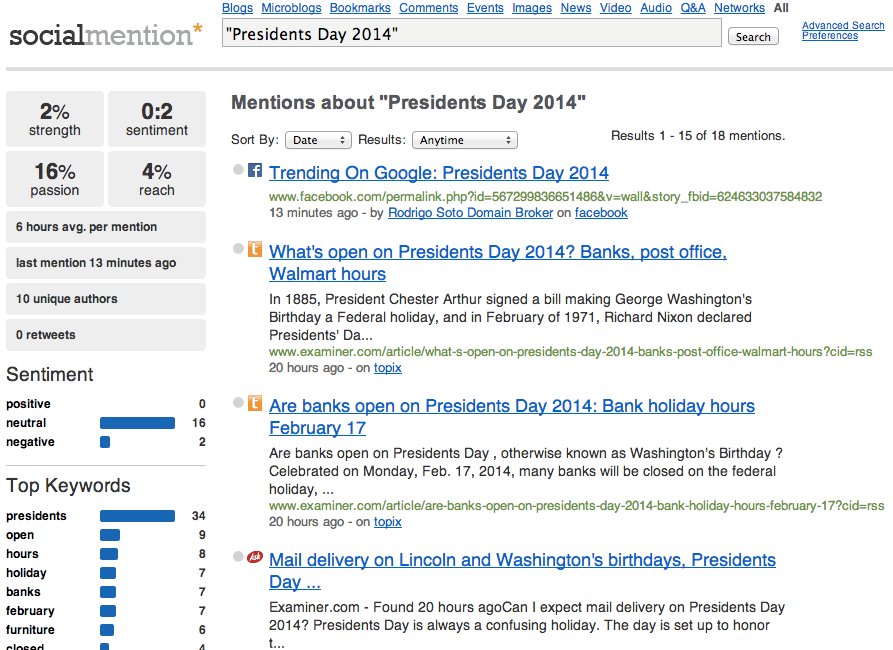 Best Ways to Use This Tool:
Monitor and track keyword mentions
Monitor company mentions
Cross-analyze what is being said across different social networks
Price: Free
3. Marketing Grader – a tool for monitoring mentions
This is a cool tool because it gives each of your competitors an overall score based on social media activity, blogging success, SEO, and lead generation. It's fun to see if their score fluctuates and then to notice if your score does the same.
Best Ways to Use This Tool:
Monitor social activity of competitors
Monitor blogging and SEO success of competitors
Monitor lead generation success of competitors
Price: Free from HubSpot
This is a really cool tool because you can place it right on your site and then get information about your competitors all in one place. In other words, it's more of a "gadget" than a tool, meaning it's a little button you can use to find information using another competitive analysis tool (which the installation will give you).
Best Ways to Use This Tool:
Place the tool on your site for easy access
Gather information on your competitors in one place
Use it in conjunction with another tool of your choice
Price: Free
5. InfiniGraph – a tool for social media
This tool tracks what is trending in your social media circles by focusing on your specific industry. The idea behind this tool is that you "use the power of your audience to know what content and brands are trending with them." This is a tool that can be used as much for your company as for your competitive analysis.
Best Ways to Use This Tool:
Track social media trends in your industry
Track social trends of your competitors
Obtain insight into your audience
Price: Free
Formerly the Google Keyword Tool and Traffic Estimator, this tool seems to have it all. Although it doesn't focus specifically on competitor analysis (it's more focused on your own website), finding competitor data is one feature of the tool. Because it's from Google, it's considered one of the best out there.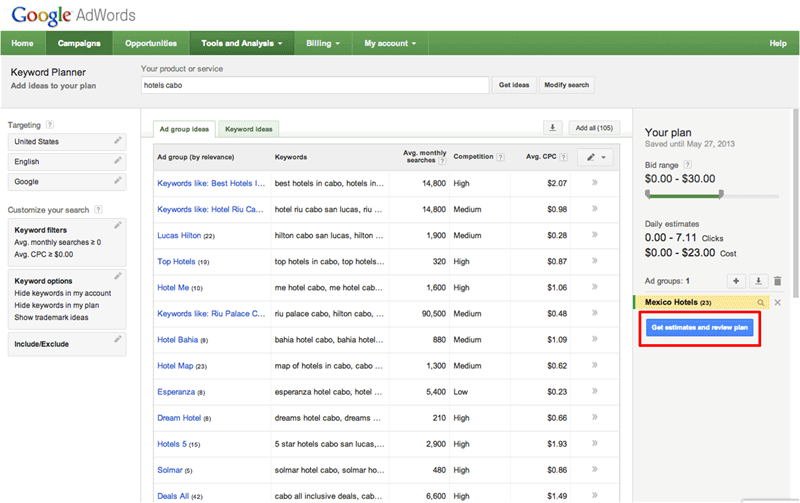 Best Ways to Use This Tool:
Find competitor keyword data (paid and organic)
Monitor your own website as well as those of your competitors
Price: You need to sign up for a free AdWords account to access the tool
7. Instapaper – a tool for organization
This is a simple tool that allows you to save web pages for later to read on your computer, mobile phone, or even Kindle. Once you sign up for an account (which takes just a few minutes), you can add the bookmarklet to your bookmark bar to keep things easy. When it comes to spying on your competition, it's incredibly helpful to know who your competition is, first and foremost, and this tool will help.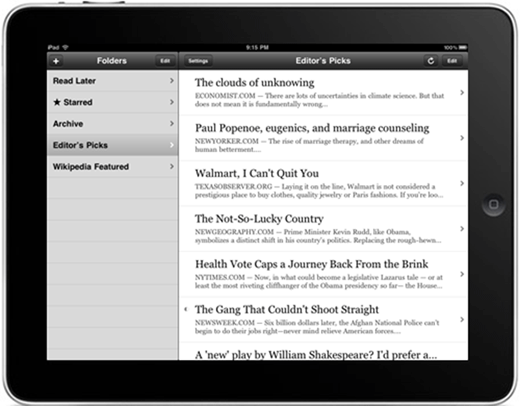 Best Ways to Use This Tool:
Save webpages to read later
Add a bookmarklet to keep your content organized
Visit competitor sites and save content that might be of use to you
Price: Free
This tool is new on the scene, but it's something I've recently tried and really enjoyed. This is another company with great customer service, and you can follow different competitors' backlinks and have them sent straight to your inbox, with a description of which are the highest domains, which are the lowest, and whether or not they are dofollow or nofollow. You have a dashboard you can look at and compare your results, but I like to use it primarily to look at links my competitors are earning.
Best Ways to Use This Tool:
Send competitor backlinks to your inbox
Analyze the highest and lowest domains of the links of your competitors
Get a good picture of links that are nofollow vs. dofollow
Compare your results with competitors thanks to the dashboard
Find new link-building opportunities
Price: The price here depends completely on how many domains you want to manage. If you want to manage only 1, it is $25.00/month, 2 is a Freelancer plan for $48.00/month, 4 is a Small Business plan for $90.00/month, and anything more is a custom plan which you would discuss with the company to determine a price.
9. SEMRush – a tool for keywords
This definitely is one of my favorite tools because it specializes in competitor data. You can visit the homepage and type in a competitor's website (completely free) and immediately get information regarding organic keywords and rank, ad keywords, and traffic. The best part: it all comes to you in a graphic format.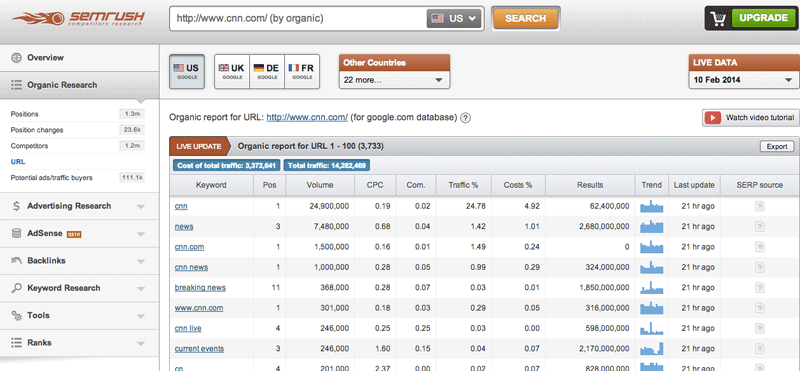 Best Ways to Use This Tool:
Get organic keywords and ranks of competitors
Get ad keywords and traffic numbers of competitors
Look at data in a graphic format
Price: You can get a large amount of information right on the homepage search bar. (Try it out yourself and you'll see in less than three seconds.) If you want some really detailed data, plans range from $99.95/month to $399.95/month.
10. SpyFu – a tool for keyword and ad monitoring
This is an easy-to-use tool that lets you know which keywords your competitors are targeting, both in organic search and in AdWords. You simply type in your competitor and you can download an entire list of these keywords.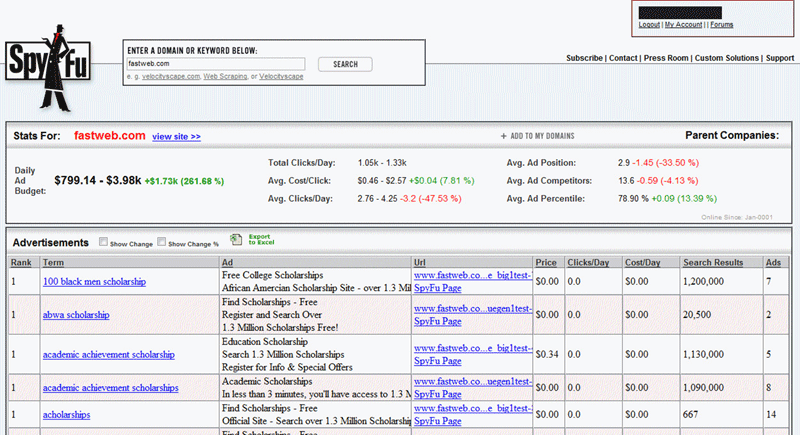 Best Ways to Use This Tool:
Obtain a list of keywords your competitors are targeting for AdWords
Obtain a list of keywords your competitors are targeting in organic search
Price: The Basic plan is $39/month, the Professional plan is $78/month, and the Agency plan is $299/month.
This is a tool that has competitor data as just a small section of all it can do. You create your project, and then it will help you track and optimize your website based on the results of that project. If you want to spy on competitors, that's an option.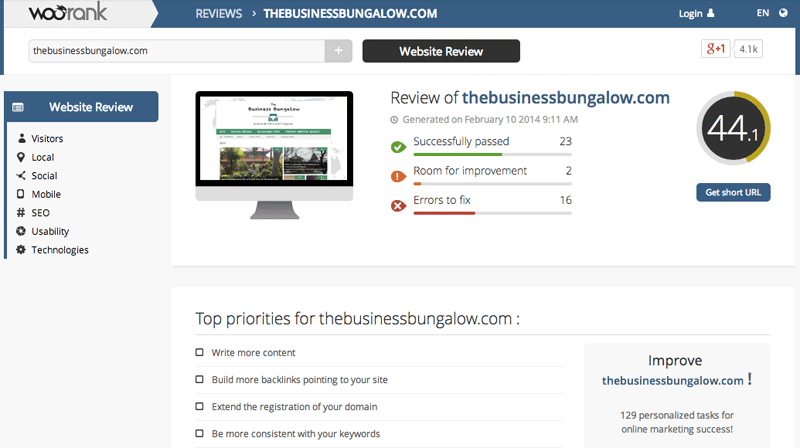 Best Ways to Use This Tool:
Create projects to track
Optimize your website based on project results
Spy on your competitors as a potential project
Price: For agencies, they recommend the Premium plan for $179/month. For Webmasters, they recommend the PRO plan (only 1 project) for $59/month. You can start with a free trial.
This is a very popular tool because it's so easy to use. With this tool, you enter a URL, Google AdSense or Google Analytics code, or IP address to find out what resources belong to the same owner. In other words, when you type in a domain, you get results for all of the different IP addresses and then a list of domains that have that same IP address (in some cases a site will have more than one IP address).
Best Ways to Use This Tool:
Discover the different IP addresses to find domain information
Price: Free
13. SimilarWeb – a tool for web rankings
This is a tool that allows you to get traffic insights for any website. You type in a website and right away you'll get global rank, country rank, and category rank of that website, along with a nice graph that shows the weekly number of visitors in the last 6 months. You can see how many leads come from social, search, referrals, display ads, and many more. There also is a big orange bar that lets you add competitors and even gives you suggestions on who you may want to watch.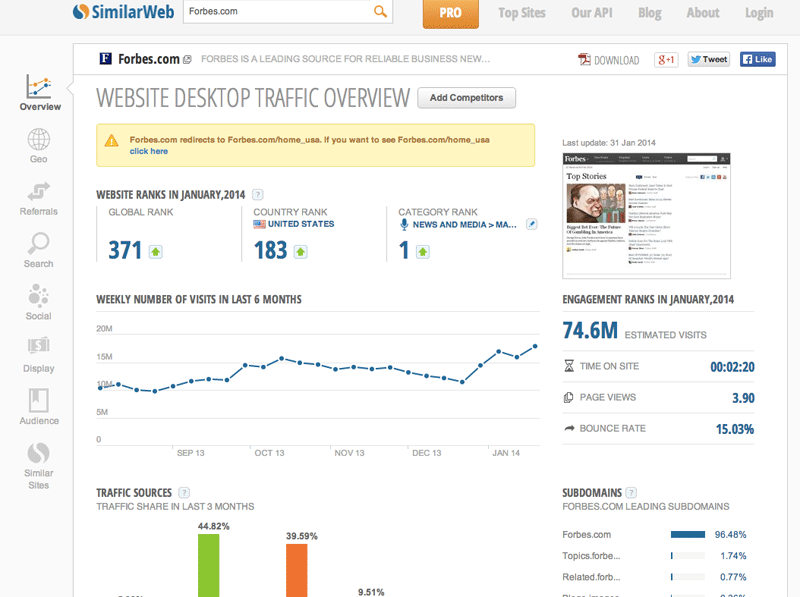 Best Ways to Use This Tool:
Obtain traffic insights for any website
Obtain global, country, and category rank for any website
Receive suggestions of competitors you may want to watch
View the data in graphic format
Price: There is a basic free account that offers limited metrics and data. You can contact the company if you're interested in the enterprise package.
14. What Runs Where – a tool for monitoring ads
Although this resource specializes in online media buying and helping businesses buy correctly, it has some great features for watching your competition. It supports over 40 ad networks across several different countries and allows you to track a list of your competitors. You then get an alert every time that competitor launches a new ad or publishes new content.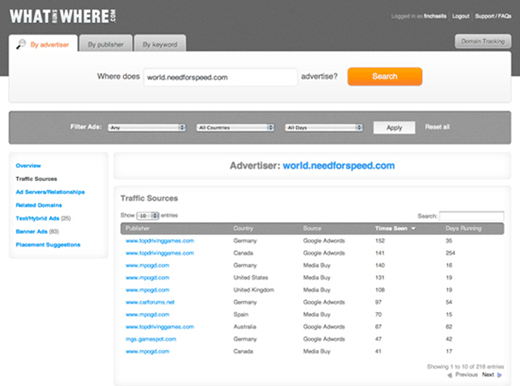 Best Ways to Use This Tool:
Track ad production of competitors
Receive alerts each time a new ad or content is published
Price: Plans run for $299/month for the Basic plan and $399/month for the Full Coverage plan.
15. Link Explorer – a tool for backlinks
This tool comes from Moz, so you know it's got to be good. It's one of the most popular tools out there today, and it allows you to follow your competitors' link-building efforts. You can see who is linking back to them regarding PageRank, authority/domain, and anchor text. You also can compare link data, which can help keep things easy.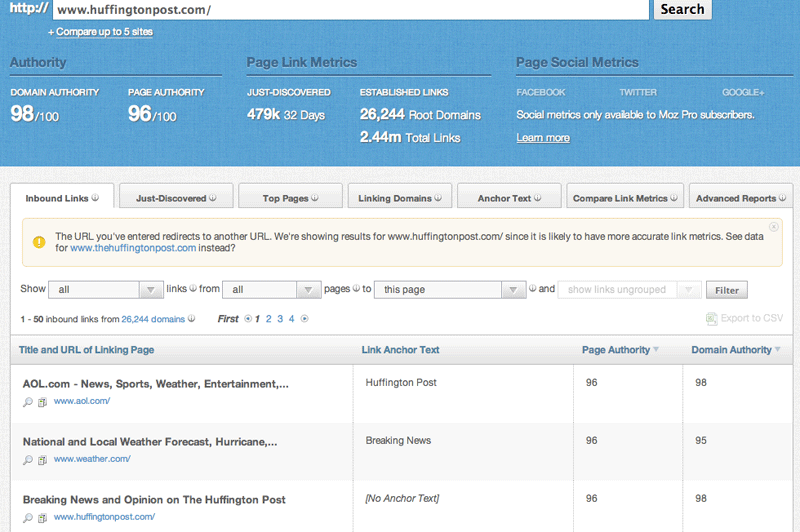 Best Ways to Use This Tool:
Find out who is linking to your competitors
Compare link data of your competitors
Price: You can get some data for free right away, but in order to use Link Explorer to the fullest extent, you will need Moz's Analytics Standard package for $99/month.
16. Ahrefs – a tool for backlinks
This is another popular tool. It will show you things like top pages, IPs, and external links regarding your competitors. Speaking from experience, the site has great customer service and works with you to make sure you get what you need.
Best Ways to Use This Tool:
Find IPs and external links to your competitors
Price: You can start a trial for $7.00, then upgrade to a variety of plans starting at $99.00/month.
17. Alexa – a tool for web rankings
This is one of the more advanced tools available, and it has been rating websites for a long time (much like a PageRank). In fact, if you have the Moz toolbar, you will see the Alexa ranking of a site right there on your SERP. This tool does it all when it comes to spying on your competitors (linking, traffic, keywords, etc.) and is an excellent resource if your competitors are international.
Best Ways to Use This Tool:
Obtain data on international competitors
Obtain rankings of websites for an overall picture
Price: The Advanced plan is $149/month for one user and one site. You can upgrade to the Agency Plan to include 20 users and 35 sites.
18. Sprout Social – social media management software
Sprout Social (previously Simply Measured) helps you find and connect with the people who love your brand. With tools to compare social analytics, social engagement, social publishing, and social listing, Sprout Social has you covered. You can also check hashtag performance and Facebook reviews and track engagement on LinkedIn, Facebook, Instagram, and Twitter.
Price: A basic plan is $99/month.
19. Majestic SEO – a tool for backlinks
One of the more popular tools, Majestic SEO allows you to download the link profile for any of your competitors' sites. This means thousands and thousands of links will be right at your fingertips. You can export the link profile, and then slice it and dice it as you wish.
Best Ways to Use This Tool:
Download the link profile of any competitor
Export the link profile and move the data around as you see fit
Price: Choose from the Lite plan for $49.99/month, the Pro plan for $99.99/month or the API plan for $399.99/month. I recommend checking out their pricing page because it lets you know which types of companies should use which types of plans.
This tool is not nearly as popular as many of the others, but I still think it offers great information. It focuses solely on competitor data. Also, it allows you to monitor affiliates and trademarks. It monitors results from Google, Bing, Yahoo, YouTube, and Baidu along with blogs, websites, forums, news, mobile, and shopping.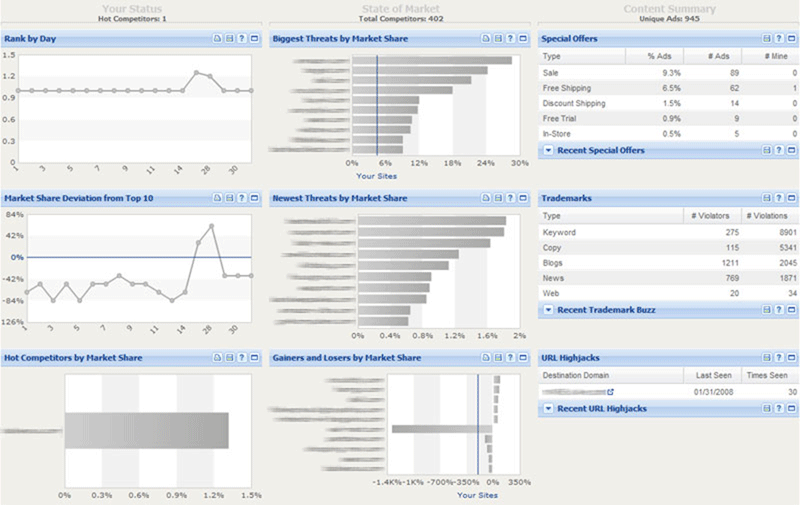 Best Ways to Use This Tool:
Monitor affiliates and trademarks
View results from Bing, Yahoo, YouTube, and Baidu
View results from forums, news, mobile, and shopping
Price: There is a Pro package for $599/month or the Ultimate for $899/month. You also can pay a few dollars more for extra keywords. There is an option for an Enterprise package where you call the company and discuss a price.
21. iSpionage – a tool for keywords
This is another keyword monitoring tool that allows you to type in a competitor and see the best performing keywords for organic as well as for PPC (in both Google and Bing), and how much the competitor spends on both organic and paid search. You can see the competitor's most effective ad copy, and you can look at graphs that compare all of this data.
Best Ways to Use This Tool:
Analyze best performing keywords of competitors for organic
Analyze best performing keywords of competitors for PPC (Google and Bing)
Find out how much competitors spend on paid search and organic
View the most effective ad copy of competitors
View the data in graphic form for comparison
Price: The Starter package is $59/month, the Professional package is $99/month, and the Advanced package is $299/month. Contact the company for customized Enterprise package options and pricing.
22. Ontolo – a tool for backlinks
Although often labeled as a backlinks tool, this tool also puts a focus on content marketing. It helps you know how to prioritize your content to keep things moving, learn where to promote your content by identifying authors who link to your content, and gives you suggestions for link-building opportunities. Of course, this is a more advanced tool so there are quite a few more details that go into how it works, which is why I highly recommend their free trial.
Best Ways to Use This Tool:
Identify authors who link to your content
Receive suggestions for link-building opportunities
Price: The Professional package is $97/month, and the Agency package is $297/month.
This is one of my personal favorites because it's all about link building and how that relates to your content. You choose your type of report – guest posting, links pages, reviews, donations, content promotions, or giveaways – and then enter your key phrases. A list of link-building opportunities based on what you're looking for is generated for you.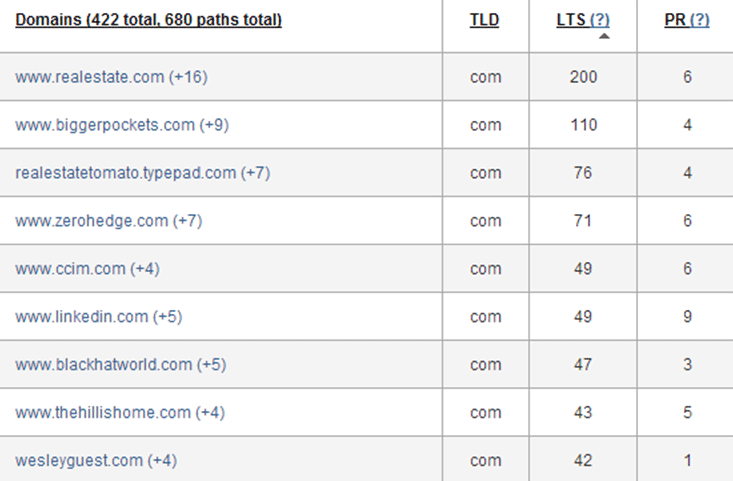 Best Ways to Use This Tool:
Get link-building opportunity suggestions
Price: If you are going by the credit system, you can try it for free and pay as you go with 1 credit for $5. After those choices, you can choose to select a package, all of which have monthly fees and all of which have a different number of credits and price per credit per month. It's a tad confusing, so definitely check out the website to see their price chart.
24. BuzzSumo – a tool for viral content

Want to practically guarantee the success of a blog article or other piece of content? Then look no further than BuzzSumo, a tool that lets you track the virality of nearly every piece of content online.
Best Ways to Use This Tool:
Track the types of content most popular for a given keyword
Search and contact influencers that have shared content similar to yours
Find out which pieces by your competitors have received the most shares
Price: Free for a few searches a month. Paid plans range from $79/month to $499/month when billed annually.
25. Feedly – a tool for content marketing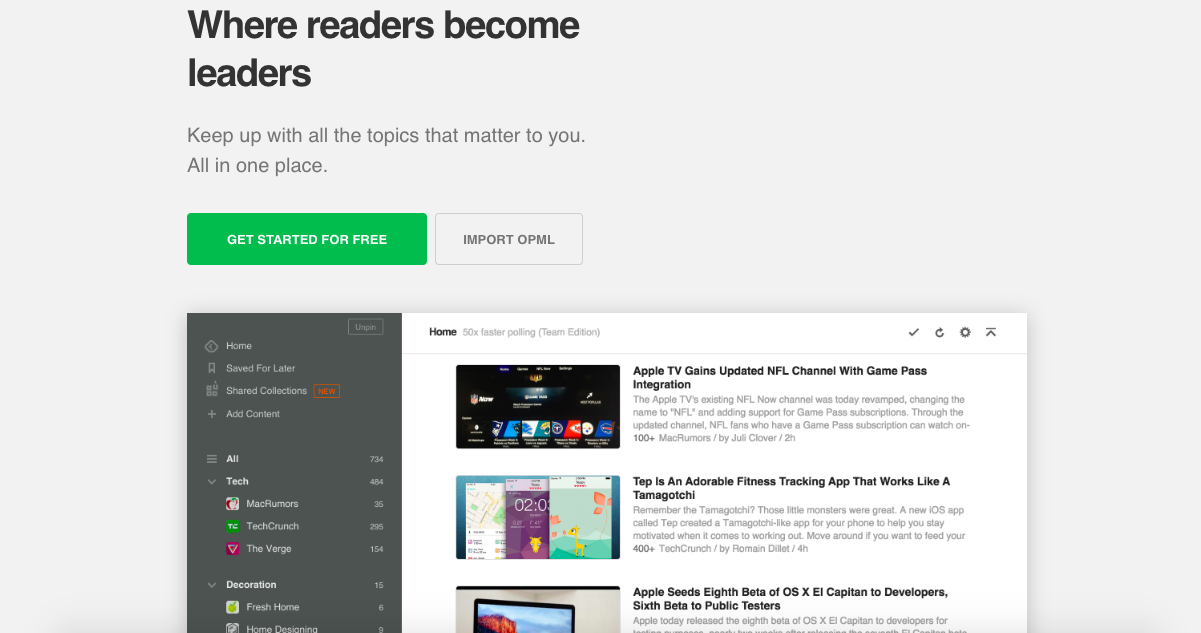 Your competitors are publishing content all the time. But it's nearly impossible to check up on the dozens of competing blogs you want to follow. How can you know what your competitors are publishing? How can you stay up-to-date with their content marketing strategies? With Feedly. Just plug in their blog and get updates whenever they release new content.
Best Ways to Use This Tool:
Track competitor's content marketing strategies and get instant updates when they publish new content
Follow your favorite marketing blogs and learn new techniques as soon as they're released
The takeaway
It's worth mentioning again that the vast majority of the tools above offer a free trial of their upgraded version so you can give them a test run before making any type of purchase. Definitely take a look at the free trials that are offered. If you can't find one, try emailing the company. You might be surprised at just how many will give you a free trial even if it's not explicitly offered! In the end, it's all about trial and error, and determining your goals and your price range, before choosing the tool that works best.
Can you check out your competitors without using any tools?
The answer certainly is "yes," but it does take a little bit of planning and preparation. If you're not interested in investing in any tools or relying on any free tools, use the help of Google and Bing to find the site owners by doing some advanced query searches. There essentially are two different approaches you may want to take. Both of the following strategies are more advanced "secret cheats," but they will keep you away from using any tools!
Find all of your competitors' websites
There are four steps you can follow if you want to find your competitors' websites:
Reverse Google Whois Lookups
Perform Reverse IP Lookups
Reverse Google AdSense Lookups
Reverse Google Analytics Lookups
Making this happen takes some time and thought, so to learn how to complete all of these steps, visit this article from Digital Inspiration.
Find sites hosted on the same server
You can do this easiest with Bing. All you need to do is find the IP address of any website, which you can learn about here, and then go to Bing and type the following into the search box:
ip:<IP Address>
Once you do this, you will be shown a list of all domains that are hosted on the same server as the website you started with, including .com, .net, .in, and many others. Want to learn about more marketing tools? Then check out this video: https://www.youtube.com/watch?v=Uar2hXRrckY
Tell Us What You Think
What tools do you use to keep tabs on your competitors? Have you used any of the tools mentioned above? Let us know your story and your thoughts in the comments below. About the Author: Nikhil Jain is the CEO and Founder of Ziondia Interactive. He has almost a decade's worth of experience in the Internet marketing industry, and enjoys SEO, media-buying, and other forms of marketing. You can connect with him at Google+ and Twitter.