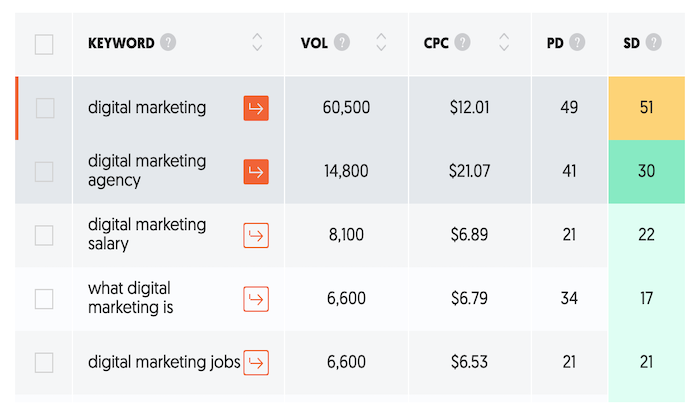 You may have heard keywords are an essential part of any SEO strategy: they are. Without the right keywords on your site, people won't find you while searching the web.
But there's a lot more to keyword strategy than figuring out what people are searching for. It means choosing the right keywords for your business, determining which ones you'll be able to rank for, and a whole lot more.
If you're an SEO newbie, understanding keyword strategy can be overwhelming. But in this ultimate guide to keywords, I'll give you all the info you need to get started.
What Are Keywords?
Keywords are what people type into a search engine when they're looking for something online. The term "keyword" is kind of misleading because a keyword doesn't have to be just one word. For example, if I'm looking for a new Chinese restaurant to try out, I might type in:
Chinese restaurants near me
best Chinese restaurants in Chicago
Chinese restaurant recommendations
Each of those phrases is a keyword. Of course, if you own a Chinese restaurant, you might want to figure out how to get your website to the top of the search engine results page (SERP) when someone types those in. This is where a keyword strategy comes in.
What Are Some Affordable and Free Keyword Tools?
We've already talked about how to use Ubersuggest, but there are lots of other keyword research tools. Here are a few of the best ones:
Google AdWords: A Good Free Option
Google's Keyword Planner gives you search volume and competition feedback for different keywords. It's free to use, although you'll have to jump through a few hoops to access it without creating a Google ad campaign, such as clicking "switch to expert." Here's what you get when you search for "SEO consulting:"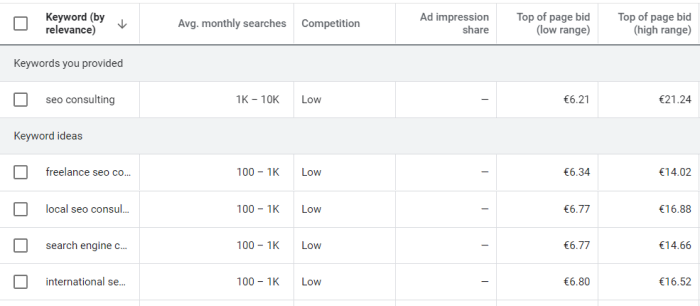 As you can see, you get some info about the search volume, the amount of competition, and what people are paying for the keyword on Google AdWords. Besides the Keyword Planner, you should also check out Google's other free tools like Google Trends, Search Console, and Google Analytics when building your SEO strategy.
Ubersuggest
My SEO dashboard tool Ubersuggest has a free account level and gives you access to most of the keyword data we offer. I go into detail into how to look for keywords on Ubersuggest below.
Moz and SEMrush: More Detailed Info and a "Freemium" Model
There are also paid keyword tools you can use, like Moz, SEMrush, and AHrefs. These tools are more expensive than Ubersuggest, but Moz offers a limited free version.
Both Moz and SEMRush have free trial periods. Here's what Moz's keyword tool, Keyword Explorer, looks like after you've typed in SEO tools: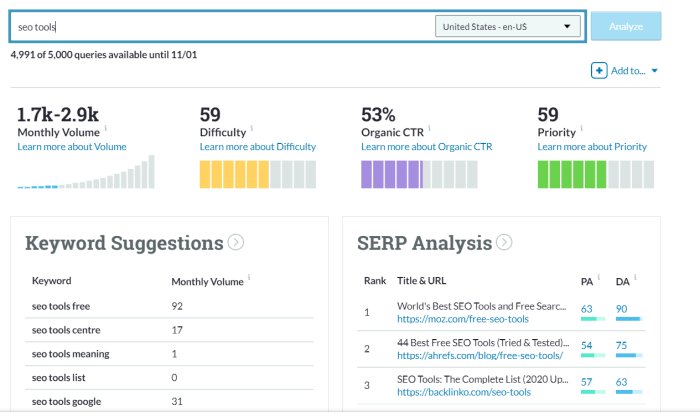 Like Ubersuggest, Moz's tool gives you a list of suggested keywords and currently ranking content. You also have a range for the monthly search volume, a "difficulty" score from 0-100, information on the organic click-through rate (how many people are clicking on the non-advertising results), and a "priority" score from 0-100.
The priority score is a combination of all the other metrics and is the most crucial score. A high priority score means you're likely to be able to rank on this keyword.
How To Select Keywords for a Website
When it comes to selecting the right keywords for a page, there are a few steps you should take. Below, you'll find a plan to follow when optimizing your website:
Step One: Review the Pages on Your Website
Before doing any keyword research, you need to look at all the pages on your website. Put relevant keywords on most of the critical pages on the site. Later, I'll talk about where you should insert the keywords on each page. Most websites have a similar structure: homepage, "About Us" page, contact page, etc.
If you have a large site, consider making a spreadsheet listing all the different pages so you can keep track of what you've improved. If your website has a blog, you shouldn't write blog posts and optimize them for keywords later.
Instead, do it the other way around: use keyword research tools to give you ideas for new blog post topics. But if you already have blog posts on your site that aren't keyword optimized, you can and should go back to optimize them.
Step Two: Choose a Keyword Research Tool
The next step is to choose a keyword research tool. Keyword research tools give you useful data to help you choose the best keywords.
In the next section of this article, I'll talk more about some of the keyword research tools out there. For now, I'll give you some examples using my tool, Ubersuggest.
Step Three: Research Your Keywords
Brainstorm a few keywords that are relevant to your product or service. If you're optimizing blog posts, think of some that are relevant to the topic of the post you're looking at. Then, enter the keywords into your keyword tool, and choose the language and region you're interested in.
Here's what you'll get after you hit the "Search" button: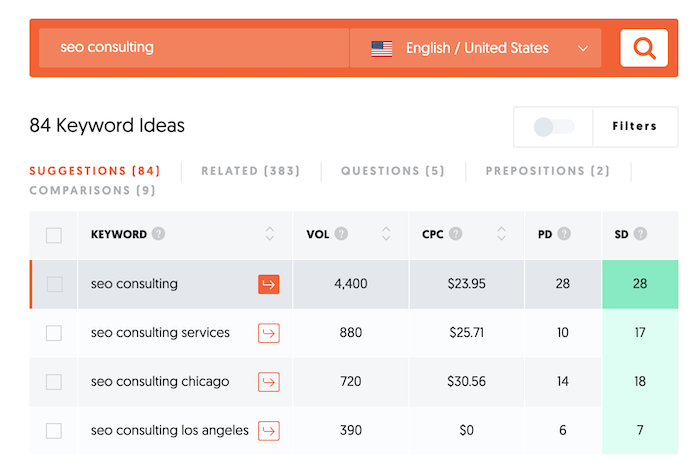 Step Four: Look at the Metrics
Next, you need to interpret the data your keyword tool gives you. The "search volume" is the average number of searches per month for your keyword:
"SEO difficulty" and "paid difficulty" scores range from 0-100. Lower scores mean the keyword is easier to rank for, while higher ones mean it's more difficult:

The average cost-per-click (CPC) is the amount you need to pay Google for each click if you want to run an ad in Google search. Keywords with higher CPC are usually more valuable.
The next section on Ubersuggest gives you some information about the webpages currently ranking in the top 10. You can see the number of backlinks they have and their domain scores.
In the following section, there's detailed information about the keyword. You can see the search volume over time, the number of people clicking on organic and paid search results, and the searchers' age ranges.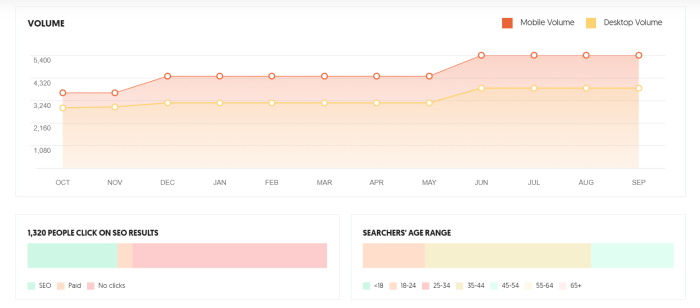 Next, you'll find some ideas for other similar keywords.
In the last section, you can see some content pieces that are ranking for this keyword and being shared on social media. You can use this to get inspiration for your content.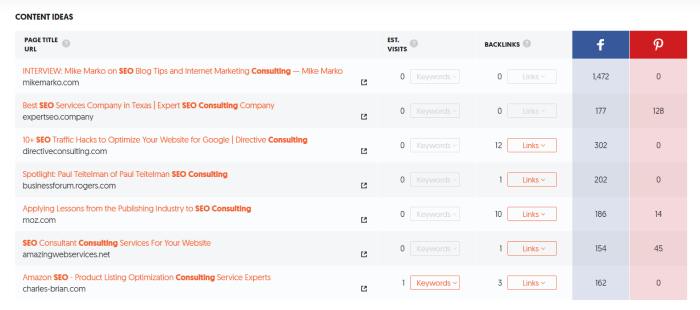 Step Five: Choose Your Keywords
Now that you've seen the metrics, you can get an idea of whether a keyword is good to use or not. Ideally, you'll want to go for keywords with a combination of the following:
High search volume
Low SEO difficulty/paid difficulty
Low competition (that is, your competition has few backlinks and low domain scores)
Think about your audience when looking for keywords, though. If a particular keyword doesn't make sense (e.g., it's misspelled, awkward, or irrelevant), you might not want to use it—even if the metrics look good.
You don't want to lead people to your site if they aren't interested in your product or service. This might lead to a higher bounce rate, meaning people clicking on your site and leaving right away. A high bounce rate is bad for business and may be bad for SEO as well.
How to Track Your Website's Keyword Success
Once you've added keywords to your website, how can you tell if your SEO efforts are paying off?
You'll want to track your performance on each of your target keywords to see how you're doing and if you need to change anything.
SEO tools can help you do this. Ubersuggest gives you a lot of information about your website's performance in the search engine results: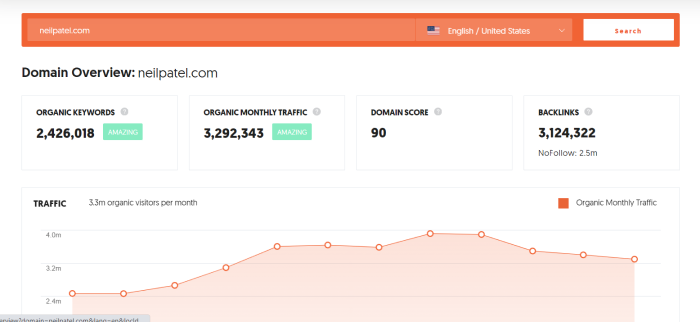 Here, you can see NeilPatel.com's best-performing pages: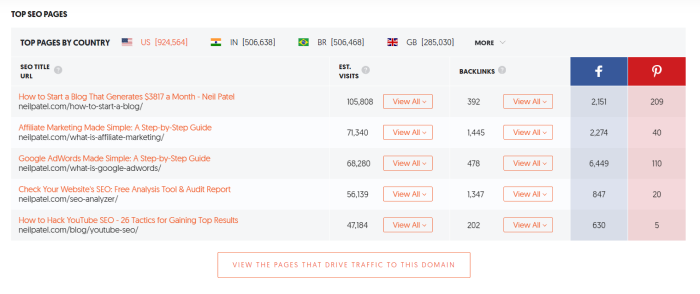 And here are some of the keywords I'm ranking on right now: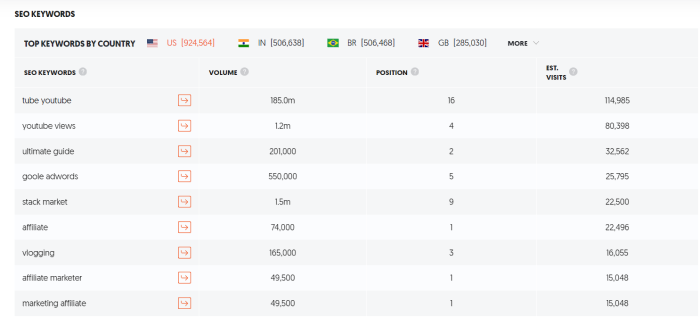 Conclusion
There's a lot to think about when it comes to keywords. It's not enough just to find the right keywords—you also have to know how to use them to rank. To succeed with a keyword strategy, you need to have an organized plan.
Part of this is having the right keyword research tools and knowing how to use them. But you also have to know your audience well and think strategically.
Using the tips in this article, you can get started with keyword research and hopefully boost your place in the search engine results. Good luck!
Did I miss any info about keywords? If you have some tips you'd like to share, let us know in the comments.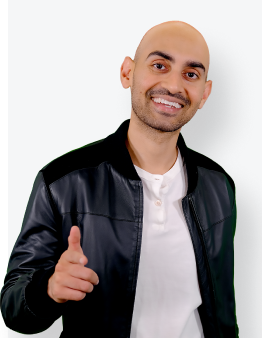 See How My Agency Can Drive Massive Amounts of Traffic to Your Website
SEO - unlock massive amounts of SEO traffic. See real results.
Content Marketing - our team creates epic content that will get shared, get links, and attract traffic.
Paid Media - effective paid strategies with clear ROI.